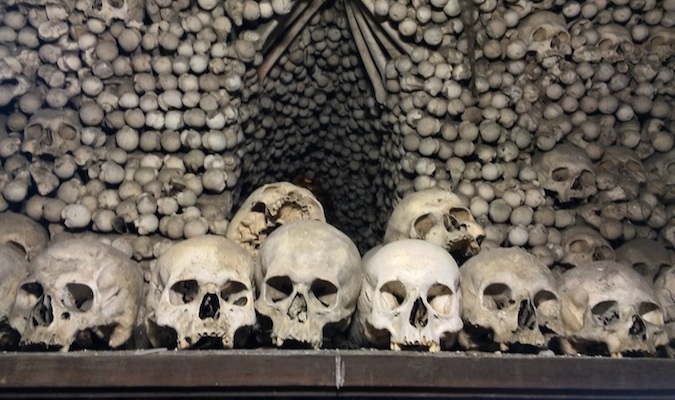 Updated: 8/7/2018 | August 7th, 2018
Officially known as the Sedlec Ossuary, the Bone Church is a Roman Catholic chapel located in Kutná Hora, a few miles outside of Prague in the Czech Republic. The chapel to as the "the bone church" for a good reason: it contains over 40,000 bones displayed in various piles and arrangements throughout the small chapel. There are bones on the walls, bones hanging from the ceiling, bones piled in massive heaps, bones used to make a chandelier. Bones, bones, bones!
The church was created in 1278, when the church's Abbot, Henry, went to the Holy Land and, after coming back, he sprinkled some earth from the Holy Land around the church, making it a holy site. After that, the cemetery in Sedlec became a popular burial site for those in Eastern Europe. According to legend, a blind monk began the process of stacking the bones in the chapel around 1511.
In 1870, František Rint, a woodcarver, was employed by the church's landowners to put the piles in some sort of order. They wanted something symbolic of the impermanence of life and the inability to escape death.
Since then, it's become a popular spot with pilgrims and travelers alike. What used to be an off the beaten path tourist spot has become massively popular in the last few years with loads of bus group now making their way from Prague to the church.
It's a bit dark and grim, but the chapel is actually quite beautiful. The downstairs chapel is quite small. Just a singular room with bones lined everywhere. You enter down a staircase and boom, there you are! Nothing more to explore! It's all right in front of you. A handout is provided so you know what you're looking at. It also includes a history of the church too.
Upstairs, you can see the stark modern church with its beautiful dome and a few displays and photos about the area and the church itself.
If you're heading to Prague, the Bone Church makes a great half-day trip. There's really not much to see there. At most, visiting the church takes about an hour.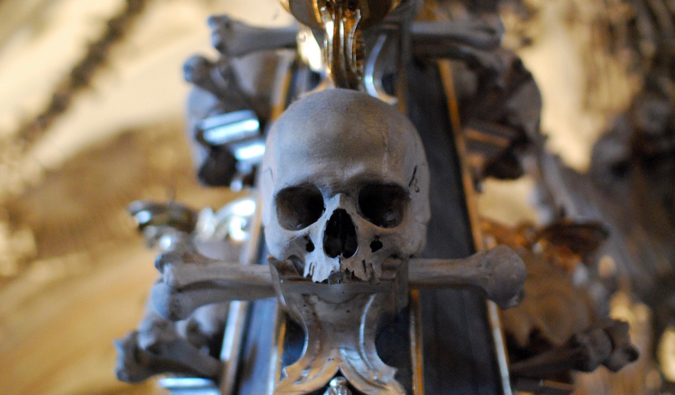 To make the trip worth it, I also suggest visiting other things in Kutna Hora, a beautiful town that looks like Prague's historic center – but without all the people there. It was a huge silver mining town in the middle ages and rivaled Prague in its grandeur. Though it's not as great as it is today, there are still some beautiful buildings, churches, and views around the city to look at it! You only need a few hours.
How to Get to Kutna Hora
Trains depart from Prague's main train station every two hours/ The trip takes about an hour and costs around 100 CZK each way. This is the easiest and best way to get to Kutna Hora. You don't need to purchase your tickets in advance. You can get them the day you want to go. There's always plenty of room.
The bone church is located Barborská, 284 01 Kutná Hora, +420 327 512 115, kostnice.cz. Open 7 days a week, 363 days a year (it's closed on the 24th and 25th of December). Admission is 90 CZK for adults, 60 CZK for students.
Book Your Trip to Czech Republic: Logistical Tips and Tricks
Book Your Flight
Find a cheap flight to the Czech Republic by using Skyscanner or Momondo. They are my two favorite search engines. Start with Momondo.
Book Your Accommodation
You can book your hostel in the Czech Republic with Hostelworld. If you want to stay elsewhere, use Booking.com as they consistently return the cheapest rates. (Here's the proof.)
Don't Forget Travel Insurance
Travel insurance will protect you against illness, injury, theft, and cancellations. I never ever go on a trip without it. I've been using World Nomads for ten years. You should too.
Need Some Gear?
Check out our resource page for the best companies to use!
Want More Information on the Czech Republic?
Be sure to visit our robust destination guide on the Czech Republic for even more planning tips!