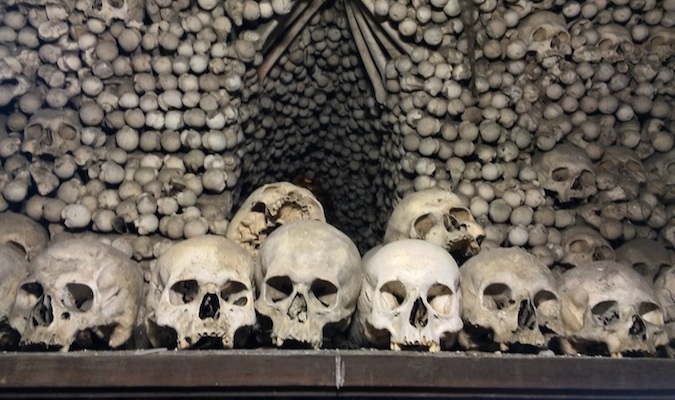 This church is located in Kutná Hora, a few miles outside of Prague in the Czech Republic. Officially called the Sedlec Ossuary, it is often just referred to as "the bone church," and contains over 40,000 bones arranged to decorate this Roman Catholic church.
In 1278, the church's Abbot, Henry, went to the Holy Land. When he returned, he sprinkled some earth from the Holy Land around the church, making it holy too. Because of this, the cemetery in Sedlec became a popular burial site for those in Eastern Europe. After the Plague in the 14th century, thousands of people were buried here and the cemetery had to be enlarged.
Around 1400, a church was built in the center of the cemetery, and the lower chapel was used as an ossuary for the mass graves unearthed during construction. According to legend, a blind monk began the process of stacking the bones in the chapel around 1511.
In 1870, František Rint, a woodcarver, was employed by the Schwarzenberg family, the church's landowners, to put the piles order. They wanted something symbolic of the impermanence of life and the inability to escape death.
As well as a chandelier, there are strings of skulls and bones hanging from the ceiling, a skull candelabra, a display case showing skulls with wounds inflicted by various medieval weapons, chalices that stand in alcoves, and Mr. Rint's signature made out of finger bones.
The Kutná Hora Bone church is open 7 days a week It's closed on the 24th and 25th of December. Entry is 50 kc for adults, 30 kc for students, and a photography permit is an extra 30 kc.