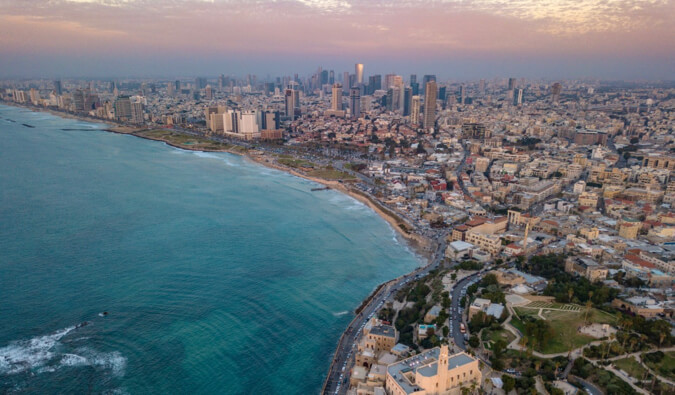 Posted: 03/05/20 | March 5th, 2020
Home to incredible historical and religious sites, the mineral-rich Dead Sea (which is also the lowest point on Earth), a lively nightlife, and a world-class food scene, Israel has a lot to offer visiting travelers.
Though a small country that doesn't take too long to drive around, there's just SO much on offer that you could still easily spend weeks here and not run out of amazing sights to see, activities to do, and delicious food to eat.
To help you get started planning your trip, here's a list of what I consider to be some of the best things to see and do in Israel:

1. Tel Aviv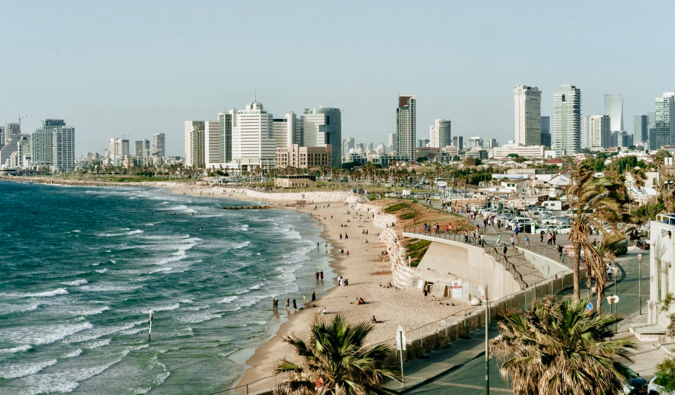 With almost four million people in the greater Tel Aviv area, this beach city on the Mediterranean has a lively, cosmopolitan vibe. It's the country's most modern city and where the majority of international flights arrive (there are also international airports in Haifa and Eilat, but Tel Aviv is the main point of arrival).
While the city has a lot to offer (including 13 beaches), one of the major draws is the food. The culinary scene is full of inventive eateries using fresh, organic ingredients and mixing traditional Israeli cuisine with tastes from around the world, reflecting the many ethnicities that make up the country's population. There's even a huge number of vegan options too (Israel is an incredible destination for vegetarian and vegan travelers). You can also stroll the stalls at the Carmel Market and the Levinsky Market for tasty local street food.
Tel Aviv also has a nightlife that would rival New York or London. For a night out, you can find rooftop bars, wine bars, and craft beer breweries all over town. In particular, check out venues lining Rothschild Boulevard. Also, there's a strong music scene with tons of live concerts happening around town (in all genres) as well as a world-class philharmonic orchestra. There's lots of great theatre here too!
During the day, visit any of dozens of museums, including the popular Yitzhak Rabin Center, the Tel Aviv Museum of Art, or the Museum of the Jewish People. Tel Aviv also has many informative and insightful walking tour companies to help you learn more about the city's past, its people, its street art, and its architecture (Tel Aviv's Bauhaus structures, "the White City," is a UNESCO World Heritage site). New Europe is the best free walking tour in town (just be sure to tip).
And don't miss the ancient port of Jaffa (home to a large flea market, an artists quarter, fine restaurants, a mixed population of Arabs and Jews, and great views of Tel Aviv).

2. The Dead Sea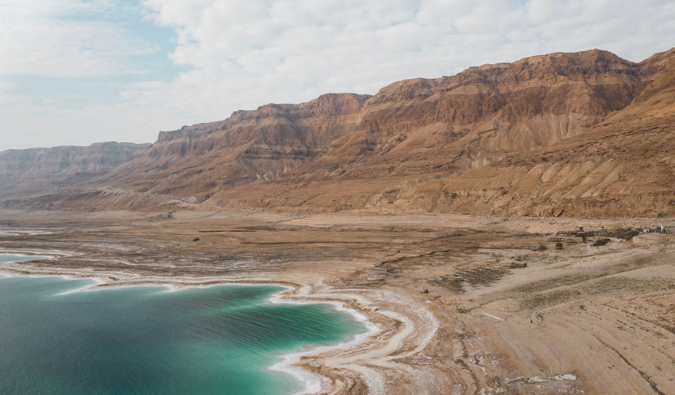 Israel and Jordan share the Dead Sea. Covering over 600 square kilometers, its shores are the lowest point on earth and its water is so salty — over eight times more than the ocean — that virtually no sea life can survive in it (hence its name). That saltiness also means you float on the water (salt increases buoyancy), which is why you'll see lots of people here snapping pictures as they float the day away.
Unfortunately, it also means that if you have any cuts on your body, you will feel them keenly! Additionally, industrial exploitation has shrunk the shoreline and caused sinkholes in some areas, so beware of that and pay attention to any signage.
The salt and other minerals (like magnesium and bromide) have historically been thought of as healing, which is why there are tons of health retreats lining the shore. While many beaches are only accessible through a resort, there are also several public ones along the coast, including Neve Midbar in the north and Ein Bokek in the south.

3. Jerusalem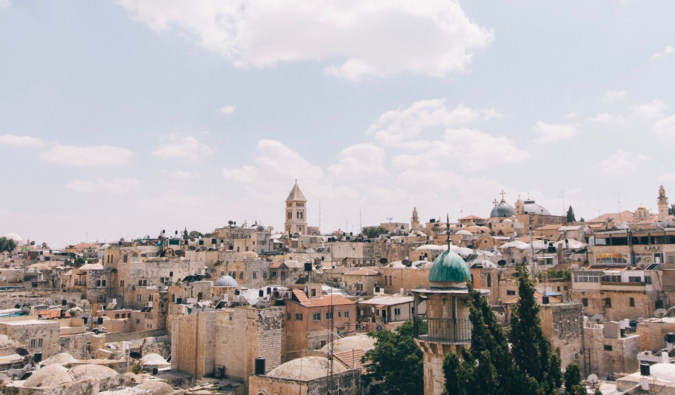 Jerusalem is one of the oldest cities in the world, with its history stretching back about 5,000 years. Referred to as "the Holy City" (in Arabic, al-Quds), Jerusalem holds an important place in three of the world's major religions: Christianity, Judaism, and Islam. Home to over a million people, it's a destination for pilgrims and tourists alike, brimming with an incredible (and often controversial) history.
The walled Old City, not to mention nearby Mount Zion and the City of David (the original site of Jerusalem), include so many famous and significant sites that you could easily spend several days touring them.
For Jews, the Western Wall (formerly called the Wailing Wall) is considered the holiest place for prayer. It is divided into men's and women's sections, and there are tunnels on one side that can be explored.
The Dome of the Rock and the Al-Aqsa Mosque on the Temple Mount (just above the Western Wall) are among the holiest sites for Muslims, behind only Mecca and Medina.
For Christians, the Via Dolorosa and the Church of the Holy Sepulchre in the Old City mark the path of Jesus's final walk to his execution and the site of his crucifixion.
In the western, newer section of Jerusalem, be sure to visit Yad Vashem, the deeply emotional official memorial for the six million Jews murdered in the Holocaust. There's also the Israel Museum, which is home to the Dead Sea Scrolls and other treasures of Israel's past.
For an insightful overview of the city, take a walking tour or food tour. There's the Machane Yehuda market tour, and Abraham Tours (which also runs an amazing hostel) organizes daily walking tours highlighting Jerusalem's past from different (and often competing) perspectives.

4. Biblical Sites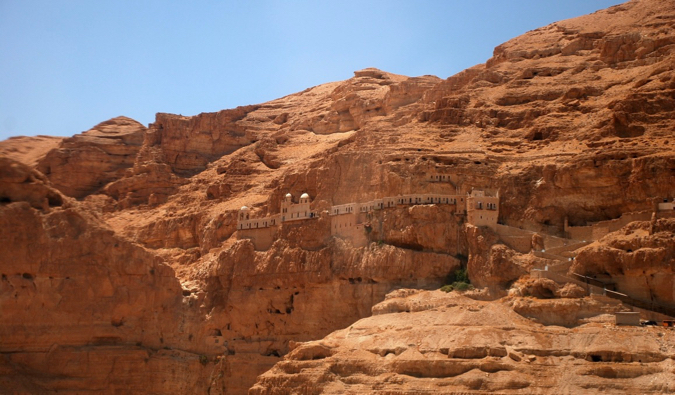 As an epicenter for three major religions, Israel has a lot of important shrines and pilgrimage destinations. A large number of travelers join biblical tours (either guided tours or self-guided ones) to visit places like the Galilee, Bethlehem, and Jericho (the latter two in Palestine).
Galilee is home to a number of Christian sites, including Nazareth, where you'll find the largest church in the Middle East; and the Jesus Trail or the Gospel Trail, hikes from Nazareth to the Sea of Galilee — which is also home to numerous sites of Christian interest, such as Capernaum, Tabgha (where Jesus fed people loaves and fishes), Cana, and the Mount of Beatitudes (the supposed location of the Sermon on the Mount).
Known as the birthplace of Jesus, Bethlehem is a must-visit destination. Be sure to visit the Church of the Nativity, one of the most important Christian sites (ostensibly where Jesus was born) and also one of the world's oldest operating churches (it opened in 333 CE).
Near Jericho, you'll find Qasr el Yahud on the Jordan River, said to be the place where Jesus was baptized by John the Baptist, and the Monastery of St George, a cliff-hanging complex carved into a sheer rock wall in the Judean Desert.

5. The Negev Desert
The Negev Desert covers the southern half of Israel and spans over 13,000 square kilometers, taking up 55% of the entire country. It's a starkly beautiful place. For the best views, visit the Florence and George Wise Observatory near Mitzpe Ramon. Also, don't miss Timna Park in the far south (near Eilat), which has incredible geological formations: huge sandstone pillars and sand of many colors. There's also an annual hot air balloon festival held there each autumn.
The Negev is full of all kinds of adventure activities, too, from sandboarding in the dunes in the north to rappelling off the cliffs of the Ramon Crater. If you don't have a car, you'll find no shortage of tour companies to take you around.

6. Masada National Park and Fortress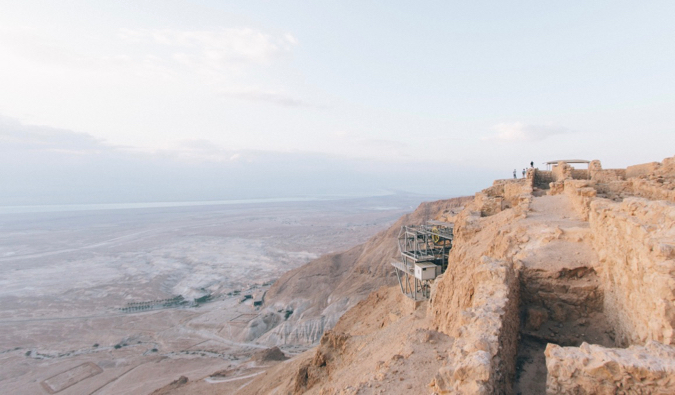 One of the most-visited parts of the Negev Desert is Masada National Park. Located just 100km (62 miles) south of Jerusalem on the edge of the Dead Sea, this was the ancient fortress built by King Herod the Great on a plateau. It's famed for being a refuge for Jewish rebels against the Roman Empire, who lived up there for seven years before committing mass suicide after a siege by the Romans back in 73 CE. Today, it's a symbol of Israeli determination and one of the country's most popular attractions.
There's a cable car up to the fortress, but an alternative is to hike up the Snake Path, a 60-90-minute hike offering views of the arid landscape, the Dead Sea, and Jordan. Just be aware that it can be really hot in summer (it's a desert after all), and sometimes authorities close the path if the weather is too hot. (Bring lots of water.) It's better (and cooler) to ascend before dawn and see the sunrise over Jordan from the trail or the summit.
Open daily from 8am until 3pm-5pm. Admission to the park is $9 USD. You can reach the park in about 90 minutes from Jerusalem by car.

7. Dive Israel's Reefs and Wrecks
\\
Israel borders the Mediterranean Sea and has a short coastline on the Red Sea — both of which offer world-class snorkeling and scuba diving. Some of the best spots on the Red Sea, where you can see incredible coral and sea life, include Coral Reef Beach, Migdalor Beach, and Princess Beach.
For scuba divers, the water deepens very quickly off Eilat, so you can do deep-water diving without needing to use a boat to get further from the shore. (Those who don't wish to go in the water can visit the Underwater Observatory Marine Park.)
On the Mediterranean coast, divers can explore shipwrecks and ancient Roman ruins at the Underwater Archaeological Park at Caesarea.

8. Israel's Lesser-Known Archaeological Sites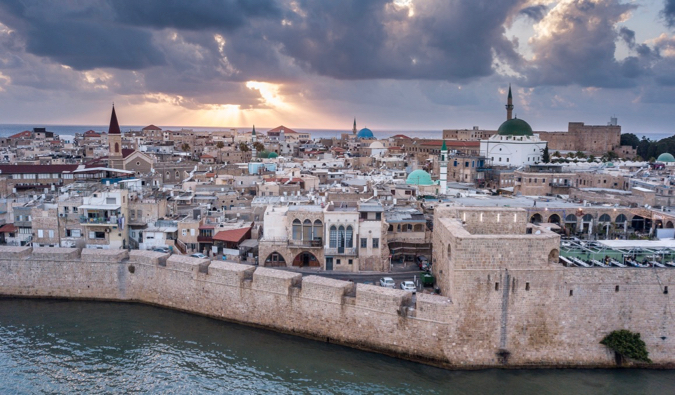 There has been human activity in what is now Israel for over 100,000 years, making the region incredibly rich when it comes to archaeological finds. While most people are familiar with the main sites (such as Jerusalem, Caesarea, and Masada) there are actually tons more to see throughout the country.
In fact, there are more than 300 excavations active in Israel, which means that there are new discoveries being made all the time. Here are some of the best lesser-known sites:
Megiddo – Located southeast of Haifa, this was once a fortified city, with its origins going back to around 3000 BCE. The Hebrew name "Har Megiddo" (Mount Megiddo) became in Greek "Armageddon," as this is the supposed site of the end-times battle. Today, the ruins host an excellent and informative museum that sheds light on the area and its sprawling history.
Templars' Tunnel in Akko – This secret tunnel was built by the medieval Templars at their fortress in Akko (Acre) in the 13th century. It stretches 150m and was only discovered in 1994. The site is accessible to the public, which means you can actually explore the tunnel yourself.
Beit She'an – This Biblical site dates back to the 6th century BCE and is home to beautiful and well-preserved Roman ruins, including bathhouses, a theater, column-lined streets, and much more. It was the Roman capital of northern Israel and is one of the largest archaeological sites in the world.
Beit Guvrin-Maresha – Located in Beit Guvrin-Maresha National Park (near Kiryat Gat), this Roman ruin was known as Eleutheropolis during the Roman and Byzantine eras. It's a UNESCO World Heritage site and home to a Jewish cemetery, an amphitheater, and a Byzantine church. You can also find the ruins of public baths and burial caves here as well.
Herodium National Park – Located just outside of Jerusalem, this fortress built into a hill rivals the more popular Masada yet sees a fraction of the visitors. Here you'll find palatial ruins, underground tunnels, secret caves, lookout points offering beautiful views, and the famous tomb of Herod the Great.
As for the more well-known Caesarea National Park, it's located just 30 minutes by car south of Haifa. As one of the country's biggest archaeological sites, it's home to Roman, Byzantine, and Crusader cities. It's famous for its Roman aqueduct, hippodrome, and amphitheater (a great place to see a concert), plus there is a public beach and shopping nearby.

9. Learn About Gaza (and the West Bank)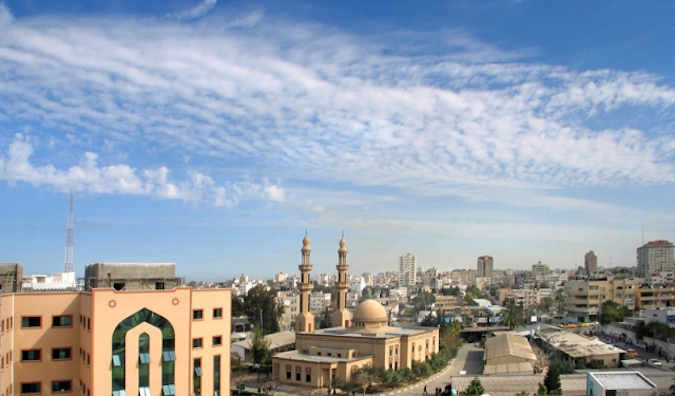 Located on the southwest coast, Gaza has a long past. In recent history, the region has been controlled by the British, Egyptians, and Israelis, and is currently ruled (de facto) by Hamas. Palestine-Israel relations are a sensitive topic — and I have no desire to get into that in this post — but understanding the conflict is vital to understanding the region and its history.
While you can't easily visit Gaza, it's just 71 km (44 miles) from Tel Aviv, and there are several border tours you can take to learn more about the ongoing conflict. Abraham Tours runs "dual-narrative" tours of Gaza that offer insight into the complex history of the conflict (they also run tours about the West Bank).
Additionally, Green Olive Tours, a joint Israeli-Palestinian company, offers tons of insightful single and multiday tours around Gaza and the West Bank as well.
And these are some reputable NGOs that work in Gaza that you can reach out to:
10. Haifa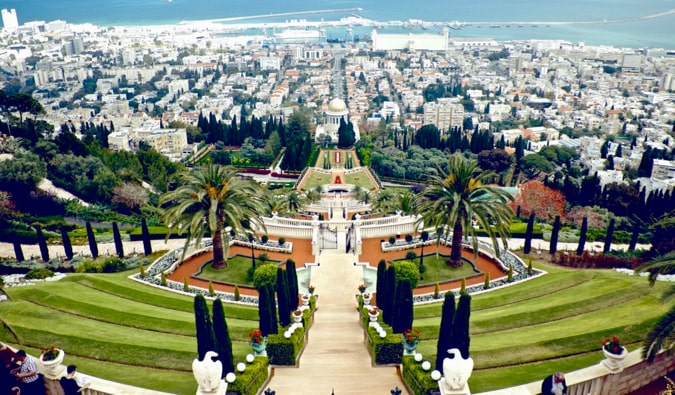 Haifa, a relaxed port city on Mount Carmel in the north, is another must-see destination. Home to just under 300,000 people, the city's history stretches back to the third century CE. An important industrial hub, Haifa boasts a mix of Muslim, Jewish, and Christian inhabitants, which has helped it maintain a diverse and cosmopolitan feel. Haifa is also home to Israel's only subway: a single line with six stops
You could easily spend a few days just seeing the highlights. Don't miss the UNESCO World Heritage Baha'i Gardens in the city center, a beautiful terraced garden that is home to the golden-domed Baha'i Shrine of the Báb. For an amazing view, take the cable car up Mount Carmel to the Stella Maris Carmelite Monastery. The ride is just five minutes and costs 35 ILS ($10 USD) (round-trip). You'll be rewarded with a picture-perfect view of Haifa and the Mediterranean.
You can also base yourself in Haifa while taking day trips to Nazareth, Megiddo, or other destinations in Galilee or along the coast.

11. Visit a Kibbutz
A kibbutz is a collective community typically centered around a particular job or workplace. They started back in 1910 and were originally centered around collective agriculture. The concept spread rapidly, and today there are still nearly 300 across the country. Many are open to visits from tourists who are looking for a more unique travel experience. Here are some of the most popular kibbutzim if you're looking to learn more:
Kibbutz Ein Gev – Located on the shore of the Sea of Galilee, this is one of the biggest kibbutzim in the country. It's home to a beachside resort open to visitors, as well as several agricultural operations (including dairy farming and a banana plantation). Over 600 people live in the kibbutz, and you can take a short train tour through it to learn more or book a stay at its holiday resort. The tours last 30 minutes and cost 16 ILS (under $5 USD).
Kibbutz Degania Alef – Established in 1910, this was Israel's first kibbutz. It is home to over 500 people, who all work in the community's factories, farms, or service industries. There are also two small museums in the community that shed light on its history and development, as well as some historical buildings you can visit to learn more (you'll need to book your museum visits in advance).
Kibbutz Ein Gedi – Located on the Dead Sea, this kibbutz is famous for its botanical garden, which spans almost 25 acres and is home to over 900 species of plants. Founded in 1953, the kibbutz is home to just over 600 people and is focused on agriculture and tourism. Free tours are available daily in English and Hebrew.
***
Whether you are interested in religious history, are curious about archaeology, or just want to spend time outdoors hiking, diving, and snorkeling, you'll find what you're looking for in Israel. It's truly a world-class destination for laid-back vacationers, foodies, and intrepid backpackers looking to get off the beaten trail.
No matter what you're looking for, Israel won't disappoint.
Book Your Trip to Israel: Logistical Tips and Tricks
Book Your Flight
Use Skyscanner or Momondo to find a cheap flight. They are my two favorite search engines because they search websites and airlines around the globe so you always know no stone is left unturned. Start with Skyscanner first though because they have the biggest reach!
Book Your Accommodation
You can book your hostel with Hostelworld as they have the biggest inventory and best deals. If you want to stay somewhere other than a hostel, use Booking.com as they consistently return the cheapest rates for guesthouses and cheap hotels. My favorite places to stay are:
Don't Forget Travel Insurance
Travel insurance will protect you against illness, injury, theft, and cancellations. It's comprehensive protection in case anything goes wrong. I never go on a trip without it as I've had to use it many times in the past. My favorite companies that offer the best service and value are:
Looking for the Best Companies to Save Money With?
Check out my resource page for the best companies to use when you travel. I list all the ones I use to save money when I'm on the road. They will save you money when you travel too.