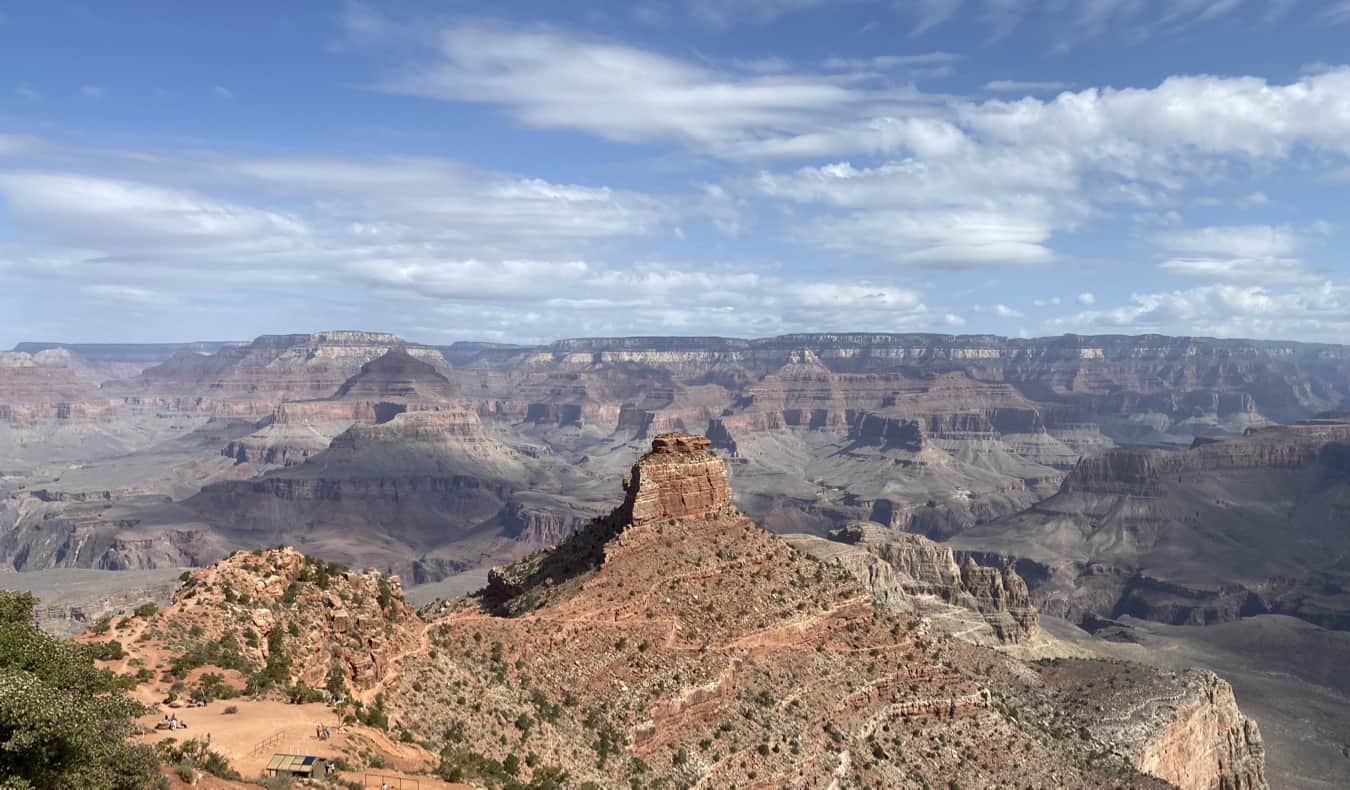 Last Updated: 5/13/21 | May 13th, 2021
The American West is one of the most beautiful places I've ever seen and within it lies one of the world's greatest wonders: the Grand Canyon.
Stretching 277 miles and cutting a trench 6,000 feet deep, the Grand Canyon is one of the most popular tourist destinations in the country (and one of the greatest natural wonders of the world). Taking millennia to form, the rocks at the base of the canyon have been dated to be over 2 billion years old.
While the canyon is popular, of the 6 million annual visitors, 99% go to the Grand Canyon for less than four hours. Of that time, the average visitor only spends 20 minutes at the actual canyon. Surprisingly, less than 1% of visitors actually walk down to the bottom.
Hiking the Grand Canyon is really hard. It's a sweaty, steep hike that is incredibly exhausting. But it's worth it. There is more to the canyon than just the views overlooking the rim, yet so few people actually venture down to see what else is there.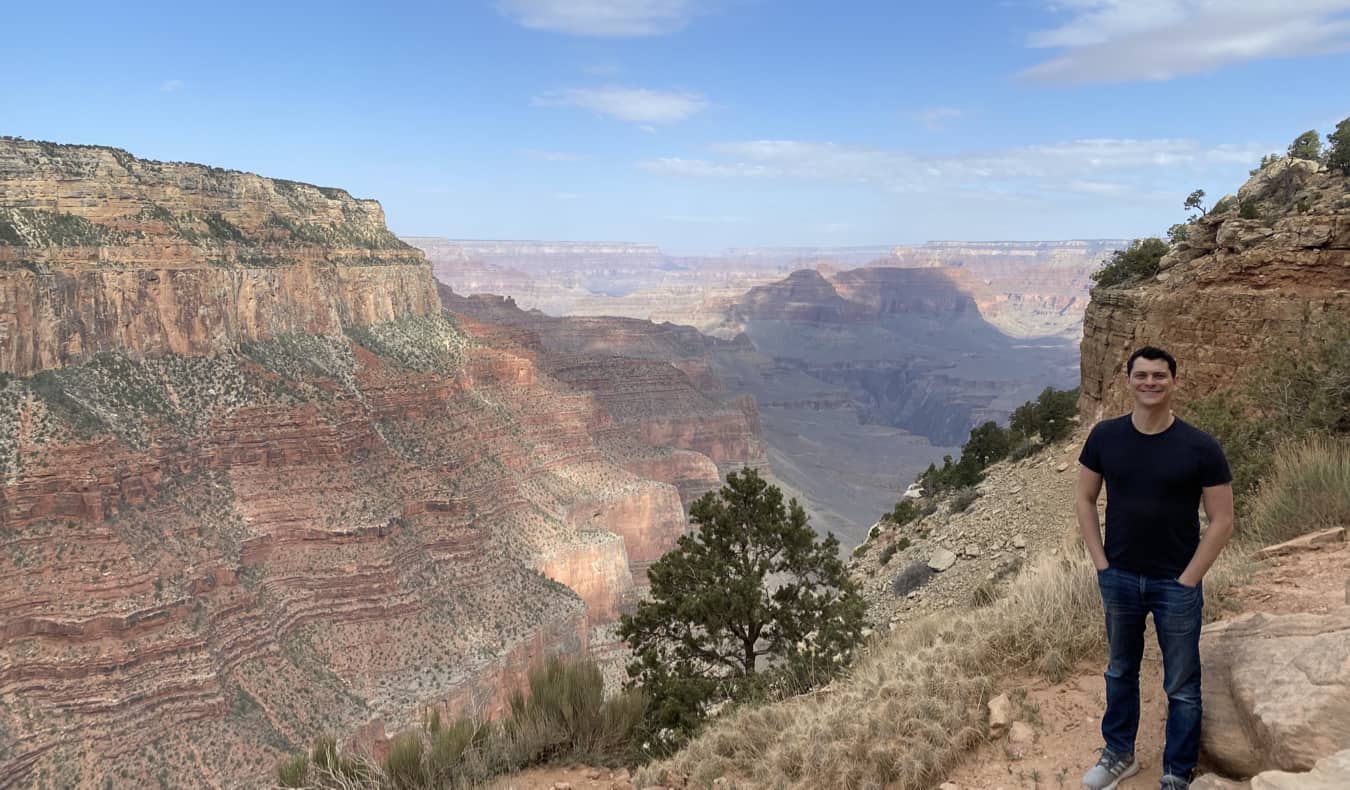 I've been to the Grand Canyon twice. The first time, I hiked to the bottom. I'd seen the pictures and heard the stories, but nothing could have prepared me for just how huge it was. In front of me, stretching far and wide, were red and orange peaks and valleys, jutting and falling into the ground.
Hiking down, you see all the desert animals, the intricacies of the ridges, the mountains, the streams, and the cliffs that aren't noticeable from above. You see the color changes in the rocks up close, touching them, and enjoy the peacefulness of this place away from the crowds.
If you ever visit the Grand Canyon, hike down, even if just for a few hours. Hiking the Grand Canyon, you'll get to experience the canyon in detail, and it gives you way more perspective than just looking out over the rim and going "ooohh" and "ahhh."
You'll see the Colorado River up close as it cuts its way through the canyon, flowing fast and furiously as it sketches one of nature's greatest paintings.
From the bottom, the landscape takes on a totally new shape. The vast canyon disappears and all you can see is this little valley the river has cut.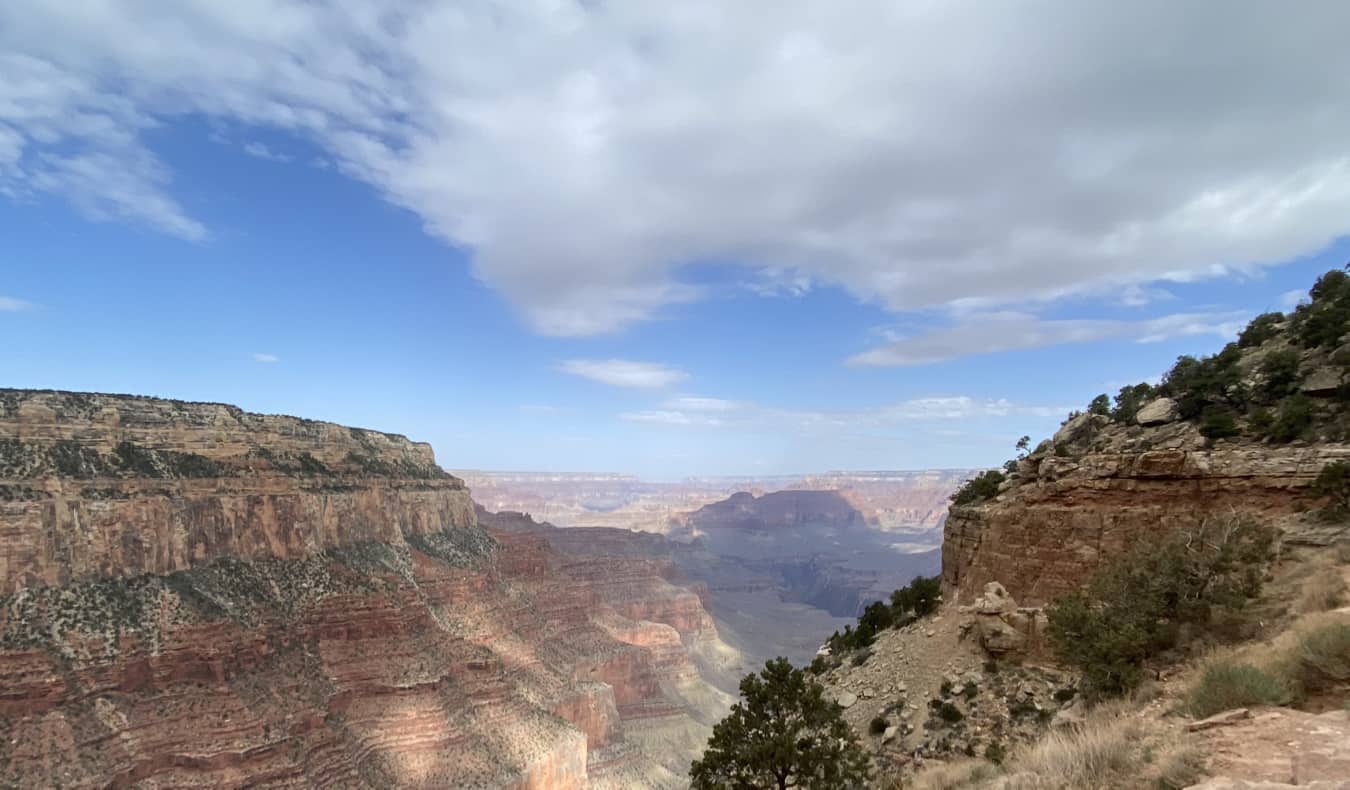 After spending the night at the bottom, I awoke, my legs already sore. Yet I was still in for another 9.6-mile hike back up the canyon through hot, steep terrain. Hiking up was a lot tougher than hiking down, even when taking the flatter Bright Angel trail. After six hours of hiking, I made it out.
Once over the top, all the pain, fatigue, and heat disappeared, giving way to sheer joy. I had mastered the canyon. I had done what few do. I felt like Rocky.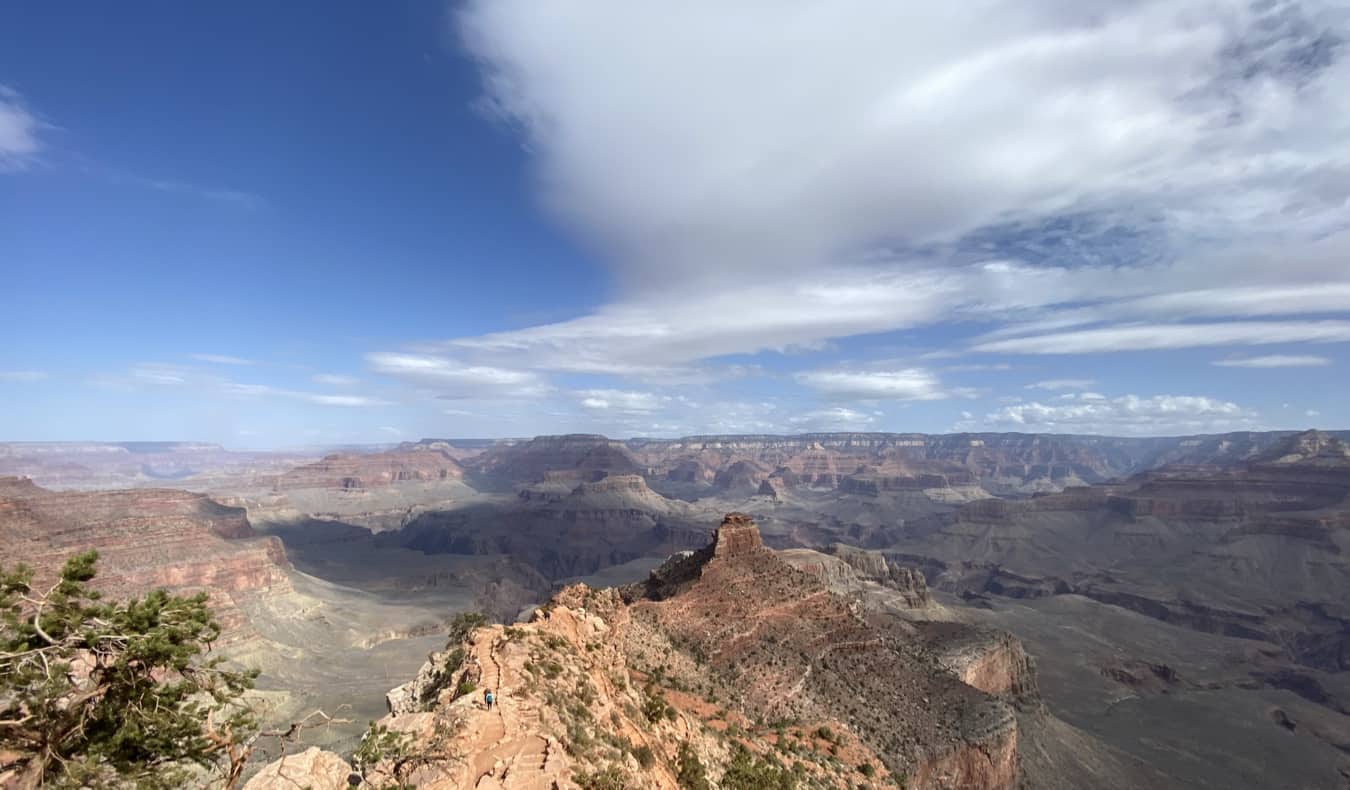 My second visit was a bit easier as I only did 6 miles to Skeleton Point. It was still a hard hike given the ascent involved but it's a lot a good day hike, taking about 5.5 hours to complete.
Having done the Grand Canyon twice now, I can say that it's something I think everyone needs to experience.
Below are some tips for hiking the Grand Canyon:
Bring lots of water – This should go without saying, but if you're planning to hike to the bottom you're going to get thirsty. I'd suggest a water bottle as well as something like a CamelBak to keep you hydrated.
Walk slowly – If you're hiking down to the bottom, take your time. Set a slow, easy pace. Make sure you give yourself lots of time so you don't have to rush. Rushing will see you get exhausted sooner and go through your water quicker.
Skip the bus tour – Tours from nearby cities like Las Vegas are a common way to see the canyon. They can even be cheap. What they aren't is enjoyable because you're rushed and don't get to enjoy the trip. Rent a car or find a rideshare. You'll have a much better experience.
Visit during the shoulder season – Summers at the canyon are busy. Even if you get there early you'll still find a crowd, so consider visiting in the shoulder season. That way you won't get the sweltering heat or the bustling crowds.
Pick the right hike – If you don't have a lot of time but want to hike, choose the Kaibab Trail to Cedar Ridge (3 miles).
Get there early – The park gets busy around sunset, with many visitors wanting to get the perfect shot. Get there early so you can get the best view without having a mob of people in your way.
If you want to camp, book now! – The campgrounds are filling up fast. Phantom Ranch (the main lodge at the bottom) is under renovation and, due to COVID, very limited in the number of people they can have.
Get a National Park Pass – The Grand Canyon is $35 USD per vehicle so get the annual National Parks pass. It's $80 USD and good for a year. You can come in and out of the park as much as you want and visit any other parks for free. It pays for itself very quickly!
Take Rt 64 to enter/exit the park – This takes you to the eastern part of the canyon where there are tons of lookouts and over a super scenic road. It's way better than driving from Flagstaff via 180. 64 takes longer but the drive is way more scenic. There's Sunset Crater and Wupatki National Monument on the way too (your annual pass gets you in both for free too).
Be prepared – It's a lot harder to hike than you think. Don't try to hike down and back up again in a day unless you're a super pro at this.
Suggested Hiking Trails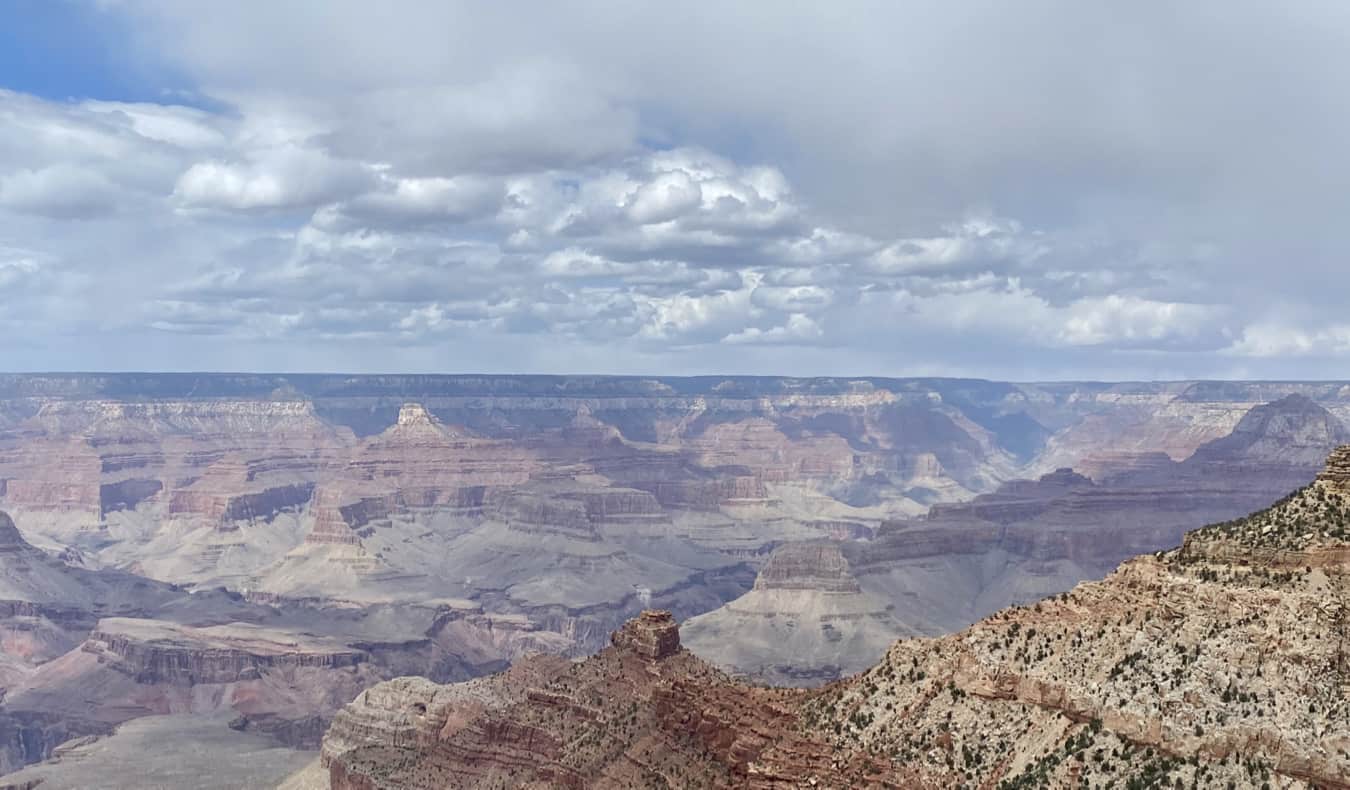 If you're looking to stretch your legs, here are a few hikes you can do:
South Kaibab Trail to Cedar Ridge (3 miles roundtrip)
South Kaibab Trail to Skeleton Point (6 miles roundtrip)
Grandview Trail to the first overlook (2.5 miles roundtrip, but more difficult)
Bright Angel Trail to Plateau Point (12.2 miles roundtrip)
Bright Angel to Indian Gardens (4.5 miles roundtrip)
For more trail suggestions, check out AllTrails.com. It's the best website for finding hiking trails all around the world (including their difficulty level, elevation, and duration).

How to Visit the Grand Canyon
The South Rim is the most popular part of the canyon to visit and see the most tourists each year. It has an airport, train service, and is a 90-minute drive from nearby Flagstaff. If you're coming on a day trip from Las Vegas it's around a 4.5-hour drive to the South Rim.
The North Rim is located on the Utah side of the Grand Canyon and the entrance station is 30 miles south of Jacob Lake on Highway 67. The North Rim village may only be reached by road. There won't be nearly as many tourists here, but it arguably doesn't have as great of a view.
Admission to the Grand Canyon is $35 for a vehicle permit or $20 for an individual (say if you're coming by bus or bicycle.) Permits last seven days and can be bought online or in person. Cash and credit card are accepted.
You can also go rafting in the Grand Canyon or take a scenic helicopter tour over it. Tours last around an hour and cost at least $299 per person.
If you're looking to sleep in the canyon at the bottom, you'll need to apply for lodging at Phantom Ranch, the only lodging in the actual canyon. The Ranch operates on a lottery system due to its high demand. You'll need to make your booking 13-15 months in advance (you only pay if you are chosen). Names are drawn every month for the following year. For example, they draw lottery winners in June 2021 for visits in June 2022. So, you'll need to apply early to get a chance at a spot. Here is the lottery schedule.
While there are usually both dorms and cabins available, currently the dorms are closed due to COVID-19. Capacity at the Ranch is also reduced to 50% until further notice.
A two-person cabin is $172 USD per night. A bed in the dorm (when it's open) is $62 USD. Meals are extra and cost around $25-50 USD.
If you want to camp below the rim, you'll need to apply for a backcountry permit. Permits are $10 USD plus $8 USD per person.
There are also campgrounds above the rim (which don't require a permit). There are two on the South Rim and one on the North Rim. Only one campground is open all year, however; the rest close in the winter. Basic plots without electricity start at $18 USD per night. It's best to make your reservation in advance (especially on the South Rim).
For more camping information (including how to make a reservation), visit the NPS website.
Book Your Trip: Logistical Tips and Tricks
Book Your Flight
Use Skyscanner or Momondo to find a cheap flight. They are my two favorite search engines because they search websites and airlines around the globe so you always know no stone is left unturned. Start with Skyscanner first though because they have the biggest reach!
Book Your Accommodation
You can book your hostel with Hostelworld as they have the biggest inventory and best deals. If you want to stay somewhere other than a hostel, use Booking.com as they consistently return the cheapest rates for guesthouses and cheap hotels.
Don't Forget Travel Insurance
Travel insurance will protect you against illness, injury, theft, and cancellations. It's comprehensive protection in case anything goes wrong. I never go on a trip without it as I've had to use it many times in the past. My favorite companies that offer the best service and value are:
Looking for the Best Companies to Save Money With?
Check out my resource page for the best companies to use when you travel. I list all the ones I use to save money when I'm on the road. They will save you money when you travel too.
Want More Information on the United States?
Be sure to visit our robust destination guide on the United States for even more planning tips!