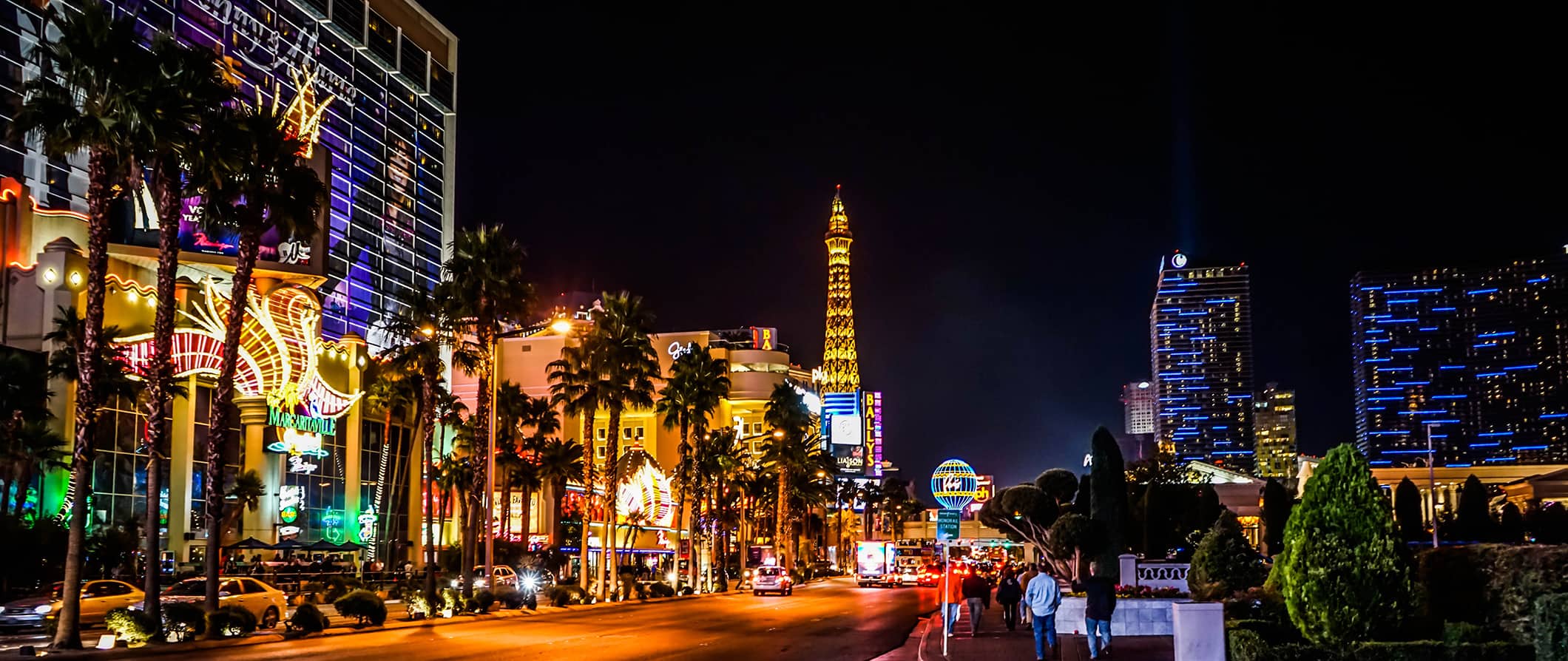 Nestled in the Nevada desert is Las Vegas. Hotels, casinos, nightclubs, and restaurants all vie for space among the neon and glitz in this city of sin. A lot of people don't like Vegas – the party, the glitz, the expensive resorts, the fancy see and be seen atmosphere. But those people focus on the negatives of Vegas. I am constantly blown away by the city – the amazing mix of restaurants, diners, people, concerts, shows, and events. There is much more to Las Vegas than the Strip. And despite all the wealth on show, it's pretty easy to pick up freebies in Vegas. Free drinks, meals, show tickets, and reduced accommodation can all be easily had – if you know where to look!
Top 5 Things to See and Do in Las Vegas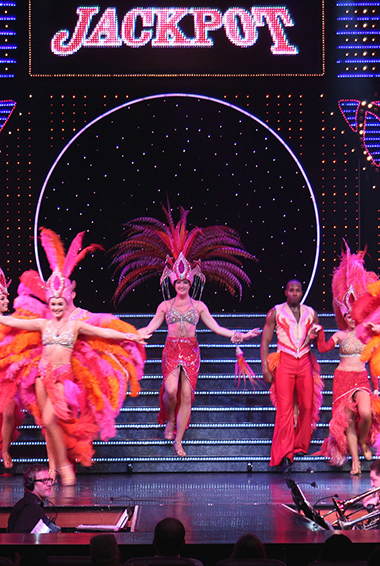 1. Take in a show
Vegas does entertainment better than anywhere else and you'll find some of the best acts in the world here. It's often a good idea to book tickets with your accommodation as it can work out cheaper. Tix 4 Tonight has booths at Fashion Show Mall, Circus Circus, Town Square, Four Queens downtown, and various other locations around town. There you can find tickets for shows that night for 50 percent off.
2. Experience Fremont Street
The glitz, the lights, and the high prices of the Strip are all a far-off land compared to downtown Vegas. Here you'll find sketchy bars, sad casinos, cheap drinks, and more of a New Orleans Bourbon Street vibe. It's a great area for entertainment, people-watching, cheap slots, and cheaper drinks.
3. Eat, Eat, Eat
Forget the buffets. Las Vegas has some of the best food in the world. With all that money flowing in, it is easy to see why. A trip here isn't complete without at least one fine dining experience. My favorite restaurants are Yellowfish (Bellagio), Sirio (Aria), American fish (Aria), Lemongrass (Aria) The Peppermill, Firefly, Aureole (Mandalay Bay), and Otto (Palazzo).
4. Head to Hoover Dam & Lake Mead
Thirty-five miles south of the city, you'll find Hoover Dam. The dam is a massive curved wall, towering 726 feet above bedrock and holding back over 9 trillion gallons of water in Lake Mead, the country's largest reservoir, which was created by its construction. The dam is free to see but the visitor center costs $10 and the 1-hour tour costs an additional $20.
5. Visit the Neon Museum
This outdoor lot is loaded with the huge signs that once beckoned you into casinos like the Silver Slipper, Stardust, and El Cortez. The museum recently expanded and now features more signs, a park, and guided tours of their collection. Make reservations in advance.
Other Things to See and Do
(Click the title to expand the text)
1. Take a trip to the Grand Canyon
You can combine a trip to the Grand Canyon with an outing to Hoover Dam if you take one of the many coach tours for around $85. Try to factor in an entire day for your tour though as the canyon isn't that close to the city. Since they are over 250 miles away, a tour of the Canyon and Hoover Dam can easily take up to 14 hours. While I think the Grand Canyon deserves its own trip, if this is the closest you can get to it, a rushed visit is better than no visit.
2. Explore Shark Reef
As one of the most prestigious sea-life centers in the world, Shark Reef Aquarium is a must see. Shark Reef tunnel, which is designed to look like a sunken ancient shipwreck allows you to come face to face with all kinds of sharks, sawfish, giant rays, endangered green sea turtles and rare golden crocodiles. Tickets cost $20, and it is located in Mandalay Bay Resort. It's open daily from 10am-10pm.
3. See Vegas from Stratosphere
Offering the best views of Vegas, Stratosphere is the tallest free-standing observation tower in the US. If you're feeling brave then consider having a go on one of the extreme rides at the top. The aptly named X-Scream propels you headfirst 27ft over the edge of the tower and leaves you hanging over 850 ft in the air. Admission to the tower and all rides costs $40. It's open daily from 10am to at least 1am.
4. Hike Red Rock Canyon
If the bright lights of Vegas get too much for you then head out to Red Rock Canyon for a day's hiking. The canyon is ringed by a road and each trailhead has a parking lot where you can leave your car to go hike before driving to the next trailhead. At 2.5 miles long, the Calico Tanks trail is the most popular in the area. You'll pass a natural water tank on the way which leads up to a summit offering a great view of Las Vegas. Make sure to come early in the morning before it gets too hot, and bring a lot of water. Entrance costs $7 per vehicle and the scenic loop is open from 6am to at least 5pm. The visitor center is open daily from 8am-4:30pm.
5. Check out the Mob Museum
Las Vegas started with the mafia. Bugsy Segel built the Flamingo and, since then, the mob has controlled Vegas (see the movie "Casino"). With the rise of the mega resorts, they have had less influence, however. Still, the mob and Vegas are tied together and a wonderful and very detailed museum has opened to discuss the history of the two. Fun fact: my family used to be involved with the mob out in Vegas. It's open daily from 9am-9pm and admission costs $25 (if you buy online, tickets are $20).
6. See the Mirage Volcano
Set to its own soundtrack, the volcano erupts finely choreographed fireballs and smoke 100ft into the air from the waters below, turning the waterfall to molten lava. The volcano show happens 7pm and 8pm and, on Saturdays, there's also a 9pm show.
7. Stay at Aria
This my favorite hotel. Hands down. I love everything about Aria. I love the high tech rooms, the pool area, outdoor club, delicious restaurants, and modern look and feel to the hotel and casino. But my favorite thing? The smell. The whole place is scented with vanilla. It's by far the best-smelling place on the Strip. I would recommend staying here but if you choose somewhere else, make sure you come and visit and at least enjoy one of the great restaurants.
8. Visit the Venetian
While gondola rides are super cheesy, overpriced, and touristy (just like in Venice!), the architecture and construction of this casino is magnificent and one of the best on the Vegas Strip. If anything, just walk through here. Simply put – it's pretty and makes for a good stroll.
9. Watch the Bellagio Fountain Show
Soaring as high as 460 ft, The Bellagio has a fountain show that performs a magnificent light and water display set to music. It happens every fifteen minutes and crowds form about five minutes before the light show starts. I think it overhyped (probably due to Ocean's 11) and while I wouldn't make my night revolve around it like some people do, it's worth seeing if you are nearby.
10. Go clubbing
Clubs in Vegas are some of the most prestigious (read: pretentious) in the world, so you can expect to wait in line for a long time, pay outrageous prices for drinks and entry into the club, as well as being rejected if you're not dressed smartly enough. The biggest ones are Lavo, Tao, Marquee, and Haze.
11. Hang out in Boulder City
Along the way to the Hoover Dam, this suburb can give you a taste of local life in the area. Milos is the hot restaurant in this town. There's also a main street and some shopping you can do, but not much more than that. But despite the lack of "things to do," strolling around this quiet little community is a nice contrast to the crowds of Vegas.
12. Go Golfing
There are many golf courses in Vegas, including Shadow Creek, one of the best in the world. If you aren't a member of any local clubs, many of the casinos can arrange day passes.
13. Gamble
Let's face it: Vegas is a casino city. Even at the airport, you find slot machines. There is every type of game in Las Vegas. If you can bet on it, you'll find it in Vegas. And if you can't bet on it, well, someone will let you in Vegas. All the casinos are different and while some of the better ones are experiences in themselves even if you don't gamble, you can see my guide to the best casinos in Las Vegas for details on all the casinos.
14. Relive the past at Bonnie Springs
Pure tourist cheese (but that can be fun), Bonnie Springs Ranch is a former mining town that is now a "ghost town" where you can experience life in the Old West, ride horses, and watch reenacted gunfights. Admission to the Old Town is $10.
15. Get artistic at First Friday
On the first Friday of every month, the downtown area fills up with exhibits and displays from local artists during First Friday. It's free and a great way to get a sense of the local art scene as well as mix with locals. Be sure to also check out Arts District 18B, the arts center of Las Vegas, which is home to cool bars, shops, galleries, and more.