During my visits back to the US, I always try to take a trip down to New York City. Only four hours from Boston, New York's a great place to visit for many reasons. Many of my friends live there, so it's a good chance to catch up, and there's always good food to eat, new shows to see, and new enclaves to explore. New York is so big that no matter how many times I go, I always discover something new.
One of the best parts of living in the upper east of the US is that there's a lot of transportation between the various cities. Competition is fierce, driving prices down and amenities up. My favorite bus to take is the Bolt Bus, which runs up and down the east coast. Like its counterparts (i.e., the Megabus), the Bolt Bus offers $1 fares if you book early enough in advance. But I take the Bolt Bus for another reason—free Wi-Fi. If you're going up around the eastern seaboard, make sure you use one of these discounted bus companies. You get great comfort at rock-bottom prices. It's a budget traveler's dream.
Now in New York City, I'll be here until Thursday. I have a few things planned. For starters, I'll be having a big dinner with a number of travelers tonight: Everything Everywhere, in2travels, and Two Backpackers. We'll discuss all things travel and blogging. However, the main part of my trip here will play to my strength—I'll be a tour guide for a friend from Germany. A newbie to the US, she's stopping first in NYC, and who better than to show her around NYC than me, a local Bostonian? Lined up for the next few days are some of my favorite things to do in New York City:

Visit Central Park


No trip to the Big Apple is complete without a trip wandering through Central Park. It may be big, it may be a bit touristy, but it's a great way to relax and chill out on a warm summer's day.
The Statue of Liberty/Ellis Island


The Statue of Liberty is an impressive sight and one of the must sees for a first-time visitor. We'll have a chance to go to Ellis Island too. Despite all the previous visits to NYC and the fact that my family came through Ellis Island, this will be a first-time visit for me too.
Museum Hop


New York is filled with museums, and I fully plan to drag my guest to many of the best ones, including MoMA, the Met, the Museum of Natural History, and any other museum I can think of.
The Empire State Building


This is a great way to see the expanse of New York. While I'm afraid of heights, I figure if I can brave the tallest building in the world, I can handle this. My friend is keen on seeing it, so we'll go, hoping I don't freak out…too much.
Catch a Show


New York City is one of the major theater centers in the world, and I plan to see at least one show. I don't get to the theater as often as I like, so I'll use this chance to see something good. I still haven't seen Wicked, and Jersey Boys is supposed to be good too. The theater in New York is like the opera in Vienna—a must.
Eat


A city with a population of 12 million people from around the world means you'll find a wide variety of delicious food. As a foodie, I can't wait to explore all the good restaurants New York has to offer. There are always new ones opening. So far, Indian, Japanese, and Cuban meals are planned, but who knows what other delicious food the trip will bring?
For more information on the United States, visit my country and city guides to US travel.
Get the In-Depth Budget Guide to New York City!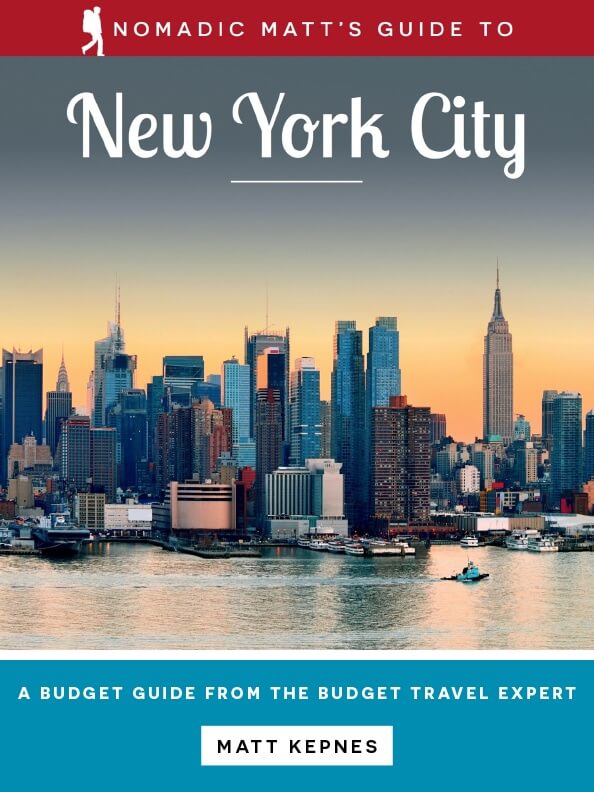 For more in-depth information and tips on NYC, check out my 100+ page guidebook written for budget travelers like yourself! It cuts out the fluff found in other guides and gets straight to the practical information you need to travel and save money the city that never sleeps. You'll find suggested itineraries, budgets, ways to save money, on and off the beaten path things to see and do, non-touristy restaurants, markets, and bars, and much more!! Click here to learn more and purchase the book.