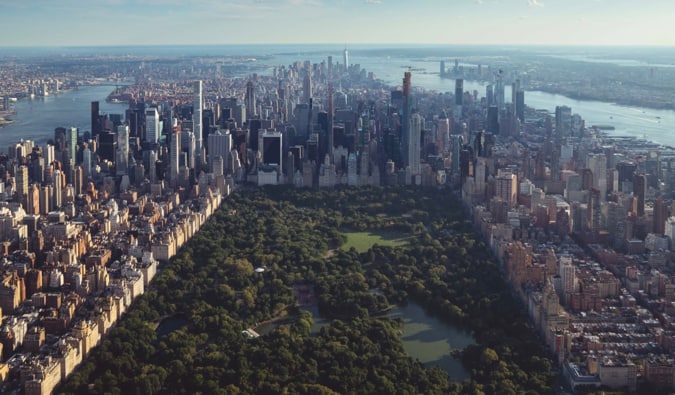 Last Updated: 3/24/23 | March 24th, 2023
New York City. It's one of my favorite cities in the world and one of the most popular destinations in the US. Sprawling, busy, exciting — there's a reason people call it the city that never sleeps!
It has something for everyone — including lots of budget-friendly activities for travelers looking to stretch their pocketbooks. I lived in the city for years and still return often. Whether you're looking for history, nightlife, food, or art, this city won't disappoint.
Since I've written a guidebook to this city, lived there for over five years, run tours there, and explored as much as I could in pursuit of knowing the best things to do in NYC, I want to share my favorite activities to do in New York City.
New York is impossible to "see" in one visit. This city is home to thousands of restaurants, hundreds of museums, attractions, plays, and quirky things to do but here are the best things to see and do in New York City — no matter your budget! They'll give you the essence of the city!

1. Statue of Liberty/Ellis Island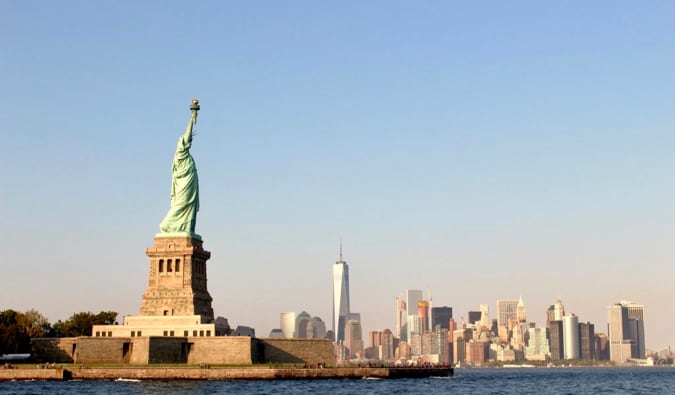 The Statue of Liberty is a massive neoclassical statue gifted to the USA from France. It was dedicated in 1886 and stands 305-feet tall (95m). It was designed by French sculptor Frédéric Auguste Bartholdi though its metal framework was built by Gustave Eiffel (of Eiffel Tower fame). It's spectacular to see up close and is as big as you imagine, but the real highlight of this combo is Ellis Island.
Here, you can learn about the immigrant experience and get a sense of the people who helped build NYC (you'll even find my family's name inscribed on the wall). There's such a great sense of history there that you can't help but be impressed.
+1 212 363-3200, nps.gov/stli/index.htm. Open daily 9:30am-4:30pm. There is no admission fee for the island but the ferry ticket costs $24 USD.

2. Central Park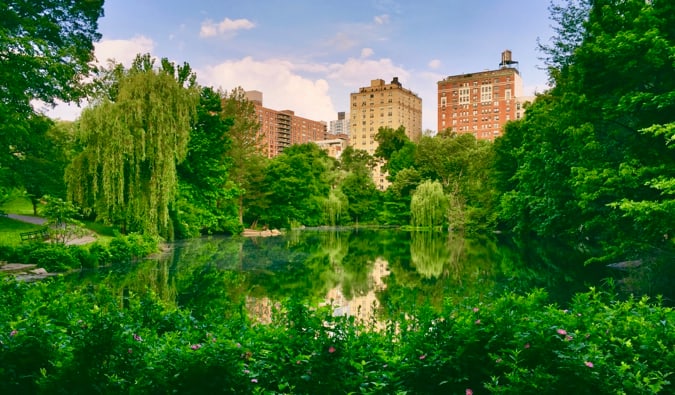 The perfect way to relax in the city and leave the crowds behind is to spend the day in Central Park. It's free, there are lots of paths to walk (or run), bike lanes, lakes to row in, and a zoo. The park spans over 150 square blocks (840 acres) it's easy to spend hours wandering around. During the summer months, there are often free concerts and theater productions (line up early for tickets to Shakespeare in the Park). I'm a big fan of laying out in Sheep's Meadow on a sunny day with a book, some food, and a bottle of wine.
If you want to take a guided tour around the park to learn more about the statues and sculptures, ponds, parks, and famous filming sites, take a guided tour with Get Your Guide ($26 USD).

3. World Trade Center & 9/11 Memorial and Museum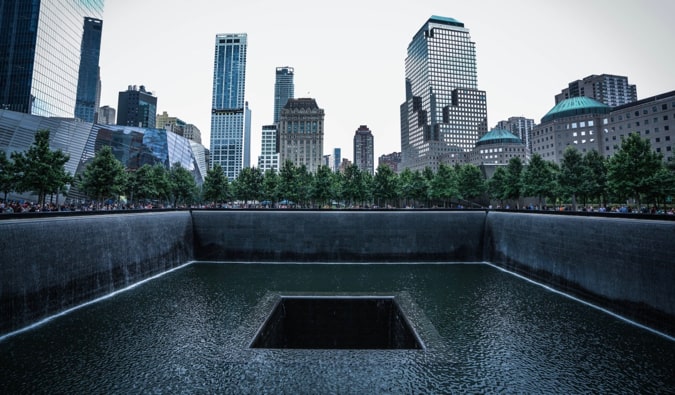 On September 11th, 2001, almost 3,000 people were killed in a series of terrorist attacks in NYC and elsewhere. Don't miss this somber memorial, which lists the names of everyone killed (it's free). Afterward, take in the view from the new "Freedom Tower" (which was built to replace the World Trade Center buildings). On the elevator up, you can see pictures of the historical development of the city and how it's changed over the years. To get a deeper understanding of 9/11 and the events that unfolded, visit the museum. It's home to moving exhibits that illuminate the scope and significance of the tragedy.
180 Greenwich Street, Financial District, Lower Manhattan, +1 212 266 5211, 911memorial.org. Memorial open daily from 10am-5pm. Museum open Thursday-Monday from 10am-5pm. The memorial is free to visit; museum entry is $19.50 USD. Free entry Mondays from 3:30pm-5pm (tickets must be booked online).

4. Wall Street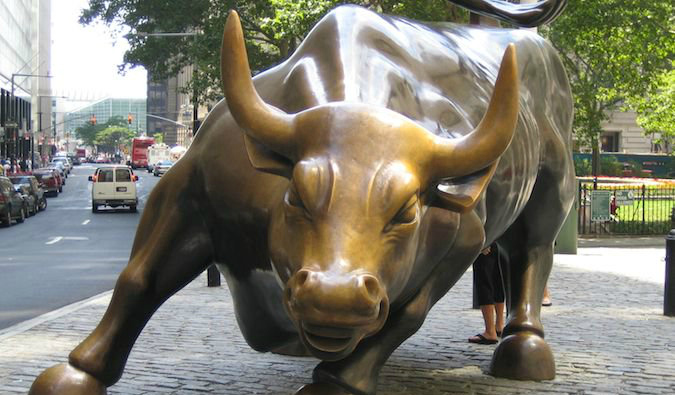 Take a photo with the famous Charging Bull statue (which was commissioned in 1989 and is made of bronze) and then walk to Wall Street and see where all those bankers destroyed the economy. While there isn't much to see here (the Museum of American Finance is temporarily closed) it's still an iconic part of the city and worth seeing with your own eyes, if only briefly.
Guided tours around Wall St with Get Your Guide cost $35 USD and cover the highs and lows of the (in)famous finance hub, highlighting the lives of famous elites from John D. Rockefeller to Warren Buffet.

5. Battery Park
Located on the southern tip of Manhattan, this park is where the Dutch built Fort Amsterdam in 1625 to defend their new settlement. The British conquered the area in 1664 and renamed it Fort George. While the fort was mostly destroyed during the American Revolution, the battery was expanded after the war's end to defend the city. You can wander around the fort and then stroll through the surrounding park and take in the beautiful waterfront views of the harbor, the Statue of Liberty, and Ellis Island.

6. Walk the Brooklyn Bridge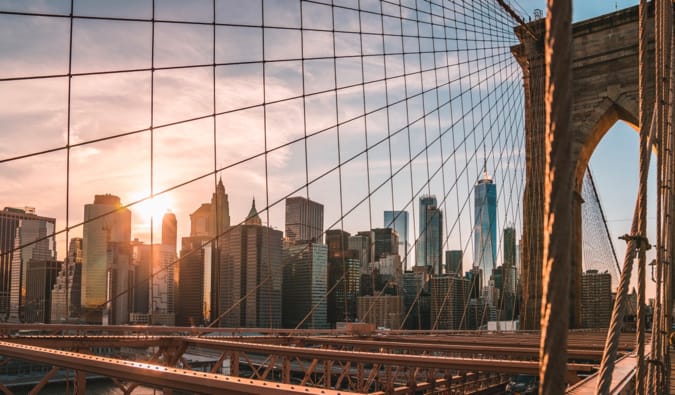 The Brooklyn Bridge offers an easy 25-minute walk into Brooklyn and the waterfront park on the other side of the bridge. Stopping to take photos and meandering along the way will make the walk about 40 minutes — which is definitely worth it! You get a lot of wonderful views of Manhattan as you make your way across. I enjoy doing this walk at night when downtown is all lit up (and there are fewer crowds).

7. Grand Central Terminal
This is New York's historic train station. It was going to be torn down in 1975 but was saved by Jacqueline Kennedy (First Lady to the late J.F.K.), who raised money for its preservation. I love coming to the main concourse and looking up at the "stars" in the ceiling as everyone races to and fro. There's also an amazing eatery in the basement called the Grand Central Oyster Bar & Restaurant. For fancy (and expensive) cocktails while you're here, visit The Campbell and step back into the 1920s (dress code enforced). It was once the office of John W. Campbell, a member of the New York Central Railroad's board of directors and finance tycoon from the 1920s.
89 E. 42nd Street, Midtown, grandcentralterminal.com. Open daily from 5:30am–2am. Various tours are available from $35 USD via mas.org/tours.

8. Trinity Church
Trinity Church is one of the oldest churches in America. Built in 1698, the original Trinity Church was a small parish church constructed by the Church of England. When the British seized New York after George Washington's retreat, it was used as a British base of operations. After the war, George Washington and Alexander Hamilton regularly worshiped here.
The graveyard dates back to the 1700s and is the resting place of many famous Americans, including Hamilton and his wife Elizabeth, Francis Lewis (signatory on the Declaration of Independence), John Alsop (Continental Congress delegate), and Horatio Gates (Continental Army general).
74 Trinity Place, Financial District, Lower Manhattan, +1 212 602 0800, trinitywallstreet.org. Open daily from 8:30am–6pm.

9. The Guggenheim Museum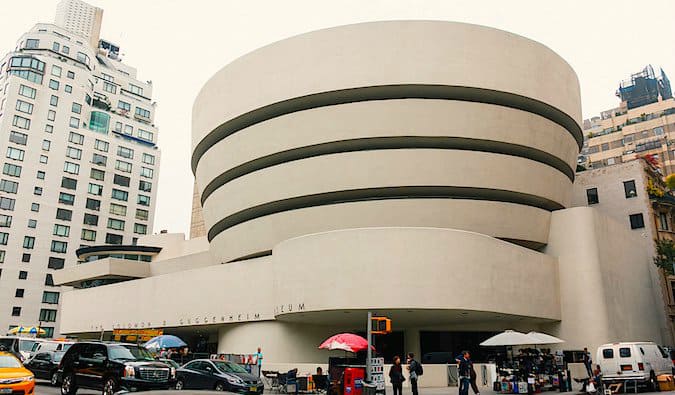 This museum is home to a renowned collection of impressionist, post-impressionist, early modern, and contemporary art. The cylindrical museum (designed by Frank Lloyd Wright) is considered one of the 20th century's most important architectural designs. It's one of my favorite buildings (and museums) in the city.
1071 5th Avenue, Upper East Side, +1 212 423 3500, guggenheim.org. Open Sunday-Monday, Wednesday-Friday from 11am-6pm (Saturdays until 8pm). Admission is $25 USD. Pay what-you-wish is available on Saturdays from 6pm-8pm.

10. City Hall
New York's City Hall is a great piece of historic architecture. It also has a beautiful little park nearby that's filled with office workers during lunch (in the summer anyway). To learn about the building's history, art, and architecture, take one of the guided tours (currently suspended due to COVID-19). On a tour, you'll be able to see the rotunda, the city council chamber, Governor's Room, and the City Hall Portrait Collection. It's a great place to learn about the city and how it functions.
City Hall Park. When operational (tours are not running currently), pre-reserved tours are typically offered for groups (10–20 people) on Mondays and Tuesdays at 10:30am and for individuals on Thursdays at 10am. There are also first-come, first-served tours on Wednesdays at 12pm.

11. Rockefeller Center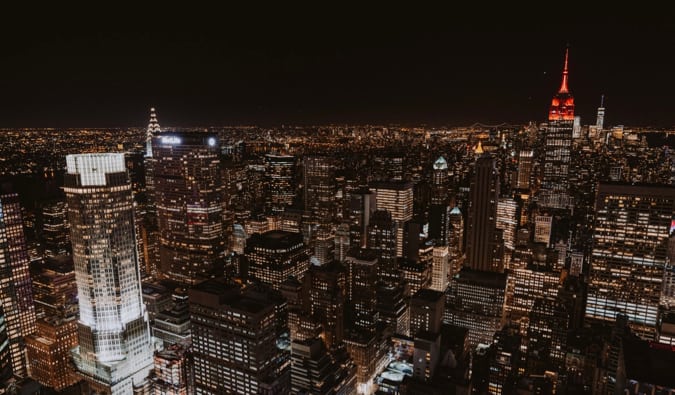 This area is always filled with hustle and bustle. Wander around Rockefeller Center to see where they film The Today Show, shop, snack, and take the elevator to the "Top of the Rock" for another bird's-eye view of the city. I personally think this view is better than the Empire State Building since from the top of here you can get that building in your picture too.
30 Rockefeller Plaza, +1 212 698 2000, topoftherocknyc.com. Open daily from 9am-11pm. Admission is $40 USD to visit the Top of the Rock observation deck.

12. Times Square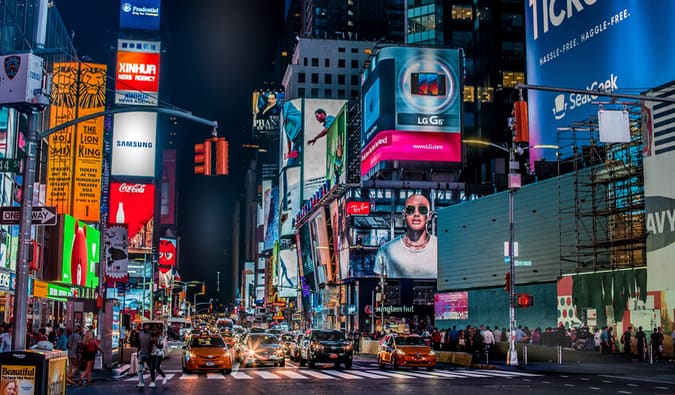 No matter when you go to Times Square, it will be packed with people (usually other tourists). There are pedestrian areas where you can sit and hang out and tons of (overpriced) restaurants and stores. If you aren't shopping or eating or seeing a show, there isn't much to do in the area (and no New Yorker hangs out there), but it's still a fabulous place to people-watch for a few minutes from the top of the red steps of the TKTS kiosk. Try to come at night when it's all lit up. That's when it looks the best!

13. The Metropolitan Museum of Art
350 5th Avenue, Midtown, +1 212 736 3100, esbnyc.com. The observation deck hours vary greatly by season (with week to week differences). Check the website for updated hours. Admission to the Main Deck is $44 USD. The Main and Top Deck costs $79 USD.

18. Broadway Show
You can't go to New York City, the theater capital of the world, without seeing a show. Current highlights and my favorites include:
The Lion King
The Phantom of the Opera
Wicked
Aladdin
Chicago
Book of Mormon
Hamilton
Ticket prices vary greatly by show. However, you can find discounted theater tickets at the TKTS offices around the city (Times Square, South Street Seaport, and downtown Brooklyn) for shows that day. They also have an app where you can see what they offer too. Expect to spend at least $75-95 USD.

19. The Cloisters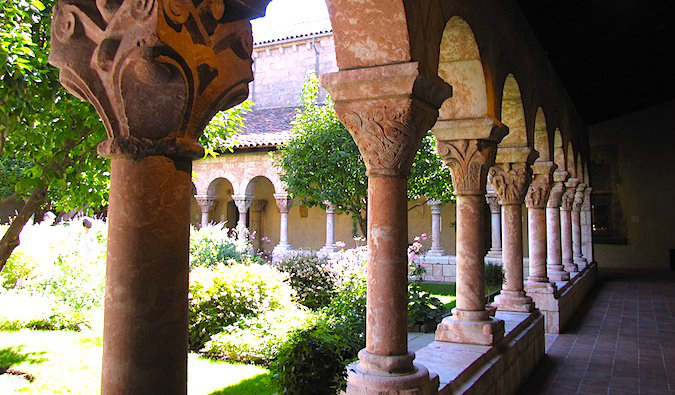 Few people make it up to the Cloisters (it's all the way up near 204th Street), a branch of the Met devoted to medieval Europe. It took me years to finally see it, and I kicked myself for waiting so long. It was built with Rockefeller money from parts of five European abbeys between 1934 and 1939. They even stipulated that the land across the river would forever remain undeveloped so the view would be unspoiled.
The building and its stunning cloistered garden are very, very peaceful and beautiful. It's one of the best things to do in the city. There are free tours each day that explain the history of the museum and the paintings and exhibits.
99 Margaret Corbin Drive, Fort Tryon Park, +1 212 923 3700, metmuseum.org/visit/visit-the-cloisters. Open Thursday-Tuesday from 10am-5pm. Admission is $30 USD and includes same-day entry to The Met.

20. The High Line & Whitney Museum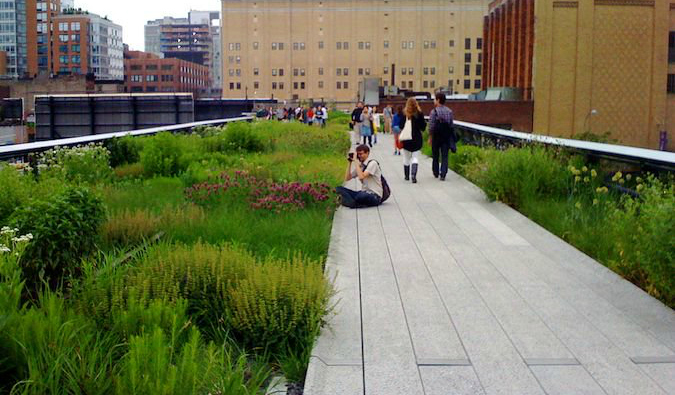 The High Line is a former train track that has been converted into an urban walking park. It stretches almost 1.5 miles from 34th Street to the Meatpacking District. Lined with overlooks, gardens, public art, food stalls, and greenery, this walk is one of the best things to do in the city — especially on a nice summer day. Go for a walk, sit with a book, people-watch — the High Line is a must-see and a true favorite among locals.
The Whitney Museum of American Art (a museum that collaborates with the Met) is located in the Meatpacking District nearby. Even if you don't go inside, the exterior of the building is worth seeing as it is a work of art in itself (it has a very unique, modern design). But I would recommend going inside as there is a wonderful exhibit of American art.
99 Gansevoort Street, Chelsea, +1 212 570 3600, whitney.org. Open Mondays, Wednesdays, and Thursdays from 10:30am-6pm, Fridays from 10:30am-10pm, Saturdays and Sundays from 11am-6pm. Admission is $25 USD and pay-what-you-can on Fridays from 7pm-10pm (advance tickets required).

21. Lower East Side Tenement Museum
This is a fascinating museum that offers visitors a chance to visit former tenement apartments on the Lower East Side. You'll learn how immigrants from around the world lived during the late 1800s and early 1900s as they tried to make it in America. It's an insightful museum and a good follow-up to what you see on Ellis Island. You can only visit this museum via guided tours and they need to be booked in advance. Personally, I like that they use live actors to bring history to life and share the story of newly arrived immigrants.
103 Orchard Street, Lower East Side, +1 877 975 3786, tenement.org. Open daily from 10am-6pm. Admission is $30 USD.

22. Take a Walking Tour
NYC is home to dozens of walking tour companies — and many of them are free! Be sure to take one of the many, many walking tours the city has to offer to get a unique and cultural look at the city that never sleeps from a local guide. There are all sorts of focused tours on street art, history, food, and much more! Three walking tour companies not to be missed are:
Get Your Guide also has a ton of walking tours (as well as food and museum tours) available too. There's something for every interest and budget!
But, for way more suggestions, check out my favorite NYC walking tours. There's a walking tour for any topic you can think of!

23. Take a Food Tour
NYC is a foodie city and there are tons of amazing tours that can introduce you to the best food the city has to offer. Here are a few tours worth checking out if you want to eat your way around the Big Apple:
24. Museum of Modern Art (MoMA)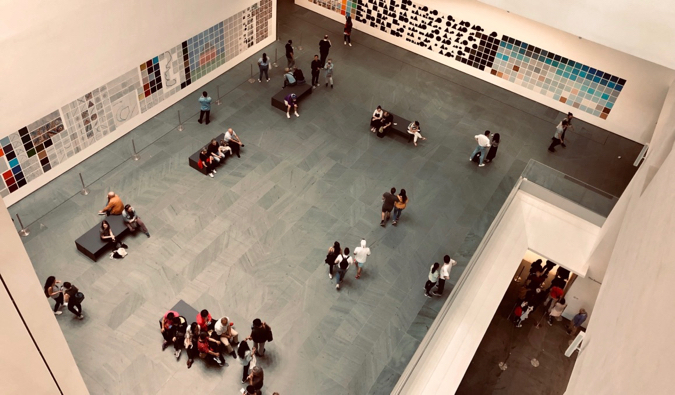 Want to see lots of beautiful (and weird) modern art? You've come to the right place! Personally, I hate modern art. I just don't "get" it. But, while I dislike modern art, the MoMA does have Van Gogh's Starry Night as well as other post-impressionist art which makes it worth visiting. If you love modern and contemporary art, the MoMA (I'm told) is one of the best in the world.
18 W. 54th Street, Midtown, +1 212 708 9400, moma.org. Open daily from 10:30am-5:30pm (7pm on Saturdays). Admission is $25 USD. The MoMA's Sculpture Garden is free of charge to the public daily from 9:30am–10:15am.

25. Prospect Park
Once you get out of Manhattan, you can explore Brooklyn's version of Central Park, which spans almost 600 acres. While you're here, don't miss the nearby Brooklyn Museum. Spend the afternoon discovering its vast collection of both historical and contemporary art and artifacts (there are over 1.5 million items in its collection). It has art exhibitions highlighting ancient Egypt, medieval Europe, colonial USA, and more.
200 Eastern Pkwy, +1 718 638 5000, brooklynmuseum.org. Open Wednesday-Sunday, 11am-6pm. Tickets are $16 USD.

26. Bronx Zoo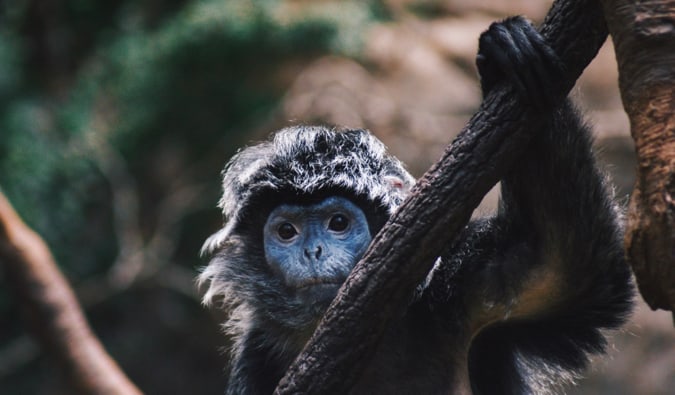 Head north for a look at one of the oldest and biggest zoos in the United States. Opened in 1899, the zoo spans almost 300 acres and sees over 2 million visitors each and every year. Home to over 650 different species, it's a great place to visit with kids. Gorillas, birds of prey, bison — there is a huge assortment of animals here and you'll definitely learn a lot during your visit!
2300 Southern Boulevard, Bronx, +1 718 220 5100, bronxzoo.com. Open daily from 10am-5pm (5:30pm on weekends, and 4:30pm during the winter). Admission is $33.95 USD.

27. Yankees/Mets/Rangers/Knicks Game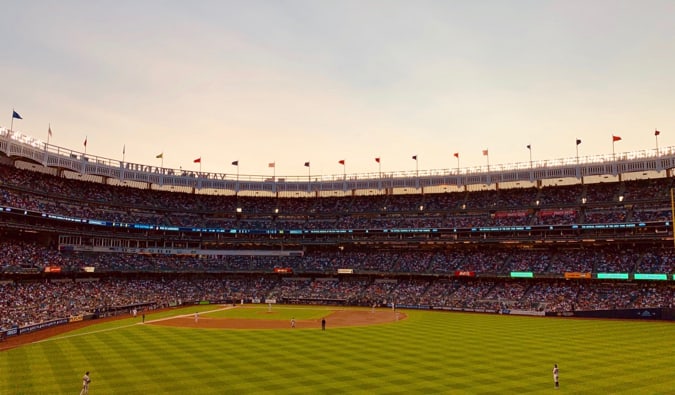 Like sports? Then you probably already know that NYC has some world-class sports teams. I'm not much of a sports fan but games are fun when you have friends to share the experience with. If you have a chance and the desire, grab some tickets to a game!
Prices vary, but you can often find tickets for $20 USD or less.

28. See a TV Show
TV shows like Saturday Night Live, The View, The Late Show with Stephen Colbert, The Daily Show, Last Week Tonight, Late Night with Seth Meyers, and The Tonight Show with Jimmy Fallon all offer free tickets to their tapings. Tickets need to be reserved long in advance so you'll need to plan ahead but if you do, you'll be rewarded with a pretty cool and unique experience. For taping details, see each show's website for specific details and information on making reservations.

29. Batsu!
Walk through the narrow aisle of the Je Bon Sushi restaurant in the East Village, and head down the tiny stairway to find this hidden dinner theater. This four-person improv comedy competition takes place within the structure of a high-energy Japanese game show, with slapstick theatrical performances. Go with friends to enjoy some sushi, sake shots, and a night of ridiculous fun.
67 1st Avenue, East Village, +1 347 985 0368, batsulive.com/new-york. Open Wednesday-Saturday, 7pm-9:45pm, Tuesdays from 7pm-8:45pm. Tickets from $45 USD.

30. Ellen's Stardust Diner
Since 1987, this diner has been home to an incredible waitstaff of singers and dancers. Between tours and musical performances, actors and actresses wait tables at Ellen's, where they belt out songs as they serve you slightly pricey, very American diner food (think shakes, burgers, and lasagna) in uniforms from the 1950s. It's incredibly cheesy but good fun — especially if you're a theater fan!
1650 Broadway, Times Square, +1 212 956 5151, ellensstardustdiner.com. Open daily, 7am-midnight. There's usually a line so be sure to plan ahead!

31. Stand-Up at the Comedy Cellar
The Comedy Cellar is one of the most important comedy clubs in the country. Some of the biggest stars in comedy either started here or have done gigs here, including greats like Jon Stewart, Robin Williams, Kevin Hart, and Chris Rock. They have different shows depending on the day of the week (the weekend shows fill up so reserve in advance online). Some shows have up to 5 or 6 different comedians and even special guests (NYC comedians try out their new material at Comedy Cellar on the weekends, usually without much notice).
117 MacDougal St, +1 212-254-3480, comedycellar.com. Open daily 11am-3am. Tickets range between $14-25 USD but they often have a two-item minimum per person (food or drinks).
***
No matter how long you're here for — and no matter what you're interested in — New York City will have something for you. While it's not the most budget-friendly city in the country, there are plenty of free activities, lots of budget-friendly things to see and do, and cheap eats to keep you busy, entertained, and well-fed.
And if you want to splurge? Well, you've come to the right place!
With so many things to see and do it's no surprise that tourists love to re-visit this diverse, lovely, and eclectic city. But don't take my word for it — put this list to the test and let me know what you think!
Get the In-Depth Budget Guide to New York City!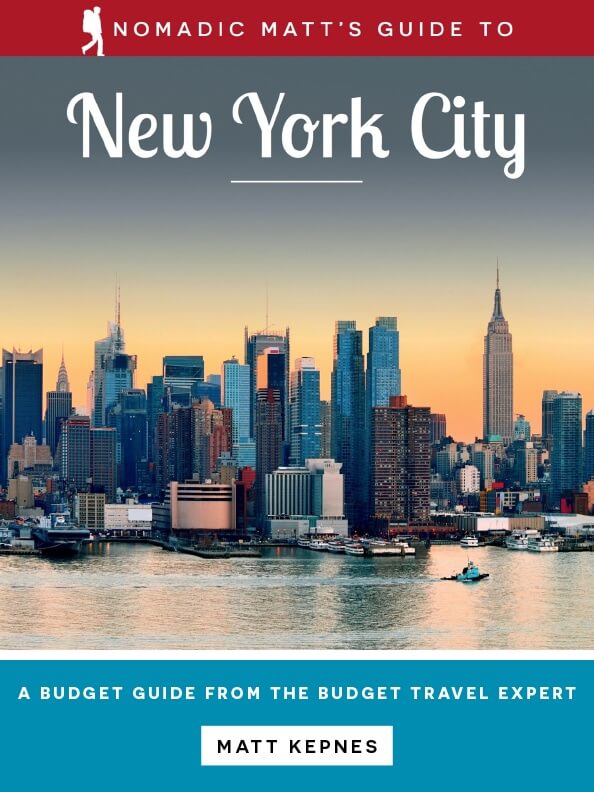 For more in-depth tips on NYC, check out my 100+ page guidebook written for budget travelers like you! It cuts out the fluff found in other guides and gets straight to the practical information you need to travel in the city that never sleeps. You'll find suggested itineraries, budgets, ways to save money, on- and off-the-beaten-path things to see and do, non-touristy restaurants, markets, bars, safety tips, and much more! Click here to learn more and get your copy today.
Book Your Trip to New York City: Logistical Tips and Tricks
Book Your Flight
Use Skyscanner to find a cheap flight. They are my favorite search engine because they search websites and airlines around the globe so you always know no stone is left unturned. Start with Skyscanner first though because they have the biggest reach!
Book Your Accommodation
You can book your hostel with Hostelworld as they have the biggest inventory and best deals. If you want to stay somewhere other than a hostel, use Booking.com as they consistently return the cheapest rates for guesthouses and cheap hotels.
If you're looking for more places to stay, here is my complete list of my favorite hostels the city. Additionally, if you're wondering what part of town to stay in, here's my neighborhood guide to NYC!
Don't Forget Travel Insurance
Travel insurance will protect you against illness, injury, theft, and cancellations. It's comprehensive protection in case anything goes wrong. I never go on a trip without it as I've had to use it many times in the past. My favorite companies that offer the best service and value are:
Looking for the Best Companies to Save Money With?
Check out my resource page for the best companies to use when you travel. I list all the ones I use to save money when I'm on the road. They will save you money when you travel too.
Need a Guide?
New York has some really interesting tours. My favorite company is Take Walks. They have expert guides and can get you behind the scenes at the city's best attractions. They're my go-to walking tour company!
Want More Information on NYC?
Be sure to visit our robust destination guide on NYC for even more planning tips.