Last Updated: 3/24/23 | March 24th, 2023
Iceland. It's a land of sheep, the northern lights, volcanoes with unpronounceable names (try saying Eyjafjallajökull), majestic waterfalls, craggy mountains, and otherworldly landscapes.
To me, it is one of the most beautiful places on earth.
I mean, how can such a tiny island have such a diverse and beautiful terrain? It changes every few miles — from verdant fields, snowy mountains, and brilliant glaciers to looking like Mars. It never ceases to amaze me.
I had high expectations when I first visited. I'd seen movies and pictures in magazines of a land with jagged mountain peaks, volcanoes with desolate lava fields, rolling hills with grazing sheep, and glaciers that stretched for miles.
Iceland lived up to all those expectations.
Sure, the country has seen an explosion in tourism in recent years and it's gotten a lot more expensive. But most tourists concentrate in the south near Reykjavik. Once you head out of the capital region, it's mostly you and nature (I only saw three other tourists in my week in the Westfjords…during peak season)!
To help you plan your trip and ensure you make the most out of your visit, here's my list of the best 7 things to see and do in Iceland:
1. Visit Reykjavík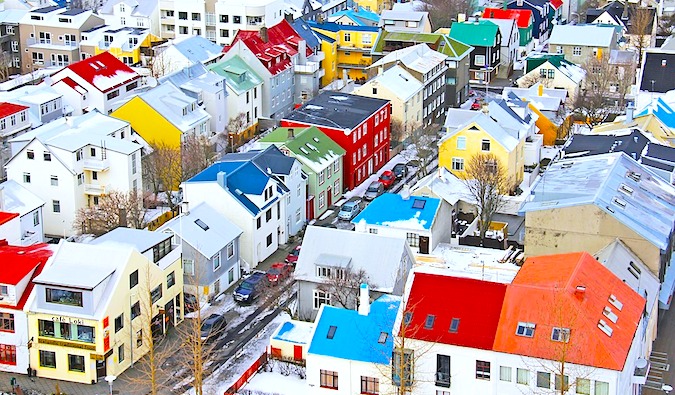 This hip capital is awash in thriving cafes, high-energy clubs, friendly pubs, and a brightly colored old town with rows of wooden houses clustered together. It's more like a giant small town than a city. Though it's super small, it's worth a few extra days to really get a feel for the art and café culture of the city.
And if you're a night owl, you'll love the party life (Icelanders know how to drink). I love this city and never find myself bored here. From reading in cafés to wandering the coastline to enjoying drinks with my friends, Reykjavik sucks me in during ever visit.
If you want to splash out while you're here, head to the Blue Lagoon, a relaxing geothermal spa.
2. Explore the Westfjords

The Westfjords is a large peninsula in northwestern Iceland with tons of mountains and a coastline heavily indented by fjords. It's one of the rawest parts of Iceland and my favorite region. Few people live here and fewer visit, though Icelanders make their way here on summer vacation. It's an area of tiny towns, fishing villages, mountains, waterfalls, and lakes.
In the summer months, puffins and whales call it their home. In the winter, many of the roads are closed by ice and snow for several months. But you'll find tiny towns, deep fjords, and beautiful hikes all to yourself. It's not easy to get around but locals will let you hitch rides with them easily because bus service here can basically be non-existent. Be sure to eat at Tjöruhúsið in Ísafjörður for an all you can eat, catch of the day buffet. Delicious!
3. Soak in a Relaxing Lagoon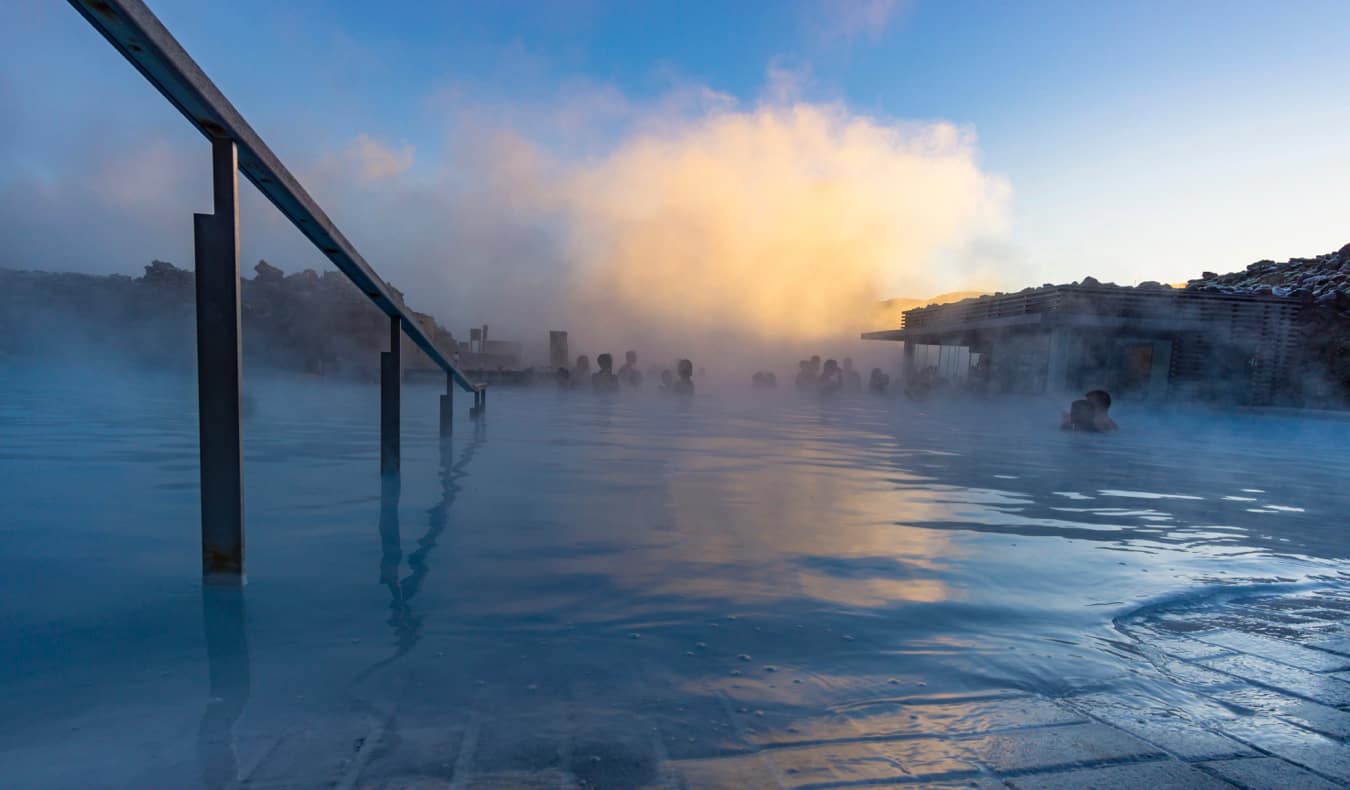 Most people soak aim to visit the Blue Lagoon during their trip as it's the most popular and most accessible hot spring. This huge, milky-blue spa is fed by mineral-rich heated seawater from the nearby geothermal plant. Though it's the most expensive one, you cannot deny that Iceland's most famous geothermal pool is the country's top tourist attraction.
But there are so many other hot pools in the country. In the north, there is the Myvatn Nature Baths, and on the way to Vik there's the famous "secret" (but not so secret) mountain springs (which are free). You'll find plenty of free hot springs all around the island as you explore, which is one of the best reasons why you should rent a car for your trip!
4. See The Golden Circle

The Golden Circle is the popular tourist route that includes Gullfoss waterfall, Geysir, and Thingvellir National Park. They make an easy day trip from the capital or airport, so people on a short layover always visit this area. You can easily drive the whole ring in a day. Along the way, there are a few farms where you can stop and see Icelandic horses. Tehya re also all free to enjoy! The main sites are:
Gullfoss – Fed by Langjökull, Iceland's second biggest glacier, this is one of the most photographed waterfalls in the country. While not the biggest or most majestic, its V shape is unique and powerful to watch. Iceland's most famous waterfall tumbles 105 feet into a steep-sided canyon, kicking up a wall of spray. On sunny days, the spray creates shimmering rainbows over the gorge. This is a truly amazing spectacle and a rewarding scene after a nice hike.
Geysir – A famous hot spring in Haukadalur Valley. Geysir itself seldom erupts anymore, but nearby Strokkur spouts 15-20 meters of water about every 10 minutes. There are also numerous strikingly colored hot pools in the area along the path. If you want to hike up the mountains nearby (takes 20 minutes to get to the top), you'll be rewarded with picturesque views of farmland.
Thingvellir – This place is full of hiking trails and stunning camping grounds, but its big draw is that it's the only place in the world where you can see two major tectonic plates drifting apart above sea level. Walking through the park takes a good 1-2 hours, but the landscape is so gorgeous (and it's not a difficult walk). You can also go scuba diving between the plates and there are some good guided walks.
The best way to see the Golden Circle is by car so that you have the flexibility to come and go as you please (you can get there before the tousit buses as well). However, if that's not an option there are daily tours from Reykjavik that make seeing the sights a breeze.
5. Watch the Northern Lights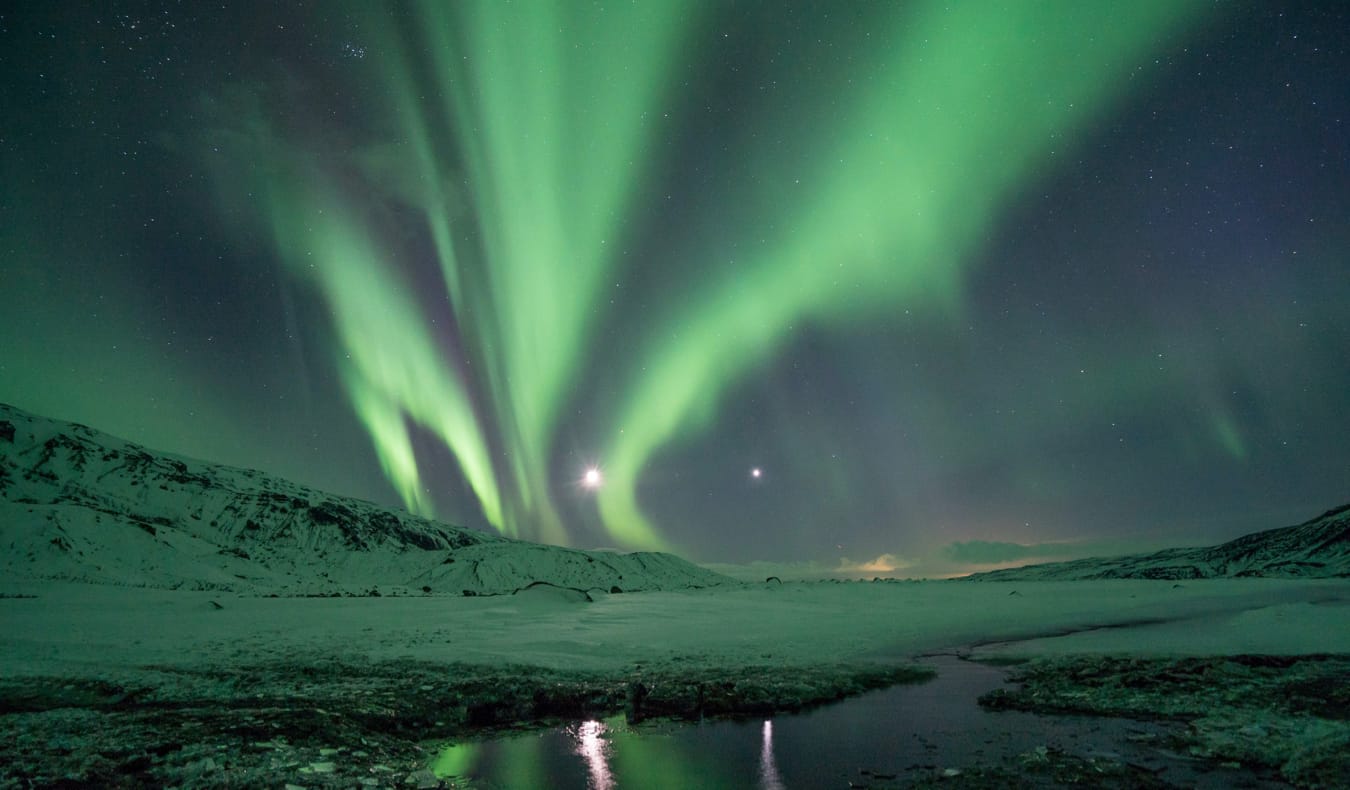 From September to April, the Northern Lights become more visible here. These dancing lights are one of the greatest natural wonders in the world. To witness the aurora borealis in all their glory in Iceland requires patience, luck, and darkness. The country towns in the north are the best place to see the lights, especially during periods of "low" activity. If the lights are really strong, you can sometimes see them in Rekjyavik.
Like the Golden Circle, this is an activity you can do yourself with a car. However, there are also tons of tours available — including Northern Lights tours from Reykjavik
6. Visit Jökulsárlón (The Jökulsár Lagoon)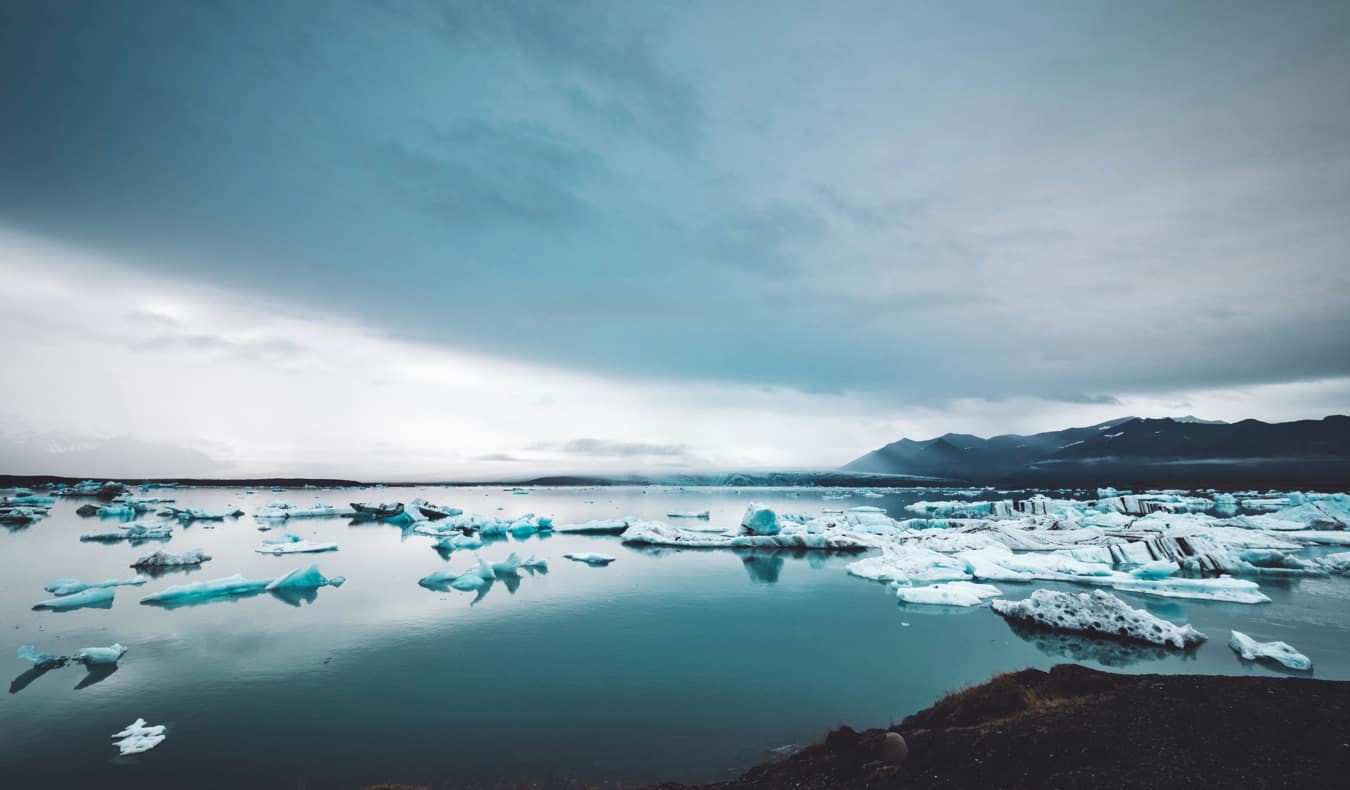 Located in the southeast of Iceland, this ice floe is only a couple of decades old and now one of the most popular attractions in the area country. Breiðamerkurjökull Glacier retreated very quickly from 1920 to 1965, leaving this breathtaking lagoon behind, which is up to 190 meters deep. Icebergs float in the lagoon all year. I enjoy just sitting and listening to the ice blocks crash into each other on their way out to sea. You can also take boat trips around the lagoon.
While most people just stop to enjoy the scenery, you can also take a guided tour of the nearby ice cave — part of the largest glacier in all of Europe!
The lagoon is located right on Highway 1 about 5 hours from Reykjavik if you're heading east (counter-clockwise) around the island. There is free parking available.
7. Do a Glacial Trek

During the winter months, the glaciers get a bit sturdier, and groups of tourists are led across them. There's no better way to see the glaciers than to walk on them, releasing your inner Arctic explorer. Vatnajökull is one of the most popular glaciers to hike, though there are others around the country, as well. Some tour companies that offer glacial expeditions are Extreme Iceland, Icelandic Mountain Guides, Trek Iceland.
***
My love for Iceland became an obsession as I've drawn back by the people and the raw natural beauty of the terrain. Don't let the high prices scare you away from Iceland. There's plenty of ways to save money while you're there. Get inspired, take advantage of the cheap flights, head north away from the crowds, and sit in a hot spring while watching the northern lights.
I promise, this is a land that never disappoints.


Get the In-Depth Budget Guide to Iceland!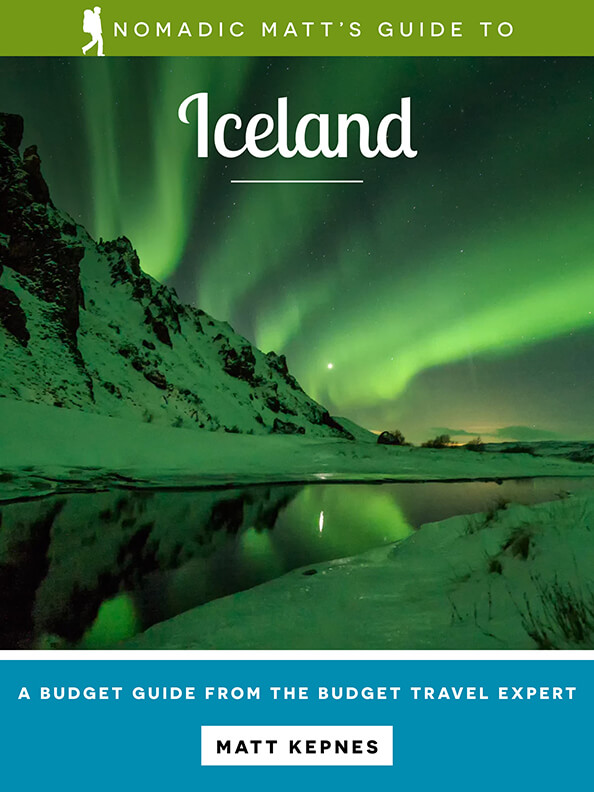 Want to plan the perfect trip to Iceland? Check out my comprehensive guide to Iceland written for budget travelers like you! It cuts out the fluff found in other guides and gets straight to the practical information you need. You'll find suggested itineraries, tips, budgets, ways to save money, on and off the beaten path things to see and do, and my favorite non-touristy restaurants, markets, bars, transportation tips, and much more! Click here to learn more and get your copy today.
Book Your Trip to Iceland: Logistical Tips and Tricks
Book Your Flight
Use Skyscanner to find a cheap flight. They are my favorite search engine because they search websites and airlines around the globe so you always know no stone is left unturned.
Book Your Accommodation
You can book your hostel with Hostelworld as they have the biggest inventory and best deals. If you want to stay somewhere other than a hostel, use Booking.com as they consistently return the cheapest rates for guesthouses and cheap hotels. My favorite places to stay are:
Don't Forget Travel Insurance
Travel insurance will protect you against illness, injury, theft, and cancellations. It's comprehensive protection in case anything goes wrong. I never go on a trip without it as I've had to use it many times in the past. My favorite companies that offer the best service and value are:
Looking for the Best Companies to Save Money With?
Check out my resource page for the best companies to use when you travel. I list all the ones I use to save money when I'm on the road. They will save you money when you travel too.
Want More Information on Iceland?
Be sure to visit our robustdestination guide to Iceland for even more planning tips!