Last Updated: 1/19/20 | January 19th, 2020
In recent years, Iceland has become one of the most popular destinations in the world. It's the land of roaming sheep, postcard-perfect waterfalls, northern lights, otherwordly hiking trails, volcanoes with unpronounceable names (try saying "Eyjafjallajökull"), and crazy high prices.
Like the rest of Scandinavia, Iceland is consistently ranked as one of the least budget-friendly countries in the world. Yet it's a country I find myself visiting often because it's just so fun and beautiful.
After driving the ring road, hitchhiking the West Fjords, and partying the nights away in Reykjavik, I can tell you that traveling to Iceland can be done on a budget. Not the lowest budget, but a budget nonetheless.
It will take some planning, but it's not impossible.

Suggested Budget for Iceland
How much does it cost to travel around Iceland? Well, not as much as you think! On the low end, you could get by on 7,400–9,0300 ISK ($60–$75 USD) a day. That budget includes using local transportation, staying in a hostel, budget Airbnb, or camping; take free tours only; cooking all of your food (restaurant meals are really expensive); and drastically limiting your drinking.
On a mid-range budget of 12,000 ISK ($100 USD) per day, you could eat out occasionally (at cheap places only), drink the occasional beer, rent a car, and do more paid activities. This is more of a mid-range budget travel budget rather than an actual mid-range budget.
At 29,000+ ISK ($235+ USD) or more a day, you could stay in a budget hotel or private Airbnb, eat out all the time, take any tours you want, rent a car, go whale watching, and really do anything you wanted here.
Extreme budget travelers who plan on hitchhiking, cooking all their meals, Couchsurfing, or camping with their own gear can get away with spending around 6,000 ISK ($50 USD) per day.
Accommodation
Food
Transportation
Attractions
Avg. Daily Cost
Backpacker
$25
$15-20
$15-20
$10
$60-75
Mid-Range
$50
$20
$15
$15
$100
Luxury
$100
$60
$40
$35
$235
18 Ways to Save Money in Iceland
There are many things in Iceland that will eat into your budget, from booking last-minute accommodation to drinking alcohol to even just eating out at a restaurant. Fortunately, Iceland is a land full of FREE natural beauty. There are countless waterfalls, hiking trails, hot pots (hot springs), and mountains for you to enjoy.
But there are lots of other ways to save money here too. To help you save money on your next visit, here are my top 18 tips for staying on budget in Iceland.

1. Hitchhike
Iceland is one of the easiest and safest countries in the world for hitchhikers. You can find rides throughout the country (though they are less common in the West Fjords and during the off-season). It's especially easy in the southern part of Iceland, between Reykjavik and Vik.
Though harder, it's also not impossible to find a ride in the off-season or in the sparsely populated north. I hitchhiked in the Westfjords and it often took me an hour or more to find a ride. However, in the south, you'll rarely wait more than 15-20 minutes.
One way to find rides is to ask around in hostels. Travelers are usually driving the main ring road (M1) and, since gas is expensive, they usually don't mind picking someone up you can chip in for gas.
When on the road hitchhiking, do your best to look presentable. Make sure your face can be seen, that you're smiling, and that you don't have too much luggage with you. Solo travelers or pairs will have the best luck. Hitchhiking in groups usually should be avoided as the cars here are small and there is often not more than one or two seats free.
HitchWiki has a lot of information on hitchhiking in Iceland. If you plan on hitchhiking, read HitchWiki first to avoid the most common pitfalls.

2. Bring a Water Bottle
The tap water in Iceland is incredibly clean and safe to drink. Single-use plastic bottles of water cost about $3 USD, making this a no-brainer: bring a reusable water bottle with you and refill from the tap. It will save you a lot of money and help the environment. There's no reason to buy water here.

3. Camp
Campgrounds can be found all over Iceland. You can camp in official campgrounds for $15-20 USD per night for a basic plot (a flat space for your tent, usually without electricity). Many campgrounds have common rooms so that, if the weather is terrible, you can stay indoors and stay dry.
Additionally, some hostels will also allow you to pitch your tent on their property. That way, you'll have even more facilities/amenities at your disposal.
Camping is significantly cheaper than staying in hostels if you have your own gear and sleeping bag. However, there are rental outfitters in Reykjavik if you don't. While renting gear will make camping more expensive, the prices are far from prohibitive when split between a small group.
Wild camping, while still legal in much of Iceland, is frowned upon as the recent tourist boom has led to far too many travelers abusing the country's lax camping laws. Unless you're visiting in the off-season, I would not recommend you wild camp as the locals do no appreciate it.

4. Become a Hosteling International (HI) Member
Most hostels in Iceland (especially outside Reykjavik) are part of the Hosteling International group. This means they offer discounted rates to members. Hostel dorms usually cost at least $30 USD per night and HI members get 10% off that price. While there is an annual membership fee to join HI (around $20 USD) if you plan on staying in hostels during your trip, the membership will pay for itself in no time. You can get a membership at any hostel or online before you go.

5. Bring Your Own Sheets
As with other Scandinavian countries, many hostels in Iceland charge you a fee for bed sheets if you don't have your own linens (they don't allow you to use sleeping bags). The fee is around $10 USD, which is meant to offset the environmental cost of doing so much laundry with heavy chemicals. However, be sure to research your hostel thoroughly as some will not allow you to bring your own sheets and some won't charge the fee (so prioritize hostels that don't charge the fee!).
Note: If you plan on staying in the same hostel for a few days, you're only charged the linen fee once.

6. Limit Your Alcohol
Due to high taxes, it's very expensive to drink in Iceland. Shots are almost $10 USD, beer is that much or more, and wine is almost $15 USD. If you want to blow your budget, hit the bar.
It's true that Reykjavik does have a lively nightlife so if you want to take part just try to hit the various happy hours around the city. Pretty much every single bar will have one. You'll save a bundle still get to have a little fun.
However, beyond the happy hours, I encourage you to not indulge. No one wants to hike a volcano with a hangover and Icelanders usually don't go out until past midnight because they want to get sauced at home on the cheap first. If you want to drink during your visit, stock up at the duty-free in the airport and bring it with you. It will save you around 30% off the cost of buying alcohol in the country!

7. Cook Your Own Food
I found food to be the most expensive thing in Iceland. Eating out, even on the cheap, costs about $15 USD or more per meal. Something from a sit-down restaurant with service can cost $25 USD or more! It's easy for your food budget to go through the roof at those prices.
Instead, go grocery shopping and cook your own meals. All hostels, Airbnbs, and campsites have self-catering facilities. My grocery bill for three days of food was the same price as one meal at a restaurant. Make sure to shop at BONUS food stores as they have the cheapest prices.

8. Bring Your Own Tea and Coffee
Tea, coffee, or hot chocolate cost 500–900 ISK — even regular drip coffee or a teabag you put into hot water yourself will cost that much! If you bring your own, you can limit the times you have to buy it and save yourself a handful of krónur.

9. Eat Hotdogs
If you are going to eat out, eat at the sandwich and hot dog stalls you find through the cities. They offer the cheapest (but not healthiest) food in the country. A hot dog costs about $4 USD and a regular sandwich will run you about $13 USD. A small sandwich is about $9 USD. Icelanders have an odd obsession with hot dogs, so as long as the city has more than one road, you'll find a hot dog stall around. You can usually find them at gas stations too.

10. Ride the Bus
The buses here are cheap and slow and they won't stop at main landmarks, but they are an affordable choice for anyone not looking to drive or hitchhike. Since they don't stop at the major sites, you can only use them to get from point A to point B (not to sightsee) — but that's still better than nothing!
You can plan your route via the website (straeto.is) or use the official app (straeto.is/is/um-straeto/straeto-appid).
Though the buses operate year-round, not every bus follows every route every day of the year. You'll have to plan accordingly and in advance to ensure your bus is there when you need it.

11. Rent a Car
If you don't want to hitchhike, the best way to get around the country is by renting a car. They cost between $35-75 USD per day but you can split the costs with friends or by picking up travelers on the road. You'll get a lot more flexibility than if you take the bus and if you can split the ride with a couple of people it will be cheaper too.
The best of Iceland isn't found along its main highway so having the ability to visit more secluded (and less crowded) areas is going to make your trip more unique and more memorable. SADcars offers the cheapest car rentals in the country so check them out if you're on a budget.
Use the website Samferda to find passengers. This website is very popular and you'll find a lot of listings on it, especially between some of the bigger cities. (Note: You can also use this website to find rides. Even if you have to pay the driver, prices are about 50% of the cost of the bus.)

12. Couchsurf with Locals
Iceland has a very active Couchsurfing community. I stayed with hosts in Reykjavik and Akureyri and had someone else take me around the famous Golden Circle (the ring of attractions near Reykjavik). Getting involved with the community here is a sure-fire way to save money, get local insights, meet wonderful people, and get a free place to stay.
I met a lot of people through the website who took me in and showed me places I wouldn't have found on my own. Even if you don't use the website for accommodation, use the community aspect of it and meet some locals. The Hangouts from Couchsurfing is a great way to find travel buddies, get tips, and learn about local events.

13. Find Free Hot Springs
While the Blue Lagoon may be the most popular hot spring in the country, there are lots of others around the country that are free (or at the very least, less money than the overpriced Blue Lagoon). Ask locals for nearby hot spring suggestions or use the app Hot Pot Iceland to find hot pots all around the island (the app is $12.99 USD).
Some noteworthy free hot springs are Reykjadalur, Seljavallalaug (it's usually not that hot but it's in an amazing location), and the tiny one near Djúpavogskörin.

14. Avoid Taxis
The cities in Iceland are small so there's absolutely no need to waste money on a taxi because you can walk pretty much everywhere. The public transportation is also reliable and much cheaper and they run late so if it's cold, you can take the bus! Iceland is already expensive enough. Don't make it worse! Taxis start at almost 700 ISK ($6) before you even travel a single kilometer (they're around 300 ISK per kilometer). That adds up fast — skip them if you can!

15. Take a Free Walking Tour
Free walking tours are a great way to learn about a new city, its main sites, and get a sense of the culture and history of where you are. I take free walking tours wherever I got!
If you're going to be spending time in Reykjavik, be sure to check out one of the free walking tours in the city. CityWalk and Free Walking Tour Reykjavik both offer fun, informative, and comprehensive free walking tours to help you get introduced to the city.

16. Get the Reykjavík City Card
Get this card if you're planning on visiting more than two museums in one day while in Reykjavik. With it, you'll get access to Reykjavík's museums and galleries, including the National Gallery and Museum, the Reykjavík Family Park and Zoo, the Árbær Open Air Museum, the ferry to Viðey Island, public transport, and the seven geothermal pools in the capital area.
You'll also get discounts at various restaurants, shops, and cafés, and on city tours. Order online (marketplace.visitreykjavik.is) and pick your card up at Reykjavík City Hall. It's 3,800 ISK for adults 1,600 ISK for kids, and free for kids 6 and under.

17. Bring a Towel
Towel fees are astronomically high at hostels, the Blue Lagoon, the My?vatn Nature Baths, and elsewhere in Iceland. Fees start at 500 ISK per towel. Avoid them all together by bringing your own. Also, you'll need a towel if you plan on exploring any natural hot springs.

18. Buy Discounted Meat
I know it sounds gross, but like most Scandinavian countries, Iceland has super strict food laws that have them mark meat as "expired" way before most other countries do. The meat hasn't gone bad — but rules are rules. As such, you can often find meat at 50% off the original price in the grocery stores on the day of expiration. This is when most locals buy their meat.
If you're going to be cooking your own meals here (and you should be) stick to the discounted meat.
***
Iceland doesn't have to be expensive to visit. Granted, it's never going to be a cheap destination but it doesn't have to break the bank either. By being flexible with your accommodation, limiting your drinking and eating out, and enjoying the abundance of free activities, you'll be able to avoid the most common budget pitfalls the country will throw at you.
Whether you're here for a weekend getaway or a month-long road trip, Iceland will keep you entertained. And as long as you plan ahead and keep your budgetary wits about you, you'll be able to enjoy (almost) all the country has to offer without spending your life savings in the process.


Get the In-Depth Budget Guide to Iceland!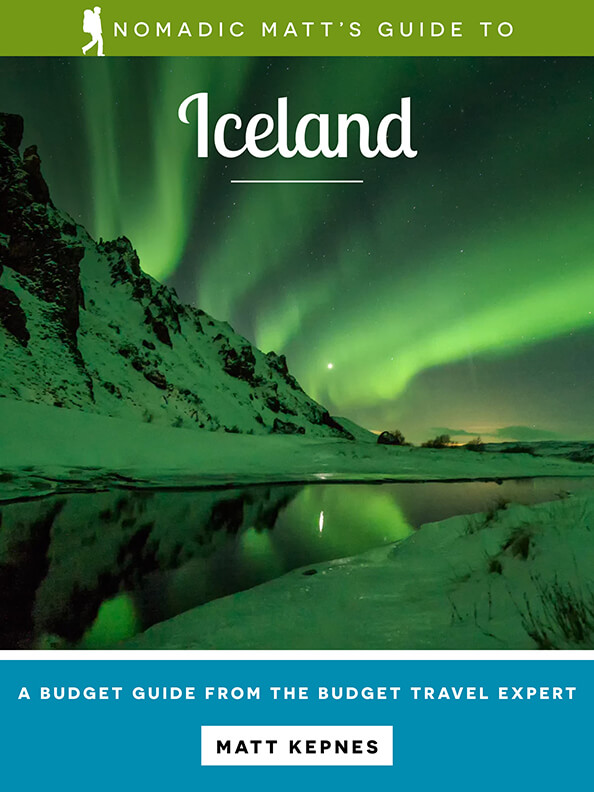 Want to plan the perfect trip to Iceland? Check out my comprehensive guide to Iceland written for budget travelers like you! It cuts out the fluff found in other guides and gets straight to the practical information you need. You'll find suggested itineraries, tips, budgets, ways to save money, on and off the beaten path things to see and do, and my favorite non-touristy restaurants, markets, bars, transportation tips, and much more! Click here to learn more and get your copy today.
Book Your Trip to Iceland: Logistical Tips and Tricks
Book Your Flight
Use Skyscanner or Momondo to find a cheap flight. They are my two favorite search engines because they search websites and airlines around the globe so you always know no stone is left unturned. Start with Skyscanner first though because they have the biggest reach!
Book Your Accommodation
You can book your hostel with Hostelworld as they have the biggest inventory and best deals. If you want to stay somewhere other than a hostel, use Booking.com as they consistently return the cheapest rates for guesthouses and cheap hotels. My favorite places to stay are:
Don't Forget Travel Insurance
Travel insurance will protect you against illness, injury, theft, and cancellations. It's comprehensive protection in case anything goes wrong. I never go on a trip without it as I've had to use it many times in the past. My favorite companies that offer the best service and value are:
Looking for the Best Companies to Save Money With?
Check out my resource page for the best companies to use when you travel. I list all the ones I use to save money when I'm on the road. They will save you money when you travel too.
Want More Information on Iceland?
Be sure to visit our robust destination guide on Iceland for even more planning tips!