NOTE: This post has been updated to reflect 2016 prices.
Iceland: the land of sheep, northern lights, volcanoes with unpronounceable names (try Eyjafjallajökull), and high prices. It's supposedly one of the least budget-friendly countries in the world — which made visiting even more appealing to me. I always view expensive countries as a challenge. Figuring out how to visit a country on the cheap is like solving a puzzle to me, and I relished the challenge of finding out if visiting Iceland on a budget was possible.
And, after 11 days exploring the country, I can tell you that travelling to Iceland can be done on a budget. It's hard but not impossible to do.
While I was there, I spent an average of $54 USD per day (and I could have done it for less). Most of my money went to food and accommodation. Here's a breakdown of my expenses (rounded to the nearest whole dollar):
Food: $200 USD
Accommodations: $180 USD
Alcohol: $80 USD
Transportation: $95 USD
Activities: $39 USD
At $54 USD a day, I don't feel like I missed out on anything. Sure, I wasn't eating fancy meals at restaurants (though I did eat out a couple of times) and I certainly couldn't pay for activities such as whale watching, guided glacier walks, or helicopter rides. And, while those would have been fun to do, I found enough free activities (all the national parks are free) to fill my time.
Many things in Iceland that will eat into your budget and, in the land of $2.50 USD bottles of water, it's easy to unconsciously spend money. A beer here, water there, a snack there can add up quickly, and suddenly you'll find you spent an unplanned $100 USD. You have to work to save money here and be conscious of where your money is going. I was getting tea a lot in the beginning of my trip and — at $3.50 USD a pop — it was starting to add up so I had to stop that quickly!
But there are many ways to save money in Iceland. It can be done. Listed below are 11 ways to travel Iceland on a budget, lower your costs, avoid my spending mistakes, and have extra money for your dream adventure excursion:
Hitchhike — Iceland is one of the easiest and safest countries in the world for hitchhikers. You can find rides throughout the country. It's especially easy in the southern part of Iceland. Though harder, it's also not impossible to find a ride in the off-season or in the less populated north. One way to find rides is ask around in hostels — people are usually driving the main ring road (M1) that circles the country, and there are only two ways to go on that! That's how I found my rides.
HitchWiki has a lot of information on hitchhiking in Iceland.
Bring a water bottle — The water in Iceland is incredibly clean and drinkable. A plastic bottle of water costs about $3 USD, so bring a metal water bottle with you and refill from the tap. It will save you a lot of money and help the environment. There's no reason to buy water here.
Camp — Camping is available everywhere in Iceland. You can camp in designated campgrounds for about $14 USD per night, and some hostels allow you to put up tents too. Camping is significantly cheaper than hostels (see the next couple of tips). You'll need to have your own gear and sleeping bag. Moreover, if you really want to save money, you can also wild camp and not pay any fees (i.e., just sleep anywhere you want!). It's legal as long as there's no sign posted to the contrary or it's not in a protected wildlife area. I met a Spanish guy who did this for most of his trip.
Become an Hosteling International member — Most hostels in Iceland (especially outside Reykjavik) are part of the Hosteling International group, which means they give discounted rates to members. Hostel dorms cost $27-33 USD per night, and HI members get $5 USD off, so if you plan on staying in hostels, the $28 USD annual membership will pay for itself in no time. You can get a membership at any hostel or online before you go.
Bring your own sheets or sleeping bag — Like in other Scandinavian countries, many hostels in Iceland charge you $10 USD for bed sheets if you don't have your own or a sleeping bag (pillows are free!). Save yourself money and use a sleeping bag or bring your own sheets (if allowed). I didn't do this, and it drove up my expenses a lot! Don't make my mistake.
Side note: I find this policy stupid. It's meant to reduce the spread of bedbugs, but my own sheets can be carrying bedbugs from hostel to hostel. I don't get it! It would be much better if hostels provided sheets that they washed, especially in Iceland where they don't have a water shortage!
Don't drink – Due to high taxes, it's very expensive to drink in Iceland. Here are some average alcohol prices:
Beer: $10 USD (happy hour: $6 USD)
Wine: $12 USD
Bottle of wine at the store: $20 USD
Bottle of wine at a restaurant: $30+ USD
Shots: $8 USD
Save money, don't drink. OK, maybe once in Reykjavik since its nightlife is world famous. But other than that, don't. You'll save a bundle and feel a lot better. No one wants to hike a volcano with a hangover.
Cook your own food — I found food to be the most expensive thing in Iceland. Eating out, even on the cheap, costs about $15 USD or more per meal. Something from a sit-down restaurant with service can cost $25 USD or more!!! It's easy for your food budget to go through the roof at those prices.
One tip to help budget your Iceland trip; go grocery shopping. Buy everything you need — such as eggs, cereal, pre-made sandwiches, and pasta — and cook. All hostels, guesthouses, and campsites have kitchens. My grocery bill for about three days of food was the same price as one meal at a restaurant. (Make sure to shop at BONUS food stores as they have the cheapest prices.)
Eat the hotdogs — If you are going to eat out, eat at the sandwich and hot dog stalls you find through the cities. They offer the cheapest (but not healthiest) food in the country. A hot dog costs about $3.50 USD and a regular sandwich will run you about $13 USD (about $17 USD with a drink). A small sandwich is about $8.50 USD. Icelanders have an odd obsession with hot dogs, so as long as the city has more than one road, you'll find a hot dog stall around.
Get a bus pass — During the summer months, you can purchase a countrywide bus pass for $323 USD. If you don't want to hitchhike, this will be your next cheapest option for getting around Iceland on a budget, especially if you are traveling for a couple of weeks or more. During the winter months, many of the bus routes are closed and this pass isn't offered. When that happens, you can use the website listed below to find cheaper rides or  pay as you go.
Or rent a car — If you are coming in the off months, staying for a week or less, or don't want to hitchhike, I would rent a car. They cost between $40-70 USD per day but you can split the costs with traveling companions (or by picking up travelers on the road!) and you'll get a lot more flexibility than if you take the bus. The best of Iceland isn't found along its main highway!
SADcars offers the cheapest car rentals in the country. If you rent a car, pick up hitchhikers along the way. They can help pay for gas and lower your expenses. More over, you can use the website Samferda to find passengers. This website is very popular and you'll find a lot of listings on it, especially between some of the big cities. (Note: You can also use this website to find rides. Even if you have to pay the driver, prices are about 50% of the cost of the bus.)
Couchsurf — Iceland has a very active Couchsurfing community. I stayed with hosts in Reykjavik and Akureyri, and had someone else take me around the famous Golden Circle (the ring of attractions near Reykjavik). Getting involved with the community here is a sure-fire way to save money, get local insights, meet wonderful people, and get a free place to stay. I met a lot of people through the website who took me in and showed me places I wouldn't have found on my own. Even if you don't use the website for accommodation, use the community aspect of it and meet some locals. Icelanders are a welcoming people.
Iceland doesn't have to be expensive to visit. It is possible to travel Iceland on a budget. These 11 tips will help turn Iceland into a budget-friendly destination. I never felt like I wanted for anything in my two weeks there. (OK, I wanted for some food with flavor, but I can get that back home.) But, overall, while Iceland is never going to be "dirt cheap," it doesn't need to be an impossible budget destination. You can come here and travel comfortably without spending your life savings.
CONTINUE READING: WHAT TO SEE AND DO IN ICELAND ON A BUDGET >>>
Get the In-Depth Budget Guide to Iceland!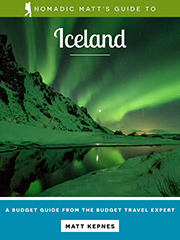 Want to plan the perfect trip to Iceland? Check out my comprehensive guide to Iceland written for budget travelers like yourself! It cuts out the fluff found in other guides and gets straight to the practical information you need to travel and save money in one of the most beautiful and exciting destinations in the world. You'll find suggested itineraries, tips, budgets, ways to save money, on and off the beaten path things to see and do, and my favorite non-touristy restaurants, markets, and bars, and much more!! Click here to learn more and get started.