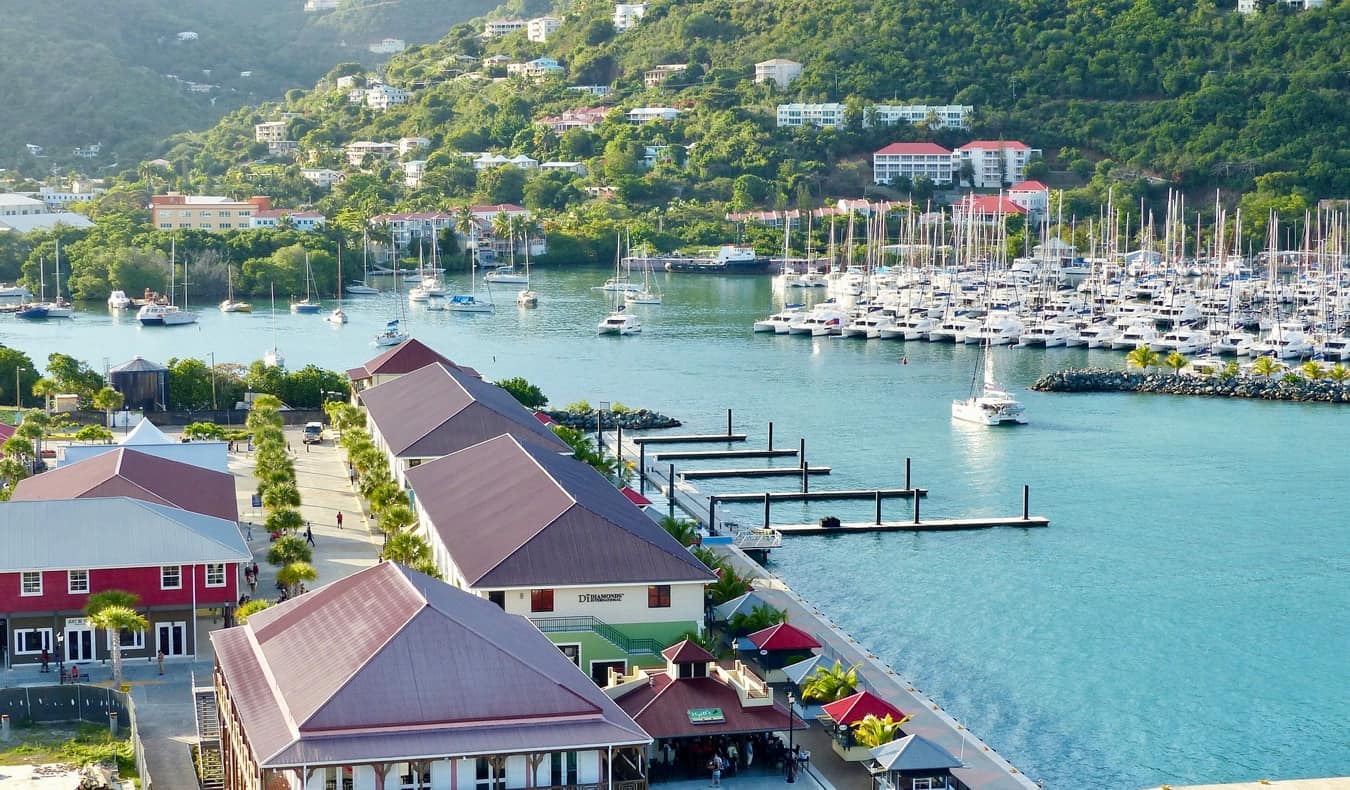 Last Updated: 2/3/23 | March 2nd, 2023
The British Virgin Islands often foster images of intrepid sailors and adventurers living their own version of a Jimmy Buffett song: sailing the seas, relentlessly drinking rum, stopping at hidden beaches, and exploring deserted islands.
Standing behind the wheel with the wind whipping at your hair as the sails of your boat take you from island to island sounds wonderful to many of us.
But, after imagining that scenario, we think, "It would be great, but it's unrealistic and I couldn't afford it. It sounds too expensive!"
I used to believe that myself. After all, the British Virgin Islands are home to mega yachts, mega-resorts, mansions, yachting races, celebrities who own islands, and big corporations hiding from the taxman. These islands are no place for those without gigantic bank accounts.
But I came here with a dream: to sail around the British Virgin Islands on a budget. That's no easy task when charter boat rentals cost thousands of dollars per week.
Sure, you can take a ferry between the main islands (Tortola, Virgin Gorda, Jost Van Dyke, Anegada) or take day sailing tours, but that won't get you to the outer islands and definitely isn't the freedom sailing conjures up, is it?
Luckily, I found a way to live the dream.
Within two days of landing on Jost Van Dyke, my friend and I were throwing our stuff onto a boat to sail around the BVIs. We met Bill and Geoff in a bar one evening. They were describing their sailing trip down from North Carolina. We told them about our plans to try to sail the islands on a budget.
They seemed normal enough and our plans lined up, so we asked if we could tag along.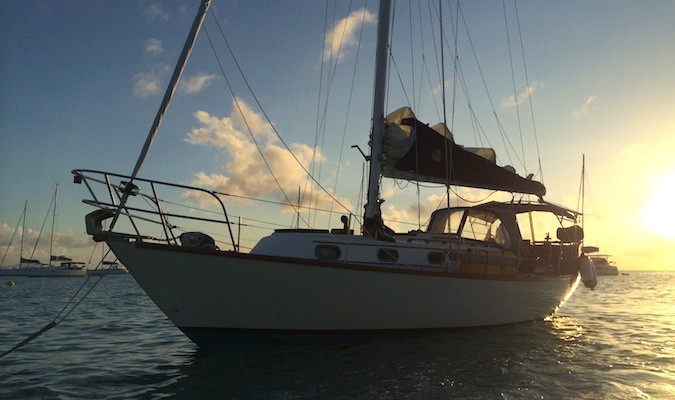 And that's how we got our ride. Some conversation, rum, laughs, and asking for a lift.
The BVIs see countless people who rent charter boats, hire captains, or sail their own boats around for as long as the wind can carry them. Each night, these folks moor in a harbor, take a dinghy to the nearest bar, down strong rum, and socialize. Boats are isolating, and these bars provide welcome social interaction after a day of confinement.
And this is where you'll find your chance to live out your Captain Ron dreams.
You could say that we just got lucky. That we found the right two guys and this couldn't happen again. However, my friend and I had many offers to take us to the next island or around for the day. At every port, when we mentioned our plans, people would often say, "Well, if you need a lift, we're happy to have you. Just bring some beer."
I expected great difficulty in finding rides. I mean, how many people want strangers on their boats?
Apparently, a lot.
Because it was really easy to find a ride. Most of the people have extra space on their boats, and everyone is very welcoming, hospitable, and helpful. I think between the small island population and the camaraderie that comes with boating, people here are very willing to help strangers.

How to Sail the BVIs on a Budget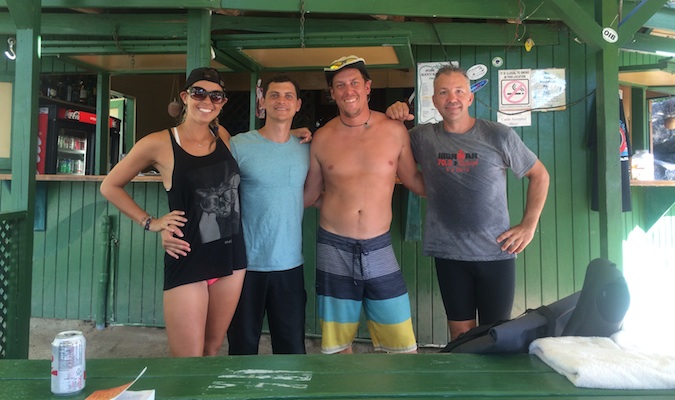 So how can you do it too? How do you replicate what we did (and stay safe in the process)? Here are my top tips for sailing around the British Virgin Islands for free:
1. Avoid Asking on the Main Islands
Don't ask for rides on Tortola or Virgin Gorda. This is where people pick up their boats so they are just starting or ending their trip (never a good time to ask), and there are few good bars to meet others at. Stick to the smaller islands accessible by ferry.
2. Profile People
You can increase your odds of success by knowing who is most likely to say yes. Lots of couples? They may give you a ride to the next island but not much more.
Groups who chartered a boat? Same thing. They're full.
Young people? They'll be very likely to help you out, especially in return for beer.
Two guys drinking alone? Yup, they probably have extra space, especially if they have their own boat.
3. Strike up a Conversation
Sit at the bar and you'll find this is easy to do. Everyone pretty much says hello to each other, and no matter where I was, other boaters often made the first move. After a day on a boat, people want to talk. Find people that you naturally get along with and would want to hang out with even if they weren't offering you a free ride!
4. Casually Mention Your Plans
Work your plans into the conversation naturally and see how people react. Do they think it's a cool idea? Gauge their reaction before you ask for a ride. I found that boaters in the area are the adventurous type and if they feel you are on a good adventure, they will want to help.
5. Start Small
Ask for a ride to the next island. Giving someone a ride for a few hours is easy. Committing to carting extra people around for a week, however, is a bigger barrier and more likely to get you a no. But that one island lift may turn into two or three so start small and see how it goes. Don't be pushy. Use your gut instinct and if you sense that someone isn't into the idea, let it go. You're certain to meet someone else who will be excited to have some company.
6. Use Common Sense
Most of the sailors around the U.S. British Virgin Islands are great people and will make wonderful travel companions as you explore the beautiful islands. That said, it's important to use good judgment when talking to sailors. This is true for everyone, but especially female travelers. If you get a weird vibe from someone offering a ride, don't get on the boat. You might be stuck with them for a while before you hit the next island.
Make sure that you've let a close friend or relative know where you will be departing and arriving from, and when. Set regular check-in times with loved ones at home. It's better to be safe than sorry!
7. Be Respectful
This should go without saying, but if someone offers you a free ride on their boat make sure you are super respectful of their property. You'll find that many sailors love to have a good time and enjoy some alcoholic drinks while sailing between islands, but as a guest, you should make sure to be extra respectful and keep your cool and avoid getting too crazy. Make sure to follow any boat rules that the captain lays out for you, as safety is important while sailing. Be a great guest, and they'll want to invite you onboard again — and they will likely reach out to friends who can ferry you onward!
***
Sailing the BVIs on a budget is magical. Unfortunately, it only really works if you're solo or with one other person (if you're traveling with more than two people, it's going to be hard for boats to accommodate you and they're going to turn you down).
Also, give yourself plenty of time to find someone to sail with. If you're on a tight schedule and have to get around the islands quickly, this isn't going to work, as it may take a day or two to find a willing boat or to line up with someone's schedule. You're then at the mercy of the boat owner's pace until you get to another major island where you can get off and get back to the ferry system that connects the main islands in the BVIs.
Moreover, don't forget to offer something in return. If you have sailing experience, all the better, but most people will take beer and food in return for a lift, so offering that can go a long way.
The British Virgin Islands are expensive and — if you plan to visit on a budget — finding a cheap sail around the islands is critical.
You can take day tours for about $100 USD per person, chartering a sailboat starts at about $350 USD per day, and ferries go between the main inhabited islands, but the only way to really see the island chains properly is to sail them.
And the only way to do that is to find a lift.
I had always dreamed of sailing around the British Virgin Islands. I'd heard of opportunities to work on boats, but since I don't know how to sail, that wasn't an option, and charter boats are out of my budget (many save up all year to afford their rental). I needed a third way — and found it.
It was shockingly easy to find rides on boats, and this makes the oh-so-expensive BVIs much more affordable for those looking to sail around these beautiful islands on a budget.
But more than saving money, this method makes new friends along the way — and that experience is priceless.
P.S. – If you know how to sail or are interested in volunteering aboard sailboats in order to sail around the British Virgin Islands for free, check out CrewSeekers. Many private sailors find their crew via this website, and some positions don't even require sailing experience. There are often openings for chefs and other skillsets as well.
Book Your Trip to the Virgin Islands: Logistical Tips and Tricks
Book Your Flight
Use Skyscanner to find a cheap flight. They are my favorite search engine because they search websites and airlines around the globe so you always know no stone is left unturned.
Book Your Accommodation
You can book your hostel with Hostelworld as they have the biggest inventory and best deals. If you want to stay somewhere other than a hostel, use Booking.com as they consistently return the cheapest rates for guesthouses and cheap hotels.
Don't Forget Travel Insurance
Travel insurance will protect you against illness, injury, theft, and cancellations. It's comprehensive protection in case anything goes wrong. I never go on a trip without it as I've had to use it many times in the past. My favorite companies that offer the best service and value are:
Looking for the Best Companies to Save Money With?
Check out my resource page for the best companies to use when you travel. I list all the ones I use to save money when I'm on the road. They will save you money when you travel too.