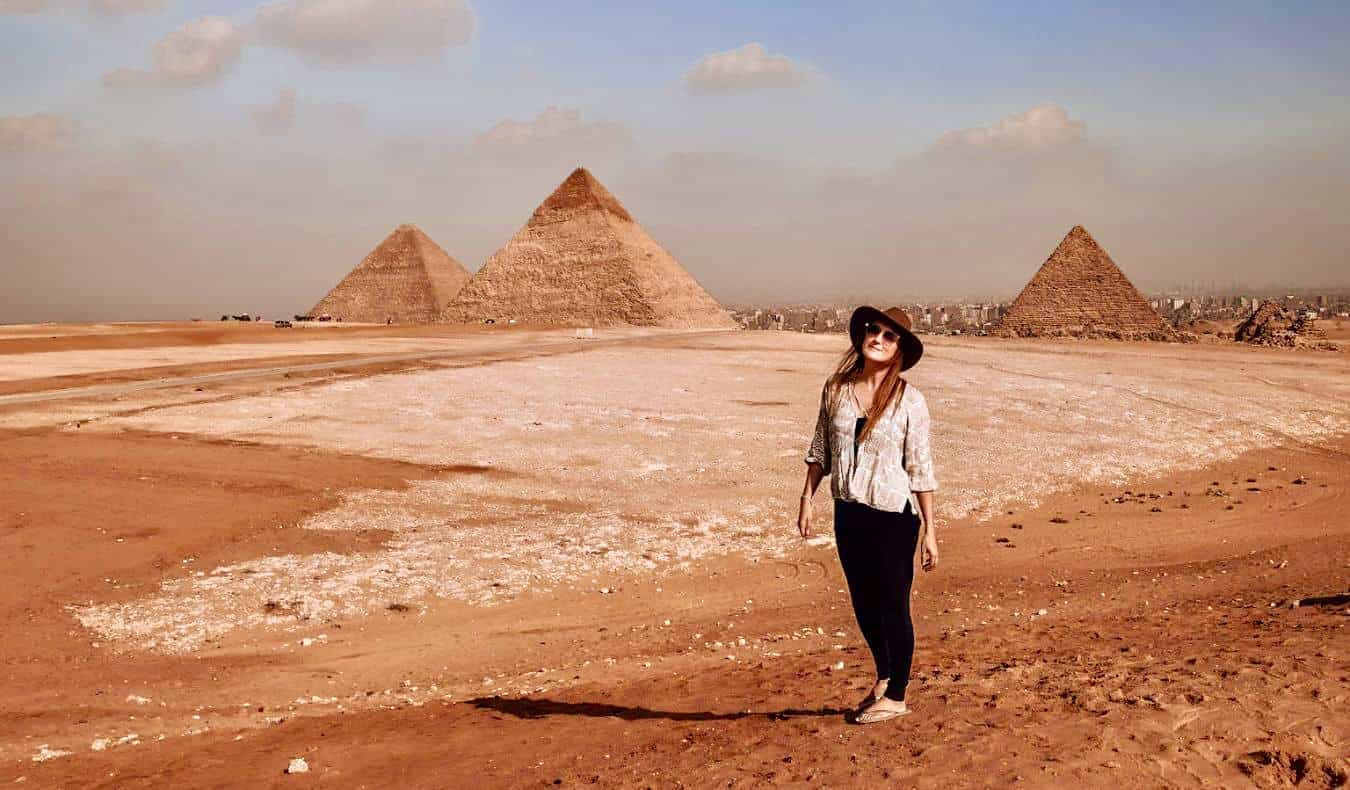 Last updated: 9/19/23 | September 19th, 2023
I get a lot of questions from female readers about safety in Egypt. That's not really something I can answer. After all, I only know what female friends tell me. I'm not an expert so, today, Monica Chapon from This Rare Earth is going to share her experience and advice for staying safe as a solo female traveler in Egypt!
Egypt sits at the top of so many travelers' bucket lists for good reason, and tourism is only increasing, reaching historic highs. With such a long history, iconic ancient sites, and exotic smells, tastes, and sounds, it's easy to understand why.
However, many never actually make it here, due to safety concerns. After all, anyone living in Western countries has likely seen repeated warnings via the government and news stories in the media.
The US Department of State warns travelers to "reconsider travel to Egypt due to terrorism." The Canadian government recommends visitors "exercise a high degree of caution in Egypt due to the unpredictable security situation and the threat of terrorism."
The Australian government's advice is to "reconsider your need to travel to Egypt overall." And, the UK government cautions that "terrorists are very likely to try to carry out attacks in Egypt."
With so many governments warning travelers not to go, I certainly understand the hesitation that people, particularly women, have about visiting Egypt — either solo or as part of a group tour around Egypt.
Before heading there, I was definitely on the receiving end of several "are you sure that's a good idea?" looks. More than once, I was told that I wouldn't be allowed to walk around without a male chaperone, or that I would most certainly be kidnapped. (Even after coming back safe and sound, people close to me still questioned my choice to go it alone.)
While I knew these worries were exaggerated, I'll admit I wasn't entirely sure what to expect when I got there. After all, with blonde hair and green eyes, I had no chance of blending in or looking like a local.
But I found the Egyptian people to be warm and welcoming. The women offered friendly smiles on the street, and the men I interacted with genuinely wanted me to fall in love with their country, no strings attached.
Now that I have traveled around Egypt solo, I'm here to share what I've learned with all the other women out there.
Here's what you need to know about women's safety before you go.
Common Scams and Hassles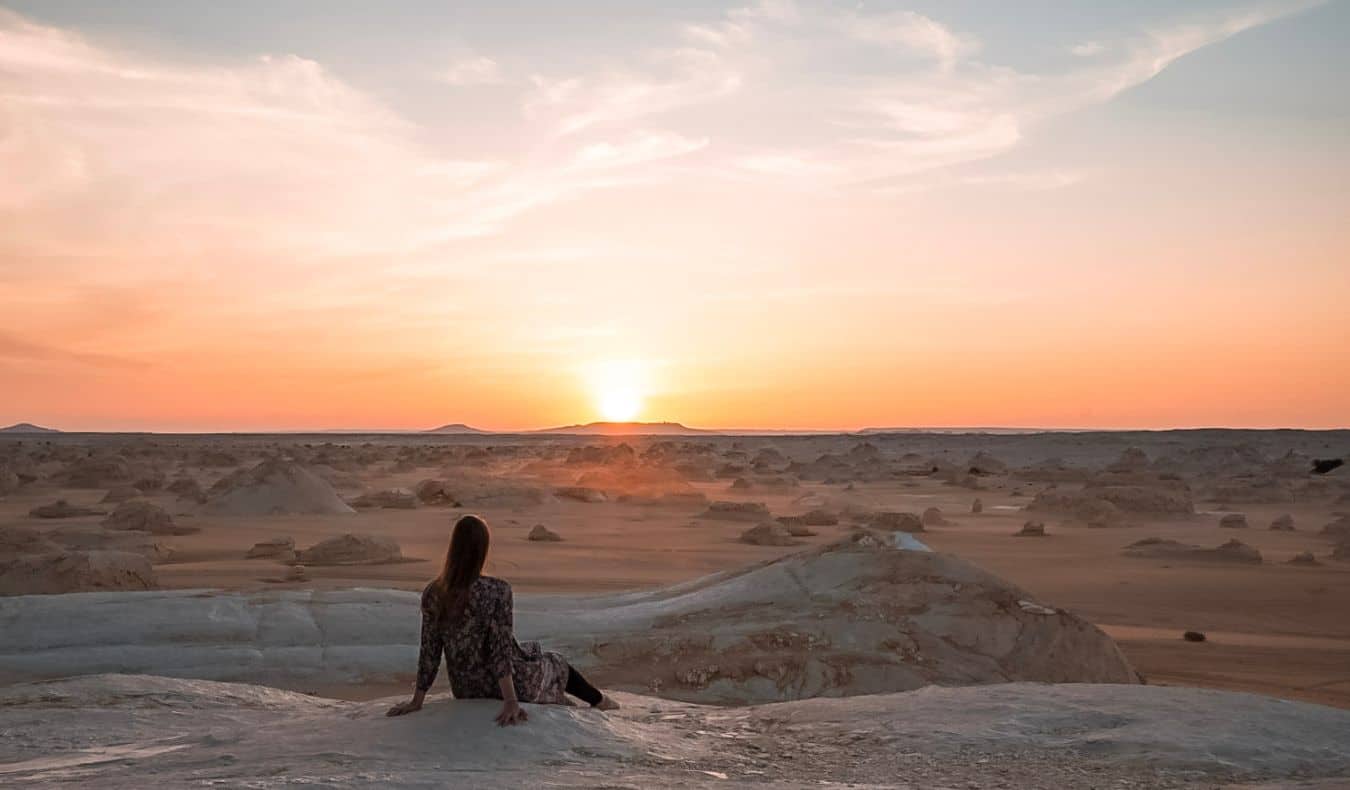 While it's important to note that most Egyptians that I met were absolutely welcoming and kind, Egypt does have a bit of a reputation for tourist scams. Some of the most common I heard about centered around some of the major sights, like the Pyramids.
For example, the men who offer camel rides there are often reported to load tourists onto the camels first, and then once the ride has started, quote a highly inflated price for a short ride. Or vendors will hand you an item as a "gift," but when you start to walk away, they will hassle you for not paying.
Never accept a camel ride, a taxi ride, or any item without first agreeing to a price.
I ran into a few scams and hassles myself, and the underlying theme of each of them was pressure. Feeling pressured into anything as a solo female can be a daunting experience.
One example of this was with a local driver. I had hired him to take me to a few stops when other modes of transportation were not going to work (more on those below).
The entire time I spent with him was fine. However, as the day was winding down, he started to pressure me to tip more than I already had and then got very pushy about leaving a positive review for him.
This went on for close to an hour. His voice was raised and he was clearly agitated that I was not complying. He went so far as to follow me into my hotel lobby, and proceeded to sit down to wait right there "until I left him a review."
Since it was a public place with several staff members buzzing around, I didn't exactly feel unsafe. But as a solo female, I am never okay with a man following me, and I was on high alert.
For better or for worse, I stood my ground more firmly and didn't comply. He eventually left without further issue, but I'm not sure he would have done that to a man to begin with.
If you find yourself in a situation where someone is trying to pressure you into anything — be it paying or tipping or going somewhere you don't wish to go — stand your ground. Stay calm and enlist the help of others if necessary. You have every right to refuse anything you know is incorrect or that you don't wish to take part in.

Getting Around Egypt Safely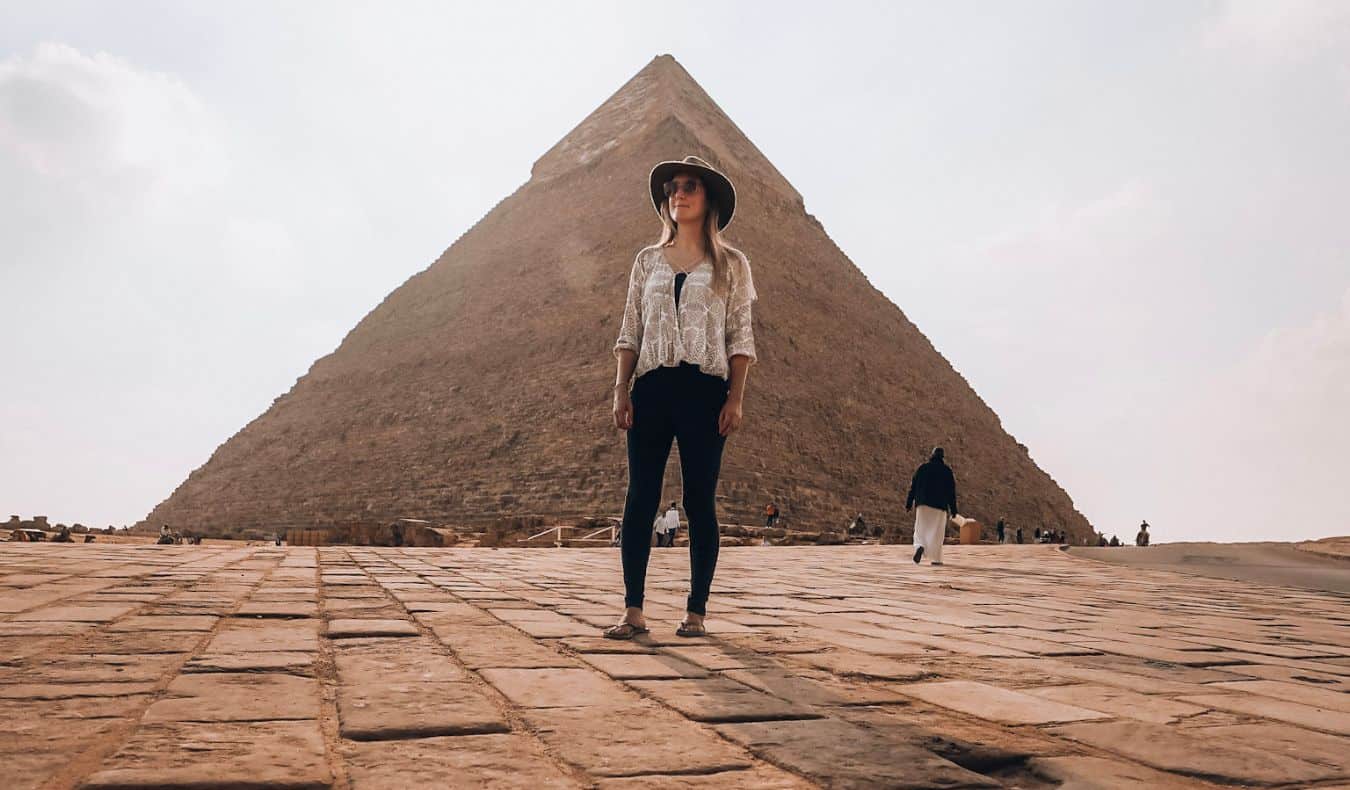 If you are a woman traveling alone to Egypt, you may have concerns about how you can get around safely. And, I get it: venturing out alone on public transportation can be scary. Here are the best options and how to use each of them safely.
One cheap and reliable mode in Cairo is the metro. Women may want to take advantage of the female-only cabins to avoid unwanted attention. These are typically either the first and second cars or the fourth and fifth cars and will be indicated by signage on the platform.
However, while easy to navigate, the metro does not stop at all the places you may need to go as a tourist. For example, you can't get to the Pyramids or the Cairo International Airport on the metro alone. That's where other options come in.
Certain cities, like Cairo and Alexandria, have rideshare apps like Careem and Uber. I found this to be the best and cheapest alternative when bouncing around the city's sights alone. I also like that they provide a digital record of every driver who picked me up, just in case anything were to go awry.
Taxis and private drivers are an easy option if you are outside the larger cities or if the wait times for rideshares aren't convenient. For the most part, I found them to be reasonably priced, but make sure you agree on a fare before getting in.
I walked around Cairo quite a bit by myself, too, mindful to dress conservatively. Whether it was through the streets of Islamic Cairo or just to the grocery store, I felt completely safe.
I mostly walked alone in the daylight, though — rarely at night — so I can't say whether that would have changed my experience. If you plan to be out late at night, I highly recommend that you arrange a taxi or rideshare instead.

Sexual Harassment in Egypt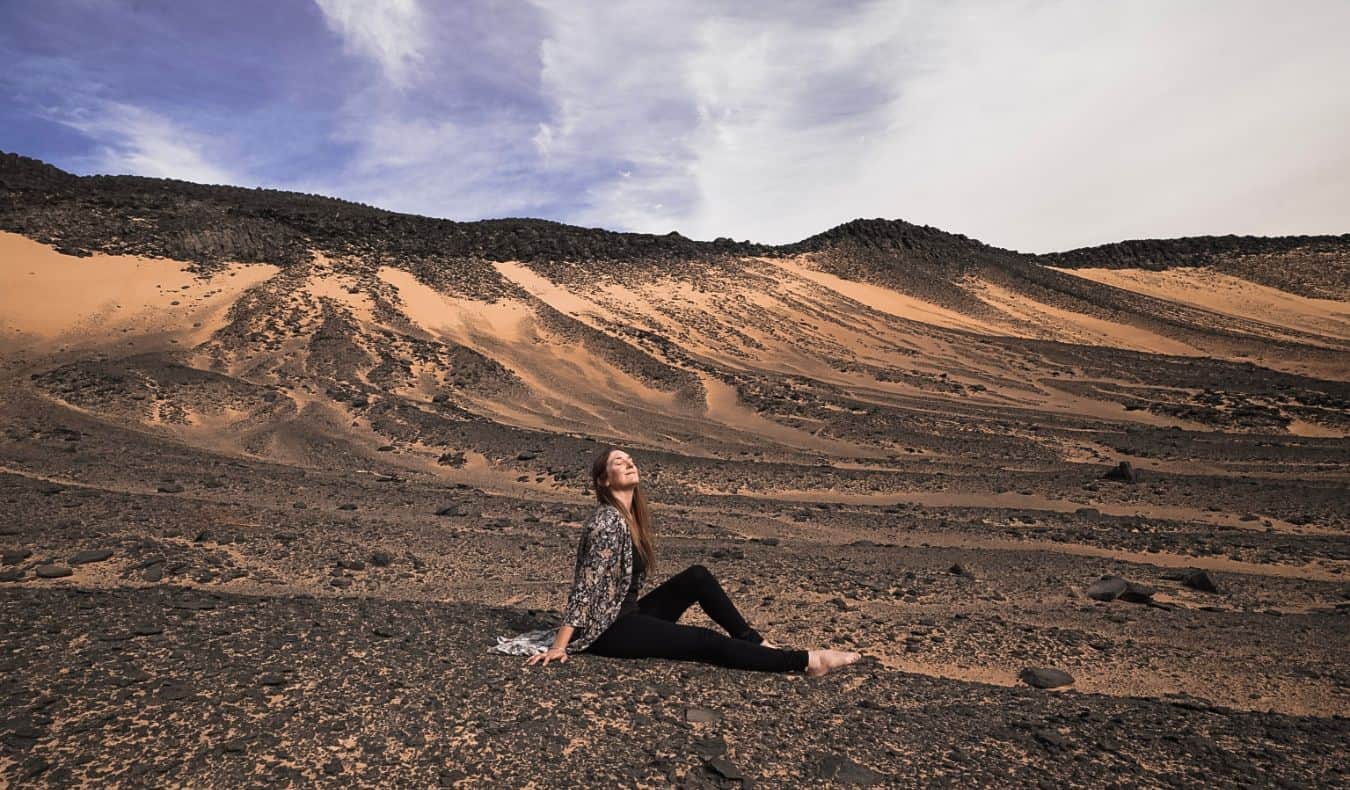 I would be lying if I said that sexual harassment doesn't exist in Egypt. It does exist, but it may be less common than you think. I had been mentally prepared for the worst of it: constant catcalls from men, being followed, being harassed. Frankly, I've experienced all of these on my travels before. Heck, I've experienced them all at home, too.
I was pleasantly surprised when I encountered almost none of this in Egypt. But I know that many women do.
So what should you do if it does happen?
If you experience something like catcalling, I usually find it best to just ignore, ignore, ignore. They typically give up once you're out of earshot. If in a public setting, or if you feel threatened, you can duck into a store or bring attention to the situation with a loud and strong "No."
If anything serious happens, such as theft or assault, report it to the tourist police immediately. It is their job to make sure that tourists in Egypt are safe, and they are much more likely to speak English than other officers. They can be reached by dialing 126.
Note that there are also police stationed at many of the main tourist attractions, like the Pyramids.
You can also seek help from your hotel desk or driver. Most Egyptians will gladly step up.

5 Safety Tips to Avoid Being a Target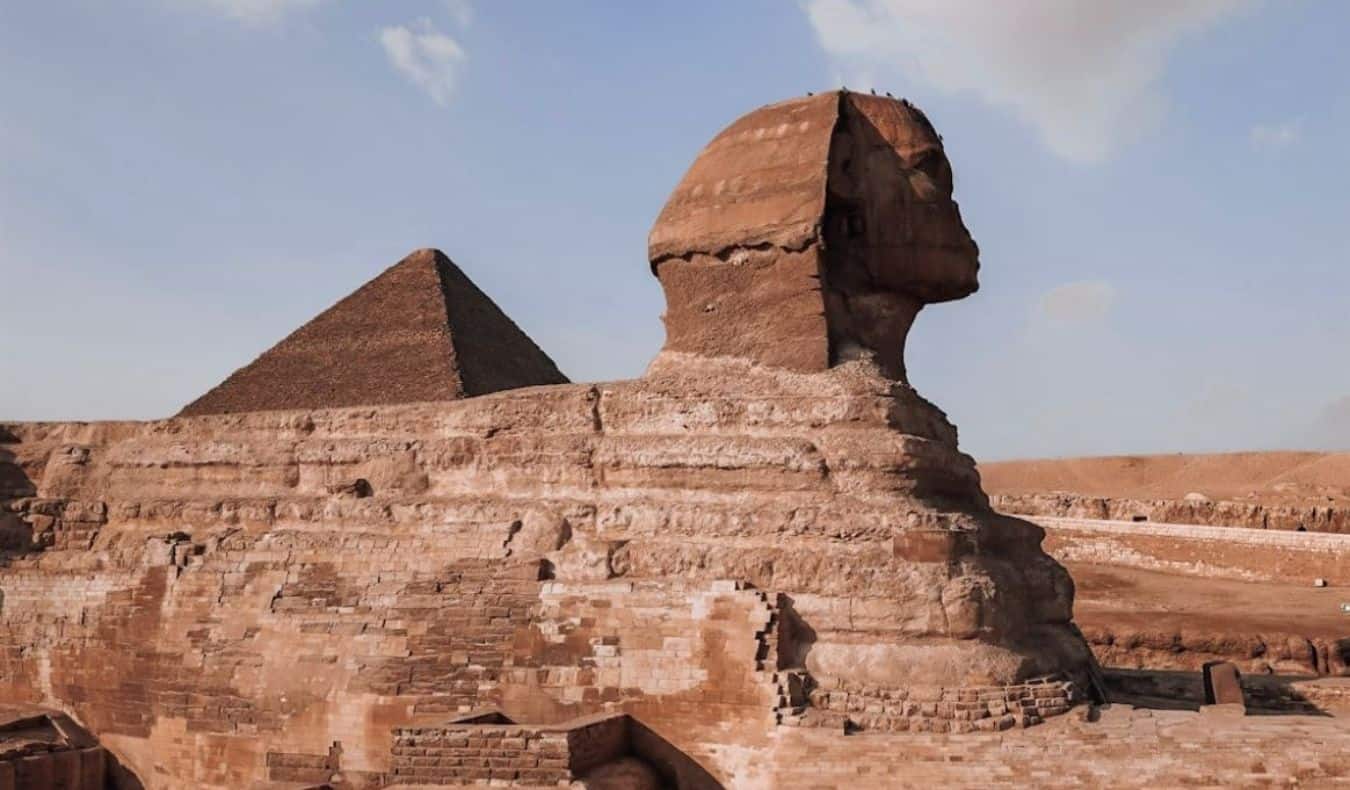 I suspect that things went so smoothly for me in Egypt partially due to the fact that I felt comfortable there. I've traveled around the Middle East quite a bit, so I sort of "get" the culture.
Here are my top tips for women who want to travel to Egypt:
1. Be aware of the cultural norms in Egypt. This probably won't come as a surprise, but you should wear conservative clothing here, even in the hot summer. Think of long pants and shirts that are not too revealing. If I wear tighter leggings, I pair them with a loose shirt that covers my waist and hips. Have a headscarf on hand for certain religious sites, like mosques. (The only place I would personally wear shorts or a tank top would be near the beach resorts.) Even if I see other women dressing more casually, I treat it as a sign of respect for their culture not to do so. And I think this has served me well as a solo traveler.
2. Carry yourself with confidence. If you don't feel 100% confident, my advice would be to fake it a little bit. Keep your chin and eyes up. Know where your destination is before you leave your hotel or hostel. This is easy to do by either downloading offline maps or buying a local SIM card; I recommend either Vodafone or Etisalat, which can be bought upon arrival at the Cairo airport.
3. Don't be afraid to say no. Also, never feel like you need to stop and talk to be polite. Shopkeepers, restaurant owners, and vendors at tourist sites will be vying for your attention frequently. A firm but polite "Laa, shukran" (no, thank you) as you continue walking is all you need to say if you're not interested.
4. Watch your purse and camera. Most petty theft is a crime of opportunity. Choose cross-body bags, which are harder to snatch, and don't hand your camera to anyone you don't trust to return it. Make sure you buy travel insurance too.
5. Avoid political demonstrations. These have a history of getting out of hand in Egypt. Things were quiet when I was there, but if you hear of any protests or demonstrations, steer clear.
I think a healthy balance of respect and self-assurance works wonders, and this has kept me safe both in Egypt and across the globe. It's also important to highlight some of the warm and welcoming experiences I had in Egypt, too, which were far greater in number than the incidents above.
For example, I was treated to koshary, Egypt's national dish and a popular street food, in a completely friendly and platonic way. I got to explore a Bedouin's home village in the desert. And a hotel worker went above and beyond for me as I was headed to the airport for my departure. Locals were repeatedly friendly, welcoming, and helpful, without even being asked.
I had many more positive experiences than negative ones, with no expectation of anything in return. And in my opinion, my negative experiences were not that big of a deal.
Egypt was more than I could have hoped for. I would wholeheartedly return again without hesitation!
***
Egypt can be a completely safe destination for solo female travelers. I'm not saying there won't be any challenges or hassles — you will likely run into a few. But I also believe that you will find the Egyptian culture, and Egyptian men in general, to be very welcoming. They genuinely want you to love their country. If you come prepared and keep your wits about you, I believe you will.
Monica Chapon has traveled to six continents solo and chronicles her adventures on her blog, This Rare Earth. She can usually be found exploring the deserts of the world, taking impromptu road trips, or hiking the trails in Southern California. Follow along with Monica's adventures on Instagram.
Book Your Trip: Logistical Tips and Tricks
Book Your Flight
Find a cheap flight by using Skyscanner. It's my favorite search engine because it searches websites and airlines around the globe so you always know no stone is being left unturned.
Book Your Accommodation
You can book your hostel with Hostelworld. If you want to stay somewhere other than a hostel, use Booking.com as it consistently returns the cheapest rates for guesthouses and hotels.
Don't Forget Travel Insurance
Travel insurance will protect you against illness, injury, theft, and cancellations. It's comprehensive protection in case anything goes wrong. I never go on a trip without it as I've had to use it many times in the past. My favorite companies that offer the best service and value are:
Want to Travel for Free?
Travel credit cards allow you to earn points that can be redeemed for free flights and accommodation — all without any extra spending. Check out my guide to picking the right card and my current favorites to get started and see the latest best deals.
Ready to Book Your Trip?
Check out my resource page for the best companies to use when you travel. I list all the ones I use when I travel. They are the best in class and you can't go wrong using them on your trip.