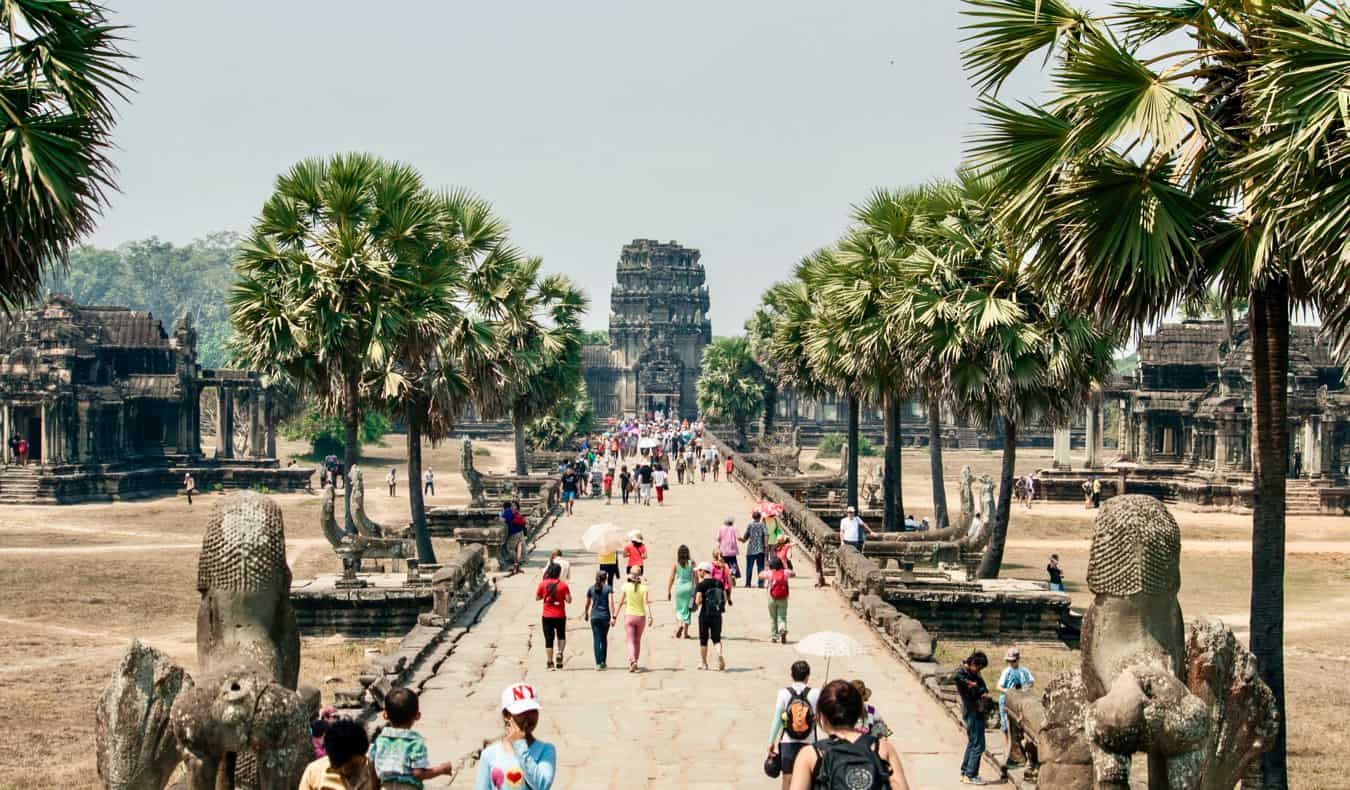 Posted: 3/22/2021 | March 22nd, 2021
Overtourism. Influencers flouting local rules for the perfect 'gram. Ignoring the locals living in the destinations we visit as we book Airbnbs, crowd streets, behave badly, and generate waste that will stay in our destination long after we leave.
There was a lot of bad travel behavior pre-COVID.
Sure, there have always been tourists behaving badly ever since the first tourist existed.
But, in an age where travel has become so easy and ubiquitous for so many for the first time, those problems were amplified a thousandfold. Destinations didn't have the necessary infrastructure to handle the flood of tourists cheap travel brought.
From flouting rules and refusing to wear a mask to hosting parties, coughing on others, and just generally being selfish, the pandemic has shown us that the world is filled with more assholes than we thought.
But, despite all of that, when it comes to the future of travel, I think the pandemic is going to make it better.
As we yearn to reconnect with friends, family, and the world at large, I think that what we've gone through has also given many of us a chance to reflect on all the things we took for granted: the outdoors, community, neighborhood restaurants, and the arts.
The sentiment I'm picking up on is that, when we can travel again, we will do so better and more thoughtfully. The vast majority of people I talk to and surveys I read show that people want to reconnect with local cultures, explore off-the-beaten-path destinations, and avoid mass tourism. And they want to make sure their environmental impact is reduced.
The new mantra is: less is more and smaller is better.
That's not to say that suddenly the world of "tourists" will be gone. There will be plenty of partying in Ibiza, Thailand, and Bali when this is all over. (Heck, I mean, look at Tulum right now. That place is crazy!) People can't wait to get back on cruise ships. And I'm sure plenty of influencers will be back to flouting local rules for that perfect shot.
But I think, as a whole, there will be a lot more people trying to do better.
And that will be in part because the industry will reinvent itself.
We usually think of travel as "us experiencing a place": we go somewhere, we do things, we leave. We treat places like museums.
There was (and still is) a general belief that travel is a right (it is not) and that locals should be happy with all the visitors (they often aren't).
What many of us often forget is that people actually live in that place we're visiting. They have lives and wants and needs and don't like the crowded streets either. Whenever you're thinking, "Ugh, there are so many tourists here," well, all the locals around you are thinking the same thing too…and they have to live with that feeling every day.
But now, with so many destinations devoid of tourists, many locals (obviously those not working in tourism) are thinking to themselves, "Do we even want tourists back? If they come back, let's make sure it's done better."
The pandemic has given destinations — and the industry as a whole — the opportunity to reset and rethink travel and tourism. Instead of trying to solve the problem of "overtourism" while the tourists keep coming — as if they were fighting the tide with a broom — they can now rethink tourism one tourist at a time. Everyone is virtually starting from zero.
There are endless examples of this, from Goa, Sri Lanka, and Prague to Italy, Iceland, and the Caribbean.
Moreover, travel companies are changing how they market to consumers, focusing on locals, going green, and touting their cleanliness policies. Hostels are reinventing themselves as digital nomads' co-living spaces. Tourism boards are concentrating on getting people away from the hubs and spreading the tourism dollars around — or getting people to explore their own home, like in this New Zealand ad.
There is a movement among those in travel to use the pandemic as a chance for positive change. You see that not only among destinations but also big brands, resorts, and travel agents too.
And that's why I'm hopeful.
Because with consumers, destinations, and companies — the trifecta of the tourism industry — all looking to change their ways, travel is going to change.
Now is one of those once-in-a-generation opportunities people talk about.
When you start traveling again, think about your impact — both on the local people and the environment. It requires more work, but it's important work. It needs to be done.
We can't be as careless as we used to be.
I was already changing how I traveled before the virus struck, especially when it came to my environmental and waste impact. I wasn't the worst traveler out there, but there was definitely room for improvement. But when more when travel opens up, I plan to use more local brands, stay at smaller hotels, go visit more offbeat destinations, do more cultural activities (especially focused on marginalized groups), and be even more conscious of my environmental footprint.
As a traveler, you'll never learn about a place fully in a few days. No one expects you to. But that doesn't mean we need to think about travel as a one-way street. Think of what you can give back too. If I take a piece of the places I visit home, is there something good I can leave? Is there something I can do to make the interaction more symbiotic than transactional? After all, people who welcome strangers want to learn about them too. Travel is, at its core, about people. That's what made the sharing economy so popular.
Whether it's donating money, volunteering while abroad, educating yourself on local issues, or choosing local businesses over multinational chains, think of ways to give back when you hit the road again.
I see a lot of positive change in the future and, from my conversations with people in the industry and readers like you, I think travel will be less extracting and more sustainable in the future.
It was already a topic of conversation before the pandemic and I think what we've gone through will accelerate those attitudes.
After all, necessity is the mother of invention.


Book Your Trip: Logistical Tips and Tricks
Book Your Flight
Find a cheap flight by using Skyscanner. It's my favorite search engine because it searches websites and airlines around the globe so you always know no stone is being left unturned.
Book Your Accommodation
You can book your hostel with Hostelworld. If you want to stay somewhere other than a hostel, use Booking.com as it consistently returns the cheapest rates for guesthouses and hotels.
Don't Forget Travel Insurance
Travel insurance will protect you against illness, injury, theft, and cancellations. It's comprehensive protection in case anything goes wrong. I never go on a trip without it as I've had to use it many times in the past. My favorite companies that offer the best service and value are:
Want to Travel for Free?
Travel credit cards allow you to earn points that can be redeemed for free flights and accommodation — all without any extra spending. Check out my guide to picking the right card and my current favorites to get started and see the latest best deals.
Ready to Book Your Trip?
Check out my resource page for the best companies to use when you travel. I list all the ones I use when I travel. They are the best in class and you can't go wrong using them on your trip.