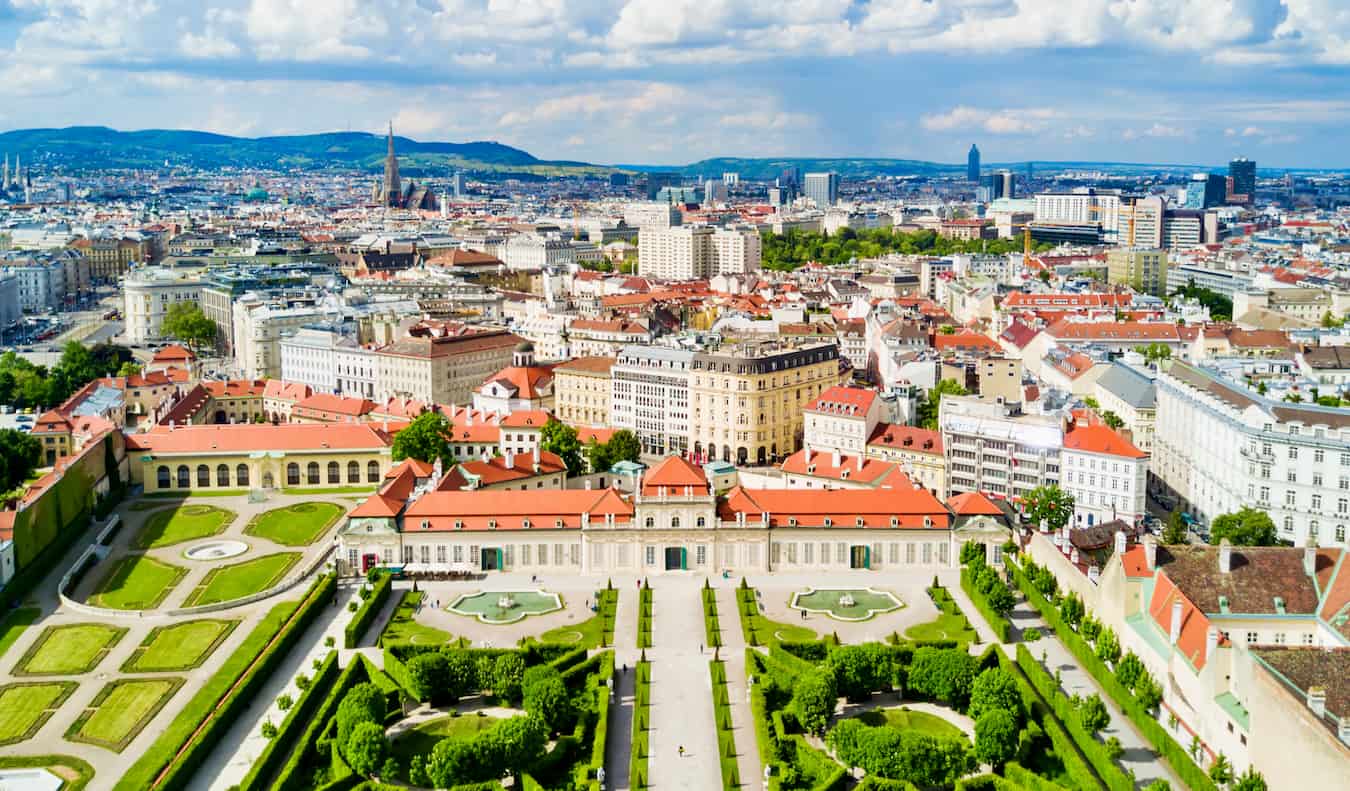 Posted: 7/21/23 | July 21st, 2023
Steeped in culture, arts, music, and history, Vienna is one of the most beautiful cities in Europe. (At least I think so!)
The entire historic center of Vienna is a designated UNESCO World Heritage Site, it is filled with countless museums and art galleries, grand Baroque palaces, traditional markets, and fantastic restaurants.
I'll admit that I didn't love Vienna when I first visited. I found it a bit stuffy and imperial (which makes sense given its history). But, after a couple of visits, I grew to love it and found it a city full of life, art, and music. I loved it so much I took groups of readers here!
There is a lot to do here. (In fact, there's so much that you could easily spend a week here and not get bored.)
But, if you only have a few days, here's my suggested three-day Vienna itinerary if you're short on time. It hits all the highlights.
Vienna itinerary: Day 1
Take a free walking tour
I always take a walking tour whenever I arrive in a destination. Starting your trip with a walking tour is a fun way to get a sense of the city, as a taste of its history and culture. Plus, you can ask your guide questions about where to eat and go since they are always locals so they know the inside scoop!
Two excellent free walking tours are:
If you'd like to cover more ground, consider taking a bike tour. I like the tour offered by Pedal Power Vienna. It's three hours and covers all the major highlights.
Admire St. Stephen's Cathedral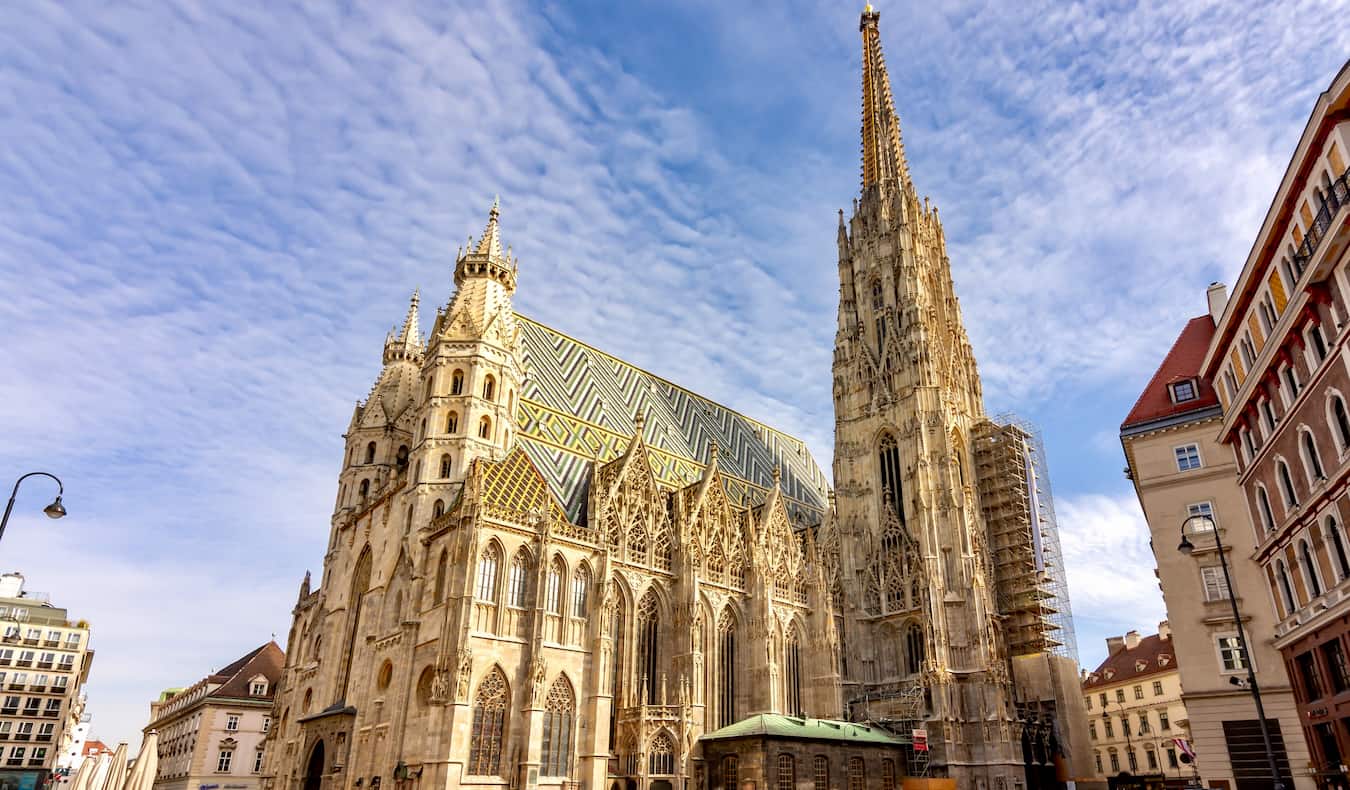 Built in Romanesque and Gothic styles, the Stephansdom has been standing since the 12th century. It is most famous for its colorful roof of 230,000 glazed tiles, but the inside is ornately decorated as well, with high archways, vaulted ceilings, and a plethora of statues and religious paintings. There are two beautiful altars inside too: the 17th-century High Altar and the 15th-century Wiener Neustadt Altar.
The cathedral has been destroyed and rebuilt over the years, with the current version largely initiated by Duke Rudolf IV (1339–1365). Its most recent reconstruction took place just after World War II.
Stephansplatz 3, +43 1 515523530, stephanskirche.at. Open for worship Monday-Saturday 6am-10pm and Sundays 7am-10pm. Open for visitors Monday-Saturday 9am-11:30am and 1pm-4:30pm, and Sunday 1pm-4:30pm. Admission is 20 EUR, guided tours are 3.50 EUR, and audio guides are 6 EUR. Catacomb tours are 6 EUR; going up the towers costs 5.50 EUR for the South Tower and 6 EUR for the North Tower. Dress respectfully, as it is a place of worship.
See the Imperial Palace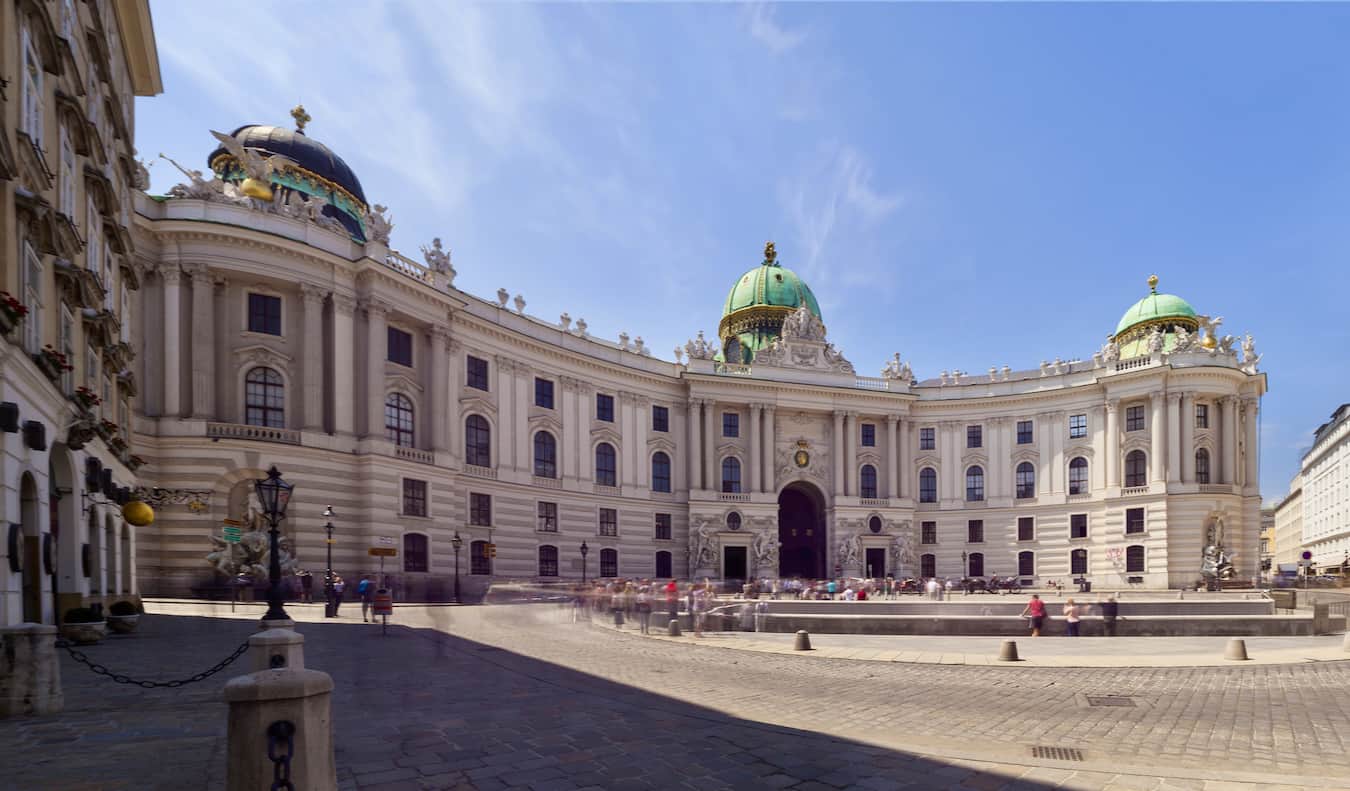 The 13th-century Hofburg was the principal palace of the Habsburg dynasty (one of the most prominent in European history) for more than seven centuries. Today, it's the official residence of the president of Austria.
You could easily spend half a day here exploring all the attractions, which include the Sisi exhibit (highlighting the life of Empress Elisabeth), the Imperial Silver Collection, and the royal apartments themselves. It's huge.
My favorite section is the Imperial Treasury, with its royal artifacts, crowns, scepters, and detailed history of the Hapsburg family and empire. And, although it's not free, I recommend getting the audio tour, which adds a ton of context to the exhibits. It's worth the money.
Michaelerkuppel, +43 15337570, hofburg-wien.at. Open daily 9:30am-5pm. Admission is 16 EUR. If you have the Vienna PASS, it's free. Skip-the-line tours start at 48 EUR.
Wander the Naschmarkt
This is Vienna's largest open-air food market. It has 120 stands, including restaurants, street stalls, and grocers, and, on Saturdays, a flea market too. It's a little touristy (don't go grocery shopping here) but it has a cool vibe and it's a nice place to sit and eat. Despite its fame, you'll still find a lot of locals here so don't feel like this is a tourist only place. Be sure to hit up Umarfisch for seafood and wine. The food there is delicious.
If you really want a deep dive into the market, you can also take a guided tasting tour.
Vienna Itinerary: Day 2
Explore the Museumsquartier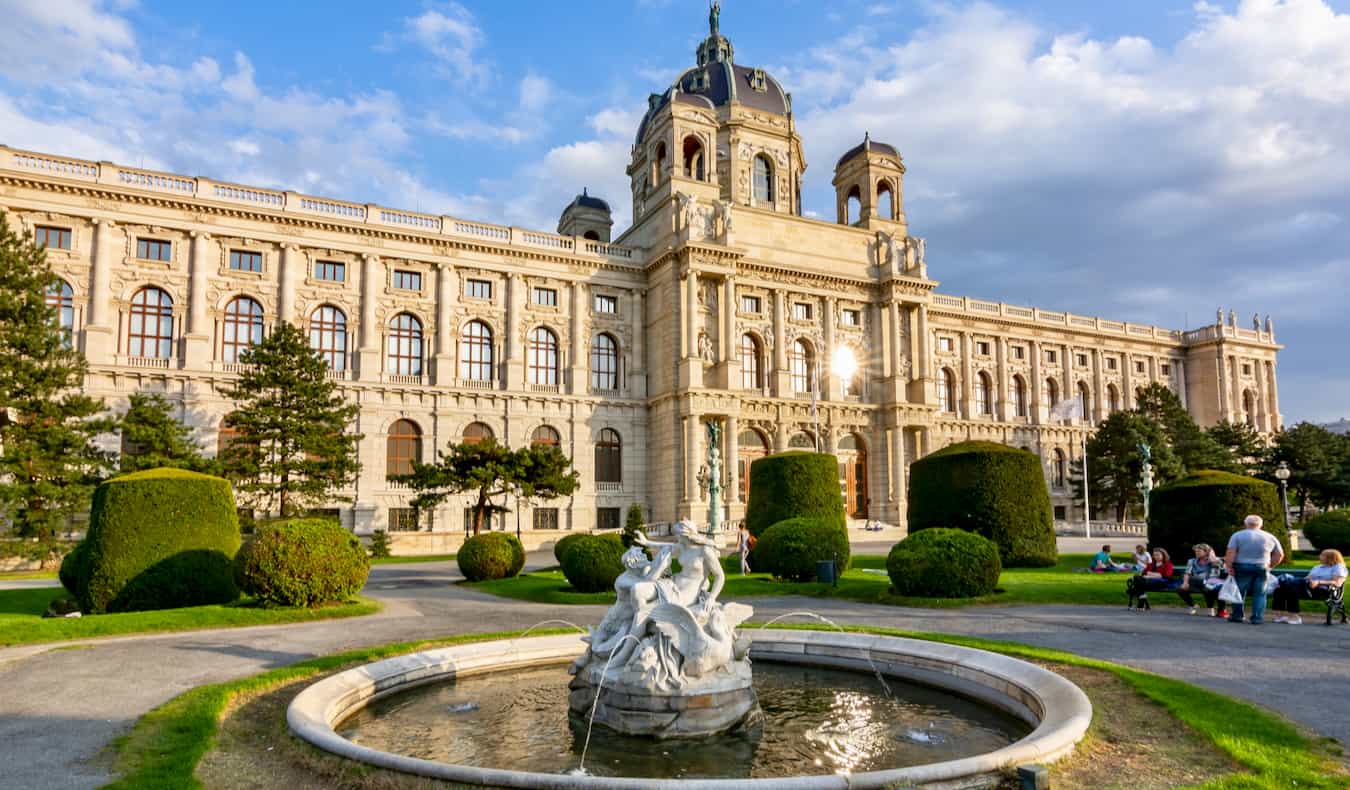 Start day two with the Museumsquartier (MQ). Once the imperial stables, it now encompasses over 90,000 square meters and 60 cultural institutions, including the Leopold Museum for Art Nouveau and Expressionism; Kunsthalle Wien, with rotating exhibitions; and the Museum of Modern Art, which has the largest such collection in Central Europe. The MQ is also home to several festivals throughout the year, including open-air concerts and a fashion week. If you love art, this place is a must.
A pass to five of the main museums is 35 EUR. Guided tours of the district are also offered for just 8 EUR.
Additionally, be sure to vist the nearby Kunsthistorisches Museum (Museum of Fine Arts). Created by Emperor Franz Joseph I in 1891, this is now largest art museum in the country. You could easily spend several hours here (if not more). Most items are from the Hapsburgs' old collection, with artifacts from ancient Egypt and Greece as well as paintings by Rubens, Raphael, Rembrandt, Pieter Brueghel the Elder, and more. The interior itself is incredibly ornate too, boasting lots of marble, gold leaf, and murals.
Museum of Fine Arts: Maria-Theresien-Platz, +43 1525240, khm.at. Open daily 10am-6pm (9pm on Thursdays). Admission is 21 EUR (get your tickets in advance here).
Take a Food Tour
After a morning of museums, head out on a food tour around the city to sample some of Vienna's traditional eats. Vienna Food Tours has a few different tour options, with their most popular tour offering a visit to a coffee house, as well as Austrian favorites like chocolate, cheese, sausage, and, of course, wine. There are usually 4-8 stops on most food tours, which means you'll want to bring an appetite. There are also vegetarian tours available too in case you have dietary concerns.
Tour prices vary but most are at least 100 EUR and last 2.5-4 hours.
Admire Schönbrunn Palace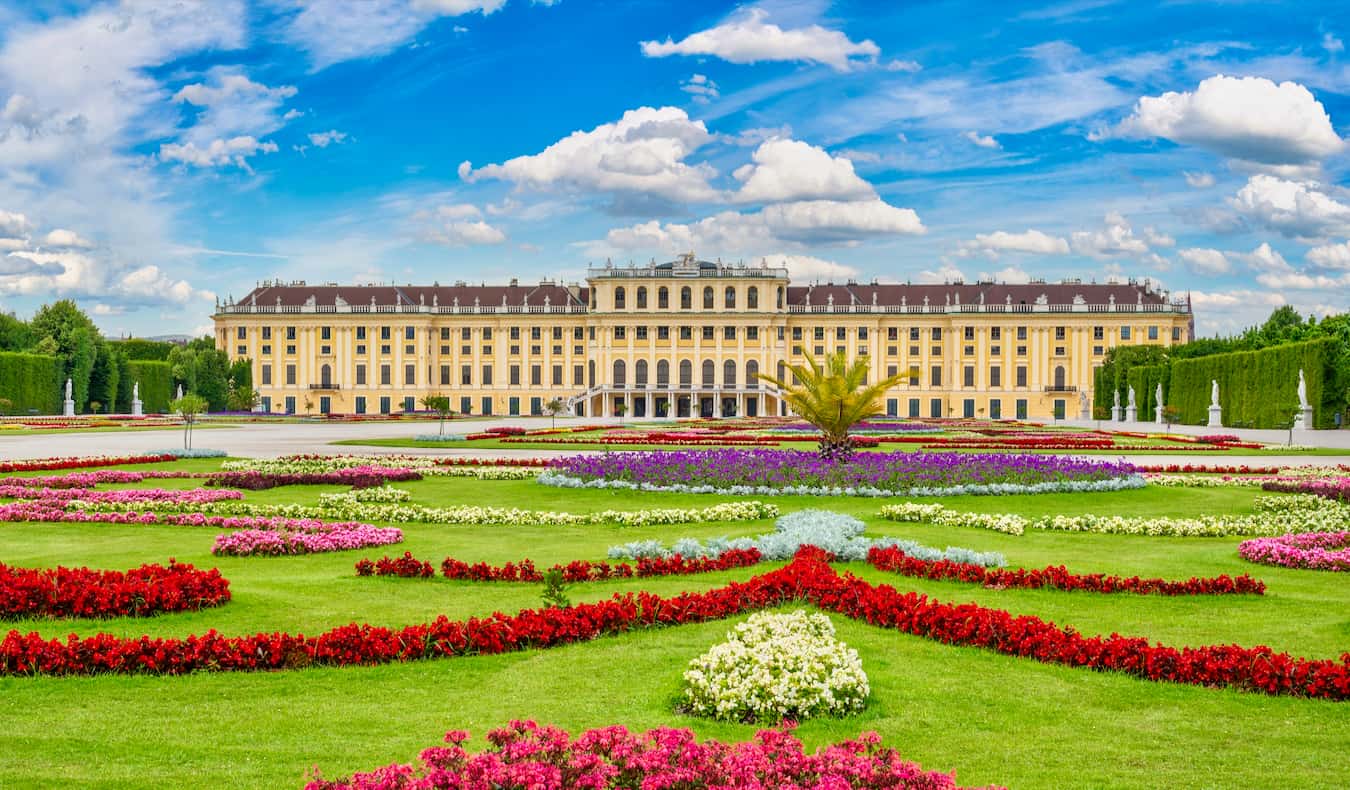 End your day with a visit to one of Vienna's most popular sites. Originally a 17th-century hunting lodge, this palace later became the Hapsburgs' summer residence in the 18th century. There are over 1,400 rooms, but only a handful are open to the public (you'll see 22 rooms on the Imperial Tour and 40 rooms on the Grand Tour). However, there's more than enough for a few hours of wandering the exquisitely restored, incredibly ornate rooms filled with elaborate paintings, woodwork, chandeliers, and decorations. This is one of my favorite places in all of the city. Bring some food and wine and have a picnic in garden. Since it's on a hill, you get an amazing view of of Vienna.
Schönbrunner Schloßstraße 47, +43 1 81113239, schoenbrunn.at. The palace is open daily 9:30am-5pm (longer hours in the summer). The park is open daily 6:30am-5:30pm (8pm in the summer). The Imperial Tour is 22 EUR and takes around 40 minutes, while the Grand Tour is 26 EUR and takes over an hour; both include an audio guide. If you have the Vienna PASS, admission is free. Skip-the-line guided tours cost 48 EUR.


Vienna Itinerary: Day 3
Tour the Albertina
Start your last day at the Albertina, one of the best museums in town (which says a lot in a city packed with great museums)! Housed in one of the old private residence wings of the Imperial Palace, it's most famous for its collection of over one million prints and 60,000 drawings.
The building itself used to be a Habsburg residence, and included in your museum ticket is a self-guided tour of the 20 restored Habsburg State Rooms. You'll get an interesting look into 19th-century aristocratic life as you stroll through the exquisitely decorated rooms with their gilded chandeliers, grand fireplaces, delicate furniture, and detailed wall coverings.
For fans of more contemporary art, the Albertina Modern opened in 2020. Located just a few blocks away from the Albertina itself, the museum focuses on post-1945 contemporary art, with a huge collection of over 60,000 works by 5,000 artists.
Albertinaplatz 1, +43 1 53483, albertina.at. Open daily 10am-6pm (9pm on Wednesdays and Fridays). Admission is 18.90 EUR (get your tickets in advance here). A joint ticket to the Albertina and Albertina Modern is 24.90 EUR. If you have the Vienna PASS, admission to both is free.
Visit the Mozart Museum
Though Mozart only lived here for three years in the 1780s, this is the only apartment out of all the places he resided in Vienna that has survived. The neat little museum opened in 1941 for the 150th anniversary of his death. The first floor is where Mozart and his family lived, although you need to use your imagination, as not much is known about how the rooms actually looked or were used. But the museum has curated an interesting selection of paintings, artifacts, letters, and memorabilia so that you can learn about his life, music, family, and friends, and be able to listen to his work.
Domgasse 5, +43 1 5121791, mozarthausvienna.at. Open daily 10am-6pm. Tickets are 12 EUR (free for anyone under 19). Free admission on the first Sunday of the month.
See the Freud Museum
Another apartment-turned-museum, this one was home to Sigmund Freud, the famous founder of psychoanalysis (the theory that our present is shaped by our past). He lived here from 1891 to 1938, and the museum opened in 1971 with the help of Anna Freud (his youngest daughter). You'll find it decorated with the original furniture and Freud's private collection of antiques. There are also films from his private life as well as the first editions of his works. It only takes about an hour to visit as it's quite small.
Berggasse 19, +43 1 3191596, freud-museum.at. Open daily 10am-6pm. Admission is 14 EUR (get your ticket here).
Enjoy the Vienna State Opera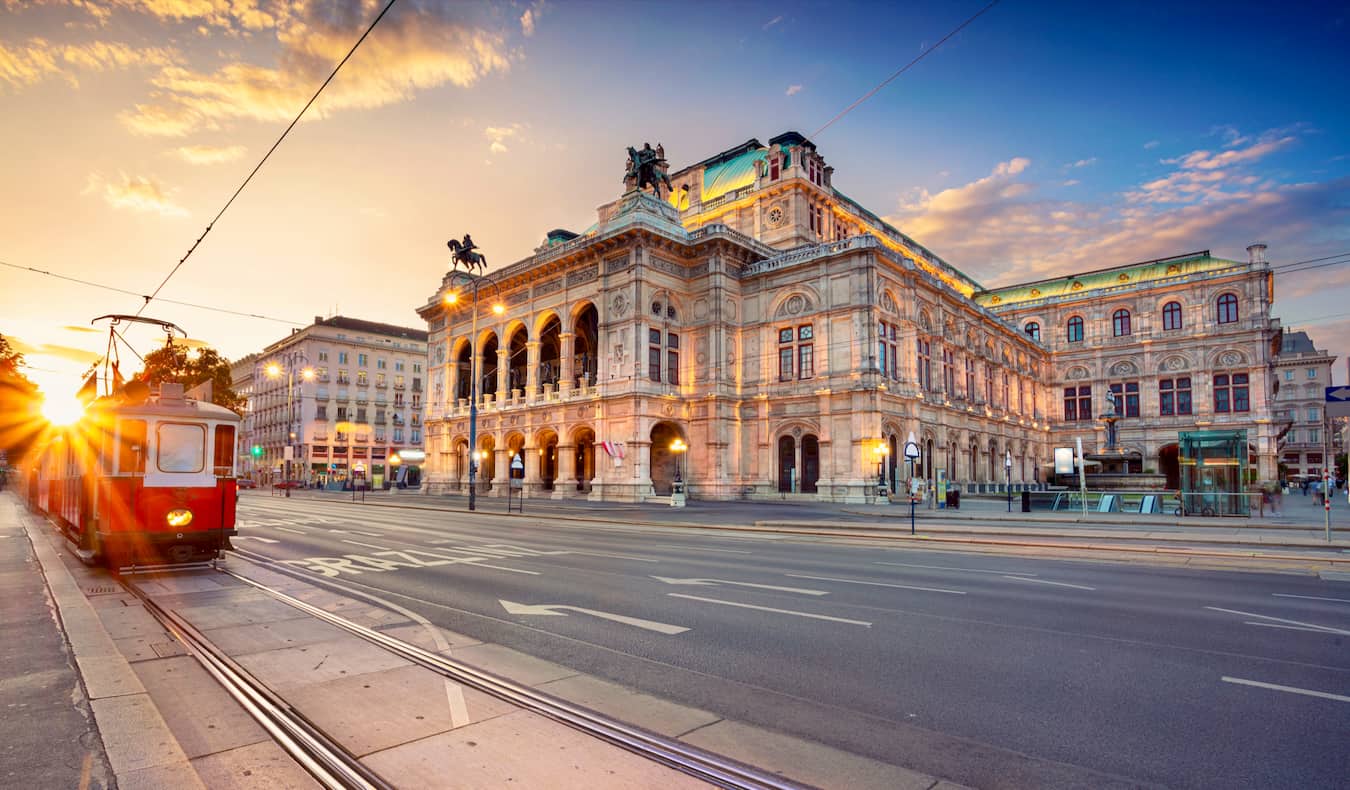 Wrap up your final day at the opera. Vienna is synonymous with the genre, a major focal point of life here. Its opera house is one of the largest and most famous in the world. The Renaissance Revival building was completed in 1869, can seat over 1,700 spectators, and is impressively grand both inside and out.
I recommend buying last-minute standing-room tickets for 13-18 EUR. They go on sale starting 80 minutes before the show (you can line up earlier than that though). It's first-come, first-served and you can only buy one ticket per person.
Opernring 2, +43 151444/2250, wiener-staatsoper.at. Check the website for the most up-to-date performance schedule. Tickets start at 59 EUR. A guided building tour costs 13 EUR (free if you have the Vienna PASS).

Other Things to Do in Vienna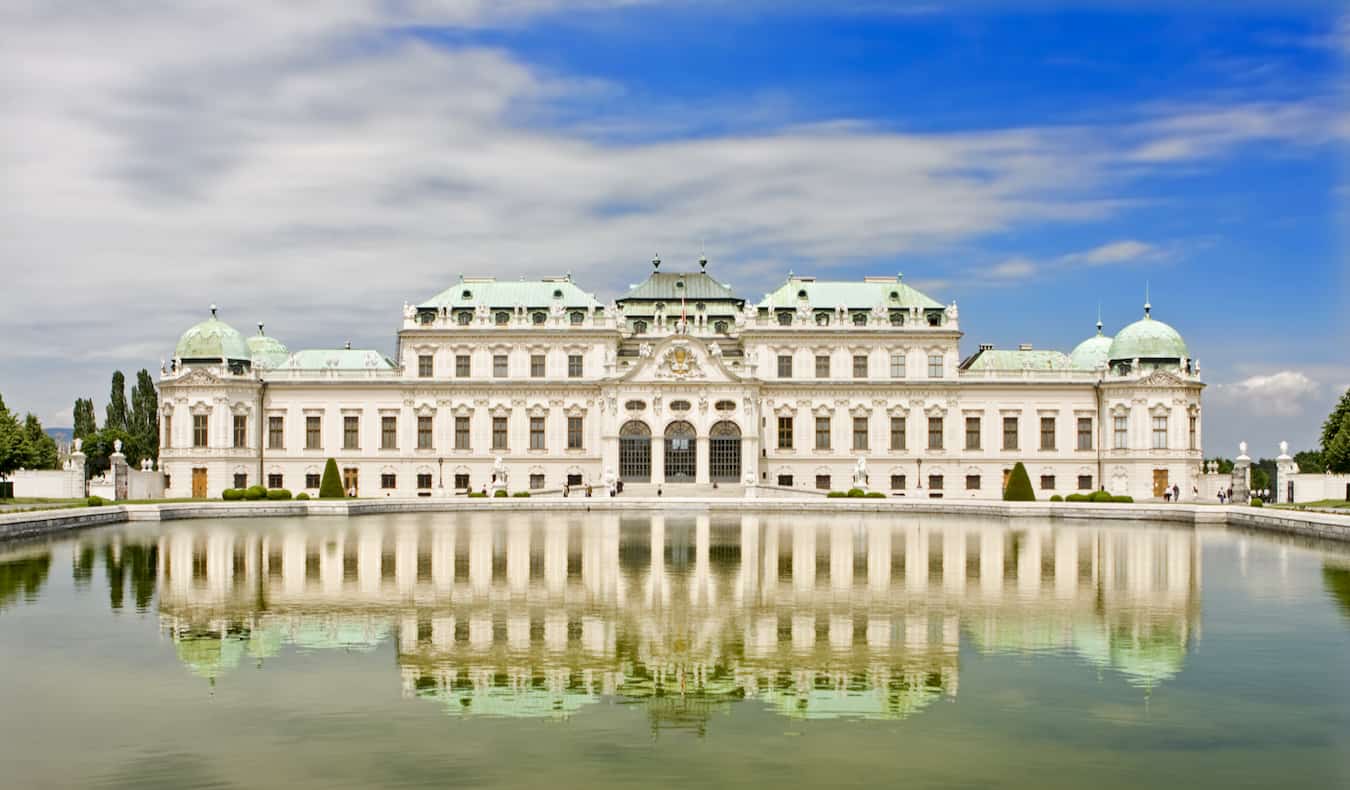 See the Jewish Square (Judenplatz)
Vienna had a sizable Jewish population before the atrocities of the Nazi regime. This neighborhood features two important museums that provide insights into its Jewish history and culture. The Vienna Jewish Museum details the role Jews played in the development of city life, while the Museum Judenplatz gives an authentic look at the history of Jewish life in Vienna.
There is also the nearby Holocaust Memorial, designed by British artist Rachel Whiteread, which commemorates the 65,000 Jewish Austrians that the Nazis murdered.
Dorotheergasse 11, +43 1 5350431, jmw.at. Open Sunday-Thursday 10am-6pm and Fridays 10am-2pm. Admission is 15 EUR (includes both museums).
Visit Belvedere Palace
The Belvedere is a Baroque palace complex that houses an incredible art collection, with works by Renoir, Monet, and Van Gogh, among others. Contemporary art, film, and music are featured in the building called the Belvedere 21. The free grounds feature beautiful fountains, gravel walkways, ponds, statues, plants, and flowers.
Prinz-Eugen-Strasse 27, +43 1 795570, belvedere.at. Open daily 10am-6pm. Admission is 15.60 EUR for lower Belvedere tickets, 17.70 EUR for upper Belvedere tickets, and 9.30 EUR for Belvedere 21 (contemporary art, film, music). You can get a day ticket with admission for all three for 28.40 EUR. Admission to both the lower and upper Belvedere is free if you have the Vienna PASS.
Take a wine tour
Take a bike tour of the stunning nearby Wachau Valley. You'll get to taste some of the best local wine while enjoying the surrounding landscapes. If you're looking for a tour operator, I suggest Discover Vienna Tours, which I used when I ran tours to Vienna. It's a really cool thing to do but it's a full-day excursion (plan to spend 8-10 hours) so it will be the only thing you do that day! Expect to pay around 85 EUR for a full-day wine tour.
Stroll along the Danube
The Danube, Europe's second-longest river (the Volga is the longest), stretches almost 2,900 kilometers (1,800 miles) as it passes through or along ten countries: Germany, Austria, Slovakia, Hungary, Croatia, Serbia, Romania, Bulgaria, Moldova, and Ukraine. Walking along the banks is a great way to spend an afternoon, and there are plenty of bars, stores, and cafés along the water to pop into. During the summer, you can soak up the sun at the river's many "beach clubs", which have everything you need to relax: loungers, a bar/café, music, and — surprisingly — sand.

Where to Stay in Vienna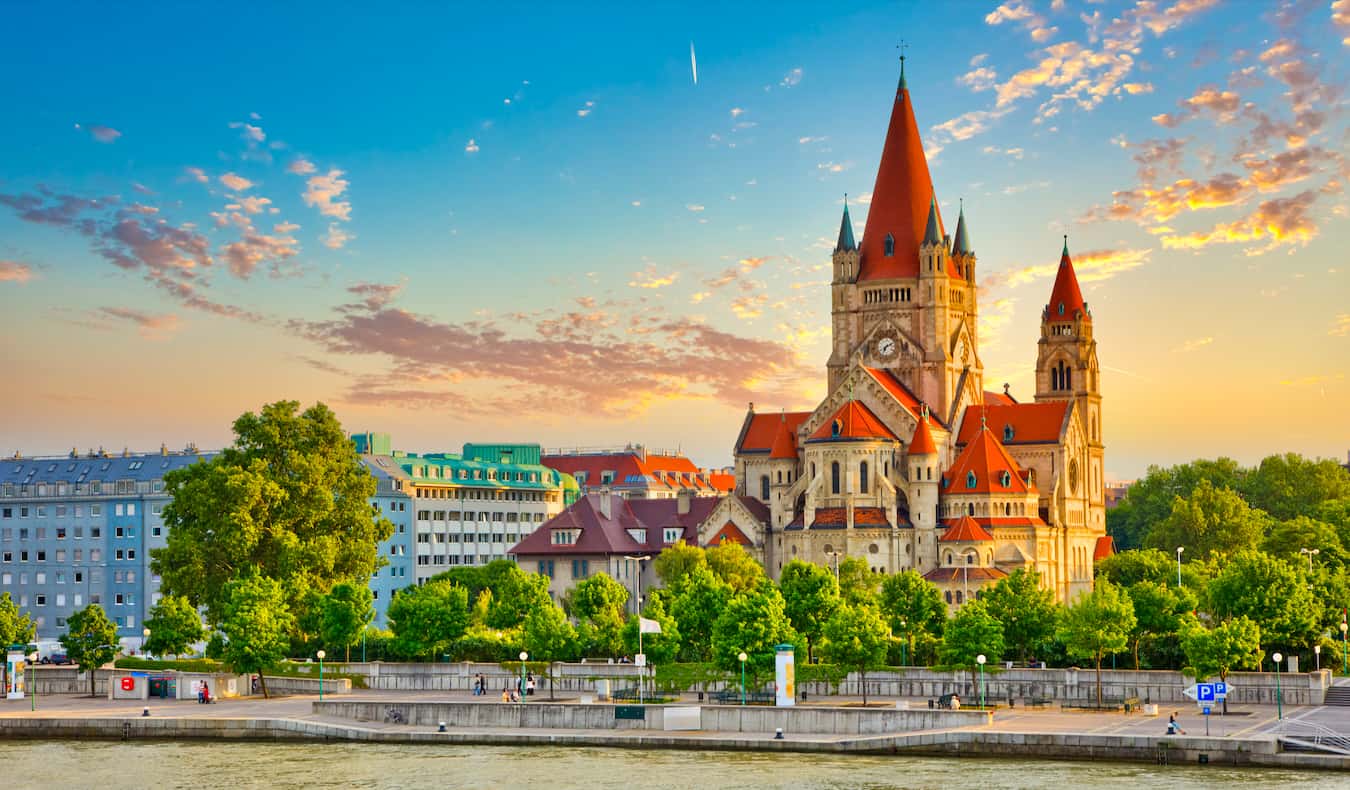 Here's my list of the best places to stay in Vienna if you're on a budget:
Wombats City Hostel – My favorite hostel in town is in a great location right along the Naschmarkt. Set in a historic Art Nouveau building, it offers all the modern amenities, including a café/bar, guest kitchen, and en suite bathrooms (even in dorm rooms).
Jo&Joe Vienna – Great for travelers looking for a quiet yet affordable stay, this hostel is conveniently located next to the Westbahnhof. It has modern amenities like pod beds, a cinema room, a bar/restaurant, a huge rooftop terrace, laundry facilities, and more. If you have HostelPass, you'll get 10% off your booking at Jo&Joe, and if you don't have HostelPass yet, use code NOMADICMATT for 25% off when signing up.
Hotel Brauhof Wien – This stylish and modern hotel is in an excellent location near the Westbahnhof railway station, a short distance from Schönbrunn Palace, and just a quick U-bahn ride away from historic Vienna. It's especially perfect for beer lovers, as there's a brewery on site!

Money-Saving Tips for Vienna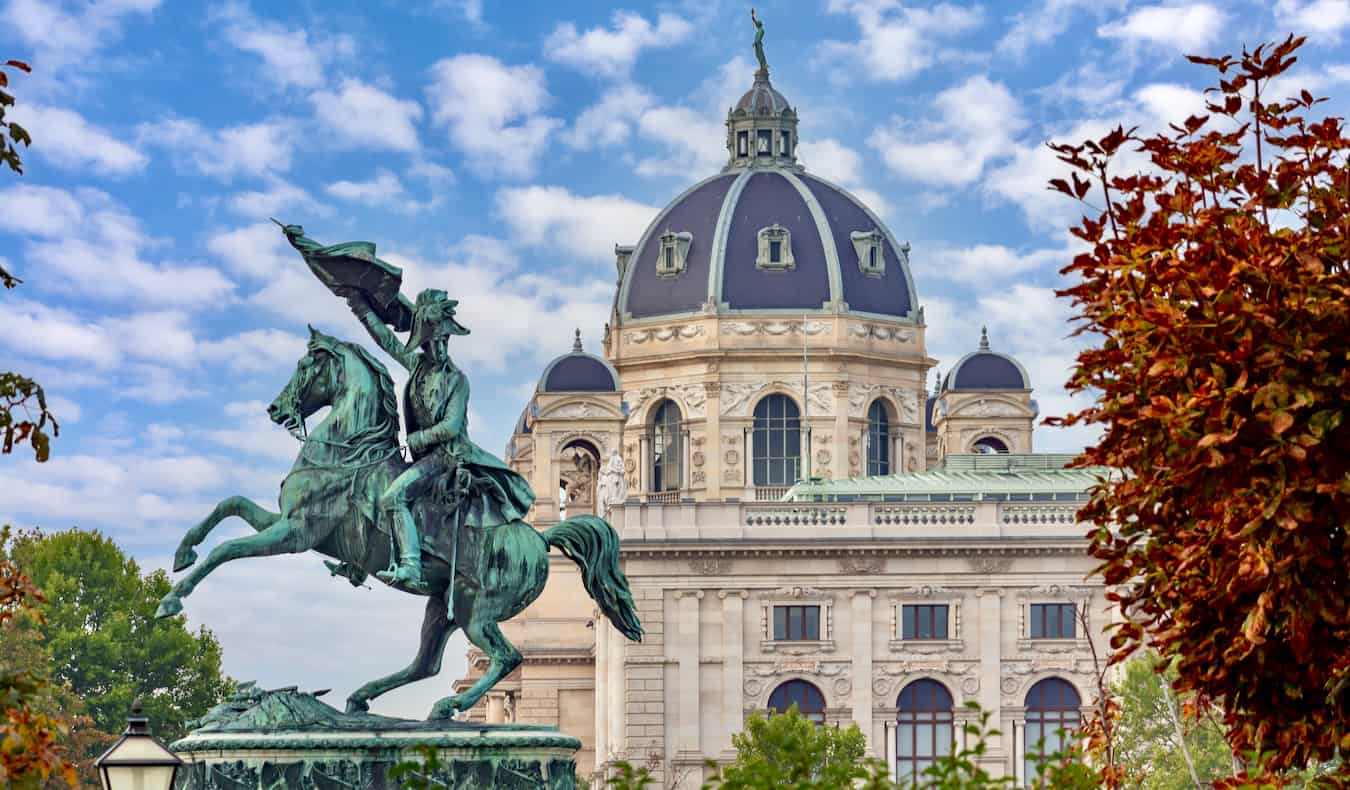 To ensure you don't break the bank, here are a few helpful money-saving tips for Vienna:
1. Get a Vienna PASS – With the Vienna PASS, you get entry to over 60 attractions, museums, and monuments throughout Vienna. It costs 78 EUR for a one-day pass, 110 EUR for a two-day pass, and then all the way up to 170 EUR for six days. If you're planning to visit several of Vienna's most popular museums, getting the pass could save you a fair amount of money — especially as it has an option for free public transportation.
2. Get a transit pass – If you plan to take the metro a lot, get a pass. A 24-hour pass is 8 EUR, a 48-hour pass is 14.10 EUR, and a 72-hour pass is 17.10 EUR. The weekly pass (valid from Monday through Sunday) is also 17.10 EUR. The Vienna City Card offers unlimited transportation, as well as discounts on attractions (starting at 17 EUR for one day).
3. Visit the museums for free – Some museums have free days and evenings, offering the possibility of saving some euros if you time it right. Kunsthalle Wein has free admission every Thursday from 5pm-9pm, and many museums have free admission the first Sunday of the month. Check the website of the museums you want to visit for current free days.
4. Travel during shoulder season – Personally, I think the best time to go to Vienna is April-June and/or September-October. It's still warm during this time, but there aren't as many other tourists and prices aren't as high as in the summer.
5. Skip the fast train into Vienna – Unless you are in a rush to get downtown, skip the City Airport Train. It's 11 EUR, compared to the regular train (which is 4.30 EUR). The time difference is negligible.
***
Vienna is one of Europe's great cultural capitals. There's so much to see, do, and eat that you could easily spend over a week here and not scratch the surface. But even if you only have three days, you can still cover many of the highlights. Just be sure to build in some time hanging out at some of the great coffeehouses — a cultural institution all their own — and take in the pace of city life. It won't disappoint.


Get Your In-Depth Budget Guide to Europe!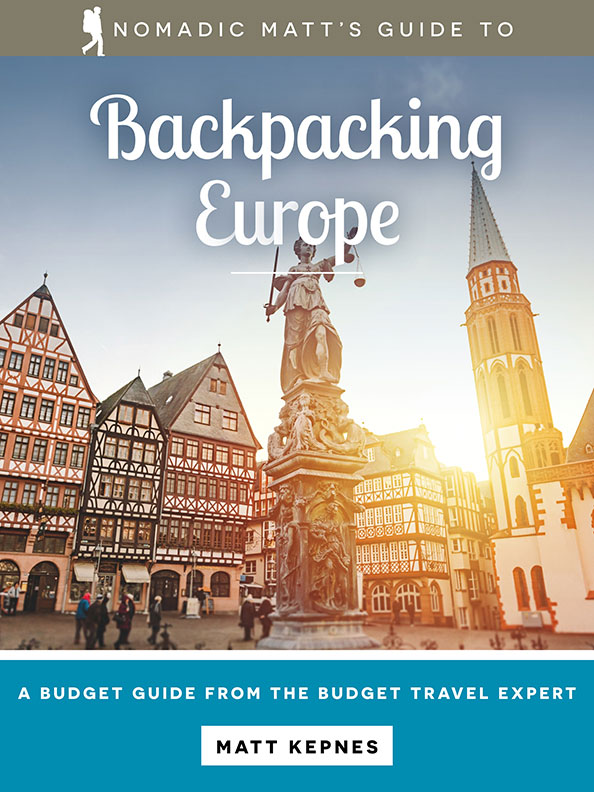 My detailed 200+ page guidebook is made for budget travelers like you! It cuts out the fluff found in other guides and gets straight to the practical information you need to travel while in Europe. It has suggested itineraries, budgets, ways to save money, on and off the beaten path things to see and do, non-touristy restaurants, markets, bars, safety tips, and much more! Click here to learn more and get your copy today.
Book Your Trip to Vienna: Logistical Tips and Tricks
Book Your Flight
Use Skyscanner to find a cheap flight. They are my favorite search engine because they search websites and airlines around the globe so you always know no stone is left unturned.
Book Your Accommodation
You can book your hostel with Hostelworld as they have the biggest inventory and best deals. If you want to stay somewhere other than a hostel, use Booking.com as they consistently return the cheapest rates for guesthouses and cheap hotels.
Don't Forget Travel Insurance
Travel insurance will protect you against illness, injury, theft, and cancellations. It's comprehensive protection in case anything goes wrong. I never go on a trip without it as I've had to use it many times in the past. My favorite companies that offer the best service and value are:
Looking for the Best Companies to Save Money With?
Check out my resource page for the best companies to use when you travel. I list all the ones I use to save money when I'm on the road. They will save you money when you travel too.
Want More Information on Vienna?
Be sure to visit our robust destination guide to Vienna for even more planning tips!