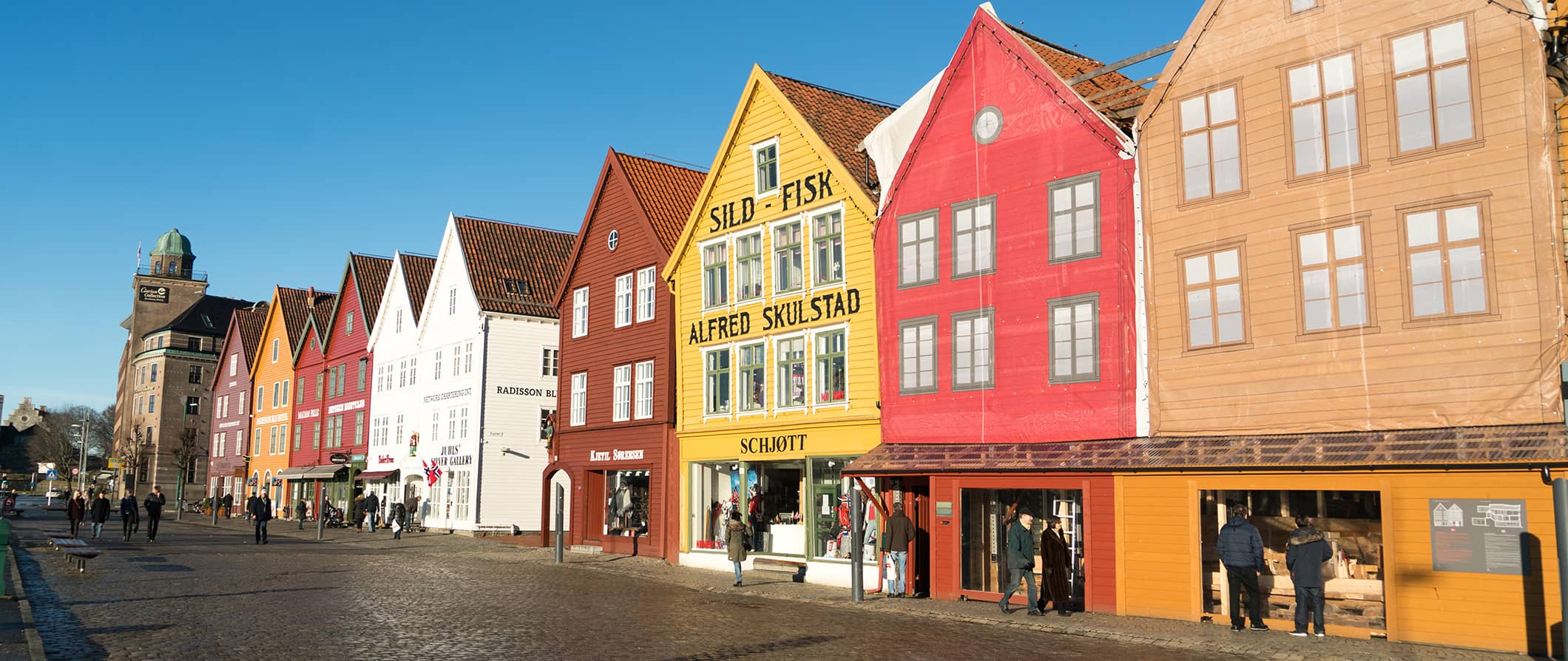 Bergen is my favorite city in Norway. It's small, historic, beautiful, and filled with great seafood. Being a university town, there is a very vibrant energy to the city, too (plus this city had the most cheap food options I saw and in a country as expensive as Norway, that's pretty important!). The only downside to the city is that it rains most of the time so you rarely see sun. But don't let that deter you! The city is spectacular, so much so that I would even consider moving here — something I don't say about most cities.
Top 5 Things to See and Do in Bergen
1. Get your Art Fix at Bergen Art Museum
In addition to altering exhibits, the Bergen Art museum contains three primary collections, offering everything from contemporary art to traditional Norwegian art from the 1400's, to works dated to 1700 up to 1915. Adult admission is 100 NOK, and there are discounts available for students and groups.
2. Check out Gamle Bergen
An outdoor museum featuring 40 houses, depicting life during the 18th and 19th centuries. If you are looking fore an interesting and informative tour, this is the place to go! It is located near the center of Bergen.
3. Walk through the Arboretum and Botanical Garden at Milde
Occupying 125 acres of land, the garden is home to thousands of trees, plants, flowers and shrubs. May and June are great months to go because the rhododendrons bloom. July and August is good too because everything else blossoms. The gardens are located outside the center of Bergen and admission is free!
4. Climb Rosenkrantz Tower
Dating back to medieval times, this tower served as a residence as well as a fortified tower. It offers a beautiful view of the sea, as it is just a short walk from the fish market, and an inside glance at life of the past. Be sure to check out the dungeon. Guided tours are available for 20 NOK, and child enter free.
5. Ride the Fløibanen Funicular Railway
If you want the best view in the city, this is the vehicle that will take you there! Mount Floyen is 1,050 feet above sea level and overlooks the surrounding islands. Sit back and enjoy the view or take a stroll through the woodland terrain and around the lakes. Roundtrip adult tickets are 90 NOK.
Other Things to See and Do
(Click the title to expand the text)
1. Bergen Museum of Cultural History
This is an awesome exhibit of Norse and Scandinavian culture, both rural and urban. It includes everything from archaeological artifacts to furniture and folk art. Admission is 60 NOK for adults and free for children.
2. Admire the Fresco Hall
Painted by local artist Axel Revold, in the 1920s, the Fresco Hall is comprised of four panels, featuring illustrations of each region of the city from the time. Considered to be a 'local treasure', this is a must see.
3. Visit Gallery Nygaten 7
Considered one of the most stunning galleries in Norway, Gallery Nygaten 7 will catch your eye with its bold, dramatic architecture and exhibits.
4. Go on the White Lady Fjord tour
This is a four-hour boat tour that offers an amazing look at the famous fjords and the beautiful landscape surrounding Bergen, including various islands, bridges, cliffs, and waterways. It's a casual way to spend your day and offers a nice chance to get away from the typical city bustle and tourist excursions. Tickets are 480 NOK for adults, with discounts available for students and children.
5. Visit the Bergen Aquarium
For aquatic lovers and families alike, this aquarium offers Europe's largest seal and penguin exhibit, a highly-extensive marine fauna collection, and one of Europe's largest collections of fish and invertebrates. Admission is 200 NOK for adults, 150 NOK for children.
6. Attend the Bergen International Festival
Every year at the end of May, the Bergen Int. Festival offers a wide array of performing arts. including music, opera, ballet, theatre, and more. It's a great way to check out amazing contemporary performances, on various stages throughout the city.
7. See the Folgefonni Glacier
Just north of Bergen lies Folgefonni glacier. Climb the ice precipices or stroll across the thousand-year-old ice desert. If you can't make it north to see the fjords, this is a good consolation prize.
8. Hang out in Festplassen
This is a recreation area used for various fairs, amusements parks, feast days, festivals, and more! If you are looking for something engaging, check here to see if anything is going on, or just come to enjoy the scenery.
9. Take a look at Ole Bulls Plass
One of the most well known meeting places in the city, Ole Bulls Plass is also home for various sculptures. Be sure to stop by and see: The Lying Poet, Ole Bull, and The Blue Stone.
10. Hike Runemanen Mountain
One of the seven mountains surrounding Bergen, and host to some of the most popular hiking trails in the area. If you are looking to get outside, this mountain has a trail for you! There are trails for beginners and intermediates alike.