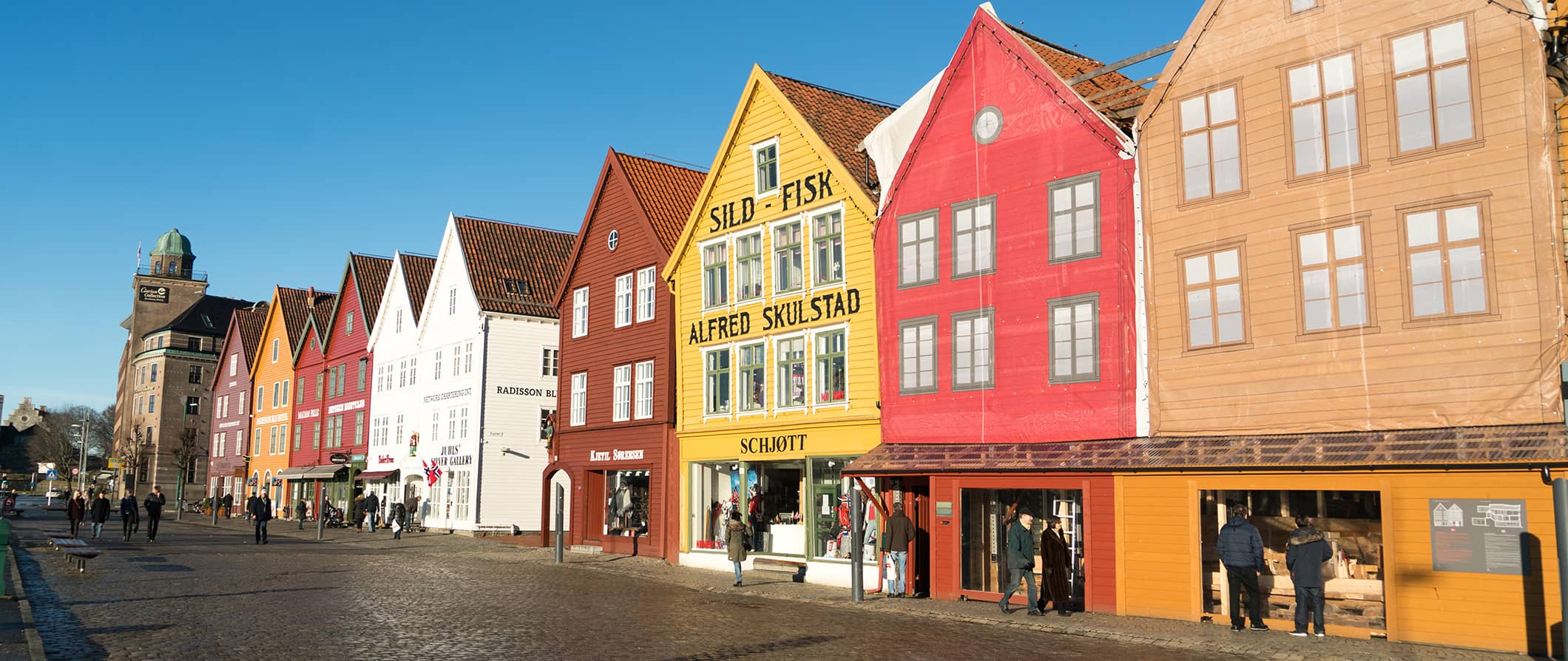 Bergen is my favorite city in Norway. Home to less than 300,000 people, it's a small city with lots of museums and historic sites, plentiful fresh seafood, and stunning mountains and fjords that are easy to access.
Being a university town, the city is both lively and charming. While it does get a lot of rain, it's nevertheless an amazing place to visit in any season (though the summers here are particularly magical). This city is a must-visit on any trip to Norway as far fewer travelers make it this far north, meaning you'll be able to escape the crowds that plague other European cities.
This travel guide to Bergen can help you plan your trip, save money, and make the most of your time in this charming city.
Top 5 Things to See and Do in Bergen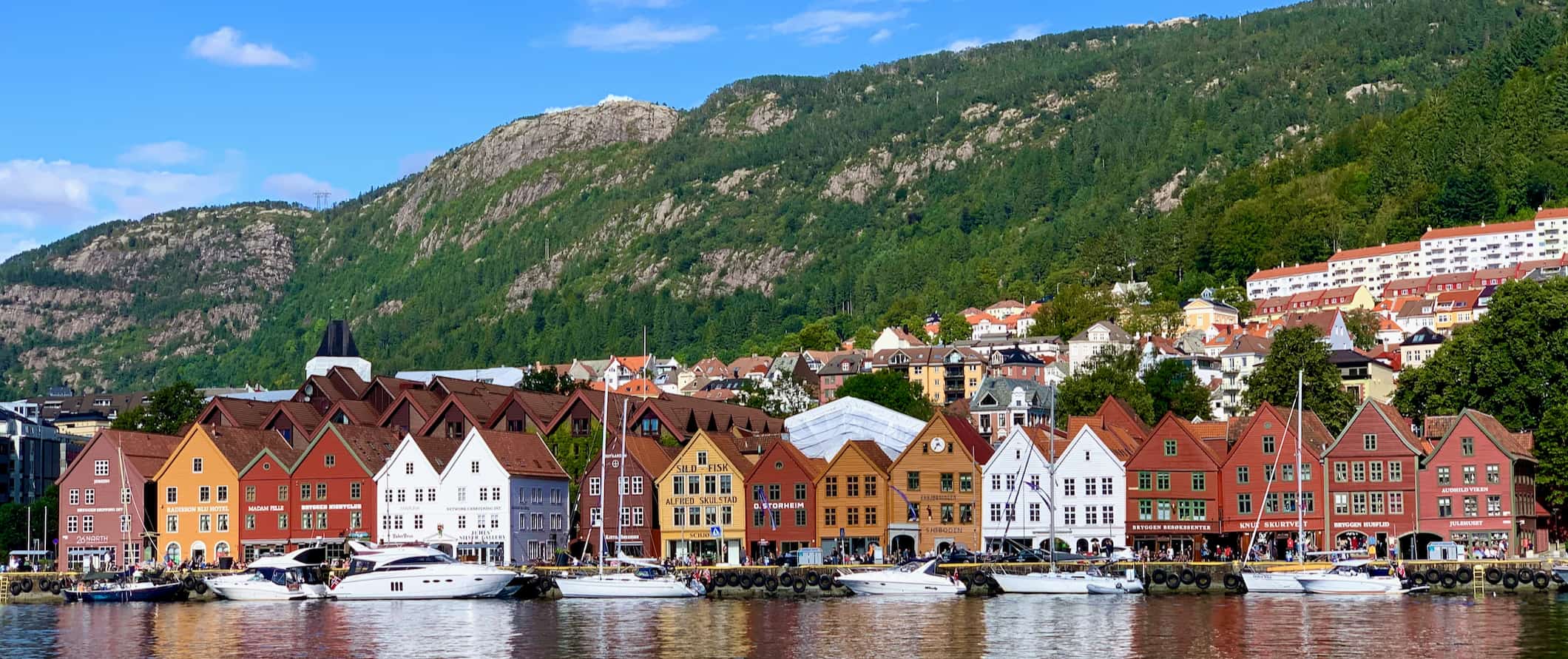 1. Visit KODE
In addition to rotating exhibits, the Bergen Art Museum (known as KODE) contains three primary collections, offering everything from contemporary art to traditional Norwegian art dating as far back as the 14th century. Comprised of multiple venues (it's spread out over 4 museums and 3 composers' homes), it's the second-largest art museum in the country and features works by Edvard Munch and Pablo Picasso as well as the country's largest collection of Chinese works. Admission is 150 NOK.
2. Check out Gamle Bergen
Opened in 1946, Gamle Bergen (Old Bergen) is an outdoor open-air museum featuring 55 reconstructed traditional houses and buildings that depict life during the 18th and 19th centuries. You can wander buildings, interact with craftsmen and actors portraying people from that era, and get a sense of what life was like in the city a century ago. There's also a relaxing park surrounding the area which makes it the perfect place for a stroll after your visit. It's only open during the summer and admission is 140 NOK.
3. Stroll around the Arboretum and Botanical Garden
Stretching over 125 acres, this garden is home to over 5,000 trees, plants, flowers, and shrubs. There's a Japanese garden as well as an Alpine garden home to all kinds of local plant life. The gardens are located outside the center and make for a relaxing place for a summer stroll or picnic with a book. Admission is free.
4. Climb Rosenkrantz Tower
Built in the 1560s, this tower served as a residence as well as a fortified defensive structure. It's one of the most important renaissance monuments in the country and a must-see when you're here. The Tower was the residence of Eirik Magnusson, the last king to hold court in Bergen. Make sure you climb the narrow stairs to the top of the tower, where you'll get an impressive view of the surrounding area. You can take a guided tour for 120 NOK, though it's only open in the summer.
5. Ride the Fløibanen Funicular
Take a ride up the 320m Mount Floyen, which offers views of the fjord and surrounding islands. Sit back and enjoy the view or take a stroll through the woodland terrain and around the nearby lakes. Roundtrip adult tickets are 105 NOK. You can also hike both up or down the mountain in under an hour.
Other Things to See and Do in Bergen
1. Take a free walking tour
One of the best ways to experience a new city is to take a walking tour. You'll learn about the history and culture from an expert local guide who can also answer all your questions. It's how I start all my trips to a new city as I get tons of insights that aren't in the guidebook. Nordic Freedom Tours offers daily tours in English which are a great way to start your trip. Just remember to tip your guides!
2. Visit the University Museum
Founded in 1825, this museum covers archaeological artifacts, zoology, natural history, folk art, and more. It was the first official museum in Norway and has over 4.5 million items in its collection. It's a wonderful place to visit to get a feel for Bergen's history, culture, and wildlife. Admission is 150 NOK (children under 16 enter free).
3. Go on a Fjord tour
Nærøyfjord is a UNESCO Heritage Site and one of the most beautiful fjords in the country (fjords are long, narrow inlets with steep sides or cliffs). Most boat tours last a few hours and are a great way to spend a day. You can also tour the scenic Hardangerfjord, considered the Queen of the Norwegian Fjords. Expect to pay at least 530 NOK for a tour, depending on how long it is and where you go. There are also half-day kayaking tours in the fjords, usually costing around 995 NOK per person.
4. Visit the Bergen Aquarium
This aquarium boasts Europe's largest seal and penguin exhibits, as well as an extensive marine fauna collection and one of Europe's largest collections of fish and invertebrates. There are also crocodiles, lizards, and over 50 different aquariums to check out. If you're traveling with kids, this is a good place to spend a few educational hours. Admission is 325 NOK for adults and 210 NOK for children.
5. Attend the Bergen International Festival
Every year at the end of May, the Bergen International Festival offers a wide array of performing arts including music, opera, ballet, theater, and more. It's the biggest festival of its kind in all of Scandinavia, lasting over two weeks. Ticket prices vary (you pay per event; there isn't a single festival ticket). Expect to pay at least 100 NOK per performance. Be sure to book your accommodation early if you visit during the festival!
6. See the Folgefonna Glaciers
Just north of Bergen lies the Folgefonna glaciers. They are three separate glaciers that cover over 200 square kilometers. This is the third-largest ice cap in the country, located within Folgefonna National Park. You can hike and camp in the park, and there are also guided glacier walks across the ice (they are expensive though, starting at 1,100 NOK for a day tour and 2,500 NOK for a two-day trip). If you're here in the winter, try to hit the slopes at one of the nearby ski resorts as you get some world-class skiing here. Lift passes cost 405 NOK per day.
7. Hang out in Festplassen
This is a recreation park area used for various fairs, amusement parks, feast days, festivals, and more. If you're looking for something engaging, ask the local tourism office if anything is going on here during your visit. Chances are something will be happening. Otherwise, just come to enjoy the scenery; it's a nice place to relax in the summer with a book and enjoy the long sunny days.
8. Hike Rundemanen Mountain
This is one of the seven mountains surrounding Bergen and is host to some of the most popular hiking trails in the area. The trails here are easy-moderate and usually take between 2-3 hours, with the route to the top of Rundemanen being just 7.4 kilometers (4.5 miles) total. You'll start the hike behind Fløyen's playground and follow the Blåmansveien road on the left. You'll pass Revurtjernet Lake before arriving at Brushytten, where you'll want to again take the trail on the left to reach the summit. At the top, you'll be treated to spectacular views over the Hordaland Mountains, including its alpine lakes and rolling valleys. Other nearby mountains to consider hiking are Brushytten (easy), Lyderhorn (moderate), and Ulriken (challenging).
9. Explore Bryggen
Bryggen ("The Dock") is the historic harbor of the city. This is the area you see in most tourism ads or photography from Bergen. Many of the buildings date back to the 18th century, while some of the original cellars are from the 16th century. Today, the area is lined with colorful pubs and boutique shops selling crafts and handmade souvenirs. You'll also find the Fish Market and the Bergenhus Fortress here. Spend some time walking around the narrow alleys, visiting the galleries, and taking in the historic houses.
10. See the Fish Market
This market dates back to the 13th century and is where you can find all sorts of fish and seafood. For centuries, it's been the hub for local fishermen to sell their fresh fish and seafood. The indoor section of the market began in 2012 and is open year-round (the outdoor market opens on May 1 for the summer). It's more of a tourist attraction now so the prices are a little high. While it's not the best place to eat, it's still worth exploring and seeing for yourself. Arrive early to beat the crowds (especially on weekends).
11. Visit the Maritime Museum
Bergen has depended heavily on maritime trade since its inception in the 11th century (it was an important base of operations for the Hanseatic League, a merchant guild). You can spend an afternoon at this museum learning about the city's maritime history. The exhibitions include ships, paintings, films, artifacts, original maps, and some cannons from the 18th century. The highlight here is the Kvalsund boat, an old Viking longship that dates to the eighth century. It was excavated in 1920. There's also an original Halsnøy boat that dates back to somewhere between 390 and 535 CE. Admission is 120 NOK.
12. Hike Mount Ulriken
Located just a few kilometers outside the city, Mount Ulriken stands 643 meters (2,100 feet) high and is the tallest of the seven mountains near Bergen. If you're not feeling up for a hike to the top, you can take the cable car, which takes about eight minutes and costs 195 NOK round trip. At the top, you'll get spectacular sweeping views of Bergen and the sea. There are some shorter hikes (2-3 hours long) up there as well. If you enjoy an adrenaline rush, you can speed down the mountain on Norway's fastest zip line. It opened in 2016 and is 300 meters (984 feet) long. You need to book tickets in advance though (they cost 490 NOK).
13. Visit the Leprosy Museum
Leprosy ran rampant in Europe between 1850-1900. With three leprosy hospitals, Bergen was home to the greatest concentration of lepers in all of Europe. This eye-opening museum belongs to UNESCO's Memory of the World Programme and you can take an educational tour to learn about the history, symptoms, and treatment of leprosy, as well as what the conditions were like in the hospitals during the outbreak. Admission is 120 NOK. The museum is open only from May to September.
14. See Bergenhus Fortress
Next to the Bergen Harbor is an imposing stone fort called Bergenhus Fortress. It dates to the 1260s and is one of the oldest fortresses in Norway. It encompasses Rosenkrantz Tower and Haakon's Hall, a former royal residence from the 13th century. Unfortunately, a fire destroyed Haakon's Hall and all of the interior decorations in 1944, so it is now decorated with tapestries and is mainly used for concerts and banquets (the Hall was used by occupying German forces during World War II). Admission is free.
Bergen Travel Costs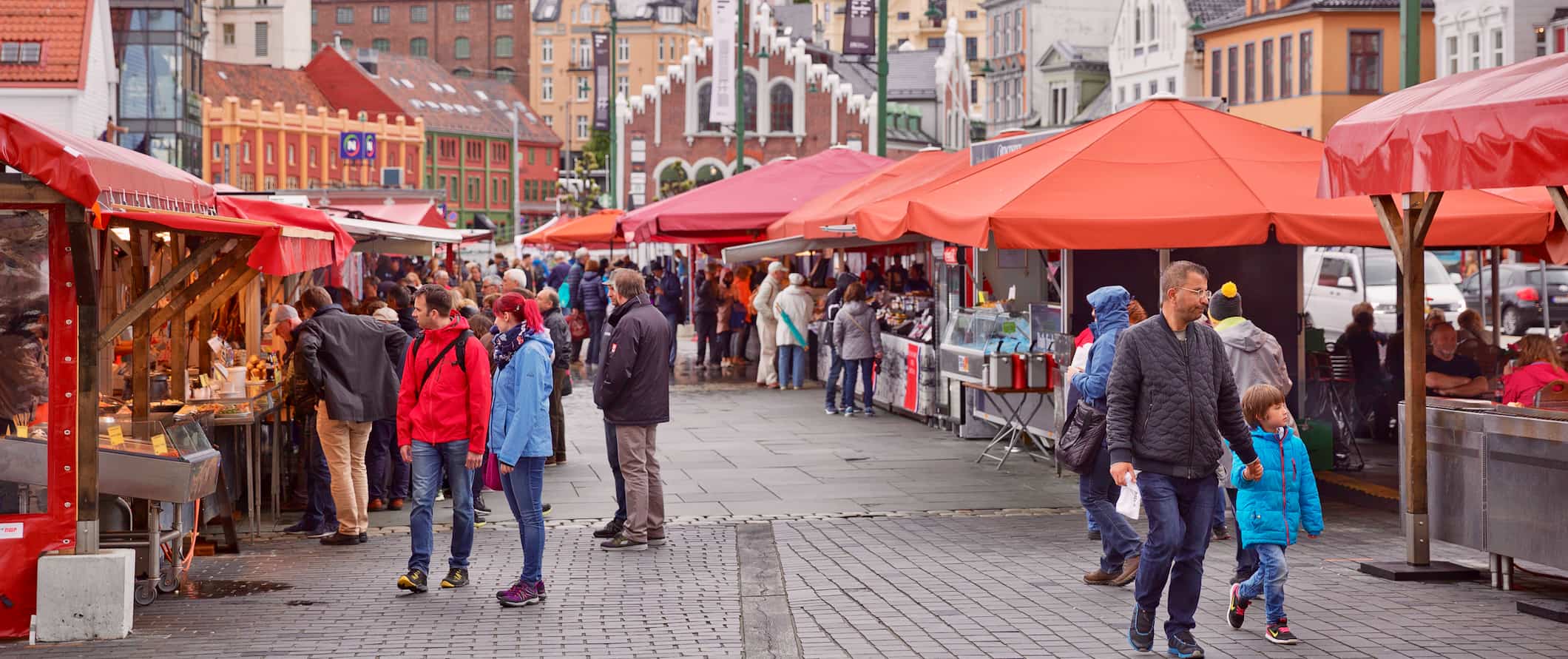 Hostel prices – Hostels start around 300-350 NOK per night for a 8-10-person dorm (there are mostly large dorms here — including 20-person dorms). If you want a private room, prices start at 730 NOK. Prices are pretty consistent year-round. Free Wi-Fi is standard and most hostels also have self-catering facilities. Of the few hostels in the city, only one includes free breakfast (HI Bergen Hostel Montana).
Additionally, hostels charge a 50 NOK surcharge for linens (this is standard practice in Scandinavia). You can bring your own to avoid the fee, however, you cannot use a sleeping bag.
Wild camping is a budget-friendly option as it is legal (and free) to camp almost anywhere in Norway. Norway has 'Freedom to Roam' laws (called "Allemannsretten") that allow anyone to camp anywhere for two nights as long as it's not on cultivated land. You'll need to make sure you are not camping near someone's house, that you take all trash with you when you leave, and that you aren't in a farmer's field or garden. But other than that, you can pretty much pitch your tent anywhere!
If wild camping is not your thing, campgrounds are also common around Bergen. Many require a Camping Key Europe card which you can purchase at your campsite for 210 NOK or online for 160 NOK. You can use the online.camping.no website to look for sites around Bergen that use the card. Most campsites have modern facilities, including toilets and showers. Expect most plots for two people without electricity to start around 150 NOK per night.
Budget hotel prices – A three-star budget hotel (there are no two-star budget hotels in Bergen) begins at around 1,190 NOK per night during the high season. During the low season, prices are closer to 900 NOK. Expect basic amenities like Wi-Fi, TV, and a coffee/tea maker.
Private rooms on Airbnb can be found for 300-500 NOK per night, though prices average closer to 800 NOK. An entire home/apartment or house costs at least 700 NOK per night (though expect to pay double or even triple if you don't book early).
Food – Norwegian cuisine is centered around seafood. Smoked salmon is one of the country's staples and cod is also super popular. Prawns and crab are other local delicacies (locals host "crab parties" when they are in season). Lamb is the most popular meat, and open-faced sandwiches are the go-to choice for both breakfast and lunch (usually composed of dark bread, cheese, and either meat, seafood, or vegetables).
Street food like hot dogs cost between 40-50 NOK while fast food (think McDonald's) costs around 120 NOK for a combo meal. A meal at a casual restaurant serving traditional cuisine costs around 180 NOK. For a three-course meal with table service, expect to pay closer to 450-500 NOK.
A basic large pizza costs around 110 NOK (or 140 NOK with more toppings) while Chinese food is around 160 NOK for a main dish.
Beer at the bar costs 100 NOK though you can get it for half that price if you buy it at the store. Lattes/cappuccinos cost around 45 NOK while bottled water is 25 NOK.
Grocery shopping here is the cheapest way to eat on a budget. Expect a week's worth of groceries to cost around 700 NOK for basic staples like rice, pasta, vegetables, and some meat or fish.
Backpacking Bergen Suggested Budgets
On a backpacking budget of 600 NOK per day, you can stay in a hostel dorm, cook all your meals, take public transportation to get around, limit your drinking, and do free activities like walking tours and hiking. If you plan on drinking, add 100-200 NOK per day to your budget.
On a mid-range budget of 1,325 NOK per day, you can stay in a private hostel room or Airbnb, eat out for some meals, enjoy a couple of drinks, take the occasional taxi to get around, and do more paid activities like museum visits and fjord tours.
On a "luxury" budget of 3,000 NOK or more per day, you can stay in a hotel, eat out for all your meals, drink more, rent a car to get around, and do more paid activities and guided tours. This is just the ground floor for luxury though. The sky is the limit!
Accommodation
Food
Transportation
Attractions
Average Daily Cost
Backpacker
300
100
100
100
600
Mid-Range
500
400
200
225
1,325
Luxury
1,200
1,000
400
400
3,000
Bergen Travel Guide: Money-Saving Tips
Bergen, like the rest of Norway, is a very expensive place to visit. Nothing about your visit here will be budget friends. There are slightly cheaper eats thanks to the university here but it still takes work to save money. Here are some tips to cut your costs in Bergen:
Cook your own food – Food is expensive in Norway so the best thing you can do is cook your own meals. It's not fancy, but it will save you a fortune!
Eat cheap – If you do decide to eat out, your cheapest options are shawarma and pizza.
Couchsurf – Couchsurfing is the best way to save money on accommodation. While you might end up sleeping on a couch, you'll get to connect with a local who can share their insider tips and advice with you. Just be sure to send your requests early.
Camp – Generous camping laws allow you to camp on public lands for free. You can stay for up to two nights in any area as long as you are quiet and respectful. Make sure to leave the area as you found it! If you plan on camping in campgrounds, make sure to get the Camping Key Europe card. It offers discounts to most of Norway's campgrounds.
Get the Bergen Card – The best way to afford all the city's attractions is to get this city tourism card. It offers free entry into all the main attractions as well as free transportation. The card is available in 24, 48, 72, or 96-hour options and costs 300-540 NOK.
Stay sober – At 100 NOK per drink (often more!), going out to drink will destroy your budget. While Norwegians love to go out and have a good time, if you are on a tight budget, skip the booze!
Buy your drinks at the store – If you do plan on drinking, buy your drinks at the Vinmonopolet (the state-run chain of stores that sell alcohol). You'll save 50% or more doing this!
Travel with friends – If you rent a car to get out of the city (which is the best way to see the surrounding areas) try to find people to join you to share costs. You can use the Couchsurfing app or just ask around in hostels to find people. This can help you save money on gas and rental prices — which can eat into your budget quickly!
Bring a reusable water bottle – The tap water in Bergen is super clean, so bring a reusable water bottle to save money and lower your plastic usage. LifeStraw makes a bottle with a built-in filter so you can always ensure your water is clean and safe.
Where to Stay in Bergen
Bergen only has a few hostels and they're all pretty comfortable and sociable. These are my recommended places to stay in Bergen:
How to Get Around Bergen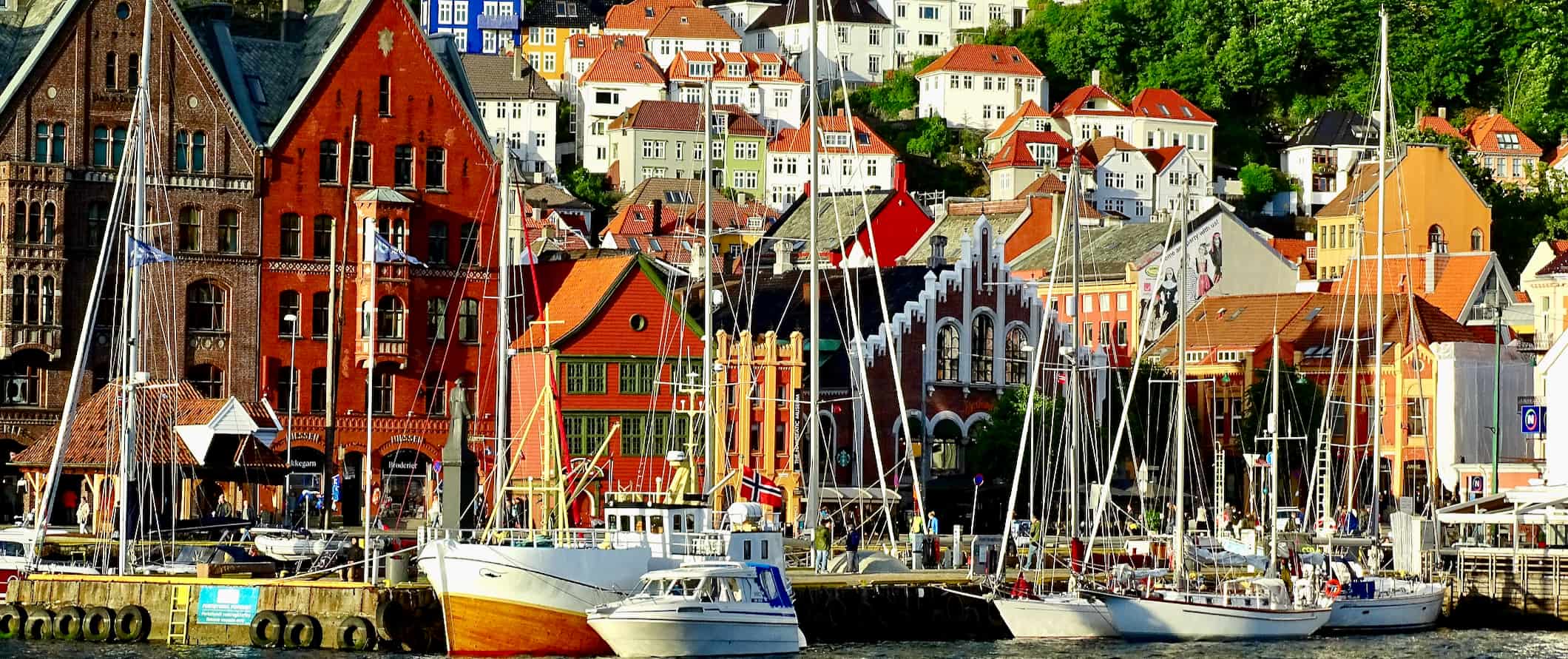 Public transportation – Public transportation in Bergen is efficient, reliable, and clean. Tickets are priced per zone and increase if you travel to and from different zones. Tickets start at 40 NOK for a single journey within a single zone, 60 NOK for traveling between two zones, and 102 NOK for three zones. You can get a 24-hour pass starting at 105 NOK for traveling within a single zone.
Buy your ticket in advance using the Skyss Billett app. If you don't, a single journey ticket costs 60 NOK when bought onboard (instead of 40 NOK).
Free public transportation is included with the Bergen Card.
The airport bus costs 179 NOK for a single trip or 309 NOK round-trip. The journey takes around 30 minutes. Be sure to buy your ticket in advance; there's a 30 NOK upcharge if you buy it on board.
Taxi – Taxis are prohibitively expensive here. Rates start at 90 NOK and go up 9 NOK per kilometer. Avoid them if you can. There are no ride-sharing apps like Uber here.
Bicycle – Cycling is a great way to get around the city as everything is compact and lots of locals bike as well. You can find rentals for 300 NOK for two hours or 500 NOK per day. You can also rent e-bikes for 600 NOK per day.
Car rental – Car rentals start at 400 NOK per day for a multi-day rental. If you're just staying in the city, you won't need a vehicle. However, having a car will let you explore the many parks and forests outside the city. For the best car rental prices, use Discover Cars.
When to Go to Bergen
The ideal time to visit Bergen is from June to August when the weather is warm and the days are long (sunset isn't until after 11pm and sunrise happens around 4am). The country is at its liveliest during this time and locals take advantage of the good weather every chance they get. The parks are always full and there are always fun events happening around town. Temperatures peak in the 20s°C (60s-70s°F) during the summer. Not too hot, but warm enough to swim, hike, and lounge about.
The downside to visiting then is that, since Norway has a very short summer, Bergen can get busy so be sure to book your accommodation in advance. That being said, "busy" in Bergen is a far cry from "busy" in cities like Paris, Berlin, or London (or even Oslo for that matter).
The shoulder season makes for a good time to visit as well, with temperatures ranging from 4-10°C (40-50°F). May typically has decent weather with occasional rain, while September offers cooler temperatures and changing leaves. You'll beat the crowds and still be able to explore the city on foot without the weather getting in your way (too much).
Attractions begin to close around September/October, or at the very least reduce their hours. The days begin to get dark early in October and temperatures start dropping around this time too. However, prices also decrease and you're likely to find cheaper airfare and accommodation. Be sure to pack layers if you plan on visiting during this time of year as it can be quite cool — even during the day.
The winter is very cold and sees a lot of snow and darkness. You only get a few hours of light each day and temperatures plummet to well below freezing. The plus side of traveling during the off-season, however, is that you'll find cheaper accommodation and fees for certain attractions are lower as well.
This is the prime time to see the northern lights or go skiing, so there is still plenty to do if you plan on visiting during the winter — you just might have to leave the city to make the most out of your trip.
How to Stay Safe in Bergen
While incidents in Bergen are incredibly rare, it's still good to keep an eye out for pickpockets, especially around the train stations and on public transportation. Problems are virtually non-existent but it never hurts to be aware of your surroundings.
Solo female travelers should generally feel safe here. However, the standard precautions apply (never leave your drink unattended at the bar, never walk home alone intoxicated, etc.) but it's unlikely anything will occur. Check out one of the solo female travel blogs on the web for more specific information on safety.
If you go hiking, always bring water and sunscreen. Be sure to check the weather before you go as well.
If you rent a car, don't leave any valuables in it overnight. While break-ins are rare, it never hurts to be safe!
The tap water in Bergen is safe and clean. There is also no real risk of natural disasters or terrorism here either. Winter storms are about as bad as it gets.
If you experience an emergency, dial 112 for police, 110 for fire, and 113 for ambulance services.
At the end of the day, always trust your gut instinct. Make copies of your personal documents, including your passport and ID as well. It never hurts to be prepared!
The most important piece of advice I can offer is to purchase good travel insurance. Travel insurance protects you against illness, injury, theft, and cancellations. It's comprehensive protection in case anything goes wrong. I never go on a trip without it as I've had to use it many times in the past. You can use the widget below to find the policy right for you:
Bergen Travel Guide: The Best Booking Resources
These are my favorite companies to use when I travel. They consistently have the best deals, offer world-class customer service and great value, and overall, are better than their competitors. They are the companies I use the most and are always the starting point in my search for travel deals.
Skyscanner – Skyscanner is my favorite flight search engine. They search small websites and budget airlines that larger search sites tend to miss. They are hands down the number one place to start.
Hostelworld – This is the best hostel accommodation site out there with the largest inventory, best search interface, and widest availability.
Booking.com – The best all around booking site that constantly provides the cheapest and lowest rates. They have the widest selection of budget accommodation. In all my tests, they've always had the cheapest rates out of all the booking websites.
HostelPass – This new card gives you up to 20% off hostels throughout Europe. It's a great way to save money. They're constantly adding new hostels too. I've always wanted something like this and glad it finallt exists.
Get Your Guide – Get Your Guide is a huge online marketplace for tours and excursions. They have tons of tour options available in cities all around the world, including everything from cooking classes, walking tours, street art lessons, and more!
The Man in Seat 61 – This website is the ultimate guide to train travel anywhere in the world. They have the most comprehensive information on routes, times, prices, and train conditions. If you are planning a long train journey or some epic train trip, consult this site.
Rome2Rio – This website allows you to see how to get from point A to point B the best and cheapest way possible. It will give you all the bus, train, plane, or boat routes that can get you there as well as how much they cost.
FlixBus – Flixbus has routes between 20 European countries with prices starting as low 5 EUR! Their buses include WiFi, electrical outlets, a free checked bag.
SafetyWing – Safety Wing offers convenient and affordable plans tailored to digital nomads and long-term travelers. They have cheap monthly plans, great customer service, and an easy-to-use claims process that makes it perfect for those on the road.
LifeStraw – My go-to company for reusable water bottles with built-in filters so you can ensure your drinking water is always clean and safe.
Unbound Merino – They make lightweight, durable, easy-to-clean travel clothing.
Top Travel Credit Cards – Points are the best way to cut down travel expenses. Here's my favorite point earning credit cards so you can get free travel!
Bergen Travel Guide: Related Articles
Want more info? Check out all the articles I've written on backpacking/traveling Norway and continue planning your trip: