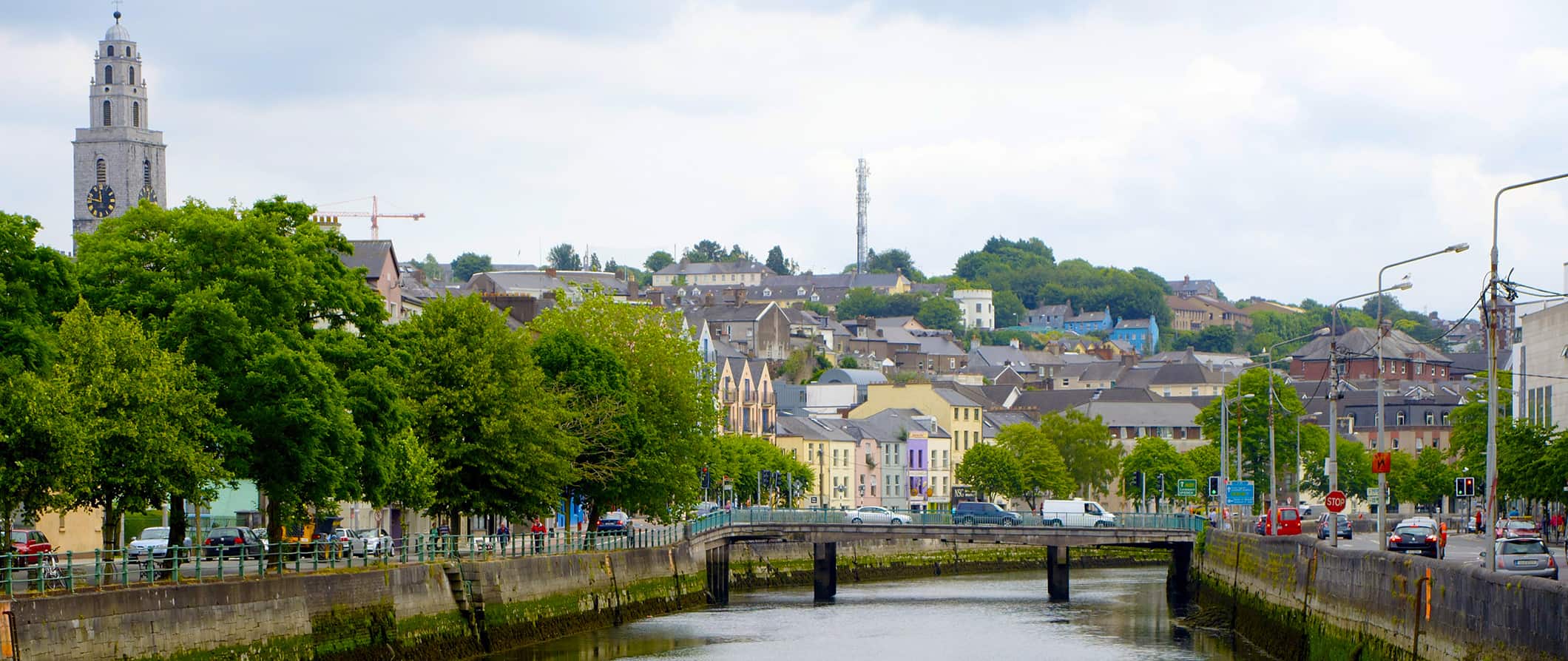 Cork is the third-largest city in Ireland and has miles upon miles of beautiful coastline looking out onto the Atlantic. Breathtaking all year round, Cork is a great place to visit — whether it's to relax or to explore, there are plenty of activities to be found. It's one of the more popular cities in the country with a lot of good food and pubs. Most visitors come here so they can go kiss the Blarney stone (it's nearby) but there's so much more to this former industrial city than that. Spend some added time here away from the hordes and enjoy the area!
Top 5 Things to See and Do in Cork
1. Kiss the Blarney Stone
Built nearly six hundred years ago, the castle itself is now in partial ruin, however, at the top lies the Stone of Eloquence, or, more commonly, the Blarney Stone. Here visitors hang upside down to kiss it for good luck. The gardens around the castle are the real prize though. Beautiful and lush, they are far more memorable than the stone itself!
2. Tour Bantry House
Dating back to 1740, the house is known for its art collection and display of tapestries. There is also the possibility of a guided tour. Probably one of its most redeeming features, however, is the fantastic view over Bantry Bay. It's open daily (except Mondays) from 10am-5pm. In the summer, it's open 7 days a week.
3. The Mizen Head
Positioned as Ireland's southernmost point, the peninsula is ideally located beside small fishing villages like Schull and Goleen. While at Mizen Head, make a point of climbing the 99 steps and walk the suspension bridge to enjoy the crashing Atlantic as it smashes against this stunning landscape.
4. The English Market
An enclosed market, its usage dates back to 1786. Besides offering a wide array of world foods to sample, the market also plays host to boutiques and department stores.
5. Hike around Gougane Barra
For a taste of the great outdoors, make a trip to Gougane Barra in inland Cork. Walk around the mountains that surround the lake and view the famous site of St. Finbarr's island. This area is recognized as a forest park and is full of natural vegetation and animals.
Other Things to See and Do
(Click the title to expand the text)
1. Visit Baltimore fishing village
Take the ferry to explore the islands of Cape Clear, Sherkin, and Heir before going sailing, angling, diving, or whale watching.
2. The Cork Butter Museum
While in Cork, visit the Cork Butter Museum. Here you can learn the process that goes into butter making, a story that begins with the Irish practice of preserving butter in bogs. This is certainly a unique and quirky museum if you're looking to do something different! Admission is 4 EUR and it's open daily from 10am-5pm except in the winter when it's only open on the weekends from 11am-3pm.
3. The Church of Saint Anne Shandon
Shandon, meaning "Old Fort" in Gaelic, was formed as one of the original settlements in medieval Ireland. Here you can play the famous Bells of Shandon, watch the infamous clock, and view Cork from above. It costs 5 EUR and is open 11:30am-3pm with some hour variations depending on the season.
4. Take a walking tour
Cork City Walking Tours offer walking tours that run from April to October that take you through the English Market, the Opera House, Pembroke Street, St. Finbarrs Cathedral, and more. Tours leave from the Imperial Hotel Monday-Saturday at 11am. Tours cost 8 EUR per person.
5. Drink whiskey
For whiskey lovers or just the plain curious, a tour of the Old Midleton Distillery will address the making of Irish whiskey and offers the opportunity to view the world's largest pot. You even get to sample some whiskey afterward! For FREE!!!
6. Escape to Doneraile National Park
This park has 400 acres of deciduous trees, herds of deer, and numerous pathways from which to get away from the crowds of the city. Pockets of land have been fashioned into canals and ponds and can be enjoyed on an enchanting walk.
7. Visit the Lewis Glucksman Gallery
Located on the UCC campus, this gallery is a major hotspot for students and locals. It also happens to be a favorite for most tourists. There are three display areas, all with rotating exhibits, as well as a basement café with delicious food. Admission is free (suggested donation is 5 EUR) and it's open daily (except Mondays) from 10am-5pm except on Sundays, when it opens at 2pm.
8. Explore the Cork City Gaol
During the 19th century, this was home to an array of prisoners. There is a great audio tour, which features a glimpse at the restored cells. Some of them even have prisoner and guard dummies. Beware, though, this exhibit is slightly morbid. Admission is 8 EUR. It's open 10am-4pm with extended hours in the summer.
9. Attend a festival
Once dubbed the European Capital of Culture, it's no surprise that there is a range of music, theater, and film festivals held here annually. From June to July is the Midsummer Festival (an homage to the arts), while the Elizabeth Fort Market Festival is held every Sunday, and offers entertainment all day, local handicrafts, and yummy gourmet foods.