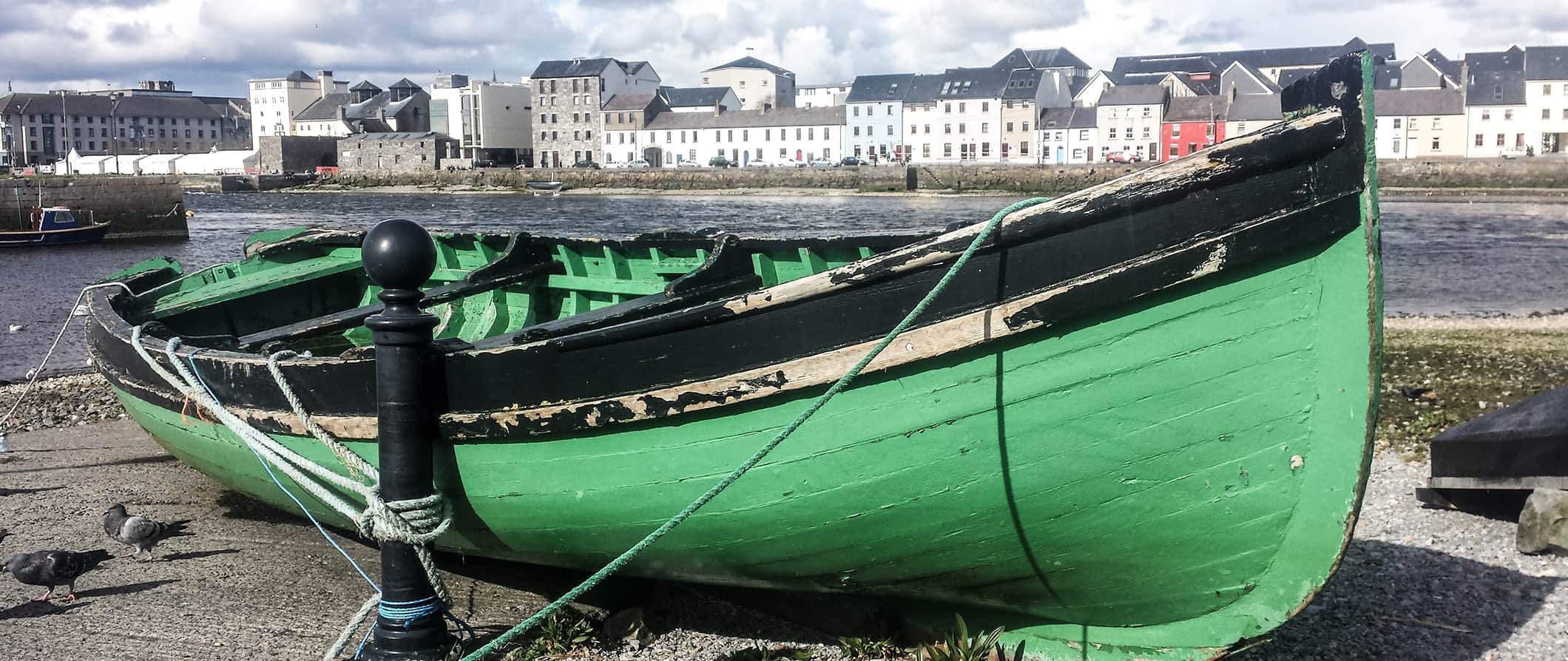 On Ireland's west coast lies the college town of Galway. I love this city. It's small but packed with a lot to do – from its historic center, old churches, river walk, town markets, to its incredible pub culture (it is a college town after all!). From here you can take day trips to the Aran islands, Cliffs of Moher, and the castles up north. The town has delicious seafood restaurants and a great aquarium. To me, Galway has everything you could ever want in an Irish city, and no matter where I go in the country, this place remains my favorite.
Top 5 Things to See and Do in Galway
1. Wander the Salthill Promenade
The Salthill Promenade is the place to go when you want to stretch your legs and take in the sea air. The walkway offers picturesque views of the coast and is dotted with neat shops and pubs.
2. Take a day trip to the Cliffs of Moher
The Cliffs of Moher are probably the reason most people visit the town. You can rent a car and go on your own, or book one of the many (but touristy) bus tours. (A bus tour starts at 25.50 EUR.) Beware of the fog as it gets pretty thick and you often can't see anything. Try to save this activity for a nice day if you can.
3. Enter the Galway Cathedral
While so many of Europe's cathedrals date back to the Middle Ages or Renaissance, this cathedral in Galway is ultra-modern, built in the 1960's. The architecture is unique and instead of the typical altars and stained-glass windows, you can find a mosaic of John F. Kennedy here.
4. The Aran Islands
Take a ferry to this group of three islands that lie off the coast. Rent a bicycle or walk along the beautiful walking trails and between the historic buildings. Grab a bite to eat with a pint, and just enjoy the coastal atmosphere. This is a full-day activity. The journey takes 3 hours each way and a round-trip ticket is 31 EUR.
5. Tour the Kilmacduagh Monastery
These ruins belong to a seventh-century monastery and include churches and a round tower. The ruins are not located in Galway, but in a small, nearby village. If you ask for keys, you will be able to peek inside some of the buildings.
Other Things to See and Do
(Click the title to expand the text)
1. Enjoy the Glengowla Mines Experience
If you want a good understanding of what life was like for a 19th-century citizen of Galway, consider a visit to the Glengowla Mines Experience. This museum was built on the site of a silver and lead mine. Visitors can go on a mine tour, watch a sheepdog herding demonstration, and kids can pan for gold. Make sure to not though that the site is closed during winter months. It's open daily from 10am-6pm, and admission is 10 EUR.
2. Visit the Burren Nature Sanctuary
The Burren Nature Sanctuary is located in Kinvara, in Galway County. It is an interpretative center and contains both an indoor and outdoor play area for children as well as a horticultural museum. It's a nice place to go as a family. It's open daily in the summer and Friday-Sunday the rest of the year from 10am-6pm. Admission is 5 EUR.
3. Tour the Sheep and Wool Centre
This is a museum in the Connemara area outside of Galway City. The center is dedicated to textiles and shows the process of wool production, from the sheep to the finished garment. On top of this, it discusses the historical importance of sheep and wool in Connemara.
4. Head to Pure Skill Galway
The perfect rainy day activity is Pure Skill Galway, an indoor sports center. Here, you can try activities like hurling, cricket, and rugby, or just catch up on your sports from home–basketball, baseball (they have a batting cage), and soccer. It's open daily from at least 12pm-5pm with variations on the hours depending on the day of the week and the season. Prices vary depending on which package you get.
5. St. Nicholas' Collegiate Church
If you're looking for a more traditional church in Galway, pay a visit to St. Nicholas' Collegiate Church. It's the largest medieval parish church in Ireland, founded in 1320.
6. Visit the Galway Atlantaquaria
This is the National Aquarium of Ireland in Salthill, just west of Galway. The various tanks give visitors an idea of the sea life that lies in the Atlantic just off the coast. The aquarium also contains a massive fin whale skeleton. Admission is 12 EUR. It's open daily from at least 10am-5pm, except in the winter when it's closed Mondays and Tuesdays.
7. Get your history fix
The Galway City Museum is a free local museum which offers a good overview of the social history of the area. Exhibits focus on prehistoric and medieval Galway, as well as more modern cultural and material history.
8. See Prehistoric Newgrange
This grassy knoll might look unimpressive, but below the surface, it houses a Stone Age passage tomb. Dating back to 3200 BC, this unusual construction is older than the pyramids.
9. Go horseback riding
Cooper's Hills Livery offers horseback rides along the coast, complete with a pre-ride session on the care of horses and a short lesson on currying after the ride.
Typical Costs
Hostel prices – Dorm costs between 12-15 EUR per night and you can find private rooms for as low as 33 EUR, but most private rooms run about 50 EUR and up. Hostels include free linens and free WiFi and some include free breakfast. Most are on the main shopping street and it gets quite loud at night so try to get a room away from the street if you want to sleep! My suggested place is:
Budget hotel prices – You can find a room that sleeps two in a 3-star budget hotel starting at 50 EUR per night. Rooms at this price offer private bathrooms, free WiFi, and some hotels also include breakfast. On Airbnb, you can find a shared room for around 19 EUR per night. You can find entire homes for as low as 40 EUR per night (this includes studio apartments).
Average cost of food – Food in Galway can vary greatly in price, depending what you're looking for. Fast food items start at around 4 EUR, while a simple meal at a pub will set you back 9-14 EUR. A nicer meal, with a drink, will be upwards of 23 EUR. A half-liter of domestic beer will cost around 5 EUR. If you cook your meals, expect to pay 60 EUR per week for groceries that will include pasta, vegetables, chicken, and other basic foods.
Transportation costs – Galway is small and quite walkable, but if you want to take the bus around town, then fares are about 2.10 EUR. A weekly pass is 20.20 EUR. You can save money with the Leap Visitor Card, which costs 10 EUR for 1 day of unlimited travel, but if you're traveling from the airport, it includes transportation to and from there as well. Bicycles are available to rent and a great way to get around town for 14-18 EUR per day. It costs about 22-35 EUR to get to Cork from Galway by bus and takes about 3 hours. It costs about 35-55 EUR to get to Galway from Dublin by train and takes about 3 hours.
Suggested daily budget
40-45 EUR / $42-47 USD (Note: This is a suggested budget assuming you're staying in a hostel, eating out a little, cooking most of your meals, and using local transportation. Using the budget tips below, you can always lower this number. However, if you stay in fancier accommodation or eat out more often, expect this to be higher!)
Money Saving Tips
Eat pub food – It's filling, it's hearty, and, best of all, it's affordable. Galway is brimming with pubs of all shapes and sizes, so walk around until you find one with a good atmosphere and an even better crowd.
Buy train tickets online – If you're planning on traveling by rail to or from Galway, consider buying your tickets ahead of time for online promotional rates, as well as to ensure there is a seat waiting for you. If you're hoping to get a student discount, though, it's always better to purchase at the ticket office in the station.
Drink less – Ireland's pub culture will hit your wallet hard, but it's something you have to experience while in Ireland. Temper the cost by visiting happy hours, drinking at home, or making one pint last a whole night. Since Galway is a student town, there are many cheap pubs and happy hours to lower your spending!
Avoid the restaurants on High Street – These upscale restaurants serve good food but not at budget-friendly prices. Eat in Eyre square for better prices.
Have an ISIC Card – If you have an ISIC card, you can save 20-50% on the cost of admission to museums and other tourist attractions, including the Cliffs of Moher!
Couchsurf – Nothing's cheaper than sleeping for free and Couchsurfing connects you with locals who will give you not only a free place to stay but show you around the city! It's a great way to make a new friend!
Take a free walking tour – To get a feel for the city and learn some history, be sure to take a free walking tour through the Galway Civic Trust. From May to September, every Tuesday and Thursday at 2pm a free walking tour begins at the Hall of the Red Earl in Druid Lane (off Quay Street).
My Must Have Guides For Traveling to Galway