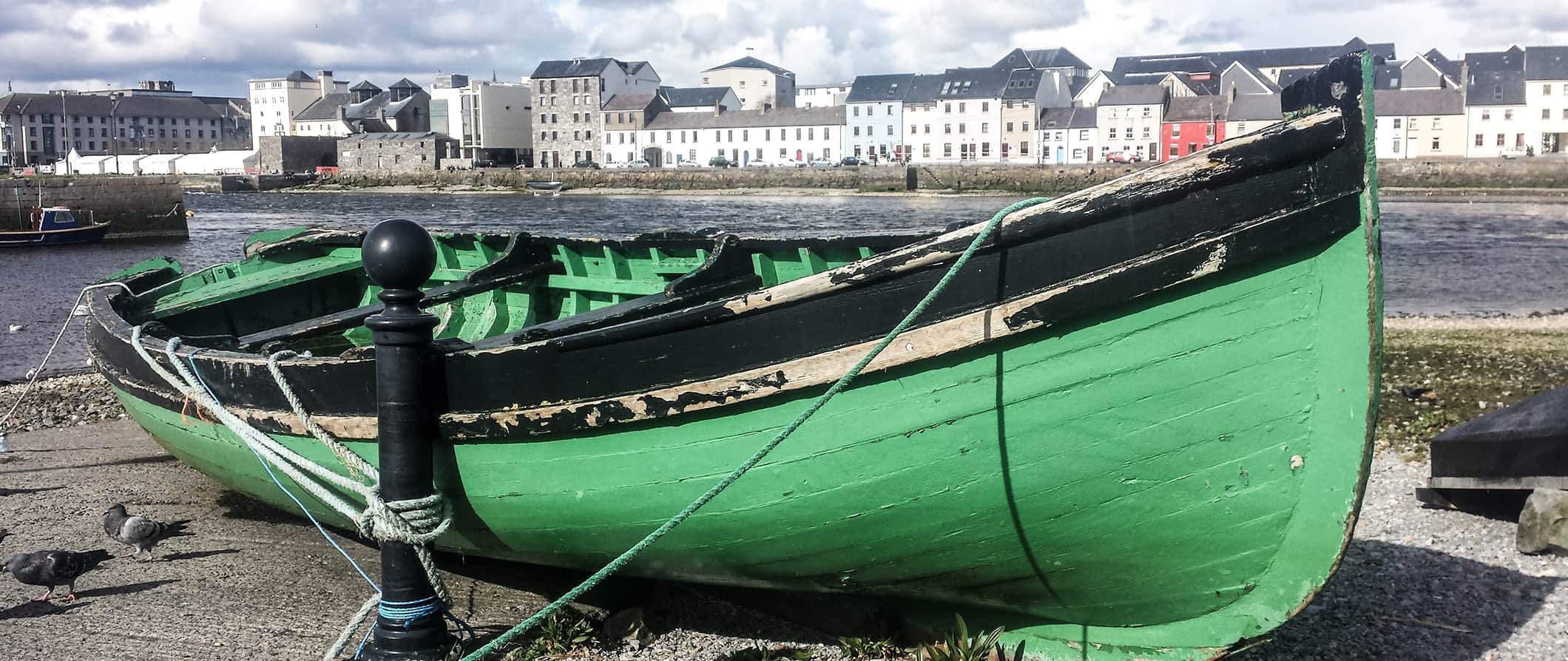 On Ireland's west coast lies the college town of Galway. It's my second favorite spot in the country behind Dublin. It's small but packed with a lot to do when you visit Galway – from its historic center, old churches, river walk to town markets and its incredible pub culture (it is a college town after all!).
Moreover, from here you can take day trips to the Aran Islands, Cliffs of Moher, and the castles up north.
To me, Galway has everything you could ever want in an Irish city.
This travel guide to Galway will give you everything you need to help plan a visit there.
Top 5 Things to See and Do in Galway
1. Wander the Salthill Promenade
The Salthill Promenade is the place to go when you want to stretch your legs and take in the sea air of Galway Bay. The 1.25 mile (2-kilometer) walkway offers picturesque views of the coast and is dotted with colorful shops and pubs.
2. Take a day trip to the Cliffs of Moher
The Cliffs of Moher are an hour's drive from Galway. They have some of the most stunning views of the ocean in all of Ireland. You can rent a car or book one of the many (but touristy) bus tours for about €25 ($29 USD). It's usually very foggy, so try to save this for a nice day if you can.
3. Visit the Galway Cathedral
While many of Europe's cathedrals date back to the Middle Ages, this cathedral has only been around since the 1960s. It's built of Galway limestone rather than the standard concrete and, instead of the typical altars and stained-glass windows, you'll find colorful and modern mosaics.
4. Visit the Aran Islands
Take a ferry to this group of three islands that lie off the coast. Rent a bicycle or walk along the craggy walking trails and between historic ruins. Grab a bite to eat with a pint, and just enjoy the coastal atmosphere. This is a full-day activity with tickets costing from €32 ($36 USD).
5. Tour the Kilmacduagh Monastery
These abbey ruins in the small nearby town of Gort belong to a 7th-century monastery and was the birthplace of the Diocese of Kilmacduagh. If you ask for keys, you will be able to peek inside some of the buildings, including the churches and the round tower. The round tower is the most impressive — it stands at 34.5 meters and is the tallest in Ireland. Nobody knows for certain what it was for, but it may have been a bell tower or a defense against raids. A bus or train there starts from about €23 ($25 USD).
Other Things to See and Do in Galway
1. Enjoy the Glengowla Mines Experience
If you want a good understanding of what life was like for a 19th-century citizen of Galway, consider a visit to the Glengowla Mines Experience. This museum is built on the site of a silver and lead mine. Visitors can go on a mine tour, watch a sheepdog herding demonstration, and kids can pan for gold. It's closed during the winter months. Admission is €11 ($12 USD).
2. Visit the Burren Nature Sanctuary
The Burren Nature Sanctuary is a 50-acre organic farm located in Kinvara, in Galway County (about 30 minutes from Galway) and made up of meadows, woodlands, and even a lake. It also has a "Botany Bubble", which is a type of greenhouse where flora from different climates (even the Arctic) grows alongside Irish wildflowers. You can stroll the nature trails, walk through the ancient ash and hazel forest, and hang out with some friendly farm animals like sheep and goats. Admission is €8 ($9 USD).
3. Tour the Sheep and Wool Centre
This family-friendly museum in the Connemara area outside of Galway City is dedicated to textiles and shows the process of wool production, from the sheep to the finished garment. It discusses the historical importance of sheep and wool in the area. It's €7 ($8 USD) to visit.
4. Visit St. Nicholas' Collegiate Church
This is the largest medieval parish church in Ireland and was founded in 1320. The church is like a mini-museum, and a tour will introduce you to some of its most interesting features, like the 400-year-old baptismal fountain with a dog carved into it. The exterior of the church is adorned with mermaids, a dragon, an ape, and a lion. Tours are free – just call the church and you'll get paired with a knowledgeable church representative.
5. Visit the Galway Atlantaquaria
This is the national aquarium of Ireland and it's located in Salthill, just two kilometers west of Galway. The various tanks give visitors an idea of the sea life that lies in the Atlantic and have sharks, rays, and seahorses. The aquarium also contains a massive fin whale skeleton, and even a Neolithic 5,500-year-old dugout canoe predating the pyramids of Egypt. Admission is €12 ($13 USD).
6. Get your history fix
The Galway City Museum is a free local museum that provides an overview of the social history of the city. Exhibits focus on prehistoric and medieval Galway, as well as more modern cultural and material history. There are regular free gallery tours, talks, and workshops, so check the website beforehand to see what's on.
7. See Prehistoric Newgrange
This grassy knoll in the Boyne Valley houses a Stone Age passage tomb and dates back to 3200 BC. It's a circular structure measuring 80 meters in diameter and 13 meters high and is made up of white round stone walls. It's also aligned with the sun during the winter solstice, so there's a good chance it was created to be a calendar. It's €7 ($8 USD) to visit (including admission to the visitor center).
8. Listen to live music
Galway is the perfect place to experience some live traditional Irish music. Walk around the center of Galway, and you'll hear music pouring out of pubs all over the place. Taaffe's has live music nightly, and Tig Cóilí does as well. But really, all you have to do is walk around and follow the music, and you'll be treated to an evening of Irish craic ("good times").
9. Take a free walking tour
One of the best ways to get oriented in a new city is to take a free walking tour. Tribes Tours of Galway has incredibly knowledgeable guides who will teach you all about the city's history. You can later join their pub crawl for €15 ($17 USD).
For more information on specific cities in Ireland, check out these guides:
Galway Travel Costs
Hostel prices – During peak season, a bed in a four-six bed dorm will cost between €27-31 ($30-35 USD) whereas a room with eight beds or more will cost about €18 ($20 USD). During the off-season, a bed in a room with eight beds or more will cost from about €13 ($15 USD) each night, while smaller rooms will cost about €18 ($20 USD).
A basic private room for two with an ensuite bathroom costs from €90 ($100 USD) per night during peak season. Prices are about €69 ($77 USD) in the off-season.
Budget hotel prices – Budget hotels in the peak season cost from €104 ($116 USD) per night for a double room in a two-star hotel at the center of town. In the off-season, rooms start from €72 ($80 USD).
Airbnb is available in the city, with a bed in a shared room averaging €27 ($30 USD) per night, while a private room is about €73 ($82 USD) per night. For an entire home or apartment, expect to pay at least €125 ($140 USD) per night.
Food – Fast food items like sandwiches or pastries from a bakery start at around €4 ($5 USD), while a simple lunch (like Irish stew or fish and chips) at a pub will cost between €11-14 ($10-16 USD). A McDonald's value meal will cost about €8 ($9 USD).
If you go out early to lunch or dinner, you'll find many restaurants offer "early bird" specials. For example, you can get an early dinner with two courses for about €20 ($22 USD) or a big charcuterie board from €16 ($18 USD). Otherwise, a main course starts from €19 ($20 USD). A salad or a hearty Irish stew will cost from about €10 ($11 USD). A pint of beer to wash it down will cost about €5 ($6 USD).
A higher-end meal will cost from €25 ($28 USD) for a main course of fish or meat, while a vegetarian or pasta dish starts from €22 ($24 USD). A glass of wine to go with it will cost from about €7 ($8 USD).
If you want to cook your meals, expect to pay €50-60 ($56-68 USD) per week for groceries that will include pasta, vegetables, chicken, and other basic foods.
Backpacking Galway Suggested Budgets
A backpacking budget of at least €49 ($55 USD) per day will cover staying in a hostel dorm, eating fast food sometimes, but mostly cooking your meals, and walking everywhere. You can also visit historic sites and museums on this budget. If you plan on drinking and partying a lot, budget more!
On a mid-range budget of about €141 ($158 USD) per day, you will stay in a private Airbnb room, enjoy a few meals at an Irish pub throughout your trip, and occasionally take the bus. You can also do some day tours on this budget, like to the Cliffs of Moher or Newgrange.
On a luxury budget of at least €250 ($280 USD) per day, you'll get a 4-star hotel, some taxis, any restaurant you want, any sight or tour you want, and all the beer you can drink. The sky is the limit!
If you visit during the off-season, you can reduce your accommodation budget by up to 25%.
You can use the chart below to get some idea of how much you need to budget daily, depending on your travel style. Keep in mind these are daily averages – some days you'll spend more, some days you'll spend less (you might spend less every day). We just want to give you a general idea of how to make your budget. Prices are in USD.
Accommodation
Food
Transportation
Attractions
Average Daily Cost
Backpacker
$12
$15
$11
$15
$53
Mid-Range
$56
$25
$20
$30
$131
Luxury
$60
$65
$30
$60
$215
Galway Travel Guide: Money Saving Tips
Galway is one of the cheaper cities in Ireland. Being a college town, there are plenty of affordable shops, activities, and restaurants. But there's always room to save! These tips can help you save money in Galway:
Eat pub food – It's filling, it's hearty, and, best of all, it's affordable. Galway is brimming with pubs of all shapes and sizes, so walk around until you find one with a good atmosphere and an even better crowd.
Buy train tickets online – If you're planning on traveling by rail to or from Galway, consider buying your tickets ahead of time for online promotional rates, as well as to ensure there is a seat waiting for you. If you're hoping to get a student discount, though, it's always better to purchase at the ticket office in the station.
Drink less – Ireland's pub culture will hit your wallet hard, but it's something you have to experience while in Ireland. Temper the cost by visiting happy hours, drinking at home, or making one pint last a whole night. Since Galway is a student town, there are many cheap pubs and happy hours to lower your spending!
Have an ISIC Card – If you have an ISIC card, you can save 20-50% on the cost of admission to museums and other tourist attractions, including the Cliffs of Moher!
Couchsurf – Nothing's cheaper than sleeping for free and Couchsurfing connects you with locals who will give you not only a free place to stay but show you around the city! It's a great way to make a new friend!
Take a free walking tour – To get a feel for the city and learn some history, be sure to take a free walking tour with Tribes Tours of Galway.
Eat early – Many restaurants have budget dinner options if you eat early (usually before 6pm). You won't have as much variety since it's a set menu, but it will be much cheaper!
Where To Stay in Galway
If you're looking to stay on a budget, here are my suggested places while you visit Galway:
How to Get Around Galway
Bus – Galway is a very small city, and you can walk just about anywhere. But other than that, buses are your best option. You can get everywhere around town and also into the neighboring suburbs, with a single ticket costing €2.50 ($2.80 USD). You can also get a weekly ticket for €20 ($22 USD).
If you already have a LEAP card from another city visit, you can also use it in Galway on the bus system.
Bicycle – Galway's bicycle sharing program is Coca-Cola Bikes (seriously). There are stations all over the city, with a 3-day pass costing €3 ($3.50 USD). With that pass, the first 30 minutes of your ride is free, and then it's €0.50 ($0.56 USD) per half hour after that.
Taxi – Taxis aren't cheap. Base fare is €4 ($4.50 USD), and then it's €1.32 ($1.50 USD) per kilometer after that. A 10-kilometer trip will cost about €18 ($19 USD).
When to Go to Galway
Although Galway overall has a mild, temperate climate, Galway's location on the North Atlantic means it can get quite cold here. There's also a very good chance you'll encounter some rain on your travels. Bring raingear! During the winter months, temperatures often drop below freezing. The average temperature is 9°F (-11°C) per day. It's not the ideal time to visit, but it's certainly the cheapest and most crowd-free.
The summer months (from June to October) are the warmest months, with temperatures averaging about 68°F (20°C) daily in July and August. However, keep in mind that this is peak season, and you'll compete for space and hostel dorms/hotel rooms. Prices are inflated too.
The shoulder seasons (spring and fall) are good times to visit, although temperatures are often chilly. You'll experience fewer crowds in peak season, except around St. Patrick's Day. Overall, I think summer is the best time to visit, but it depends on your budget and what you plan on doing! If you plan on sticking to mostly indoor activities, you'll enjoy visiting during the shoulder season.
How to Stay Safe in Galway
Galway is very safe, and the risk of violent crime is low. Scams and pick-pocketing can occur around high traffic areas, especially around the Spanish Arches. You should take some precautions when walking home alone at night (especially if you're staying outside the center of town), but there really isn't much to worry about in Galway.
You can read about the 14 travel scams to avoid right here.
Always trust your gut instinct. If a taxi driver seems shady, stop the cab and get out. If your hotel is seedier than you thought, get out of there. Make copies of your personal documents, including your passport and ID.
If you don't do it at home, don't do it in Galway!
The most important piece of advice I can offer is to purchase good travel insurance. Travel insurance will protect you against illness, injury, theft, and cancellations. It's comprehensive protection in case anything goes wrong. I never go on a trip without it as I've had to use it many times in the past. You can use the widget below to find the policy right for you:
Galway Travel Guide: The Best Booking Resources
These are my favorite companies to use when I travel to Galway. They are included here because they consistently find deals, offer world-class customer service and great value, and overall, are better than their competitors. They are the ones I use the most and are always the starting points in my search for travel deals.
Momondo – This is my favorite booking site. I never book a flight without checking here first.
Skyscanner – Skyscanner is another great flight search engline which searches a lot of different airlines, including many of the budget carriers that larger sites miss. While I always start with Momondo, I use this site too as a way to compare prices.
Airbnb – Airbnb is a great accommodation alternative for connecting with homeowners who rent out their homes or apartments.
Hostelworld – This is the best hostel accommodation site out there, with the largest inventory, best search interface, and widest availability.
Couchsurfing – This website allows you to stay on people's couches or spare rooms for free. It's a great way to save money while meeting locals who can tell you the ins and outs of their city. The site also lists events you can attend to meet people (even if you're not staying with someone).
Booking.com – The best all around booking site that constantly provides the cheapest and lowest rates. They have a no money down policy, great interface, and the widest selection of budget accommodation. In all my tests, they've always had the cheapest rates out of all the booking websites.
Rail Europe – If you are going to Europe and taking a lot of high speed or long distance trains, get a rail pass. I've used a rail pass three times and saved hundreds of dollars each time. The math just works.
Intrepid Travel – If you want to do a group tour around Ireland, go with Intrepid Travel. They offer good small group tours that use local operators and leave a small environmental footprint. If you go on a tour with anyone, go with them. And, as a reader of this site, you'll get a discount when you click the link!
The Man in Seat 61 – This website is the ultimate guide to train travel anywhere in the world. They have the most comprehensive information on routes, times, prices, and train conditions. If you are planning a long train journey or some epic train trip, consult this site.
Rome 2 Rio – This website allows you to see how to get from point A to point B the best and cheapest way possible. It will give you all the bus, train, plane, or boat routes that can get you there as well as how much they cost.
Bla Bla Car – BlaBlaCar is a ridesharing website that lets you share rides with vetted local drivers by pitching in for gas. You simply request a seat, they approve, and off you go! It's a cheaper and more interesting way travel than by bus or train!
EatWith – This website allows you to eat home cooked meal with locals. Locals post listings for dinner parties and specialty meals that you can sign up for. There is a fee (everyone sets their own price) but this is a great way to do something different, pick a local's brain, and make a new friend.
World Nomads – I buy all my travel insurance from World Nomads. They have great customer service, competitive prices, and in-depth coverage. I've been using them since I started traveling in 2003. Don't leave home without it!
Galway Gear and Packing Guide
If you're heading on the road and need some gear suggestions, here are my tips for the best travel backpack and for what to pack!
The Best Backpack for Travelers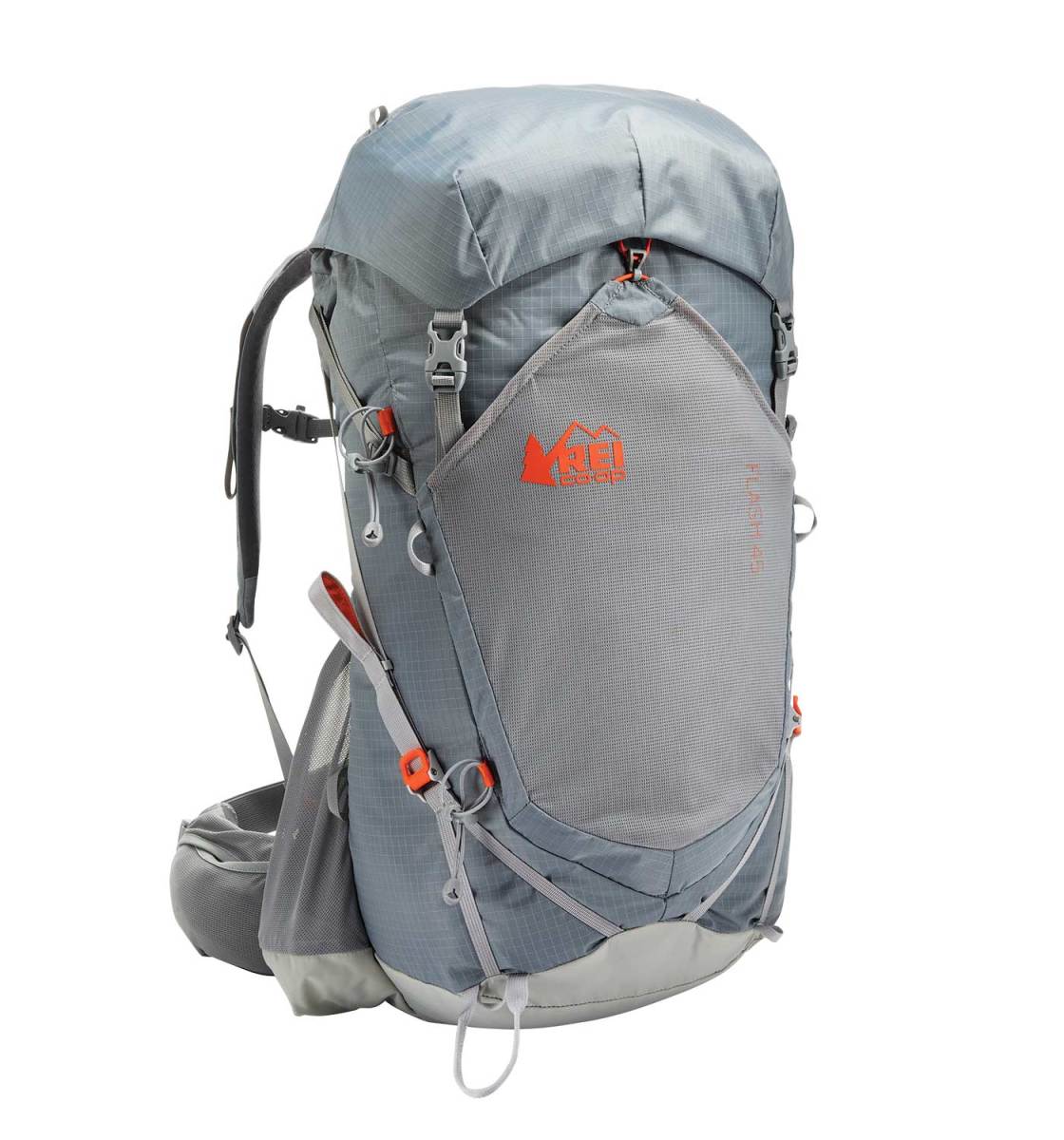 What's the best backpack for traveling long-term? I recommend the
REI Flash 45 Pack
. It's light and comfy, front loading, and fits perfectly in an airplane's overhead bin.
Size:
45-47L
Straps:
Thick and cushy with compression technology that pulls the pack's load up and inwards so it doesn't feel as heavy.
Features:
Removable top lid, large pocket at the front, hydration compatible, contoured hip belt
If you want something different, refer to my article on how to choose the best travel backpack for tips on picking a pack and other backpack suggestions.
What to Pack for Your Trip
Clothes
1 pair of jeans (heavy and not easily dried, but I like them; a good alternative is khaki pants)
1 pair of shorts
1 bathing suit
5 T-shirts
1 long-sleeved T-shirt
1 pair of flip-flops
1 pair of sneakers
6 pairs of socks (I always end up losing half)
5 pairs of boxer shorts (I'm not a briefs guy!)
1 toothbrush
1 tube of toothpaste
1 razor
1 package of dental floss
1 small bottle of shampoo
1 small bottle of shower gel
1 towel
Deodorant
Small Medical Kit (safety is important!!!)
Miscellaneous
Female Travel Packing List
I'm not a woman, so I don't know what a woman wears, but Kristin Addis, our solo female travel guru, wrote this list as an addition to the basics above:
Clothing
1 swimsuit
1 sarong
1 pair of stretchy jeans (they wash and dry easily)
1 pair of leggings (if it's cold, they can go under your jeans, otherwise with a dress or shirt)
2-3 long-sleeve tops
2-3 T-shirts
3-4 spaghetti tops
1 light cardigan
Toiletries
1 dry shampoo spray & talc powder (keeps long hair grease-free in between washes)
1 hairbrush
Makeup you use
Hair bands & hair clips
Feminine hygiene products (you can opt to buy there too, but I prefer not to count on it, and most people have their preferred products)
For more on packing, check out these posts:
Galway Travel Guide: Related Articles
Want more info? Check out all the articles I've written on backpacking/traveling Ireland and continue planning your trip: