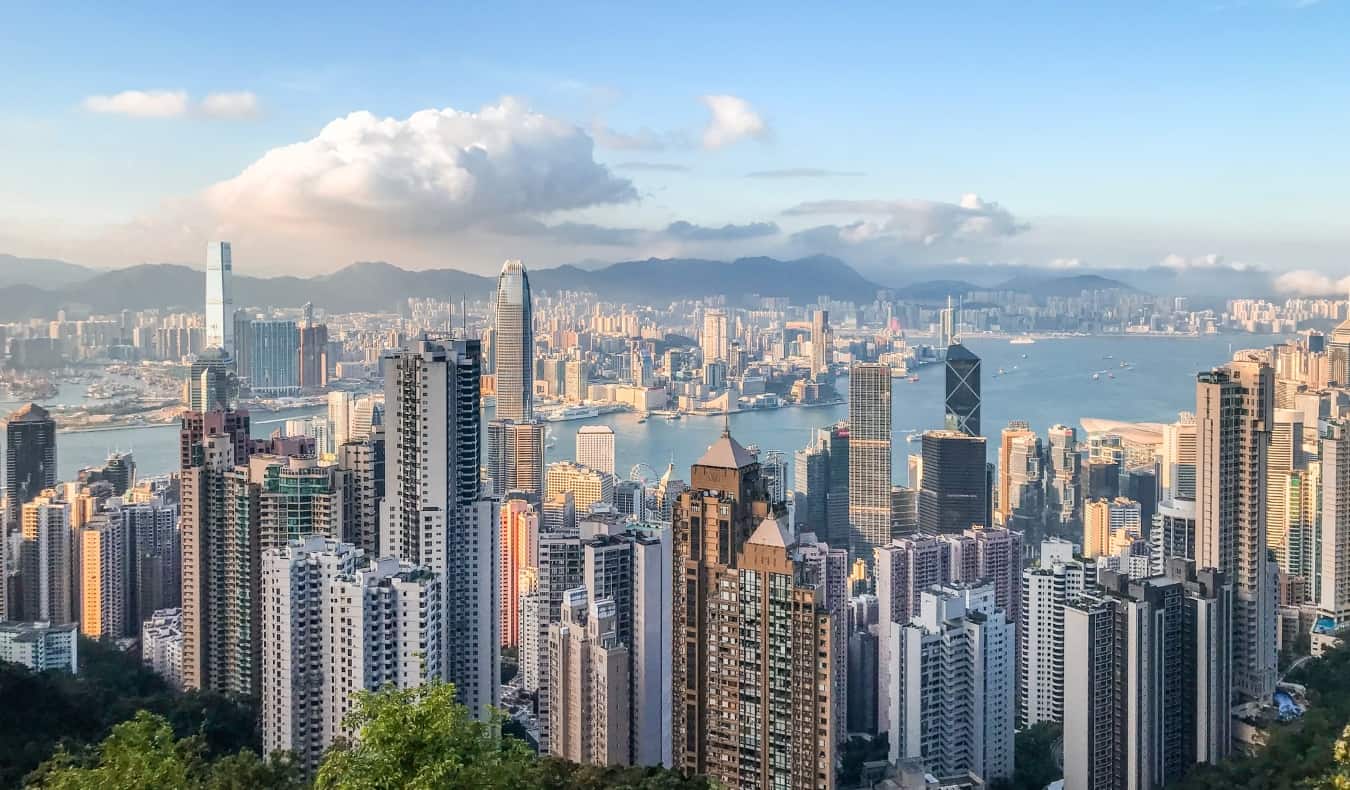 Last Updated: 9/18/23 | September 18th, 2023
Hong Kong. Its name inspires visions of a chaotic, jam-packed city with soaring skyscrapers, thick smog, endless noodle stands, big finance, and wild nights out.
It's one of my favorite cities in the world. The fast pace creates a sense of permanent change, and the crowds, multiculturalism, and food keep me continuously coming back. Oh, the food! I could sit bent over a noodle bowl all day long.
Hong Kong is a busy city of 7.4 million inhabitants with one of the biggest hub airports in the world. It can be overwhelming for many visitors, especially those not used to crowded places.
And, with so much to do in Hong Kong, many travelers scratch their head about where to start in order to get the most out of the trip.
While you can visit the city within one or two days, it's best to spend at least three days in Hong Kong. If you're going to visit Macau, I'd add another day, so you'd need 4-5 days to really see the place.
This four-day Hong Kong itinerary will help you organize your trip, steer you off the beaten path, and show you why Hong Kong is one of the most on-the-go cities in the world.
Hong Kong Itinerary: Day 1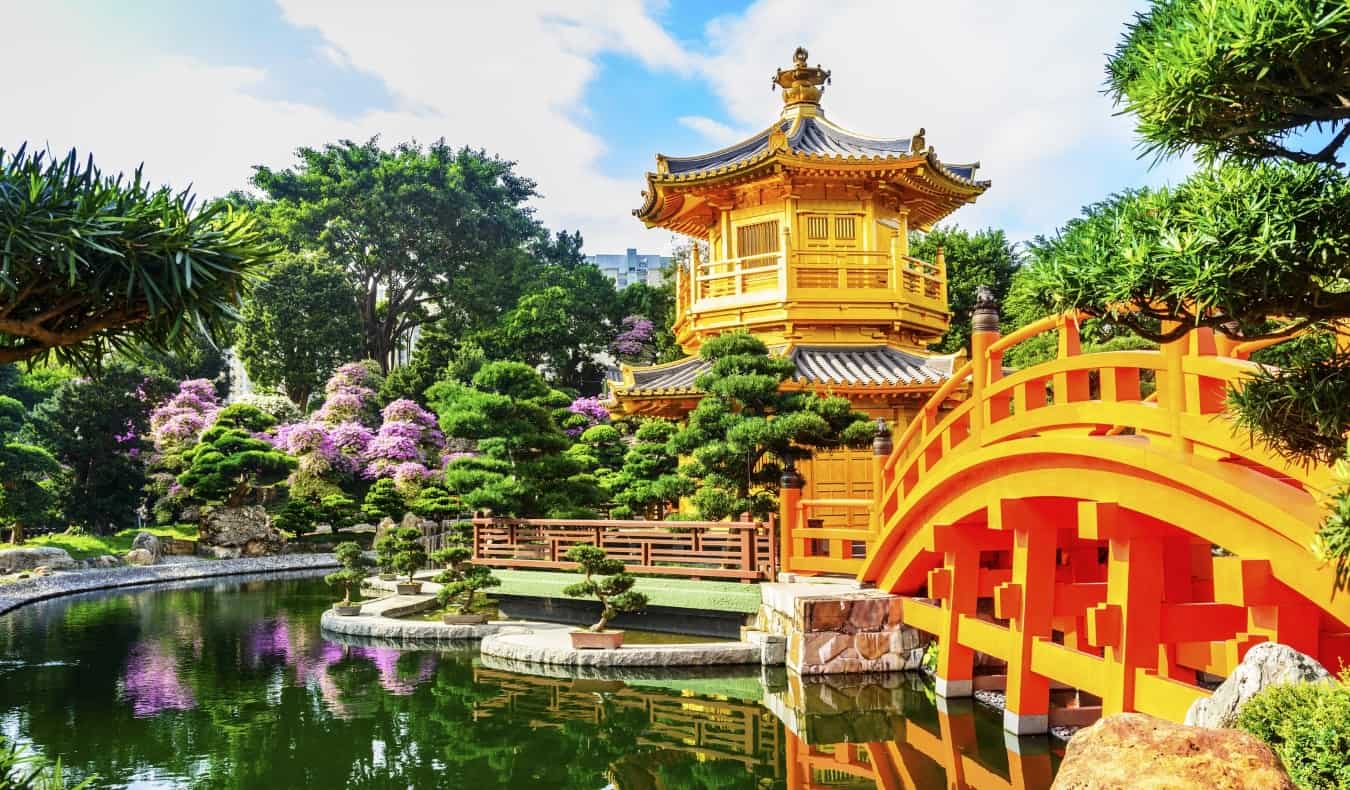 The Hong Kong Museum of History
In order to understand a place, you must first understand its past. This museum lets you do just that. It provides an excellent overview of Hong Kong's long and complex past. There are exhibits relating to the archaeology, social history, ethnography, and natural history of the region. It's big, so allow about 2–4 hours for your visit.
100 Chatham Road South, Tsim Sha Tsui, Kowloon, +852 2724 9042, hk.history.museum/en_US/web/mh/index.html. Open Wednesday-Monday from 10am-6pm (7pm on weekends). Admission is free but some special exhibitions may require a fee.
Kowloon Park
Head to Kowloon Island's gigantic park that features a swimming pool, a fitness center, little ponds where you can watch ducks and other swimming birds, a Chinese garden, an aviary, and the Hong Kong Heritage Discovery Centre (not to be confused with the Hong Kong Heritage Museum; more on that museum below). There are also plenty of rest areas here where you can relax to escape the oppressive Hong Kong heat. Spanning 13 hectares (33 acres), it's one of the best places to people-watch in the city.
22 Austin Rd, Tsim Sha Tsui, Kowloon, +852 2724 3344, lcsd.gov.hk. Open daily from 5am-12am and admission is free.
Street Markets in Mong Kok
This area of Hong Kong has the largest and busiest markets in which to soak up the frenetic atmosphere, sights, and sounds of Hong Kong. The crowds and sellers really exemplify Hong Kong's on-the-move essence. The two best markets for inexpensive souvenirs are the Ladies Market (bargain clothing, accessories, and souvenirs) and the Temple Street Night Market (flea market). The markets of Mong Kok are best reached by the Hong Kong MTR subway system, stations Yau Ma Tei, Mong Kok, and Prince Edward on the Tsuen Wan (red) line.
Tung Choi St, Mong Kok, Hong Kong and Temple St, Jordan, Hong Kong. The markets are open every day, starting around noon and closing in the late evening (times vary).
Tsim Sha Tsui Promenade
Stroll along the Tsim Sha Tsui waterfront and take in the breathtaking skyline view of Hong Kong Island. While you're here, make sure to visit the Avenue of Stars, Hong Kong's answer to the Hollywood "Walk of Fame," where you can see the stars of Chinese and Western film alike. There are shops, restaurants, and, at night, a large outdoor market serving traditional Cantonese food alongside knockoffs and souvenirs. Come ready to haggle.
Salisbury Road, Tsim Sha Tsui, Kowloon (next to the Star Ferry pier). Open 24/7.
The Star Ferry
The best way to get across the harbor from Kowloon Island to Hong Kong Island is via the Star Ferry, which showcases a fantastic view of the city skyline for only 5 HKD. Riding the ferry is a fun thing to do even if you aren't using it for transportation! It's one of my favorite activities.
Star Ferry Pier, Kowloon Point, Tsim Sha Tsui, +852 2367 7065, starferry.com.hk/en/service. The ferry runs from 6:30am-11:30pm every day, though they occur less frequently on weekends and holidays. Tickets are 5 HKD, while a 4-day pass costs 50 HKD.

Hong Kong Itinerary: Day 2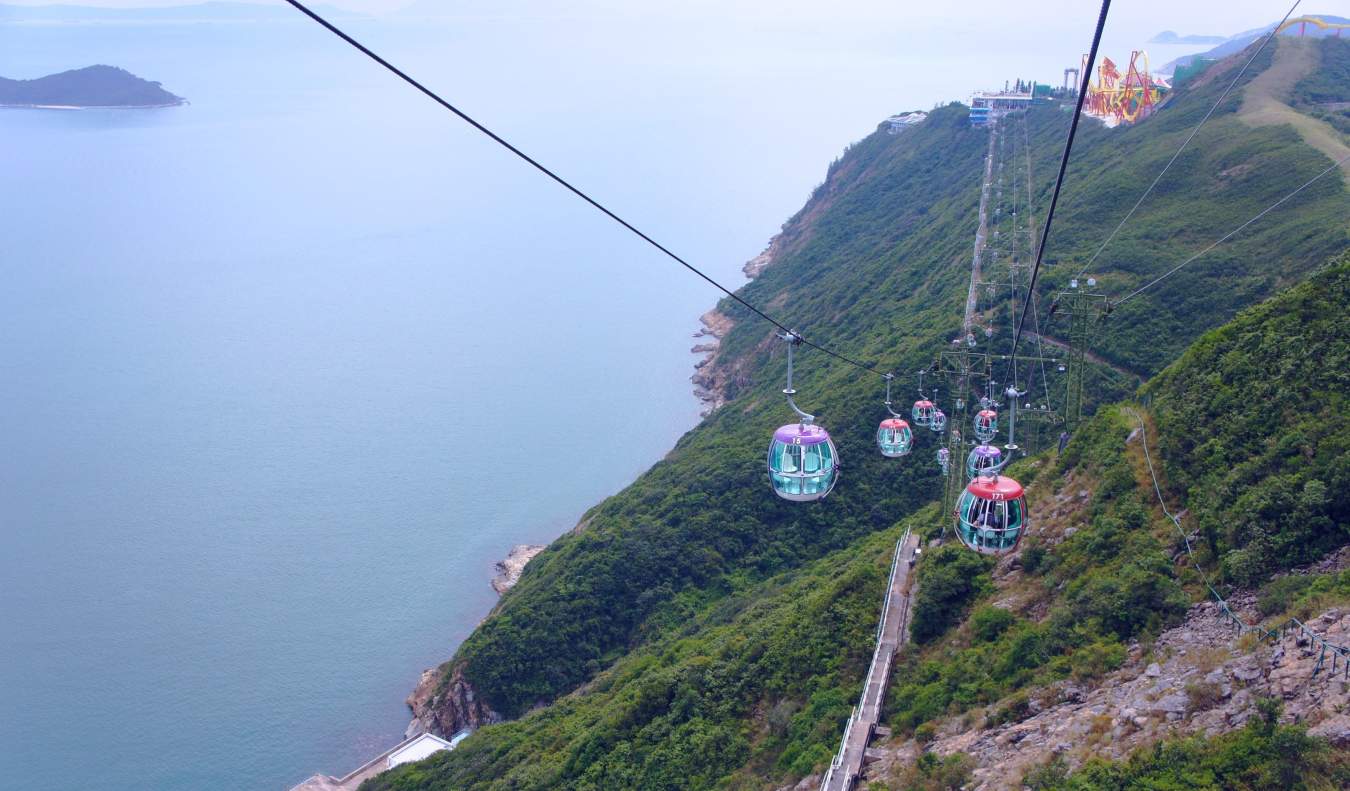 Ngong Ping 360
This cable car stretches over 5.7 kilometers (3.5 miles) from Tung Chung across the bay toward the airport and then onward to Lantau Island. The cable car gives you a panoramic view of the airport, harbor, and entire city before it travels through the surrounding mountains. The ride lasts about 25 minutes.
When you get to the top, don't miss the nearby Po Lin Monastery (a Buddhist monastery founded in 1906) and Tian Tan, a 34-meter (111-foot) bronze Buddha statue that sits on the top of the island's peak. While Lantau Island is a bit touristy, the ride, views, and monastery make it worth the trip.
11 Tat Tung Road, Tung Chung, Lantau Island, +852 3666 0606, np360.com. Open 10am-6pm on weekdays and 9am-6:30pm on weekends on holidays. A round-trip adult ticket for the cable car is 235 HKD for a standard cabin and 315 HKD for a crystal cabin (a cable car with a glass bottom floor). You can reserve tickets online in advance here.
Take a Food Tour
After the morning on the cable car and enjoying a killer view of Hong Kong, spend your afternoon taking a food tour. Hong Kong is a food-filled city (there are over 10,000 restaurants here!) and you'll find a diverse range of cuisines from around the world. But without help, you'll never find all the hidden local favorites. The following companies offer the best value tours:
Expect to spend 690-770 HKD per person for a food tour.
Rent a Junk Boat
Junk boats — those classic boats with the large sail you see in any movie about Hong Kong — are a fun way to sail around the harbor on full-day and half-day trips. There is only one traditional junk boat left: the Dukling. It sails Saturdays and Sundays only, with tickets starting at 190 HKD.
Another option is sailing on The Aqua Luna, a boat that was built in the traditional style in 2006. It sails much more frequently and offers a variety of cruises, from a dim sum cruise to an afternoon tea cruise. Tickets start at 270 HKD.
In addition to these traditional-style junks or if you're looking for more of a party boat vibe, you can also rent a boat with a large group of friends (15 or so people) or join a group cruise around the harbor. There are a ton of different options to choose from, from all-you-can-eat-and-drink boats with add-on water sports, massages, and DJ packages, to companies that let you just rent the boat and bring everything else yourself.
Here are some recommended companies that offer affordable boat tours:
Island Junks – They have a couple cruise options, costing around 660 HKD per person. You can also charter your own if you've got the money!
Saffron Cruises – This is a great option if you can put together a large group of 20-30 people, as a charter costs 9,000-14,000 HKD.
Hong Kong Junks – This is more of the classic party boat experience, with options for all budgets.
Hong Kong Itinerary: Day 3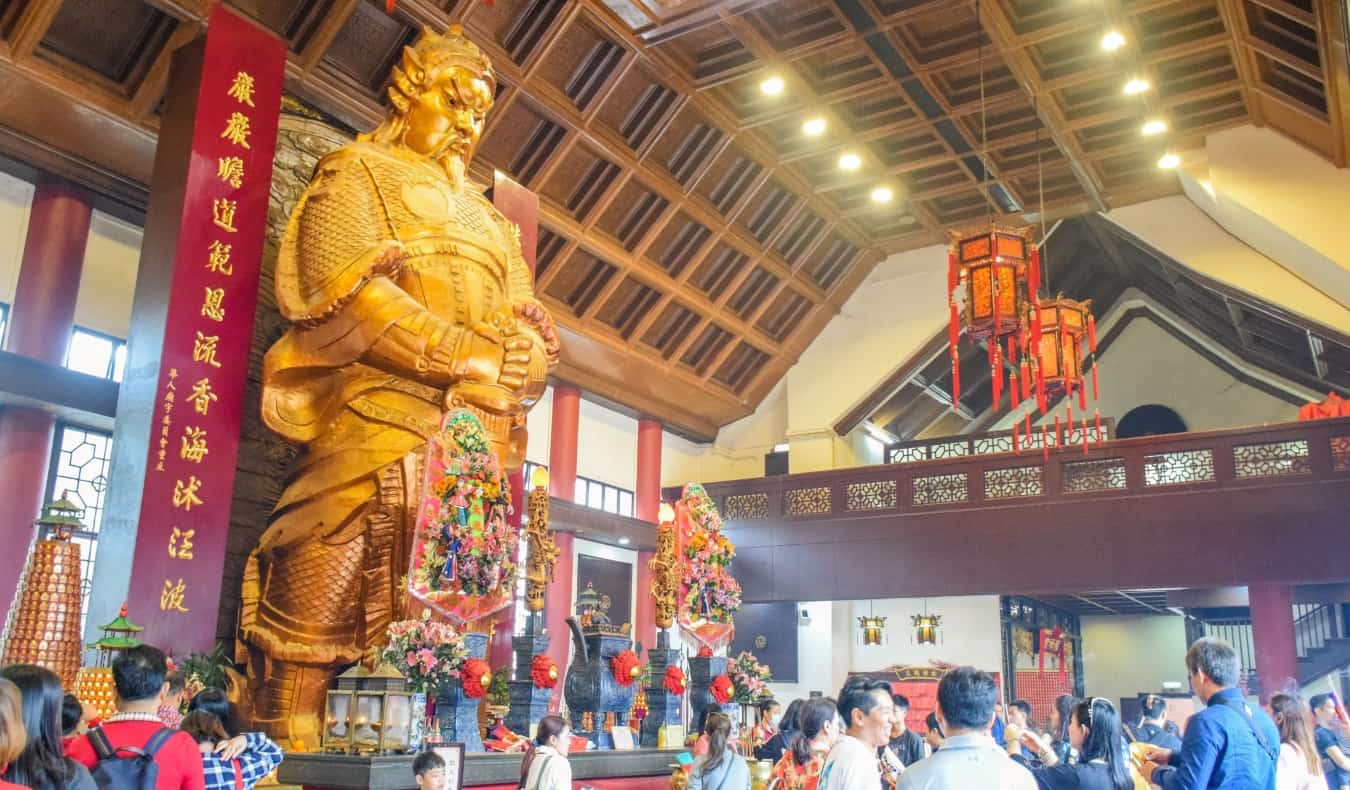 Ping Shan Heritage Trail
Located in the New Territories (the city's less visited northern district), this trail will lead you past some of the most important ancient sights of the Tang clan. There are 14 historic buildings on the trail, including: Hung Shing Temple, The Tang Ancestral Hall, Yeung Hau Temple, Shrine of the Earth God, and the 15th-century Tsui Sing Lau Pagoda (Hong Kong's only ancient pagoda). Just be aware that not all of the historic buildings on the trail are open to the public.
Another option is the Lung Yeuk Tau Heritage Trail. It begins at the Taoist temple complex of Fung Ying Seen Koon and passes the walled villages of Ma Wat Wai and Lo Wai before ending at the 18th-century Tang Chung Ling Ancestral Hall.
This part of Hong Kong is often skipped by tourists, and the trails, meandering through the city's more rural region, are quiet and a welcome break from the giant metropolis of the downtown area.
Ping Shan Trail: Sheung Cheung Wai, Yuen Long District, +852 2617 1959, lcsd.gov.hk. Lung Yeuk Tau Trail: 66 Pak Wo Rd, Fanling, Hong Kong, +852 2669 9186.
Hong Kong Heritage Museum
This museum showcases the city's history and love of art. There's a large exhibit about the New Territories and an opera house for performances. It fills in some of the blanks left from the Hong Kong History Museum and gives you a look at the artistic culture of the city. It's also located near the beautiful Sha Tin Park and Shing Mun River, making the surrounding area just as interesting as the museum!
1 Man Lam Rd, Sha Tin, New Territories, +852 2180 8188, hk.heritage.museum/en/web/hm/highlights.html. Open every day but Tuesday from 10am-6pm (7pm on weekends). Admission is free.
Che Kung Temple
Just across the river from the Heritage Museum, this temple is dedicated to Che Kung, a general during the Southern Song Dynasty (1127–1279) in ancient China who was known for stopping both uprisings and epidemics. This temple was built in his name during an epidemic in the 17th-century, and it is said that the epidemic ceased the day after its official dedication.
The temple complex is always filled with people, so be prepared for crowds. The traditional architecture and intricate sculptures, including the large golden sculpture of Che Kung himself, make this worth visiting after you see the Heritage Museum.
Che Kung Miu Road, +852 2691 1733, ctc.org.hk. Open daily from 8am-6pm.

Hong Kong Itinerary: Day 4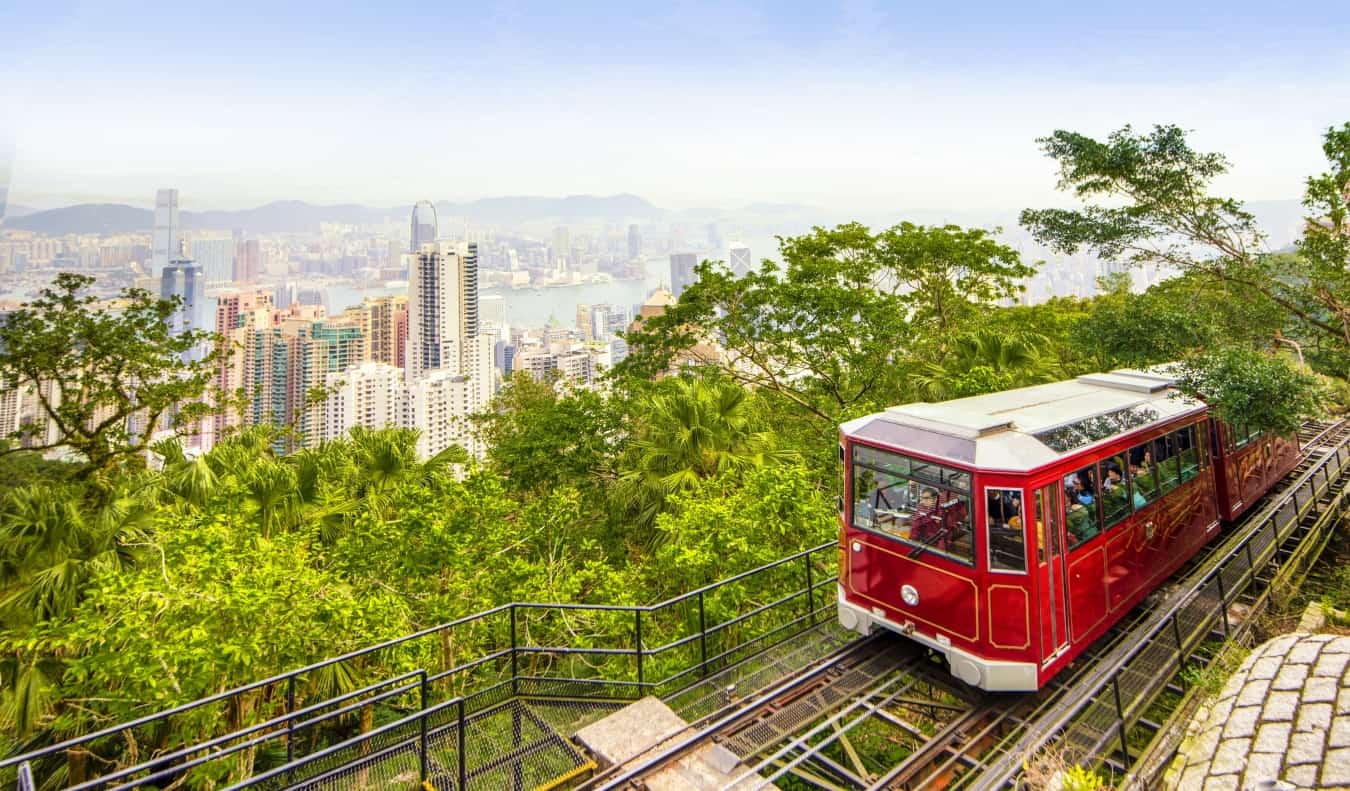 The Peak Tram
This tram, which has been in operation since 1888 (with several renovations since then) takes you to the top of the Peak, Hong Kong Island's largest mountain, at 518 meters (1,700 feet). Upon exiting at the top, you'll enjoy spectacular 180-degree views of the skyscrapers of Victoria Harbor, Kowloon, and the surrounding hills. It's the best view of the city.
Also at the top is the huge, wok-shaped Peak Tower with its viewing platform Sky Terrace 428, Madame Tussauds, and a variety of restaurants. Head away from this area and you'll find many different trails to get into nature and see the city skyline from a bunch of different vantage points. When you're done at the top, you can either take the tram or walk back down along the trails.
No.1 Lugard Road, +852 2849 7654, thepeak.com.hk. Open daily from 7:30am-11pm, with trams running every 15-20 minutes. A return trip is 88 HKD, while the same with entry to the sky terrace viewing platform is 148 HKD per person.
Hong Kong Museum of Art
This museum on the Tsim Sha Tsui waterfront is a fascinating and intriguing place. Established in 1962, it was the first public art museum in the city. There are both rotating temporary exhibitions as well as a permanent collection where you'll find everything from Chinese ceramics, terra cotta, rhinoceros horns, traditional calligraphy, and Chinese paintings, to contemporary art produced by Hong Kong artists.
Tsim Sha Tsui, Hong Kong, +852 2721 0116. Open Monday-Wednesday, Friday from 10am-6pm; Saturday, Sunday and public holidays from 10am-7pm. Admission is 10 HKD.
Lan Kwai Fong Nightlife
LKF is the main nightlife and party area in Hong Kong and is filled with tons of bars, clubs, shisha (water pipes), and cheap drinks. Nights out here are wild — the street is always crowded, people get very drunk, and shots get handed out like candy. It's rowdy, but if you want to see Hong Kong's wilder side, this is the place to do it.

Other Things to See and Do in Hong Kong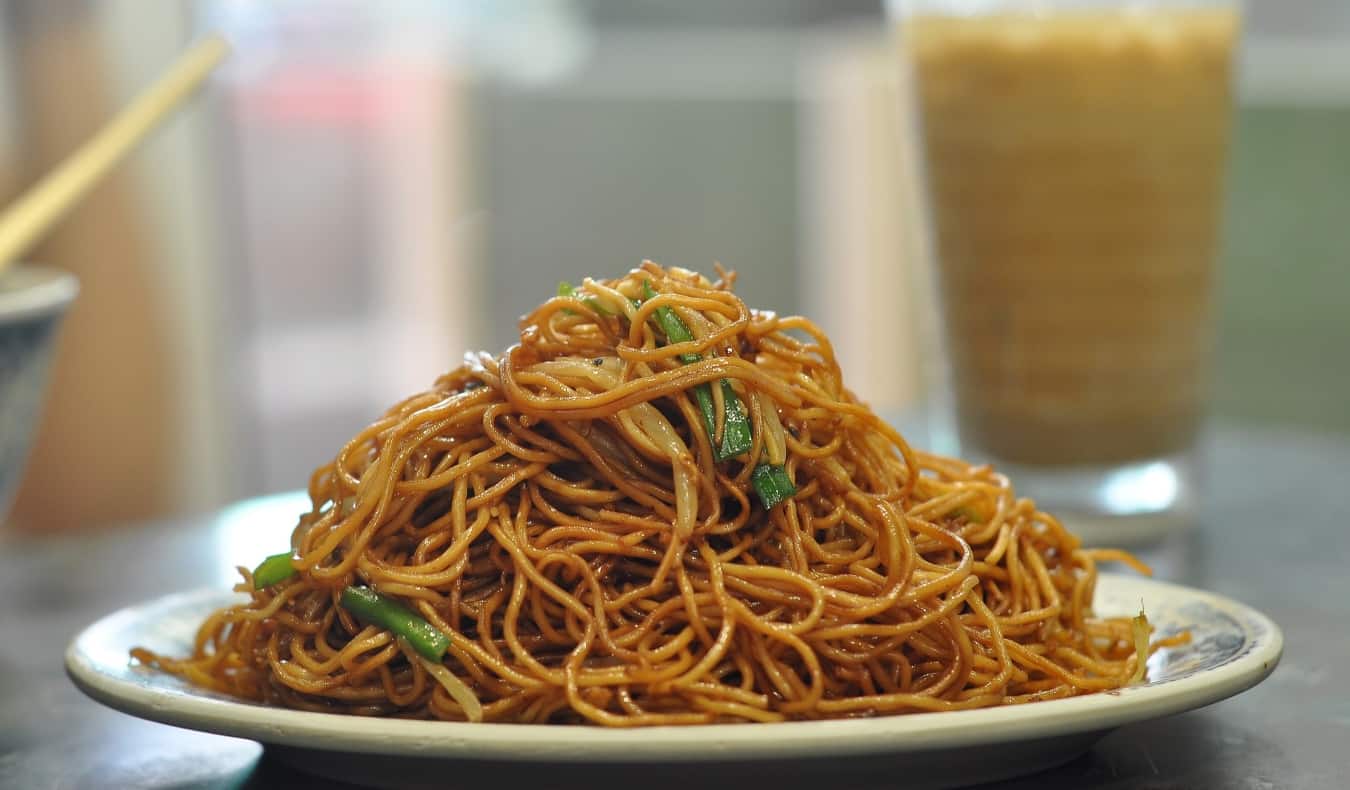 Take a cooking class — Hong Kong is full of food. Why not learn how to cook some of it? This Hong Kong expat website has a list of 20 schools offering classes! Prices vary but expect to spend around 550-800 HKD per person.
Go hiking — Hong Kong may be a densely packed city, but there is also scenic hiking in the outer mountains and islands. There are a lot of trails (especially in the undeveloped parts of the New Territories). The Hong Kong tourism board lists all the trails here.
Visit Disneyland — If you're on a family trip, or if you're a backpacker in touch with your inner child, head to Disneyland. Hang out with Mickey Mouse and shake hands with sea creatures. (Tickets start at 639 HKD.)
Day trip to Macau — The gambling mecca of Macau is a short boat ride away. For 160 HKD, the 60-75–minute boat ride from Hong Kong's ferry terminal will take you to this former Portuguese colony, where you can wander gigantic modern casinos, stroll historic streets lined with Portuguese-inspired houses, and dine on egg tarts, a famous local specialty.
For more, here are my recommendations for the 23 best things to do in Hong Kong.
***
In a city of almost 8 million people, there are countless things to see and do. One could fill weeks exploring Hong Kong's many islands, markets, restaurants, sights, and nightlife and still not see it all. Though impossible to condense a city so vast into four-days, this Hong Kong itinerary will help you experience the most Hong Kong has to offer in a short period of time!
Book Your Trip to Hong Kong: Logistical Tips and Tricks
Book Your Flight
Use Skyscanner to find a cheap flight. It's my favorite search engine because it searches websites and airlines around the globe so you always know no stone is left unturned.
Book Your Accommodation
You can book your hostel with Hostelworld as they have the biggest inventory and best deals. If you want to stay somewhere other than a hostel, use Booking.com as they consistently return the cheapest rates for guesthouses and cheap hotels. Two of my favorite place to stay is:
For places to stay in Hong Kong, check out my post on my favorite hostels in the city. It has an even more detailed list.
Don't Forget Travel Insurance
Travel insurance will protect you against illness, injury, theft, and cancellations. It's comprehensive protection in case anything goes wrong. I never go on a trip without it as I've had to use it many times in the past. My favorite companies that offer the best service and value are:
Looking for the Best Companies to Save Money With?
Check out my resource page for the best companies to use when you travel. I list all the ones I use to save money when I'm on the road. They will save you money when you travel too.
Want More Information on Hong Kong?
Be sure to visit our robust destination guide on Hong Kong for even more planning tips!