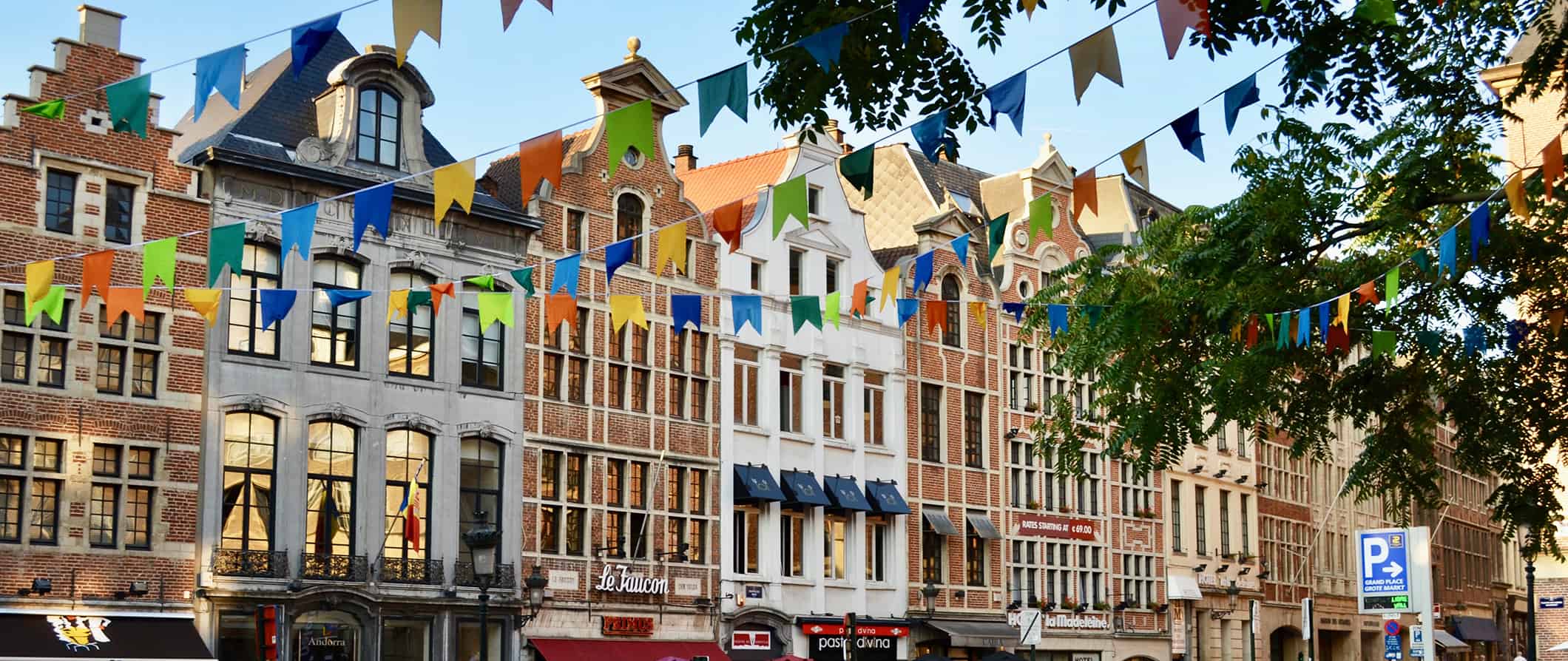 Belgium's capital city, Brussels, holds an important position both within the country and within wider Europe, as it is the capital of the European Union's government. It's very much a government city. A bit stuffy, a bit historic, and a bit full of people who love to have fun when the clock strikes five! is a classy city to explore for a few days and makes for a good stopover between Paris and Amsterdam. The architecture is beautiful, there's a lot of green space, and the chocolate, waffles, frites, and beer will have you never wanting to leave!
Top 5 Things to See and Do in Brussels
1. European Parliament
Often considered the de facto capital of the Europe, the parliament buildings are worth a visit for anyone interested in the operations of the EU. Space is limited, so be sure to book in advance. The parliament's website also has pocket guides available for free in case you'd rather just read the information yourself.
2. Grand Place
Brussels' most popular tourist attraction is its Grand Place. This is the heart of the city and includes the Town Hall, the famous Breadhouse, and every two years, a huge carpet design made from flowers. Grand Place was also as declared a UNESCO World Heritage site in 1998. It's a bustling place!
3. St. Michael and Gudula Cathedral
Built in 1047 but renovated in the gothic style in the 13th century, this imposing cathedral incorporates a mix of architectural styles, much like Brussels itself. It is the official site of all royal Belgian weddings and funerals.
4. Manneken Pis
The bronze sculpture was designed by Jerome Duquesnoy. It is thought to have been put in place in 1618 or 1619. It's an odd attraction to be so popular. He wears a different costume everyday too so he's always dressed in some different get-up! There is also Jeanneken Pis, which is of a little girl pissing (it is as disturbing as it sounds).
5. Galeries Royales Saint-Hubert
The beautiful Royales Saint-Hubert which offers a unique shopping experience. It is the oldest shopping arcade in Europe and also houses cafés, restaurants and chocolate shops. Taverne du Passage offers a wide variety of seafood and Neuhaus might just be the best chocolate-maker in the country.
Other Things to See and Do
(Click the title to expand the text)
1. Explore The Horta Museum
The Horta Museum is the house that the famous art nouveau architect, Victor Horta, built for himself in the late 1890s. It is a true example of the architectural style that made Horta one of the most acclaimed architects in Belgium. The beautiful glass ceiling and the intricate wrought iron banisters give the house a unique style and feel. Admission is 10 EUR and the museum is open 2pm-5:30pm Tuesday to Sunday.
2. Visit the Musical Instrument Museum
This is a fun way to spend a morning or afternoon. There are three levels of exhibits, instruments of all kinds, and you get a headset that plays the music and sounds of many of the instruments on display as you walk near the cases. The art nouveau building is also very impressive in itself, and the café has great views of the city. Admission is 8 EUR and the museum is open 10am-5pm Tuesday – Sunday.
3. Chinese Pavilion and Japanese Tower
Situated in the park at Laeken, these oriental style buildings were constructed on the orders of King Leopold II after his visit to the 1900 Exhibition in Paris. The Chinese Pavilion displays a collection of 17th and 18th-century Chinese porcelain and furniture.
4. Learn at the Cantillon Brewery
For just 7 EUR, you'll get the chance to see Belgium's famous beer-making process in action. The beer is brewed between April and October, but you will still find it a rewarding experience all year round. The owners are passionate about their beer, and you get to taste the beer at the end of the tour.
5. Gorge at outdoor food markets
If you are here on a Sunday morning, there is no better place to be than the Gare du Midi market. Often said to be the best market in Europe, you can expect to find wares from North Africa, Mediterranean spices, and pretty much any other food you can think of. At Christmas, head to the Winter Wonders market for ice skating and other festive activities.
6. Indulge at Delirium Café
Belgium is famous for its great beer! After visiting the Grand Palace, take a short walk down an alley towards Delirium Café to imbibe with lots of locals and travelers. This bar is known for its long list of beers served (so long that it made the Guinness Book of World Records!) The enormity of the menu draws a fun-loving, talkative crowd. This is a quirky must-see while in Brussels, even if you don't like beer!
7. Eat chocolate
Aside from beer, one of Belgium's most famous exports is chocolate. If you have a sweet tooth, you'll be in heaven here. The city is dotted with chocolatiers' shops, each with their own unique recipes (and price tags). It's a good idea to buy chocolate in supermarkets if you want to take a lot home with you to save some cost (although it's not as high quality).
8. Visit Waterloo
Just south of the city is Waterloo, the site of Napoleon's final battle against Europe. The center of the battlefield has an artificial hill, which was designed to overlook the entire field—awesome for panoramic pictures.
9. Basilique de Koekelberg
The Basilica of the Sacred Heart is the 5th largest church in the world. In addition to its amazing architecture and impressive art deco, the height offers beautiful views of the city and the surrounding area. The church is very close to the center of town and inexpensive to see.
10. The Grand Salon
In the depths of the antique market district and surrounded by cafes, this area is an amazing place to walk around. The Church of Notre Dame du Sablon is also a beautiful piece of Gothic architecture that is housed here.
11. AutoWorld
Like cars? AutoWorld is a vintage car museum that has 350 vintage European and American automobiles from the late 19th century until the seventies. Admission is 10 EUR and it's open every day from 10am-5pm.
Typical Costs
Hostel prices
– A bed in a hostel dorm is about 16-18 EUR per night for 6 beds. Private rooms with an ensuite bathroom that sleep 2 people start around 55 EUR. For hostels, my suggested place is:
Budget hotel prices – A night in a centrally-located two-star budget hotel starts at 50 EUR for a double room with basic amenities and free WiFi. An Airbnb shared room starts around 20 EUR while an entire apartment starts around 50 EUR.
Average cost of food – Casual meals and fast food cost around 12 EUR. A meal in a sit-down restaurant with table service will cost from 22 EUR. Frites (french fries and a great snack) cost around 4 EUR. If you want to cook your meals, there are some great markets throughout the city. Expect to pay around 55 EUR for a week's worth of groceries. Maison Antoine and Flagey serve delicious frites and Delirium is one of the best (and most popular) beer bars in the city.
Transportation costs – Brussels' extensive public transportation system includes trams, buses, and subway (metro) lines. The city is pretty spread out so you'll find yourself on the public transportation often. A single metro ticket costs 2.50 EUR. Get a day pass for 7.50 EUR, and ride as much as you want. A 3-day pass with MOBIB is less than 10 EUR and can be used for all public transport. Taxis are very expensive at up to 18 EUR for just a 5-minute journey. There's no reason to ever take them!
Suggested daily budget
40-50 EUR / 42-52 USD (Note: This is a suggested budget assuming you're staying in a hostel, eating out a little, cooking most of your meals, and using local transportation. Using the budget tips below, you can always lower this number. However, if you stay in fancier accommodation or eat out more often, expect this to be higher!)
Money Saving Tips
Get the plat du jour – Many restaurants offer a dish of the day or a fixed menu at cheaper prices during lunch so this is the best time to eat out at!
Eat Belgian fries – For an inexpensive and quick snack, try Belgian fries, or frites, with mayonnaise. They cost just a couple of EUR and are available everywhere in the city.
Rent the Villo – As taxis are so expensive, consider taking a rental bike, available for free if you are traveling for less than half an hour.
Student discounts – Students can receive discounts into many attractions upon presentation of an ISIC card, including half price entry to the Royal Museum of Fine Arts.
Couchsurf – Nothing's cheaper than sleeping for free. Couchsurfing connects you with locals who will give you not only a free place to stay, but also a local tour guide who can introduce you to all the great places to see.
Get a metro pass – A single journey on the metro system is 2.50 EUR but the day pass is 7.50 EUR. Get the day pass as it will pay off with only 3 trips. If you're staying longer in Brussels, purchase a MOBIB basic card for 5 EUR and saves you almost 1 EUR per trip.
Take a walking tour – The city offers maps that highlight all the important and interesting destinations, encouraging visitors to explore on their own self-guided tour. You can also book a walking tour based on your interests, from history to food to chocolate! The standard non-thematic tours are free, so definitely check them out if you want to learn more about the city!
Save money on rideshares – Uber is way cheaper than taxis and is the best way to get around a city if you don't want to wait for a bus or pay for a taxi. The Uber Pool option is where you can share a ride to get even better savings (though you can get your own car too). You can save $15 off your first Uber ride with this code: jlx6v.
My Other Must Have Guides For Traveling to Brussels
Photo credits: 4