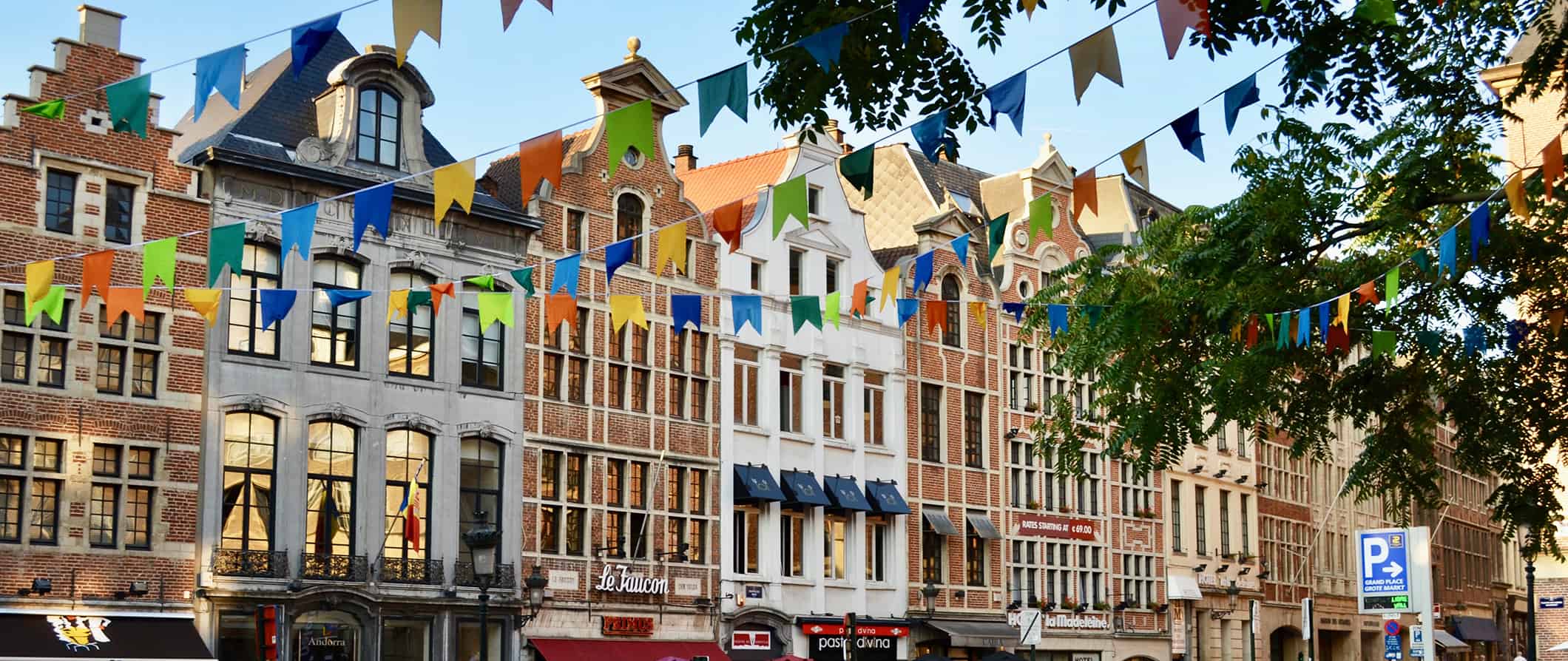 Brussels is a bit of an underdog city in Europe. Most travelers speed through the city on their way to Paris or Amsterdam. Or they skip the city altogether.
I think that's a mistake.
As the administrative center of the European Union, Brussels can feel a bit "stuffy" — but don't let that fool you. The city is hip, filled with history, (many of which have free entry on the first Sunday of the month), and boasts tons of cutting-edge restaurants. With its countless restaurants and bars devoted to beer, Brussels is a foodie's dream.
Spend at least a couple of nights here. Enjoy the beer, devour some Belgian fries, and experience this often-overlooked European capital. It might just surprise you!
This travel guide to Brussels can help you plan your trip, save money, and make the most of your time in this underrated city!
Top 5 Things to See and Do in Brussels
1. Visit the European Parliament
You can watch a parliamentary session in the debating chamber or tour the building when parliament isn't in session. Space is limited so book in advance. The parliament's website also has pocket guides available for free in case you'd rather just read the information yourself.
2. Hang out at Grand Place
Brussels' most popular tourist attraction is its Grand Place. This is the heart of the city and includes the Town Hall, the famous Breadhouse, and, every two years in August, displays a huge floral arrangement. The Grand Place is a bustling part of Brussels and a popular meeting spot for locals.
3. Visit St. Michael and Gudula Cathedral
Built in 1047, this is the official site of all royal Belgian weddings, funerals, and coronations. It houses a lot of medieval artifacts, including stained-glass windows donated by Holy Roman Emperor Charles V. Entrance is free but it's 3 EUR to see the Romanesque crypt, 1 EUR for the church's archaeological site, and 2 EUR for the Treasury.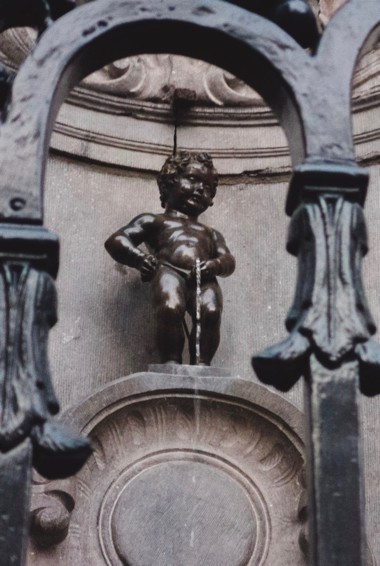 4. See Manneken Pis
Manneken Pis is a bronze sculpture fountain of a young boy urinating. It was put in place to distribute drinking water in the 15th century and now it's a local icon. Each day he wears a new costume (and all the old costumes are kept in a museum). There is also Jeanneken Pis, which is of a little girl urinating (it's as weird as it sounds).
5. Drink beer at Delirium Café
This is easily the most famous bar in Brussels, thanks to its selection of some 2,000 beers from around the world (it made the Guinness Book of World Records). They brew their own beer as well, and the enormity of the menu draws a fun-loving, talkative crowd.
Other Things to See and Do in Brussels
1. Take a free walking tour
One of the first things I do in a new city is to take a free walking tour. It's the best way to get the lay of the land, see the main sights, and connect with a local guide who can answer all my questions. New Europe runs regular free tours that cover all the highlights. Just remember to tip your guide at the end!
2. Explore The Horta Museum
The Horta Museum was once the house of famous art nouveau architect, Victor Horta, who built the property in the late 1890s. It is an excellent example of the art nouveau style that made Horta one of the most acclaimed architects in Belgium. The unique orange-and-yellow glass ceiling and the detailed curlicues of the wrought iron railings are beautiful. Admission is 10 EUR.
3. See the Chinese Pavilion and Japanese Tower
Located at the end of the Royal Estate at Laeken, the Chinese Pavilion and Japanese Tower were constructed between 1901-1910 on the orders of King Leopold. The pavilion has a museum dedicated to Chinese porcelain and furniture from the 17th and 18th centuries. NOTE: The Chinese Pavilion and Japanese Tower are currently closed due to safety reasons until further notice.
4. Learn about beer at the Cantillon Brewery
For just 9.50 EUR, you can take a tour of one of Belgium's most famous breweries. Having opened over a hundred years ago, it's the last surviving lambic brewery (a Belgian beer brewed with raw wheat and wild yeast and fermented for at least a year) in Brussels, and it still makes use of its original 19th-century equipment (including its wooden barrels). The beer matures in its wine casks for up to three years. You'll learn a lot about the production process and you'll get a free beer at the end.
5. Gorge at the Gare du Midi market
If you are in Brussels on a Sunday morning, there is no better place to be than the Gare du Midi Market. This is the biggest market in the city and the third-largest food market in Europe so you can expect to find tasty food like crepes from North Africa, Mediterranean spices, meats, cheese, and pretty much any type of food you desire. Bring an appetite!
6. Eat chocolate
Aside from beer, one of Belgium's most famous exports is chocolate. Chocolatiers' shops dot the city, each with its unique recipes (and price tags). My favorite chocolate shop is Maison Pierre Marcolini, as Pierre Marcolini is one of the only chocolatiers in the city to personally select the cocoa beans to roast himself. A close runner-up is Galler Chocolatier, where Jean Galler has perfected some interesting flavor combinations (including an apricot praline).
7. Learn some history at Waterloo
Just south of the city is Waterloo, the site of Napoleon's final battle against Europe in 1815. The battle pitted Napoleon against Wellington and the Prussians, marking the end of the Napoleonic Wars. Some 200,000 soldiers were involved and tens of thousands were killed over the course of the day. Although the fields are empty now, at the center of it all is a 40-meter high Lion's Mound, which you can climb to look out across the whole battlefield. There's also a visitor center where you can watch films that explain the battle and what it meant for world history. Admission to the museum is 21 EUR.
8. Admire the view from the Basilique de Koekelberg
The Basilica of the Sacred Heart is the 5th largest church in the world, standing at 89 meters tall (291 feet) and measuring 167 meters long (548 feet). It was built to celebrate the 75th anniversary of Belgium's independence, and King Leopold II laid the first stone in 1905. The art deco style contrast of its green dome against red terracotta stones is a striking sight, but the best part is the view over the city from the church's terrace. It costs 6 EUR to reach it.
9. Hang out at the Grand Salon
The Grand Salon is a square ringed by old mansion houses. The Gothic-style Church of Notre Dame du Sablon can also be found here, but one of the best things to do is sit at a sidewalk cafe, people-watch, and take in the local pace of life. There's also a fun book and antique market during the weekend if you want to browse.
10. Visit AutoWorld
Like cars? AutoWorld is a car museum that has over 250 vintage European and American automobiles from the late 19th century up to the 1970s. It has limousines used by the royal family, Belgian-produced Minervas (a defunct car manufacturer that went out of business in the 1950s), and all kinds of prototype vehicles. Admission is 12 EUR.
For information on other cities in Belgium, check out these guides:
Brussels Travel Costs
Hostel prices – For a hostel dorm, prices range from 24-27 EUR per night for a dorm with 6-8 beds. For a private room, it costs between 60-90 EUR per night. Free Wi-Fi is standard and most hostels have self-catering facilities. Some also include free breakfast.
For those traveling with a tent, camping is available outside the city. A basic plot for one person costs around 13 EUR per night.
Budget hotel prices – A room in a budget hotel costs between 60-130 EUR per night. Expect basic amenities like free Wi-Fi, coffee/tea makers, and TV.
Airbnb is available in the city with private rooms starting at 45-75 EUR per night. Entire apartments average closer to 115 EUR per night.
Average cost of food – Belgian cuisine has been strongly influenced by its European neighbors over the centuries, specifically France, Germany, and the Netherlands. Food here is hearty with chocolate, waffles, fries, and beer being the most famous cultural staples. Steak and fries, mussels (often with fries), smoked ham, stew, and sausages are just some of the common dishes you'll find here. Portions are large and filling too (the saying goes that Belgian food takes the portions of German cuisine but adds the quality and delicacy of French cuisine).
Generally speaking, eating out in Brussels isn't super affordable. Light meals at cafes (like a sandwich, soup, salad, or crepe) cost between 5-9.50 EUR, and fast food (think McDonald's) costs 9 EUR for a combo meal.
For an affordable sit-down meal of traditional cuisine, expect to pay around 15 EUR. If you want to splash out, a three-course meal with a drink costs at least 30 EUR. Chinese food costs around 9-14 EUR while a pizza is around 8-9 EUR.
Beer is around 4 EUR and a latte/cappuccino is 3 EUR. Bottled water is 1-2 EUR.
If you want to cook your meals, there are some great markets throughout the city. Expect to pay around 60 EUR for a week's worth of groceries. This gets you basic staples like pasta, rice, bread, seasonal produce, and some meat or fish.
Backpacking Brussels Suggested Budgets
If you're backpacking here, expect to spend around 65 EUR per day. This budget covers a hostel dorm, cooking most of your meals, taking public transportation to get around, limiting your drinking, and doing most free activities like free walking tours, visiting the markets, and touring the EU parliament.
On a mid-range budget of about 150 EUR per day, you can stay in a private Airbnb or private hostel, enjoy a few drinks, eat out for some meals, take the occasional taxi to get around, rent a bike, and do more paid activities like visiting museums and going to AutoWorld.
On a "luxury" budget of 270 EUR or more per day, you can stay in a hotel, eat out for all your meals, drink as much as you want, take more taxis, and do whatever activities you want. This is just the ground floor for luxury though. The sky is the limit!
You can use the chart below to get an idea of how much you need to budget daily. Keep in mind these are daily averages – some days you'll spend more, some days you'll spend less (you might spend less every day). We just want to give you a general idea of how to make your budget. Prices are in EUR.
Accommodation
Food
Transportation
Attractions
Average Daily Cost
Backpacker
30
15
10
10
65
Mid-Range
75
40
15
20
150
Brussels Travel Guide: Money-Saving Tips
Brussels is a city of diplomats and they have big expense accounts. That means the city is not a super budget-friendly place to visit. However, it's not impossible to save money here. Here are some of my suggestions to help you keep costs down in Brussels:
Get the plat du jour – Many restaurants offer a dish of the day or a fixed menu at lower prices during lunch so this is the best time to eat out if you plan on doing so. That said, cooking your food is still the cheapest option here.
Eat Belgian fries – For an inexpensive and quick snack, try Belgian fries, or frites (usually eaten with mayonnaise). A large cone of fries will cost no more than 3 EUR and are available everywhere in the city. It's not healthy, but it's filling and delicious!
Rent a bicycle – As taxis are so expensive, consider renting a bike to get around. Companies like Villo! and Blue-bike have low rates starting from 3.15 EUR per 24 hours (with the first half-hour often being free).
Use student discounts – Students can receive discounts into many attractions upon presentation of an ISIC card, including half price entry to the Royal Museum of Fine Arts.
Stay with a local – Couchsurfing connects you with locals who will give you a free place and share their insider tips with you. It's the best way to connect with a local while saving money.
Take a free walking tour – Free walking tours are the best way to see the city on a budget. Just remember to tip your guide at the end!
Visit museums when they are free – Many museums offer free entry on the first Sunday of the month. If you time your visit, you can take advantage of this and save some euros. Some of the museums that offer this are the Brussels Museum of The Resistance, the Spontaneous Art Museum, the Belgian Museum of Freemasonry, the Jewish Museum of Belgium, and the Brussels Museum of Industry and Work.
Bring a water bottle – The tap water here is safe to drink so bring a reusable water bottle to save money and reduce your plastic use. LifeStraw is my go-to brand as their bottles have built-in filters to ensure your water is always clean and safe.
Where to Stay in Brussels
There are a lot of hostel and budget hotels in Brussels. My recommended places to stay are:
How to Get Around Brussels
Public transportation – Brussels' extensive public transportation system includes trams, buses, and subway (metro) lines. The city is pretty spread out so you'll find yourself on public transportation often. It's the best way to get around.
A single metro ticket costs 2.50 EUR when purchased inside the vehicle, or 2.10 EUR when purchased at a newsagent or metro station. You can get a five-journey pass for 8 EUR or a ten-journey pass for 14 EUR. A one-day ticket is 7.50 EUR and gives you unlimited travel across all public transportation.
Remember to validate your ticket every time you take public transportation. Failing to do so can result in a significant fine!
The airport bus is 4.50 EUR each way.
Bicycle – There are a handful of bicycle rideshare companies in Brussels, including Villo! and Blue-bike, with incredibly low rates starting from 3.15 EUR per 24 hours. Villo! Rentals are free for rides under 30 minutes.
Taxi – Taxis are very expensive. With the base rate starting at 4.98 EUR and then 1.94 EUR for each additional kilometer, there's no reason ever to take them!
Ridesharing – After a brief ban, Uber is back in operation in Brussels. But, like taxis, it's expensive so skip the ridesharing if you're on a budget.
Car rental – Car rentals are expensive here, costing at least 50 EUR per day. However, the city is easy to get around via public transportation so you definitely don't need a car here unless you are leaving the city to explore the rest of the country/region. Divers need to be at least 21 years of age. To find the best car rental prices, use Discover Cars.
When to Go to Brussels
The best time to visit Brussels is during the shoulder seasons, between March-May and then September-October. Room rates are much cheaper, and you won't have to compete for space at all the city's top attractions. The average daily high from March-May is about 16°C (62°F), while it's more like 18°C (66°F) from September-October.
The summer is the busiest and most popular time to visit. I would avoid visiting during this time, when average daily temperatures are about 23°C (73°F), as prices are inflated and the city's attractions are very busy.
Winter can be frigid, averaging 6°C (43°F) daily but often dropping lower. That said, Brussels is alive with Christmas markets and prices are much lower so it's a fun time to visit if you're going to be browsing markets and enjoy the museums.
If you come during February you can attend Brussels' Carnival. It's a bit of a booze fest and there are lots of costumes and parades, but if you're in the mood to have fun, this is an ideal time to do it.
Brussels weather can also change on a dime all year round so make sure you pack a light sweater and rain jacket no matter what time of year you visit.
How to Stay Safe in Brussels
Brussels is very safe to visit. Violent crime is incredibly rare here, however, pickpocketing and petty theft can occur so always keep your valuables secure and out of reach (especially in crowded areas and on public transportation).
In the evenings, you should avoid wandering through a few areas alone due to increased chances of crime, including Schaerbeek, Brussels North, Molenbeek, and Anderlecht.
Solo female travelers should feel safe here, however, the standard precautions apply (don't accept drinks from strangers, never walk home alone at night intoxicated, etc.).
Scams here are rare, however, if you're worried about getting ripped off you can read about common travel scams to avoid here.
If you experience an emergency, dial 112 for assistance.
Always trust your gut instinct. Make copies of your personal documents, including your passport and ID.
If you wouldn't do it at home, don't do it in Brussels!
The most important piece of advice I can offer is to purchase good travel insurance. Travel insurance will protect you against illness, injury, theft, and cancellations. It's comprehensive protection in case anything goes wrong. I never go on a trip without it as I've had to use it many times in the past. You can use the widget below to find the policy right for you:
Brussels Travel Guide: The Best Booking Resources
These are my favorite companies to use when I travel. They consistently have the best deals, offer world-class customer service and great value, and overall, are better than their competitors. They are the companies I use the most and are always the starting point in my search for travel deals.
Skyscanner – Skyscanner is my favorite flight search engine. They search small websites and budget airlines that larger search sites tend to miss. They are hands down the number one place to start.
Hostelworld – This is the best hostel accommodation site out there with the largest inventory, best search interface, and widest availability.
Booking.com – The best all around booking site that constantly provides the cheapest and lowest rates. They have the widest selection of budget accommodation. In all my tests, they've always had the cheapest rates out of all the booking websites.
Intrepid Travel – If you want to do group tours, go with Intrepid. They offer good small group tours that use local operators and leave a small environmental footprint. And, as a reader of this site, you'll get exclusive discounts with them too!
Get Your Guide – Get Your Guide is a huge online marketplace for tours and excursions. They have tons of tour options available in cities all around the world, including everything from cooking classes, walking tours, street art lessons, and more!
SafetyWing – Safety Wing offers convenient and affordable plans tailored to digital nomads and long-term travelers. They have cheap monthly plans, great customer service, and an easy-to-use claims process that makes it perfect for those on the road.
BlaBlaCar – BlaBlaCar is a ridesharing website that lets you share rides with vetted local drivers by pitching in for gas. You simply request a seat, they approve, and off you go! It's a cheaper and more interesting way to travel than by bus or train!
Brussels Gear and Packing Guide
If you're heading on the road and need some gear suggestions, here are my tips for the best travel backpack and for what to pack!
The Best Backpack for Travelers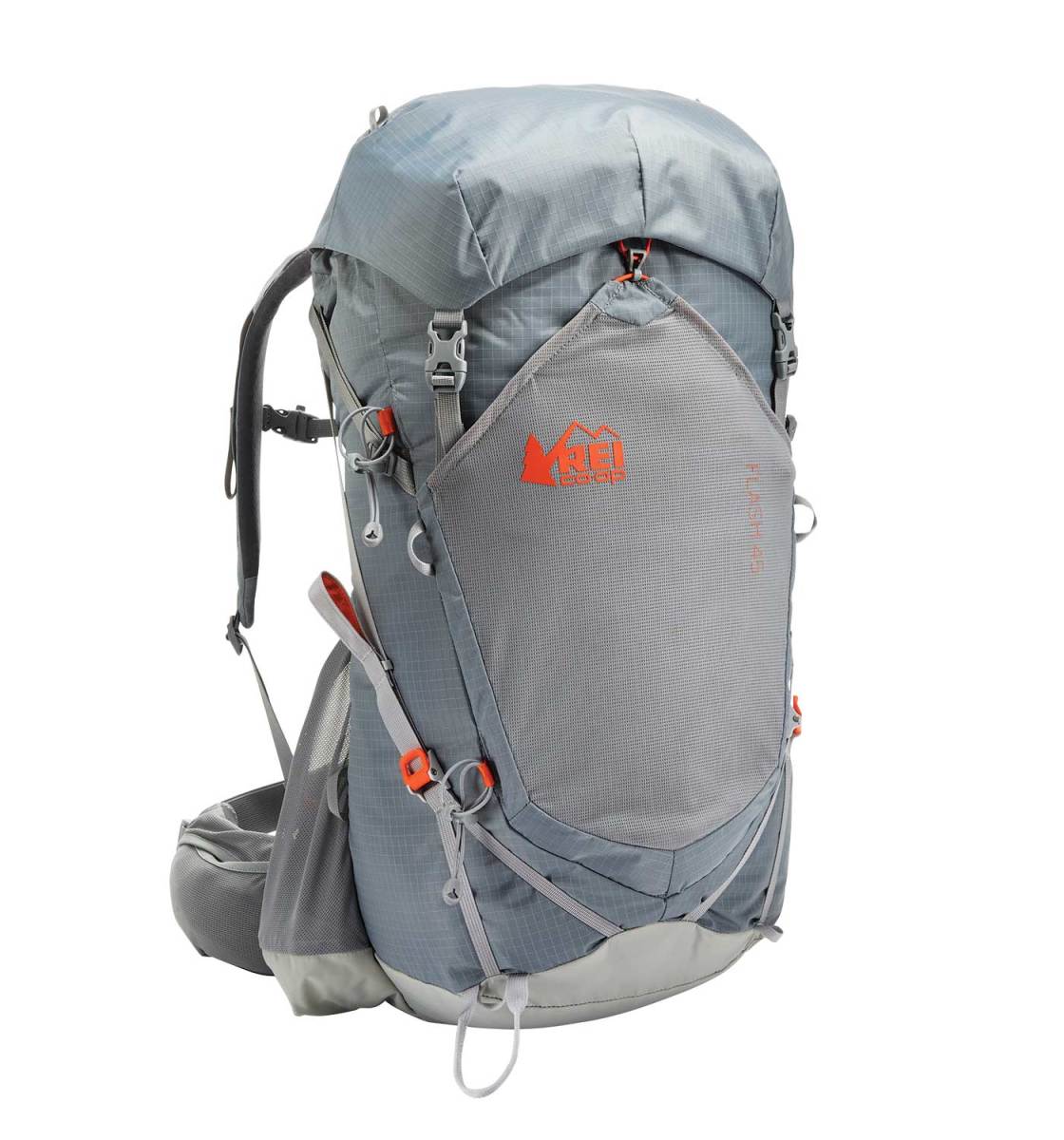 What's the best backpack for traveling long-term? I recommend the
REI Flash 45 Pack
. It's light and comfy, top loading, and fits perfectly in an airplane's overhead bin.
Size:
45-47L
Straps:
Thick and cushy with compression technology that pulls the pack's load up and inwards so it doesn't feel as heavy.
Features:
Removable top lid, pocket at the front, hydration compatible, contoured hip belt
If you want something different, refer to my article on how to choose the best travel backpack for tips on picking a pack and other backpack suggestions.
What to Pack for Your Trip
Clothes
1 pair of jeans (heavy and not easily dried, but I like them; a good alternative is khaki pants)
1 pair of shorts
1 bathing suit
5 T-shirts (Unbound Merino is my preferred company. If you're a member of TNN+, you can get 15% off your purchase)
1 long-sleeved T-shirt
1 pair of flip-flops
1 pair of sneakers
6 pairs of socks (I always end up losing half)
5 pairs of boxer shorts (I'm not a briefs guy!)
1 toothbrush
1 tube of toothpaste
1 razor
1 package of dental floss
1 small bottle of shampoo
1 small bottle of shower gel
1 towel
Deodorant
Small Medical Kit (safety is important!!!)
Miscellaneous
Female Travel Packing List
I'm not a woman, so I don't know what a woman wears, but Kristin Addis, our solo female travel guru, wrote this list as an addition to the basics above:
Clothing
1 swimsuit
1 sarong
1 pair of stretchy jeans (they wash and dry easily)
1 pair of leggings (if it's cold, they can go under your jeans, otherwise with a dress or shirt)
2-3 long-sleeve tops
2-3 T-shirts
3-4 spaghetti tops
1 light cardigan
Toiletries
1 dry shampoo spray & talc powder (keeps long hair grease-free in between washes)
1 hairbrush
Makeup you use
Hair bands & hair clips
Feminine hygiene products (you can opt to buy there too, but I prefer not to count on it, and most people have their preferred products)
For more on packing, check out these posts:
Brussels Travel Guide: Related Articles
Want more info? Check out all the articles I've written on backpacking/traveling Belgium and continue planning your trip: