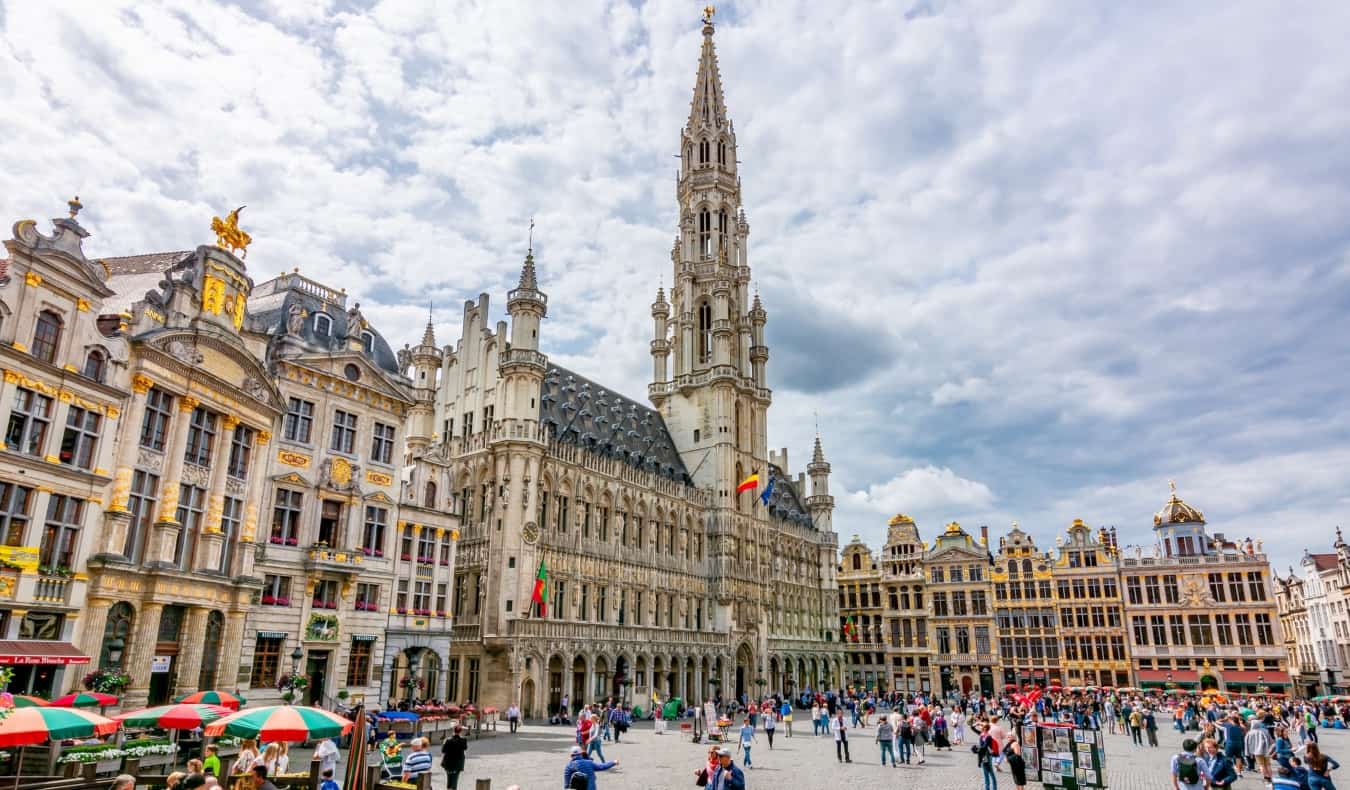 Last Updated: 10/17/23 | October 17th, 2023
Brussels is the capital of Belgium and the de-facto capital of the European Union. A beautiful, charming city, at times it can feel a little stuffy, but it's also a picturesque and historic destination with lots to offer visitors (especially foodies and history buffs).
There have been people inhabiting the Brussels area since the Stone Age. Its location enabled it to benefit from trade, growing rapidly under Roman and then Frankish rule. The city was almost destroyed by the French during the Nine Years War in 1695 when over 4,000 buildings were destroyed. The region was then controlled by the Netherlands until 1830 when the Belgians declared independence.
I think the city is worth a good two or three-day visit in order to soak in all the history, food, and beer. Here's how to make the most of your time:
1. Free walking tour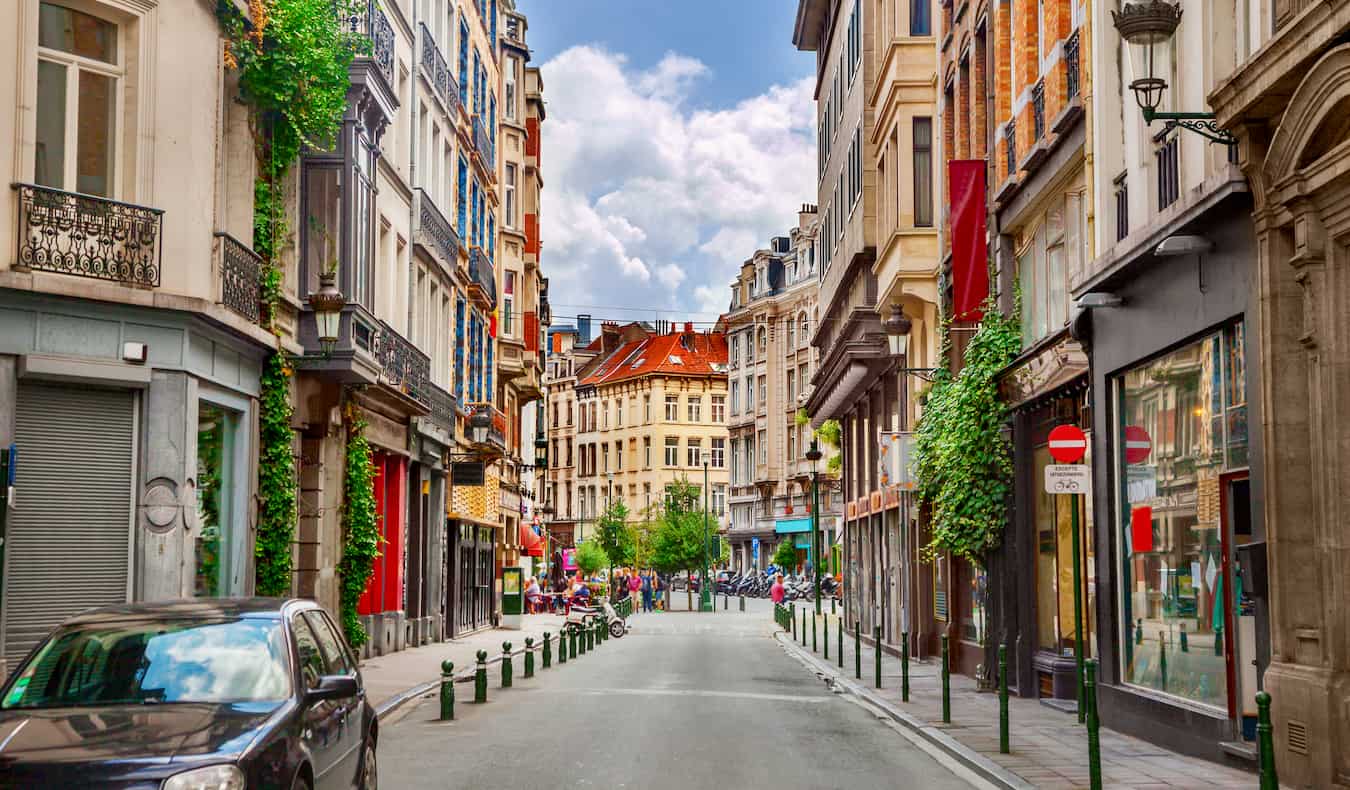 One of the first things I do in a new city is to take a free walking tour. It's the best way to get the lay of the land, see the main sights, and connect with a local guide who can answer all my questions (like lesser-known spots to go, eat, and drink). Sandemans New Europe and Free Tours by Foot both run daily free tours that cover all the highlights. Just remember to tip your guide at the end!
2. The Grand-Place
A UNESCO World Heritage Site and Brussels' most popular tourist attraction, the Grand-Place is an expansive square surrounded by fairytale-like Baroque guildhalls. The Town Hall and the King's House/Bread House (now home to the Brussels City Museum) are located here as well. While the square's history dates back to the 11th century, it was mostly destroyed during the Nine Years War and subsequently rebuilt during the 18th and 19th centuries.
As the heart of the city, many events and festivals take place here throughout the year, notably the city's festive Christmas Market and winter light show. Every two years in August, the entire square is covered with a massive Flower Carpet, a huge floral display that takes half a million begonias to complete.
3. The Royal Palace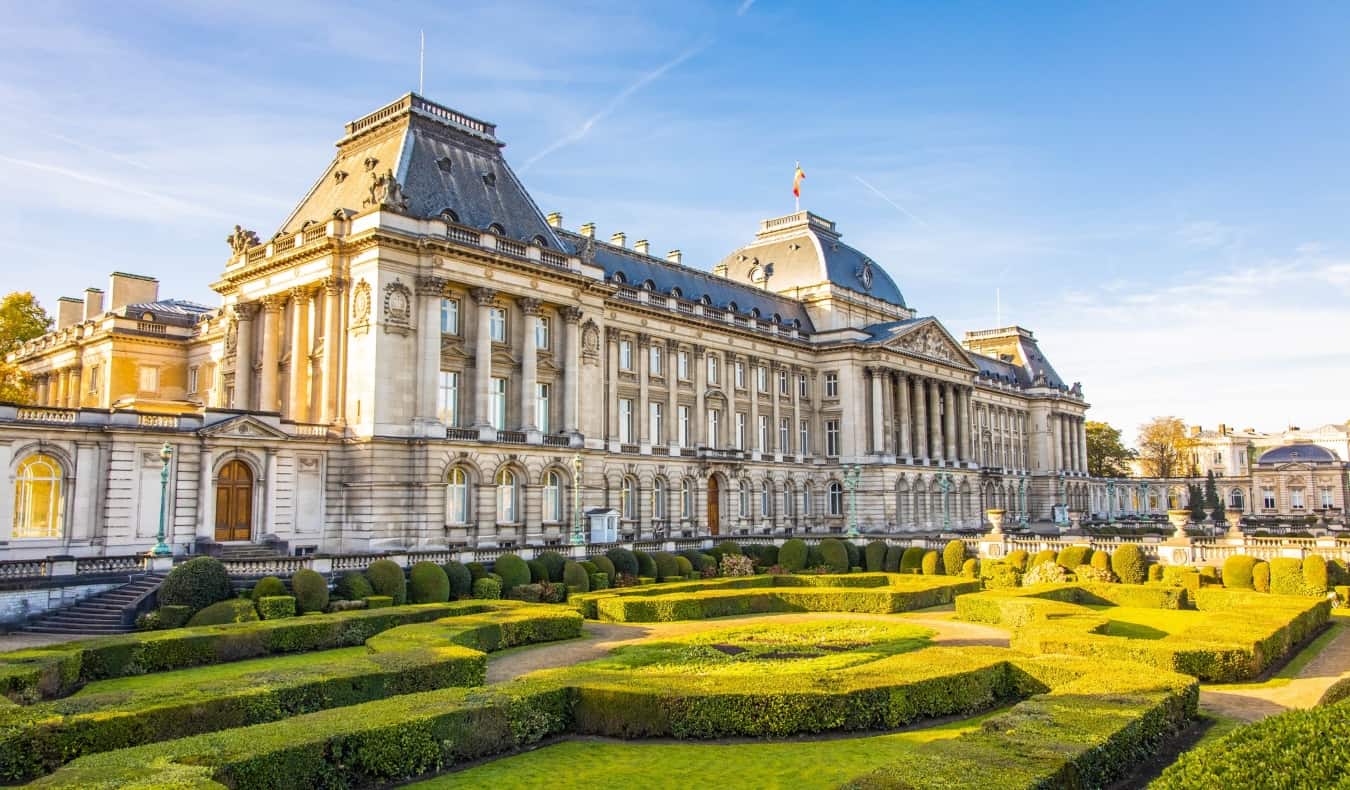 Originally constructed in the 18th century, this is where the King and Queen host receptions and handle state affairs (though they don't actually live there full time). To help you get a sense of the size, the façade of the building is actually 50% longer than London's Buckingham Palace!
The palace is only open during one month each year (from the end of July to the end of August) when the royal family is on vacation. If you're here during this time, take advantage of visiting (it's free). You can tour the many gilded rooms, including the Throne Room, Hall of Mirrors, the Marble Room with its green, pink and black marble fireplaces, and various other ballrooms, anterooms, and sitting rooms.
4. Notre Dame du Sablon
This 15th-century Gothic Catholic church, officially called The Church of Our Blessed Lady of the Sablon, was where the city's rich and well-off came to worship. The exterior is impressive with its intricate carvings, but inside you'll find 11 beautiful stained glass windows, a wooden pulpit from the 17th century, and two incredible Baroque chapels that were added in the 17th century. Across the street is the following park, The Square of Petit Sablon.
Rue des Sablons, +32 2 213 00 65, en.fondsamiseglisesablon.be. Open daily, 10am-6pm (weekends open from 9am, closed during Sunday Mass from 11:45am-1:15pm).
5. Square of Petit Sablon
This beautifully manicured Neo-Renaissance-style park is a tranquil place that's worth a stop before or after you visit Notre Dame. It's best known for its collection of 48 statues that sit atop pillars integrated into the ornate wrought-iron fence. Each statue represents a medieval profession that was common in the city, and every pillar, statue, and section of the wrought-iron fence has a unique design. The central fountain depicts two counts who led the Dutch revolt against Spanish rule, and is surrounded by a semicircle of 10 famous individuals from the 16th century.
Pl. du Petit Sablon 12, +32 2 775 75 75, gardens.brussels/nl/groene-ruimten/kleine-zavelsquare. Hours vary by season, with longer hours in the evening in the summer. You can always expect the park to be open between 9:30-4:45pm.
6. The Palace of Justice
The most important court in Belgium, the Palace of Justice was built in the 19th century, when it was the largest structure in the world. It remains the largest structure built in that century (it covers 26,006 square meters/279,930 square feet), though not without significant controversy as over 3,000 homes were demolished to make way for it and, needless to say, the locals were not pleased. This massive building is actually larger than St. Peter's Basilica in Rome and cost approximately 45 million Belgian Francs ($300 million USD in today's currency) to construct and furnish.
You can walk in and along the main hallways completely for free, admiring the hugely impressive marble staircases, columns, and statuary. Don't expect much from the outside though as the building has been covered in scaffolding since 1984!
Pl. Poelaert 1, +32 2 508 61 11. Open Monday to Friday 8am-5pm.

7. Manneken Pis and Jeanneke Pis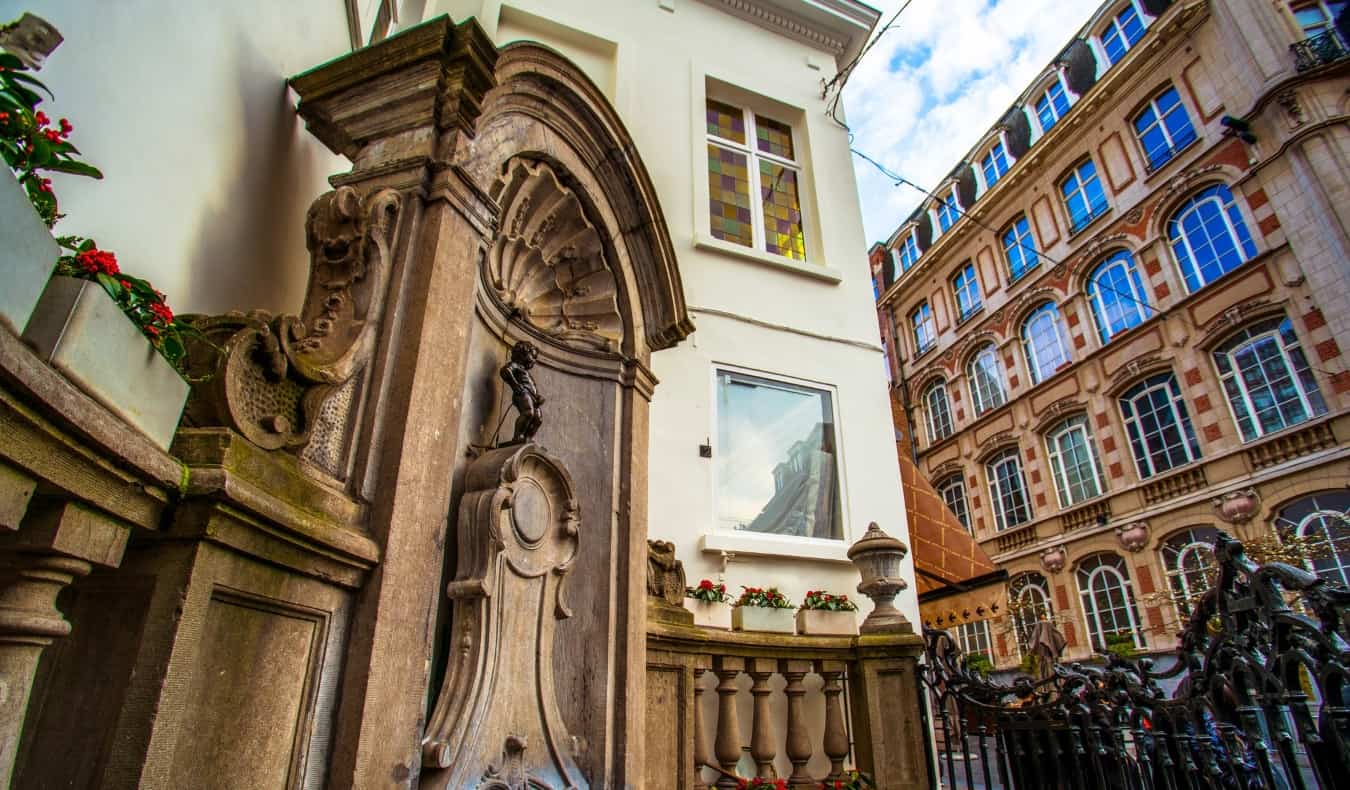 Originally installed in the 15th century to distribute drinking water, Manneken Pis is a statue of a little boy peeing that has become a symbol of the city. Legend has it that the statue depicts a little boy who once saved the city from being burned down by urinating on the start of a fire. As the statue has been stolen so many times, what you see now is a bronze replica of the original, which is on display in the Brussels City Museum.
Nearby you can also find Jeanneke Pis, which is of a little girl urinating (it's as weird as it sounds), and Het Zinneke, a statue of a urinating dog. They are meant to reflect the Belgian sense of humor, which is part of the reason why they are hugely popular in the city.
8. European Parliament
Founded in 1952, all 705 members from 27 countries gather here to debate the future of the European Union. You can watch a parliamentary session in the Hemicycle (the debating chamber) or, when parliament isn't in session, tour the building with an audio guide. Space is limited so book in advance (it's free). On Mondays at 11am and 3pm, there are in-depth guided tours offered in both English and French. These informative tours will give you a much more nuanced understanding of how the EU works and how it goes about making changes that affect all of its member states.
Rue Wiertz 60, +32 2 284 21 11, visiting.europarl.europa.eu/en. Open Monday-Thursday 9am-5pm, 9am-1pm on Fridays.
9. Galeries Royales Saint-Hubert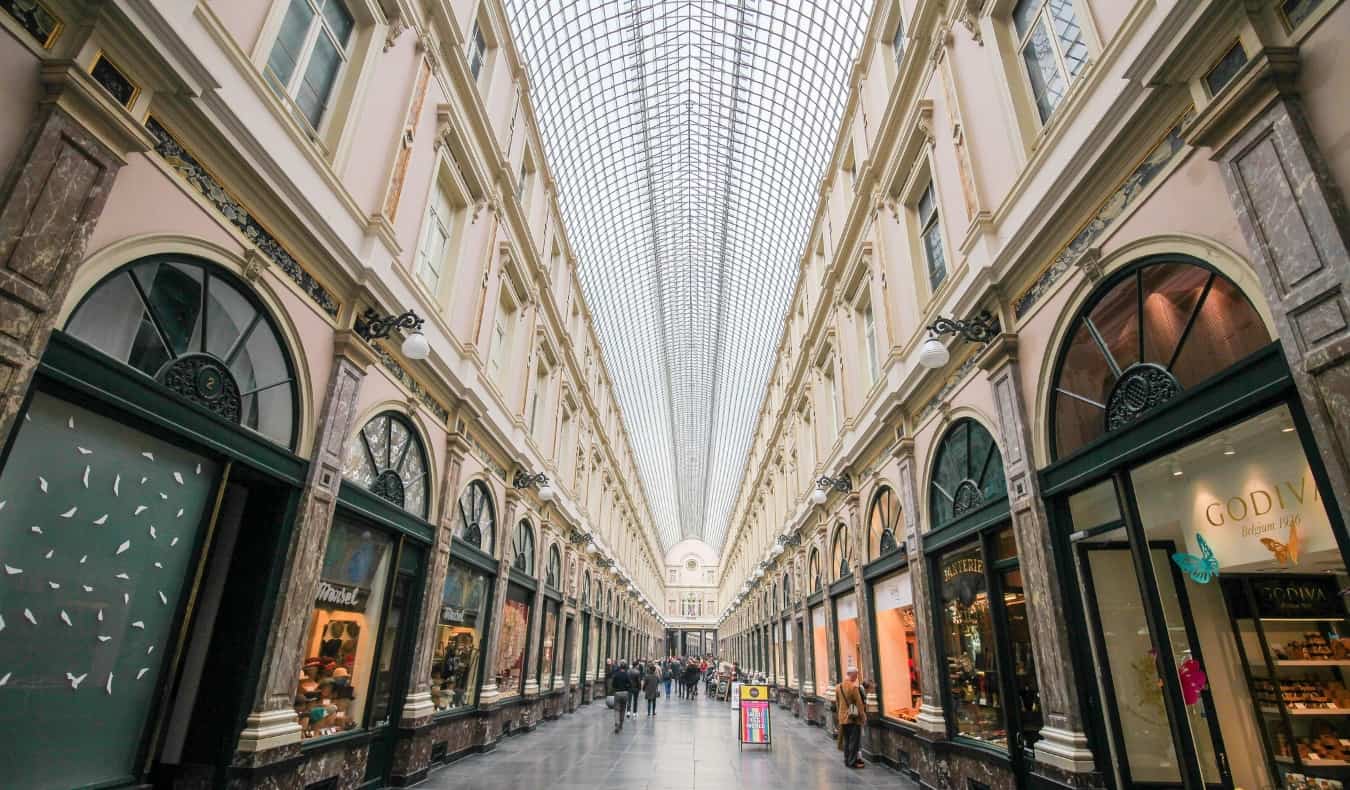 Opened in 1847, this is the oldest shopping arcade in Europe. Known as the Umbrella of Brussels, it was designed with a glass roof to create a shopping area that was well lit, to prevent illicit and nefarious goings-on (essentially it was made so the rich could feel more comfortable going there). You'll find all sorts of cafés, restaurants, chocolateries, and luxury shops here. It's beautifully lit up at night too.
Galerie du Roi 5, +32 2 545 09 90, grsh.be/en/home. Open 24 hours, shop hours vary.
10. Visit St. Michael and Gudula Cathedral
Built in 1047, this cathedral is the official site of all royal Belgian weddings, funerals, and coronations. It houses a lot of medieval artifacts, including stained-glass windows donated by Holy Roman Emperor Charles V. Entrance is free but it's 3 EUR to see the Romanesque crypt, 1 EUR for the church's archaeological site, and 2 EUR for the Treasury.
Pl. Sainte-Gudule, +32 2 217 83 45, cathedralisbruxellensis.be. Open daily, 8am-6pm.
11. Drink at Delirium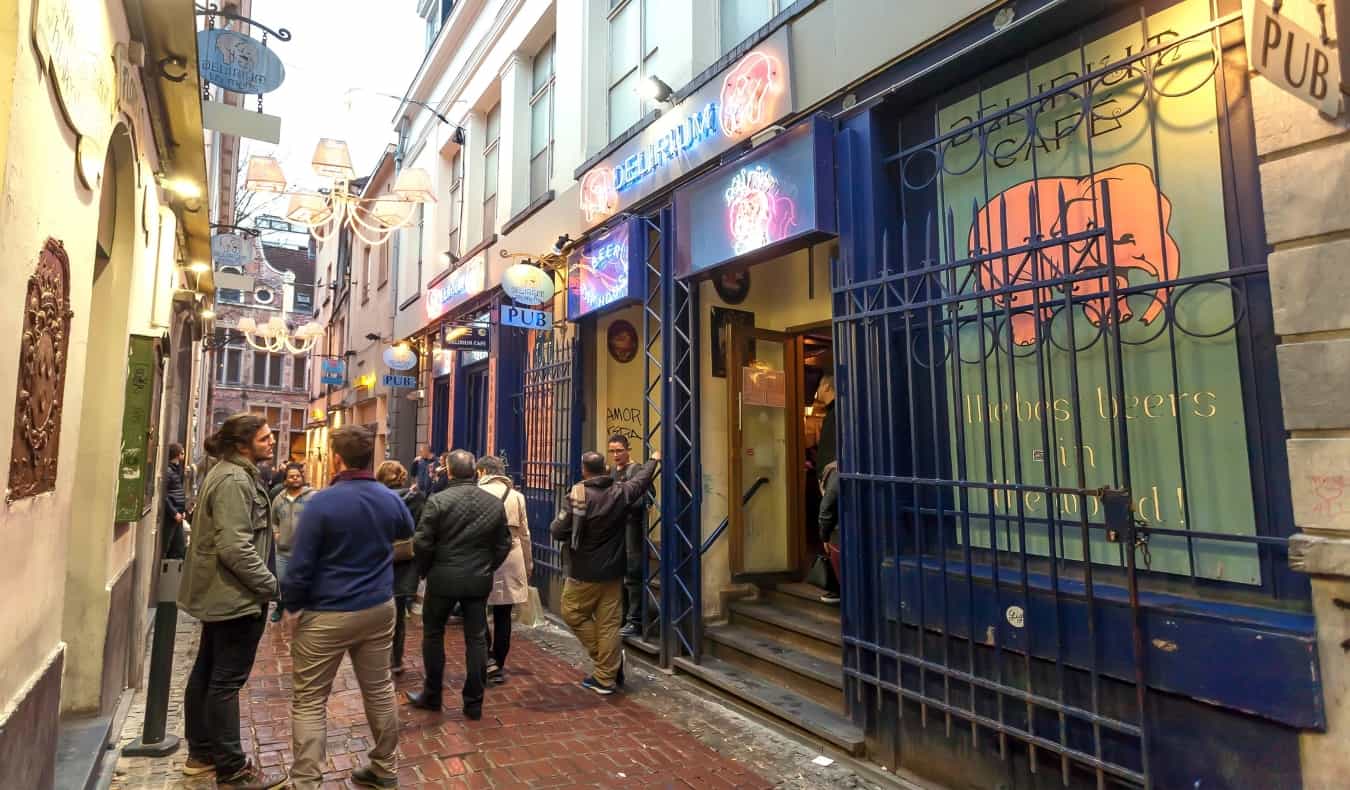 This place has the longest beer menu in the world, home to over 2,000 beers (they actually won the Guinness Record for it). There are beers from over 60 countries here, including a wide selection of Belgian beers. Sure, it's crowded and touristy, but it's fun and a great place to try the local beers.
Imp. de la Fidélité 4, +32 2 514 44 34, deliriumvillage.com. Open Monday-Thursday 11am-3am, Friday-Saturday 11am-4am, and Sundays 11am-2am.
12. Cantillon Brewery
Founded in 1900, Cantillon Brewery is the last surviving lambic brewery (a Belgian beer brewed with raw wheat and wild yeast and fermented for at least a year) in Brussels. They now offer tours to the public, where you'll get to watch the beer-making process in action, learn about older brewing equipment (they still use the original equipment) and methods from the 20th-century, and sample some of their beer!
Guided tours are offered on Saturdays only for 12 EUR, or you can take a self-guided tour throughout the week for 8 EUR. If you want to visit more than one brewery on a tour, check out this beer tasting tour where you'll visit a few different breweries and enjoy some traditional Belgian snacks with your beers.
rue Gheude 56, +32 2 521 49 28, cantillon.be. Open Monday, Tuesday, Thursday-Saturday from 10am-4pm.
***
Whether you're here for a weekend getaway or planning to stick around for a few days (or weeks!), Brussels will be able to keep you entertained. It's a picturesque city with all the beer, waffles, chocolate, and frites that you can handle, making it a worthwhile stop on any trip to Europe!


Get Your In-Depth Budget Guide to Europe!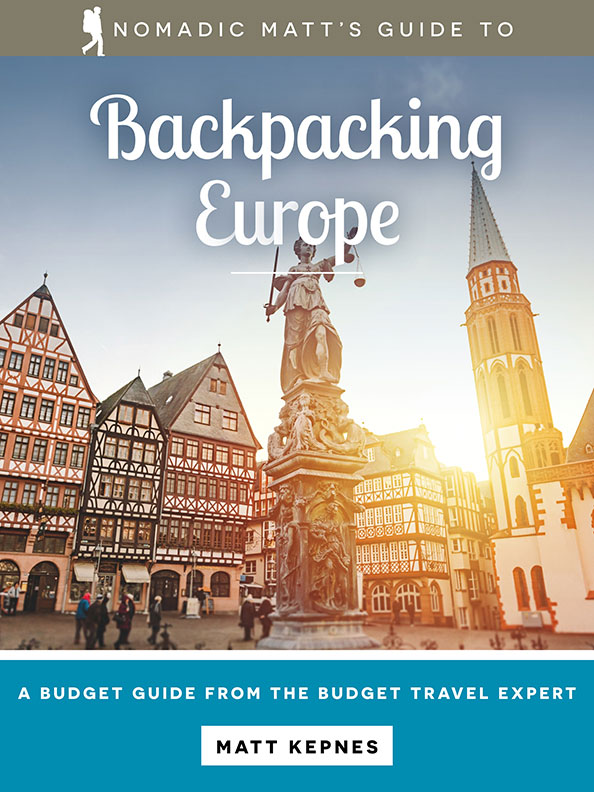 My detailed 200+ page guidebook is made for budget travelers like you! It cuts out the fluff found in other guides and gets straight to the practical information you need to travel while in Europe. It has suggested itineraries, budgets, ways to save money, on and off the beaten path things to see and do, non-touristy restaurants, markets, bars, safety tips, and much more! Click here to learn more and get your copy today.
Book Your Trip to Brussels: Logistical Tips and Tricks
Book Your Flight
Use Skyscanner to find a cheap flight. It's my favorite search engine because it searches websites and airlines around the globe so you always know no stone is left unturned.
Book Your Accommodation
You can book your hostel with Hostelworld as they have the biggest inventory and best deals. If you want to stay somewhere other than a hostel, use Booking.com as they consistently return the cheapest rates for guesthouses and cheap hotels. My favorite places to stay are:
Don't Forget Travel Insurance
Travel insurance will protect you against illness, injury, theft, and cancellations. It's comprehensive protection in case anything goes wrong. I never go on a trip without it as I've had to use it many times in the past. My favorite companies that offer the best service and value are:
Looking for the Best Companies to Save Money With?
Check out my resource page for the best companies to use when you travel. I list all the ones I use to save money when I'm on the road. They will save you money when you travel too.
Want More Information on Brussels?
Be sure to visit our robust destination guide on Brussels for even more planning tips!