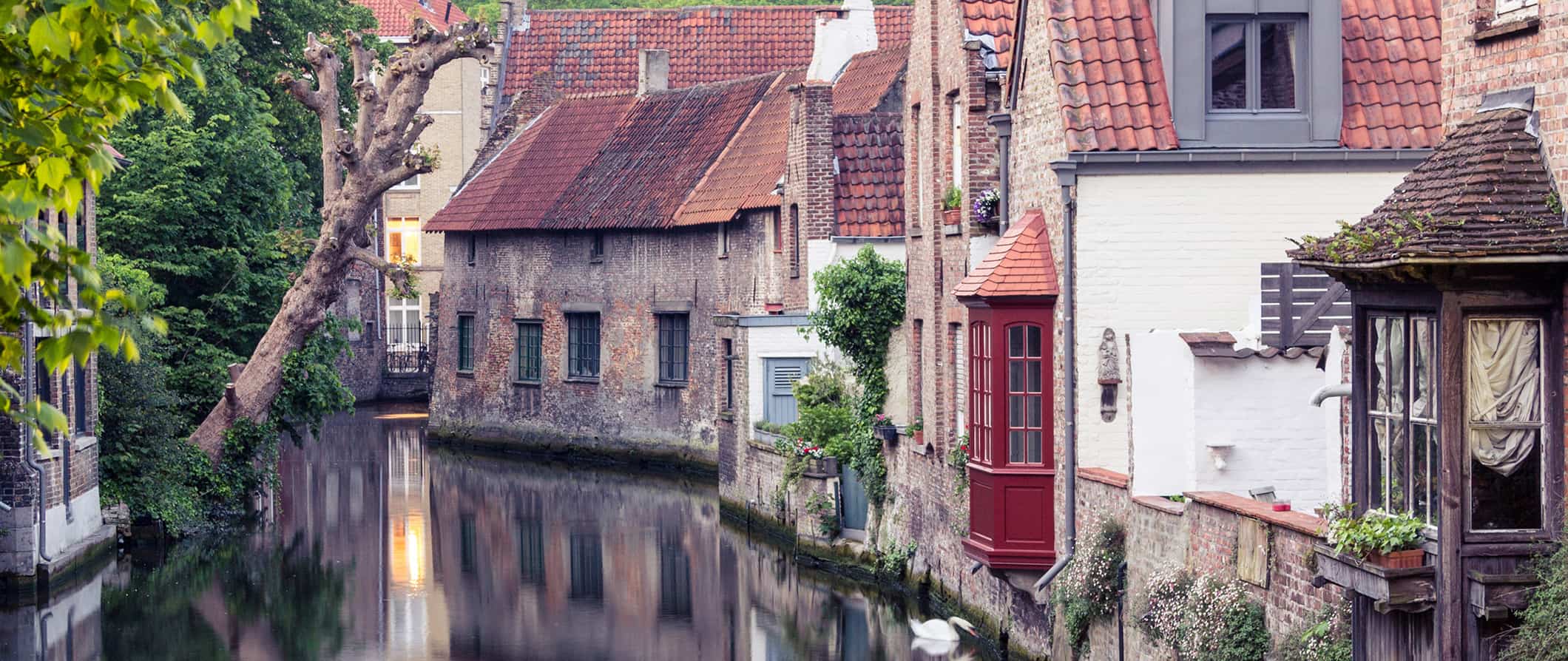 Bruges, filled historical and medieval buildings, canals, and cobblestone streets, is one of the most popular medieval cities in Europe, especially after the movie In Bruges shined a light on it. Busloads of people come here for quick trips to take photos of the canals and buildings. I found this city to be very charming, though expensive and touristy. It's not a wild party city, there are few things to do there, and, if you're solo, can get a bit boring if your goal isn't to relax. That being said, if you pass through Belgium, you're crazy for not stopping off here for at least a night. It's too beautiful not to see.
Top 5 Things to See and Do in Bruges
1. Take a canal tour
Take a canal trip down the arteries of Bruges. A half hour boat trip on the waterway takes you around secret gardens, picturesque bridges, and ornately designed medieval buildings. This is a perfect way to capture the magic of the city, which costs around 8 EUR.
2. Grote Markt
This is the city's beautiful and medieval central square. It's stunning. But I'd advise skipping the restaurants here as they are expensive. During Christmas time, this area is transformed into a gorgeous Christmas market, complete with its very own ice-skating rink.
3. The Burg
The Burg was completed in 1376 and boasts a Gothic stone decor. The Basilica of the Holy Blood also stands in the corner of the square. Inside, the church contains two distinct areas; the Romanesque style lower chapel and the ornate and colorful upper chapel.
4. Gorge on chocolate
With 49 chocolate boutiques, the chocolate museum, a chocolate trail, and a chocolate fair, this city is a chocolate-lovers paradise. You will find more of the higher end, refined chocolate in this city. Dig in!
5. Take a hot air balloon ride
While not exactly budget friendly (prices are around 170 EUR) this is a really neat way to see the city from a new perspective. Definitely a cool option for anyone feeling adventurous or in the mood for some romance!
Other Things to See and Do
(Click the title to expand the text)
1. Visit the museums
Bruges has its fair share of museums. The City Museum of Fine Arts is perhaps the most popular, exhibiting works from Bruges' own Jan van Eyck. There is also a world-famous collection of paintings by the Flemish Primitives. Overall, most of the museums are small so you can see them all in a day but they do a thorough job highlighting the city's medieval past.
2. Belfort Belfry
Climb the Belfort tower, and enjoy some spectacular views of the city. This 83-meter tall bell tower is definitely one of Bruges' best-known landmarks. From the top, it's easy to get an idea of exactly how compact the city is. It costs 10 EUR.
3. Drink beer
A trip to the Brewery De Halve Maan entitles you to a guided tour through this family run brewery and a chance to sample the beer at the end. If you don't want to do a brewery visit, head to Snuffel Hostel as they have a bar with a huge variety of Belgian beer to choose from.
4. Look for Belgian lace
Lacemaking is a big part of Belgium's heritage. While needle lace is more common throughout Brussels, you are likely to see bobbin lace all over. There are many lace shops in the city as well as workshops and street artisans.
5. The English Theatre
This theater is open all year round, and there are several, high-end productions to check out throughout the year. It's not that expensive and conveniently located in the city center.
6. Explore by bicycle
Owing to its smaller size, Bruges is a great city to explore on bicycle. Be sure to get out into the countryside, too, if you have the time. Rentals are around 8 EUR for half day, and 12 EUR for a full day.
Typical Costs
Hostel prices
– Hostel dorm rooms will cost between 20-25 EUR per bed. A private room for two with an ensuite bathroom will cost anywhere from 50-90 EUR. My suggested place is:
Budget hotel prices – Two-star hotels start at about 60 EUR for a room with basic amenities and free WiFi. Many hotels at this price point offer free breakfast as well. Airbnb shared rooms start around 18 EUR a night and whole apartments start around 40 EUR a night with the more common average being 55 EUR.
Average cost of food – Casual meals at cafes and fast food cost around 12 EUR. A meal in a sit-down restaurant, especially in the town square, with table service will cost around 25-30 EUR for food and drinks. If you want to cook your meals, there are some great markets throughout the city. Expect to pay around 60 EUR for a week's worth of groceries.
Transportation costs – Most of the city is walkable, but if you wanted to take a taxi, expect to pay 12 EUR for anywhere in the city. The local bus costs 3 EUR per trip and tickets are good for one hour after validating. You can save money by purchasing tickets via text message, buying multi-day passes, or buying a 10-ticket bundle and splitting the tickets between multiple people for 9 EUR.
Suggested daily budget
60 EUR / 62 USD (Note: This is a suggested budget assuming you're staying in a hostel, eating out a little, cooking most of your meals, and using local transportation. Using the budget tips below, you can always lower this number. However, if you stay in fancier accommodation or eat out more often, expect this to be higher!)
Money Saving Tips
Get Youth Discounts – If you're under 25, then you can gain entry to the city's museums for just 1.50 EUR.
Walk around – Unless you've over indulged on beer and chocolate and are too full, walking is the best way to get around. Most of the city's main attractions are within 15 minutes of each other. There's really no reason to take a bus or taxi.
Get the BrugesCard – This handy little card entitles you to free entry to 27 museums and attractions in Bruges as well as the cruises on the canal. You can also get 25% off a variety of concerts, dance and theater, and rental bicycles. If you are going to do many of the things listed on the card, this pass is going to save you money!
Visit the market – On a Wednesday morning, the Grote Markt Square is taken over by a market which offers cheaper food and drinks that what you'll usually find. Restaurants are expensive, so loading up on fresh food at the market will cut down your food expenses.
Couchsurf – Nothing's cheaper than sleeping for free. Couchsurfing connects you with locals who will give you not only a free place to stay, but also a local tour guide who can introduce you to all the great places to see.
My Other Must Have Guides For Traveling to Bruges
Photo credits: 4