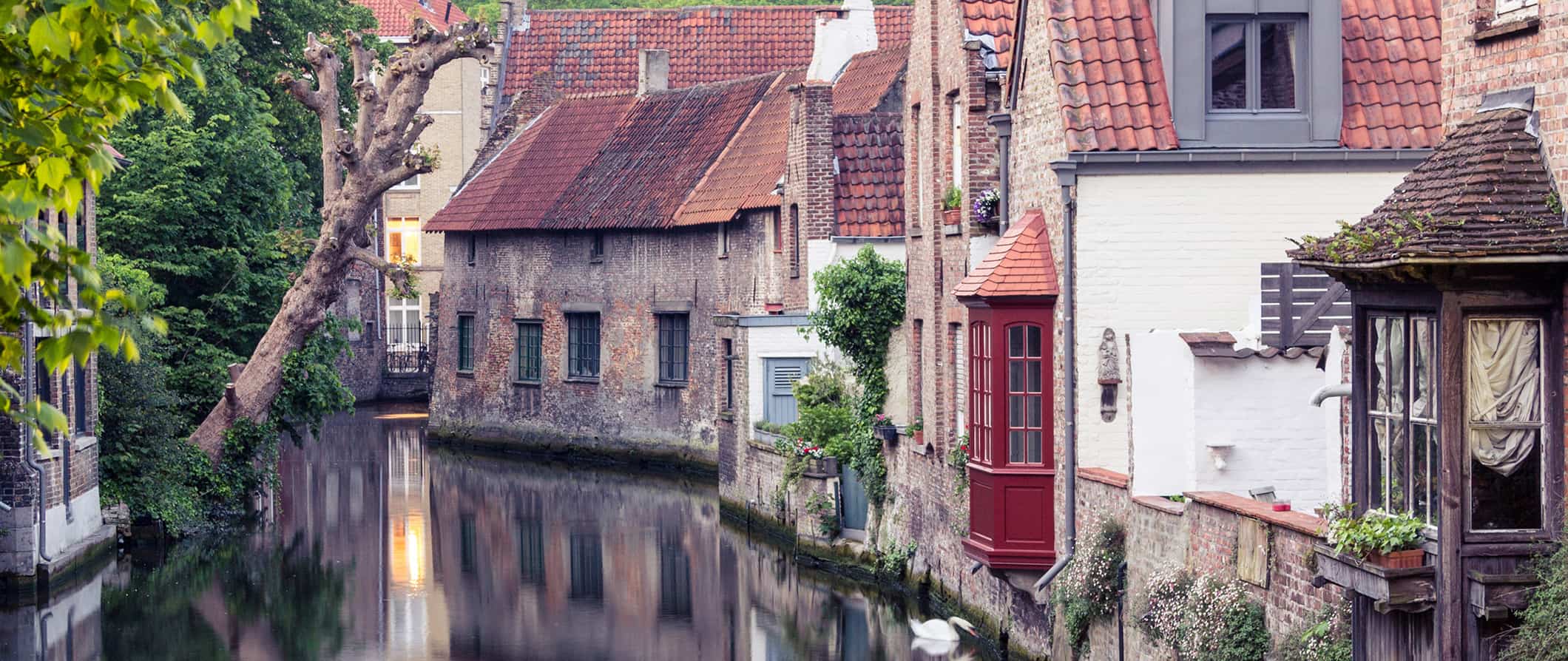 Bruges is one of the main reasons people travel to Belgium. It's one of the most famous medieval cities in Europe, boasting historic buildings, scenic canals, and attractive cobblestone streets. In fact, the entire historic center is recognized as a UNESCO World Heritage Site.
The first fortifications here were built in the 1st century BCE though the city didn't prosper until the Middle Ages when it became an economic hub under the Hanseatic League. It was also home to the world's first stock exchange (the Bourse), which opened in the 14th century.
Naturally, I found Bruges to be a very charming place to visit. It's also expensive and touristy and there aren't a lot of backpackers or budget travelers in Bruges due to the high prices.
That said, it really is beautiful (it's called the "Venice of the North" for a reason). If you pass through Belgium, you'd be missing out if you don't stop and visit Bruges for at least a night. Feast on waffles and chocolate, cruise the canals, and get your cultural fix while perusing the artwork at the Groeninge Museum. There is enough to keep you busy here for a day or two without busting your budget.
This Bruges travel guide can help you plan your trip, save money, and ensure you make the most of your time in this picturesque medieval town!
Top 5 Things to See and Do in Bruges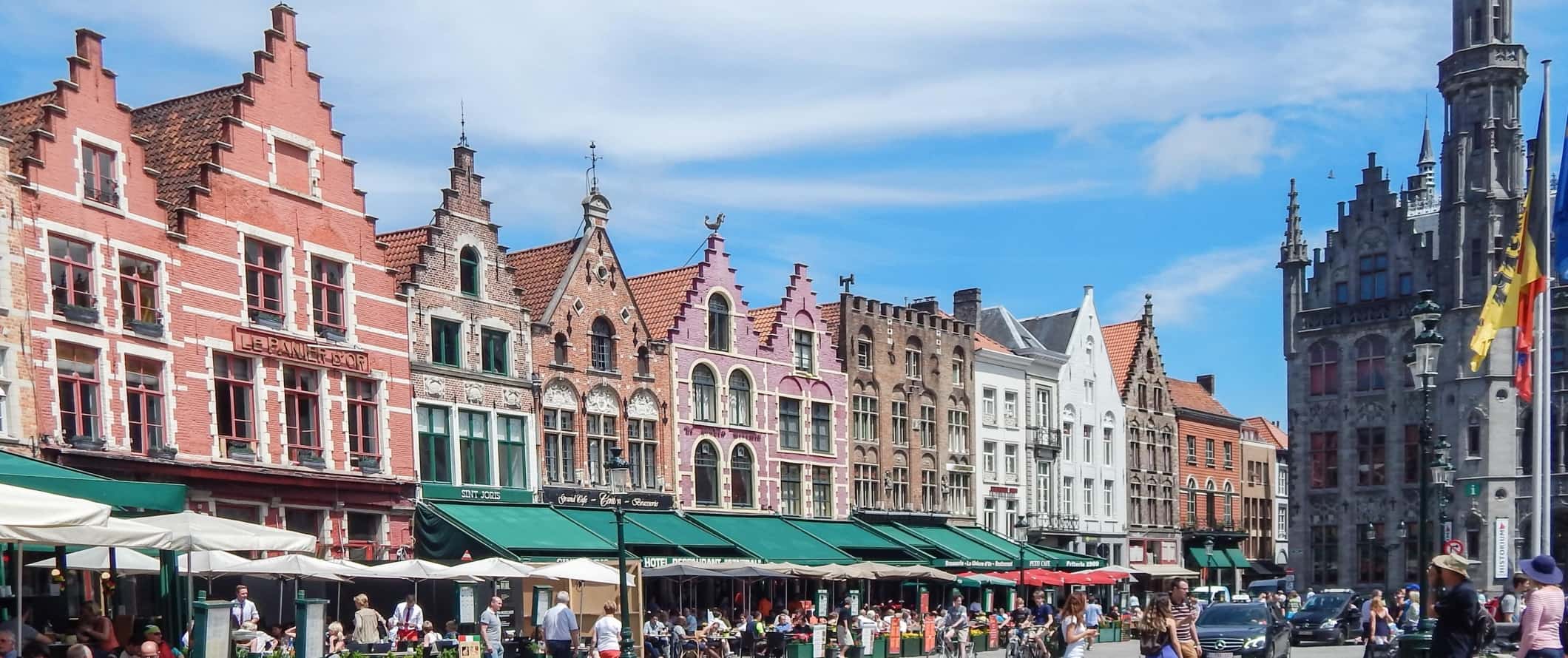 1. Take a canal tour
Taking a canal trip down the arteries of Bruges is the perfect way to capture the magic of the city. A half-hour boat trip takes you around secret gardens, picturesque bridges, and ornate medieval buildings. It's a great way to learn about the city from a different angle. Tours cost around 12 EUR, or you can take this combo canal and walking tour for the best of both worlds.
2. Admire Grote Markt
This is the city's beautiful and medieval central square, dating all the way back to 958 CE. It's stunning to see, though I'd advise skipping the restaurants here as they are overpriced. During Christmas, this area is transformed into a gorgeous Christmas market with its very own ice-skating rink.
3. See The Burg
The Burg is a city square that was completed in 1376. It boasts Gothic stone décor, and the Basilica of the Holy Blood is located here (so-called because it supposedly houses a relic of Jesus's blood). Inside the church, there are two distinct areas: the Romanesque-style lower chapel and the ornate and colorful upper chapel. Entry to the basilica is free, while admission to the associated museum is 5 EUR.
4. Feast on chocolate
With dozens and dozens of chocolate boutiques, a chocolate museum, a chocolate trail, and a chocolate fair, this city is a chocolate-lovers paradise. You'll find more of the higher-end, refined chocolate in this city — but it's worth splurging on. You can even take a chocolate-making workshop to make your own Belgian chocolates!
5. See the Belfort Belfry
This 83-meter-tall (272 feet) bell tower is one of Bruges' best-known landmarks. It once housed the treasury and the municipal archives and was used for spotting fires and other threats. After (somewhat ironically) being destroyed by fire one too many times, the belfry was never rebuilt and now only the tower remains. Climb the 366 steps to the top and enjoy some spectacular and panoramic views of the city. It costs 14 EUR.
Other Things to See and Do in Bruges
1. Visit the Groeninge Museum
The Groeninge Museum is one of the most popular museums in the city, exhibiting works from Bruges' own Jan van Eyck (a 15th-century master). There is also a world-famous collection of paintings by the Flemish Primitives (artists active in the Burgundian and Habsburg Netherlands during the 15th- and 16th-century). Admission is 14 EUR.
2. Take a hot air balloon ride
While not exactly budget-friendly (prices are around 190 EUR per person) this is a really neat way to see the city from a new perspective. It's a cool option for anyone feeling adventurous or in the mood for some romance.
3. Sample the beer
Like the rest of Belgium, there's a lot of good beer in Bruges. Visit the Brewery De Halve Maan, which dates to 1856, and tour the facilities, where an underground pipeline carries the beer to bottling plants in the suburbs (tours cost 15 EUR and come with a free beer). There's also 'T Poatersgat, an amazing underground cellar bar with around 120 Belgian beers on tap. Or try the house beer at Vlissinghe Café, the oldest pub in Bruges (it's been around for 500 years!).
4. Explore by bicycle
Owing to its smaller size, Bruges is a great city to explore by bicycle. Be sure to get out into the countryside if you have the time as the landscape is very pretty and it will be much quieter. Rentals cost around 10 EUR for 4 hours and 13 EUR for a full day. If you want a guided tour, Quasimundo runs regular tours that cover all the highlights. Their tours last 2.5 hours and cost around 33 EUR.
5. Take a food tour
If you've got an unquenchable taste for Belgian beer and waffles, take a food tour. Discover Belgium has a variety of different food tours, including a beer and food pairing tour, a chocolate tour, and a gamified food tour where you have to solve puzzles while you learn about the food and city history. There's also a classic food tour, where you'll get an overview of the country and its delicious cuisine, visit several different places, and learn about the history and culture behind each dish. Tours range from 35-79 EUR and last around 4 hours. If you want to learn how to make some Belgian classics yourself, you can learn how to make waffles in this workshop — and eat all the waffles you want too!
6. Tour some of the quirkier museums
Bruges has several small, quirkier museums that are worth visiting if you have some spare time. The Diamond Museum takes you back 550 years to when the technique of cutting diamonds was first applied right here in the city (admission is 9.50 EUR). There's also the Chocolate Museum (11 EUR), where a tour comes with a delicious tasting session, and the much darker Torture Museum, filled with grotesque instruments of torture that were used during the Middle Ages (9 EUR). Last but not least, the interactive (and delicious) Frietmuseum is the only museum in the world dedicated to tracing the history and culture of the french fry (admission is 8 EUR and advance reservations are required).
7. Meander around Minnewater Park
This beautiful greenspace is a great place for a stroll. The park is filled with weeping willow trees and swans bobbing around Minnewater Lake, or "Lake of Love" (though it's more like a wider section of the canals than an actual lake). It's said that the lake's name is in reference to a pair of doomed medieval lovers, but that if you cross the bridge with your partner, you'll experience eternal love.
8. See the windmills
Belgium has a long history of using windmills, and in the 16th century, there were over two dozen windmills in Bruges (windmills were used for cutting wood, pumping water, and grinding grain). There are a number of historic windmills from the 17th-19th centuries still standing, though you can only visit one: Sint-Janshuismolen. It still grinds flour and has a museum in the base where you can learn more about the windmill and grinding process (admission is 4 EUR).
9. Visit Historium Bruges
This interactive museum offers a unique way to learn about the city's medieval history and everyday life through film and other multimedia exhibits. You can even do a virtual reality experience where you fly through the medieval streetscapes to see what the city used to look like hundreds of years ago. It's an especially great place to visit for families with kids. Admission is 17 EUR or 21 EUR including the virtual reality experience. It's recommended to book online beforehand to avoid the line.

For information on other cities in Belgium, check out these guides:
Bruges Travel Costs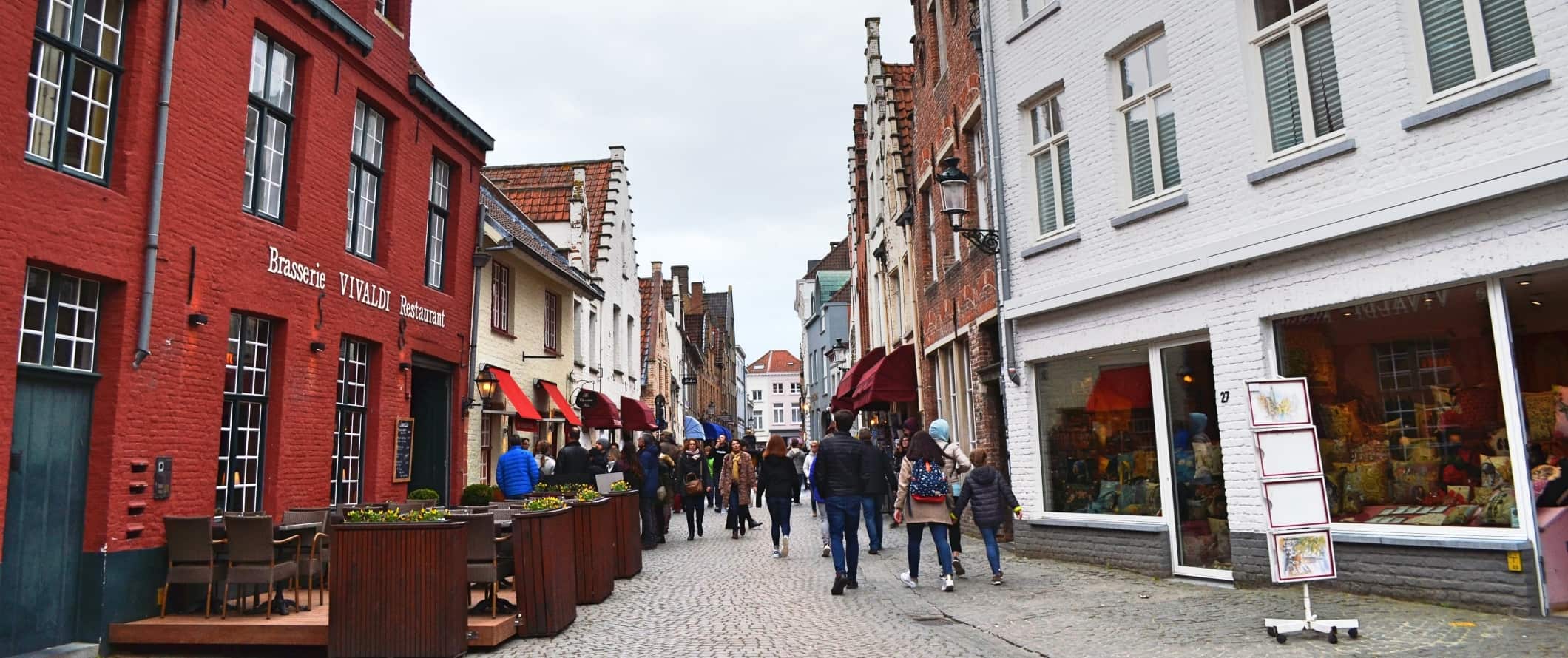 Hostel prices – Dorms with 6-8 beds cost 22-25 EUR per night. Dorms with 10 or more beds are 18-22 EUR per night. A private room for two with a private bathroom costs 60-100 EUR. Free Wi-Fi is standard though most hostels don't offer free breakfast or self-catering facilities.
For those traveling with a tent, camping is available outside the city. A basic plot for two without electricity starts around 17 EUR per night.
Budget hotel prices – Budget two-star hotels range from 60-90 EUR per night. However, there are more options with three-star hotels, which cost between 70-139 EUR per night. Expect basic amenities like free Wi-Fi, TV, and coffee/tea makers.
Airbnb is available here as well, with private rooms starting around 75-100 EUR per night. You can find whole apartments for around 200 EUR per night. Be sure to book early otherwise prices can double.
Average cost of food – Belgian cuisine has been strongly influenced by its European neighbors over the centuries, specifically France, Germany, and the Netherlands. Food here is hearty with chocolate, waffles, fries, and beer being the most iconic cultural staples. Steak and fries, mussels (often with fries), smoked ham, stew, and sausages are just some of the common dishes you'll find here. Portions are large and filling too (the saying goes that Belgian food takes the portions of German cuisine but adds the quality and delicacy of French cuisine).
Casual meals at cafes cost around 9-12 EUR while fast food (think McDonald's) costs 8 EUR for a combo meal. Takeaway shops are everywhere, at which you can get a filling cone of fries for 3-5 EUR or a waffle for 3-6 EUR. Pizza is around 10-12 EUR while Chinese food is 16-19 EUR.
A main dish at a casual eatery, especially in the town square, costs around 25-30 EUR (if not more). If you want to splash out on a three-course meal, expect to pay at least 60-75 EUR.
Beer is 3-4 EUR, a glass of wine is 4-5 EUR, and a cocktail is 10-12 EUR. A latte or cappuccino is around 3-4 EUR while a bottle of water is 2 EUR.
If you want to cook your meals, there are some great markets throughout the city. Expect to pay around 60 EUR for a week's worth of groceries.
Backpacking Bruges Suggested Budgets
If you're backpacking Bruges, expect to spend around 65 EUR per day. This budget covers a hostel dorm, cooking your meals, taking public transportation and walking everywhere, limiting your drinking, and doing most free activities like free walking tours and visiting the markets.
On a mid-range budget of 170 EUR per day, you can stay in a private Airbnb or private hostel room, enjoy a few drinks, eat out for some meals, take the occasional taxi to get around, rent a bike, and do more paid activities like visiting museums and taking a canal cruise.
On a "luxury" budget of 270 EUR or more per day, you can stay in a hotel, eat out for all your meals, drink as much as you want, take more taxis, and do whatever activities you want. This is just the ground floor for luxury though. The sky is the limit!
Accommodation
Food
Transportation
Attractions
Average Daily Cost
Backpacker
25
20
10
10
65
Mid-Range
75
60
15
20
170
Bruges Travel Guide: Money-Saving Tips
Bruges, a city that seems designed for older travelers and couples, is not a cheap place to visit. If you want to save money, here are some suggestions to help you get started:
Walk everywhere – Walking is the best way to see and get around the city. Most of the city's main attractions are within 15 minutes of each other. There's really no reason to take a bus or taxi. Save a few euros and walk everywhere.
Take a free walking tour – Free walking tours are the best way to get the lay of the land, see the main sights, and connect with a local guide who can share their insider tips. Just be sure to tip at the end!
Get the BrugesCard – This handy little card entitles you to free entry to 27 museums and attractions in Bruges as well as cruises on the canal. You can also get 25% off a variety of concerts, dance and theater performances, and bike rentals. If you are going to do many of the things listed on the card, this pass will save you money!
Visit the market – On a Wednesday morning, the Grote Markt Square is taken over by a market that offers cheaper food and drinks than what you'll usually find. Restaurants are expensive, so loading up on fresh food at the market will cut down your food expenses.
Stay with a local – Couchsurfing connects you with locals who can give you a free place to share and share their insider tips and advice. It's the best way to save money and have a more local experience.
Bring a water bottle – The tap water here is safe to drink so bring a reusable water bottle to save money and reduce your plastic use. LifeStraw is my go-to brand as their bottles have built-in filters to ensure your water is always clean and safe.
Where to Stay in Bruges
There are only a few hostels in Bruges. Here are my recommended places to stay:
How to Get Around Bruges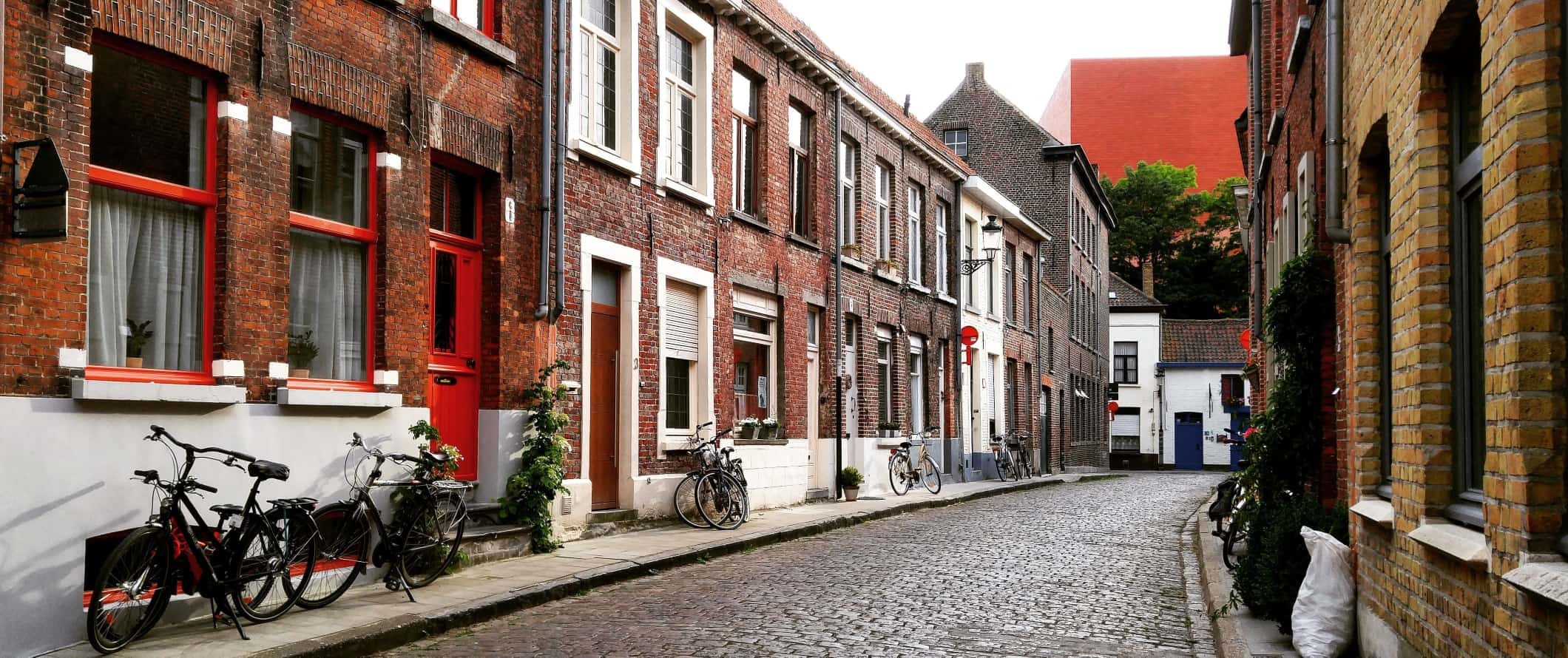 Bruges can easily be explored on foot. The city is compact and many of the sights are near one another. If you don't want to walk everywhere, here are your options:
Public transportation – The local bus is operated by De Lijn. Single tickets cost 2.50 EUR and are valid for one hour. If you plan on using the bus a few times throughout the day, a day pass costs 7.50 EUR.
Bicycle – Renting a bicycle is a great way to get around town since it's compact. Hourly rates start at 4 EUR, while full-day rentals start from 13 EUR. There are a handful of bike rental shops, including Fietspunt Station and Ben's Bike Bruges where you can rent a bike.
Taxi – Taxis are expensive here. The base rate is 2.40 EUR, then it's an additional 2.50 EUR per kilometer. Skip them if you can as they will destroy your budget. The city is small too so you really shouldn't need one.
There are no ridesharing services like Uber here.
Car rental – Cars can be rented for as little as 35 EUR per day for a multi-day rental. However, Bruges is super small so you only need a car if you are leaving the city to explore the area. Drivers need to be at least 21 years old. To find the best car rental prices, use Discover Cars.
When to Go to Bruges
Summer is the best time to visit Bruges. This is when the weather is nicest and the city is in bloom. The average temperature in August is 20°C (68°F), and it rarely gets much hotter than that. Since Bruges is on the coast and has a maritime climate, summers are mild and winters are cold and windy.
Spring and fall are the shoulder seasons, with cooler temperatures and fewer visitors. In April and May, temperatures are under 10°C (40s and 50s°F). Temperatures in the fall range from 8-12°C (47-54°F), and it gets rainy around this time, too. If you don't want to deal with the summer crowds, this is a good time to visit. Just pack a raincoat and sweater.
Most people avoid visiting in the winter as the temperatures drop to near freezing. But if you want this magical city all to yourself, especially when there are Christmas markets, Bruges is worth a wintry visit!
How to Stay Safe in Bruges
Bruges is very safe to visit. Violent crime is incredibly rare here so travelers should feel safe. However, since it is a touristy city, pickpocketing and petty theft can occur. Always keep your valuables secure and out of reach when out and about, especially in crowds and on public transportation.
Solo female travelers should feel safe here for all those reasons. However, the standard precautions you take anywhere apply here too (never leave your drink unattended at the bar, never walk home alone intoxicated, etc.). There are numerous solo female travel blogs that can provide more specific tips.
Scams here are rare, however, if you're worried about getting ripped off you can read about common travel scams to avoid here.
If you experience an emergency, dial 112 for assistance.
Always trust your gut instinct. Make copies of your personal documents, including your passport and ID. Forward your itinerary along to loved ones so they'll know where you are.
The most important piece of advice I can offer is to purchase good travel insurance. Travel insurance will protect you against illness, injury, theft, and cancellations. It's comprehensive protection in case anything goes wrong. I never go on a trip without it as I've had to use it many times in the past. You can use the widget below to find the policy right for you:
Bruges Travel Guide: The Best Booking Resources
These are my favorite companies to use when I travel. They consistently have the best deals, offer world-class customer service and great value, and overall, are better than their competitors. They are the companies I use the most and are always the starting point in my search for travel deals.
Skyscanner – Skyscanner is my favorite flight search engine. They search small websites and budget airlines that larger search sites tend to miss. They are hands down the number one place to start.
Hostelworld – This is the best hostel accommodation site out there with the largest inventory, best search interface, and widest availability.
Booking.com – The best all around booking site that constantly provides the cheapest and lowest rates. They have the widest selection of budget accommodation. In all my tests, they've always had the cheapest rates out of all the booking websites.
Get Your Guide – Get Your Guide is a huge online marketplace for tours and excursions. They have tons of tour options available in cities all around the world, including everything from cooking classes, walking tours, street art lessons, and more!
SafetyWing – Safety Wing offers convenient and affordable plans tailored to digital nomads and long-term travelers. They have cheap monthly plans, great customer service, and an easy-to-use claims process that makes it perfect for those on the road.
LifeStraw – My go-to company for reusable water bottles with built-in filters so you can ensure your drinking water is always clean and safe.
Unbound Merino – They make lightweight, durable, easy-to-clean travel clothing.
Top Travel Credit Cards – Points are the best way to cut down travel expenses. Here's my favorite point earning credit cards so you can get free travel!
BlaBlaCar – BlaBlaCar is a ridesharing website that lets you share rides with vetted local drivers by pitching in for gas. You simply request a seat, they approve, and off you go! It's a cheaper and more interesting way to travel than by bus or train!
Bruges Travel Guide: Related Articles
Want more info? Check out all the articles I've written on backpacking/traveling Belgium and continue planning your trip: