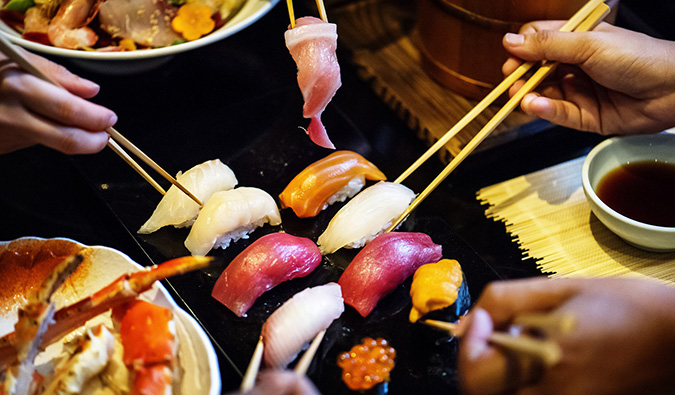 Last Updated: 7/10/23 | July 10th, 2023
On a whim, I went to Tokyo for a week. My friends and I had been talking about a food-themed trip to the city for years, and after convincing them that now was the time to cash in all our miles, we found ourselves at the airport on a cold November day with one goal: to eat as much as humanly possible.
Like me, they'd been to Tokyo before and each had a list of places to eat at. Along with our combined lists, I had received suggestions from friends, readers, and one of my favorite foodies, Mark Weins of Migrationology.
Even eating four to six meals a day, I was barely able to scratch the surface of the list of recommendations. Nevertheless, I wanted to share the combined suggestions of the community and my own investigations with you. (Those I ate at are denoted by a star.)
Afuri Yebisu (1 Chome-1-7 Ebisu, 117 Bldg. 1F, Shibuya 150-0013, +81 3-5795-0750, afuri.com) – Tom (@tjdj311 on Instagram) recommended this for yuzu-flavored ramen.
*Bifteck Kawamura Ginza (6 Chome-5-1 Ginza, Ginza MST Bldg. 8F, Chuo, 104-0061, +81 3-6252-5011, bifteck.co.jp) – At the suggestion of our hotel's concierge, we went there in our quest for Wagyu beef. The steak basically melted in my mouth and exploded with flavor. However, I don't think I'd go back, as I found it a bit too high-end and overpriced for me. The décor is incredible, the service over the top, and the wine list world-class — but all that is more than I needed. That said, if you want to spend money on delicious steak with out-of-this-world service, you can't go wrong here.
BrewDog Roppongi (5 Chome-3-2 Roppongi, Minato, 106-0032, +81 3-6447-4160, brewdog.com) – Recommended by Matt Chandler (@mchandler07 on Twitter), this bar has 20 craft beers on tap, 10 of which are brewed on site. So if you're tired of sake and want some fancy beer, you probably can't go wrong here!
CoCo Ichibanya (1 Chome-2-12 Nishishinjuku, Shinjuku, 160-0023, +81 3-3345-0775) – Recommended by Char (@charmatcha on Twitter), this ramen restaurant is supposed to offer hearty and filling curry as well as good chicken and pork curry in a fast service environment. I haven't been here, but I've been to similar places in the past.
*Genki Sushi (24-8 Udagawacho, Shibuya, 150-0042, +81 3-3461-1281, genkisushi.co.jp) – Yummy sushi, recommended by Jeremiah Cooper (@jeremiahcooperphotography on Instagram). There wasn't anything fancy about the place — it just had solid, satisfying sushi. Very attentive service too!
Ginza Kagari (4 Chome-1-2 Ginza, Chuo, 104-0061, +81 3-3561-0717) – Bethany (@bjbitler on Instagram) suggests coming here for incredible chicken broth ramen.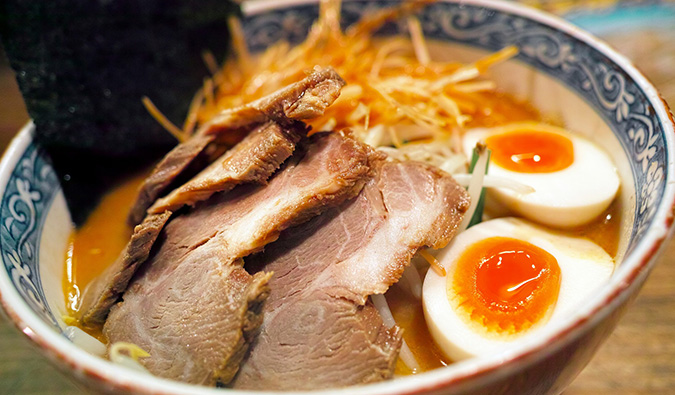 *Ginza Sushi-Dokoro Shin (7 Chome-12-4 Ginza, Way Fair Bldg. 1F, Chuo, 104-0061, +03-3543-9339) – A spectacular sushi spot in Ginza. It was one of the best I ate at. The portions are huge. Go for lunch, when you get more bang for your buck. And definitely get the uni — yummy! (Suggested by Mark Weins)
*Ichiran Shibuya (1 Chome-22-7 Jinnan, Shibuya, 150-0041, +81 3-3463-3667, en.ichiran.com/index.php) – Recommended by many people, this ramen spot served one of the best meals I had my entire trip. The thick, flavorful broth is to die for. I also like how you eat in your own little private booth. Funky. Expect a wait during peak lunch and dinner times.
*Isakaya Juban (2 Chome-1-2 Azabujuban, Minato, 106-0045, +81 3-6804-6646) – A little hole-in-the-wall izakaya restaurant (think Japanese tapas) with locals getting drunk on sake and eating tasty small plates. I was big fan of their salmon and grilled squid. They have a small English menu, but judging how my friend ordered for me, I think it doesn't list everything, so if you see something, point at it and get it!
JBS Bar (Jazz, Blues, Soul) (1 Chome-17-10 Dogenzaka, Shibuya, 150-0043, +81 3-3461-7788) – A cool bar (recommended by Anna Klebine on Facebook) that is basically a one-man shop filled with records, whiskey, and smoke. It's tucked away on the second level of an office/shopping plaza.
*Kakimaru (6 Chome-1-6 Roppongi, Minato, 106-0032, +81-3-5413-3689) – While catching up with my friend, we found this awesome place. There was an older couple next to us and a wedding party getting drunk across from us. As the night went on, the couple helped us pick food (try the speciality crab dish, it's served in the shell and to die for), and the wedding party kept asking how we loved Japan and refilling our sake glasses, sang songs, and talked baseball. It was an amazing experience. The food is also outstanding. Be sure to get the oysters. Note: While Google Maps will list the restaurant as Kakimaru, when you go there the restaurant will be called Uohama.
Kanda Matsuya (1 Chome-13 Kanda Sudacho, Chiyoda, 101-0041, +81 3-3251-1556, kanda-matsuya.jp) – Bethany (@bjbitler on Instagram) also recommended this for authentic soba noodle dishes.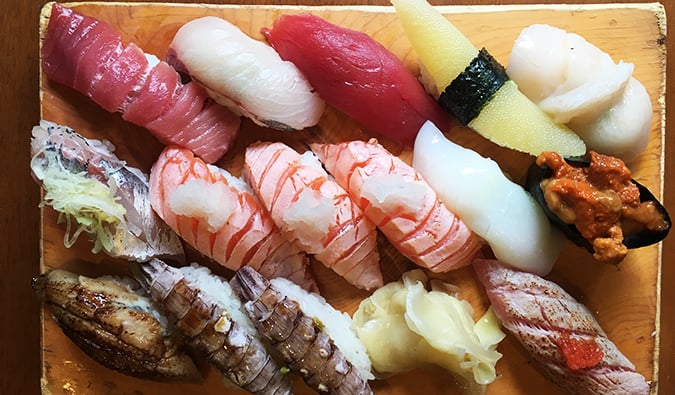 *Kyubey (8 Chome-7-6 Ginza, Chuo, 104-0061, +81 3-3571-6523) – Suggested by my friends, this restaurant (which has a couple of locations) offered the fanciest sushi I had in Tokyo. You sit at the bar and are served whatever the chef decides to bring (this is called omakase). It was expensive (at $150 USD) but worth every penny. Check out this video where the shrimp they served me is still moving.
Masaru (1 Chome-32-2 Asakusa, Taito, 111-0032, +81 3-3841-8356) – Daina (@headedanywhere on Instagram) recommended this as an excellent option for tempura dishes.
*Memory Lane (Nishi-Shinjuku, Shinjuku, +81 3-3342-1589, shinjuku-omoide.com) – On this tiny alley of yakitori joints, some require an entrance fee, but they are all worth it. I ate at about three of them, but I don't remember any of the specific restaurant names.
Mutekiya (1 Chome-17-1, Minami Ikebukuro, 1F Sakimoto Bldg., Toshima 171-0022, +81 3-3982-7656, mutekiya.com) – Honmarumen is the most popular dish at this amazing ramen spot.
Narisawa (2 Chome-6-15 Minami Aoyama, Minato, 107-0062, +81 3-5785-0799, narisawa-yoshihiro.com) – One of the highest rated sushi restaurants in Tokyo. This was suggested to me by many people and, very sadly, I did not make it here but you probably should! I doubt it is cheap though!
*Ostrea Oyster Bar and Restaurant (8 Chome-9-15 Ginza, 8F Jewelboxginza, Chuo, 104-0061, +81 3-3573-0711, ostrea.jp) – I found this while wandering Ginza, and being an oyster lover, went in for some giant oysters. Japanese oysters are big and meaty, and the ones here were no different. They also lacked a very briny, oceany taste to them (I prefer my oysters to be more sweet than salty). The restaurant doesn't get too busy, so you won't have a wait.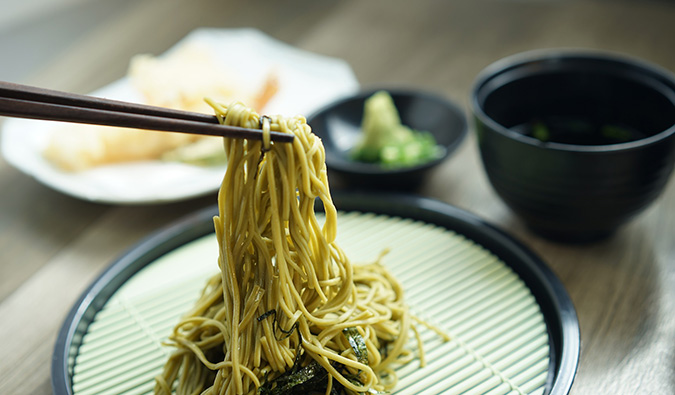 Robot Restaurant (1 Chrome-7-1 Kabukicho B2f, Shinjuku, 160-0021, +81 3-3200-5500, shinjuku-robot.com) – There are a lot of weird restaurants in Tokyo, and I was sad I didn't get to this one. Dinner comes with a show featuring robots, lasers, monsters, and dancers. It was recommended by just about everyone.
Rokurinsha (1 Chome-9-1 Marunouchi, Tokyo Station Ichibangai B1F, Chiyoda, 100-0005, +81 3-3286-0166, rokurinsha.com) – Located on Tokyo Station's "ramen road," this tasty ramen restaurant is easily to spot: it has the longest line. I didn't eat here as I didn't want to wait; I went to one further down the "road" and it wasn't super good. I mean it wasn't bad, but it made me wish I had waited here!
Shin Udon (2 Chome-20-16 Yoyogi, 1F Soma Bldg., Shibuya, 151-0053, +81 3-6276-7816, udonshin.com) – Recommended by Macaera (@macaera on Twitter), this is supposed to be great for tasty udon noodles at an affordable price.
Sometaro Okonomiyaki (2 Chome-2-2 Nishiasakusa, Taito, 111-0035, +81 3-3844-9502) – Housed inside an antique building, it is well known for its okonomiyaki (a Japanese savory pancake). Recommended by Mark Wiens.
*Standing Sushi Bar (1 Chome-12-12 Nishishinjuku, Kasai Bldg. 1F, Shinjuku, 160-0023, +81 3-3349-1739) – Recommended by my other food guru Jodi, this standing sushi location is one of many in town. It's great for a quick bite: you stand, eat sushi, and get out. It has a robust menu, so you can get anything you want, and a meal here will only set you back around 1,000 yen ($9 USD).
Sushi Yuu (1 Chome-4-15 Nishiazabu, Minato, 106-0031, +81 3-3403-6467, sushiyuu.com) – Lauren Michelle Stow (@lstoweaway on Instagram) raved, "Sushi Yuu was possibly the best culinary experience I've ever had. Expensive, but worth it. Make a reservation and ask to sit at the bar. Shimazaki-san makes the meal extremely personal and answers all your fish-related questions."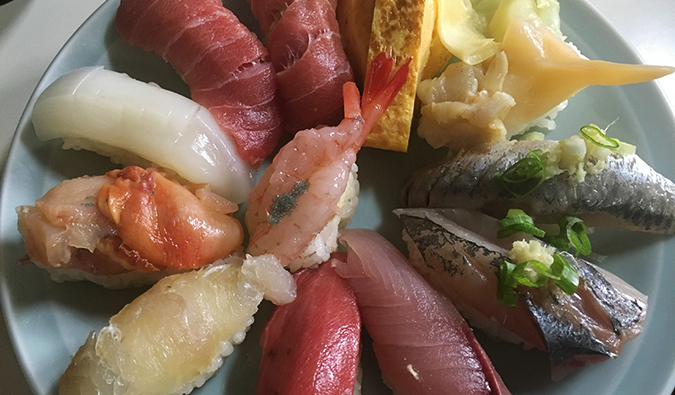 *Sushi Zanmai (11 Chome-9-4 Tsukiji, Chuo, 104-0045, +03-3541-1117) – This sushi restaurant has locations over the city. I ended up eating at the one in the fish market on one of my last days there. The fish was fresh, the servings were large, and the staff was attentive. I can't speak for the other locations, but this one gets very crowded around lunchtime (expect a 30-minute wait).
*Tenmatsu Tempura (1 Chome-8-2 Nihonbashimuromachi, Chuo, 103-0022, +81 3-3241-5840, tenmatsu.com/english.html) – The tempura here is well known for its lightness. It's a small establishment with set tempura menus. The staff doesn't speak great English (the clientele was mostly Japanese businessmen), but they were super friendly and accommodating, and the food is outstanding.
Tonkatsu Maisen Aoyama Honten (4 Chome-8-5 Jingumae, Shibuya, 150-0001, +81 120-428-485, mai-sen.com/restaurant) – A legendary tonkatsu place. Allyson (@wanderwithheart on Instagram) recommended this one.
Tonkatsu Tonki (1 Chome-1-2 Shimomeguro, Meguro, 153-0064, +81 3-3491-9928) – Recommended by Kimberly Ann (@kimberly_ann113 on Instagram), this restaurant specializes in pork tonkatsu.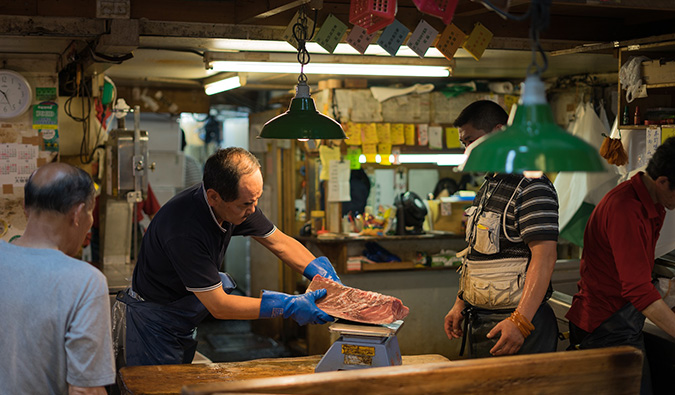 *Toyosu Fish Market (6 Chome-6-1 Toyosu, Koto City, Tokyo 135-0061, +81 3-3520-8205) – This world-famous fish market (which replaced the Tsukiji Fish Market in 2018) powers much of the world's sushi supply. All around you are fish with colors and shapes you didn't know existed. I have never had seen more seafood I couldn't identify. Most of the restaurants nearby source their food right from the market.
I haven't done much eating around the new market, however, here are some suggestions for places to eat near the old Tsukiji Market (which you can still visit):
*Nakaya (5 Chome-2-1 Tsukiji, Tsukiji Ichiba Jonai 8, Chuo 104-0045, +81 3-3541-0211, tsukijigourmet.or.jp/46_nakaya/index.htm) – Located in the Fish Market itself, it's a great place to go for a sashimi rice bowl breakfast. I loved the uni salmon bowl. (Another Migrationology suggestion)
Sushi Dai (5 Chome-2-1 Tsukiji, Tsukiji Fish Market 6th Bldg., Chuo, 104-0045, +81 3-3547-6797, tsukiji-sushidai.com/shop/honkan.html) – As it is the most famous sushi spot in the market, people line up at 4am for when it opens, and wait times can last up to three hours. I hear it's good, but frankly, in a city with so much good fish, I wouldn't wait three hours for a meal.
*Sushi restaurant with no English name (6 Chome-25-4 Tsukiji, Chuo-ku, Tokyo-to 104-0045) – One of the best value meals I had the whole trip, it included a delicious 15-piece sushi lunch, with huge cuts of fish and a tasty miso soup. The restaurant is small, so try to avoid peak eating times. There's no real good signage, but it's the only restaurant-looking place on the street. (Another Migrationology suggestion)
Tsuta Japanese Soba Noodles (1 Chome-14-1 Sugamo, Toshima, 170-0002, +81 3-3943-1007, ameblo.jp/yuki-onishi) – Another recommendation from Tom (@tjdj311 on Instagram); it has a Michelin star so the noodles are probably pretty out of this world. They also use truffle-infused ramen oil.
Yakitori Ton Ton (2 Chome-1-10 Yurakucho, Chiyoda, 100-0006, +81 3-3508-9454) – This tiny stall near the railroad in Yurakucho specializes in skewered pork and chicken. Suggested by Mark Wiens.
***
While I can't vouch for every suggestion on this list, I never ate a terrible meal in Tokyo (although there were some "meh" restaurants that didn't make the list). I suspect that it's hard to eat a bad meal in Tokyo, where even the worst thing is ten times better than what you find back home!
So the next time you find yourself in Tokyo, you won't be short of food options! Half the fun of travel is trying something new. (If it's someplace I didn't make it to, let me know how it is!)
Book Your Trip to Japan: Logistical Tips and Tricks
Book Your Flight
Use Skyscanner to find a cheap flight. They are my favorite search engine because they search websites and airlines around the globe so you always know no stone is left unturned.
Book Your Accommodation
You can book your hostel with Hostelworld as they have the biggest inventory and best deals. If you want to stay somewhere other than a hostel, use Booking.com as they consistently return the cheapest rates for guesthouses and cheap hotels.
Don't Forget Travel Insurance
Travel insurance will protect you against illness, injury, theft, and cancellations. It's comprehensive protection in case anything goes wrong. I never go on a trip without it as I've had to use it many times in the past. My favorite companies that offer the best service and value are:
Looking for the Best Companies to Save Money With?
Check out my resource page for the best companies to use when you travel. I list all the ones I use to save money when I'm on the road. They will save you money when you travel too.
Be sure to check out the Japan Rail Pass if you'll be traveling around the country. It comes in 7-, 14-, and 21-day passes and can save you a ton of money!
Want More Information on Japan
Be sure to visit our robust destination guide on Japan for even more planning tips!