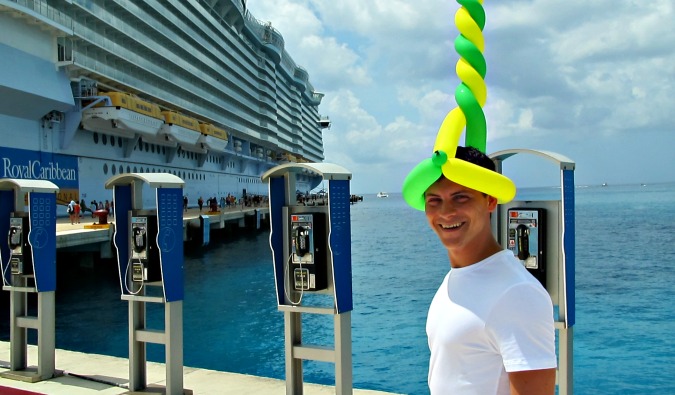 Posted: 07/05/2012 | July 5th, 2012
"Isn't your life a vacation?" people asked me before my cruise. "You're always traveling!"
Yes, I'm always traveling, but it's not a vacation — travel for me is work. It's fun work, and I'd rather be a travel blogger than back at my old cubicle job, but it's still work. All these blog posts and wonderful tips don't come naturally. I hunt everything out, do research, and follow up so visitors to this site have the information they need to travel the world cheaper, better, and longer.
Back when I was just a simple backpacker, I had nothing to do and all the time to do it. Everyday was Saturday. Now, that's not the case. I remember when I was writing my book in Cambodia. Friends would say to me, "Let's go get crazy tonight," and I would say, "I can't, I have a Skype meeting in the morning!"
That's the real truth about travel writing: it's not a vacation; it's a job. Just like any other job. Most people imagine me in far-off places doing wonderful things, going on crazy adventures, and jet-setting to exotic locations. And, sure, that happens. But so does the side you don't see on the blog: sitting in my room for days doing work, fixing HTML errors, working on books, writing blogs, having Skype meetings, and answering emails. (On a good day, it only takes me two hours to answer all the questions I get!) No one thinks about all the back-end stuff that goes on, and sometimes it feels like there's more of that than actual travel.
Last week, I went on vacation because I needed a break from work. I needed to relax, forget about everything, and hit the reset button.
My vacation taught me a lot. First, I realized that the old adage about your body taking a week to relax is completely true. It took me six days at sea before I finally stopped thinking about work. (It didn't help that Royal Caribbean gave me free Wi-Fi, which meant I was still checking Twitter, email, and Facebook.)
At one of the many conferences I attended recently, someone asked me if I thought I would still be doing this in 10 years. My immediate answer was, "I hope not." And then I went on to qualify it, as if I had to justify my answer.
While on this cruise, I had a lot of time to think about my knee-jerk reaction to that question.
And as I thought about it, I realized what's been bothering me about blogging lately: this website has become more work than fun. My second realization was that somewhere along the line, travel had become a job. I never really wanted this to be a job. I just wanted a way to make money to travel more. Back in 2008, I wanted to know what could keep me traveling the world. Being a travel writer!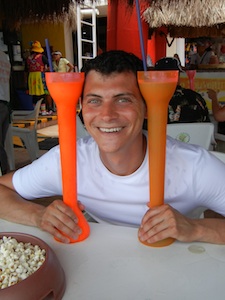 Now, I love traveling and enjoy this blogging thing more than I've enjoyed doing anything else, but the sudden realization that your passion has become a job can be a shock. It's only been in the last year that I've come to realize just how much of a job this website is. My travels are completely different than they were when I used to be a simple backpacker. On the one hand, I love what I do and the people I meet. But on the other, I not-so-secretly wish I could go back to a time before this blog when every day was Saturday and I could do whatever I wanted.
What my vacation really taught me was that as a travel blogger, it's so easy to become consumed by your blog that you can sometimes miss the forest through the trees. As a blogger, you're always connected, there are always emails to answer, you begin to look at your trips through the blog posts they can become, and, before you know it, your life becomes your blog and your blog becomes your life.
And when that happens, you get burnt out, and, like in any other job, you lose your fire for it. You don't hate it, but it's now "work."
And then the light bulb in my head came on: I need to take more vacations. I need to take more trips offline and trips that won't make it on this blog. Not all my travels can be about this blog. Some just need to be for me…and only me.
While I was gone, my blog didn't explode. My readers didn't all hit unsubscribe. The world didn't end. No email came that required an immediate response. My life wasn't over!
Over the last year, I've let this blog become my life instead of it just being part of my life. It's so easy to be connected that I (and I think many other bloggers) forget that we can disconnect and everything will be all right.
So, I thank my recent vacation for reminding me of a truth I'd forgotten:
We should work to live, not live to work.


Book Your Trip: Logistical Tips and Tricks
Book Your Flight
Find a cheap flight by using Skyscanner. It's my favorite search engine because it searches websites and airlines around the globe so you always know no stone is being left unturned.
Book Your Accommodation
You can book your hostel with Hostelworld. If you want to stay somewhere other than a hostel, use Booking.com as it consistently returns the cheapest rates for guesthouses and hotels.
Don't Forget Travel Insurance
Travel insurance will protect you against illness, injury, theft, and cancellations. It's comprehensive protection in case anything goes wrong. I never go on a trip without it as I've had to use it many times in the past. My favorite companies that offer the best service and value are:
Want to Travel for Free?
Travel credit cards allow you to earn points that can be redeemed for free flights and accommodation — all without any extra spending. Check out my guide to picking the right card and my current favorites to get started and see the latest best deals.
Need Help Finding Activities for Your Trip?
Get Your Guide is a huge online marketplace where you can find cool walking tours, fun excursions, skip-the-line tickets, private guides, and more.
Ready to Book Your Trip?
Check out my resource page for the best companies to use when you travel. I list all the ones I use when I travel. They are the best in class and you can't go wrong using them on your trip.