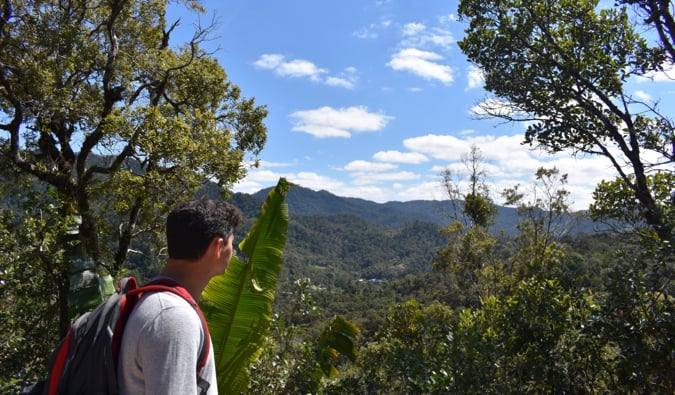 Madagascar, a country famed for lemurs, baobab trees, birding, and jungles, offers visitors a rich playground to explore. I was enthralled by its beauty: the sweeping canyons and gorges, the grand waterfalls, and the sheer diversity of the landscape. One day you're in a tropical jungle, the next you're in an arid plain, and a few hours later you're in subtropical forest! Plus, there really are seemingly endless varieties of lemurs.
Though Madagascar is remote and flights are expensive (more on how to get there and save money in my next post), with only 350,000 visitors per year, you get a lot of the country to yourself! (And it's always better to go to a place sooner rather than later, because you never know where the next "it" destination is going to be!)
Though I didn't get as much time there as I'd like (the roads are terrible — it takes eight hours to go 250km), here are some of the wonders you can expect on your visit:
Avenue of the Baobabs

Baobab trees are massive trees that can grow 98 feet tall and 36 feet wide and can live up to one thousand years. While there are similar trees in the genus, baobabs are completely unique to Madagascar. They're an impressive sight, especially when your guide casually mentions that the massive one you're hugging is just a baby — at 400 years old. While the trees can be found throughout the country, this road lined with them (just an hour outside Morondava) — and straight out of a postcard — is one of those iconic images of Madagascar. The best time for photos is during sunrise or sunset. The worst time for crowds? Those same times. Pick your poison.
Tsingy

This park near the western coast (it's really two: Great Tsingy and Little Tsingy) is not an easy place to visit. It takes one complete day via four-wheel drive on very rough terrain to get there. It's very remote, with few tourists. The plus side? It's one of the most incredible sites in the country. Water and wind spent centuries carving the limestone into jagged peaks that look like a row of never-ending knives; to get around, you use rope bridges, ladders, and fixed cables. The area also has a lot of caving, and often people pair a trip here with a slow boat down the Tsiribihina River (send photos of that if you go, because sadly, due to time, I missed visiting the river!).
Isalo National Park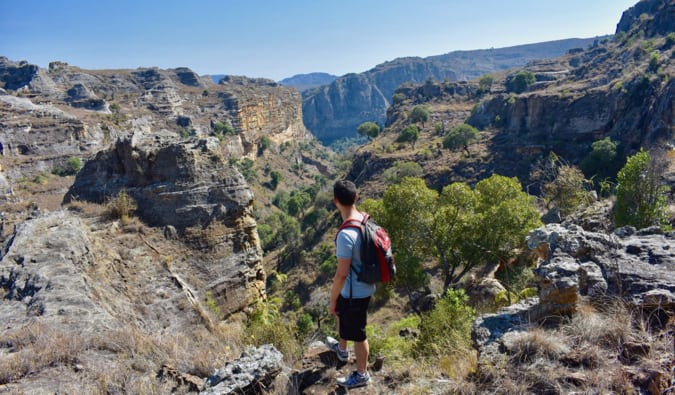 Located in the south-central part of the country and featuring multiple rugged hiking trails (bring water and a hat, as you are exposed most of the time); cliffs, ravines, gorges, and canyons; and plentiful fauna, this Westworld-like park just blew me away. It was my favorite place in Madagascar. There are three waterfalls you can cool off in after your walks and a variety of lemur species (they get pretty close as they are desensitized to humans, so watch your food!). You are required to hire a guide (they are found at the entrance), but they were great explainers of the land and the local culture. Added bonus: the clear sky and lack of light pollution make for some incredible sunsets and star-filled nights. I never saw the Milky Way so clearly.
Nosy Be

Nosy Be is the place to go for Madagascar's trademark beaches. Here you will find miles of white-sand beaches in a more upscale, Western environment. There are expensive restaurants, big resorts, and lots of couples and families (which is generally who visits Madagascar). Beach parties erupt each Sunday, and there's some amazing snorkeling, diving, fishing, and whale watching. It's the quintessential tropical island paradise — with the quintessential cost (but it is the best beach in the country!).
Île Sainte Marie

While everyone goes to Nosy Be for the better beaches and fancier resorts, if you want something a little more local, cheap, and relaxed, check out Île Sainte Marie off the eastern coast. This former pirate capital (Captain Kidd's ship sank nearby) is a cool island full of little coves, a pirate graveyard, delicious seafood, and a laid-back Caribbean-like atmosphere. The beaches aren't as good as Nosy Be, but there's a beautiful, pristine white-sand beach at the south of the island near the airport that few people visit. This is also the best part of the country for whale watching too. When coming here, fly. The slow boat is most always late and lands nowhere near a major town on the mainland. Taking the boat wastes an entire day.
Ranomafana National Park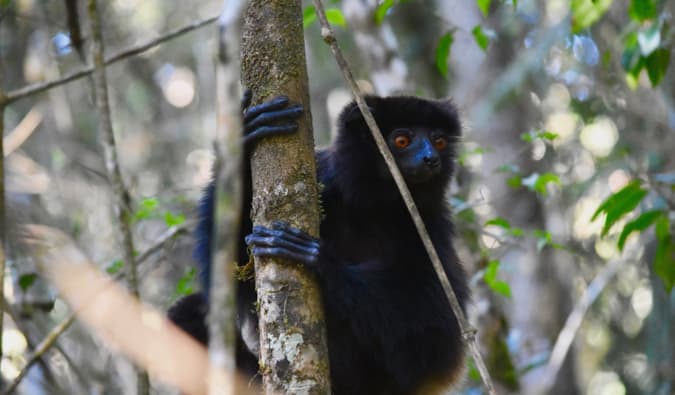 A prime example of a tropical cloud forest, Ranomafana was my second favorite place after Isalo. This is one of the best spots in the country to see lemurs, as it contains twelve species. Besides lemurs, there were the famous giraffe beetles and lots of birds, chameleons, and other wildlife. Of the multiple trails available (you are also required to get a guide here), I would do the morning hike, then the afternoon and night hikes at the secondary entrance, as the majority of tours skip that and you get more of the park to yourself. (There are also hot springs in the nearby town to relax in.) Due to the park's popularity, there's a daily limit on the number of people who can visit, so it's best to go in low season. While the park is 161 square miles, you only get to see a few square miles of it, so it can still be crowded, especially in the morning when the tour buses come.
Andasibe-Mantadia National Park / Lemur Island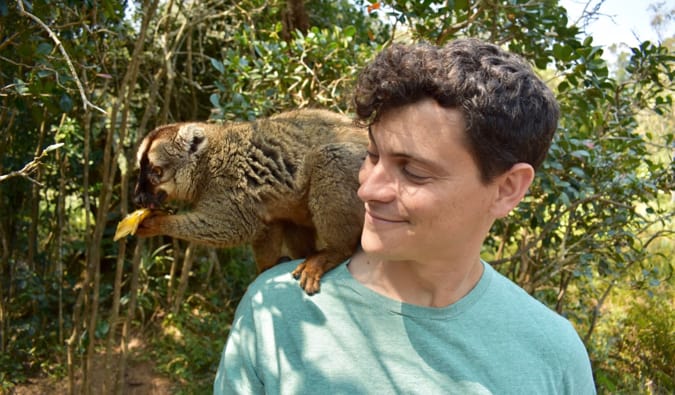 Located between the capital and the east coast, this area is famous for the Indri lemur, which makes a sound like a howling devil bat that echoes across the jungle. Nearby is also the famous Lemur Island ($3 USD to get in), which has 4 species lemurs that have been rescued from being pets. Here the lemurs let you get up close and personal, since they have been domesticated, but they are also released back into their natural habitat to be wild again. But if for some reason they can't, they live free in the park.
Toliara

Down on the west coast, this small town is famous for the expats who move there, the pizza (it's a seriously popular dish in the country), and for being a launching pad for diving excursions to the Great Reef offshore. There's not much else to do except sit by the beach or go into the water. The drive getting here on the N7 (the only north-south highway) is also pretty amazing, as you can take in Ranomafana, Isalo, and other spots along the way!
Antananarivo

The capital of Madagascar is a chaotic place with not a lot to do, but it's a good stop to see the lemur park and the Rova (the old palace), get a sense of the international scene in the city, and use as your launching pad for stops further afield.
Overload on zebu

Zebu is a type of cow with a large hump on its back. It's more of a work cow, like an ox, and you'll see them all over the country. They are even used as dowries in weddings. It's the only kind of beef in the country and is always on the menu (along with healthy portions of rice). However, the meat is really tough, thanks to all the work the animals do in the fields, and so it's best in a stew or as a steak. I can't say I loved it. But often it was either that or pasta. I had so much zebu that I'm good for the rest of my life.
Drive the N5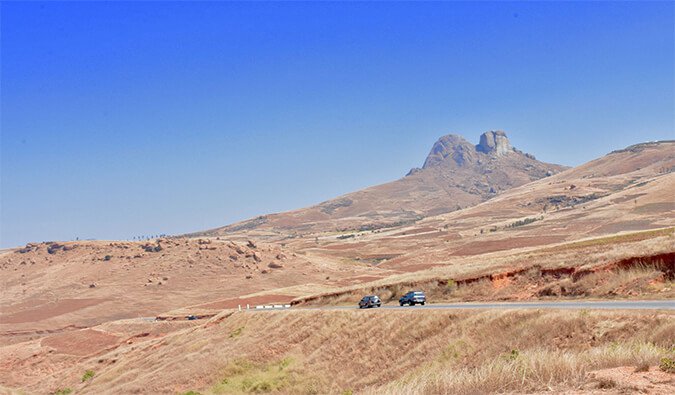 Heading north along the east coast from Toamasina to Maroantsetra, this road — and I use that word loosely — is a potholed-filled expedition through some of the most raw and pristine areas of Madagascar and your best chance to see the famous aye-aye lemur. The road here meanders through dense jungle, over rivers, and through tiny towns in one of the most undeveloped parts of the country. You're really off the beaten path here. Budget a lot of time, because the road quickly turns bad outside of Toamasina.
Go whale watching

Between June and November more than 7,000 humpback whales migrate from Antarctica to Madagascar to breed. The whale watching is some of the best in the world. While we were taking the boat to Île Sainte Marie, we saw a couple breach the water and it was stunning to see. Plus, with so few tourists here, you aren't one of 9,384,732 boats vying for a photo.
Enjoy the long drives and vistas

With the roads being so bad, you are going to spend a lot of time in a car. As I said, it takes around eight hours to go 250km! The upside is that you will get to enjoy long drives past scenic vistas of mountains and gorges, lush rainforests, and valleys lined with terraced rice paddies. I wanted to get a lot of reading done, but I was often pulled away by the views. Madagascar is a truly beautiful country. While I hate long drives, I did enjoy pulling over every few minutes to take too many photos of every mountain and valley I saw.
***
Madagascar has a lot to see and do. Despite the years of environmental degradation (which remains a serious, serious problem), you can still see a lot of wonderful native plants and exotic animals that are indigenous to the third largest island in the world. Though Madagascar's quite a journey to get to, these highlights will give you a trip to remember.
Note: I went to Madagascar with Intrepid Travel as part of our ongoing partnership. They paid for the tour and my expenses during the trip. I paid for my flights to and from Madagascar. They offer 10% off their tours to readers so click the link and save on your next trip.
Photo credit: 9