Madagascar, a country famed for lemurs, baobab trees, birding, and jungles, offers visitors a rich playground to explore. I was enthralled by its beauty: the sweeping canyons and gorges, the grand waterfalls, and the sheer diversity of the landscape. One day you're in a tropical jungle, the next you're in an arid plain, and a few hours later you're in a subtropical forest! Plus, there really are seemingly endless varieties of lemurs. Located off the eastern coast of Africa, this island, nearly the size of France and the third largest in the world, has a population of over 20 million but sees only about 325,000 tourists a year. Madagascar has a lot to see and do. Though Madagascar's quite a journey to get to, this travel guide will help you plan the trip of a lifetime!
Top 5 Things to See and Do in Madagascar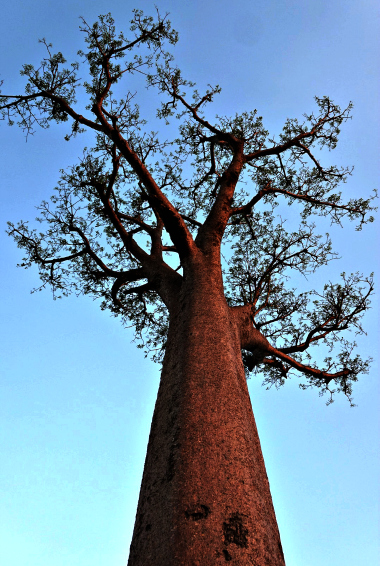 1. Avenue of the Baobabs
Baobab trees are massive trees that can grow 98 feet tall, 36 feet wide, live up to one thousand years, and are completely unique to Madagascar. While the trees can be found throughout the country, this road lined with them (just an hour outside Morondava) is one of those iconic images of Madagascar. The best time for photos is during sunrise or sunset.
2. Go to Tsingy
This park near the western coast (it's really two: Great Tsingy and Little Tsingy) is not an easy place to visit. It takes one complete day via four-wheel drive on very rough terrain to get there. Water and wind spent centuries carving the limestone into jagged peaks that look like a row of never-ending knives.
3. Explore Isalo National Park
Featuring multiple rugged hiking trails (bring water and a hat, as you are exposed most of the time), cliffs, ravines, gorges, and canyons, and plentiful fauna, this Westworld-like park just blew me away. There are three waterfalls you can cool off in after your walks and a variety of lemur species. You are required to hire a guide (they are found at the entrance).
4. Relax at Nosy Be
Nosy Be is the place to go for Madagascar's trademark beaches. Here you will find miles of white-sand beaches in a more upscaleenvironment. There are expensive restaurants, resorts, and lots of couples and families (which is generally who visits Madagascar). Beach parties erupt each Sunday, and there's some amazing snorkeling, diving, fishing, and whale watching.
5. Go to Lemur Island
Lemur Island is famous for the Indri lemur, which makes a sound like a howling devil bat that echoes across the jungle ($3 USD to get in). It has 4 species lemurs that have been rescued from being pets. They are also released back into their natural habitat to be wild again. If for some reason they can't, they stay in the park.
Other Things to See and Do
(Click the title to expand the text)
1. Île Sainte Marie
While everyone goes to Nosy Be for the fancier resorts, if you want something a little more local, cheap, and relaxed, check out Île Sainte Marie off the eastern coast. This former pirate capital (Captain Kidd's ship sank nearby) is a funky, relaxed island full of little coves, a pirate graveyard, and delicious seafood. The beaches aren't as good as Nosy Be, but there's a beautiful, pristine white-sand beach at the south of the island near the airport that few people visit. This is also the best part of the country for whale watching too. When coming here, fly. The slow boat is almost always late and lands nowhere near a major town on the mainland.
2. Ranomafana National Park
This is one of the best spots in the country to see lemurs, as it contains twelve species. Besides lemurs, there were the famous giraffe beetles and lots of birds, chameleons, and other wildlife. Of the multiple trails available (you are also required to get a guide here), I would do the morning hike, then the afternoon and night hikes at the secondary entrance, as the majority of tours skip that and you get more of the park to yourself. Due to the park's popularity, there's a daily limit on the number of people who can visit, so it's best to go in low season. While the park is 161 square miles, you only get to see a few square miles of it, so it can still be crowded, especially in the morning when the tour buses come.
3. Head to Toliara
Down on the west coast, this small town is famous for the expats who move there, the pizza (it's a seriously popular dish in the country), and for being a launching pad for diving excursions to the Great Reef offshore. There's not much else to do except sit by the beach or go into the water. The drive getting here on the N7 (the only north-south highway) is also pretty amazing, as you can take in Ranomafana, Isalo, and other spots along the way!
4. Antananarivo
The capital of Madagascar is a chaotic place with not a lot to do, but it's a good stop to see the lemur park and the Rova (the old palace), get a sense of the international scene in the city and use as your launching pad for stops further afield.
5. Overload on zebu
Zebu is a type of cow with a large hump on its back. It's more of a working cow, like an ox, and you'll see them all over the country. They are even used as dowries in weddings. It's the only kind of beef in the country and is always on the menu (along with healthy portions of rice). However, the meat is really tough, thanks to all the work the animals do in the fields, and so it's best in a stew or as a steak.
6. Drive the N5
Heading north along the east coast from Toamasina to Maroantsetra, this road — and I use that word loosely — is a potholed-filled expedition through some of the rawest and pristine areas of Madagascar and your best chance to see the famous aye-aye lemur. The road here meanders through dense jungle, over rivers, and through tiny towns in one of the most undeveloped parts of the country. You're really off the beaten path here. Budget a lot of time, because the road quickly turns bad outside of Toamasina.
7. Go whale watching
Between June and November more than 7,000 humpback whales migrate from Antarctica to Madagascar to breed. The whale watching is some of the best in the world. While we were taking the boat to Île Sainte Marie, we saw a couple breach the water and it was stunning to see. Plus, with so few tourists here, you aren't one of 9,384,732 boats vying for a photo.
8. Enjoy the long drives and vistas
With the roads being so bad, you are going to spend a lot of time in a car. As I said, it takes around eight hours to go 250km! The upside is that you will get to enjoy long drives past scenic vistas of mountains and gorges, lush rainforests, and valleys lined with terraced rice paddies. I wanted to get a lot of reading done, but I was often pulled away by the views. Madagascar is a truly beautiful country.
9. Mantadia National Park
Located about 100 miles east of the capital city of Antananarivo, Mantadia National Park is home to 14 species of lemurs, plus 117 types of birds and 84 kinds of amphibians. The park is open every day from 8 a.m. to 4 p.m. Tickets cost 45,000 Malagasy ariary (about $14) for adults and 25,000 Malagasy ariary ($8) for children. An additional per person fee of 20,000 to 60,000 Malagasy ariary ($6 to $19) applies for a guided tour of one of the park's trails.
10. Lokobe National Park
Situated on the southeastern tip of Nosy Be, an island off Madagascar's west coast is known picturesque beaches and sunsets, Lokobe National Park is one of the Sambirano region's only remaining forests. To get to Lokobe National Park, you'll need to row one of the park's pirogues to Nosy Be, which takes roughly 20 to 40 minutes.
11. Nosy Mangabe
Nestled deep between the coastal hills of Helodrano Antongila Bay, which carves its way inland on the north-eastern edge of Madagascar, the small island is famed for its booming populations of bug-eyed aye-aye lemurs. Huge fig trees wrangle around groves of palms, ruffed lemurs meet mantella frogs in the undergrowth, and the green hills crash down into secluded bays of bright yellow sand. Boats to the island and all the necessary permits are available in Maroantsetra.
12. Visit Ambohimanga
Ambohimanga was the onetime home of the local kings. Expanded and added to throughout the 1800s, the mound of palaces and burial grounds, crumbling fortifications, and regal tombs was the place from which King Andrianampoinimerina launched his now-famed campaigns to reunify the country following more than seven decades of civil war in the 18th century.
13. Hang out with locals in Maroantsetra
An earthy and interesting town, it's laden with one throbbing marketplace and has crisscrossing streets of mud lined with tin-shacks.
14. Go to Antsirabe
Perched high up in the Madagascan highlands, Antsirabe was the choice for the French colonials who came here during the heyday of colonialism. They built elegant Parisian-style mansions, raised Gothic cathedrals, and laid wide boulevards with plane trees casting shade. The dusty city retains some of that charm and is one of the most aesthetically pretty cities in the country. It's also one of the best food spots.
Typical Costs
Hostel prices
– There are only a few hostels in the entire country. Beds in a hostel dorm will cost between 25,880-33,967 ARY ($8-10.50 USD) per night, while a private double room will cost between 61,465-77,640 ARY ($19-$24 USD) per night. Hostels may not have kitchens for you can cook your own meal, although some have a BBQ area. You can book your hostel with
Hostelworld
.
Budget hotel prices – Hotels are incredibly affordable, and prices start at 32,350 ARY ($10 USD) per night for a twin or double bed. Free WiFi is common but not included everywhere. A few hotels offer free breakfast. Use Booking.com as they consistently return the cheapest rates. Airbnb is available around the country. You can find private rooms for around 32,432 ARY ($10 USD) per night, and an entire home or apartment is closer to 79,836 ARY ($25 USD) per night.
Average cost of food – Meals that restaurants that cater to tourists are 10,000-25,000 ARY ($3-8 USD), while meals at regular, local restaurants are 3,000-6,000 ($1-2 USD). Street snacks are 10-200 ARY (up to 5 cents US) (Be sure to try the nem (spring rolls).
Transportation costs – A hired car with a driver is about 160,000 ARY a day ($50 USD). Local mini buses are 10,000 – 20,000 ARY ($3-6 USD).
Suggested daily budget
97,053-129,403 ARY / $30-40 USD (Note: This is a suggested budget assuming you're staying in a hostel, eating out a little, cooking most of your meals, not going crazy on the glacier activities, and using local transportation.)
Money Saving Tips
Travel during the off-season – Flights to Madagascar are cheapest during the low season (October-April). For example, from Paris, Air France offers direct round-trip flights for around $800 USD. If you are going from the US, you pay around $1,200 USD for a round-trip ticket. Flights can increase in price dramatically during the high season (also the dry season).
Take local mini buses – If you'd like to step outside your comfort zone, take advantage of public mini buses. Fares are 10,000 – 20,000 ARY ($3-6 USD) one way. Exercise patience, as you'll rarely show up to your destination on time.
Hire a private driver – Renting a car and driver costs $50 USD a day (or slightly more if you want 4WD) and is the most popular option for people looking to go on their own (and not wanting to wait for the buses).
Shop at supermarkets – I went to a local market and spent 100 ARY on a spring roll. After realizing that there are 3,000 ARY to the dollar, that meant I had paid just three cents.
Eat at local restaurants – Even when you are eating at the hotel restaurants the tours go to, most meals aren't more than $4 USD. In regular, local restaurants, they are half that price.
Get a local SIM card – Local SIM cards cost 3,100 ARY ($1 USD), and 25,000 ARY ($8 USD) per gig of data.
My Must Have Guides For Traveling to Madagascar