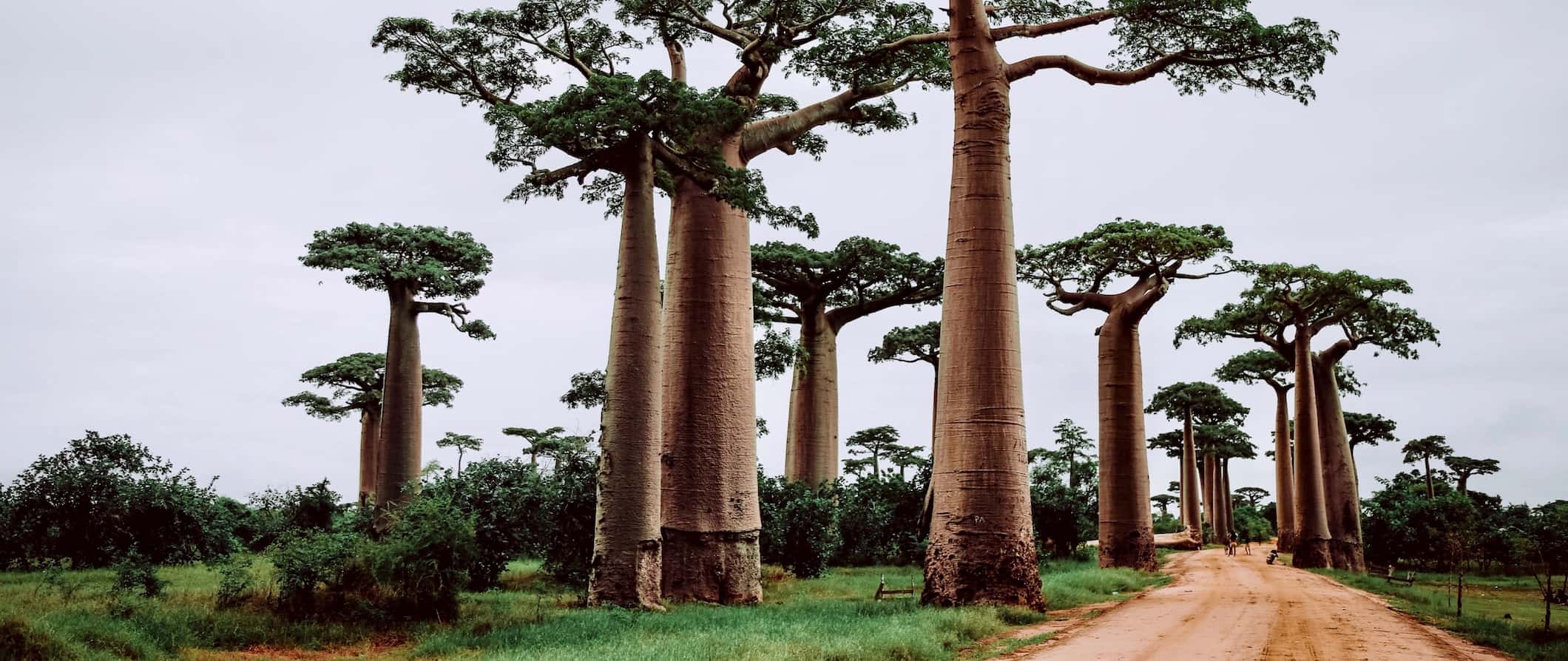 Madagascar, a country famed for its lemurs, massive baobab trees, birding, and jungles, offers visitors a rich playground to explore.
I was enthralled by the country's beauty during my visit. There are sweeping canyons and gorges, grand waterfalls, and a diverse landscape that spans the entire island. One day you're in a tropical jungle, the next you're in an arid plain, and a few hours later you're on a pristine beach. The scenery here is unlike any other destination I've been to. Plus, there really are a seemingly endless variety of cute lemurs!
Located 400 kilometers (250 miles) off the eastern coast of Africa, Madagascar is nearly the size of France and is the fourth largest in the world. It has a population of over 20 million but sees only 300,000 tourists a year.
While traveling Madagascar is challenging, it's also incredibly rewarding. The travel trail here isn't well-worn, which means visitors get a much more rugged, unique experience.
This Madagascar travel guide will help you plan the trip of a lifetime, save money, and ensure you make the most of your time in this off-the-beaten-path destination.
Top 5 Things to See and Do in Madagascar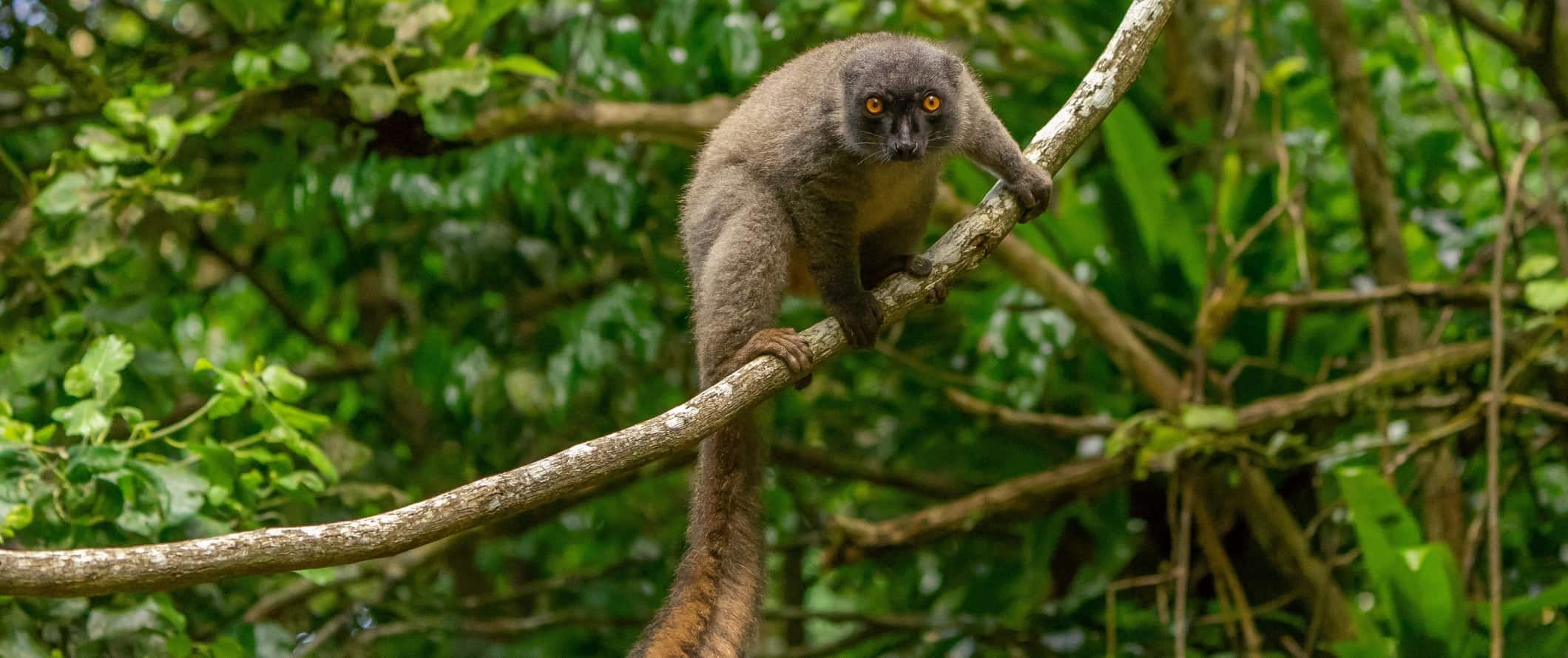 1. See the Avenue of the Baobab
Baobab trees are massive trees that can grow 30 meters (98 feet) tall, 11 meters (36 feet) wide, live up to 1,000 years, and are completely unique to Madagascar. While the trees can be found throughout the country, this road lined with them is one of the most iconic images of Madagascar.
2. Visit Tsingy
This park, near the western coast, is really two parks: Great Tsingy and Little Tsingy. It's not an easy place to visit (it takes a full day via 4WD on very rough terrain to get here) but the views are worth it. The rock formations here are amazing and otherworldly. Admission is 55,000 MGA.
3. Explore Isalo National Park
Featuring multiple rugged hiking trails, cliffs, ravines, gorges, canyons, and plentiful fauna, this Westworld-like park blew me away. You are required to hire a guide before you explore though (they are found at the entrance). Admission is 65,000 MGA and guides cost between 80,000-100,000 MGA.
4. Relax at Nosy Be
Nosy Be is the place to go for Madagascar's trademark beaches. Located 8 kilometers (5 miles) off the coast, this small island is home to white-sand beaches, expensive restaurants, and upscale resorts. Beach parties erupt each Sunday and there's some amazing snorkeling, diving, fishing, and whale watching.
5. Explore Lemur Island
Lemur Island is a wildlife refuge that has four species of lemurs that have been rescued from being pets. They are also released back into their natural habitat when ready. If for some reason they can't make it alone in the wild, they stay in the park. Admission is 12,000 MGA.
Other Things to See and Do in Madagascar
1. Relax at Île Sainte Marie
While everyone goes to Nosy Be for the fancier resorts, if you want something a little more local, cheaper, and more relaxed, check out Île Sainte Marie. Located off the eastern coast, this former pirate capital (the 17th-century pirate Captain Kidd's ship sank nearby) is a funky, relaxed island full of little coves, a pirate graveyard, and delicious seafood. The beaches aren't as good as Nosy Be but there's a beautiful white-sand beach in the south of the island that few people visit. This is also the best part of the country for whale watching. Round-trip flights here cost around 810,000 MGA. (Don't take the boat, it's slow and terribly inconvenient).
2. See Ranomafana National Park
This is one of the best spots in the country to see lemurs as it's home to twelve different species of them. Besides lemurs, there are the famous giraffe beetles as well as lots of birds, chameleons, over 130 species of frogs, and other wildlife to see. Of the multiple trails available, I would do the morning hike, then the afternoon and night hikes at the secondary entrance (a guide is required for these). The majority of tours skip the latter hikes, so if you do them, you'll get more of the park to yourself. Due to the park's popularity, there's a daily limit on the number of people who can visit so it's best to go in the low season. Admission is 22,000 MGA per day and guides cost between 80,000-120,000 MGA.
3. Visit Toliara
This small west-coast town is famous for its expats, pizza (a seriously popular dish in the country), and for being a launching pad for diving excursions to the Great Reef offshore. There's not much else to do except sit by the beach and relax. Driving here on the N7 (the only north-south highway) is also pretty amazing as you can take in Ranomafana National Park, Isalo National Park, and other stunning vistas along the way! A single dive costs 180,000 MGA.
4. Explore Antananarivo
The capital of Madagascar, known as Tana for short, it's a gritty city with terrible traffic — but there's a lot of history and culture here that make a short visit worthwhile. See the lemur park and the Rova (the old palace), get a sense of the international scene in the city and use it as your launching pad for stops further afield.
5. Try zebu
Zebu is a type of cow with a large hump on its back. It's more of a work animal, like an ox, and you'll see them all over the country (they are even used as dowries in weddings). It's the only kind of beef here, and it is always on the menu (along with healthy portions of rice). The meat is really tough (thanks to all the work the animals do in the fields) and so it's best in a stew. Be sure to try it while you're here!
6. Drive the N5
Heading north along the east coast from Toamasina to Maroantsetra, this road — and I use the word "road" loosely — is a potholed-filled expedition through some of the rawest and most pristine areas of Madagascar. It's also your best chance to see the famous aye-aye lemur (which kind of looks like a possum). The road weaves through dense jungle, across rivers, and through tiny towns in one of the most undeveloped parts of the country. Stretching 400 kilometers (250 miles), Route Nationale 5 (N5) is arguably the worst road (in terms of its condition) in the country. Many sections are often impassable so budget lots of time to drive it (they say it takes over 24 hours to drive the entire "road").
7. Go whale watching
Between June and November more than 7,000 humpback whales migrate from Antarctica to Madagascar to breed, meaning the whale watching here is some of the best in the world. While we were taking the boat to Île Sainte Marie, we saw a couple breach the water and it was absolutely stunning to see. Plus, with so few tourists here, you aren't stuck in a horde of boats vying for a photo. Adult humpback whales grow up to 16 meters (52 feet) and weigh over 30 metric tons (66,000 lbs.). You can also see the less-common Omura whale (dwarf fin whale) around Madagascar as well. Tours cost 135,000 MGA.
8. Enjoy Mantadia National Park
Located 160 kilometers (100 miles) east of the capital, Mantadia National Park is a protected area spanning 155 square kilometers (60 square miles). It's home to 14 species of lemurs as well as over 115 types of birds and 84 kinds of amphibians — many of which are endangered. The landscape is a stunning mix of old-growth forest and rainforest, and you'll see lemurs almost everywhere you go! Admission is 45,000 MGA and the required local guide is 60,000-80,000 MGA. There are also lodges in the park where you can stay overnight for 57,000 MGA per night.
9. Visit Lokobe National Park
Situated on the southeastern tip of Nosy Be, Lokobe National Park is one of the Sambirano region's only remaining forests. Black lemurs, panther chameleons, and several endemic species of birds all make their home here. To get to Lokobe National Park, you'll need to take one of the park's pirogues (rowboat) from Nosy Be, which takes roughly 20-40 minutes. Admission is 55,000 MGA. Lokobe is one of the few national parks in Madagascar where a local guide is not needed.
10. Relax on Nosy Mangabe
Nestled deep between the coastal hills of Helodrano Antongila Bay as it carves its way inland on the north-eastern edge of Madagascar, this small island is famed for its booming populations of bug-eyed aye-aye lemurs. Huge fig trees wrangle around groves of palms, ruffed lemurs meet Mantella frogs in the undergrowth, and the green hills crash down into secluded bays of bright yellow sand. It's a stunning landscape to say the least. Boats to the island and all the necessary permits are available in Maroantsetra. Admission is 45,000 MGA.
11. Visit Ambohimanga
The sacred royal hill of Ambohimanga, located 24 kilometers (15 miles) from the capital, was the one-time home of the country's kings and the modern country's first capital. Expanded throughout the 1700s, the walled complex contains a mound of palaces and burial grounds, crumbling fortifications, and regal tombs. King Andrianampoinimerina launched his now-famed campaigns to reunify the country from here, following more than seven decades of civil war in the 18th century. Admission is 10,000 MGA and you can also get a guide to show you around for free (just be sure to tip them).
12. Go to Antsirabe
Perched high up in the Central Highlands, Antsirabe is the third-largest city in Madagascar and the premier destination for the French who came here during the height of colonialism. They built elegant Parisian-style mansions, raised Gothic cathedrals, and laid wide boulevards with plane trees casting shade. The dusty city retains some of that charm and is one of the most aesthetically pleasing cities in the country. Antsirabe, a name that means "place of much salt" in Malagasy, is home to multiple natural thermal springs, making it a popular healing retreat. It's also one of the best food spots in the country.
Madagascar Travel Costs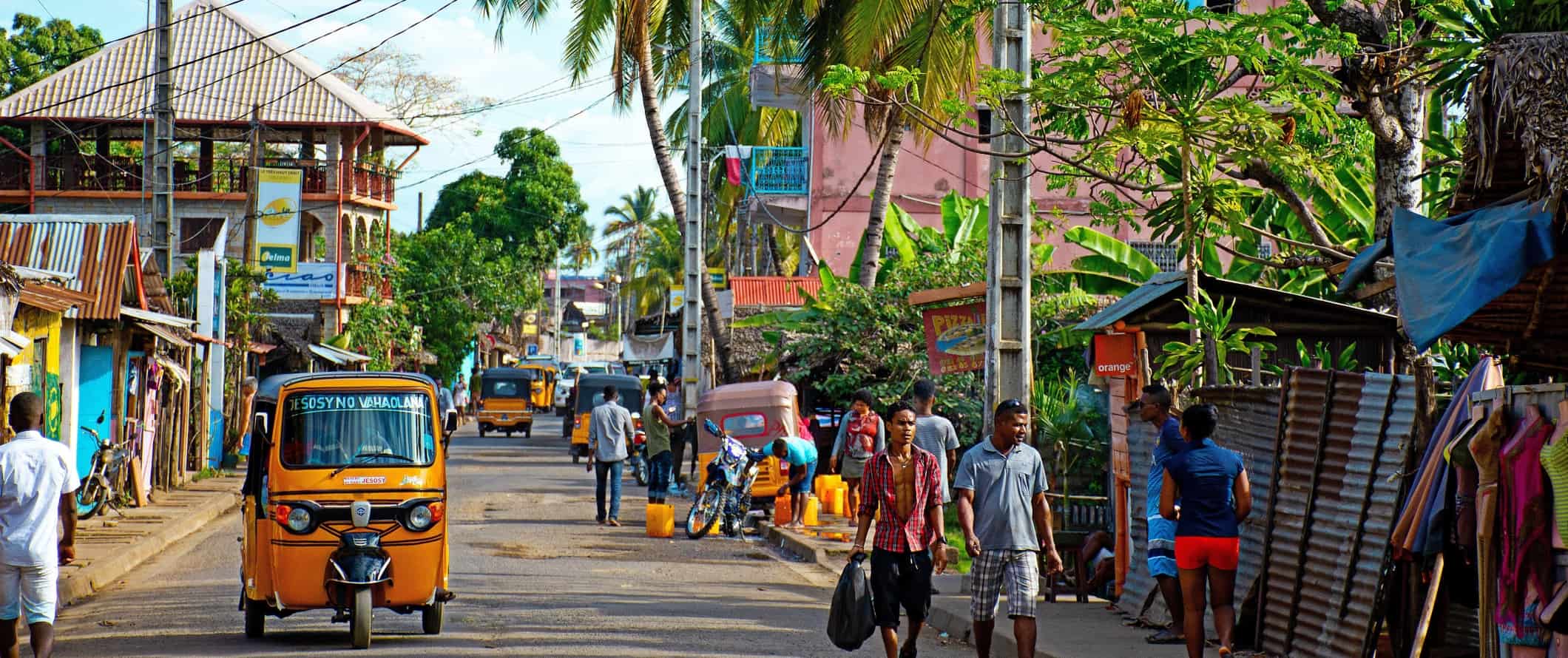 Accommodation – There are only a few hostels in the entire country and a bed in a dorm costs around 35,000 MGA, though sometimes you can find beds for as low as 20,000 MGA. For a private room, expect to pay at least 50,000 MGA. Free Wi-Fi and self-catering facilities are standard, though free breakfast is not.
Camping is available around some of the national parks. Wild camping is not recommended.
Budget hotels start at 60,000 MGA per night for a twin or double with a shared bathroom. For a room with a private bathroom in a hotel with more amenities (such as a pool), expect to spend at least 75,000 MGA per night. Free Wi-Fi is common but not included everywhere. A few hotels also offer free breakfast.
Airbnb is available around the country in larger towns and cities. You can find private rooms for 48,000 MGA per night and entire homes/apartments for around 100,000 MGA per night.
Food – Malagasy cuisine reflects the trading and colonial history of the island, with French, Southeast Asian, African, and Middle Eastern flavors all making their way into the country's dishes. Tomato, ginger, turmeric, garlic, and onion are the commonly used spices in Malagasy cuisine.
Food in Madagascar is based around the country's main staple: rice, usually accompanied by seafood or zebu. Rice is so central to food here that the Malagasy term for "to eat a meal" literally means "to eat rice." Any side that comes with rice is called laoka. Some examples of sides include tomato salsa, stewed leafy vegetables, or beans.
Since zebu is quite tough, it's often stewed (which is the best way to have it in my opinion), such as in romazava, which contains braised meat, tomato, garlic, ginger, and anamalao flowers, and is often considered the national dish.
Beef or prawn skewers are another common offering. For food on the go, be sure to try the nem (spring rolls) and mofo (fritters). They are cheap (usually around 50-200 MGA) and delicious!
Dining out is very inexpensive here. For a meal of traditional cuisine at a casual sit-down restaurant, expect to pay around 7,700 MGA.
Meals at restaurants that cater to tourists are the most expensive, offering Italian food or crepes for 25,000-28,000 MGA for a meal with a drink. For a pizza (which you can find almost everywhere), prices start at 10,000-15,000 MGA. A fast-food combo meal costs 20,000 MGA.
A beer costs 3,000 MGA while a latte or cappuccino costs 4,500 MGA. Bottled water is 1,500 MGA.
Cooking your own food won't really save you any money since restaurants here are so cheap. However, if you do want to buy your own food, expect to pay around 77,000 for a week's worth of groceries including staples like rice, pasta, seasonal produce, and some meat.
Activities – National parks usually cost between 25,000-65,000 MGA while guides cost around 80,000 MGA. Lemur Island is 12,000 MGA, whale watching is around 130,000 MGA, and diving is around 180,000 MGA for a single-tank dive.
Backpacking Madagascar Suggested Budgets
On a backpacking budget of 110,000 MGA per day, you can stay in hostels, take shared or self-guided excursions, take buses between destinations, enjoy a couple of beers, eat street food for all your meals, and do mostly free activities like hiking and enjoying the beach.
On a mid-range budget of 240,000 MGA per day, you can stay in a private hostel room or Airbnb, take some guided tours, visit some islands and national parks (with the required guides), eat out at traditional Malagasy restaurants for all your meals, drink more, and take minibusses between cities.
On a "luxury" budget of 575,000 MGA per day, you can stay in a hotel, eat out at any restaurant, hire private drivers, do as many excursions as you want, and take taxis everywhere. This is just the ground floor for luxury though. The sky is the limit!
Accommodation
Food
Transportation
Attractions
Average Daily Cost
Backpacker
35,000
30,000
20,000
25,000
105,000
Mid-Range
55,000
50,000
60,000
75,000
240,000
Luxury
100,000
70,000
285,000
120,000
575,000
Madagascar Travel Guide: Money-Saving Tips
Looking to save money while you're traveling Madagascar? Here are some of the best ways to save money during your trip:
Travel during the off-season – Flights to Madagascar are cheapest during the low season (October-April). While it's not the most ideal time to visit, your flight is your biggest expense (assuming you're not booking a multi-day tour). Visiting during the shoulder season can go a long way to saving you money.
Take local minibusses – When traveling between towns, take public minibusses. Fares are 20,000-50,000 MGA. Exercise patience, as you'll rarely show up to your destination on time — but you'll save money over hiring a driver and they are better than the regular bus.
Skip the car rental – Car rentals cost the same as renting a car and driver. Skip going solo and hire a driver — they'll not only be more familiar with the driving conditions but most drivers know a lot about the country and landscape too.
Avoid the hotel restaurants – Food at hotels is cheap, however, it's usually double the price of a restaurant elsewhere in the city.
Get a local SIM card – Local SIM cards cost 4,000 MGA, and around 30,000 MGA per gig of data. A local SIM is much cheaper than your data plan from home.
Bring a reusable water bottle – The tap water in Madagascar is not safe for drinking. Avoid single-use plastic by bringing a bottle and filter like LifeStraw. You'll save money, stay safe, and help the environment!
Where to Stay in Madagascar
Hostels are few and far between in Madagascar. Here are some suggested budget-friendly options in the country:
How to Get Around Madagascar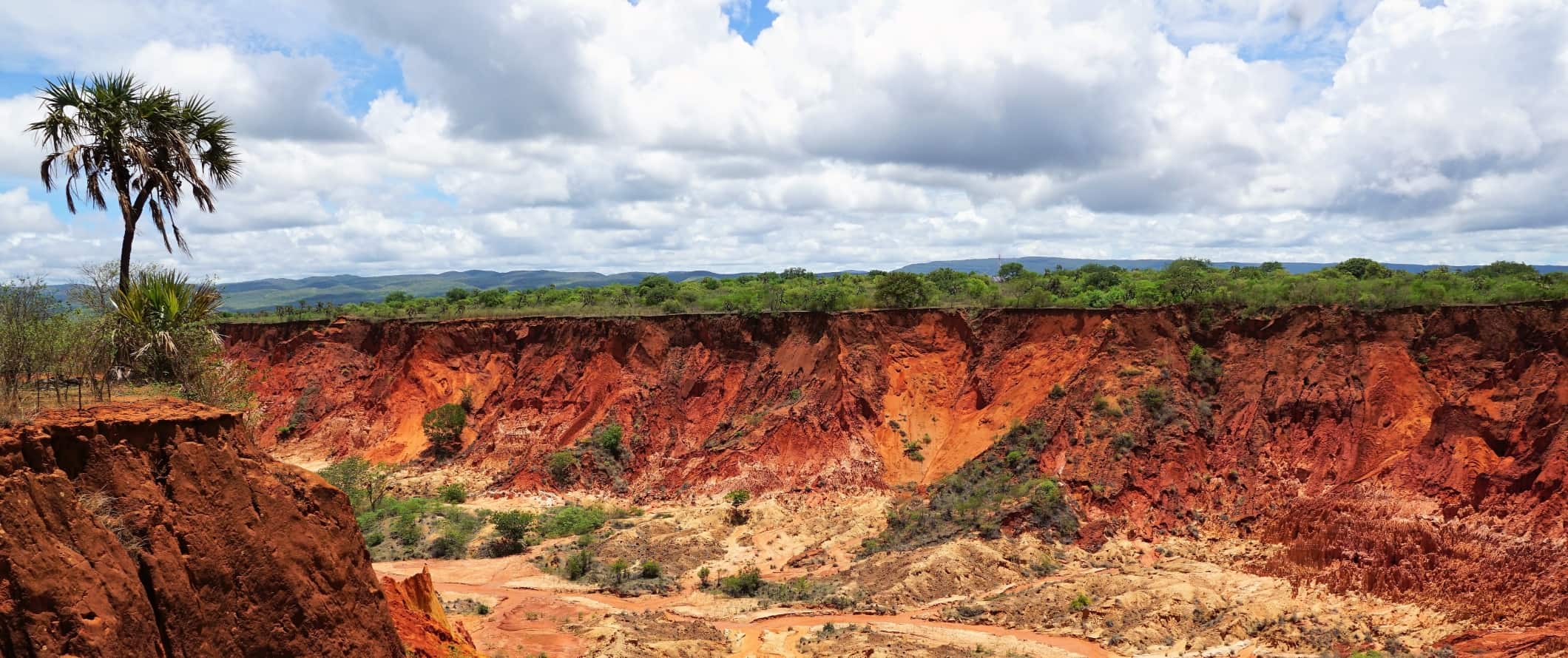 Tours – Multiday tours are the most common way to get around Madagascar. It's a hard destination to navigate on your own, especially if you don't want to hire a driver or speak a lot of French. Tours are the most popular choice for anyone looking to experience the country. I met travelers of all ages on my tour with Intrepid Travel.
Tours usually range from 11-24 days. A 14-day tour is around 9,000,000-17,000,000 MGA.
Bus – Buses here are slow, crowded, and unreliable. They don't leave on a set schedule and often break down due to the terrible road conditions. However, they are the most affordable and best option to get around.
The 350-kilometer (217-mile) journey from Antananarivo to Toamasina takes around 7 hours and costs 30,000 while the 570-kilometer (355-mile) trip from Antananarivo to Mahajanga takes 12 hours and costs 40,000 MGA.
For shorter distances, most minibusses cost between 10,000-20,000 MGA.
Air – There's only one domestic airline here (Air Madagascar and its subsidiary Tsaradia) and one-way tickets cost at least 350,000 MGA. If you're on a budget, flying isn't feasible.
Additionally, flights run on limited schedules, and flights are often canceled without notice, so make sure your plans are flexible if you're flying.
Train – The train is only available between Fianarantsoa and Manakara. It's a 300-kilometer (186 mile) trip and it usually takes around 10 hours (often much longer due to dilapidated railway lines and trains). Tickets are 70,000 MGA.
Car Rental – Car rentals can be found for around 280,000 MGA per day. However, it's uncommon that rental agencies rent cars without a driver. Having a driver is recommended since the roads here are quite challenging and you'll need a local to help in case anything goes wrong. I'd avoid driving here as the roads are hectic and in poor condition.
Hitchhiking – Hitchhiking is not a good idea in Madagascar as rides are rare and the driving conditions are dangerous.
When to Go to Madagascar
April-December is the best time to visit Madagascar. You'll avoid the rainy season as well as the cyclones that often occur. This is the most popular time to visit, however, Madagascar doesn't see a huge influx of tourists so it doesn't really get crowded here.
July-September is the best time to see the migrating humpback whales, while October and November are best for seeing baby lemurs. If you want to beat the "crowds" then visit in April, right at the end of the rainy season. It won't be as hot, but the jungles will be lush and the beaches quiet.
Expect temperatures around 21-24°C (70-75°F) during the peak months of June-August.
How to Stay Safe in Madagascar
Madagascar is a relatively safe country, however, due to the extreme poverty here theft can occur. Don't flash money or valuables and keep an eye on your belongings if taking a bus or if in large crowds. Keep your wallet and phone secure at all times, just to be safe.
While most cities and towns are safe, avoid walking around at night in Antananarivo.
Solo female travelers should generally feel safe here, though some precautions apply (avoid walking around alone at night, never accept drinks from strangers, dress appropriately so you blend in, etc.).
The roads here are terrible and accidents are common. Always wear your seatbelt (if you have one).
If exploring a city or rural area and you come across wild dogs, act with caution and don't provoke them.
There are a lot of beggars here, especially kids, and you have to just keep saying no and walking away. Be polite but firm.
There aren't many common scams here, but if you want to learn which to be on the lookout for, here are some common travel scams to avoid.
As always, keep your wits about you at nighttime, particularly in the capital. Ask your hotel to call you a taxi if you need one (always negotiate the price before getting in the car). Your hotel/hostel staff can write down directions and help you with the fare estimate so you don't get ripped off.
If you do experience an emergency, dial 117 for assistance.
Always trust your gut instinct. Avoid isolated areas at night, and be aware of your surroundings at all times. Make copies of your personal documents, including your passport and ID, before you leave on your trip. Forward your itinerary along to loved ones so they'll know where you are.
The most important piece of advice I can offer is to purchase good travel insurance. Travel insurance will protect you against illness, injury, theft, and cancellations. It's comprehensive protection in case anything goes wrong. I never go on a trip without it as I've had to use it many times in the past.
Madagascar Travel Guide: The Best Booking Resources
These are my favorite companies to use when I travel. They consistently have the best deals, offer world-class customer service and great value, and overall, are better than their competitors. They are the companies I use the most and are always the starting point in my search for travel deals.
Skyscanner – Skyscanner is my favorite flight search engine. They search small websites and budget airlines that larger search sites tend to miss. They are hands down the number one place to start.
Hostelworld – This is the best hostel accommodation site out there with the largest inventory, best search interface, and widest availability.
Booking.com – The best all around booking site that constantly provides the cheapest and lowest rates. They have the widest selection of budget accommodation. In all my tests, they've always had the cheapest rates out of all the booking websites.
Get Your Guide – Get Your Guide is a huge online marketplace for tours and excursions. They have tons of tour options available in cities all around the world, including everything from cooking classes, walking tours, street art lessons, and more!
SafetyWing – Safety Wing offers convenient and affordable plans tailored to digital nomads and long-term travelers. They have cheap monthly plans, great customer service, and an easy-to-use claims process that makes it perfect for those on the road.
LifeStraw – My go-to company for reusable water bottles with built-in filters so you can ensure your drinking water is always clean and safe.
Unbound Merino – They make lightweight, durable, easy-to-clean travel clothing.
Top Travel Credit Cards – Points are the best way to cut down travel expenses. Here's my favorite point earning credit cards so you can get free travel!
Madagascar Travel Guide: Related Articles
Want more info? Check out all the articles I've written on backpacking/traveling in Madagascar and continue planning your trip: