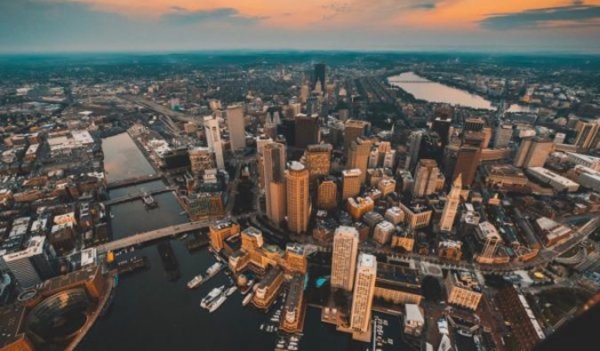 Last Updated: 3/6/23 | March 6th, 2023
Boston is the city of my birth.
So, of course, I'm a diehard fan of the city. It holds a special place in my heart.
Boston is a historic city with roots that stretch back to the founding of the country. To me, Boston is more a collection of small towns than a big metropolis city like LA or NYC or Miami. We're really just a bunch of townies.
(All those Boston-based movies that show hardcore neighborhood allegiance? They are spot on!)
As a city with a lot of students, recent graduates, and young people, Boston is a relatively cheap place to visit as it has a lot of free things to see and do.
From music events to museums to walking tours to beer tours to parks and beaches, there are many ways to save during your visit. (Going around the state? Click here for Massachusetts travel tips!)
Here's a list of the best free things to see and do in Boston!
1. Walk the Freedom Trail
Established in 1951, The Freedom Trail covers 16 historical sites and stretches 2.5 miles. This red-bricked trail will teach you almost all you need to know about Boston's history. You can visit the sites at your own pace or go on an organized tour led by one of Boston's many historic characters. Expect to spend a few couple hours walking the trail and much, much longer if you enter every site along the trail.
It's the best way to get a feel for the city and its history and hit a bunch of historical sites on the way. If you do one thing in Boston, do this.
2. Eat in Faneuil Hall
Everyone should eat in Quincy Market at least once. Grab your meal from one of the many restaurants in the colonnade, head outside to watch the people go by, and enjoy a street performer's show. The hall has been a meeting place in the city since the 1740s, and many speeches were given here about American independence before the Revolutionary War. After you're done eating, walk around and spend an afternoon here people-watching
4 S Market St, +1 617-523-1300, faneuilhallmarketplace.com. Open Monday-Thursday from 10am-7pm, Friday-Saturday from 10am-9pm, and Sunday from 11pm-6pm.
3. Lay Out in the Common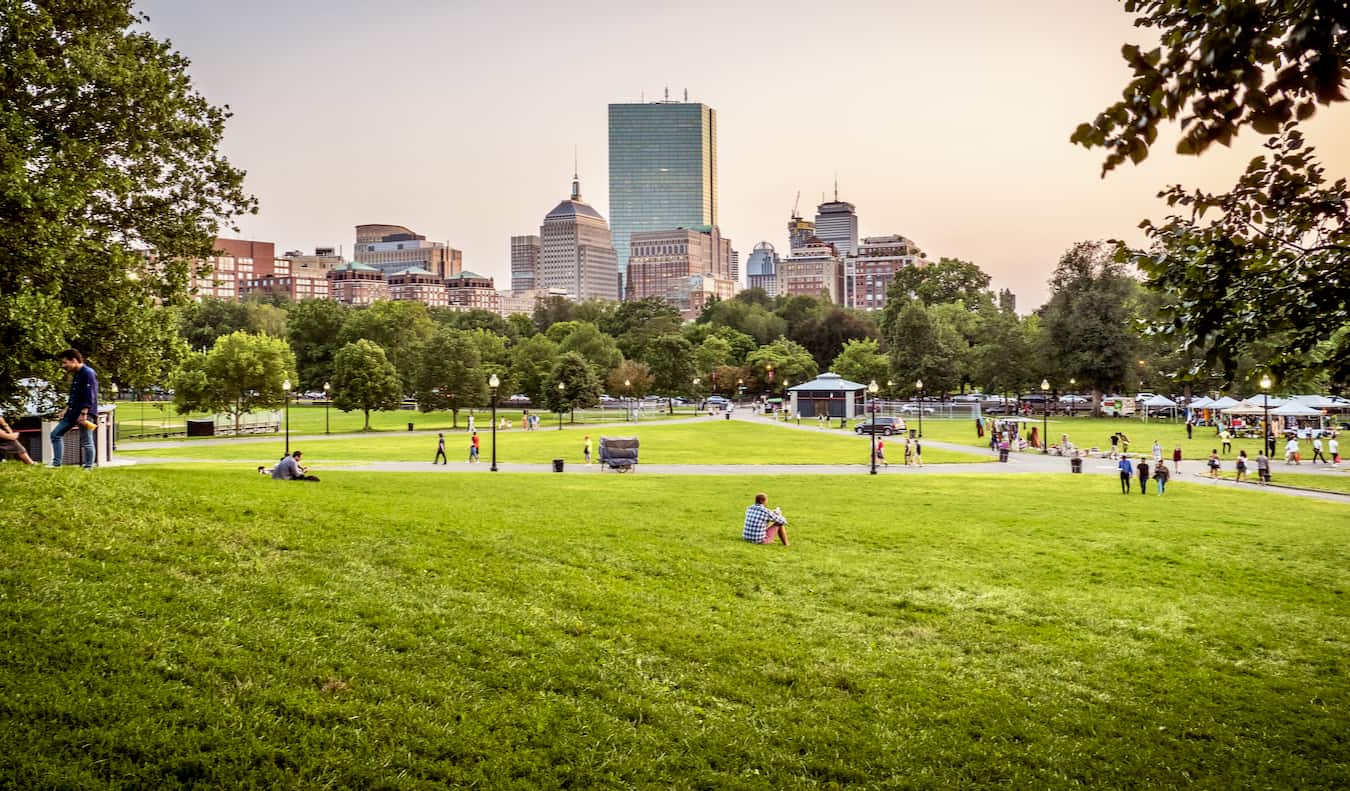 This is essentially Boston's version of Central Park, with the Common dating back to 1634, making it the country's oldest park. (Fun fact: There used to be a lot more fences surrounding the park, but in World War II the iron fences were taken and scrapped for the war effort.) Lie out, read a book, play some sports, or just relax. Wander around to the nearby Public Gardens, or sit by Frog Pond. It's a fantastic way to enjoy your day without spending a dime. In the summer, you can even take in a free Shakespearean play.
4. Catch a Concert at the Hatch Shell
Relax by the Charles River as artists play shows at the Hatch Shell. Built in 1928, It's here you can see the famous Boston Pops play on July 4th as well as a plethora of free summertime concerts. Sometimes the Hatch Shell even plays movies at night.
47 David G Mugar Way, +1 617-626-1250, hatchshell.com. See the website for an up-to-date list of events.
5. Head to Castle Island
Castle Island is located in South Boston and is famous for the fort located on it, Fort Independence (which was actually used as the first state prison. Ironic, huh?). The 22-acre island (which is technically a peninsula) extends into the harbor and has excellent beaches as well as running trails that are popular with the locals. There's a picnic area here, and you can explore the old fort for free. The place gets pretty busy on the weekends during the summer and you can often see school groups exploring the fort during the spring.
6. Explore the Arnold Arboretum in Jamaica Plain
Over 260 acres of free public space is open here from sunrise to sunset. There are running trails, gardens, open lawns, and tons of flowers from all over the world. Relax among the plants and take a step back from the fast pace of the city. This place is much quieter than the Public Gardens and offers a bit more variety in plant life. They also have a huge Bonsai tree collection.
125 Arborway, +1 617-524-1718, arboretum.harvard.edu. Open daily from 7am-7pm.
7. Climb the Bunker Hill Monument
The Battle of Bunker Hill in 1775 was one of the first major battles during the American Revolutionary War. While the British eventually took the field, the Americans wore the British forces down much more than was expected. After the battle, the British were much more cautious in their advance, which gave the American forces much more time to prepare for the coming war. The monument stands 221-feet, and you can climb to the top free of charge. There is also a nearby museum which is also free.
Monument Square, +1617-242-5601, nps.gov/bost/learn/historyculture/bhm.htm. Open daily from 10am-5pm. Admission is free.
8. Take a Tour of MIT
The Massachusetts Institute of Technology is one of the most famous universities in the world, known for its expertise in engineering and research. The campus, located in Cambridge, is a mass of buildings that are worth exploring to get a sense of what campus life is like and to see some very interesting art and architecture. You can pick up a free map from the information office and take a self-guided tour to explore this historic campus.
77 Massachusetts Ave, +1 617-253-1000, mit.edu.
9. Explore the Black Heritage Trail
There are 14 sites located around Beacon Hill that make up this walking tour, covering important parts of African-American history. Massachusetts was the first state to declare slavery illegal (in 1783) and you can learn a lot about the history of slavery and the African-American experience by taking this tour. Free maps are available at the Abiel Smith School if you want to do a self-guided tour, though there are several companies that also arrange guided tours (with the map it's very simple to do yourself though).
10. Take a Tour of Harvard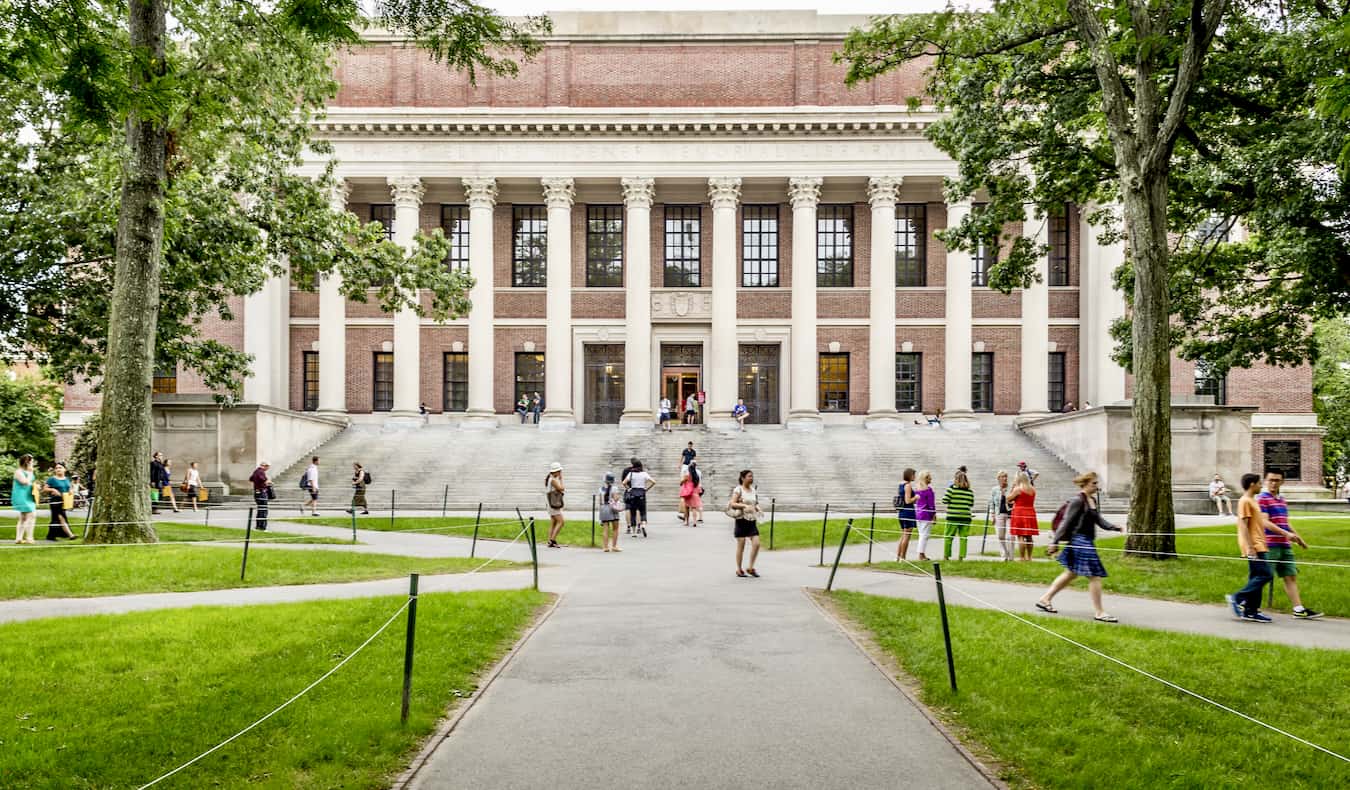 Founded in 1636, Harvard is the oldest university in America. Head to its home in Cambridge (Harvard Square Red Line train stop) and join a free tour to learn more about it. Learn about the university's history, architecture, programs, and myths. When you're finished, wander around the eclectic offerings of Harvard Square. There are a lot of good street musicians here. (Fun fact: Tracy Chapman got her start playing on the streets here.)
Harvard University, +1 617-495-1000, harvard.edu/on-campus/visit-harvard/tours.
11. Go Stargazing
The Coit Observatory at Boston University offers free stargazing with telescopes and binoculars every Wednesday evening (weather permitting). It takes place outside (obviously) so just make sure to dress for the weather. There is limited space so you need to reserve your spot in advance.
725 Commonwealth Avenue, +1 617-353-2630, bu.edu/astronomy/events/public-open-night-at-the-observatory. Viewings are Wednesday evenings at 7:30pm in the autumn and winter and 8:30pm in the spring and summer.
12. Visit a Free Museum or Art Gallery
Boston has a lot of world-class galleries and museums, with many offering free entry. Here are a few museums and galleries that offer free entry on certain days:
Institute of Contemporary Art – This contemporary art gallery is free on Thursdays from 5pm-9pm.
Commonwealth Museum – This museum explores the history of Massachusetts and is free every day.
Harvard Museum of Natural History – This natural history museum has exhibitions showcasing dinosaurs, animals, and minerals (including meteorites). It's free to Massachusetts residents every Sunday morning from 9am-12pm (year-round), and Wednesdays from 3pm-5pm (September through May). Massachusetts teachers (K-12) can also visit free, as well as Massachusetts residents who present Electronic Benefits Transfer (EBT) cards at the admission desk with up to 5 guests.
Harvard University Art Museums – Home to both modern and historical art exhibitions, these museums are free on Sundays.
Museum of Fine Arts – Home to over 450,000 pieces of fine art, this museum is free on Wednesdays after 4pm, as well as on certain holidays (Memorial Day, MLK Jr. Day).
Warren Anatomical Museum – A macabre museum with Civil War-era medical tools as well as some "medical mysteries" that is free every day. The museum is currently closed but estimated to reopen in 2023.
13. Take a Free Walking Tour
While the city's plethora of food tours, wine tours, and historical tours will cost money, both Free Tours by Foot and Strawberry Tours offer free walking tours around the city. They're a great way to get oriented and see the major sights without breaking the bank. Just be sure to tip your guides!
14. The Lawn on D
This huge greenspace is relatively new to the city (when I was growing up, there was nothing in this area and you would never go there) and there are all sorts of free activities happening year round (check their website for the latest). There's public seating, free Wi-Fi, art exhibitions, and a few games like table tennis and bocce.
+1 877-393-3393, signatureboston.com/lawn-on-d. Open daily from 7am-11pm (hours may vary for events). Admission is free.
15. Go Hiking in the Blue Hills
This park is a bit out of the way, but it's definitely worth a visit (especially if you have access to a vehicle). The 7,000-acre park is home to over 100 miles of trails and offers some panoramic viewpoints if you feel like stretching your legs and going for a hike. There are also plenty of activities to keep you entertained, such as boating, fishing, skiing, and rock climbing (depending on the season). If you go on the weekends in the summer, get there early to beat the crowds.
16. Tour the Massachusetts State House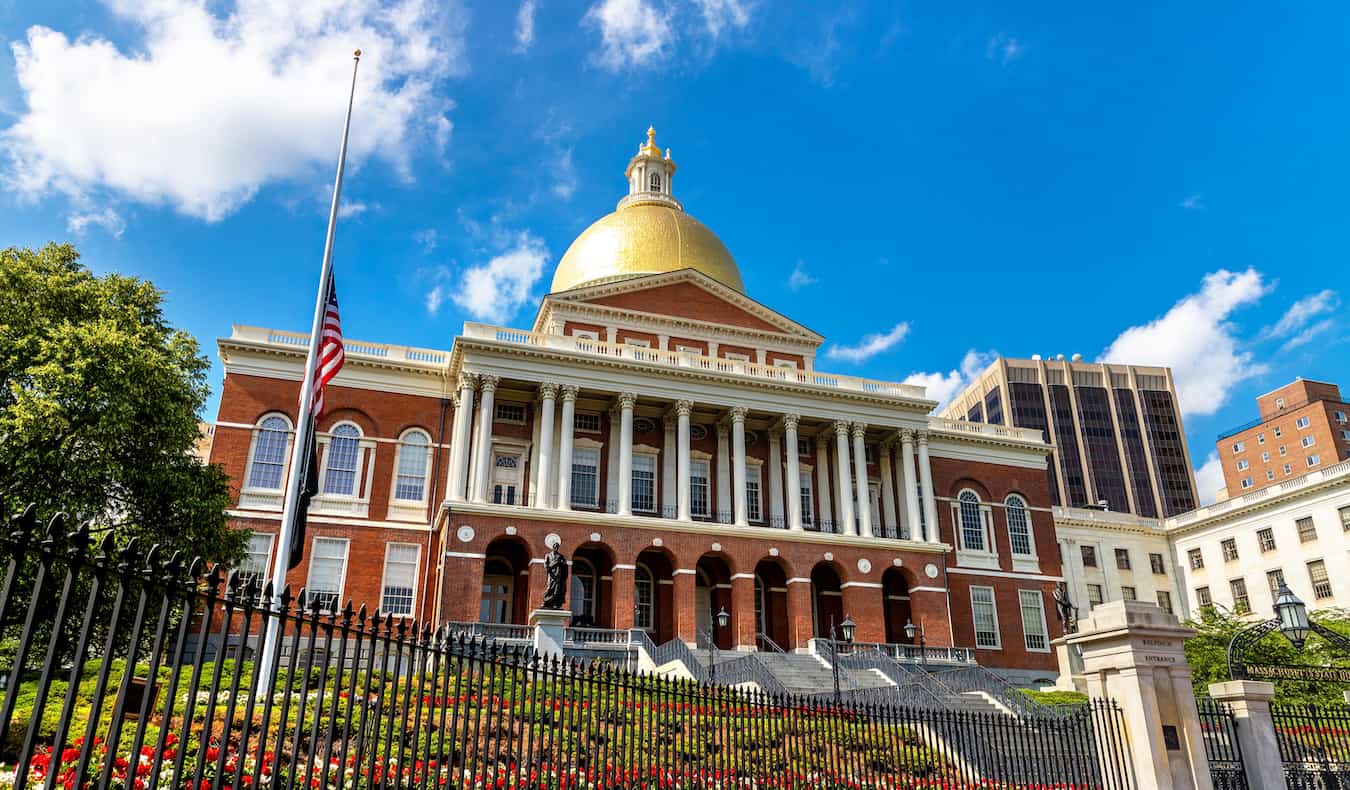 If history is your cup of tea, take a tour of the State House. You'll learn about the building's history, architecture, and how the state works. Built in 1798, this National Historic Landmark is well worth taking the time to see. Guided tours are organized by volunteers and are available weekdays between 10am-3:30pm and last around 30-45 minutes (though you can also take a self-guided tour but it's less fun).
24 Beacon St, +1 617-727-3676, malegislature.gov. Open weekdays from 8am-6pm, but tours are only available from 10am-3:30pm. Admission is free.
17. See the Skinny House
Located at 44 Hull Street in the North End, this narrow house was built just after the Civil War when Joseph Euestus came home to find his brother had taken over more than half of the land they were meant to share. Seeing that his brother had built a huge mansion on the property, Joseph built a 4-story home to block his view. The odd building definitely stands out and it's worth seeing with your own eyes. Even though the house is only 10-feet wide, it still sold for almost $1.25 million USD in 2021!
18. Browse for Books at Brattle Book Shop
Located a stone throw away from the Boston Common, this family-run used bookstore is home to over 250,000 items. Books, postcards, maps — and lots of other odds and ends call this place home. It's one of the oldest bookstores in the country, having originally opened in 1825! In addition to your standard used books, the store is also home to all sorts of first editions and antique books. If you're a book lover like me, you can't miss this place.
9 West Street, +1 617-542-0210, brattlebookshop.com. Open Monday-Saturday from 9am-5:30pm.
19. Visit Forest Hills Cemetery
This serene Victorian cemetery sits on almost 300 acres of land and is the resting place of a few noteworthy individuals, such as the playwright Eugene O'Neill and the poet E.E Cummings. In 2006, as part of an exhibition, sculptures, including miniature buildings, were added to the cemetery.
95 Forest Hills Avenue, +1 617-524-0128, foresthillscemetery.com. Gates open daily at 8am with closing hours varying by season (check the sign upon entry to see when the cemetery closes).
20. Stroll Along the Charles River
The Charles River Esplanade is a 17-mile stretch along the banks of Boston's Charles River. It's a great place to go for a walk or a run, enjoy the view from a cafe, or even head out onto the water to canoe or kayak. On a sunny day, you'll find tons of locals here.
If you're traveling with kids, there's a fun playground just west of the end of Storrow Drive that has a splash pad as well as playground equipment for both older and younger children.
21. Hit the Beach
If you're visiting during the warm summer months, hit the beach to cool down. Winthrop and Revere Beach is located just under an hour from downtown (via public transportation) and is open all year round (lifeguards are on duty from June-September). Both are two of the most popular beaches in the area during the summer. Revere Beach is over 3-miles long and the easiest to get too. There are also tons of amazing beachfront places to eat here too. Go eat at the original Kelly's. It's a Boston institution.
Revere beach has more stores, restaurants, and is a lot bigger. Winthrop beach is a lot quieter.
22. Go Ice Skating
If you're visiting Boston in the winter, there are tons of places around the city to go ice skating. There is a free rink at Harvard that is open to the public. You'll still need to rent skates (which costs around $5) but the skating itself is free. It's a great way to enjoy Boston's chilly winter months.
23. Visit the USS Constitution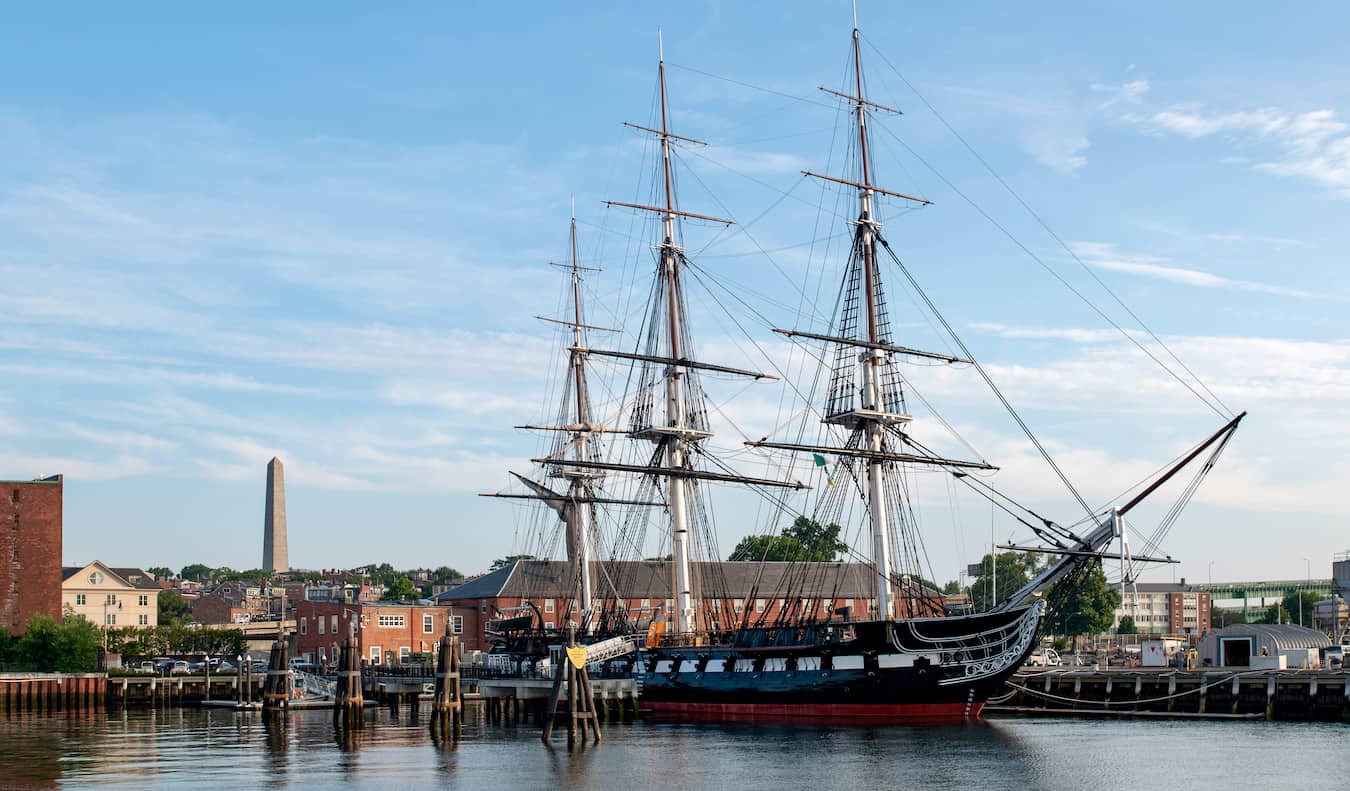 Commissioned in 1797 and named by George Washington, "Old Ironsides" is a heavy frigate that was used in the War of 1812 and later in the Civil War. It's the oldest ship in the world that is still afloat, and its popularity has stopped it from being scrapped on multiple occasions. The ship is permanently docked in the harbor and free tours are offered every 30 minutes. It's a wonderful way to get a sense of what life at sea was like over 200 years ago!
Charlestown Navy Yard, +1 617-426-1812, ussconstitutionmuseum.org. The ship is open Wednesday-Sunday from 10am-4pm (with extended hours in the summer) and the museum is open 10am-5pm (with extended hours in the summer as well). Admission is free, though the museum has a suggested donation of $10-15.
24. Walk the Irish Heritage Trail
Americans of Irish descent form the largest single ethnic group in Boston (over 20% of the people in Massachusetts claim they have Irish ancestry). This historic free walking trail will take you around the city focusing on contributions made by the city's thriving Irish community. There are 16 sites along this 3-mile walk which you can visit consecutively or in tandem with one of the city's other historic walks.
For a map and details about the trail, visit irishheritagetrail.com.
25. Walk along the Rose Kennedy Greenway
This urban park twists through the heart of Boston and features plenty of beautiful green space and public art. There are often festivals and events along the Greenway, making it a great place to enjoy nature. Food trucks are often parked around the area, and there are also a few places to stop and grab drinks. There is ample seating scattered around too, so bring a book and relax or people-watch.
rosekennedygreenway.org/info. Open daily 7am-11pm.
26. Tour some of Boston's finest galleries
If you happen to visit Boston during the first Friday of the month, head to the SoWa Art and Design District in Boston's South End neighborhood. During the first Friday of every month the galleries open their doors from 5pm-9pm for the public to visit for free. More than 200 artists, galleries, and stores participate in the event so there's a ton to see and some excellent people-watching too!
***
Whether you're here for the history, the food, the sports, or something else, Boston has a lot of things to do for free that will fill your entire visit and help you save a ton of money in Boston.
Book Your Trip to Boston: Logistical Tips and Tricks
Book Your Flight
Use Skyscanner to find a cheap flight. They are my favorite search engine because they search websites and airlines around the globe so you always know no stone is left unturned.
Book Your Accommodation
You can book your hostel with Hostelworld as they have the biggest inventory and best deals. If you want to stay somewhere other than a hostel, use Booking.com as they consistently return the cheapest rates for guesthouses and cheap hotels. My favorite place to stay is:
For more hostels, check out this post on the best hostels in the city. If you want to know the best neighborhoods to stay in, here's my guide to all the best areas in town!
Don't Forget Travel Insurance
Travel insurance will protect you against illness, injury, theft, and cancellations. It's comprehensive protection in case anything goes wrong. I never go on a trip without it as I've had to use it many times in the past. My favorite companies that offer the best service and value are:
Looking for the Best Companies to Save Money With?
Check out my resource page for the best companies to use when you travel. I list all the ones I use to save money when I'm on the road. They will save you money when you travel too.
Want More Information on Boston?
Be sure to visit our robust destination guide to Boston for even more planning tips!