Do you like to read? ME TOO! I average a book a week and read everything from travel to history, biographies, business, psychology, and self-improvement. Not only does reading a book kill a lot of time on planes, trains, and buses, it also makes you a smarter, more educated, well-rounded person.
I recently started a monthly book club to share the best and most helpful books I've read with you. If you are looking for more reading ideas and suggestions, join our monthly club and get a list of books sent to you once a month! It's free and there's only one email per month!
I love reading and want to share all the amazing books I read with you in hopes they will inspire you to travel more and live better.
– Matt
Six reasons to sign up for the book club:
Each month, you'll get one e-mail with four to five book suggestions for you to read and enjoy.
You won't have to wonder if a book is good or not.
You'll get obscure, literary wonders you've never heard of.
You'll learn more about the world and the people in it!
You'll get ideas for future trips.
Because books make you cool!
Bonus reason: I often give away books, Amazon gift cards, and other literary related items!
To get book suggestions sent to you for free, just enter your name and email below:
"I want to thank you for helping me rediscover my love for reading with your book suggestions and book club. It helped me create my goal of a book a week this year. Almost there! And the four books I just bought will get me a little bit closer." – Chris S.
Recent Favorite Lists & Author Interviews
Some Recent Suggestions
If you'd like to see more of my past favorites, be sure to check out this page with all my favorites on Bookshop. We recently switched to Bookshop because they support small, independent bookstores. The discounts aren't as great as Amazon but you are helping support small booksellers that are the lifeblood for many communities. (But, if you only use Kindle, here's the link to our Amazon page where you can get books from there too.)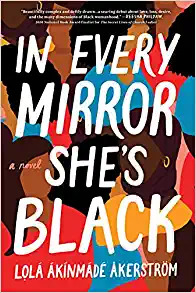 Book of the Month: In Every Mirror She's Black by Lola Akinmade Åkerström
Every month, we select one book to read and then do a virtual Q&A with the author. Think of it like a book store's author event but from the privacy of your own home! This month, we're reading In Every Mirror She's Black by Lola Akinmade Åkerström.
Lola's debut novel is an arresting read for anyone looking for insight into what it means to be a Black woman in today's world. Told through the perspectives of three women living in a foreign country, In Every Mirror She's Black is a fast-paced and richly nuanced contemporary novel that illuminates both the Black experience as well as the struggles of living in a new country.
You can pick it up on Bookshop if you're in the US or UK. You can also find it on Amazon. And you can sign-up for our event here. (It's free.)