Do you like to read? ME TOO! I average a book a week and read everything from travel to history, biographies, business, psychology, and self-improvement. Reading a book kills a lot of time on planes, trains, and buses and makes you a smarter, more educated, well-rounded person.
I recently started a monthly book club to share the best and most helpful books I've read with you. If you are looking for more reading ideas and suggestions, join our monthly club and get a list of books sent to you once a month! It's free and there's only one email per month!
I love reading and want to share all the amazing books I read with you in hopes they will inspire you to travel more and live better.
– Matt
Six reasons to sign up for the book club:
Each month, you'll get one e-mail with four to five book suggestions for you to read and enjoy.
You won't have to wonder if a book is good or not.
You'll get obscure, literary wonders you've never heard of.
You'll learn more about the world and the people in it!
You'll get ideas for future trips.
Because books make you cool!
To get book suggestions sent to you for free, just enter your name and email below:
Want suggestions on what to read? Join my monthly book club and get a list of 3-5 recommended books sent to you each month.
"I want to thank you for helping me rediscover my love for reading with your book suggestions and book club. It helped me create my goal of a book a week this year. Almost there! And the four books I just bought will get me a little bit closer." – Chris S.
Recent Favorite Lists & Author Interviews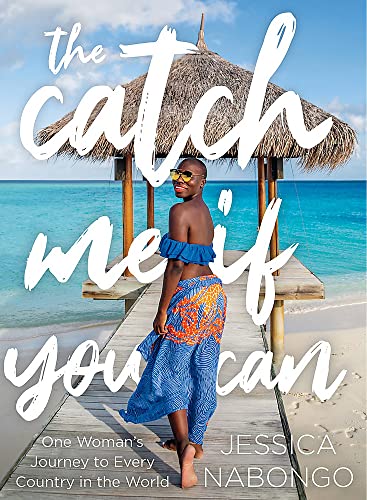 Book of the Month: The Catch Me If You Can: One Woman's Journey to Every Country in the World
In this inspiring travelogue, celebrated traveler and photographer Jessica Nabongo — the first Black woman on record to visit all 195 countries in the world — shares her journey around the globe with fascinating stories of adventure, culture, travel musts, and human connections.
It was a daunting task, but Jessica Nabongo, the beloved voice behind the popular website "The Catch Me if You Can", completed her journey to all 195 UN-recognized countries in the world in October of 2019. Now, in this one-of-a-kind memoir, she reveals her top 100 destinations from her global adventure.
Beautifully illustrated with many of Nabongo's own photographs, the book documents her remarkable experiences in each country, including:
A harrowing scooter accident in Nauru, the world's least visited country
Seeing the life and community swarming around the Hazrat Ali Mazar mosque in Afghanistan
Horseback riding and learning to lasso with Black cowboys in Oklahoma
Playing dominoes with men on the streets of Havana
Learning to make traditional takoyaki (octopus balls) from locals in Japan
Dog sledding in Norway
Swimming with humpback whales in Tonga
A late-night adventure with strangers to cross a border in Guinea Bissau
Sunbathing on the sandy shores of Los Roques in Venezuela
Along with beloved destinations like Peru and South Africa, you'll also find tales from far-flung corners and seldom visited destinations, including Tuvalu, North Korea, South Sudan, and the Central African Republic. Nabongo's stories are love letters to diversity, beauty, and culture—and most of all, to the people she meets along the way. Throughout, she offers bucket-list experiences for other travel lovers looking to follow in her footsteps.
For armchair travelers or readers planning a trip around the globe, this arresting collection will awe and inspire!
You can pick it up on Bookshop or Amazon.
We'll discuss the book at our next virtual book club meeting on October 25th. Come join us! (It's free.)
If you'd like to see my past favorites, be sure to check out this page with all my favorites on Bookshop. We recently switched to Bookshop because they support small, independent bookstores. The discounts aren't as big as Amazon but you are helping support small booksellers that are the lifeblood for many communities. (But, if you only use Amazon, here's the link to our Amazon page too.)