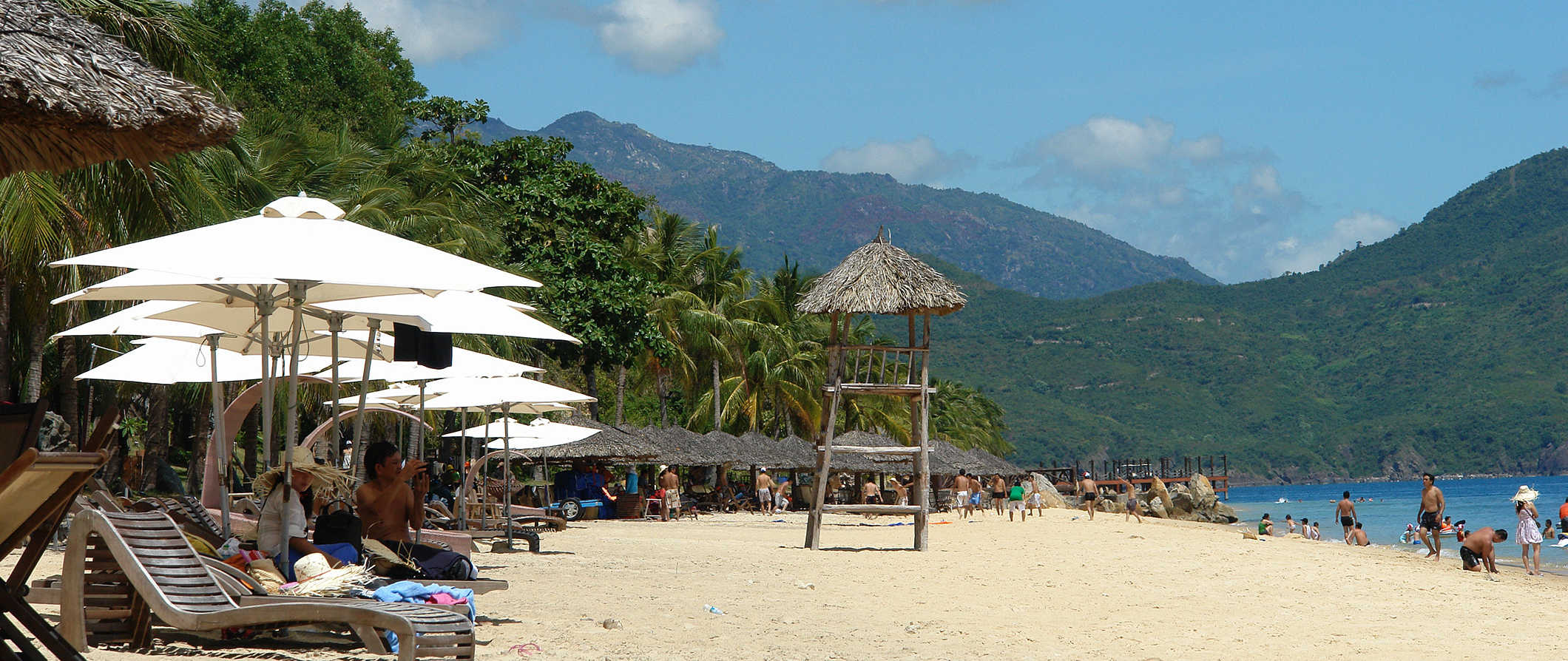 Nha Trang is the popular beach destination for backpackers and local in Vietnam. White, sandy beaches stretch into a dramatic backdrop of mountains, and with nineteen islands to choose from it's no wonder that this is a popular place for tourists. This is the perfect spot to learn how to dive while still keeping your budget in check. While the beaches are nice, keep in mind this place is very, very popular and can sometimes be a bit of a hassle, overpriced, or full of drunk tourists. Try to come here slightly off season or mid-week to avoid the crowds.
Top 5 Things to See and Do in Nha Trang
1. Snorkel and dive
Snorkeling and diving are probably the most popular things to do at Nha Trang. It's best to avoid the windy season (October and December). Expect to pay around 1,700,00 VND for two dives. An open water PADI certification will cost around 9,000,000 VND.
2. Visit Po Nagar
Dedicated to Yan Po Nagar, the goddess of the country, the temple tower was founded sometime before 781 AD and therefore plays a big part in the history and archaeology of the country. With being up a mountain, you get a good view of the beautiful landscapes of Nha Trang. Admission is around 225,000 VND per person.
3. Lounge on the beaches
If you want a change from the Nha Trang beach, Bai Dai beach or Long Beach is nearby and stretches for six miles of gorgeous white sand. It has a relaxed, breezy atmosphere with little cafes and restaurants gracing its shores and serving seafood. Watch your stuff when you go swimming as thieves are known to steal stuff.
4. Relax in the hot springs
Hot springs and mud bathing are popular in Nha Trang. A relaxing past-time, the mud claims to have somewhat healing powers with the mud formed from rocks and volcanic ash. Prices will vary but expect to pay at least 130,000 VND per person.
5. National Oceanographic Museum
At the far south end of Nha Trang is the National Oceanographic Museum. Great for those who do not like the idea of diving because here there are tanks of marine life and stuffed birds and sea mammals. Brilliant if you want to occupy a couple of hours on a not so pleasant day. Admission is 30,000 VND per person.
Other Things to See and Do
(Click the title to expand the text)
1. See the Buddha at Long Son Pago
Long Son Pago, founded in the late 19th century, is home to a 79ft tall, white Buddha. Seated atop the hill, the pagoda is a historical artifact built to honor monks and nuns who died protesting against the Diem government. The place also as sweeping views of Nha Trang City. Admission is free!
2. Head to Yang Bay
Yang Bay is a charming excursion from Nha Trang. Once you get here, you will find three different sets of falls; Yang Bay, Yang Khang, and Ho Cho. However, once you get to Yang Bay it's a matter of climbing to discover all three of these waterfalls. Surrounded by dense forestation and mountainous terrain, it's slightly off the beaten track and a good area to visit when you want to leave the crowds of the beach.
3. Set sail
There are plenty of places to go around here and plenty more boat companies who offer boat trips. It is an opportunity to see the different islands off of the mainland and a trip will usually include snorkeling, a visit to an aquarium and fish farm, plus plenty of boat grub and alcohol. These tours are generally aimed towards the 18 to 30 crowd. Shop around so you can find one boat trip that suits you best. This is ideal if you want to see more of Nha Trang than just the mainland.
4. Shop in Cho Dam Market
For an authentic Nha Tran shopping experience, there is no better place than Cho Dam open air market. With vendors selling fresh produce, the catch of the day, and everything from fake designer gear to watches, I highly recommended that you put your bargaining hat on and see what kind of bargains you can find!
5. Visit the Alexandre Yersin Museum
For any zoologists or science geeks out there, this museum might be for you. Dr. Yersin was a Swiss scientist who came to Vietnam in the late 19th century to study sick animals. He eventually invented a serum from buffalo and horses. This museum showcases his life's work and findings. Admission is around 30,000 VND per person.
6. Hike to the Bao Dai Villas
These villas are perched on top of a small hill. From the top, you'll get a great view of Nha Trang Bay.
7. Visit waterfalls
There are a number of swimming holes and waterfalls in the area that you can access, such as the Fairy Spring Waterfalls and the Ba Ho waterfalls. Some of these are best reached by a combination of motorbike and hiking. Check with locals ahead of time, and some of the holes are too cold for swimming in the winter.