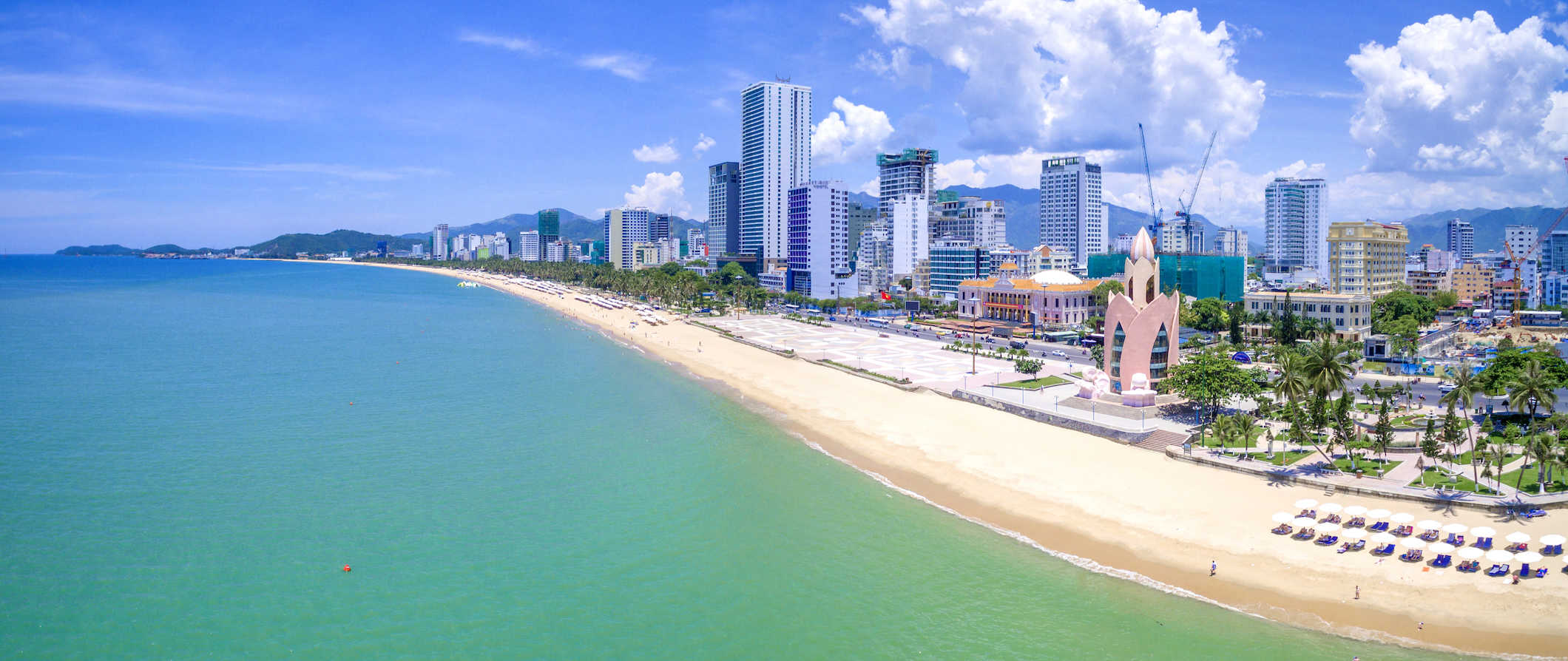 With its white sandy beaches stretching into a dramatic backdrop of mountains, and with nineteen stunning islands to visit, it's no wonder Nha Trang is a popular beach destination for backpackers and travelers in Vietnam.
Once a sleepy seaside village, the city grew into a coastal vacation hub during the French occupation and that has persisted to this day.
As one of the most popular beach towns in Vietnam, there's a lot to do here. While Nha Trang Beach is continuously abuzz with visitors who love to come here to party, you don't have to go far to reach Bai Dai Beach (Long Beach), which offers a much more relaxed environment. I enjoyed the city a lot and found the beach to be one of my favorites in the country. Try to visit off-season or mid-week to avoid the crowds if you want a more relaxed visit as the city draws a lot of tourists.
This Nha Trang travel guide can help you plan your trip, save money, and make the most of your visit to this popular seaside getaway.
Top 5 Things to See and Do in Nha Trang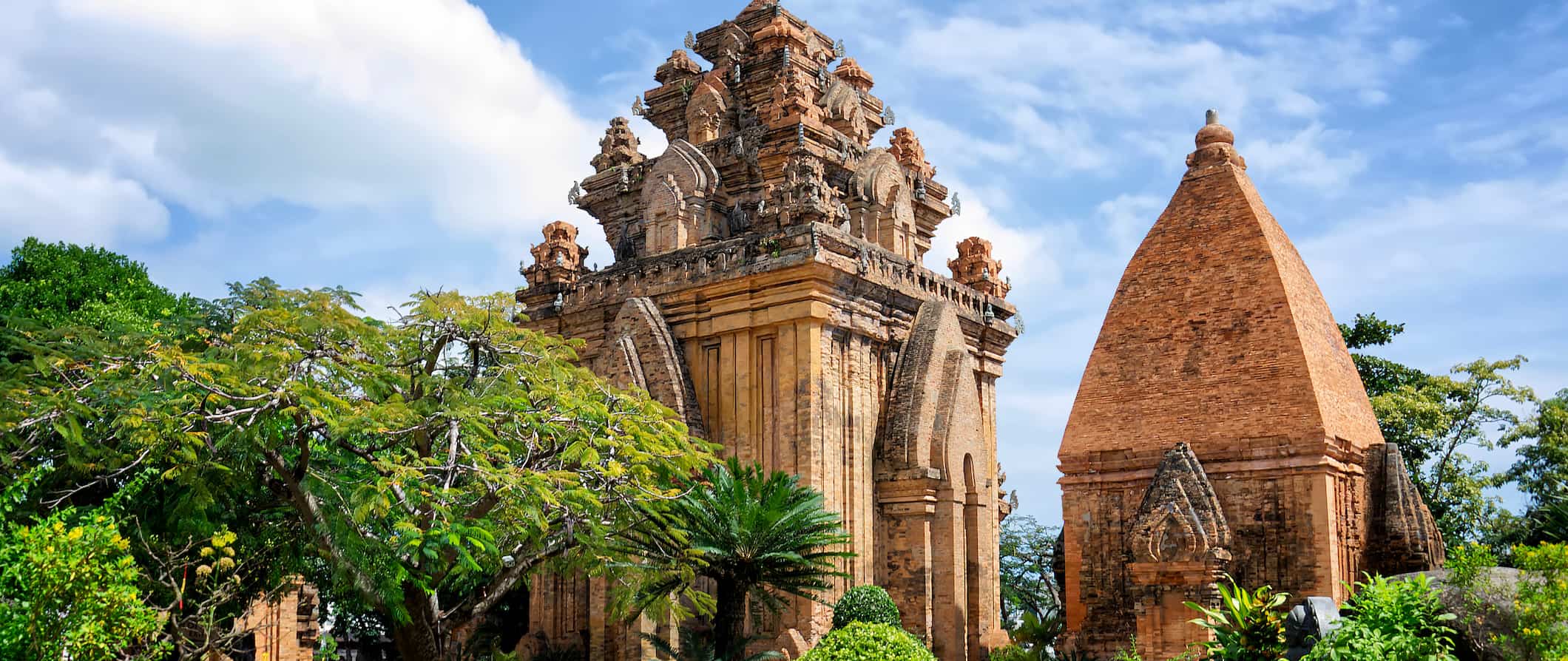 1. Snorkel and dive
Snorkeling and diving are probably the most popular things to do in Nha Trang thanks to its affordability, colorful reefs, and underwater caves. While there is not a ton of marine life here due to overfishing, the caves and narrow swim-throughs make it a fun place to explore. It's best to avoid the windiest months (October and December) as rough seas cause many dive cancellations. Expect to pay around 1,700,000 VND for two dives. Nha Trang Fun Divers is one of the most popular options in the city.
2. Visit Po Nagar
Dedicated to Yan Po Nagar, the goddess of the country, this temple tower was built sometime before 781 CE and is still an active site of worship for Buddhists so be sure to dress respectfully and take off your shoes before entering. It's located on a mountain overlooking the Cai River, so you get 360-degree views of the beautiful landscape around Nha Trang. There are some interesting statues and inscriptions within and around Po Nagar too, which became associated with the Hindu goddesses Bhagavati and Mahishasuramardini. Admission is around 25,000 VND.
3. Lounge on the beach
While Nha Trang beach is the main beach, another nearby option is Bai Dai Beach (Long Beach), which stretches for 6 miles (10 kilometers) of gorgeous white sand. It's more relaxed with little cafes and restaurants serving seafood right on the shore. This beach is often less crowded and is just 18 kilometers (11 miles) from the city center and on the way to the airport, though encroaching resorts are slowly claiming much of the beachfront. There is a bus that runs from the city center and can drop you off near the beach, just be sure to tell the bus driver ahead of time so you don't miss the stop. Note that, while some resorts claim the beach is private, it's not; just don't enter via any of the resorts or they'll make you buy food/drinks.
4. See the Buddha at Long Son Pagoda
Long Son Pagoda is the largest pagoda in the city. Founded in the late 19th century the pagoda is home to a 29-meter (79 foot) white Buddha statue. To get there you have to hike 152 stone steps to the top of the hill where the pagoda sits surrounded by trees. It was built to honor monks and nuns who died protesting against the Diem government (the Diem government favored Catholocism and persecuted Buddhists in 1963). Long pants are required to enter the inside of the temple and if you are offered an incense stick by locals at the temple, you will have to pay a small fee for it. Admission is free.
5. Go boating
A lot of companies offer sailing trips (and yacht trips if you want to really splash out) from Nha Trang. You can see the different islands off the mainland and usually do some snorkeling. There are also booze cruise boat tours aimed at younger travelers who like to party. Depending on which company you choose, the trip can be wildly entertaining with live music performances, time to swim, and lunch on deck. A full-day experience starts at around 165,000 VND.
Other Things to See and Do in Nha Trang
1. Relax in the hot springs
Hot springs and mud bathing are popular in Nha Trang. Locals believe that the mud has healing powers due to its composition of rocks and volcanic ash. You'll sit in a stone tub while a pipe showers you with soft, fast-flowing mud. There are plenty of options of hot springs to choose from including an egg-themed hot spring where you can bathe in egg-shaped pods. Prices vary but expect to pay at least 180,000 VND per person. Most tickets include a towel but ask ahead of time in case you need to bring your own.
2. Head to Yang Bay
Yang Bay is an eco-park just outside of Nha Trang. Once you get here you will find three different sets of waterfalls: Yang Bay, Yang Khang, and Ho Cho. However, reaching these falls takes a little work. Surrounded by dense forest and mountainous terrain, it's slightly off the beaten track and makes for an exciting day trip (it's around one hour from the city by car). You can take a taxi from Nha Trang to get here or join a guided tour (your hostel can help you organize this). Tickets start from 150,000 VND.
3. Visit the National Oceanographic Museum
At the far south end of Nha Trang is the National Oceanographic Museum. It's ideal for those who do not want to go diving as there is a marine biodiversity showroom with 300 types of marine species and displays educating the public on how to do a better job protecting the ocean. One of the highlights are the tanks with (live) reef sharks, seals, turtles, and more. It's a fun and educational way to spend a few hours when the weather isn't great. Admission is 40,000 VND.
4. Shop in Cho Dam Market
The Cho Dam open-air market has the best shopping in Nha Trang (it's the biggest market in the city too). With vendors selling fresh produce, fish, and everything from fake designer gear to watches, I highly recommend that you put on your bargaining hat and see what you can find. There are also lots of places to eat here so bring an appetite. Located right off of Ben Cho Street, it's open from 5am to 6pm.
5. Visit the Alexandre Yersin Museum
Dr. Yersin (1863–1943) was a Swiss scientist who came to Vietnam in the late 19th century to study sick animals. He is most renowned for having co-discovered the bacteria responsible for the bubonic plague, and he also founded the Pasteur Institute in Nha Trang, which handles vaccination and hygiene programs for the area. This small museum showcases his work and findings. It's super educational and doesn't take long to see. Admission is around 26,000 VND.
6. Hike to the Bao Dai Villas
These villas were originally built for Emperor Bao Dai in the early 1900s. They are perched on top of a small hill, and although the villas aren't really worth checking out, the view is. From the top, you'll have an awesome panorama of Nha Trang Bay. Pack a snack, bring your camera, and soak up the view overlooking the city and ocean.
Nha Trang Travel Costs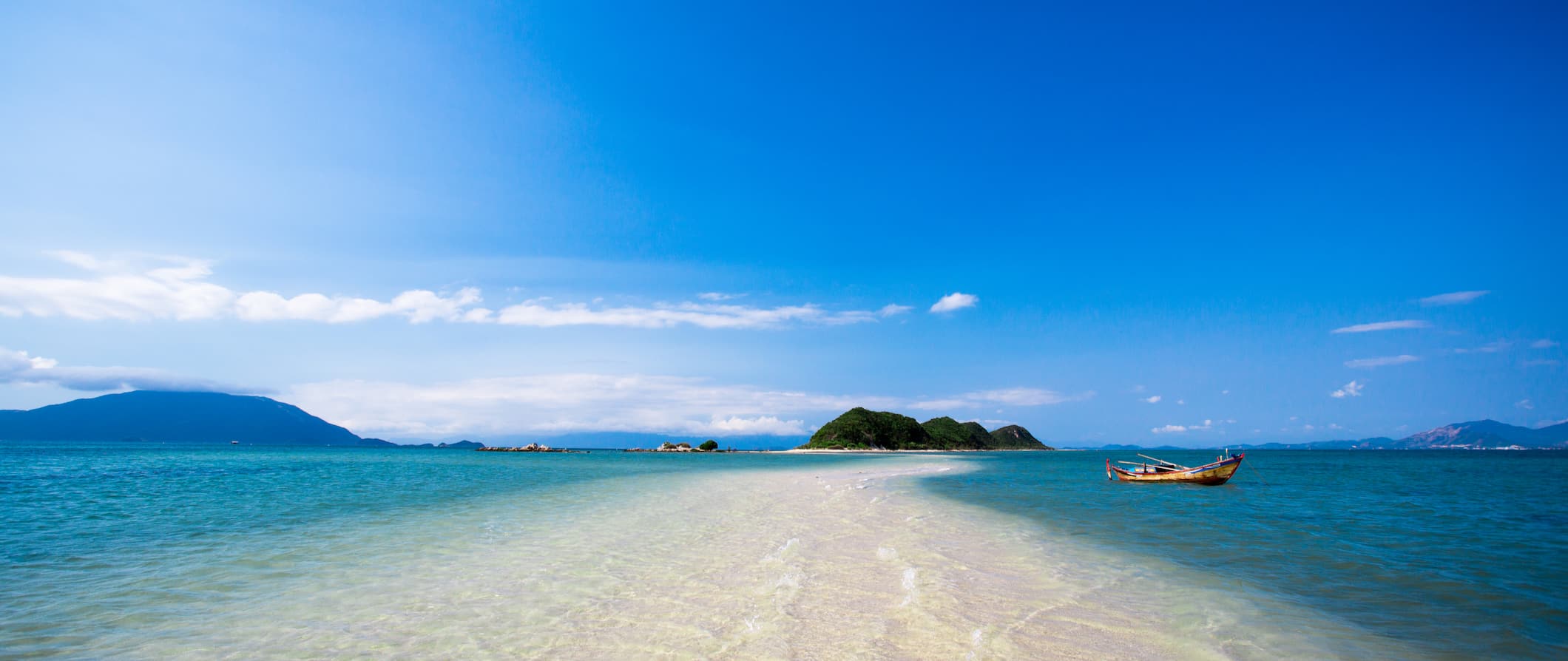 Hostel prices – Hostels start at 100,000 VND per night for a bed in a 4-8 person dorm. Hostels usually have free Wi-Fi, outdoor bar areas, and (sometimes) free breakfast. Private rooms cost around 250,000 VND per night for a double. Only a few hostels offer self-catering facilities for cooking your own meals as eating out here is so cheap you don't really need to cook during your stay.
Budget hotel prices – Expect to pay at least 400,000 VND for a two-star hotel room. Free Wi-Fi is standard, and a handful of budget hotels also include free breakfast. Many are right near the beach too, though prices are generally a bit higher here.
Airbnb is available in the city with private rooms costing around 325,000 VND per night. For an entire home/apartment, expect to pay at least 480,000 VND. Prices double when not booked in advance so book early to find the best deals.
Food – Vietnamese cuisine uses a lot of noodles, rice, fish, and fresh herbs. Wonton noodle soup, beef stew, chicken curry, fish and seafood, and grilled pork are just some of the popular dishes you'll find here — on top of the ubiquitous pho and ban mi (French bread) of course. Common ingredients include ginger, coriander, chili, lime, lemongrass, and Thai basil leaves.
Street food starts at under 25,000 VND while Western food is usually triple or quadruple that price (or more). Fast food is around 100,000 VND for a combo meal.
If you want to splash out, a three-course meal with a drink starts at around 250,000 VND. Chinese food starts at around 40,000 VND for a main dish while a large pizza starts at 150,000-200,000 VND.
Beer costs around 25,000 VND while a latte or cappuccino costs around 45,000 VND. Bottled water is around 8,000 VND.
I don't recommend cooking your own food here since eating out is so cheap in the city. You'll get better food and less expensive prices. Just enjoy the food stalls and vendors.
Backpacking Nha Trang Suggested Budgets
On a backpacker budget, expect to spend 450,000 VND per day. This covers staying in a hostel dorm, eating street food for all your meals, limiting your drinking, taking the public bus everywhere, and sticking to cheap activities like hanging out at the beach and visiting the pagodas. If you plan on drinking, add another 25,000-50,000 VND to your daily budget.
On a mid-range budget of 1,325,000 VND per day, you can stay in a private Airbnb, eat out at some Western places, drink more, take the occasional taxi, and do more paid activities like scuba diving or a booze cruise.
On a "luxury" budget of 2,400,000 VND per day or more, you can stay in a hotel, eat out anywhere you want, drink as much as you want, take more taxis, and do whatever tours and activities you want. This is just the ground floor for luxury though. The sky is the limit!
Accommodation
Food
Transportation
Attractions
Average Daily Cost
Backpacker
125,000
115,000
110,000
100,000
450,000
Mid-Range
350,000
275,000
500,000
200,000
1,325,000
Luxury
800,000
550,000
750,000
300,000
2,400,000
Nha Trang Travel Guide: Money-Saving Tips
Nha Trang, like the rest of Vietnam, is incredibly budget-friendly. But, as it's a touristy place, sometimes prices are a bit inflated. Here are some ways you can save money in Nha Trang during your visit:
Shop around for dives – There are quite a few dive shops in Nha Trang so it's possible to hunt around for the best price and bargain with the shop owners.
Eat the street food – As in most of Vietnam, street food is the cheapest and most exciting local food you can find. Stick to street food to eat cheap.
Sleep far from the beach – Hotels and Airbnbs near the beach are more expensive than those a bit further away. Stay further away from the tourist hub to save money on accommodation.
Eat free breakfast – Some hostels offer free breakfast. Pick a hostel that does so to save paying for an extra meal. It won't be anything fancy but it will be free!
Ask for price estimates – Not sure how much a taxi should cost? Don't want to get ripped off at the market? Ask your hotel/hostel staff for price estimates so you don't get ripped off when shopping.
Bring a reusable water bottle – The tap water in here is not safe to drink. To save money and reduce your plastic use, bring a reusable water bottle with you. LifeStraw make a reusable bottle with a built-in filter so you can be sure your water is always safe and clean.
Where to Stay in Nha Trang
After COVID, there are not a ton of hostels left in the city. Here are your best options if you're on a budget:
How to Get Around Nha Trang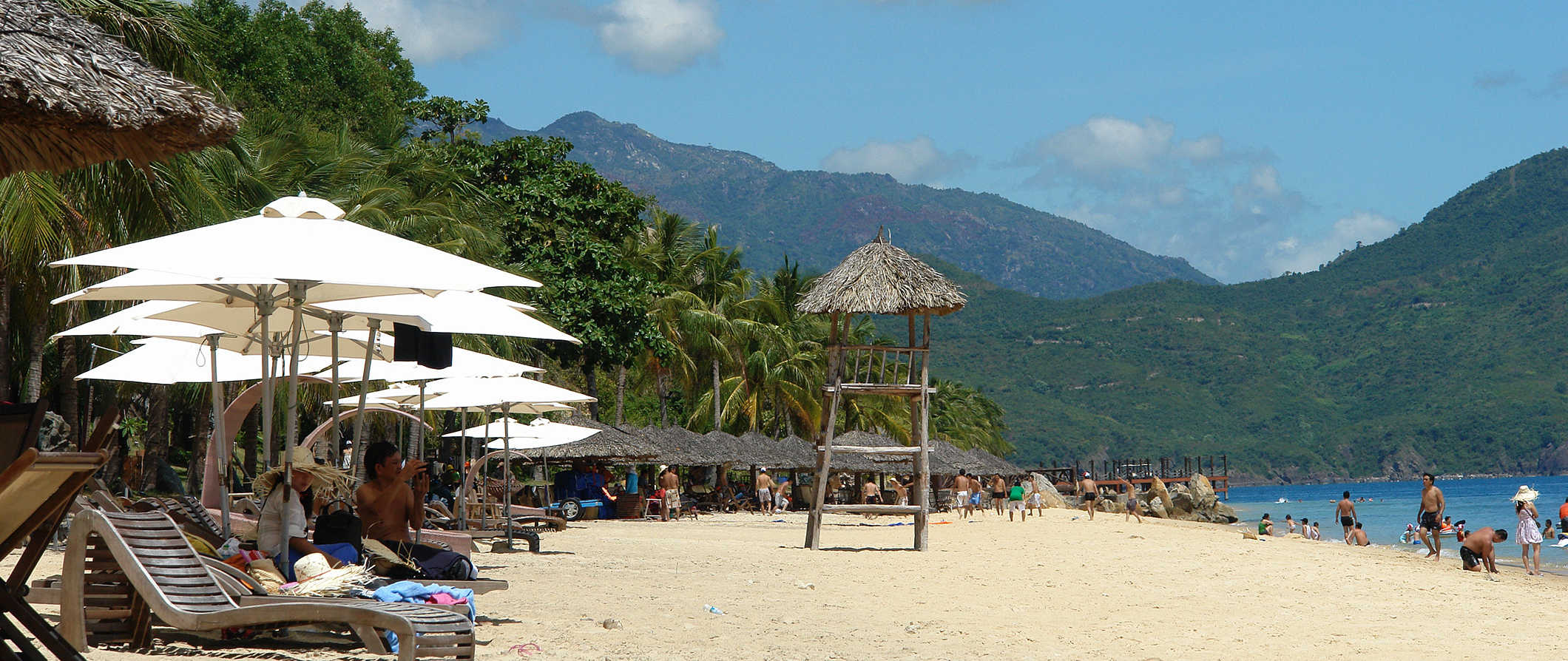 If you stay near the beach in Nha Trang, you likely won't need any transportation because you can walk everywhere. It's a very walkable town. Here are your other options for getting around:
Bus – Buses rarely cost more than 15,000 VND per journey. There are six main routes across Nha Trang. You'll have to pay cash to the driver when you get onboard so make sure you have exact change.
Cyclo – Cyclos are three-wheeled bicycle taxis found mostly in the touristy areas around Nha Trang Beach and are suitable for short distances. They carry 1-2 people, although two people are a tight squeeze. Make sure you negotiate your fare first and expect inflated prices.
Bike rental – Cycling is one of the best ways to see Nha Trang. You can rent a bike for just as little as 25,000 VND while scooters and motorcycles start at around 100,000-150,000 VND per day.
Taxi – Taxis start at 13,000 VND and go up by around 16,000 VND per kilometer. While not expensive, they aren't cheap relative to the cost of everything else here so skip them if you can.
Car rental – Driving here is pure chaos. I do not recommend renting a car.
When to Go to Nha Trang
Nha Trang only has two seasons: the rainy season and the dry season. The dry season is from January until August, while the monsoon season is from September until December. The dry season receives very little rainfall. During monsoon season, you're likely to experience sudden downpours each day, however, these downpours never last longer than a few hours.
Temperatures are nice year-round though and thanks to its location on the coast. It doesn't get much higher than 30°C (86°F) here.
Between February and May is the best time to visit, with temperatures averaging between 26-27°C (79-45°F). There's consistent sunshine every day, though it's also more crowded. Expect some crowds and higher prices.
If you're here specifically to dive, come between January and September. The rainfall is lowest during these months, and visibility at the dive sites is the best.
How to Stay Safe in Nha Trang
Nha Trang is a safe place to backpack and travel. Violent crime against travelers is rare. Petty theft is your biggest concern (especially in the markets) so always keep your valuables secure and out of reach.
Do NOT bring your valuables to the beach, no matter how determined you are to keep an eye on them. Things disappear there quickly.
Also, keep an eye out for thieves looking to grab your purse/bag while you're out and about. They can sometimes be on scooters so always keep your bag across your chest and not just over one shoulder.
Overall, scams are common in Vietnam, though most are just people trying to nickel and dime you. Both children and adults work together on scams, so keep an eye out. Never get into a taxi without a meter or without agreeing on a price. The same applies to cyclos. You can read about common travel scams to avoid here.
The traffic here is insane (there are no traffic lights or pedestrian walkways) so you need to be careful when crossing the road. Be especially cautious at night. Accidents are super common.
Solo female travelers should generally feel safe here. However, the standard precautions apply (never leave your drink unattended at the bar, never walk home alone intoxicated, etc.). You can read more on one of the many solo female travel blogs about specific safety tips.
If you do experience an emergency, dial 113 for assistance.
Always trust your gut instinct. Make copies of your personal documents, including your passport and ID.
The most important piece of safety advice I can offer is to purchase good travel insurance. Travel insurance will protect you against illness, injury, theft, and cancellations. It's comprehensive protection in case anything goes wrong. I never go on a trip without it as I've had to use it many times in the past. You can use the widget below to find the policy right for you:
Nha Trang Travel Guide: The Best Booking Resources
These are my favorite companies to use when I travel. They consistently have the best deals, offer world-class customer service and great value, and overall, are better than their competitors. They are the companies I use the most and are always the starting point in my search for travel deals.
Skyscanner – Skyscanner is my favorite flight search engine. They search small websites and budget airlines that larger search sites tend to miss. They are hands down the number one place to start.
Hostelworld – This is the best hostel accommodation site out there with the largest inventory, best search interface, and widest availability.
Agoda – Other than Hostelworld, Agoda is the best hotel accommodation site for Asia.
Booking.com – The best all around booking site that constantly provides the cheapest and lowest rates. They have the widest selection of budget accommodation. In all my tests, they've always had the cheapest rates out of all the booking websites.
Get Your Guide – Get Your Guide is a huge online marketplace for tours and excursions. They have tons of tour options available in cities all around the world, including everything from cooking classes, walking tours, street art lessons, and more!
SafetyWing – Safety Wing offers convenient and affordable plans tailored to digital nomads and long-term travelers. They have cheap monthly plans, great customer service, and an easy-to-use claims process that makes it perfect for those on the road.
LifeStraw – My go-to company for reusable water bottles with built-in filters so you can ensure your drinking water is always clean and safe.
Unbound Merino – They make lightweight, durable, easy-to-clean travel clothing.
Nha Trang Travel Guide: Related Articles
Want more info? Check out all the articles I've written on Vietnam travel and continue planning your trip: