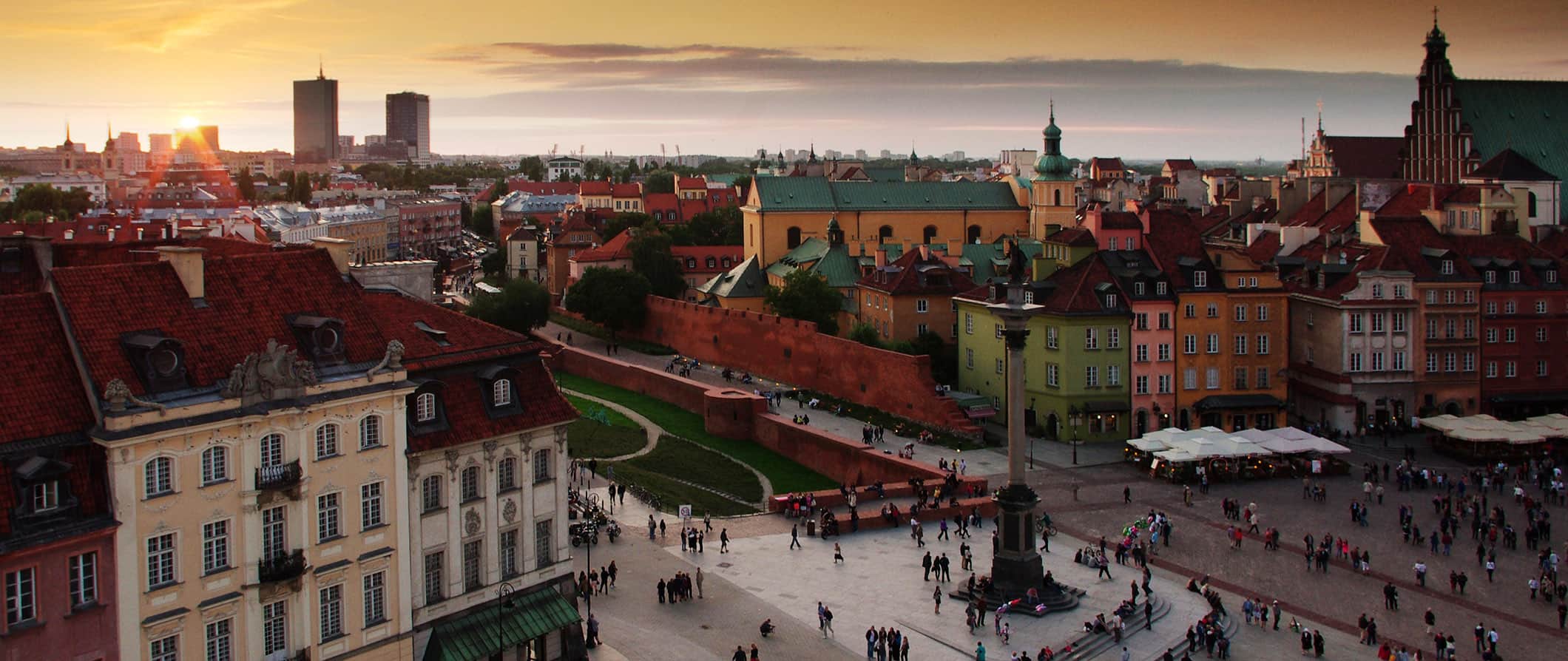 As the capital and largest city of Poland, Warsaw is a bustling, revitalized city, casting off the long shadow of Communism. Today, it is known as a royal city because of its many residences and palaces. Stroll down the boulevards, explore the wealth of Chopin music, admire traditional art pieces, and soak up this modern city. I loved Warsaw. All around you see these grim Communist buildings giving way to a city filled with optimism, history, public gardens, and modernity. I thought the city had more charm, fewer tourists, and a much more visible cross-section of Polish history.
Top 5 Things to See and Do in Warsaw
1. Wander the historic streets
The streets of the Old Town and New Town offer a wonderful contrast to one another and will give you a great sense of the city. Some of the buildings in the Old Town date back to the 13th century, while the New Town was originally a separate jurisdiction with its own governance. Both areas suffered heavy damage during the war.
2. Explore the Chopin Museum
Chopin is one of the most famous composers in history, and his works can still be heard in concert halls across the planet. This museum in his hometown gives a good overview of his life and work. It also contains some of his personal items and musical scores. Admission is 22 PLN.
3. The Royal Castle
Located at the entrance to the Old Town, the Royal Castle was the former residence of the Polish monarchs. It was partially destroyed by the Nazis during the war and has since undergone extensive restoration and is now a museum. I loved it (especially since so few people were there)! Admission is 30 PLN.
4. Learn about the Warsaw Uprising
The Warsaw Rising Museum commemorates the Polish resistance to help liberate the city from the Nazis. The museum features information about the event and also gives an idea of life prior to and following the war. Admission is 20 PLN.
5. Wander around the Lazienki Park
This gorgeous palace was the residence of Poland's last monarch, and is now Warsaw's largest park, taking up almost 200 acres. Built in the 17th century, it sits on an artificial island and features stunning architecture of various styles. It takes a long time to stroll around and is beautiful on a sunny day! On the weekends, expect lots of crowds!
Other Things to See and Do
(Click the title to expand the text)
1. Visit the Powazki Cemetery
This cemetery is the final resting place of many important figures in Polish history. The sculptures and architecture surrounding the tombs are something worth seeing.
2. Admire St. Anne's Church
St. Anne's Church (Kosciol Swietej Anny) is one of Warsaw's oldest buildings with a high-baroque interior and contains several chapels. The building leaves an overwhelming impression on every visitor with its surprisingly rich interior filled with hand painted frescoes.
3. Tour the Gestapo Headquarters Museum
Although this is a small museum, it's worth a visit if you're a WWII buff. Officially known as the Mausoleum of Struggle and Martyrdom, its focus is on the harsh relationship between the Polish resistance and the Gestapo, with a profound exhibit taking you through the old detention cells which were used to hold and torture prisoners. Admission is 8 PLN.
4. Visit the Museum of Modern Art
Located only a few minutes walk from the Central Railway Station, the museum features contemporary art by Polish and international artists. Guided tours take place every Sunday at 2 PM and entry is free.
5. Check out the National Museum
This modern museum is a cultural institute with a substantial collection of ancient art, Polish paintings, and works from international artists. Admission to both the permanent and temporary galleries is 20 PLN per person, with discounts available.
6. See the Multimedia Fountain Park
The Multimedia Fountain Park comprises of two fountains: one which is 2,200 square meters, and the other which is 120 meters in length. The latter is often called the Water Organ. Children can play in a nearby water playground as the water dances to music, which varies from Chopin to Lady Gaga.
7. The Copernicus Science Center
The Copernicus Science Center is one of the most modern science centers in Europe. They have all sorts of interesting temporary and permanent exhibitions, great for adults and kids alike! Admission is 27 PLN with discounts available for students, seniors, and families.
8. Visit the POLIN
The Museum of the History of Polish Jews is a worthwhile stop for any history buff. It's quite new, with both permanent and temporary exhibitions, and is home to cultural performances and workshops, as well. The museum documents the history of the Jews in "Po-lin", from the Middles Ages to the present. Admission is 25 PLN. For faster access, buy your ticket in advance online.
Typical Costs
Hostel prices
– Hostel beds range from 30-55 PLN for a standard 4-8 bed dorm. Privates range from 110-160 PLN for a double room. Free wifi is standard and most hostels also have kitchens for those looking to cook their own meals. Only a couple hostels in the city include free breakfast. For those traveling with a tent, campsite prices are usually around 25 PLN per person per night, with an additional fee of 20 PLN for a tent space or 20 PLN for a car space. My suggested place is:
Budget hotel prices – Most budget hotels range from 150-300 PLN for a basic twin or double room with a private bathroom. Most budget hotels include free WiFi. For a hotel that includes free breakfast, expect to pay closer to 200 PLN per night. If you are planning on cooking your own food, keep in mind that almost no budget hotels have self-catering facilities. Airbnb is a good option in the city too as there are a lot of hosts. Shared accommodation will cost around 90 PLN per night, while an entire home or apartment will cost around 180 PLN per night.
Food – For those on a budget, there are many kebab shops sprinkled around Warsaw, costing 10-20 PLN for a kebab. Other cheap alternatives are milk bars (cheap traditional Polish food) and Vietnamese restaurants. Expect to pay around 25 PLN for a cheap meal at one of these places. Fast food, like McDonald's, will average around 20 PLN. A more mid-range meal in a restaurant will cost about 60 PLN if you plan on drinking. Domestic and imported beer will be found for about 8 PLN, while a bottle of water costs around 3 PLN. If you plan on buying your own groceries, expect to spend 80-125 PLN per week.
Transportation – Warsaw is serviced by buses, trams, and the metro. A single-fare ticket in the central zone costs about 4 PLN. A one-day ticket costs 15 PLN for one zone or 26 PLN for a two-zone pass. Intercity travel in Poland is simple and cheap, with buses and trains stretching out across the country and into neighboring lands. A bus or train to Krakow from Warsaw can cost as little as 45 PLN. A ticket to Prague is only 85 PLN while a bus or train ticket to Vilnius can be found for about the same price.
Suggested daily budget
120 – 180 PLN (30-45 USD) (Note: This is a suggested budget assuming you're staying in a hostel, eating out a little, cooking most of your meals, limiting your adventure activities, and using local transportation. Using the budget tips below, you can always lower this number. Remember, if you stay in fancier accommodation or eat out more often, expect your budget to be higher!)
Money Saving Tips
Eat at Milk Bars – Polish cities have an incredibly affordable cost of living, so eating here is refreshing if you're on a tour of Europe. Milk Bars first appeared in the 19th century as a low-cost eating alternative for the working class, and have now experienced a resurgence as a trendy, hipster spot to indulge in the local fare. Expect hearty, no-frills Polish food cafeteria-style food, such as pierogies, Polish beer, and pickled cucumber soup.
Get the Warsaw Pass – The official Warsaw City Guide gives you free admission to the top ten attractions, including the Royal Lazienki Museum (25 PLN for adults) and the Royal Castle (30 PLN for adults). It also offers a free Hop-On Hop-Off tour, as well as discounts on restaurants, accommodation, and other sights. You can buy a 24-hour card for 119 PLN, however, 48 and 72-hour cards are also available. If you visit five attractions you've already got your money's worth, so definitely get the pass if you plan on seeing the sights!
Buy a transit pass – While public transit is already quite cheap, you can save even more money by purchasing a public transit pass. Look into buying a multi-day pass, especially the weekend pass, which costs 24 PLN, and is valid from Friday at 7 PM until 8 AM on Monday.
Get free admission to museums – On certain days of the week, specific museums have free entry. For instance, Schindler's Factory is free on Mondays and the Aviation Museum is free on Tuesdays. Be sure to look up the museums to find out which days are free before you go, and get there early to beat the crowd!
Take a free walking tour – Free Walking Tours offers a free tour of Warsaw, which is a great way to explore the city. You'll get to see the sights while learning about the history, culture, and architecture of Warsaw — all for free! Just be sure to tip if you have a good time!
Stay with a local – Warsaw has a fairly active couchsurfing scene, which means you should be able to find a local to stay with. Not only with this cut down on your costs but you'll get to learn about the city directly from someone who lives there!
Save money on rideshares – Uber is way cheaper than taxis and are the best way to get around a city if you don't want to wait for a bus or pay for a taxi. The Uber Pool option is where can you share a ride to get even better savings (though you can get your own car too). You can save $15 off your first Uber ride with this code: jlx6v.
My Must Have Guides For Traveling to Warsaw
Photo credit: 2