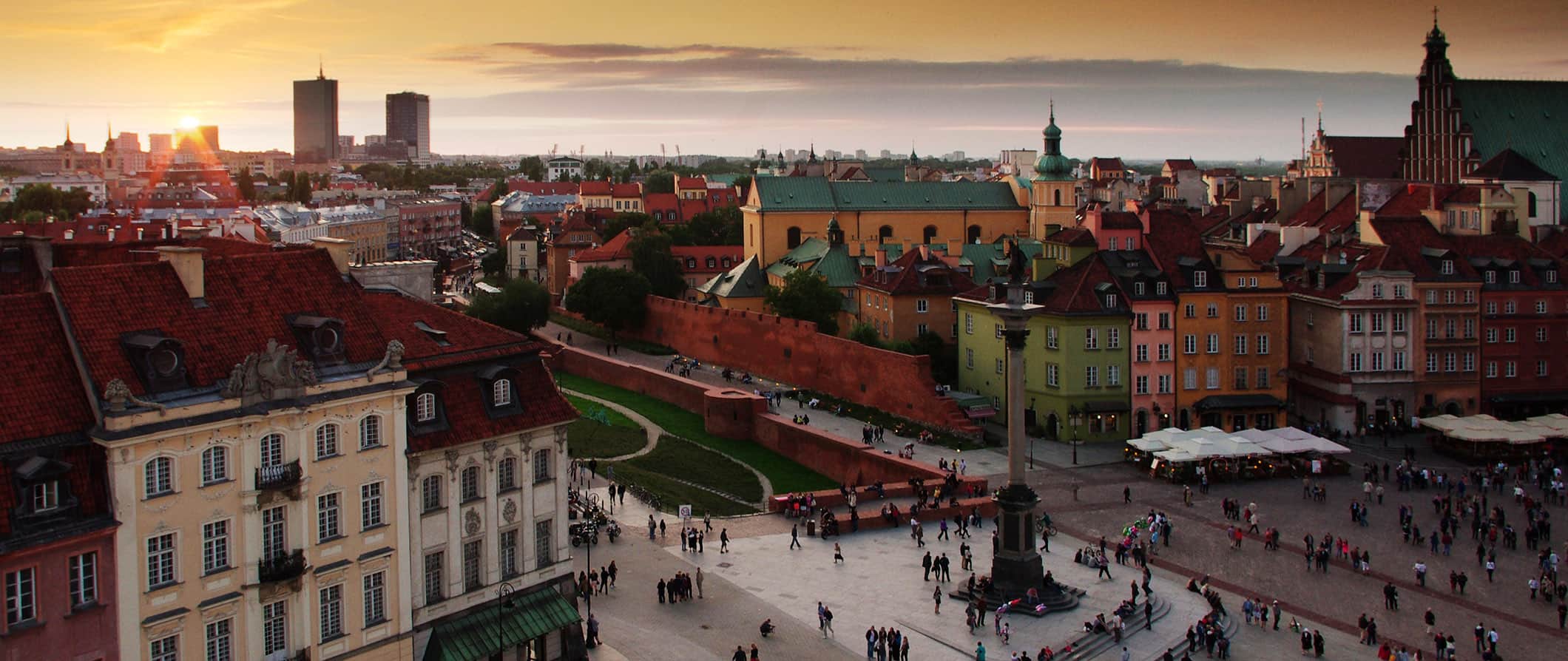 Warsaw is a bustling, revitalized city that has cast off the long shadow of communism. While a lot of grim, gray architecture remains, I found Warsaw to be a lively place with plenty to keep you busy. There's a growing culinary scene, a wild nightlife, and lots of budget-friendly activities in (and around) the city.
Stroll down the boulevards, explore the wealth of Chopin's music, admire traditional art pieces, and soak up this modern city — all for a fraction of what you'd pay in Western Europe!
While Krakow gets all the attention, I really enjoyed my time in Warsaw.
This travel guide to Warsaw will help you plan your trip, save money, and make the most of your visit!
Top 5 Things to See and Do in Warsaw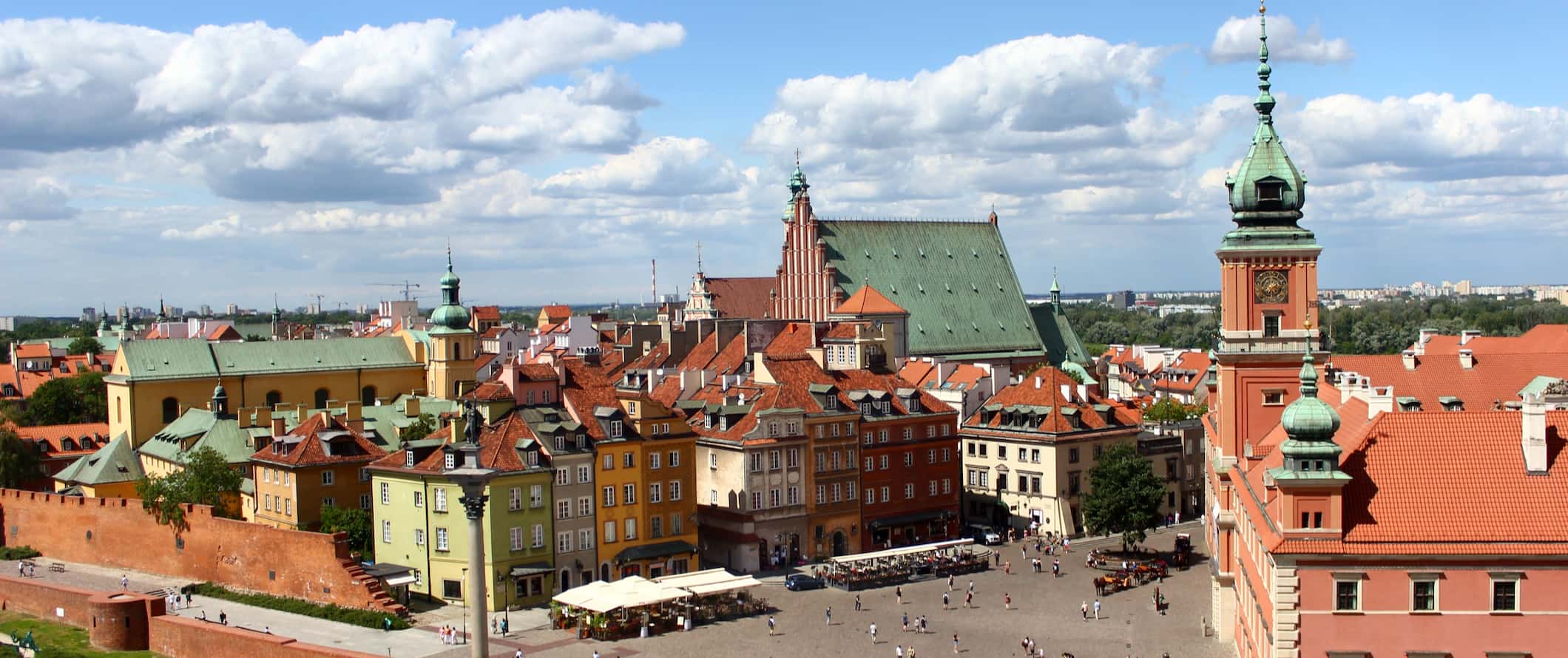 1. Wander the Old Town
The streets of the Old Town offer a nice contrast to the modern, bustling city that surrounds them. The area suffered heavy damage during World War II so many of the medieval buildings have been reconstructed, but it's nevertheless a great place to start your trip. The Old Town is also a UNESCO World Heritage. Start in the colorful Old Town Market Square and go from there. You have tons of choices when it comes to museums and historical sites; the Royal Castle is located here, as is the Museum of Warsaw.
2. Explore the Chopin Museum
Frederic Chopin (1810-1849) is one of the most famous composers in history and his works can still be heard in concert halls across the globe. Chopin grew up in Warsaw before the November Uprising of 1830 and this museum provides an overview of his life and work. Admission is 23 PLN and is free on Wednesdays. This museum is temporarily closed for renovations until April 2023.
3. See the Royal Castle
Located at the entrance to the Old Town, the Royal Castle was the former residence of the Polish monarchs. Construction began in 1598 and lasted over 20 years. The castle was partially destroyed (and looted) by the Nazis in 1939 and then was almost completely destroyed in 1944 during World War II under direct orders from Hitler. It has since undergone extensive restoration and is now a museum and home to royal apartments, paintings, and an ornate interior design. Admission is 40 PLN and is free on Wednesdays.
4. Learn about the Warsaw Uprising
Opened in 2004, this museum is home to hundreds of artifacts from the Warsaw Uprising of 1944, when Polish citizens rebelled against German occupation. The uprising lasted 63 days and was the largest resistance during World War II. Some 15,000 members of the Polish resistance were killed, as well as 2,000-17,000 German troops. The museum has tons of clothing, letters, and interactive films. Admission is 25 PLN.
5. Wander around the Lazienki Park
Designed in the 17th century, this park is home to a small palace that sits on an artificial island. There are several pavilions, an amphitheater, and lots of places to sit, relax, and enjoy the day. It takes a long time to stroll around and is beautiful when the sun is shining. Bring a book, pack a picnic, and lounge the day away!
Other Things to See and Do in Warsaw
1. Take a free walking tour
One of the best things you can do when you arrive in a new city is to take a walking tour. It's a great way to get the lay of the land and learn about the culture, people, and history of the destination. Orange Umbrella offers daily free tours that provide much more insight than any guidebook. Plus, you can connect with an expert local guide who can answer all your questions. Just be sure to tip your guide at the end!
2. Visit the Powazki Cemetery
Established in 1790, this cemetery is the final resting place of many important figures in Polish history, including the family of Frederic Chopin (he is buried in Paris, though his heart was brought back to Poland when he died in 1849), some of Chopin's early teachers, Krzysztof Komeda (a famous jazz composer), and Nobel Prize winner Wladyslaw Reymontamong others. It's the city's oldest cemetery and the sculptures and architecture surrounding the tombs are both serene and eerie. It makes for a quiet place for a stroll.
3. Admire St. Anne's Church
St. Anne's Church (Kosciol Swietej Anny) is one of Warsaw's oldest buildings. Construction started in 1454 and the building has survived several wars (the roof was destroyed a few times but the rest has remained intact). The Neo-Classical facade dates to the 1780s and the interior is lavishly designed in the High-Baroque style. There are also some stunning hand-painted frescoes inside as well. Admission is free but dress respectfully as it is a place of worship.
4. Tour the Gestapo Headquarters Museum
Officially known as the Mausoleum of Struggle and Martyrdom, this museum focuses on the conflict between the Polish resistance and the Gestapo. It has a profound exhibit that takes you through the old detention cells which were used to hold and torture prisoners. Prisoners were subjected to beatings, attacked with dogs, and even electrocuted. And if they didn't cooperate, their family would be brought in and tortured before their very eyes. It's a sobering place but one that shouldn't be missed. Admission is free.
5. Visit the Museum of Modern Art
Established in 2005 and located only a short walk from the Central Railway Station, this small museum features contemporary art by Polish and international artists. I'm not much of a modern art fan, but there are some cool exhibitions here as well as some thought-provoking art. Admission is just 15 PLN and there are regular guided tours in English. Check the website for more details, including what temporary exhibits are available.
6. Check out the National Museum
This museum is one of the largest in the country. It boasts a substantial collection of ancient art (including 11,000 pieces of Greek, Egyptian, and Roman works), Medieval art, Polish paintings, sculptures, works from international artists, and a collection of Chinese art with over 5,000 pieces. They also have some paintings from Adolf Hitler's private collection. Admission to both the permanent and temporary galleries is 20 PLN and guided tours are 300 PLN.
7. Relax in Multimedia Fountain Park
The Multimedia Fountain Park is comprised of two fountains that spray water in choreographed patterns to music. One fountain is a massive 2,200 square meters, and the other is 120 meters in length. Kids can play in a nearby water playground and watch the water shoot into the air to the music, which varies from Chopin to Lady Gaga. Each Friday and Saturday night in the summer, there is a light show to accompany the waterworks (in the winter it's just a light show since the water is frozen). It's a popular spot in the summer so expect crowds.
8. Tour the Copernicus Science Center
The Copernicus Science Center, named after the famous Polish astronomer and polymath, is one of the most modern science centers in Europe (it was Copernicus who first suggested the sun, not the Earth, was at the center of the universe). Located on the bank of the Vistula River, it has over 450 interactive exhibits, allowing visitors to take part in all sorts of experiments involving light, sounds, electricity, and more. It's a great place to visit with kids. There's a planetarium here as well. Admission is 37 PLN on weekdays and 39 PLN on weekends and holidays.
9. Visit the POLIN
The Museum of the History of Polish Jews is a new museum with both permanent and temporary exhibitions as well as performances and workshops about Jewish history and culture. The museum documents the history of the Jews in Poland from the Middle Ages to the present. Over 90% of the Jewish population in Poland was killed by the Nazis in World War II and the museum was built on the spot where the Warsaw Ghetto was located (be sure to take a walking tour of the area to learn more about the Warsaw Ghetto and the fate of Jews in Poland during the World War II). Admission is 30 PLN and entry is free on Thursday.
10. Visit the Palace of Culture and Science
This is the most iconic building in the city, dominating the city skyline and looming over the city. It's the tallest building in Poland, home to 42 floors, theaters, a multi-screen cinema, museums, and much more. The building was a "gift" to Poland from the Soviet Union in 1955 and many people want to demolish it for that reason (Poland suffered heavily under Stalin). It offers a great view of the city from the 30th floor (there is an observation deck there which is free to access with the Warsaw Pass; it's 25 PLN without it). Access to the building is free.

For more information on other cities in Poland, check out these guides:
Warsaw Travel Costs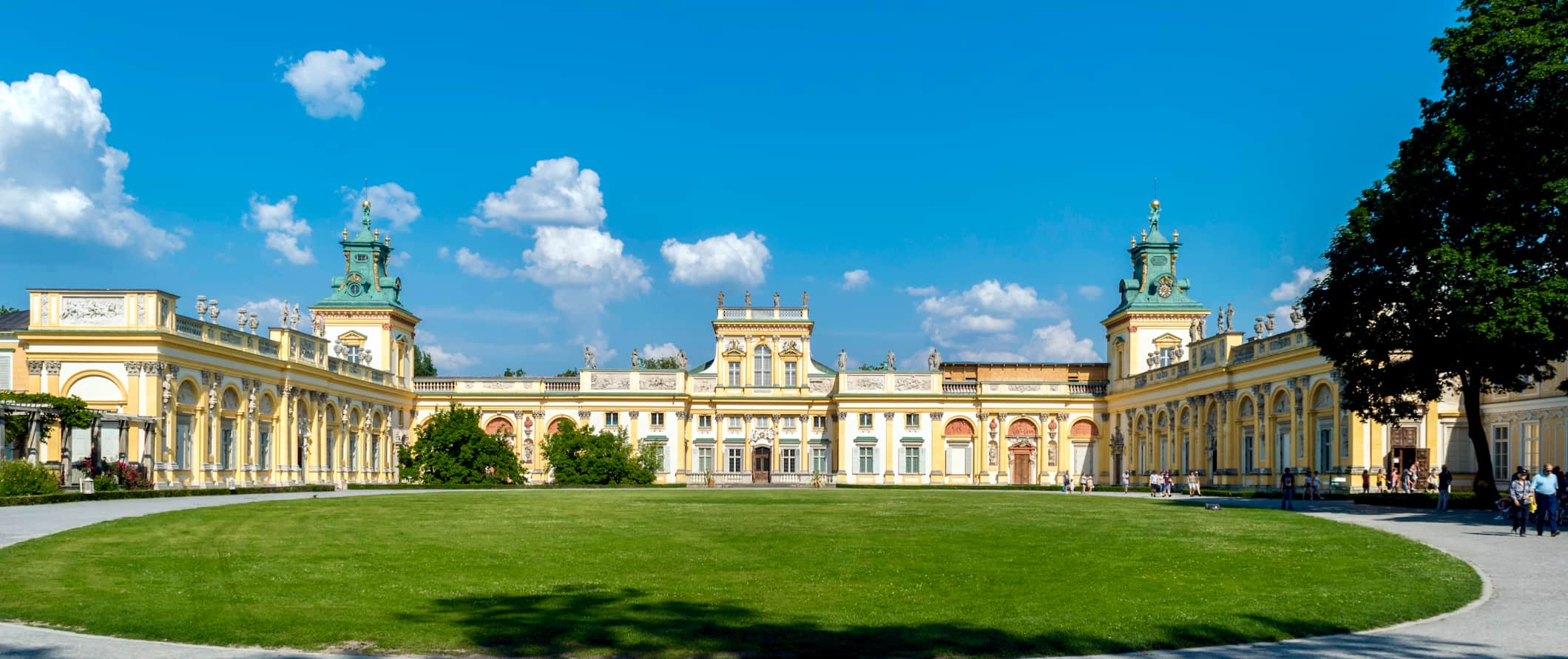 Hostel prices – A bed in a dorm with 8-10 beds starts around 90 PLN per night. Private rooms cost around 200 PLN. Free Wi-Fi is standard and most hostels also have kitchens if you want to cook your own food.
Campgrounds can be found outside the city (and there are plenty of campgrounds throughout the country as well). Expect to pay around 40 PLN per night for a basic tent plot without electricity.
Budget hotel prices – A double bed in a budget hotel with free Wi-Fi and a TV costs around 275 PLN per night. Many include a simple free breakfast as well.
Airbnb is available in Warsaw with private rooms starting at 90 PLN per night (though they usually average double that). Entire homes and apartments start at 180 PLN per night but, again, they often cost double (or more). Be sure to book early to secure the best deal.
Food – Polish meals are quite hearty, usually containing potatoes, meat (pork and chicken), and seasonal produce like beets or cabbage. Stews and soups (like borscht, a beet soup) are popular and can be found at most local restaurants. Pierogis are also a common staple and can be found everywhere for cheap. For some traditional Polish food, try beef tongue or pork knuckles. The country also has lots of traditional desserts too, like paczki (a Polish donut) and makowiec (poppy-seed cake).
Most cheap meals of traditional cuisine (served at local restaurants called bar mleczny or "milk bars") cost around 35 PLN. For a three-course meal with a drink and table service, expect to pay 90 PLN. Fast food (think McDonald's) costs 26 PLN for a combo meal.
A large pizza costs around 25-30 PLN while Chinese food costs around 15-20 PLN. Zapiekanki, a popular Polish street snack that's like a pizza baguette, costs 5-6 PLN.
Beer costs around 14 PLN while a latte or cappuccino is around 13 PLN. Bottled water is 6 PLN.
If you buy groceries and cook your own meals, expect to pay around 165 PLN per week for basic staples like pasta, rice, seasonal vegetables, and some meat. The cheapest grocery store is Biedronka, which you can find almost everywhere. Outdoor markets are also a great and cheap place to get fresh produce and other local products.
Backpacking Warsaw Suggested Budgets
On a backpacker budget of 185 PLN per day, you can stay in a hostel dorm, cook all your meals, limit your drinking, take public transportation to get around, and do some cheap activities like free walking tours and visiting the free museums. If you plan on drinking, add 15-30 PLN to your budget per day.
On a mid-range budget of 375 PLN per day, you can stay in a private Airbnb or private hostel room, eat out more at cheap milk bars, enjoy a couple of drinks, take the occasional taxi to get around, and do more paid activities like visiting the Uprising Museum.
On a "luxury" budget of 725 PLN or more per day, you can stay in a hotel, eat out anywhere you want, drink more, take more taxis, and do whatever guided tours and activities you want. This is just the ground floor for luxury though. The sky is the limit!
Accommodation
Food
Transportation
Attractions
Average Daily Cost
Backpacker
100
40
15
30
185
Mid-Range
175
120
30
50
375
Luxury
300
240
100
85
725
Warsaw Travel Guide: Money-Saving Tips
Warsaw is an affordable city so there aren't too many tips out there to help you save money. That said, here are a few ways you can save money while you visit Warsaw:
Eat at Milk Bars – If you're eating out, stick to the mleczny (milk bar). These are no-frills and cafeteria-style where you order from a counter, but it's a great way to save money and take in the scene. Expect plates of hearty pierogis, homemade soups, plenty of meat, and a local beer for around 35 PLN.
Get the Warsaw Pass – For 119 PLN, the single-day Warsaw Pass provides free public transportation and access to all of the city's main attractions. It's a great deal if you plan on seeing a lot. There is also a two-day pass for 159 PLN and a three-day pass for 189 PLN.
Watch your drinking – Warsaw is known for its partying and pub crawls and long nights out. While booze is cheap here, nights out can add up quickly. Start off by grabbing your favorite drinks from a grocery store first whenever possible. You'll save a ton compared to the bar.
Take a free walking tour – Free tours from companies like Orange Umbrella are a great way to explore the city while learning about its history, culture, and architecture. Just be sure to tip!
Use ridesharing apps – Ridesharing apps like BlaBlaCar are a great way to get around the country for cheap. You simply download the app, find someone looking for passengers, and go! Everyone is rated and verified and it's usually more convenient (and cheaper) than other forms of transportation. For travel within the city, use Uber. It is cheaper than the local taxis if you're leaving the city to explore.
Stay with a local – While accommodation is not expensive in Warsaw, Couchsurfing is a great way to lower your accommodation costs. Not only will you save some money by getting a free place to stay but you'll also be able to make a local friend and get insider knowledge about the city!
Bike share – For 10 PLN, you can register with the bike-share company Vetrulio. After you sign up, bike use is free for 20 minutes, making it essentially free to bounce around the city during your visit. After 20 minutes, it's just 1 PLN for the first hour and 3 PLN for the next hour.
Bring a water bottle – The tap water in Warsaw is safe to drink so bring a reusable water bottle to save money and reduce your plastic use. LifeStraw is my go-to brand as their bottles have built in filters to ensure your water is always clean and safe.
Where to Stay in Warsaw
Warsaw has a handful of hostels in town and they're all comfortable, safe, and sociable. Here are my suggested places to stay:

How to Get Around Warsaw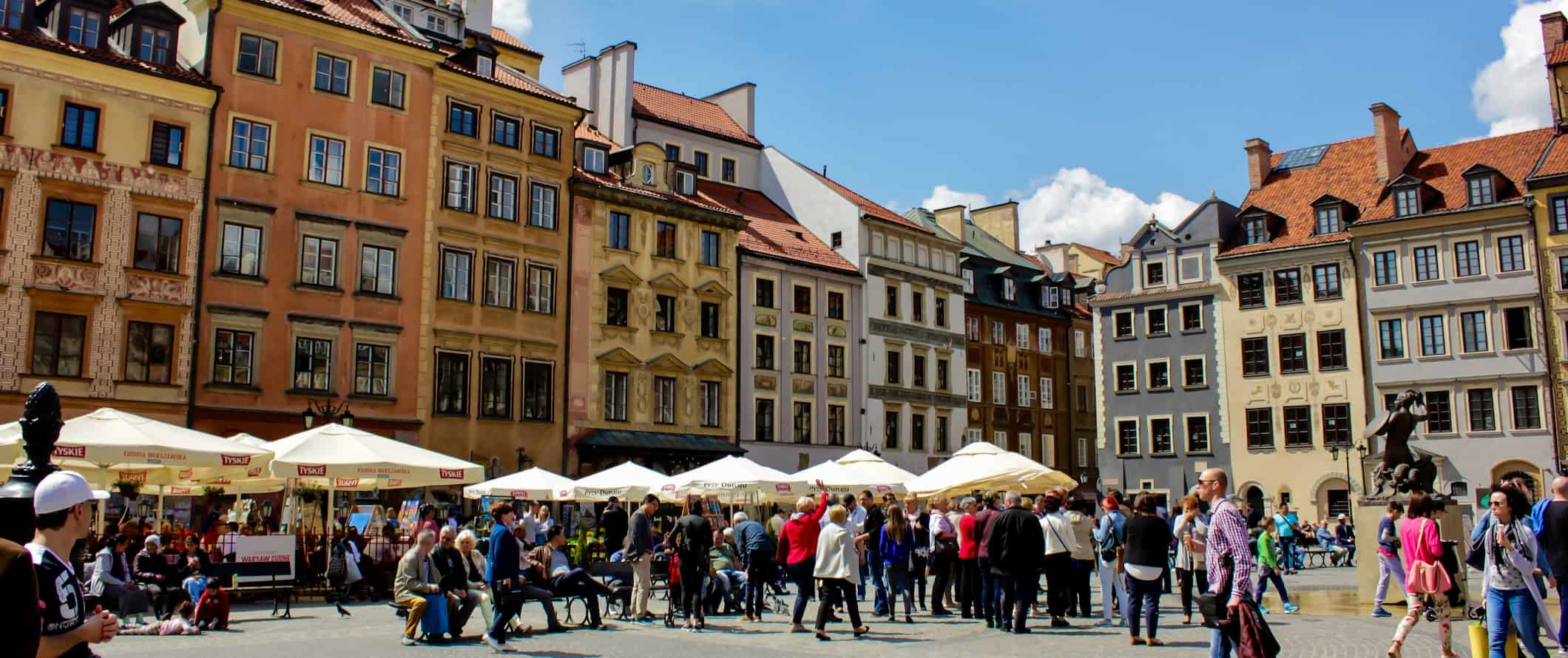 Public transportation – Buses and trams are the most common way to get around and run from 5am-11pm. They cost 3-5 PLN depending on how far you go. These tickets last 75 minutes. 90-minute tickets are available for around 7 PLN. For a day pass, prices start at 15 PLN per person while a 3-day pass starts at 36 PLN.
From the Warsaw Chopin Airport to the city center the quickest way is by train and the journey takes 20-minutes. Fares start at 3.40 PLN for a 20-minute ticket while a single ticket costs 4.40 PLN. The public bus is also available for 4.40 PLN or you can take an airport shuttle for 67 PLN per person.
The subway in Warsaw is fast and reliable. Prices for the subway are the same as the bus/tram prices above. Validated tickets let you transfer between each mode of transportation (as long as your ticket time hasn't expired).
Taxi – Taxis are common and safe, with prices starting at 8 PLN and going up 3 PLN per kilometer. Just make sure you use official taxis as there are often illegal taxis that try to take fares (and who overcharge). Official taxis have the company logo and phone number on the car. They also use a meter.
To ensure you get a reputable company, have your hotel/hostel call a taxi before you go just to be safe.
Ridesharing – Uber is available in Warsaw and is cheaper than using taxis. Stick to Uber if you need a private ride.
Bicycle – For 10 PLN, you can register for Vetrulio, a bike-rental company in Warsaw. After you sign up, bike use is free for 20 minutes, making it essentially free to bounce around the city during your visit. After 20 minutes (and up to an hour) it's just 1 PLN and then 3 PLN for the next hour.
There are also scooter share programs that cost 2 PLN to start and then 0.55 PLN per minute after that.
Car rental – You don't need a car to get around Warsaw, however, if you plan on exploring the region you can find rentals for around 100 PLN per day for a multi-day rental. Drivers must have had their license for at least one year and an International Driving Permit (IDP) is required for citizens of certain countries.
For the best rental car prices, use Discover Cars.
When to Go to Warsaw
The best (and most popular) time to visit Warsaw is during the summer, from June to August. Temperatures are hot and rain is infrequent. Expect daily highs around 25°C (77°F). There are crowds, but they aren't nearly as oppressive as what you find in Western Europe. Just be sure to book ahead so you don't miss out on the cheapest accommodation.
The shoulder seasons (April-May and September-October) are great times to visit as well. You'll beat the crowds and have much milder temperatures, with temperatures ranging from 14-19°C (57-67°F) in the spring and 3-12°C (39-54°F) in the fall. You'll get more rain but you'll get the stunning autumn colors in the fall and lots of blooming flowers in the spring which make for a stunning backdrop to your trip.
Winter in Warsaw is cold, with temperatures dropping below 0°C (32°F) during the day and down to -5°C (23°F) overnight. Snow is common, which can affect conditions if you're traveling by car. In short, I wouldn't recommend a winter visit unless you plan on leaving the city to go skiing or take part in other winter activities.
How to Stay Safe in Warsaw
Poland is consistently ranked one of the safest countries in the world (it ranks higher than Italy, Spain, and Australia in terms of safety).
Of course, you should still take some precautions while you're here. Keep your valuables secure and out of sight when riding public transportation and while you're in popular tourist areas.
Taxi scams in Warsaw are rare, but always make sure your driver is using the meter. If they aren't, ask them to stop and find a taxi that will.
ATM skimming can occur here so always make sure you use verified ATMs. If you can, go into the bank to withdraw your money (as opposed to using outdoor ATMs that are easier to tamper with).
If you rent a car, don't leave any valuables in it overnight. Break-ins are rare but it's always better to be safe than sorry.
Solo female travelers should generally feel safe here, however, the standard precautions apply (never leave your drink unattended at the bar, never walk home alone at night intoxicated, etc.).
If you're worried about getting ripped off, you can read about common travel scams to avoid here.
If you experience an emergency, dial 112.
The most important piece of advice I can offer is to purchase good travel insurance. Travel insurance will protect you against illness, injury, theft, and cancellations. It's comprehensive protection in case anything goes wrong. I never go on a trip without it as I've had to use it many times in the past. You can use the widget below to find the policy right for you:
Warsaw Travel Guide: The Best Booking Resources
These are my favorite companies to use when I travel. They consistently have the best deals, offer world-class customer service and great value, and overall, are better than their competitors. They are the companies I use the most and are always the starting point in my search for travel deals.
Skyscanner – Skyscanner is my favorite flight search engine. They search small websites and budget airlines that larger search sites tend to miss. They are hands down the number one place to start.
Hostelworld – This is the best hostel accommodation site out there with the largest inventory, best search interface, and widest availability.
Booking.com – The best all around booking site that constantly provides the cheapest and lowest rates. They have the widest selection of budget accommodation. In all my tests, they've always had the cheapest rates out of all the booking websites.
HostelPass – This new card gives you up to 20% off hostels throughout Europe. It's a great way to save money. They're constantly adding new hostels too. I've always wanted something like this and glad it finallt exists.
Get Your Guide – Get Your Guide is a huge online marketplace for tours and excursions. They have tons of tour options available in cities all around the world, including everything from cooking classes, walking tours, street art lessons, and more!
The Man in Seat 61 – This website is the ultimate guide to train travel anywhere in the world. They have the most comprehensive information on routes, times, prices, and train conditions. If you are planning a long train journey or some epic train trip, consult this site.
Rome2Rio – This website allows you to see how to get from point A to point B the best and cheapest way possible. It will give you all the bus, train, plane, or boat routes that can get you there as well as how much they cost.
FlixBus – Flixbus has routes between 20 European countries with prices starting as low 5 EUR! Their buses include WiFi, electrical outlets, a free checked bag.
SafetyWing – Safety Wing offers convenient and affordable plans tailored to digital nomads and long-term travelers. They have cheap monthly plans, great customer service, and an easy-to-use claims process that makes it perfect for those on the road.
LifeStraw – My go-to company for reusable water bottles with built-in filters so you can ensure your drinking water is always clean and safe.
Unbound Merino – They make lightweight, durable, easy-to-clean travel clothing.
Top Travel Credit Cards – Points are the best way to cut down travel expenses. Here's my favorite point earning credit cards so you can get free travel!
BlaBlaCar – BlaBlaCar is a ridesharing website that lets you share rides with vetted local drivers by pitching in for gas. You simply request a seat, they approve, and off you go! It's a cheaper and more interesting way to travel than by bus or train!
Warsaw Travel Guide: Related Articles
Want more info? Check out all the articles I've written on backpacking/traveling Europe and continue planning your trip: