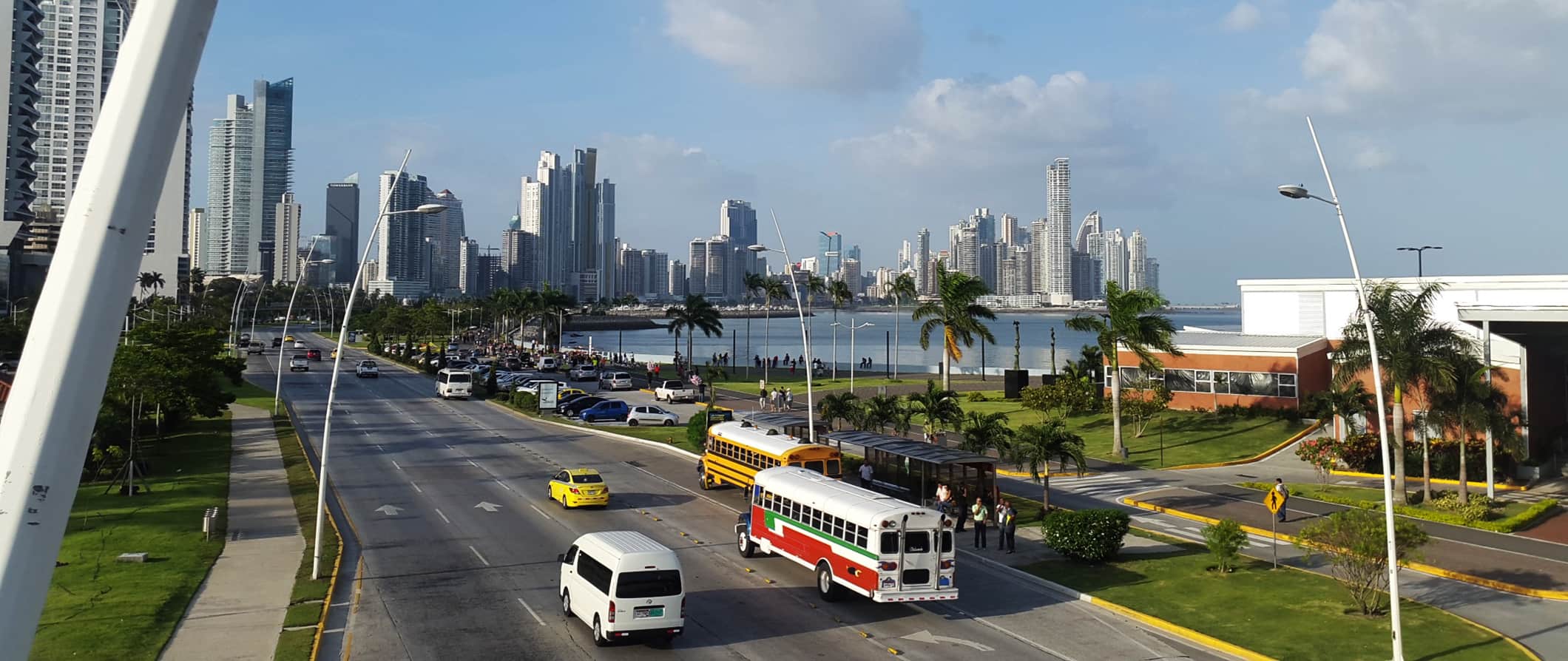 Panama City is the financial and shipping hub of Central America. It's also the capital of Panama and features some delicious food, good nightlife, and stunning history. The old part of the city (Casco Viejo) is the real heart of the city and has some stunning restaurants. On the opposite side, you'll find the ruins from colonial days. Overall, Panama City a good place to spend a few days eating and organizing your trip around the country. Other than that, it's not a memorable city so don't stay too long.
Top 5 Things to See and Do in Panama City
1. Visit Casco Viejo
Stroll through Casco Viejo, the 300-year-old Spanish colonial sector built in 1671. Most of the buildings are now empty, dilapidated, and in ruin. Nevertheless, the area has a lot of old world Spanish charm to it. Stroll the beautiful promenade, visit the Canal Museum, History Museum, and Presidential Palace. I highly recommend the weekend market in Plaza de la Independencia for its delicious and cheap meals.
2. Metropolitan Park
The Metropolitan Park is a section of the jungle watershed preserve for the Canal Zone. The park is fairly big but there is only eight kilometers' worth of trails so you can hike the whole thing in a day. From the top of the trail you'll get views of the entire city and the Panama Canal.
3. See the Panama Canal
You can view the city from Miraflores Locks (one of the three locks in the canal). There's a very good museum at the welcome center that features a lot of audio and visual displays and a short film about how Panama got the canal back from the US. Make sure you go in the morning or afternoon so you can see a ships. Admission is 15 USD.
4. Explore Panama Viejo
Panama Viejo was founded in 1519. All the gold from the Inca Empire went through this area, and it was once a thriving city of 10,000 people. Today's extensive ruins are the result of an attack by English pirate Henry Morgan in 1671. There is an in-depth museum at the visitor center, but the exhibits are mostly in Spanish. The reconstructed church offers sweeping panoramic views of the area. The ruins take a few hours to explore and are peaceful due to the lack of crowds.
5. Bike along Amador Causeway
The Causeway connects four small islands made up of rocks excavated from the Panama Canal, which serve as a breakwater for the Pacific entrance to the Panama Canal. The islands used to be bases for US forces, but have since been turned into a place for Panamanians to jog, cycle, skateboard, or eat at one of the many restaurants and bars. A bike rental costs between 10-20 USD.
Other Things to See and Do
(Click the title to expand the text)
1. Eat out
Panama City has some amazing international food. Personally, I don't like the local Panamanian food. I find it plain and lacking a lot of the spices and flavors you find elsewhere in Central America. But as a major international hub, the city has some great international fare. If you want to stretch out your budget you'll find delicious food throughout the city that makes it worth busting your budget. Casco Viejo has many high-end restaurants, as does La Exposicion.
2. Check out Mi Pueblito
This open-air museum is designed to give a glimpse of village life in Panama. Entrance is only 1 USD, and the museum doesn't get a lot of visitors so you'll have the place to yourself. Shops sell handicrafts, and you may catch some folk dancing if you come on a late afternoon on a Friday or Saturday. The museum is located on the side of Cerro Ancón.
3. Admire some Colonial Art
The Museo de Arte Religioso Colonial in Casco Viejo houses colonial religious art that dates back to the 16th-century. Some of this art and these artifacts even made it through the attack and sacking of the city by Henry Morgan and his crew. This is a small museum, but admission is only 1 USD, so it's worth a quick visit.
4. Take a Boat Tour to Taboga Island
Taboga Island is a little island off the Pacific coast of Panama City. It's easy to do as a day tour, with return ferries costing 20 USD. Explore the island's village, chat with the locals, or spend a bit of time hiking around. The beach is not the nicest here as the water tends to be polluted so don't come here if you're only looking for a great beach day.
5. Hike Cerro Ancon
The highest hill in Panama City makes for a great, 30-minute hike. You're likely to see a few joggers on your way, as well as some birds. At the top, reward yourself for your efforts by taking in the panoramic views of the city. Sometimes this area is a bit unstable in terms of safety, so double check the situation with your hotel or hostel before making the hike.
6. See some Contemporary Art
The Museum of Contemporary Art in Panama City features various permanent and temporary exhibits of Latin American artwork. Entrance is 5 USD.
7. Take a Spanish Course
If you've got some time to spend in the city (perhaps you're waiting for your boat to set sail for the San Blas Islands), then consider taking a week-long Spanish course. There are a number of schools here that offer programs with one-on-one or small groups classes for less than 200 USD per week.
8. Learn about Marine Life
The Centro de Exhibiciones Marinas is a good spot to spend a few hours, especially if you're traveling as a family. It's an exhibition center run by the Smithsonian Tropical Research Institute and features a couple of aquariums: one with fish from the Caribbean and one from the Pacific. This allows you to understand the difference between the two marine environments. There is also a nature trail where you might be able to spot some iguanas, birds, or sloths. Admission is 22 USD for adults, 11 USD for kids.
9. Visit the Biomuseo
The Biodiversity Museum was designed by renowned architect Frank Gehry and it was his first design in Latin America. The museum is host to revolving exhibitions on Panama's biodiversity. Admission is 22 USD for adults, with discounts available for seniors and students.
Typical Costs
Note: Panama uses both PAB and USD. There's no real need to carry the local currency, the Panamanian Balboa, unless you paying for really small things on the street. For the most part, use USD (which has the same value as PAB).
Hostel prices – Hostels in the city costs between 10-20 USD for a dorm room. Private rooms in hostels begin at 30-40 USD per night. Free WiFi is quite common, and many hostels also offer breakfast. Most hostels also have kitchens for those who want to cook their own food. My suggested places are:
Budget hotel prices – Budget hotels average between 35-90 USD per night for a double room with A/C, hot water, and private bathroom. You can find basic rooms with fewer amenities for as little as 20 USD per night, however. Free WiFi is generally standard, and many hotels also include breakfast. Airbnb is available in the city, with shared accommodation starting around 20 USD per night and entire apartments starting around 40 USD.
Average cost of food – Local food stalls meals will cost around 4 USD. For that price, you will get a plate of chicken, rice, and beans. It's a staple dish. Western food such as pizza will cost around 10 USD per meal. For a nice meal with wine, expect to pay around 45 USD. There are a lot of expensive but stylish restaurants in Casco Viejo if you're looking for something more upscale. Domestic beer at the bar will cost around 2 USD. If you plan on cooking your own food, expect to pay between 30-50 USD per week for groceries. One of my favorite restaurants in the city is Manolo Caracol. It's a little pricey ($30) but it's a 7 course set menu meal with amazing seafood.
Transportation costs – To travel from one side of Panama City to the other is around 5 USD. Buses can be as cheap as 0.50 USD. You can rent bicycles, though you won't want to ride them around most of the city — just stick to the tourist areas with bike paths as the traffic can be pretty bad. Expect to pay 10 USD for a rental. For intercity travel, buses to the interior cost between3-15 USD. An overnight bus to Bocas will cost around 27 USD. The same goes for taxis — stick to the local bus to save your budget.
Suggested daily budget
$40-50 USD (Note: This is a suggested budget assuming you're staying in a hostel, eating cheap, keeping your drinking to a minimum, and using local transportation. Using the budget tips below, you can always lower this number but if you stay in fancier accommodation, drink a lot, or eat out more, expect this number to be higher!)
Money Saving Tips
Eat at the local stands – Meals at local food stalls cost between 3-5 USD. You'll get rice, chicken, beans, and maybe another side plus a drink. I didn't love the food in Panama but at the price they had, it made eating very cheap.
Avoid taxis – Buses are only 0.50 USD and go everywhere in the city. Take the bus and save your money!
Stick to beer – Beer is usually 0.50-1 USD during hostel happy hours. Otherwise, a local Panama or Balboa was 1.50 USD. Mixed drinks are usually 2 USD. So stick to beer, spend less, and save more without cutting into your good time.
Take a free walking tour – Freetour.com offers a two-hour tour in Panama City, which is a great way to get to know the city. If you want to learn about the city's history, architecture, and culture then be sure to try a free tour.
Save money on rideshares – Uber is way cheaper than taxis and are the best way to get around a city if you don't want to wait for a bus or pay for a taxi. The Uber Pool option is where can you share a ride to get even better savings (though you can get your own car too). You can save $15 off your first Uber ride with this code: jlx6v.
My Must Have Guides For Traveling to Panama City