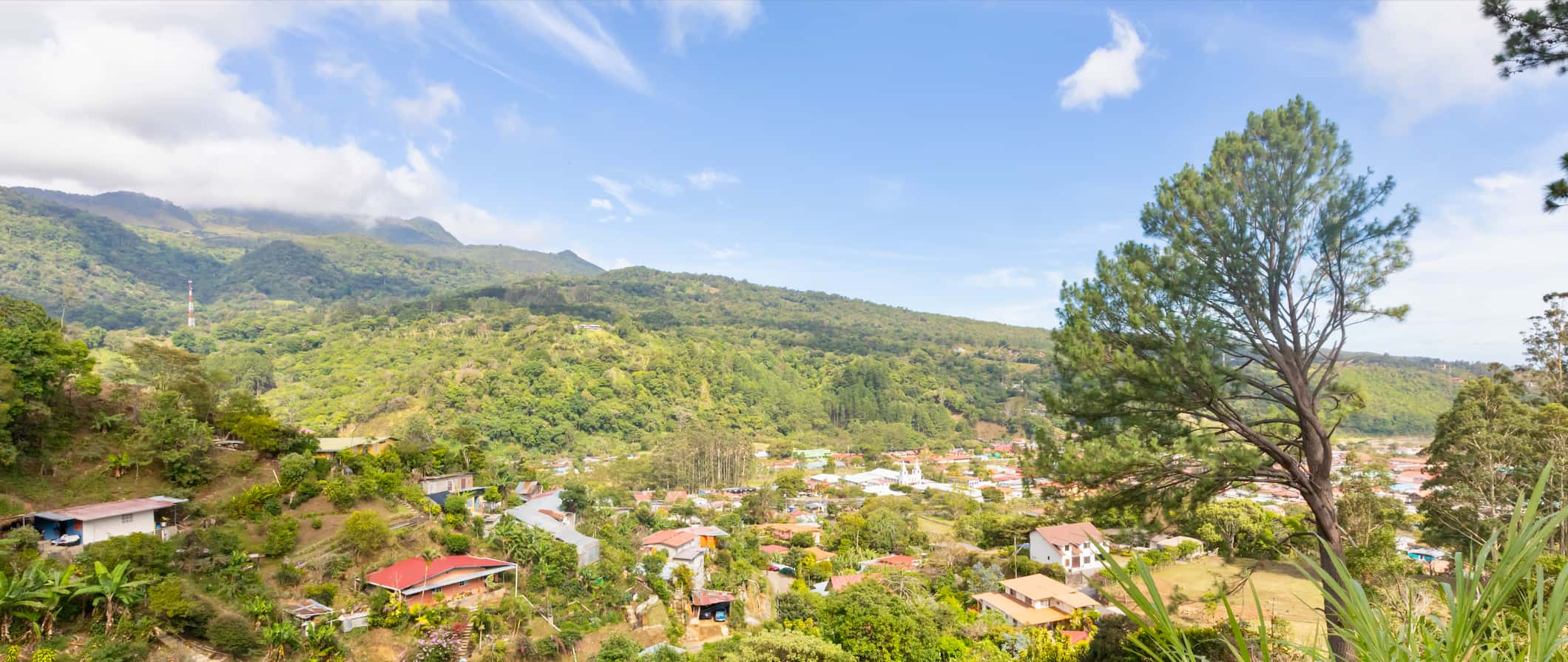 Tucked away in the green highlands of Panama, Boquete is a small mountain town near the Costa Rican border. It is a popular destination for hiking, coffee plantation tours, and just relaxing in the mountains. It also has some of the best international restaurants in the country. A lot of people (mostly Americans) retire here due to its moderate year-round temperatures.
Despite its popularity, the town has been able to maintain its laidback small-town atmosphere. The city attracts visitors ranging from young backpackers to wealthy retirees, which is why you'll find budget hostels next to luxury hotels and spas.
Visiting Boquete was a highlight of my time here. You can do some hikes right from town, there's tons of strawberries in the area, the food is amazing, and I loved the slow pace of life here. It lives up to all the hype.
Use this travel guide to Boquete to plan your next trip there!
Top 5 Things to See and Do in Boquete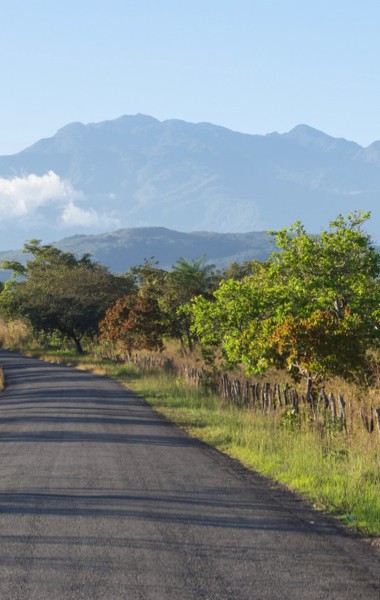 1. Climb Volcán Barú
Volcán Barú is one of the biggest tourist attractions in Boquete. While it is possible to do it in a very long day hike, most people hike this volcano over two days to witness the spectacular sunrise in the morning. Expect to pay around $125 USD for a guided hike. You can also hike the volcano independently.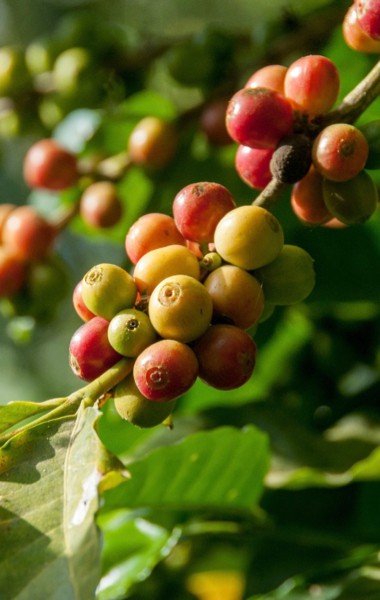 2. Tour a Coffee Plantation
Most of the coffee in Panama is grown here and there are several
coffee plantations
in the area that offer tours. Most tours last half a day and cost around $30-35 USD. Finca Dos Jefes and Finca Casanga both offer excellent tours.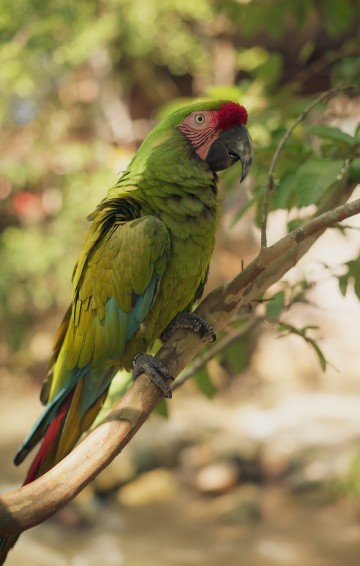 3. Go bird watching
Boquete is a birdwatcher's paradise. There are over 500 species of birds here, including parakeets, toucanets, a dozen different kinds of hummingbirds, and, most famously, the resplendent quetzal. If you don't want to join an organized birdwatching tour, visit Finca Lérida. Half-day tours start at $75 USD while full-day tours are $185 USD.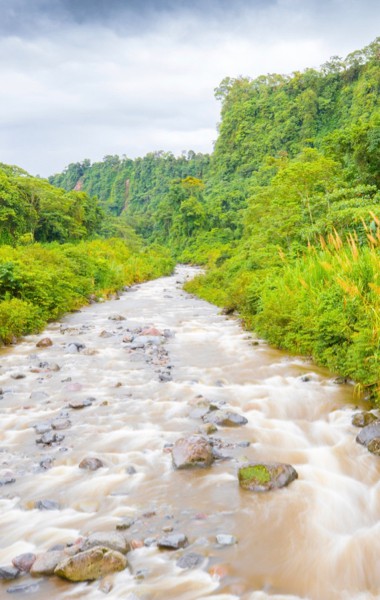 4. Hike the Los Quetzales Trail
This 6-mile trail begins in Boquete and ends in Cerro Punta. If you're lucky, you'll likely encounter the Resplendent Quetzal, whom the trail is named after. A minibus or cab from Boquete to the trailhead costs $3 USD. For the "out and back" option, hike halfway to the lookout point of Mirador la Roca, and then go back the way you came.
5. Swim in a natural canyon slot
Los Cangilones de Gualaca is a canyon slot (a narrow, walled-in canyon formed by rushing water) in Chiriqui, about 45 minutes from Boquete by car. It's a fun place to swim, cliff jump, and relax by the river. Pack a picnic, share a ride with friends or other travelers, and lounge away the day.
Other Things to See and Do in Boquete
1. Hike the Pianista Trail
This trail is a fantastic 3-hour in-and-out hike that includes a river crossing. Half of the hike is through a rainforest and half through an open valley. You'll see quetzals, howler monkeys, and snakes along the way. It's a 5-mile (8km) hike that starts 2.5 miles (4km) outside of town. With more than 2,000 feet of elevation, you'll likely be enveloped in clouds for much of your hike so bring a light jacket and suitable footwear.
2. Go horseback riding
There are several horseback riding tours (like Explora Ya Eco Tours and Franklin's Horseback Riding Tours) around Boquete. You'll get to cross streams and enjoy the views over Volcan Baru. No riding experience is necessary. Expect to pay $35-40 USD for a 4-hour tour.
3. Go rafting on the Viejo River
If you are looking to get your adrenaline pumping, book a full-day whitewater rafting tour on the Chiriquí Viejo River. It has class 3 rapids (suitable for ages 12 and up) and the rapids are accessible all year around. Organized tours from Boquete cost between $85-100 USD and include lunch, gear, and transportation. Check out tours with Adventures Panama, Boquete Outdoors Adventures, and Keteka.
4. Zipline through the cloud forest
For a fun afternoon in the treetops, visit Boquete Tree Trek Eco-Adventure Park. They have 12 different zip lines spanning over 3 miles (5km). It takes around four hours to finish the course. Tours cost $65 USD. If ziplining isn't your thing, you can also explore the treetops via hanging bridges. There are six suspension bridges covering a 2.7-mile (4.5km) route through the tropical treetops. Bridge tickets are $30 USD.
5. Go rock climbing
The first rock climbing company in Panama was founded here. Climbers of all levels can go bouldering, rock-climbing, or can opt for a climbing course. Guided climbs take around 3 hours and cost $45 USD.
6. Hike to the "Lost Waterfalls"
This 3-4-hour hike takes you through lush cloud forests and passes three waterfalls. The trailhead is 25 minutes from town and if you are lucky, you'll spot sloths, monkeys, birds, and other wildlife along the way. Pack your bathing suit (after the second waterfall on the trail, there is a cave where you can swim!), water, some food, and cash for the entrance fee. To get to the trailhead, take a Colectivo minibus ($3 USD) or a taxi ($8 USD). The entrance fee of $8 USD. The hike is around 5 miles (8km). There are some steep sections (and lots of mud) so wear suitable footwear.
7. Soak in the Caldera Hot Springs
The Caldera Hot Springs are 45 minutes away by car. There is a $3 USD entry fee, and you can also take a tour of the hot springs for $35 USD (or if you would like to include seeing the nearby petroglyphs, tours are $45 USD), with time set aside to enjoy the hot springs for 2-3 hours.
8. Tour the Gulf Islands
A 1.5 hours' drive from Boquete is Boca Chica, a small village on the Pacific Coast. From there, you can take a boat tour to the islands of the Laguna de Chiriqui. There are 25 uninhabited islands where you can see lots of wildlife: howler monkeys, turtles, exotic birds, and fish. You can spend the day swimming, snorkeling, and relaxing around these gorgeous tropical islands. This is best done by organized tour from Boquete. Expect to pay around $75 USD per person.
9. Try some of Panama's best ice cream
If you have a sweet tooth, try the strawberry ice cream from Fresas Mary. It's delicious and a great way to cool down (they also have bowls of strawberries with whipped cream). If you prefer gelato, head to Gelateria La Ghiotta, which has some of the best gelato in all of Panama, with dairy-free options available too.
10. Hike the Pipeline Trail
This accessible trail is close to town, relatively flat, and well maintained so it's a good option for novice hikers or anyone just looking to stretch their legs (it's kid-friendly too). It's just 1 mile each way and takes around 1-1.5 hours (plus time spent at the waterfall at the end) there's even a tree that's 1,000 years old! It costs $3 USD.
Boquete Travel Costs
Note: Panama uses both PAB and USD. There's no real need to carry the local currency, the Panamanian Balboa, unless you paying for really small things on the street. For the most part, use USD (which has the same value as PAB).
Hostel prices – Boquete has several hostels with 5-8-bed dorms ranging from $12-18 USD per night. Private rooms start at $35 USD. Free Wi-Fi and hot showers are standard, with some hostels also offering free breakfast or free coffee/tea. Most have self-catering facilities as well.
Hotel prices – There are plenty of three-star budget hotels in Boquete where you can find rooms for around $65-80 USD per night.
On Airbnb, you can find private rooms starting at $20 USD, and entire apartments starting at around $50 USD. Expect to pay double those prices unless you book early as there isn't an overabundance of options here.
Average cost of food -Panamanian cuisine features rice, black beans, yuca (a starchy vegetable similar to the potato), plantains, beef, chicken, and seafood. Traditional meals at a sit-down restaurant cost around $5 USD. These usually include rice, beans, some meat, and fried plantains. Fast food (think burgers or pizza) cost around $6 USD. Expect to pay around $30-35 USD for a nicer dinner and drinks (or for a western meal, as there are lots of places that cater to the expat crowd).
A cappuccino costs around $2-3 USD while a domestic beer will be around $2 USD. Bottled water costs around $1 USD.
Some suggested places to eat are The Rock, Boquete Fish House, The Panamonte Inn, and RetroGusto.
If you want to cook for yourself, expect to pay between $30-50 USD for a week's worth of groceries including staples like fruit, veggies, pasta, and bread.
Backpacking Boquete Suggested Budgets
On a backpacker budget, expect to spend around $35-45 USD per day. This includes staying in a dorm room, cooking most of your food and eating at the occasional local restaurant, drinking a few local beers, taking shared buses, and doing cheap activities like hiking.
A mid-range budget of $105-115 USD includes accommodation in a private room in a guesthouse or budget hotel, local restaurants, taxis, and paid tours.
For a budget of $200 USD per day, you can stay at a luxury hotel, eat out at nicer restaurants, take cabs everywhere (or hire a driver), and enjoy anything you want! The sky is the limit!
You can use the chart below to get some idea of how much you need to budget daily. Keep in mind these are daily averages – some days you'll spend more, some days you'll spend less (you might spend less every day). We just want to give you a general idea of how to make your budget. Prices are in USD.
Accommodation
Food
Transportation
Attractions
Average Daily Cost
Backpacker
$15
$5-15
$5
$10
$35-45
Mid-Range
$55
$20-30
$10
$20
$105-115
Luxury
$100
$50
$20
$30
$200
Boquete Travel Guide: Money-Saving Tips
It's pretty easy to save money in Boquete. There's not a lot of nightlife, all the hiking is cheap, and there's plenty of cheap eats in the city! Here are some of the best ways to save money:
Stick to local food – There are plenty of Western restaurants and fancy coffee shops in Boquete. If you want to save money, stick to local restaurants with a set lunch menu.
Enjoy cheap hikes – Hiking is the cheapest way to have fun in Boquete and there are tons of trails around the city. Ask your hostel/hotel staff for suggestions. It's the best way to explore the region on a budget!
Don't take taxis – Buses are only $1 USD so skip the taxis. They're cheap but they add up!
Bring a reusable water bottle – The tap water here is safe to drink so avoid buying water. Just use a filter like LifeStraw to ensure your water is safe. You'll save money and the environment!
Where to Stay in Boquete
There are a few budget-friendly hostels in Boquete. Here are my recommended places to stay:
How to Get Around Boquete
The center of Boquete is compact so can walk from your hotel/hostel to restaurants, cafes, and shops. With a population of just 20,000, it's very easy to get around.
Bus – Many of Boquete's bus and minibus routes are loops that start in the center of Boquete ("El Bajo"), make a loop into the neighborhood or nearby village they are going to, and then loop back into Boquete. There a designated bus stops, but you can also wave down a bus by putting up your hand to signal the driver you'd like to get on. The same goes for getting off the bus. The destinations are written on the front of the bus. There aren't proper timetables – the drivers wait for the bus to fill up and then leave.
Fares are usually less than $1 USD. Note that most buses stop between 6-8pm. If you're heading further away, ask the driver when the last bus goes back to Boquete.
Bicycle – You can rent bikes for around $10 US per hour or $40 USD for a full day with companies like Soul Planet Cycle.
Taxi – Taxis are widely available in Boquete and cost around $1 USD for most short trips around the city. If you want to travel to a destination outside of town, negotiate the fare before you start the trip. Ask your hostel/hotel staff what you should expect to pay. Expect to pay around $8 USD for a taxi to the Pipeline and Lost Waterfalls trailheads.
Scooter – If you are comfortable riding a scooter, there are a couple of places that offer scooter rentals. You'll pay around $40 USD for eight hours.
Ride-Sharing – Uber is not available in Boquete (it's only available nearby David and in Panama City).
When to Go to Boquete
Boquete can be visited year-round. Thanks to the cooler climate in the mountains, temperatures are pretty much the same at all times. They are usually in the low 70's (around 22°C) and rarely drop below 53°F (11° C).
March and February are the warmest months. Boquete gets rain in the afternoon during the rainy season (May-December), but the weather is still nice the rest of the day, albeit it can be overcast. The rains get gradually more intense from July to November. If you visit during the rainy season, plan all your hikes and other outdoorsy activities for the morning, and use the rainy afternoon to relax.
If you want to experience Boquete's famous Coffee & Flower Festival, La Feria de las Flores y del Café, visit in the middle of January. The festival lasts ten days and thousands of visitors descend on the small town for this occasion, so make sure to book your accommodation ahead. At any other time of year, you won't have problems finding accommodation upon arrival.
How to Stay Safe in Boquete
Boquete is known to be very safe, which is why so many North Americans choose to retire here. Just use common sense. Don't leave valuables unattended in restaurants and public spaces and don't flash expensive jewelry. Only take as much cash with you as you're planning to spend and don't have all of your credit cards on you. If you're a solo traveler, avoid walking around at night.
Generally, people feel safe thanks to the watchful police presence in town, but petty crimes do occur so be mindful and always trust your gut instinct. Avoid isolated areas at night, and be aware of your surroundings at all times. Make copies of your personal documents, including your passport and ID, before you leave on your trip.
If you do experience an emergency, dial 911 for emergency services.
The most important piece of advice I can offer is to purchase good travel insurance. Travel insurance will protect you against illness, injury, theft, and cancellations. It's comprehensive protection in case anything goes wrong. I never go on a trip without it as I've had to use it many times in the past.
Boquete Travel Guide: The Best Booking Resources
These are my favorite companies to use when I travel. They consistently have the best deals, offer world-class customer service and great value, and overall, are better than their competitors. They are the companies I use the most and are always the starting point in my search for travel deals.
Skyscanner – Skyscanner is my favorite flight search engine. They search small websites and budget airlines that larger search sites tend to miss. They are hands down the number one place to start.
Hostelworld – This is the best hostel accommodation site out there with the largest inventory, best search interface, and widest availability.
Booking.com – The best all around booking site that constantly provides the cheapest and lowest rates. They have the widest selection of budget accommodation. In all my tests, they've always had the cheapest rates out of all the booking websites.
Intrepid Travel – If you want to do group tours, go with Intrepid. They offer good small group tours that use local operators and leave a small environmental footprint. And, as a reader of this site, you'll get exclusive discounts with them too!
Get Your Guide – Get Your Guide is a huge online marketplace for tours and excursions. They have tons of tour options available in cities all around the world, including everything from cooking classes, walking tours, street art lessons, and more!
SafetyWing – Safety Wing offers convenient and affordable plans tailored to digital nomads and long-term travelers. They have cheap monthly plans, great customer service, and an easy-to-use claims process that makes it perfect for those on the road.
Boquete Gear and Packing Guide
If you're heading on the road and need some gear suggestions, here are my tips for the best travel backpack and for what to pack!
The Best Backpack for Travelers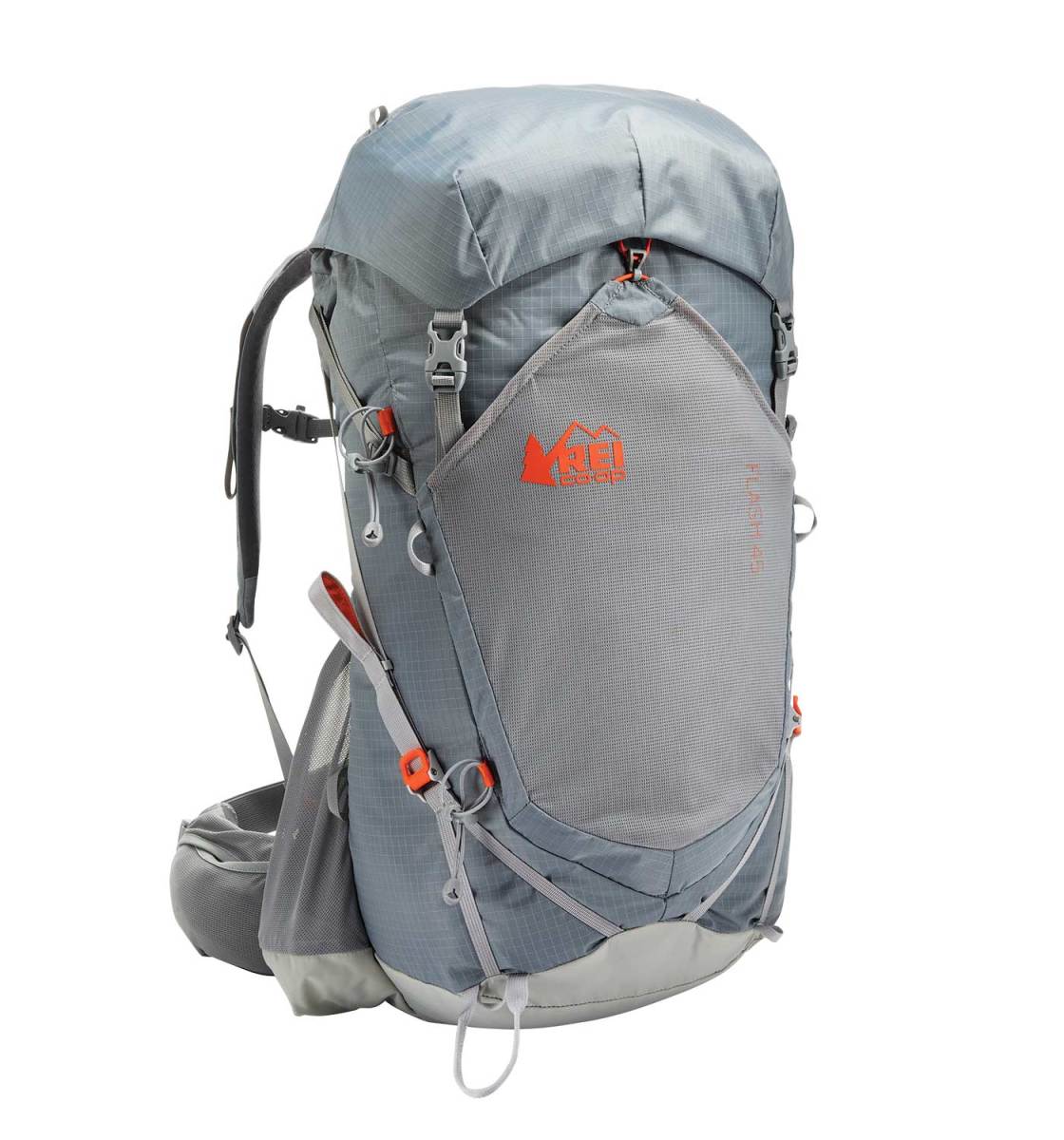 What's the best backpack for traveling long-term? I recommend the
REI Flash 45 Pack
. It's light and comfy, top loading, and fits perfectly in an airplane's overhead bin.
Size:
45-47L
Straps:
Thick and cushy with compression technology that pulls the pack's load up and inwards so it doesn't feel as heavy.
Features:
Removable top lid, pocket at the front, hydration compatible, contoured hip belt
If you want something different, refer to my article on how to choose the best travel backpack for tips on picking a pack and other backpack suggestions.
What to Pack for Your Trip
Clothes
1 pair of jeans (heavy and not easily dried, but I like them; a good alternative is khaki pants)
1 pair of shorts
1 bathing suit
5 T-shirts (Unbound Merino is my preferred company. If you're a member of NM+, you can get 15% off your purchase)
1 long-sleeved T-shirt
1 pair of flip-flops
1 pair of sneakers
6 pairs of socks (I always end up losing half)
5 pairs of boxer shorts (I'm not a briefs guy!)
1 toothbrush
1 tube of toothpaste
1 razor
1 package of dental floss
1 small bottle of shampoo
1 small bottle of shower gel
1 towel
Deodorant
Small Medical Kit (safety is important!!!)
Miscellaneous
Female Travel Packing List
I'm not a woman, so I don't know what a woman wears, but Kristin Addis, our solo female travel guru, wrote this list as an addition to the basics above:
Clothing
1 swimsuit
1 sarong
1 pair of stretchy jeans (they wash and dry easily)
1 pair of leggings (if it's cold, they can go under your jeans, otherwise with a dress or shirt)
2-3 long-sleeve tops
2-3 T-shirts
3-4 spaghetti tops
1 light cardigan
Toiletries
1 dry shampoo spray & talc powder (keeps long hair grease-free in between washes)
1 hairbrush
Makeup you use
Hair bands & hair clips
Feminine hygiene products (you can opt to buy there too, but I prefer not to count on it, and most people have their preferred products)
For more on packing, check out these posts:
Panama Travel Guide: Related Articles
Want more info? Check out all the articles I've written on backpacking/traveling Central America and continue planning your trip: