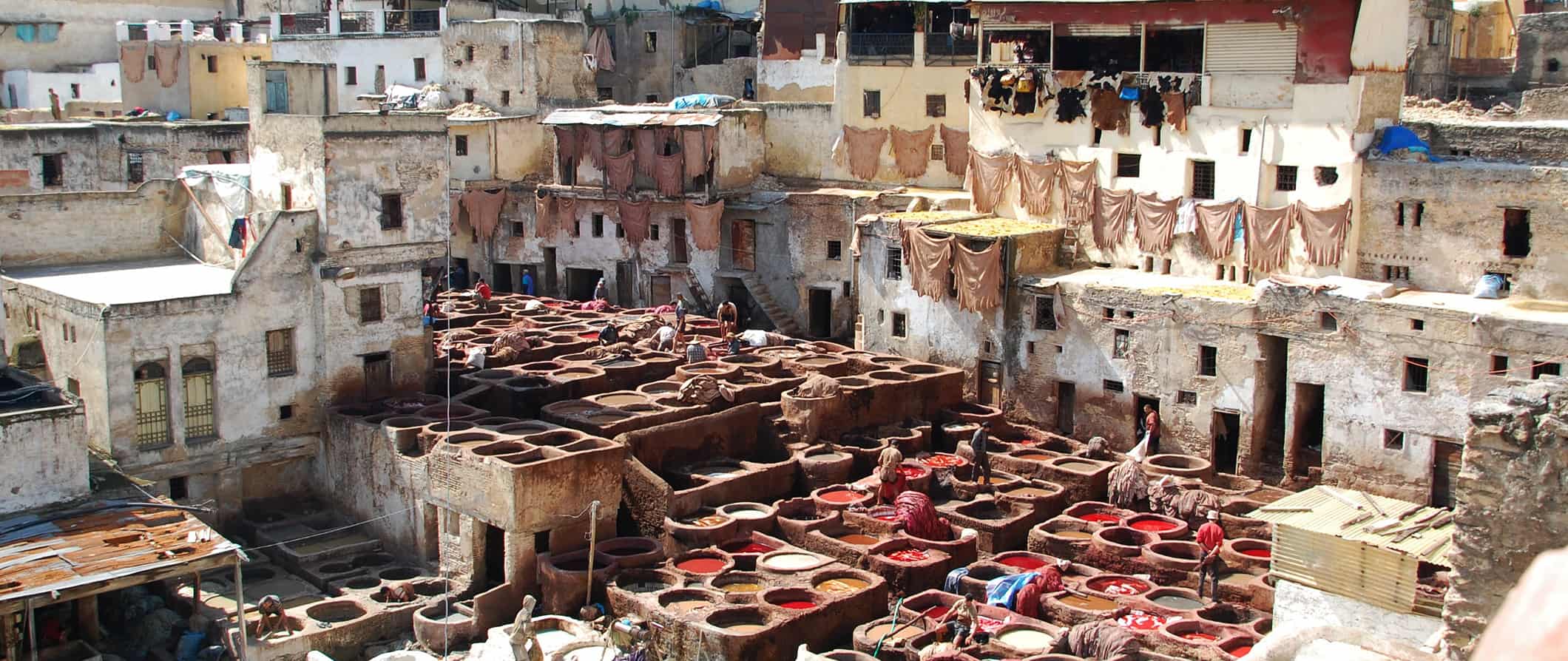 Fez was Morocco's capital until 1912 and is still considered the country's spiritual and cultural center. Over 1200 years old, it is full of palaces, museums, mosques, fountains, residences, and tiny little alleyways. Fez and its medina is a barrage on the senses. I loved the chaos, the smells, the bargains, markets, and stalls but it can be very overwhelming and mentally exhausting. The medina's labyrinth layout can be fun to get lost in but stay on guard as pickpockets are pretty common. Although the pace of Fez can initially be very overwhelming, it has so much culture to offer that you should definitely visit Fez on your trip!
Top 5 Things to See and Do in Fez
1. Explore the medina
This walled medina is the city's most popular tourist attraction. The narrow streets are lined with skilled craftsmen, exquisite aromas of local cuisine, crowds of people, and livestock running rampant. (Be on the look out for petty thieves. Keep your stuff close and follow your gut about wandering down empty streets).
2. Visit Kairaouine Mosque and University
Fez is home to one of Africa's largest mosques. The mosque was established in 859 AD. In the 12th century, it was expanded and can hold up to 20,000 people during prayer. Although non-Muslims cannot enter, visitors can admire its architectural design from several points overlooking the medina.
3. Visit the Chouara Tanneries
Here workers dye skins and hides in little stone pools of various shades of pink, brown, white, and yellow. Getting into the tanning pits themselves is often impossible, but there are plenty of points to observe and watch the action. Each leather shop in the surrounding area has a terrace with a view.
4. Take a day trip to Volubilis
This fertile agricultural area was developed from the 3rd century BC and grew rapidly under Roman rule from the 1st century AD onwards. This UNESCO site is surprisingly vast and you can get real close to the mosaics, columns, and buildings. And there's hardly anyone there – you basically have the site to yourself.
5. Take in the Madrasa Bou Inania
This madrasa is another perfect example of Moroccan artisanal skill. The intricate plaster and latticework of this structure are absolutely stunning. Unlike most madrasas that include a simple prayer hall, this one houses a complete mosque. The green-tiled minaret and marble columns are quite impressive.
Other Things to See and Do
(Click the title to expand the text)
1. Admire the entrance to the Royal Palace
Though the Royal Palace and gardens are strictly closed to the public, seeing it from the outside is still worth the trip. From Place des Alaouites, take a close look at the door's giant artisan-made brass knockers, as well as the imposing brass doors themselves. The street running along the palace is Rue Bou Khessissat, which is nice to walk along.
2. Eat or learn to cook at Café Clock
Recommended to me by many people, this Western-influenced café is famous for its gigantic and delicious camel burger (which tastes a lot like spicy shawarma). The food is excellent: the burger, green smoothies, and melt-in-your-mouth buttery chicken couscous were so satisfying I ate here twice. And, in the crazy and chaotic medinas of each city, the cafés provide an oasis of calm, where you can recharge, use WiFi, and cool down with air conditioning. They also offer cooking classes and host regular events!
3. Admire the Medersa el-Attarine
The Medersa el-Attarine was designed as an annex to Kairaouine Mosque. It was founded in 1325 by Abu Said. The courtyard is comprised of cedar wood and carved plaster. Its mosaics, carvings, and impeccable detail are well worth the visit.
4. Jewish Cemetery and Habarim Synagogue
The history of Jewish people in Morocco, specifically in Fez, has been both extraordinary and devastating. During the city's golden age between the 9th and 11th centuries CE, the community flourished. During other times, Jews were involved in violent uprisings, expelled, and killed. The Jewish Cemetery in Fez is home to Jewish saints and rabbis and is one of the oldest in Morocco. The Habarim Synagogue, located at the far end of the property, is now home to a museum of old articles, photos, and postcards.
Typical Costs
Hostel prices
– Hostels in Fez are a budget traveler's dream. You can find dorms with 6-8 beds for 80-110 MAD per night. Private rooms that sleep two average around 250 MAD per night. You can book your hostel with
Hostelworld
.
Budget hotel prices – You can find a room in a budget hotel starting around 195 MAD. Hotels at this price point typically include free WiFi, private bathrooms, and free breakfast. Use Booking.com as they consistently return the cheapest rates. Airbnb is available in Fez and you can find shared rooms starting around 110 MAD per night and entire homes starting around 300 MAD per night.
Average cost of food – Eating out in Morocco can be extremely cheap. Crepes cost around 10 MAD, sandwiches are 20-25 MAD and tangines (a slowly-simmered, flavorful dish) are between 30-40 MAD. A pot of mint tea is 8 MAD. A bottle of wine will set you back 80 MAD, a beer is around 40 MAD. For fancier sit down restaurants, expect to pay 80-120 MAD for a meal, with western food on the higher-end and sometimes topping 150 per dish. Pizza is really popular right now and goes for around 40 MAD. On the top end, main courses (whether tagine or steak) begin at 150 MAD. Be sure eat at Cafe Clock – they have the best camel burgers in town! If you cook your own food, expect to pay 200 MAD per week for groceries that will include pasta, vegetables, chicken, and other basic foods.
Transportation costs – The best way to travel around Fez is via bus. The city has a reliable and cheap local bus system. Although it can often be crowded and prone to pickpocketing, standard fare is 2-5 MAD per ride. With a base fare of 20 MAD and 6 MAD per kilometer, taxis are around 20-40 MAD. Taxis from the airport to the city center will cost around 120 MAD, while a bus will only cost you 20 MAD for the same distance.
Suggested daily budget
400-500 MAD / 40-50 USD (Note: This is a suggested budget assuming you're staying in a hostel, cooking a few meals, sticking to local restaurants and dishes, and using local transportation. Using the budget tips below, you can always lower this number but if you stay in fancier accommodation or eat out more, expect your budget to be higher! This number is just a guideline.)
Money Saving Tips
Eat from street stalls – For just a few dollars, you can indulge in delicious kebabs, sausages, barbecued corn on the cob, hot roasted chicken, and huge sandwiches, among many other tasty options.
Negotiate your cab fare – Be sure to negotiate a price before you get into the taxi. There aren't set prices and you'll need to bargain hard.
Avoid faux guides – Faux guides (or false guides) will linger in the medina and offer you tour services. Be forceful in saying now and keep walking away, eventually, the guy will give up.
Be careful of thieves – Petty theft, mostly involving wallets, watches, and cameras, is prevalent in the crowded medina. Stay alert and keep your valuables in secure places. Don't wander with any valuables and try to avoid walking alone at night.
Avoid drinking – Even though drinking is frowned upon in the country, you can still find plenty of drinking establishments. They are overpriced and the drinks aren't that good. Avoid drinking during your visit, save money, and align yourself closer to local norms. Your liver will thank you.
Dress appropriately and respectfully – Although places like Marrakesh are touristy and slightly more liberal, Fez is much more traditional, especially in the medina. Women should dress modestly to avoid harassment and having to spend money on extra clothing to cover up while there.
My Must Have Guides For Traveling to Fez