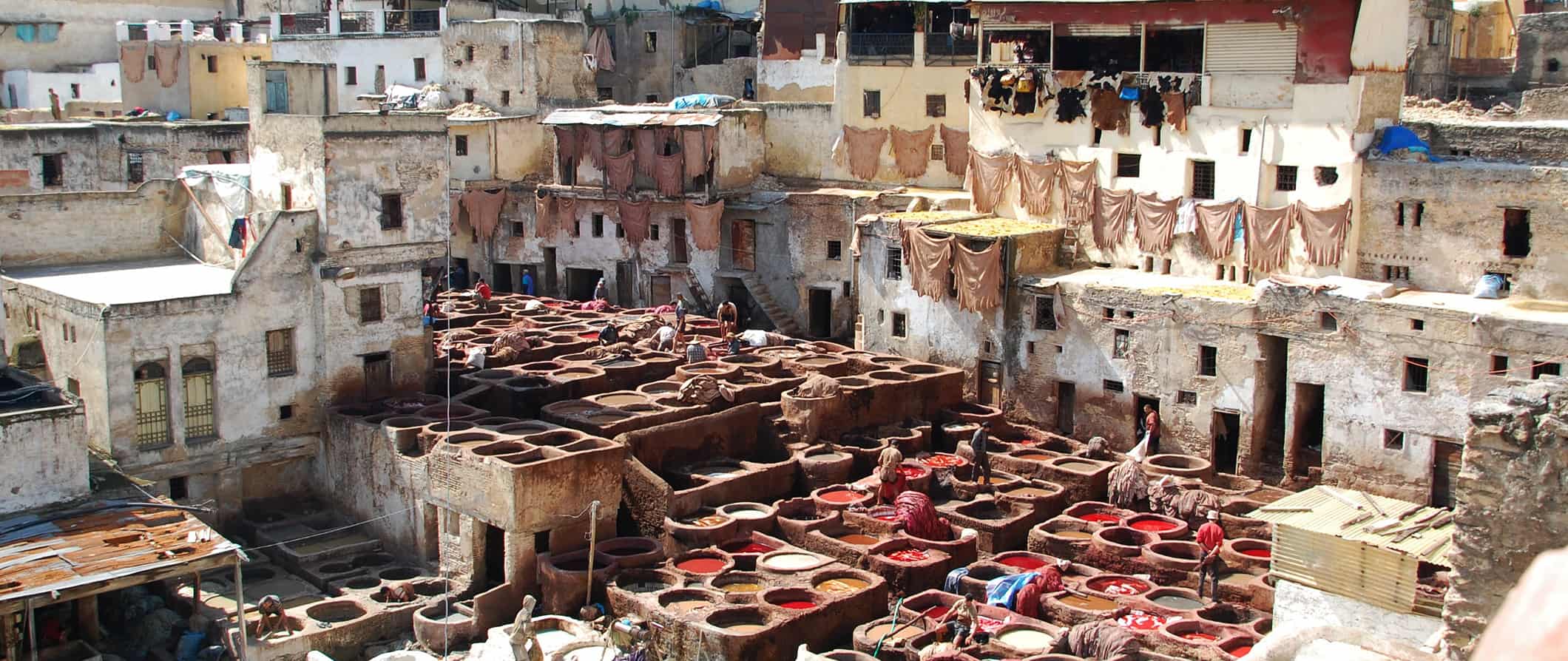 Fez was Morocco's capital until 1912 and is still considered the country's spiritual and cultural center. Over 1200 years old, it is full of palaces, museums, mosques, fountains, residences, and tiny little alleyways. Fez and its medina is a barrage on the senses. I loved the chaos, the smells, the bargains, markets, and stalls but it can be very overwhelming and mentally exhausting. The medina's labyrinth layout can be fun to get lost in but stay on guard as pickpockets are pretty common. Although the pace of Fez can initially be very overwhelming, it has so much culture to offer that you should definitely visit Fez on your trip!
Top 5 Things to See and Do in Fez
1. Explore the medina
This walled medina is the city's most popular tourist attraction. The narrow streets are lined with skilled craftsmen, exquisite aromas of local cuisine, crowds of people, and livestock running rampant. (Be on the look out for petty thieves. Keep your stuff close and follow your gut about wandering down empty streets).
2. Visit Kairaouine Mosque and University
Fez is home to one of Africa's largest mosques. The mosque was established in 859 AD. In the 12th century, it was expanded and can hold up to 20,000 people during prayer. Although non-Muslims cannot enter, visitors can admire its architectural design from several points overlooking the medina.
3. Visit the Chouara Tanneries
Here workers dye skins and hides in little stone pools of various shades of pink, brown, white, and yellow. Getting into the tanning pits themselves is often impossible, but there are plenty of points to observe and watch the action. Each leather shop in the surrounding area has a terrace with a view.
4. Take a day trip to Volubilis
This fertile agricultural area was developed from the 3rd century BC and grew rapidly under Roman rule from the 1st century AD onwards. This UNESCO site is surprisingly vast and you can get real close to the mosaics, columns, and buildings. And there's hardly anyone there – you basically have the site to yourself.
5. Take in the Madrasa Bou Inania
This madrasa is another perfect example of Moroccan artisanal skill. The intricate plaster and latticework of this structure are absolutely stunning. Unlike most madrasas that include a simple prayer hall, this one houses a complete mosque. The green-tiled minaret and marble columns are quite impressive.
Other Things to See and Do
(Click the title to expand the text)
1. Admire the entrance to the Royal Palace
Though the Royal Palace and gardens are strictly closed to the public, seeing it from the outside is still worth the trip. From Place des Alaouites, take a close look at the door's giant artisan-made brass knockers, as well as the imposing brass doors themselves. The street running along the palace is Rue Bou Khessissat, which is nice to walk along.
2. Eat or learn to cook at Café Clock
Recommended to me by many people, this Western-influenced café is famous for its gigantic and delicious camel burger (which tastes a lot like spicy shawarma). The food is excellent: the burger, green smoothies, and melt-in-your-mouth buttery chicken couscous were so satisfying I ate here twice. And, in the crazy and chaotic medinas of each city, the cafés provide an oasis of calm, where you can recharge, use WiFi, and cool down with air conditioning. They also offer cooking classes and host regular events!
3. Admire the Medersa el-Attarine
The Medersa el-Attarine was designed as an annex to Kairaouine Mosque. It was founded in 1325 by Abu Said. The courtyard is comprised of cedar wood and carved plaster. Its mosaics, carvings, and impeccable detail are well worth the visit.
4. Jewish Cemetery and Habarim Synagogue
The history of Jewish people in Morocco, specifically in Fez, has been both extraordinary and devastating. During the city's golden age between the 9th and 11th centuries CE, the community flourished. During other times, Jews were involved in violent uprisings, expelled, and killed. The Jewish Cemetery in Fez is home to Jewish saints and rabbis and is one of the oldest in Morocco. The Habarim Synagogue, located at the far end of the property, is now home to a museum of old articles, photos, and postcards.