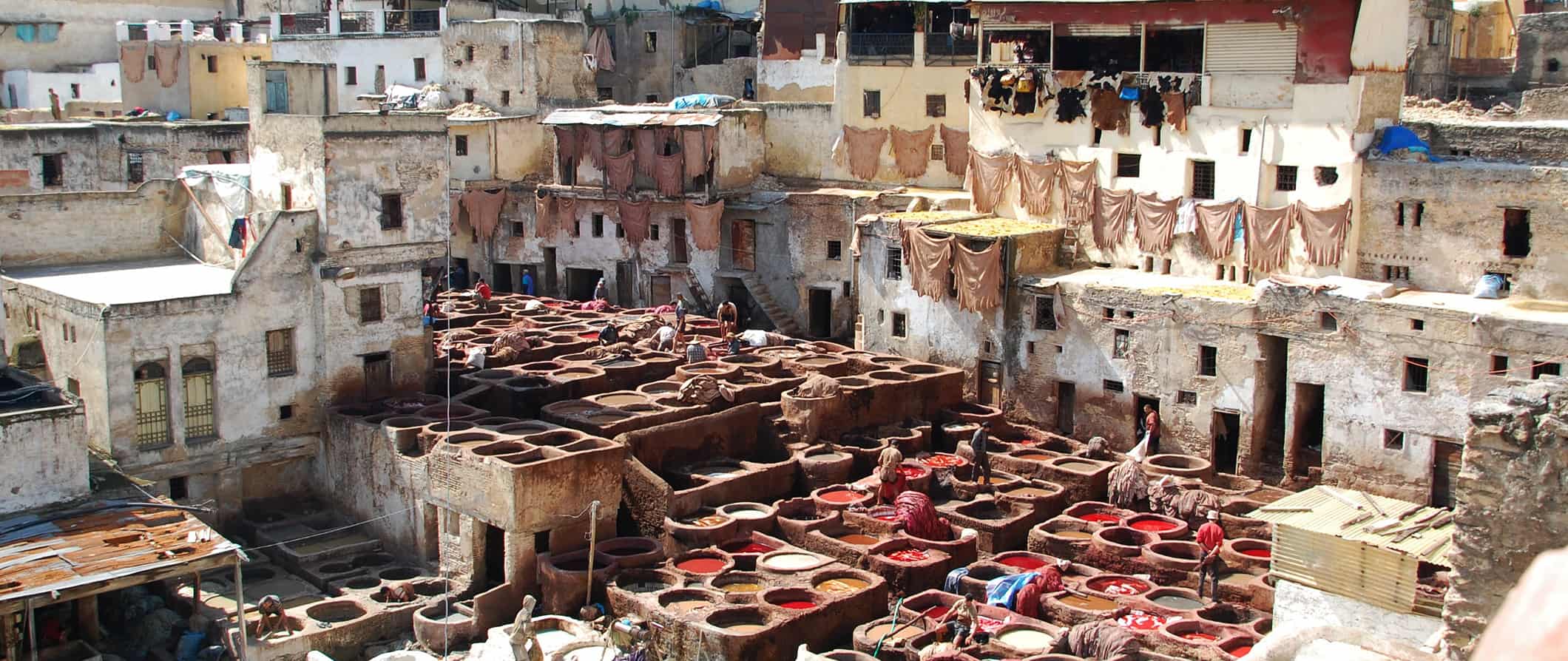 Founded in the 8th century, Fez was Morocco's capital until 1912 and is still considered the country's spiritual and cultural center. It's a city is brimming with historic palaces, interesting museums, gorgeous mosques, stunning fountains, and plenty of narrow little alleyways you can explore.
The highlight, of course, is the city's medina, the largest urban pedestrian zone in the world. It's a barrage on the senses and something not to be missed.
I loved visiting Fez: the chaos, smells, bargains, markets, and food stalls combine to create an ambiance unlike any other city in the world. The sensory overload can be overwhelming and mentally exhausting but it nonetheless has its own beauty and charm as well.
This travel guide to Fez can help you plan your trip, save money, and make the most of your time in this hectic city.
Top 5 Things to See and Do in Fez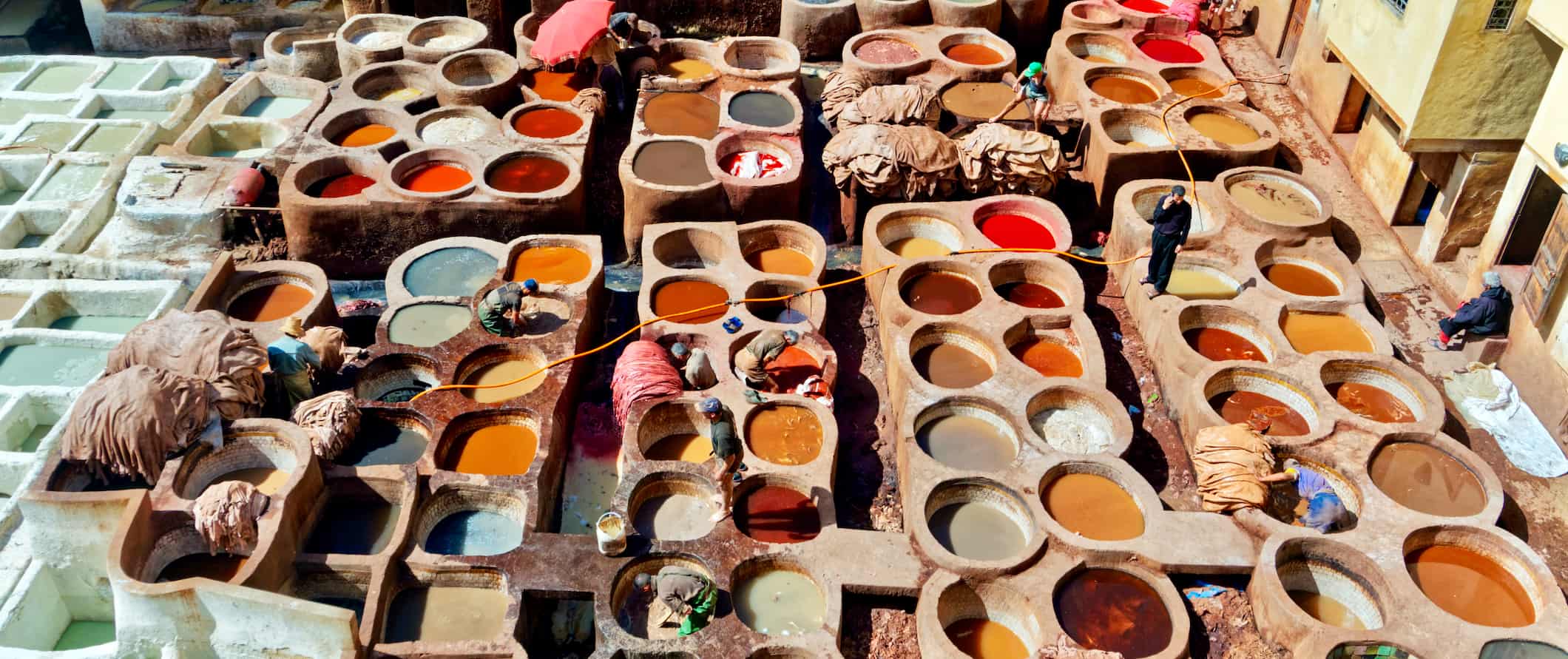 1. Explore the medina
This is where Fez began, back in the 8th century. Today, it is one of the most extensive and best-preserved historic towns in the world. The narrow streets are lined with skilled craftsmen and are bursting with exquisite aromas, crowds of people, and livestock running rampant.
2. Visit Kairaouine Mosque and University
Fez is home to one of Africa's largest mosques. It was established in 859, making it the oldest university in the world. In the 12th century, it was expanded to hold up to 20,000 people during prayer. Although non-Muslims cannot enter, visitors can admire its architectural design from several points overlooking the medina.
3. Visit the Chouara Tanneries
Here workers dye skins and hides in little stone pools of various shades of pink, brown, white, and yellow. Getting into the tanning pits themselves is often impossible, but there are plenty of points to observe and watch the action. Each leather shop has a terrace with a view.
4. Day trip to Volubilis
Located 100 kilometers (62 miles) from Fez, this fertile agricultural grew rapidly under Roman rule and was a major olive oil producer. It's a partly-excavated ruin now that hardly sees any tourists. In summer, the heat can be intense so bring a hat and water.
5. Take in the Madrasa Bou Inania
Founded in the 14th-century by Abu Inan Faris, this madrasa (educational institute) is a perfect example of Moroccan artisanal skill. The intricate plaster and latticework of this structure are absolutely stunning. The green-tiled minaret and marble columns are quite impressive. Admission costs 20 MAD.
Other Things to See and Do in Fez
1. Admire the entrance to the Royal Palace
Though the Royal Palace (Dar al-Makhzen) and gardens are closed to the public, the outside is still worth admiring. The palace was built in the 13th-century by Marinid sultans. A tunnel was constructed leading from the palace to the Grand Mosque, allowing the King to attend prayers in privacy. From Place des Alaouites, take a close look at the gilt bronze doors, and their giant artisan-made brass knockers.
2. Eat or learn to cook at Café Clock
Recommended to me by many readers of the site, this Western-influenced café is famous for its gigantic camel burger (which tastes a lot like spicy shawarma). Beyond the burger, the food is excellent here: the burger, green smoothies, and melt-in-your-mouth buttery chicken couscous were so satisfying I ate here twice. And, in the crazy and chaotic medinas of each city, the café provides an oasis of calm, where you can recharge, use Wi-Fi, and cool down with air conditioning. They also offer cooking classes and host regular events. A five-hour class starts at 600 MAD and dishes at the café cost 25-95 MAD.
3. Admire the Al-Attarine Madrasa
The Al-Attarine Madrasa was designed as an annex to Kairaouine Mosque. The "school of the perfumers" was founded in 1325 by Abu Said and is located at the entrance of the spice and perfume market in Fez. The building is known to be one of the best examples of architecture from the Marinid period (13th-15th century), with a remarkable courtyard comprised of cedarwood and intricately carved plaster. Its mosaics, carvings, and impeccable detail make it worth the visit. Admission is 20 MAD.
4. See the Jewish Cemetery and Habarim Synagogue
Jews have a long and complex history in Fez. During the city's golden age between the 9th and 11th centuries, the Jewish community flourished. Afterward, Jews were expelled and killed. The Jewish Cemetery in Fez is one of the oldest in Morocco, home to thousands of tombs — all of which are stark white. The Habarim Synagogue, located at the far end of the property, is now home to a small museum of old articles, photos, and postcards.
5. Tour Borj Nord
Built in the late 16th-century, this fort is one of the largest defensive structures in Fez. Today, the fort is known as the Museum of Arms, the first museum in Morocco that specializes in the history of arms. There are around 5,000 pieces in the museum's collection, dating from prehistory to the 20th-century. Don't miss the Saadian cannon, which was used during the Battle of the Three Kings (also known as the Battle of Alcácer Quibir) in 1578. Make sure to also go up to the roof for fantastic views over the city. Admission is 10 MAD.
6. Take a free walking tour
One of the best ways to explore the medina is with a local guide. You'll learn about its history, meet local shopkeepers, and be less likely to get harassed. Guru Walk offers a couple of free walking tours, led by locals. This is a good introduction to the medina, and one of the best ways to deepen your experience. Just remember to tip your guide at the end!
7. Visit Bab Bou Jeloud
Found at the western entrance to the medina, Bab Bou Jeloud is an entrance to the city whose original gate dated to the 12th-century. From here, locals entered the main souq, Tala'a Kebira, and went to the Kairaouine Mosque and University. While the original gate is long gone, today's gate, decorated with blue and green mosaics, dates to 1913 and is still worth seeing up close.
8. Climb to the Marinid Tombs
These 14th-century tombs, a royal necropolis from the Marinid Dynasty, are located on a hilltop at the northern edge of the city. While the brick tombs are in ruins today (just a few weathered brick walls and arches remain), the real draw is the panoramic view over the city below. This is also a popular spot to watch the sunset.
9. Stroll the gardens at Dar Batha
This former palace was transformed into Morocco's first museum back in the early 20th century. Today, the collection features over 6,500 objects focused on Moroccan history, archaeology, and traditional arts and crafts. Don't miss the lush gardens in the inner courtyard, complete with ornamental fountains and mosaic tilework. Admission is 10 MAD. (Temporarily closed for renovations).
10. Visit the Nejjarine Museum of Wooden Arts and Crafts
This small museum focuses on the traditional Moroccan art of woodworking. It is in a beautifully restored 18th-century funduq (travelers inn) with a stunning interior courtyard carved all in wood. The rooms formerly used for traveling merchants now house the museum's exhibits, where visitors can learn more about the craft. Admission is 20 MAD.
11. Enjoy some greenery at Jardin Jnan Sbil
Jardin Jnan Sbil is the only real public park in the city. Originally created in the 19th century, the park fell into ruin but was renovated and reopened to the public in 2011. Spanning over 18 acres, there are more than 3,000 species of plants here, with subsections of the park dedicated to different themes, such as the Bamboo Garden or the Andalusian Garden. Admission is free. Open every day except Mondays.
12. See the Chouara Tannery
Located near the Saffarin Madrasa, this is the oldest tannery in the city. Dating back to the 9th century, the tanneries in Fez are one of the city's biggest attractions. The leather here is soaked and dyed and then shipped all over the world. There is no fee to enter, but touts will normally charge you around 20-50 MAD to show you the best views (avoid getting ripped off though; some will try and charge upwards of 200 MAD). To can be a bit hard to find so use GPS or hire a guide to show you around.
For more information on other cities in Morocco, check out these guides:
Fez Travel Costs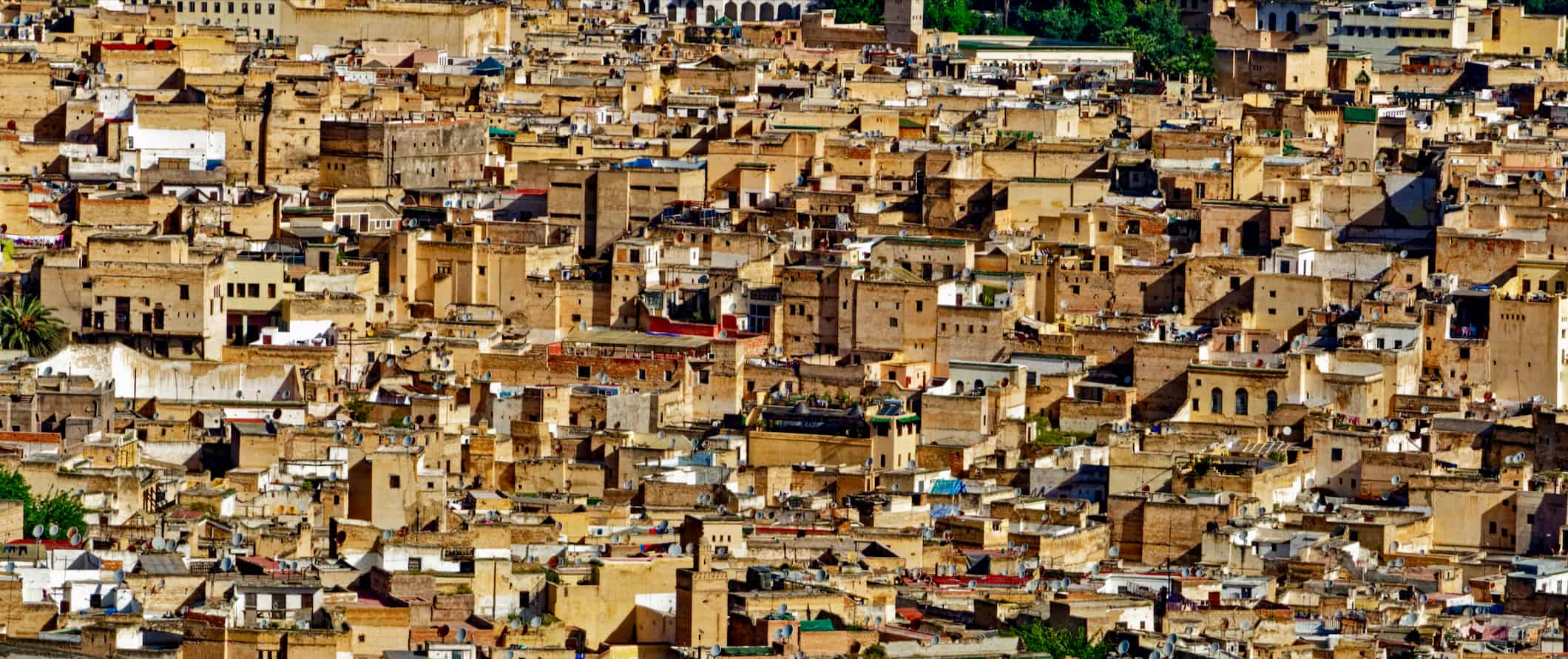 Hostel prices – Hostels in Fez are super cheap. Dorms with 6-8 beds cost 85-105 MAD per night. Dorms with 10 or more beds cost 60-80 MAD per night. Private rooms average around 250-320 MAD per night. Hostels usually include free breakfast, Wi-Fi, towels, and linens.
Budget hotel prices – Budget hotels start around 260-375 MAD per night. Hotels typically include free Wi-Fi, private bathrooms, and free breakfast. Many hotels have an outdoor pool as well.
On Airbnb, private rooms start around 150 MAD per night. Renting apartments and villas start around 280 MAD and are good if you want to stay in a traditional Moroccan home.
Food – Moroccan cuisine is a colorful, flavorful mix of Berber, Andalusian, and Mediterranean traditions with a pinch of French and sub-Saharan cuisine to round things out. It is a land of spices, so expect flavorful meals at every turn (the traditional ras el hanout spice mix is composed of 27 different spices). Beef, goat, and lamb are some of the most common meats, usually eaten with couscous. Fish like mackerel and anchovy are also quite common, owing to the country's location on the coast. Be sure to try pastilla, a pastry filled with meat or seafood.
Crepes cost around 10-25 MAD and sandwiches are 20-25 MAD. Tagines, (a slowly simmered, flavorful dish) are 30-80 MAD. A pot of mint tea is around 8 MAD.
For fancier sit-down restaurants, expect to pay 80-120 MAD for a meal, with western food on the higher-end (sometimes topping 150-230 MAD per dish). Pizza is popular and goes for around 30-40 MAD. If you want to really splash out, upscale meals (whether tagine or steak) begin at 150 MAD.
Fast food (think McDonald's) costs around 50 MAD for a combo meal. Beer is 25-30 MAD while a latte/cappuccino is 13 MAD.
If you cook your own food, expect to pay 200 MAD per week for groceries. This gets you basic staples like pasta, couscous, seasonal produce, and some meat or seafood.
Backpacking Fez Suggested Budgets
If you're backpacking Fez, my suggested budget is 285 MAD per day. This budget covers staying in a hostel dorm, eating from some street stalls and cooking most meals, walking or taking public transit everywhere, limiting your drinking, and stocking to free and cheap activities like free walking tours and exploring the medina.
A mid-range budget of about 505 MAD per day covers a private Airbnb room, eating out for most meals, having a couple of drinks or splurging on a nice meal, taking the occasional taxi to get around, and doing more paid activities like visiting museums and day-tripping to Volubilis.
On a "luxury" budget of 940 MAD or more per day, you can stay in a hotel, eat out for all your meals, rent a car for day trips, take more taxis, and do whatever tours and activities you want. This is just the ground floor for luxury though. The sky is the limit!
Accommodation
Food
Transportation
Attractions
Average Daily Cost
Backpacker
90
105
10
80
285
Mid-Range
180
150
25
140
505
Luxury
330
260
160/span>
290
1,040
Fez Travel Guide: Money-Saving Tips
Fez, like the rest of Morocco, is very affordable so it's easy to visit here and save money. That said, here are some ways to save money in Fez:
Eat at the markets – Stick to eating at the local markets in the medina or away from the tourist centers in the new town for the cheapest meals.
Negotiate your cab fare – Be sure to negotiate a price before you get into the taxi. There aren't set prices and you need to bargain hard. Ask your hostel/hotel staff for estimates so you can avoid getting ripped off.
Avoid faux guides – Faux guides (or false guides) linger in the medina and offer you tour services. Be forceful in saying no and keep walking away. Eventually, they give up.
Stay with a local – If you want to save money and get some local insight into the city, use Couchsurfing. Staying with a local is the best way to get a feel for the city and learn some insider tips.
Avoid drinking – Even though drinking is frowned upon in the country, you can still find plenty of drinking establishments. They are overpriced and the drinks aren't that good. Avoid drinking during your visit, save money, and align yourself closer to local norms.
Make change at your hotel – A lot of vendors and museums do not give change back when you pay with paper notes, and the lowest denomination you can get from an ATM is 100 MAD. Hotels and larger grocery stores are best for getting smaller bills and change.
Bring a water bottle – The tap water here is generally safe to drink but you should bring a reusable water bottle with a filter just in case. LifeStraw is my go-to brand as their bottles have built-in filters to ensure your water is always clean and safe.
Where to Stay in Fez
There several hostels in the city. Here are my recommended places to stay in Fez:
How to Get Around Fez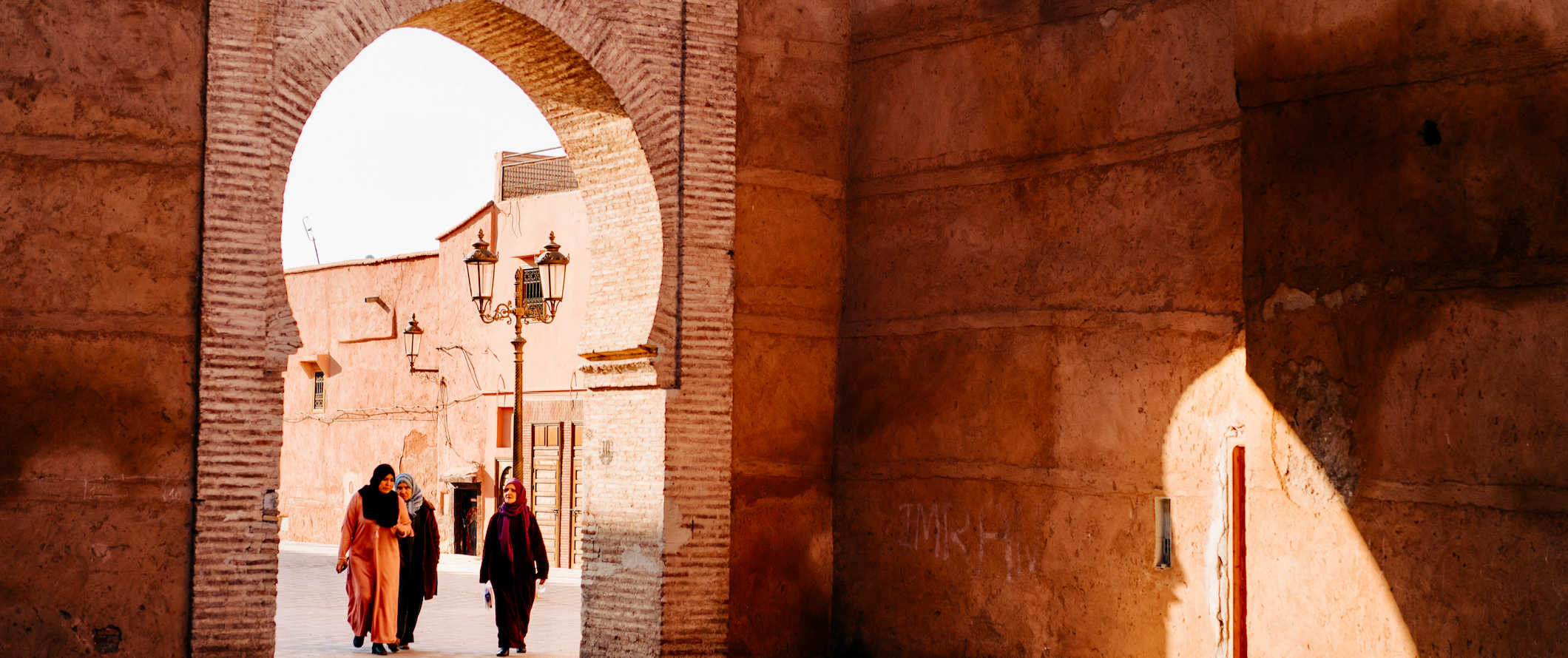 The medina is very walkable (and fun to explore on foot) but it can be confusing to navigate. Bring a guide or use GPS so you don't get lost.
Public transportation – The best way to travel around Fez is via bus. The city has a reliable and cheap local bus system. The standard fare is 2-5 MAD per ride. Be sure to watch out for pickpockets as there are a lot.
Taxi – With a base fare of 20 MAD and 6 MAD per kilometer, taking a taxi is generally around 20-40 MAD per ride. Taxis from the airport to the city center cost around 120-150 MAD, while the airport express bus only costs 20 MAD for the same distance.
Car rental – Car rentals can be found for as little as 100 MAD per day for a multi-day rental. You don't need one to get around the city, however, they can be helpful for day trips. Drivers need to be at least 21 years of age. Just be cautious — drivers here are aggressive and accidents are common.
When to Go to Fez
The months between March and May are the best time for visiting Fez, with temperatures reaching an average of 30°C (86°F). These are the shoulder season months so the weather is hot but not unbearable. This is also peak tourist season so expect more crowds (as well as higher prices) throughout the city.
July and August are the hottest months, with temperatures an average of 38°C (100°F). It's too hot to really enjoy the city so skip a summer visit if you can.
The Fez Festival of Sufi Culture takes place in October and is a perfect way to listen to Sufi musicians. In June, the Fez Festival of World Sacred Music is a nine-day music festival with Sufi chanters, Iranian whirling dervishes, and dancers from around the globe.
Ramadan takes place in the ninth month of the Islamic calendar (which is lunar-based) and lasts for 30 days. During this time Muslims abstain from food and drink during the daytime. It is also considered a sober month in Morocco.
In winter, the daytime temperatures average around 7°C (45°F), and while the days can be sunny, the nights can be quite chilly. Prices are usually a bit lower, but pack a sweater!
How to Stay Safe in Fez
While violent crimes here are rare, there's a lot of petty crime in Fez. You have to really be on your guard here. Pickpocketing, petty theft, fake tour guides, and harassers are a big problem in the medina. Be firm when saying no to touts who try to sell you excursions. Also, beware of locals inviting you into their shop for tea as you'll end up being forced to buy something you don't want and spending a lot of money as well.
Women traveling alone attract a lot of attention here and the chances of being followed and possibly groped are high. This is a particular problem in crowded areas like the medina. Always be watchful and trust your gut. Do not bring valuables with you and keep your belongings tight to your body. Dress conservatively and avoid wearing a lot of jewelry.
Walking alone at night is generally not a good idea. If you're unsure about an area, ask the hotel staff which areas are safe.
If you're worried about getting scammed, you can read about common travel scams to avoid here.
If you experience an emergency, dial 19 for assistance (112 for mobile phones).
Always trust your gut instinct. Avoid isolated areas at night and be aware of your surroundings at all times. Make copies of your personal documents, including your passport and ID.
The most important piece of advice I can offer is to purchase good travel insurance. Travel insurance will protect you against illness, injury, theft, and cancellations. It's comprehensive protection in case anything goes wrong. I never go on a trip without it as I've had to use it many times in the past.
Fez Travel Guide: The Best Booking Resources
These are my favorite companies to use when I travel. They consistently have the best deals, offer world-class customer service and great value, and overall, are better than their competitors. They are the companies I use the most and are always the starting point in my search for travel deals.
Skyscanner – Skyscanner is my favorite flight search engine. They search small websites and budget airlines that larger search sites tend to miss. They are hands down the number one place to start.
Hostelworld – This is the best hostel accommodation site out there with the largest inventory, best search interface, and widest availability.
Booking.com – The best all around booking site that constantly provides the cheapest and lowest rates. They have the widest selection of budget accommodation. In all my tests, they've always had the cheapest rates out of all the booking websites.
Get Your Guide – Get Your Guide is a huge online marketplace for tours and excursions. They have tons of tour options available in cities all around the world, including everything from cooking classes, walking tours, street art lessons, and more!
SafetyWing – Safety Wing offers convenient and affordable plans tailored to digital nomads and long-term travelers. They have cheap monthly plans, great customer service, and an easy-to-use claims process that makes it perfect for those on the road.
LifeStraw – My go-to company for reusable water bottles with built-in filters so you can ensure your drinking water is always clean and safe.
Unbound Merino – They make lightweight, durable, easy-to-clean travel clothing.
Fez Gear and Packing Guide
If you're heading on the road and need some gear suggestions, here are my tips for the best travel backpack and for what to pack!
The Best Backpack for Travelers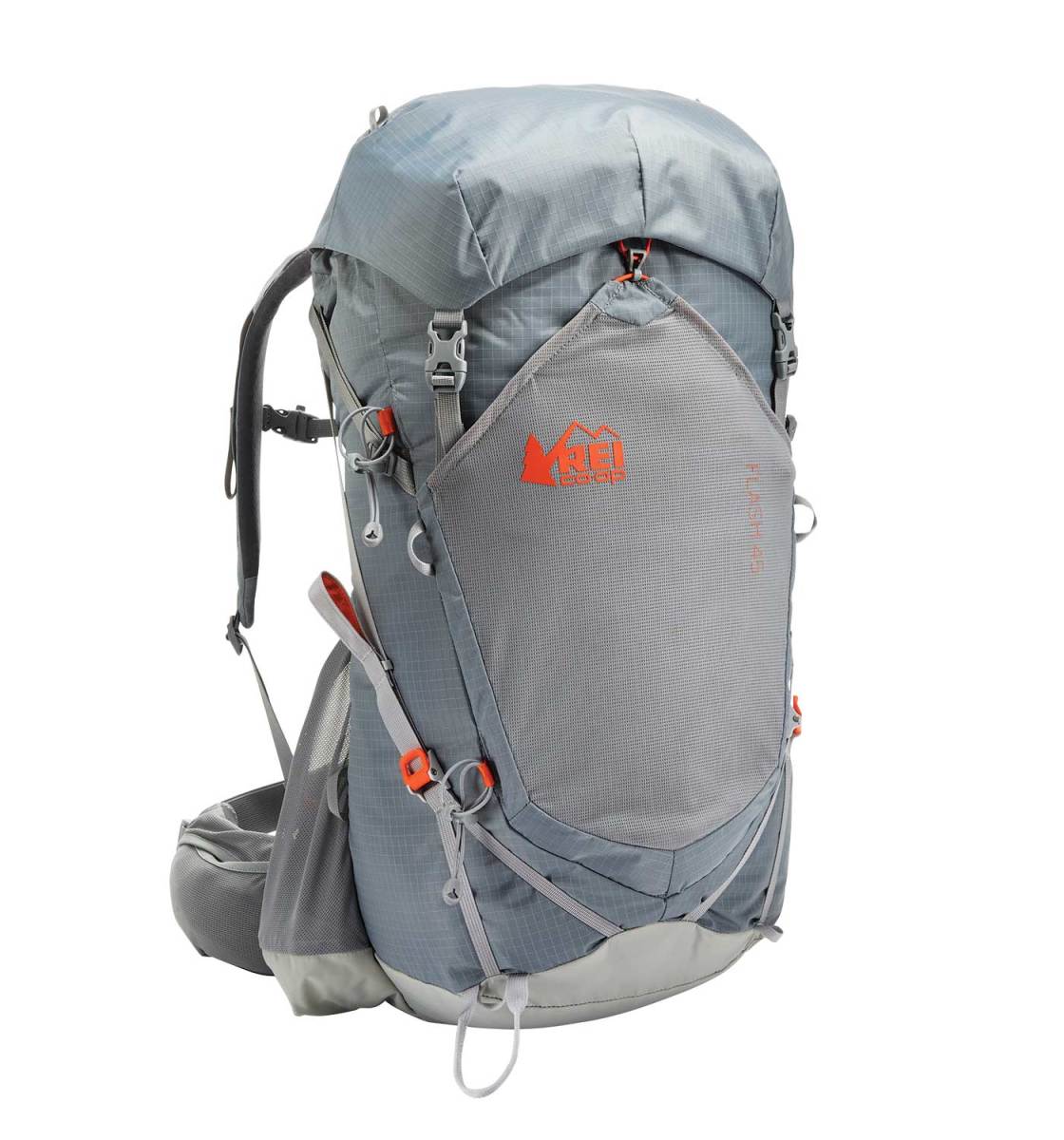 What's the best backpack for traveling long-term? I recommend the
REI Flash 45 Pack
. It's light and comfy, top loading, and fits perfectly in an airplane's overhead bin.
Size:
45-47L
Straps:
Thick and cushy with compression technology that pulls the pack's load up and inwards so it doesn't feel as heavy.
Features:
Removable top lid, pocket at the front, hydration compatible, contoured hip belt
If you want something different, refer to my article on how to choose the best travel backpack for tips on picking a pack and other backpack suggestions.
What to Pack for Your Trip
Clothes
1 pair of jeans (heavy and not easily dried, but I like them; a good alternative is khaki pants)
1 pair of shorts
1 bathing suit
5 T-shirts (Unbound Merino is my preferred company. If you're a member of TNN+, you can get 15% off your purchase)
1 long-sleeved T-shirt
1 pair of flip-flops
1 pair of sneakers
6 pairs of socks (I always end up losing half)
5 pairs of boxer shorts (I'm not a briefs guy!)
1 toothbrush
1 tube of toothpaste
1 razor
1 package of dental floss
1 small bottle of shampoo
1 small bottle of shower gel
1 towel
Deodorant
Small Medical Kit (safety is important!!!)
Miscellaneous
Female Travel Packing List
I'm not a woman, so I don't know what a woman wears, but Kristin Addis, our solo female travel guru, wrote this list as an addition to the basics above:
Clothing
1 swimsuit
1 sarong
1 pair of stretchy jeans (they wash and dry easily)
1 pair of leggings (if it's cold, they can go under your jeans, otherwise with a dress or shirt)
2-3 long-sleeve tops
2-3 T-shirts
3-4 spaghetti tops
1 light cardigan
Toiletries
1 dry shampoo spray & talc powder (keeps long hair grease-free in between washes)
1 hairbrush
Makeup you use
Hair bands & hair clips
Feminine hygiene products (you can opt to buy there too, but I prefer not to count on it, and most people have their preferred products)
For more on packing, check out these posts:
Fez Travel Guide: Related Articles
Want more info? Check out all the articles I've written on backpacking/traveling Morocco and continue planning your trip: