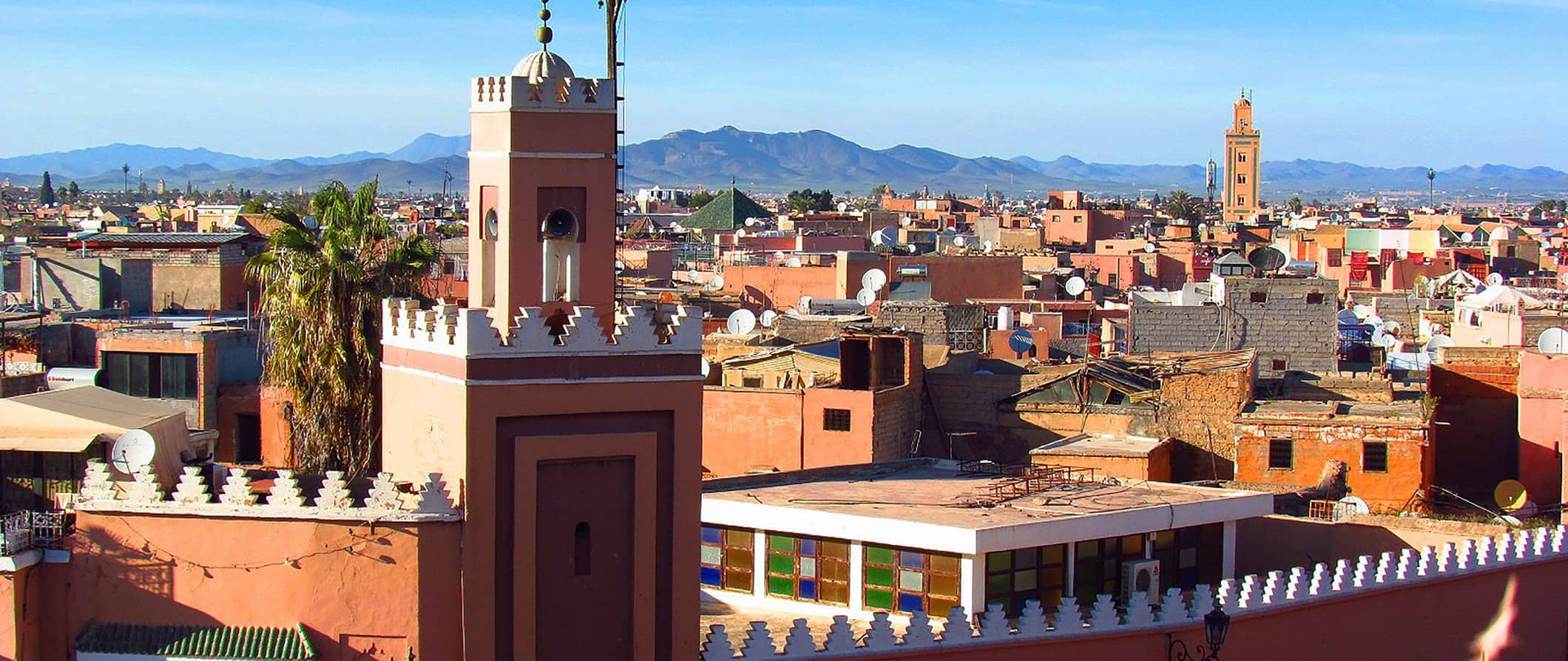 My time visiting Marrakesh was everything I thought it would be: a modern mix of Moroccan and international culture, delicious food, and beautiful architecture in the medina. Though Marrakesh lacked the grit and edge of the rest of the country had, it was the most eclectic city of my trip.
And the famous Jemaa el-Fnaa square is truly the mess everyone describes: tens of thousands of people at night eating, shopping, getting henna tattoos, listening to bands and storytellers, and watching magicians (and snake charmers during the day). It still blows my mind how big and full it was!
Marrakesh is on the map and will undoubtedly be part of your trip to Morocco. Few visit without stopping in this city. It may be touristy but it really is a remarkable and beautiful city worth all time you can spend in it.
This travel guide to Marrakesh to can help you plan your trip here.

Marrakesh
Top 5 Things to See and Do in Marrakesh
1. Explore the town square
Djemaa el-Fna is Marrakesh's main square. Here you can find exotic street performers, snake charmers, tattoo artists, musicians, and story-tellers. It's huge, chaotic, crowded, and a sensory overload. At night, the market fills with food vendors and crowds of locals and tourists.
2. Visit the Bahia Palace
La Bahia was built in the late 19th century over the course of 14 years. Although the palace has 150 rooms, only a fraction of it is open to the public. The Grand Riad, with its studded fountains and carved wood lintels, is the oldest part of the palace and probably my favorite part. Entrance is 70 MAD ($7.25 USD).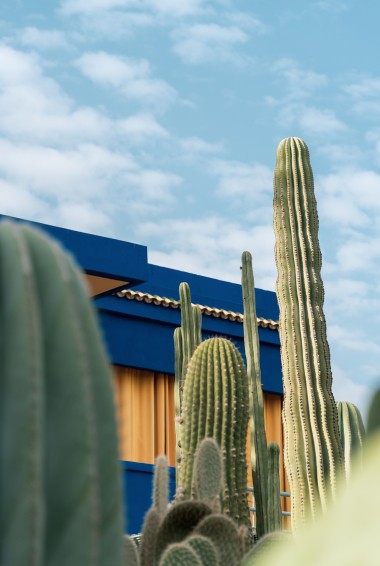 3. Mosey through the Jardin Majorelle
The Jardin Majorelle was created by French painter, Jacques Majorelle, from 1886 to 1962. The garden is now a collection of 300 species of plants from five different continents. I really enjoyed it and the amazing colors of the garden. It was one of the nicest aspects of Marrakesh. The entrance fee is 80 MAD ($8.25 USD) and another 30 MAD ($3.05 USD) for the museum.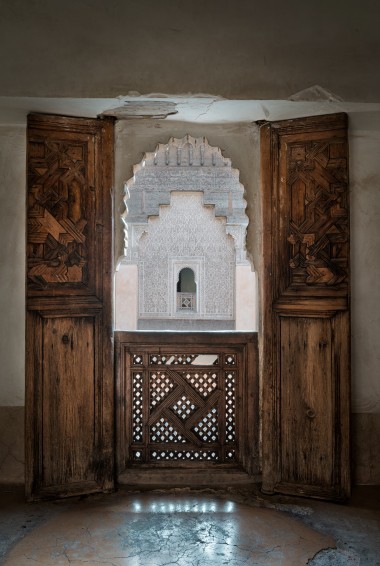 4. Walk through the Ben Youssef Madrasa
This Quranic learning center was founded in the 14th century. It's greatly admired for its detailed tile, woodwork, colorful mosaic walls, and Italian marble. The main courtyard has some stunning tile work. Admission costs 70 MAD ($7.25 USD).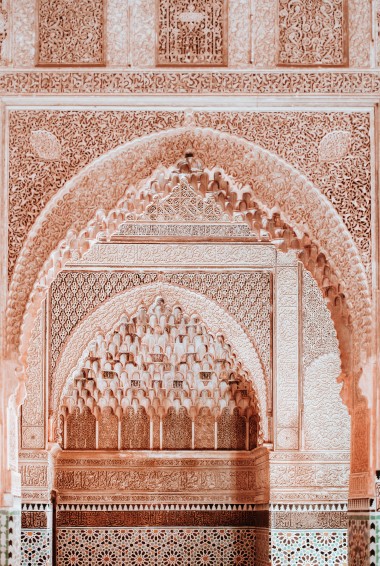 5. Marvel at the Saadian Tombs
Saadian Sultan Ahmed al-Mansour ed-Dahbi flaunted his extravagance and wealth during his life and the time well after it, as you'll see at his tombs. They were built in the late 16th century with imported Italian marble, and decorated with pure gold. This is a simple, open-air museum that costs 70 MAD ($7.25 USD).
Other Things to See and Do in Marrakesh
1. Visit the Maison de la Photographie
The Maison de la Photographie (Museum of Photography) opened when friends Patrick Menac'h, a Parisian, and Hamid Mergani, a Marrakshi, decided to combine their collections of vintage Moroccan photography. Together, they collected 4,500 photos, 2,000 glass negatives, and 80 documents between 1870 and 1950. Works are on display through three floors, organized thematically by content and region. Most photos are also for sale. Entrance is 50 MAD ($5.25 USD) and it's open daily from 9:30am-7pm.
2. Get lost in the medina
Watch traditional handicrafts being handmade and sold and eat some street food while taking in the sights and smells of this busy Moroccan market. Stall 14 is known for having some of the best calamari and fried fish. You'll also find stalls selling merguez sausage, grilled meats, potato tanjines, and maakouda potato cakes. Don't be afraid to get lost in the alleys and tiny streets. The alleys seem endless, but I found it less intimidating than the one in Fez.
3. Visit Morocco's largest Jewish cemetery
The largest Jewish cemetery in Morocco, Miara Cemetery dates back to 1537 and is still in use today. The graveyard is divided into three sections: one for men, another for women, and a third for children. Due to space constraints, there are three layers of burial grounds. This is an excellent historical site and I highly suggest you visit. After visiting the cemetery, wander around the Jewish quarter. It is also home to the Lazama synagogue which was built in 1492, and the last synagogue in the quarter.
4. Relax in a traditional hammam
A hammam is a steam bath popular in North Africa. It used to be the only place where people could bathe because private bathrooms were a luxury only few could afford. They are usually found near mosques or toiletry shops and can be upscale or public (traditional). Public hammams cost about 10 MAD ($1 USD) and you'll need to bring your own scrubbing glove, soap, brush, razor, shampoo, towel, and change of clothing. Hotel hammams, however, provide the necessary kit, and can cost 300-500 MAD ($30.60-51 USD). If you want to try a public hammam, go to Hammam Dar el-Bacha or Hammam Mouassine.
5. Hang out on the terrace of Café de la Poste
This is an institution in Marrakesh. While the food is good, most people come for the architecture and atmosphere. Built in the 1920s, this originally was a café, hotel and postal relay. Today, the café retains much of its original grandeur with its vaulted ceilings, black and white tiled floors, leafy palms, red sofas, and leather chairs. The terrace is a fantastic spot to drink a cold beer and, on the weekend, you'll find locals and expats eating brunch and catching up. The menu is mostly French cuisine, with dishes ranging in price from 80-280 MAD ($8.25-28.50 USD).
6. Hang out in the parks
Marrakesh has a lot of parks. It's got everything from formal gardens with trees planted in straight rows, to expansive parks neighboring palaces, to Yves Saint Laurent's blue-splashed garden. My favorites are: Arsat Moulay Abdeslam Cyber Park (featuring free wifi), Jardin el Harti (over 80 years old), The Agdal Garden (over 700 acres and next to the Royal Palace), and Lalla Hasna Park (a small park right by the Koutoubia mosque).
7. Visit the Menara botanical gardens
Located west of the city center, this botanical garden was established around 1130 AD by the Almohad Caliphate. The Menera pavilion, with its green pyramid-like roof, is a focal point because of its views of the man-made lake. It was built in the 16th-century during the Saadi dynasty and served as a home during the summer months. You will also see the Atlas mountains in the distance.
8. Take a cooking class at the Marrakesh Culinary Arts Museum
Found in the mellah (Jewish quarter), this new museum offers cooking classes twice a day. Each class is around 2 hours in duration and the menus feature Jewish and Moroccan dishes. Cooking classes are around 500 MAD ($50 USD). You can visit the museum for 40 MAD ($4 USD).
Marrakesh Travel Costs
Hostel prices – Hostels are pretty cheap in Marrakesh. Dorm rooms with 6-8 beds start around 60-80 MAD ($6.25-8.25 USD) per night. Private rooms that sleep two start around 180-200 MAD ($18.50-20.50 USD) per night. Hostels usually offer free breakfast, wifi, towels, linens, and many communal spaces designed for you to meet other travelers.
Budget hotel prices – You can find a room in a budget 2-star hotel that sleeps two starting around 180 MAD ($18.50 USD) per night and will include private bathrooms, wifi, and breakfast.
On Airbnb, you can find shared rooms starting around 100 MAD ($10.25 USD) per night and entire homes starting around 440 MAD ($45 USD) per night.
Average cost of food – Food can be cheap in Marrakesh if you eat at the street stalls and local restaurants, especially in the main square. Most hostels include breakfast, but a budget cafe breakfast starts around 25 MAD ($2.60 USD).
Restaurants and street stalls in the souk have affordable and traditional meals such as tanjine, grilled fish, and meats for 30-50 MAD ($3.25-5.25 USD). Western food and fancy restaurant starts around 150 MAD ($15.50 USD) for a dish and go as high as 300 MAD ($31 USD).
In the main square, try Cafe Clock, Bakchich Cafe, and PepeNero. Try traditional Moroccan foods such as Harira (a soup popular during Ramadan), Tajine, Merguez sausage, and Sfenj (Moroccan style donut).
If you cook your own food, expect to pay 200 MAD ($20.50 USD) per week for groceries that will include pasta, vegetables, chicken, and other basic foods.
Backpacking Marrakesh Suggested Budgets
If you're backpacking Marrakesh, my suggested budget is about 400-500 MAD ($41-51 USD) per day. This budget will cover staying in a hostel dorm, eating mostly from street stalls, walking or taking public transit everywhere, and visit Bahia Palace, and Jardin Majorelle.
A mid-range budget of about 726 MAD ($74 USD) will cover a room at a two-star budget hotel or a private Airbnb room, eating out at cheap restaurants, walking and perhaps taking a taxi, and a couple of paid attractions per day.
For a luxury budget of 2,042 MAD ($208 USD) or more, you will stay in a four-star hotel, eat at gourmet restaurants for all your meals, rent a scooter or take a taxi to sites outside the city. The sky is your limit!
You can use the chart below to get some idea of how much you need to budget daily. Keep in mind these are daily averages – some days you'll spend more, some days you'll spend less (you might spend less every day). We just want to give you a general idea of how to make your budget. Prices are in USD.
Accommodation
Food
Transportation
Attractions
Average Daily Cost
Backpacker
$10
$13
$6
$11
$40
Mid-Range
$21
$15
$18
$20
$74
Luxury
$90
$31
$37
$50
$208
Marrakesh Travel Guide: Money Saving Tips
Marrakesh, like the rest of Morocco, is very cheap so it's easy to visit here and save money. You don't need to "do" a lot to visit on a budget. That said, here are some ways to save money in Marrakesh without cutting your fun down:
MarraCashCard – This city card, which can be purchased in Marrakesh or online, gives discounts to various attractions and restaurants in the city. Cards are available for 24, 48, and 72 hours.
Eat at the markets – Stick to eating at the local markets in the medina or away from the tourist centers in the new town and you'll spend very little money on food!
Negotiate your cab fare – Be sure to negotiate a price before you get into the taxi. There aren't set prices and you'll need to bargain hard.
Avoid faux guides – Faux guides (or false guides) will linger in the medina and offer you tour services. Be forceful in saying now and keep walking away, eventually, the guy will give up.
Couchsurf – Nothing's cheaper than sleeping for free. Couchsurfing connects you with locals who will give you not only a free place to stay, but also a local tour guide who can introduce you to all the great places to see. There's a small Couchsurfing community in the city.
Avoid drinking – Even though drinking is frowned upon in the country, you can still find plenty of drinking establishments. They are overpriced and the drinks aren't that good. Avoid drinking during your visit, save money, and align yourself closer to local norms. Your liver will thank you.
Eat from street stalls – While restaurant meals can typically cost as little as 30 MAD ($3.25 USD), street food is even cheaper. For just a few dollars, you can indulge in delicious kebabs, sausages, barbecued corn on the cob, hot roasted chicken, and huge sandwiches, among many other tasty options.
Make change at your hotel – A lot of vendors and museums do not give change back when you pay with paper notes, and the lowest denomination you can get from an ATM is 100 MAD. Hotels and larger grocery stores are best for getting smaller bills and change. This way you can give to correct amounts, and not lose money unnecessarily.
Where To Stay in Marrakesh
There several hostels in the city, making it a backpacker's haven. Here are my recommended places to stay in Marrakesh:
How to Get Around Marrakesh
Marrakesh is a very walkable city. The medina is very walkable but can be confusing, so using GPS is recommended. Outside of the medina, there are a few different methods of transportation that you can use.
Bus and Scooter – Bus rides around the city only cost 2-5 MAD ($0.20-0.51 USD). Buses are run by Alsa, and run from 6am to 10pm, with most buses running every 15-20 mins. Bus 1 runs from the Kasbah, through Gueliz, and Bab Doukkala. Bus 11 runs through Bab Doukkala, Djemaa El Fna, and Menara Gardens. Bus 12 runs through Jardin Majorelle, Bab Doukkala, and Hivernage.
Scooters/Motorcycles – Scooters, motorcycles, and cars are also available for rent (a half-day scooter rental is 180 MAD / $18.50 USD). You can find a couple of rental places near the medina.
Taxi – A taxi ride has a base fare around 7 MAD ($0.71 USD) and runs about 4 MAD ($0.41 USD) per kilometer. Don't expect to receive change so pay the exact price and, at the beginning of the ride, ask to use the meter. A taxi from the airport to the city center will run you about 60-100 MAD ($6.15-10.25 USD), while an airport express bus only costs about 30 MAD ($3.25 USD). Always negotiate the price before getting into the taxi, as prices can inflate quite a bit when you arrive at your destination if you don't.
When to Go to Marrakesh
The months between March and May, as well as September and November, are the best time for visiting Marrakesh, with temperatures reaching an average of 86°F (30°C). These are the shoulder season months, and the weather is hot, but not unbearable. July and August are the hottest months, with temperatures an average of 100°F (38°C).
Marathon des Sables takes place in Morocco each April, it is a 6-day foot race in the Sahara Desert, ones of the toughest races of its kind in the world. In July, the Marrakesh Popular Arts Festival attracts fortune tellers, dancers, snake charmers, and fire-swallowers from all over the world. An interesting distraction from the heat of summer, when the crowds of tourists are lower.
Ramadan takes place in the ninth month of the Muslin calendar, and lasts for 30 days. During this time Muslims abstain from food and drink during the daytime. It is also considered a sober month in Morocco. Most restaurants and businesses will still be open, but often with reduced hours.
In winter, the daytime temperatures average around 45°F (7°C), and while the days can be sunny, the nights can be quite chilly.
How to Stay Safe in Marrakesh
Marrakesh is safe, and the risk of violent crime is low. Like anywhere else, avoid walking through unfamiliar areas alone at night and beware of pick-pocketing and petty theft.
Pick-pocketing, petty theft, fake tour guides, and harassers, can be a problem in the medina, especially. Be firm when saying no to touts who try to sell you excursions. Beware of locals inviting you into their shop for tea, as you'll end up being forced to buy something you don't want, and spending a lot of money as well.
Women traveling alone can attract a lot of attention, and the chances of being followed, and possibly groped, is high. Walking alone at night it generally not a good idea. Dress appropriately and respectfully. Although Marrakesh is touristy and slightly more liberal, women should still dress modestly to avoid harassment and having to spend money on extra clothing to cover up while there
If you're worried about getting scammed, you can read about the 14 travel scams to avoid right here.
Always trust your gut instinct. Avoid isolated areas at night, and be aware of your surroundings at all times. Make copies of your personal documents, including your passport and ID.
If you don't do it at home, don't do it in Marrakesh! Follow that rule, and you'll be fine.
The most important piece of advice I can offer is to purchase good travel insurance. Travel insurance will protect you against illness, injury, theft, and cancellations. It's comprehensive protection in case anything goes wrong. I never go on a trip without it as I've had to use it many times in the past.
Marrakesh Travel Guide: The Best Booking Resources
These are my favorite companies to use when I travel to Marrakesh. They are included here because they consistently find deals, offer world-class customer service and great value, and overall, are better than their competitors. They are the ones I use the most and are always the starting points in my search for travel deals.
Momondo – This is my favorite booking site. I never book a flight without checking here first.
Skyscanner – Skyscanner is another great flight search engline which searches a lot of different airlines, including many of the budget carriers that larger sites miss. While I always start with Momondo, I use this site too as a way to compare prices.
Airbnb – Airbnb is a great accommodation alternative for connecting with homeowners who rent out their homes or apartments.
Hostelworld – This is the best hostel accommodation site out there, with the largest inventory, best search interface, and widest availability.
Couchsurfing – This website allows you to stay on people's couches or spare rooms for free. It's a great way to save money while meeting locals who can tell you the ins and outs of their city. The site also lists events you can attend to meet people (even if you're not staying with someone).
Booking.com – The best all around booking site that constantly provides the cheapest and lowest rates. They have a no money down policy, great interface, and the widest selection of budget accommodation. In all my tests, they've always had the cheapest rates out of all the booking websites.
Intrepid Travel – If you want to do a group tour around Morocco, go with Intrepid Travel. They offer good small group tours that use local operators and leave a small environmental footprint. If you go on a tour with anyone, go with them. And, as a reader of this site, you'll get a discount when you click the link!
Rome 2 Rio – This website allows you to see how to get from point A to point B the best and cheapest way possible. It will give you all the bus, train, plane, or boat routes that can get you there as well as how much they cost.
World Nomads – I buy all my travel insurance from World Nomads. They have great customer service, competitive prices, and in-depth coverage. I've been using them since I started traveling in 2003. Don't leave home without it!
Marrakesh Gear and Packing Guide
If you're heading on the road and need some gear suggestions, here are my tips for the best travel backpack and for what to pack!
The Best Backpack for Travelers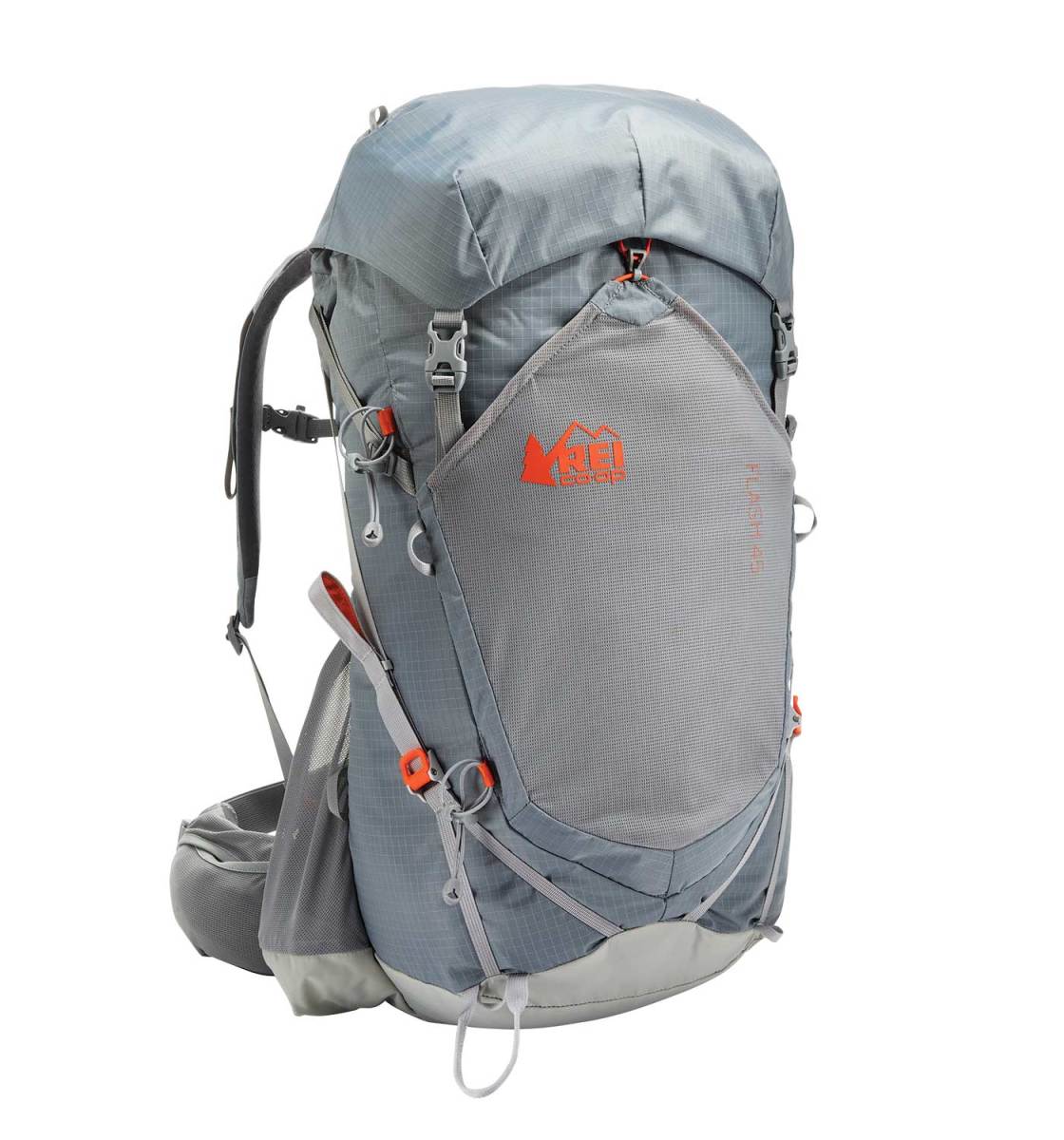 What's the best backpack for traveling long-term? I recommend the
REI Flash 45 Pack
. It's light and comfy, front loading, and fits perfectly in an airplane's overhead bin.
Size:
45-47L
Straps:
Thick and cushy with compression technology that pulls the pack's load up and inwards so it doesn't feel as heavy.
Features:
Removable top lid, large pocket at the front, hydration compatible, contoured hip belt
If you want something different, refer to my article on how to choose the best travel backpack for tips on picking a pack and other backpack suggestions.
What to Pack for Your Trip
Clothes
1 pair of jeans (heavy and not easily dried, but I like them; a good alternative is khaki pants)
1 pair of shorts
1 bathing suit
5 T-shirts (Unbound Merino is my preferred company. If you're a member of NM+, you can get 15% off your purchase)
1 long-sleeved T-shirt
1 pair of flip-flops
1 pair of sneakers
6 pairs of socks (I always end up losing half)
5 pairs of boxer shorts (I'm not a briefs guy!)
1 toothbrush
1 tube of toothpaste
1 razor
1 package of dental floss
1 small bottle of shampoo
1 small bottle of shower gel
1 towel
Deodorant
Small Medical Kit (safety is important!!!)
Miscellaneous
Female Travel Packing List
I'm not a woman, so I don't know what a woman wears, but Kristin Addis, our solo female travel guru, wrote this list as an addition to the basics above:
Clothing
1 swimsuit
1 sarong
1 pair of stretchy jeans (they wash and dry easily)
1 pair of leggings (if it's cold, they can go under your jeans, otherwise with a dress or shirt)
2-3 long-sleeve tops
2-3 T-shirts
3-4 spaghetti tops
1 light cardigan
Toiletries
1 dry shampoo spray & talc powder (keeps long hair grease-free in between washes)
1 hairbrush
Makeup you use
Hair bands & hair clips
Feminine hygiene products (you can opt to buy there too, but I prefer not to count on it, and most people have their preferred products)
For more on packing, check out these posts:
Morocco Travel Guide: Related Articles
Want more info? Check out all the articles I've written on backpacking/traveling Morocco and continue planning your trip: