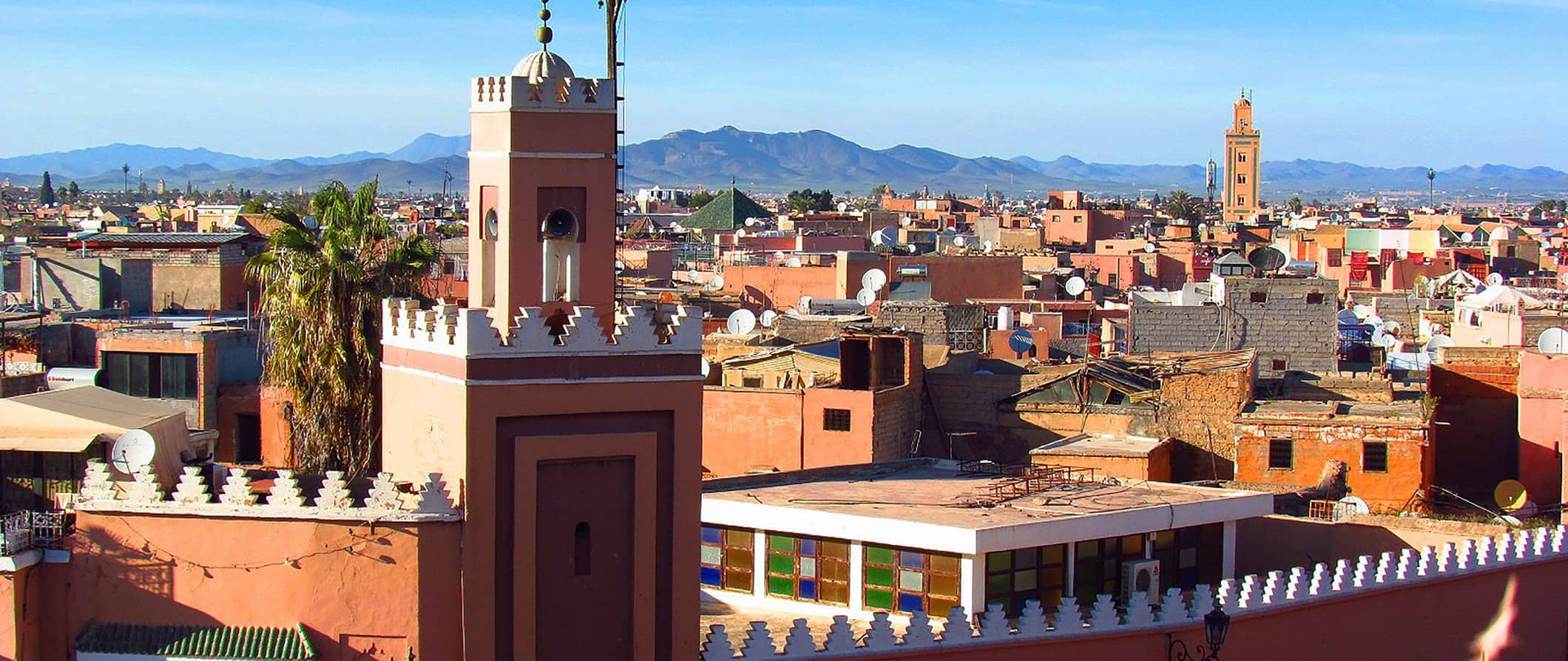 Marrakesh was everything I thought it would be: a modern mix of Moroccan and international culture with the most diversity of delicious international food and beautiful architecture in the medina. Though Marrakesh lacked the grit and edge of the rest of the country, it was the most eclectic city on the trip. The chaotic pace exposed a city and people always on the go. The famous Jemaa el-Fnaa square is truly the mess everyone describes: tens of thousands of people at night eating, shopping, getting henna tattoos, listening to bands and storytellers, and watching magicians (and snake charmers during the day). It's one of the most hectic but fascinating people-watching places in the country. It still blows my mind how big and full it was!
Top 5 Things to See and Do in Marrakesh
1. Explore the town square
Djemaa el-Fna is Marrakesh's main square and outdoor theater. Here you can find exotic street performers of varying talents including snake charmers, monkey owners, tattoo artists, musicians, and chefs. It's huge, chaotic, crowded, and a sensory overload. At night, there are a plethora of food vendors available.
2. Visit the Bahia Palace
La Bahia was built over the course of 14 years. Although the palace has 150 rooms, only a fraction of it is open to the public. Lalla Zineb is the most extraordinary, with stained-glass windows, rose bouquet painted ceilings, and handwoven silk panels. Make sure to check out the sweet-scented, beautiful courtyard garden too. Entrance is 10 MAD.
3. Mosey through the Jardin Majorelle
The Jardin Majorelle was created by French painter, Jacques Majorelle, from 1886 to 1962. The garden is now a collection of 300 species of plants from five different continents. Take a walk under shady trees, between exotic plants, and through this beautiful, serene escape from the hustle and bustle of the city. The entrance fee is 70 MAD and another 30 MAD for the museum.
4. Walk through the Ben Youssef Madrasa
This Quranic learning center was founded in the 14th century. It is greatly admired for its beautiful tile and woodwork, colorful mosaic walls, and Italian marble. I enjoyed exploring the tiny rooms where the students used to live. The main courtyard has some stunning tile work and makes for wonderful pictures. Admission costs 20 MAD.
5. Marvel at the Saadian Tombs
Saadian Sultan Ahmed al-Mansour ed-Dahbi exuded extravagance and wealth during his life and the time well after it. His tomb was built from imported Italian marble and decorated with pure gold. Stop by on your on your way to or from the medina. This is a simple, open-air museum that costs 10 MAD and doesn't require a long visit.
Other Things to See and Do
(Click the title to expand the text)
1. Visit the Maison de la Photographie
The Maison de la Photographie (Museum of Photography) opened up when Parisian Patrick Menac'h and Marrakshi Hamid Mergani decided to combine their collections of vintage Moroccan photography and showcase them in their original context. Together, they collected 4,500 photos, 2,000 glass negatives, and 80 documents from anywhere between 1870 and 1950. Works are on display through three floors, organized thematically by content and region. Most photos are available for sale. Entrance is 40 MAD and it's open daily from 9:30am-7pm.
2. Get lost in the medina
Watch traditional handicrafts being handmade and sold, and eat some street food while taking in the sights and smells of this busy Moroccan market. Don't be afraid to get lost in the alleys and tiny streets. You can spend hours here wandering around, taking in the atmosphere and the culture. The alleys seem endless. I found it less intimidating than the one in Fez though!
3. Visit Morocco largest Jewish cemetery
The largest Jewish cemetery in Morocco, the Miara Cemetery, dates back to the 16th century and is still in use today. The graveyard here is divided into three: one for men, another for women, and a third for children. This is an excellent historical site and I highly suggest you visit. The Jewish population, while small now, was once one of the biggest in North Africa!
4. Relax in a traditional hammam
A hammam is a steam bath popular in North Africa. It used to be the only place where people could bathe because private bathrooms were a luxury only few could afford. They are usually found near mosques or toiletry shops and can be upscale or public (traditional). Visit a no-frills traditional one for an authentic and enlightening experience. You will leave feeling cleaner than ever before. Public hammams cost about MAD 10, while hotel hammams can cost MAD 300-500.
5. Hang out on the terrace of Café de la Poste
This is an institution in Marrakesh. While the food is good, most people come for the architecture and atmosphere. The terrace is a fantastic spot to drink a cold beer and, on the weekend, you'll find tons of locals and expats eating brunch and catching up! It's a fun spot to hang out at!
6. Hang out in the parks
Marrakesh has a lot of parks. It's got everything from formal gardens with trees planted in straight rows, to expansive parks neighboring palaces, to Yves Saint Laurent's blue-splashed garden. There are countless trees to give you a bit of shade from the blazing Moroccan sun. My favorites are: Arsat Moulay Abdeslam Cyber Park (featuring free WiFi), Jardin el Harti (over 80 years old), The Agdal Garden (over 700 acres and next to the Royal Palace), and Lalla Hasna Park (small park right by the Koutoubia mosque).
Typical Costs
Hostel prices
– Hostels are pretty cheap in Marrakesh. Dorm rooms with 6-8 beds start around 60-80 MAD per night. Private rooms that sleep two start around 180-200 MAD per night. Hostels usually offer free breakfast, WiFi, towels, linens, and many communal spaces designed for you to meet other travelers. You can book your hostel with
Hostelworld
.
Budget hotel prices – You can find a room in a budget hotel that sleeps two starting around 150 MAD per night and will include private bathrooms, WiFi, and breakfast. Use Booking.com as they consistently return the cheapest rates. Airbnb is also available in Marrakesh and you can find shared rooms starting around 100 MAD per night and entire homes starting around 300 MAD per night.
Average cost of food – Food can be cheap in Marrakesh if you eat at the street stalls and local restaurants, especially in the main square. Most hostels include breakfast, but a budget cafe breakfast starts around 25 MAD. Restaurants and street stalls in the souk have affordable and authentic meals for 30-50 MAD. Western food and fancy restaurant starts around 150 MAD for a dish and go as high as 300 MAD. If you cook your own food, expect to pay 200 MAD per week for groceries that will include pasta, vegetables, chicken, and other basic foods. Be sure to eat in the main square, at Cafe Clock, Bakchich Cafe, and PepeNero.
Transportation costs – The medina is very walkable but can be confusing, so using GPS is recommended. Outside of the medina, there are a few different methods of transportation that you can use. Bus rides around the city only cost 2-5 MAD. Scooters, motorcycles, and cars are also available for rent (a half-day scooter rental is 180 MAD). A taxi ride has a base fare around 7 MAD and runs about 4 MAD per kilometer. Don't expect to receive change so pay the exact price and, at the beginning of the ride, ask to use the meter. A taxi from the airport to the city center will run you about 60-100 MAD, while an airport express bus only costs about 30 MAD.
Suggested daily budget
400-500 MAD / $40-50 USD (Note: This is a suggested budget assuming you're staying in a hostel, cooking a few meals, sticking to local restaurants and dishes, and using local transportation. If you stay in fancier accommodation or eat out more, expect your budget to be higher! This number is just a guideline.)
Money Saving Tips
Eat at the markets – Stick to eating at the local markets in the medina or away from the tourist centers in the new town and you'll spend very little money on food!
Negotiate your cab fare – Be sure to negotiate a price before you get into the taxi. There aren't set prices and you'll need to bargain hard.
Couchsurf – Nothing's cheaper than sleeping for free. Couchsurfing connects you with locals who will give you not only a free place to stay, but also a local tour guide who can introduce you to all the great places to see. There's a small Couchsurfing community in the city.
Avoid drinking – Even though drinking is frowned upon in the country, you can still find plenty of drinking establishments. They are overpriced and the drinks aren't that good. Avoid drinking during your visit, save money, and align yourself closer to local norms. Your liver will thank you.
Eat from street stalls – While restaurant meals can typically cost as little as 30 MAD, street food is even cheaper. For just a few dollars, you can indulge in delicious kebabs, sausages, barbecued corn on the cob, hot roasted chicken, and huge sandwiches, among many other tasty options.
Dress appropriately and respectfully – Although Marrakesh is touristy and slightly more liberal, women should still dress modestly to avoid harassment and having to spend money on extra clothing to cover up while there.
My Must Have Guides For Traveling to Marrakesh