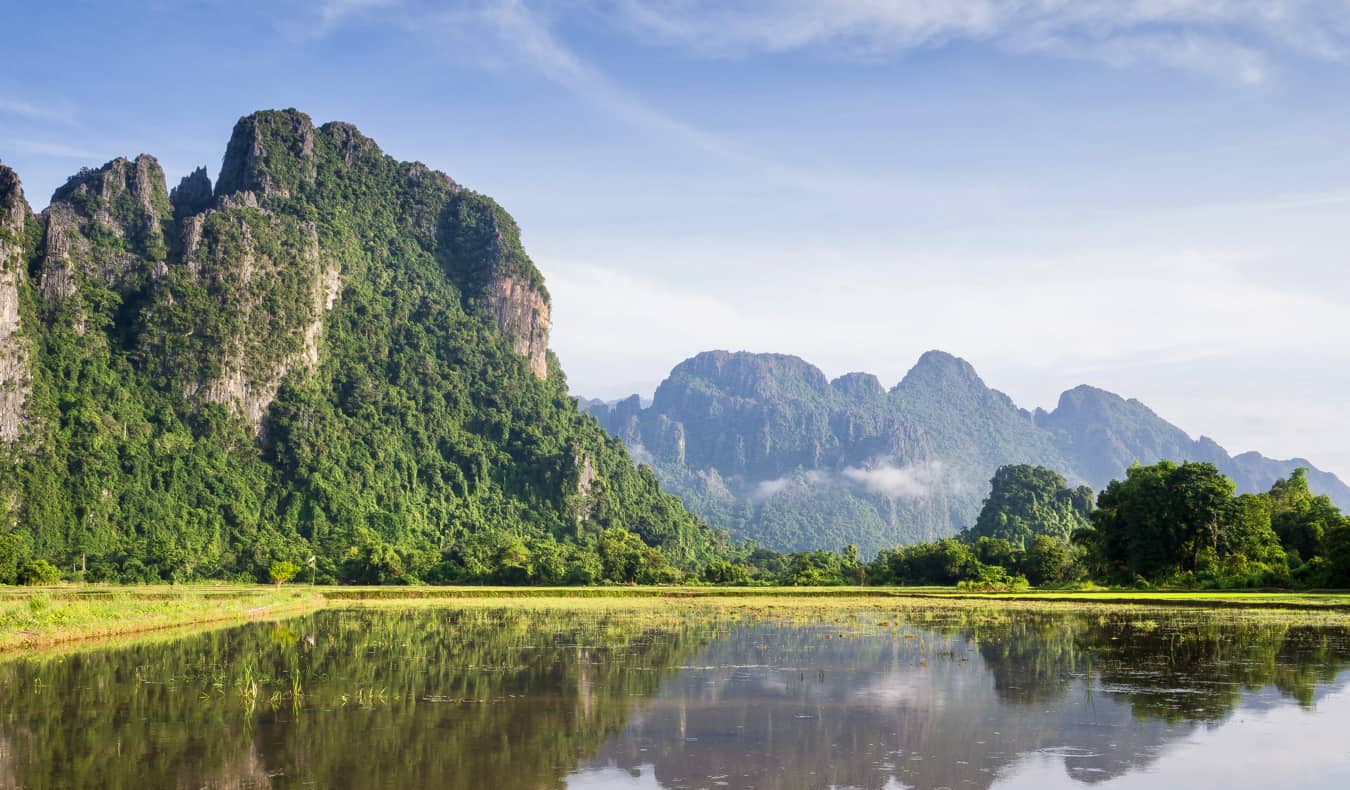 Updated: 03/17/20 | March 17th, 2020
As I tubed down the slow river back into town, all around me were signs of a previous era: zip lines and rope swings sitting unused, bars long ago boarded up, and fading signs advertising cheap drinks. Vang Vieng's riverbank was a reminder of the town's recent past, like a modern Gomorrah.
Now there was barely a peep coming from the surrounding area.
No blaring music.
No backpackers jumping into a too-shallow river.
Just a few kayakers, tubers, and friends enjoying the day's final warmth from the sun.
I came to Vang Vieng to see what had become of the place now that the infamous tubing had been shut down.
I found a destination reborn.
In the late 1990s, backpackers discovered this little town in the middle of Laos. Located by a beautiful, refreshing river and surrounded by caves, lagoons, and mountains, it was the perfect mountainside chill-out spot. It was cheap, drugs abounded, and anything went here.
Over the years, the secret got out, and Vang Vieng became a symbol of everything that was wrong with backpacking: a town heaving with bars and clubs catering to tourists who came to get as shitfaced as possible and do drugs (all of which are illegal in Laos), flouted local customs, and treated this place as their own playground.
The surrounding landscape and its activities were ignored in favor of the river, which became lined with bars selling drugs, cheap drinks, and fun times.
Every year more and more people came, and every year backpackers acted foolishly and recklessly, resulting in an average of 24 deaths annually from drinking, drugs, or jumping into the shallow river. Along the river was a slide called "The Death Slide" — it was a very literal name.
Finally, enough was enough, and in late 2012, local officials shut tubing down completely. There would be no more river parties.
With the tubing gone, the backpackers went too.
For months, Vang Vieng was a ghost town. The economy suffered, and locals worried about the future. About a year later, officials allowed tubing once again — but with more stringent rules. Now, only three bars can be open at once, and there are no more river swings, drugs, death slides, or dangerous activities.
And, with a midnight curfew now, the party doesn't rage all night.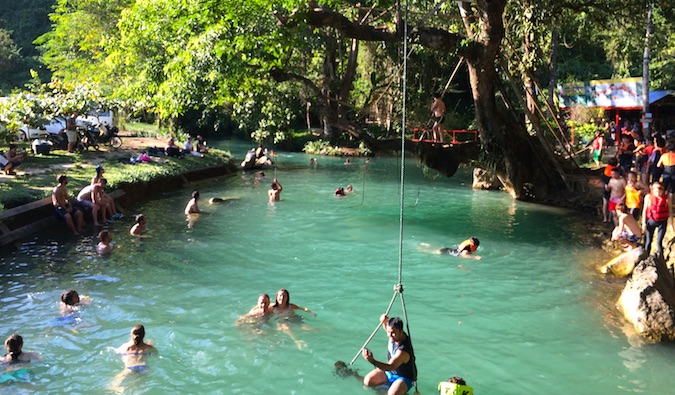 From speaking to numerous locals, I learned that the number of backpackers has been cut in half and replaced by a growing Korean and Chinese tour group population, which doesn't tube and spends more money. Now the backpacker bars on the riverfront sit empty while the center of town grows with boutique hotels and high-end restaurants catering to the new waves of tourists.
"This is good. There are few people, but they spend more money," one restaurant owner said.
"It's a lot better now that people aren't dying. The old days were fun, but this is safer," a long-time Western bartender told me.
No longer is Vang Vieng the hedonistic jungle town it was once was. It is now a calm center for outdoor adventure, jungle hikes, and lazy days cooling off in the river. Though at first I worried the town would still be a crazy backpacker place and I would hate it, I now found myself wishing I had more time and only begrudgingly leaving.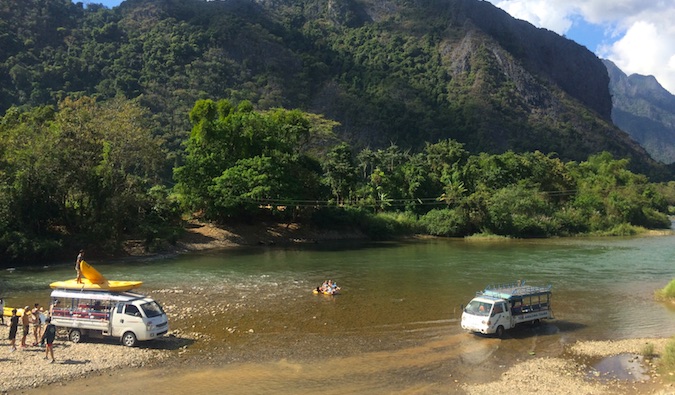 Vang Vieng has reclaimed its place as one of the must-see places in Laos.
The new Vang Vieng still retains some of the old ways: the famous Sakura bar still pumps out music until midnight, gives away free drinks until 9 (seriously), and serves up whip-its (not cool); Gary's famous Irish bar is still around; and backpackers still come to drink and socialize.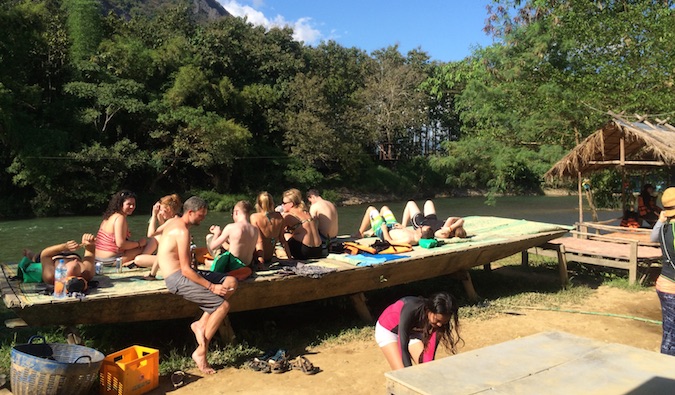 And tubing does exist. But it's a much more relaxed affair now.
With so few people around, some days 50-60 people will casually float down the river; other days only 20 (it varies greatly with the season). But it's never the hundreds upon hundreds that used to tube and visit the bars each and every day. Moreover, a lot of people now skip the bars and parties and just rent a tube for the sake of renting a tube.
Locals, conscious of their city's previous reputation, are happy with this new version of tubing.
Tubing's decline has allowed people to finally take part in other activities. Now the focus can be on exploring the dozens of local caves and relaxing in swimming holes. A lot of tour operators now offer kayaking tours, zip-lining adventures, and full-day hikes around the mountains. The country has a lot to offer beyond the party scene.
The town center bursts with Korean restaurants, boutique hotels, and even a surprisingly good Mexican restaurant called Amigos.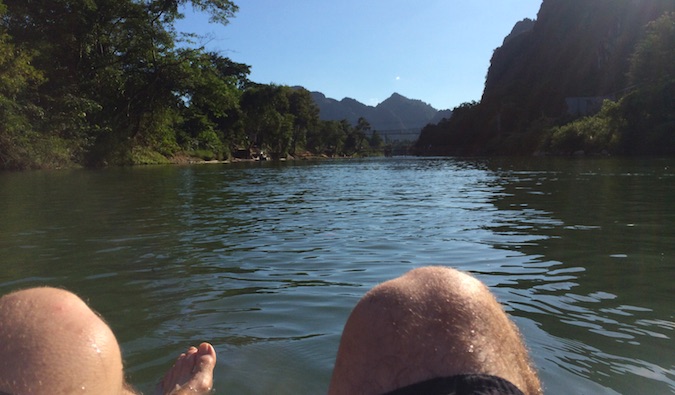 That's not to say you won't see lots of backpackers — they can't be missed. But they don't come in the numbers they used to and tend to focus more on those other outdoor activities. Others still come expecting the Sodom of old but quickly find out that's no longer around.
As I threw my bags on the midday bus to Vientiane, I looked back and found I was sad to leave.
The new Vang Vieng is the city it always should have been. It's working hard to shed its old reputation and attract a better-quality traveler.
I was going to miss the fiery pink and orange sunsets, the tree-covered limestone karsts jutting into the sky, the mind-blowing aquamarine blue swimming holes, and the tranquil countryside that seems to speak from every pore "Slow down and enjoy yourself."
Book Your Trip to Laos: Logistical Tips and Tricks
Book Your Flight
Use Skyscanner or Momondo to find a cheap flight. They are my two favorite search engines because they search websites and airlines around the globe so you always know no stone is left unturned. Start with Skyscanner first though because they have the biggest reach!
Book Your Accommodation
You can book your hostel with Hostelworld as they have the biggest inventory and best deals. If you want to stay somewhere other than a hostel, use Booking.com as they consistently return the cheapest rates for guesthouses and cheap hotels. My favorite places to stay are:
Don't Forget Travel Insurance
Travel insurance will protect you against illness, injury, theft, and cancellations. It's comprehensive protection in case anything goes wrong. I never go on a trip without it as I've had to use it many times in the past. My favorite companies that offer the best service and value are:
Looking for the Best Companies to Save Money With?
Check out my resource page for the best companies to use when you travel. I list all the ones I use to save money when I'm on the road. They will save you money when you travel too.
Want More Information on Laos?
Be sure to visit our robust destination guide on Laos for even more planning tips!