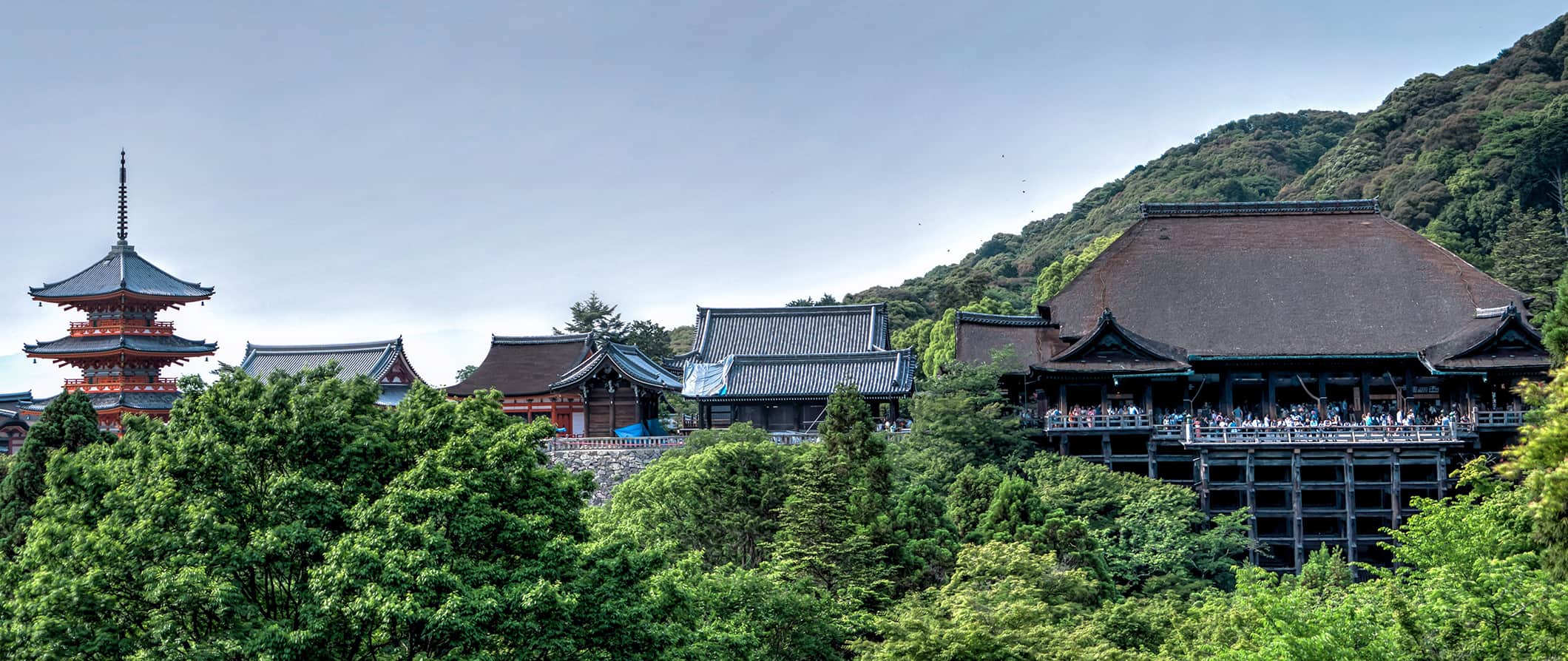 Kyoto is one of the most gorgeous places in all of Japan. Surrounded by mountains, it has countless Zen gardens, temples, and statues, as well as endless shopping and some seriously great food. I loved wandering around Kyoto, popping into temple after temple, seeing a wide array of gardens, and walking through the bamboo forest.
Honestly, I could live here, I loved it that much.
Visiting Kyoto is on everyone's to-do list so expect lots of crowds, especially during peak season. You can try to get up early to avoid them but, really, there's no avoiding them. Be prepared and try to go off-season.
This travel guide to Kyoto can help you plan your trip and avoid the crowds (and save some money while you're here too!).

Kyoto
Top 5 Things to See and Do in Kyoto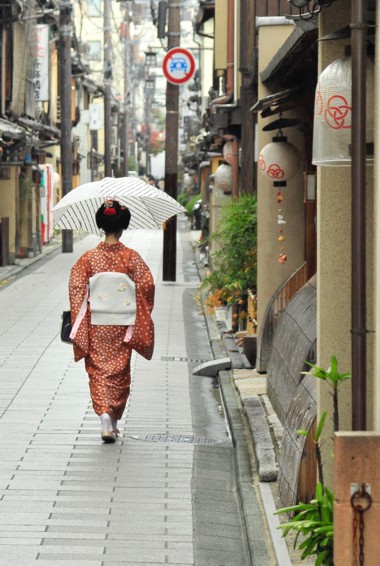 1. Visit Gion
Gion is the city's famous geisha district. Take a stroll along the main street and see ochayas (tea houses where geishas entertain), the small local shops, and the many restaurants that line the district. (As of 2019, you can no longer take photos on the narrow private streets in Gion.)
2. Check out Heian Shrine
This Shinto shrine is one of the most popular and prized in the country. There is a massive torii gate at the entrance and the shrine has a rather bright and ornate exterior that makes it stand out from the lush trees and gardens that surround it. The shrine is free but the garden has an entrance fee of 600 JPY ($5.50 USD).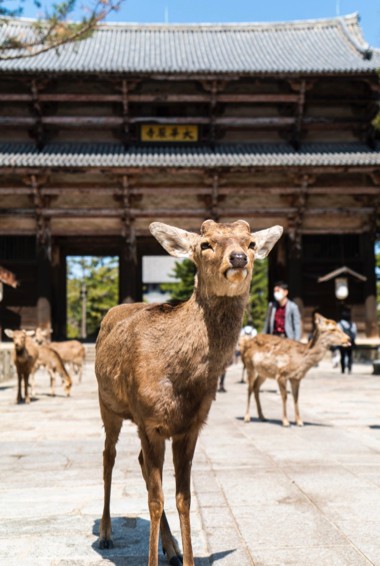 3. Day trip to Nara
Nara is a UNESCO World Heritage site and home to hundreds of "wild" deer that freely roam Nara Park. The Japanese consider them messengers of the gods, and there are places selling deer crackers all around the park so you can feed them by hand. Be sure to also visit the world's largest wooden building, Todai-ji.
4. Visit Kinkaku-ji (The Golden Pavilion)
Officially known as Rokuon-ji, the current version dates to the 1950s after a monk burned down the previous temple while trying to commit suicide. It's one of the most-visited destinations in the country! Admission is 400 JPY ($3.70 USD).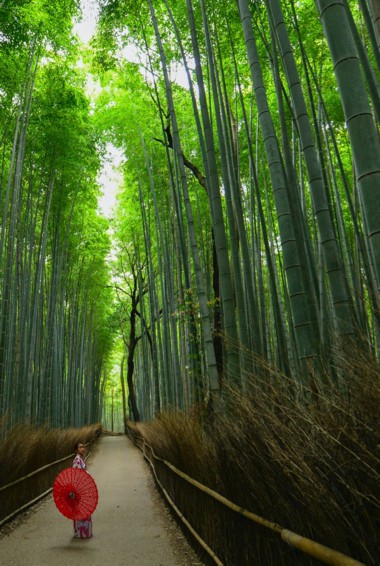 5. Visit Arashiyama (The Bamboo Forest)
For a relaxing break, take a stroll along the forest trails and let the calm swaying of the forest envelope you. Located near the famous Tenryu-ji temple, it's one of the most beautiful places in the entire country. It's a hugely popular spot so be sure to arrive early if you want to enjoy it without the crowds. It's free to enter.
Other Things to See and Do in Kyoto
1. Tour the Nijo Castle
One of the 17 Historic Monuments of Ancient Kyoto and a UNESCO World Heritage Site, Nijo Castle was built in 1603. The castle spans 170 acres and is home to serene Zen gardens, intricate interior artwork, and a defensive moat. It is a popular tourist attraction so it's best to arrive early in the morning before the crowds. The entrance fee is 600 JPY ($5.50 USD) and English audio guides (which I recommend) are 500 JPY ($4.60 USD).
2. Visit the Kyoto Imperial Palace Park
Kyoto Gyoen (Imperial Palace Park) is where the Imperial family and court nobles resided until 1868 when the capital was moved from Kyoto to Tokyo. The current palace dates to 1855 and while you can't enter any of the buildings, you're free to look around and explore as much as you want (which is rare as guided tours here used to be mandatory).
3. Walk around Higashiyama
This is one of the oldest and best-preserved sections of the city. Spend an afternoon on the east side of the Kamo River and walk along its historic streets and neighborhoods. The narrow streets are lined with small shops selling local specialties such as Kiyomizu-yaki pottery, okashi (candy), pickled foods, handicrafts, and other local souvenirs.
4. Visit Ryoan-ji Temple
This was my favorite of all the temples that I visited in Kyoto. Built in the 15th-century, the temple is a UNESCO World Heritage Site and home to a mausoleum that houses the remains of seven different Emperors throughout Japan's history. The traditional rock and sand garden is considered one of the best in the country, immaculately kept, and is a stunning display of Buddhist art and philosophy. Admission is 500 JPY ($4.60 USD) per person.
5. Wander among the plum blossoms
If you happen to be visiting Kyoto between mid-February and mid-March, you'll have the opportunity to view the plum blossoms. During this time, the plum trees erupt in blooms of bright white and dark pink flowers, similar to Japan's famous cherry blossoms. Two places you can find them are Kitano Tenmangu and the Kyoto Botanical Gardens, both of which are located in northern Kyoto. Admission for Kitano Tenmangu is 700 JPY ($6.45 USD), while admission to the botanical gardens is 200 JPY ($1.85 USD).
6. Explore the Kyoto National Museum
Opened in 1897, the National Museum is brimming with artifacts, ceramics, and fine arts. It's one of the top-rated museums in Japan and home to over 12,00 items and focuses on pre-modern Japanese and Asian art. Admission is 520 JPY ($4.80 USD) for the permanent exhibit and 1,500 JPY ($14 USD) for temporary collections.
7. Kyoto International Manga Museum
For the nerd and art enthusiast in all of us, this museum is home to a massive collection of over 300,000 manga. Opened in 2006, there are a number of exhibits highlighting the evolution of the art of manga over the years, as well as how-to workshops, with manga-portrait, caricaturists on hand. There are also vintage antique manga here dating back to the 1860s and 1880s. Admission is 800 JPY ($7.35 USD).
8. Relax in an onsen
There are over 140 bathhouses (known as onsen) in Kyoto, supporting a tradition that dates all the way back to the early Middle Ages. Separated by gender, bathhouses are a great way to relax and soak in some of the more unique aspects of Japanese culture. Just be aware that some onsen don't allow visitors with tattoos/force you to cover them so be sure to check before you arrive. Expect to pay around 1,000 JPY ($9.20 USD) for the budget bathhouses. Kurama Onsen and Tenzan-no-yu Onsen are two of the best in the city.
9. Eat at Nishiki Market
The Nishiki Ichiba is an indoor market and host to an amazing selection of locally-grown fruits and veggies, fresh seafood, and other local specialties. While here, try yuba – basically, the "skin" on the surface of soymilk vats. When it's dried, it's crispy and delicious (but you can also try it in the form of soymilk doughnuts and ice-cream). The market is located on Nishikikoji Street and opening hours depend on the shop (but typically from 9am to 6pm).
10. Go hiking
The hills of Kyoto are an ideal place to go hiking. There are a number of Buddhist temples and other religious sites (like Zen gardens) throughout the hills. Try the nearby Mount Atago. It's a moderate 4-6-hour hike that offers some scenic views over the city and surrounding hills, and lots of wildlife (there are lots of deer here). For a longer hike, walk the Takao to Hozukyo trail, which is moderately difficult and takes just over 6 hours.
Kyoto Travel Costs
Hostel prices – Most hostels in Kyoto charge between 2,200-3,500 JPY ($20-32 USD) per night for an 8-bed dorm room. Free Wi-Fi is standard, as are lockers and self-catering facilities if you want to cook your own meals. Free breakfast is rare.
For a private room win a hostel with a twin or double bed, expect to pay between 7,500-10,000 JPY ($70-92 USD) per night.
Budget hotel prices – If you're looking for a budget hotel, expect to pay at least 6,000 JPY ($55 USD) for a double bed at a two-star hotel. For a mid-range three-star hotel, prices start at 8,000 JPY ($74 USD) per night while capsule hotels start at 4,000 JPY ($37 USD) for a tiny pod that is essentially just a bed. It's not fancy, but it's a unique (and very Japanese) experience.
Airbnb is tightly regulated in Japan, so it's often difficult to find accommodations, and they're rarely in the center of town. Private apartments/homes on Airbnb usually start around for 4,500 JPY ($41 USD) per night though it's more common to find them for 6,500 JPY ($60 USD). For a single room, expect to pay at least 3,000 JPY ($28 USD).
Food – There are many cheap places to eat out in Kyoto. These basic food options range from 250-1,250 JPY ($2.30-11.50 USD). Fast food in Kyoto (think McDonald's or KFC) is around 700 JPY for a basic meal. You'll find the cheapest places far from the busy tourist areas so walk a few blocks from the main temples if you want to save some money. Street food like green tea sweets and sashimi sticks will cost about 272 JPY ($2.50 USD). Filling Japanese pancakes are even cheaper, at 200 JPY ($1.85 USD).
You can also find plenty of cheap meals and pre-packaged items at 7-Eleven — and even the locals eat them! Noodles, rice balls, tofu, and pre-packed sushi are all available for only a few hundred yen.
Mid-range restaurants (think three-course meals) cost around 2,000 JPY ($18 USD) per person. Sushi trains cost between 125-620 JPY ($1.15-5.70 USD) per piece. A beer is from 400 JPY ($3.70 USD).
High-end dining will cost you about 8,000 JPY ($75 USD) for a set menu of seven courses, covering everything from chicken to sushi. A wagyu steak course (served with rice, seafood, salad, dessert, etc.) will cost from 10,000 ($92 USD), and sake is from 800 JPY ($7.35 USD) per glass.
Buying groceries costs 4,000-5,500 JPY ($37-51 USD) per week for basic staples like rice, vegetables, and fish. Just be sure to wash all your produce well. Japan uses a lot of chemicals on their produce as there is not much arable land in the country and agricultural practices rely on peak productivity (hence pesticides).
Backpacking Kyoto Suggested Budgets
Kyoto can be an expensive city to visit — even if you're a backpacker. To help you plan your trip, here are some suggested budgets and what you can expect to afford with each one.
If you're backpacking Kyoto, plan to budget between 7,000-7,600 JPY ($65-70 USD) per day. This is a suggested budget assuming you're staying in a hostel dorm, cooking some of your meals, eating at the cheap 100 yen shops or going to donburi shops, visiting free museums and temples, and using local transportation. If you Couchsurf, you can likely lower this down to around 6,000 JPY ($55 USD) per day.
On a more mid-range budget of 12,000-17,000 JPY ($110-155 USD) per day, you can stay in budget hotels or private rooms, eat out at budget restaurants, indulge in more drinks, visit more attractions, rent a bike, and just have some more breathing room in your travels.
On 24,000 JPY ($220 USD) per day, you can stay in traditional Japanese accommodations or hotels, eat at nice restaurants each day, splurge on some high-end accommodation, enjoy drinks as often as you want, take paid tours, and overall just have a more comfortable trip. If you're staying in international hotels in the city, I'd add another 5,430-10,865 JPY ($50-100 USD) a day to your budget.
This chart can give you an average breakdown of your expenses. Remember these are only guidelines. How you budget your money in Japan based on your own desires and logistics will determine how your budget will really come together!
Accommodation
Food
Transportation
Attractions
Average Daily Cost
Backpacker
$25
$10-15
$15
$15
$65-70
Mid-Range
$50-75
$20-40
$15
$25
$110-155
Luxury
$100+
$50-75
$30
$40
$220+
Kyoto Travel Guide: Money-Saving Tips
While the above prices might seem like a lot, there are many ways to lower your costs and save money in Kyoto. If you can't find cheap accommodation, eat the delicious cheap food the workers of Japan eat. Here are some quick tips to help you save money while you visit Kyoto:
The Kyoto Sightseeing Card – If you plan on riding public transportation a lot, consider getting this card. One-day passes are 1,200 JPY ($11 USD) for adults (600 JPY/$5.50 USD for kids) and provide unlimited travel on both the subway and city buses. Two-day passes are available for 2,000 JPY/$18 USD (1,000 JPY/$9 USD for kids) however they must be used on two consecutive days. It also includes many discounts for temples and other attractions as well.
The Traffica Kyoto Card – This prepaid card offers a 10% discount on public transportation (bus and subway) within the city. You can load it with 1,000 or 3,000 JPY ($9 or $28 USD), however, if you don't use all the money on the card you can't get it back so only get a card if you know you'll spend it all.
Shop at the 100 Yen stores – There are many 100 Yen shops in Kyoto with set meals, groceries, drinks, toiletries, and household items. Store names vary by region, so ask your hotel/hostel reception where the nearest "Hyaku En" shop is.
Eat at 7-Eleven – A 7-Eleven, Family Mart, and other convenience stores in Kyoto has a lot of pre-set meals (including sandwiches, soups, fruit, and more traditional Japanese options) for 125-400 JPY ($1.15-3.70 USD) that make for a cheap lunch option. Additionally, supermarkets also have many set meals at similar prices.
Cook your food – Almost every hostel here has a kitchen where you can cook your own food and cut your food expenses to less than 1,000 JPY ($9.20 USD) per day. Combining this with shopping at the 100 Yen stores will drastically cut your food costs.
Eat curry, ramen, and donburi – I essentially lived off these three foods during my three weeks in Japan — and you can do the same in Kyoto. Curry bowls were as cheap as 400 JPY ($3.70 USD) per plate. Donburi, bowls of meat and rice, are around 500-620 JPY ($4.60-5.70 USD). Ramen is never more than 900 JPY ($8.30 USD). These are the best ways to eat cheap, filling meals while in Japan.
Work for your room – Hostels in Japan often let you work for your room — and Kyoto is no exception. You'll spend a few hours in the morning cleaning and you'll get free accommodation for as long as they'll let you stay. This is a great way to save money if you want to stay in the same area for a while.
Couchsurf – Using hospitality sites like Couchsurfing that allow you to stay with locals not only gets you a free place to stay but lets you interact and learn about local life. Make sure you ask early – the response rate is slow! Try asking expats as well as they tend to be more active on the platform.
Buy food at night – After 8pm, supermarkets discount their fresh food as they have to get rid of it. If you buy your food after 8pm, you can save up to 50% on almost everything fresh.
Get a JR Pass – Chances are you'll be arriving in Kyoto by train. If that's the case, consider buying a JR Pass. These passes allow you unlimited train travel and will save you a ton of money if you're going to be visiting other cities in addition to Kyoto. It comes in 7, 14, and 21-day tickets. Keep mind it can only be purchased outside of the country, so be sure to plan ahead!
Stick to sushi trains – The sushi in Kyoto is very expensive. If you need a fix, stick to the sushi trains around the city. The train station has a very affordable one that won't cost you the 6,200 JPY ($57 USD) that most of the restaurants will cost you, although there usually is a long wait.
Rent a bicycle – There are plenty of places to rent a bike in Kyoto, including many hostels. It's a cheap and easy way to explore the city and you'll get a much better feel of the place, too! Many hostels will rent bikes, and there are plenty of rental companies, too. Expect to pay at least 1,000 JPY ($9 USD) for a day.
Where To Stay in Kyoto
Kyoto has a bunch of hostels and they're all quite comfortable and sociable. These are my recommended places to stay in Kyoto:
How to Get Around Kyoto
Bus – Kyoto has an extensive bus network made up of multiple bus companies. The buses are clean and reliable with single-fare tickets starting at 230 JPY ($2.10 USD). Prices go up based on how far you ride. You'll need exact change to pay when you get off, which you can get from the machine at the front of the bus near the driver (you pay when you disembark).
Subway – Kyoto has a metro system composed of two lines with just over 30 stations. Single fares are based on distance and will cost between 210-350 JPY ($1.95-3.20 USD) per person. There are also a couple of discount passes you can use to get free to discounted rides. See the money-saving tips section for details.
Taxi – Taxis aren't cheap here so I would avoid them as much as possible. Rates start at 600 JPY ($5.50 USD) and go up by 465 JPY ($4.30 USD) per kilometer. Stick to public transportation if you can.
Didi is the main ridesharing app here, but prices are similar to taxis so you won't really save any money using them.
Car rental – If you have an International Driving Permit (IDP) you can rent a car in Kyoto though you really don't need one. Expect to pay around 5,500 JPY ($50 USD) per day. Just keep in mind you'll be driving on the left here.
Unless you have a specific need for a car, I would stick to public transportation and trains (the trains here are usually much faster than cars). You'll need to get your IDP before you arrive in Japan.
Bicycle – The city is quite easy to get around by bicycle and you can rent a bike for the day for around 1,000 JPY ($9 USD). It's a popular way to explore so either reserve a bike in advance or get up early to ensure you can get one (this is really only for the summer months). Also, keep in mind the traffic here flows on the left.
Train Consider purchasing a Japan Rail Pass if you will be visiting other cities in Japan during your trip (including nearby Nara, which you can reach via in just under an hour). JR passes come as 1, 2, or 3-week passes and give you free travel on all JR lines. If you plan to do a whirlwind trip, this is the best way to save some money.
When to Go to Kyoto
The most popular time to visit Kyoto is in the summer, however, it can get quite warm during this time. Temperatures in June-August are over 32 C (89 F) and will be rather humid. Even September is quite warm as well. You'll also have larger crowds as Kyoto is one of the most visited cities in the country, especially since Instagram photography featuring the bamboo forest has made this place crazy popular. If you visit during this time, make sure you're up early to beat the crowds and that you've booked your accommodation in advance.
The shoulder seasons are probably the best time to visit Kyoto. April-May and October-November see cooler temperatures and only a little bit of rain. Keep in mind that late March to early April is cherry blossom season so expect massive crowds during that time. If you plan to visit then, be sure to book ahead!
While the winter in Kyoto is cold it is hardly unbearable. Temperatures usually sit around 10 C (50 F) during the day and drop down to around 1 C (34 F) during the night. The city is much quieter during this time as well. Snow is common, but it usually melts not long after it falls. Rain is common during this time as well so make sure you're dressed for wet, brisk weather.
Additionally, keep in mind that typhoon season occurs from May to October. Japan is well-equipped to handle all types of typhoons, but be sure to purchase travel insurance in advance!
How to Stay Safe in Kyoto
Japan is a notoriously safe country. Even in a large city like Kyoto there's virtually zero chance you're going to get robbed, scammed, or hurt. None. You're going to be super-duper safe here.
Your only real risk here is from mother nature. Earthquakes and typhoons are common, so always make sure you know where your exits are when you arrive at your accommodation. Download offline maps to your phone as well in case you need to navigate the city in an emergency.
As a solo female traveler, you may have to watch out for lude behavior here and there. Some female travelers have reported inappropriate behavior, such as men asking personal questions or catcalling. It's rare, but it does occur from time to time so stay vigilant.
If you're traveling outside the city, most train companies now have "women only" cars during rush hour — you'll see pink signs directing where women should board. Japan's emergency number is 110, or you can call the Japan Helpline at 0570-000-911 should you need assistance.
Always trust your gut instinct. If a taxi driver seems shady, stop the cab and get out. If your hotel is seedier than you thought, get out of there. You have every right to remove yourself from the situation. Make copies of your personal documents, including your passport and ID. Forward your itinerary along to loved ones so they'll know where you are.
If you don't do it at home, don't do it here!
The most important piece of advice I can offer is to purchase good travel insurance. Travel insurance protects you against illness, injury, theft, and cancellations. It's comprehensive protection in case anything goes wrong. I never go on a trip without it as I've had to use it many times in the past. You can use the widget below to find the policy right for you:
Kyoto Travel Guide: The Best Booking Resources
These are my favorite companies to use when I travel to Kyoto. They are included here because they consistently find deals, offer world-class customer service and great value, and overall, are better than their competitors.
Momondo – This is my favorite booking site. I never book a flight without checking here first.
Skyscanner – Skyscanner is another great flight search engine which searches a lot of different airlines, including many of the budget carriers that larger sites miss. While I always start with Momondo, I use this site too as a way to compare prices.
Airbnb – Airbnb is a great accommodation alternative for connecting with homeowners who rent out their homes or apartments.
Hostelworld – This is the best hostel accommodation site out there, with the largest inventory, best search interface, and widest availability.
Couchsurfing – This website allows you to stay on people's couches or spare rooms for free. It's a great way to save money while meeting locals who can tell you the ins and outs of their city. The site also lists events you can attend to meet people (even if you're not staying with someone).
Booking.com – The best all-around booking site that constantly provides the cheapest and lowest rates. They have a no money down policy, great interface, and the widest selection of budget accommodation. In all my tests, they've always had the cheapest rates out of all the booking websites.
Intrepid Travel – If you want to do a group tour around Sweden, go with Intrepid Travel. They offer small group tours that use local operators and leave a small environmental footprint. If you go on a tour with anyone, go with them. And, as a reader of this site, you'll get a discount when you click the link!
Rome 2 Rio – This website allows you to see how to get from point A to point B the best and cheapest way possible. It gives you all the bus, train, plane, or boat routes that can get you there as well as how much they cost.
World Nomads – I buy all my travel insurance from World Nomads. They have great customer service, competitive prices, and in-depth coverage. I've been using them since I started traveling in 2003. Don't leave home without it!
EatWith – This website allows you to eat home cooked meal with locals. Locals post listings for dinner parties and specialty meals that you can sign up for. There is a fee (everyone sets their own price) but this is a great way to do something different, pick a local's brain, and make a new friend.
Kyoto Gear and Packing Guide
If you're heading on the road and need some gear suggestions, here are my tips for the best travel backpack and for what to pack!
The Best Backpack for Travelers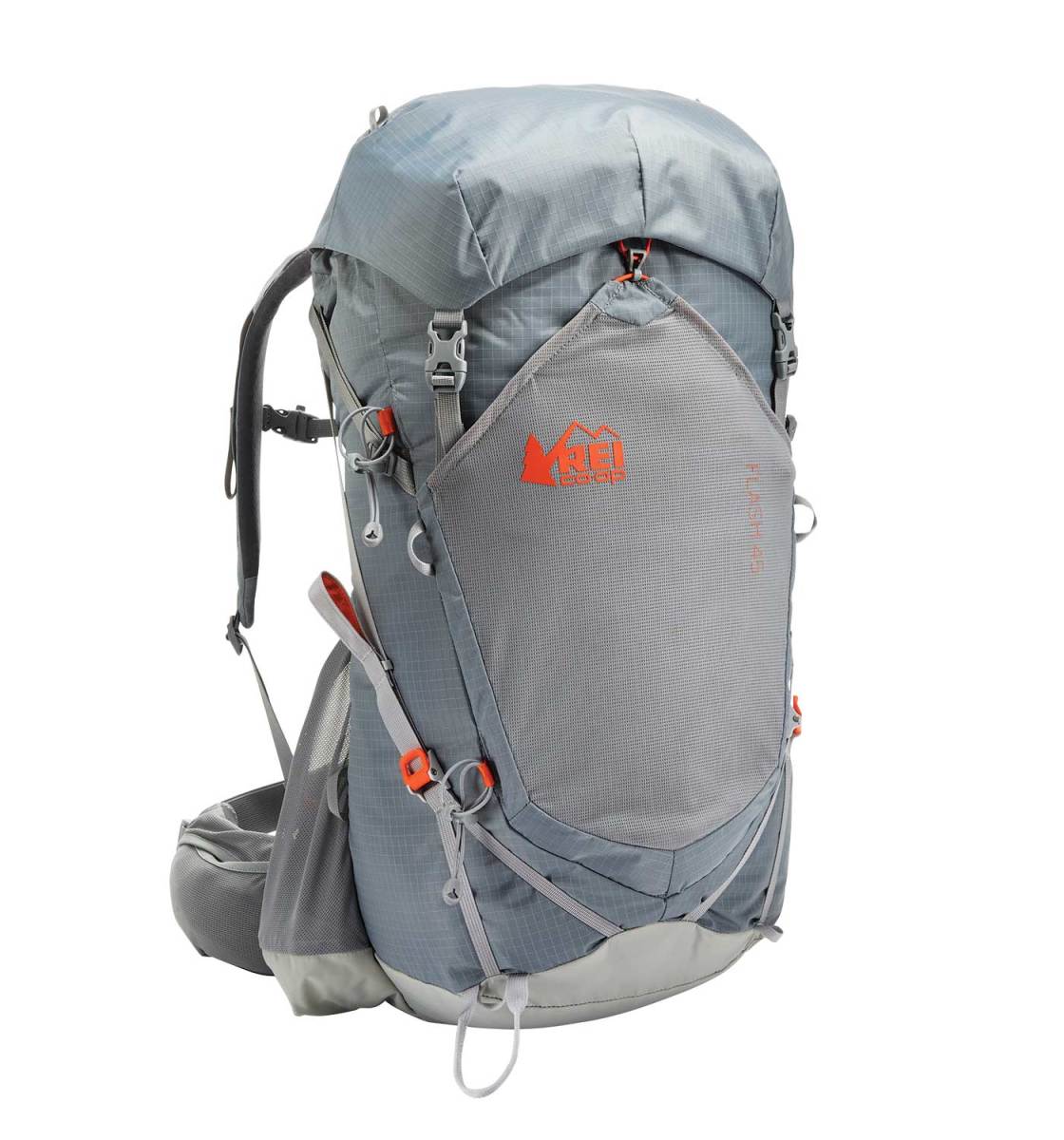 What's the best backpack for traveling long-term? I recommend the
REI Flash 45 Pack
. It's light and comfy, front loading, and fits perfectly in an airplane's overhead bin.
Size:
45-47L
Straps:
Thick and cushy with compression technology that pulls the pack's load up and inwards so it doesn't feel as heavy.
Features:
Removable top lid, large pocket at the front, hydration compatible, contoured hip belt
If you want something different, refer to my article on how to choose the best travel backpack for tips on picking a pack and other backpack suggestions.
What to Pack for Your Trip
Clothes
1 pair of jeans (heavy and not easily dried, but I like them; a good alternative is khaki pants)
1 pair of shorts
1 bathing suit
5 T-shirts (Unbound Merino is my preferred company. If you're a member of NM+, you can get 15% off your purchase)
1 long-sleeved T-shirt
1 pair of flip-flops
1 pair of sneakers
6 pairs of socks (I always end up losing half)
5 pairs of boxer shorts (I'm not a briefs guy!)
1 toothbrush
1 tube of toothpaste
1 razor
1 package of dental floss
1 small bottle of shampoo
1 small bottle of shower gel
1 towel
Deodorant
Small Medical Kit (safety is important!!!)
Miscellaneous
Female Travel Packing List
I'm not a woman, so I don't know what a woman wears, but Kristin Addis, our solo female travel guru, wrote this list as an addition to the basics above:
Clothing
1 swimsuit
1 sarong
1 pair of stretchy jeans (they wash and dry easily)
1 pair of leggings (if it's cold, they can go under your jeans, otherwise with a dress or shirt)
2-3 long-sleeve tops
2-3 T-shirts
3-4 spaghetti tops
1 light cardigan
Toiletries
1 dry shampoo spray & talc powder (keeps long hair grease-free in between washes)
1 hairbrush
Makeup you use
Hair bands & hair clips
Feminine hygiene products (you can opt to buy there too, but I prefer not to count on it, and most people have their preferred products)
For more on packing, check out these posts:
Kyoto Travel Guide: Suggested Reading
A Geek in Japan, by Hector Garcia
If you're a geek for manga, anime, Zen, or J-pop, this book is for you. Even if you're not a geek for those things, this book is a worthy read! It's smart and easy to understand and will give you lots of insight into Japanese pop culture and society. It's easy to read too, with short articles complete with sidebars and plenty of photography. If you grew up with Pokémon and manga, give this a read.




Norwegian Wood, by Haruki Murakami
Norwegian Wood is the book that made Haruki Murakami a literary icon. This is the story of Toru, a young college student in Tokyo who is devoted to Naoko, a beautiful and quirky young woman. Their passion for one another is interrupted by the death of their best friend from years before, and as Naoko retreats into herself, Toru finds himself wandering into the arms of another young woman. You'll want to take your time reading this book — the prose is poetic and beautiful, and the kind of read that's supposed to be absorbed slowly.



Memoirs of a Geisha by Arthur Golden
Memoirs of a Geisha is an easy read, although not particularly a light one – but it offers an inside look at the life of one of Japan's geishas. In 1929, when Nitta Sayuri is nine years old, she is sold into slavery at a geisha house. This story follows her journey as she learns how to become a geisha, from the art of wearing a kimono to the very precise way of pouring sake. Even applying make-up is a tedious art form. You won't be able to put this book down!




Hitching Rides with Buddha, by Will Ferguson
Will Ferguson is like the Canadian version of Bill Bryson – he's hilarious and self-deprecating, but smart and with a knack for storytelling. In this book, Ferguson finds himself hitchhiking through the length of Japan, hopping into cars with strangers and sometimes even making himself an overnight guest. You'll laugh out loud at Ferguson's warm and engaging stories as he drinks too much sake and fumbles his way along the Cherry Blossom Front. It'll spark some serious wanderlust!




The Sounds of Waves, by Yukio Mishima
A Japanese classic, The Sound of Waves is set in a remote fishing village in Japan, and it's the story of a first love. Here, a young fisherman falls for the beautiful daughter of the wealthiest man in town – and, much to his surprise, the feeling is mutual. The couple must deal with the gossip and scandal of their fellow villagers as a result. Mishima's writing is beautiful and thought-provoking.


Kyoto Travel Guide: Related Articles
Want more info? Check out all the articles I've written on backpacking/traveling Japan and continue planning your trip: