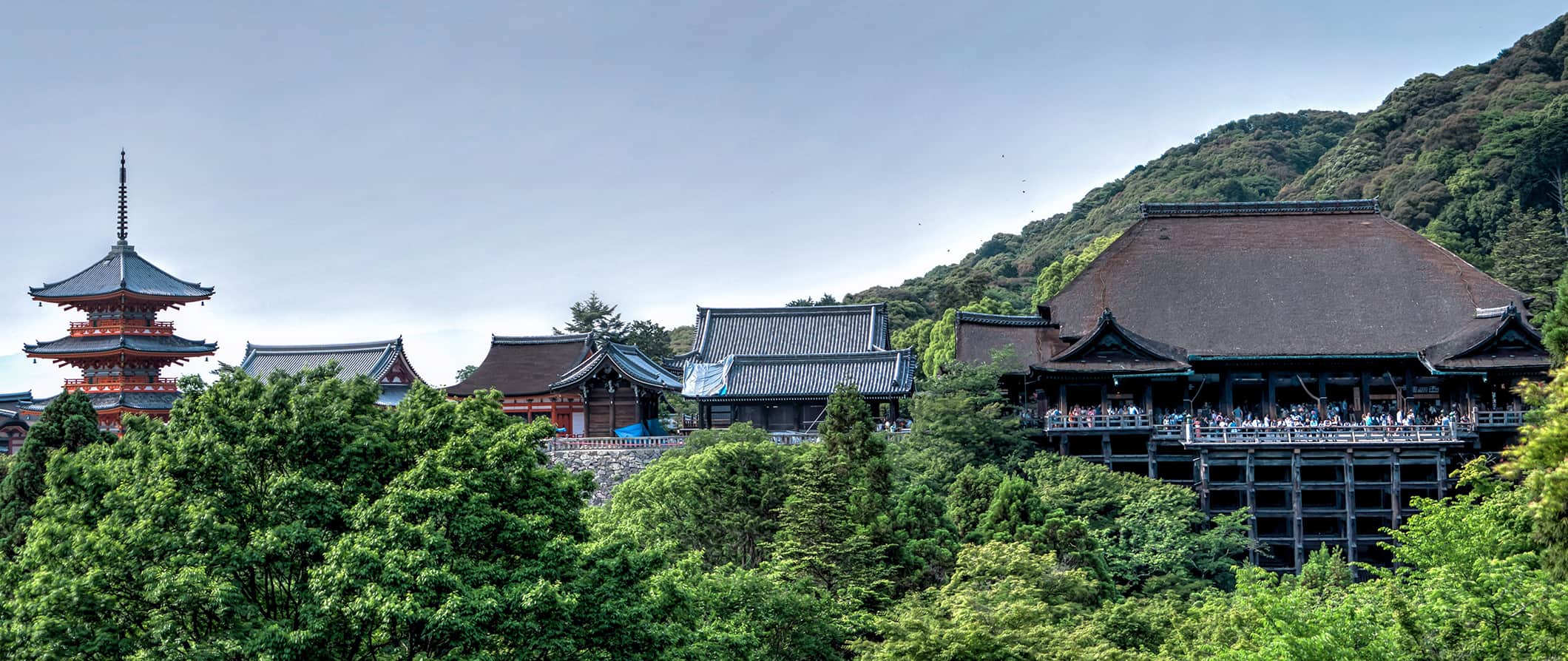 Kyoto is one of the most gorgeous places in all of Japan. Surrounded by mountains, it has countless zen gardens, temples, and statues, as well as endless shopping and some seriously great food. I loved wandering around Kyoto, popping into temple after temple, seeing a wide array of gardens, and walking through the bamboo forest. Kyoto gets a lot of hype (it used to be the capital of Japan) but I found it lived up to all my expectations. Beyond the historic Japanese temples, there is a vibrant nightlife and restaurant scene. Honestly, I could live in Kyoto, I loved it that much.
Top 5 Things to See and Do in Kyoto
1. Visit Gion
Gion is the city's most famous geisha district and is full of history and entertainment. Walk along the main street and see ochayas (tea houses where geishas entertain), shops and restaurants. The restaurants can be expensive, so it's best to walk around, admire the scenery, then go elsewhere for food.
2. Check out Heian Shrine
Dedicated to the first and last emperors that reigned in Kyoto, the shrine can be reached by bus for 10-100 JPY and a short walk after that. It has a beautiful garden filled with cherry blossom trees. The Shrine is free but the garden has an entrance fee of 600 JPY.
3. Explore the Kyoto National Museum
The National Museum is buzzing with artifacts, ceramics, and fine arts. Spend the day here, because it offers over 200 pieces of art which are considered national treasures. The cost to enter varies depending on the exhibition, but on average expect to pay between 520-1,500 JPY.
4. Visit the Golden Pavilion
Covered in gold leaf, the temple and its surroundings make for a stunning sight on a sunny day. The original building dates from the 14th century, however, it was burned down by a monk in 1950. It is one of 17 World Heritage monuments that makes up the Historic Monuments of Ancient Kyoto. Admission is 400 JPY.
5. The Bamboo Forest
With the sound of the sawing bamboo stalks around you, walk through the easy trails as you are encompassed in this green temple. It's one of the most beautiful and serene places in the entire country.
Other Things to See and Do
(Click the title to expand the text)
1. Tour the Nijo Castle
The palace building was created in 1603 and became famous for its distinct architecture. Now it is a popular tourist attraction, so it's best to arrive early in the morning before the crowds. It's a beautiful castle, and a worthwhile destination for a few hours. The entrance fee is 600 JPY.
2. Visit the Kyoto Imperial Palace Park
The palace is where the Imperial family and court nobles once resided. It's located in the center of the city and admission is free.
3. Walk around Higashiyama
Spend an afternoon on the east side of the Kamo River and walk along its historic streets and neighborhoods. Be sure to visit the Yasaka shrine and a teahouse or two.
4. Visit Ryoan-ji Temple
It's hard not to be in Kyoto without seeing a zen garden, and this is one of the best with its unusual rock garden. Get here early before the crowds, and try to decipher the message of the rock formations. Admission is 500 JPY.
5. Wander among the plum blossoms
If you happen to be visiting Kyoto between mid-February and mid-March you'll have the opportunity to view the plum blossoms. While not as famous as Japan's cherry blossoms, they make for a great alternative. Two places you can find them are Kitano Tenmangu and the Kyoto Botanical Gardens, both of which are located in northern Kyoto. Admission for Kitano Tenmangu is 600 JPY, while admission to the botanical gardens is 200 JPY.
6. Try traditional Japanese confectionery
Kyoto is a great city for trying one of Japan's most unique treats – mochi. Made from pounded rice, there are numerous types of sweet treats prepared fresh in the city. They have a very distinct texture, so not everyone will enjoy the gelatinous blobs but they make interesting souvenirs, so give them a try!
7. Take a trip to Nara
The capital of Japan from 710-784, Nara was the center of Japanese culture, arts, and crafts. It is now a UNESCO World Heritage site. It's 45 minutes from Kyoto via train and makes for a great day trip. Be sure to visit the world's largest wooden building, Todai-ji. Tickets cost between 620-1130 JPY, one way (however it's free with a JR Pass).
8. Meditate
If you have trouble putting your mind to rest, sleeping at night, or suffer from frequent headaches, meditation might be the solution for you. Meditation is a major tradition among the Japanese, specifically among Buddhists. Trying their time-tested techniques can give you a greater understanding of the people here, and it may just provide you with some calm and clarity.
9. Kyoto International Manga Museum
For the nerd and art enthusiast in all of us, this museum is home to a collection of over 300,000 manga. There are a number of exhibits highlighting the evolution of the art of manga over the years, as well as how-to workshops, with manga-portrait, caricaturists on hand. Admission is 800 JPY for adults, 300 JPY for students.
10. Relax in an onsen
There are over 140 bath houses (onsen) in Kyoto, supporting a tradition that dates all the way back to the early Middle Ages. Separated by gender, bath houses are a great way to relax and soak in some of the more unique aspects of Japanese culture. Just be aware that some onsen don't allow visitors with tattoos, so be sure to check before you arrive. Expect to pay around 1,000 for the budget bath houses.
11. Eat at Nishiki Market
Almost every major city in the world has a local market, and Kyoto is no exception. The Nishiki Ichiba is host to an amazing selection of locally-grown fruits and veggies, as well as all of the more 'unknown ingredients' found in Japanese cooking. The street food here is delicious and there are plenty of places to sit down and people watch.
12. Go hiking
The hills of Kyoto are a wonderful place to go hiking, perfect for escaping into nature and spending some time outside of a city atmosphere. There are a number of Buddhist temples and complexes throughout the hills, which make for some great exploring.
13. Enjoy the nightlife
Kyoto offers a wide variety of drinking options, and most are all within the same area (Central Kyoto, around Kiyamachi). You won't have a hard time finding a local bar to grab a drink, so be sure to wander the area and hunt down a bar of your choosing. Beyond the bars, the city isn't known for its club scene so you won't have many options when it comes to dancing.
14. Wander among the cherry blossoms
Cherry blossoms are a big part of Japanese culture and Kyoto has some of the best trees in the world. Come during the cherry blossom festival – it's beautiful.
Typical Costs
Hostel prices
– A hostel in Kyoto will cost between 2,000-4,000 JPY per night for a dorm room. Many hostels are within a ten-minute walk from Kyoto Station, have free WiFi, a kitchen, and some offer private terraces. Private rooms are not as common, and rival prices of budget hotels. If you want privacy, you're better off booking a hotel. You can book your hostel with
Hostelworld
.
Budget hotel prices – For around 8,500 JPY or slightly less, you can get a nice budget hotel with free WiFi and all the other normal amenities hotels have. Use Booking.com as they consistently return the cheapest rates.
Average cost of food – Eating out can take your money if you're not careful. Luckily, not all restaurants are expensive and there are many cheap ramen, tempura, and sushi belt restaurants in Kyoto. Curry bowls are as cheap as 340 JPY per plate. Donburi, bowls of meat and rice, are around 500-620 JPY. Ramen is never more than 865 JPY. Groceries aren't as cheap as you would expect, and will cost as around 8,700 JPY per week. Most sit down restaurants with table service will cost between 1,240-2,480 JPY. If you're on a tight budget, grab some food from convenience stores. Rice balls, ramen, and other pre-packed foods cost as little as 200 JPY. You'll never bee far from a 7/11, Family Mart, or Lawson!
Transportation – The easiest way to get around the city is by bus. It starts at 230 JPY for a single ride or 500 JPY for an all day pass. You can take the subway as well which offers two main trains – Karasuma and Tozai lines – and its fares start at 210 JPY. It's also a great city to explore by bicycle, with full-day bike rentals costing around 1,500 JPY.
Suggested daily budget
5,500-7,000 JPY / 45-60 USD (Note: This is a suggested budget assuming you're staying in a hostel, eating out a little, cooking most of your meals, and using local transportation. Using the budget tips below, you can always lower this number. However, if you stay in fancier accommodation or eat out more often, expect this to be higher!)
Money Saving Tips
Eat curry, ramen, and donburi – Curry bowls were as cheap as 370 JPY per plate. Donburi, bowls of meat and rice, are around 500-620 JPY. Ramen is never more than 865 JPY. The main train station has a lot of these kinds of restaurants, so if you're not sure where to go just eat here! You can also find lots of cheap, pre-packaged food at all the major convenience stores.
Get the temple pass – For 3,800 JPY, you can get a two-day pass that gives you a discount on many of the temples and gives you free public transportation. If you plan on seeing multiple temples (some of which are very far apart), get this pass. The city is too big to walk around, so you'll to learn the bus.
Stick to sushi trains – The sushi in Kyoto is very expensive. If you need a fix, stick to the sushi trains around the city. The train station has a very good one that won't cost you the 6,200 JPY that most of the restaurants will cost you, although there usually is a long wait.
Rent a bicycle – There are plenty of places to rent a bike in Kyoto, including many hostels. It's a cheap and easy way to explore the city and you'll get a much better feel of the place, too! Many hostels will rent bikes, and there are plenty of rental companies, too. Expect to pay around 1,500 JPY for a day.
Couchsurf – If you're on a tight budget, consider Couchsurfing (or similar hospitality exchanges). Just make sure to contact hosts early — Kyoto sees a lot of tourists and the response rate in Japan isn't great.
Shop at the 100 Yen ($1 USD) stores – There are many 100 JPY shops in Kyoto with set meals, snacks, drinks, toiletries, and other odds end ends items. Store names vary by region, so ask your hotel/hostel reception where the nearest one is located.
The Kyoto Sightseeing Card – If you plan on riding public transportation a lot, consider getting this card. one-day passes are 1,200 JPY for adults (600 JPY for kids) and grant unlimited travel on both the subway and city buses. Two-day passes are available for 2,000 JPY (1,000 JPY for kids) however they must be used on two consecutive days.
The Traffica Kyoto Card – This prepaid card offers a 10% discount on public transportation (bus and subway) within the city. You can load it with 1,000 or 3,000 JPY, however, if you don't use all the money on the card you can't get it back so only get a card if you know you'll spend it all.
My Must Have Guides For Traveling to Kyoto