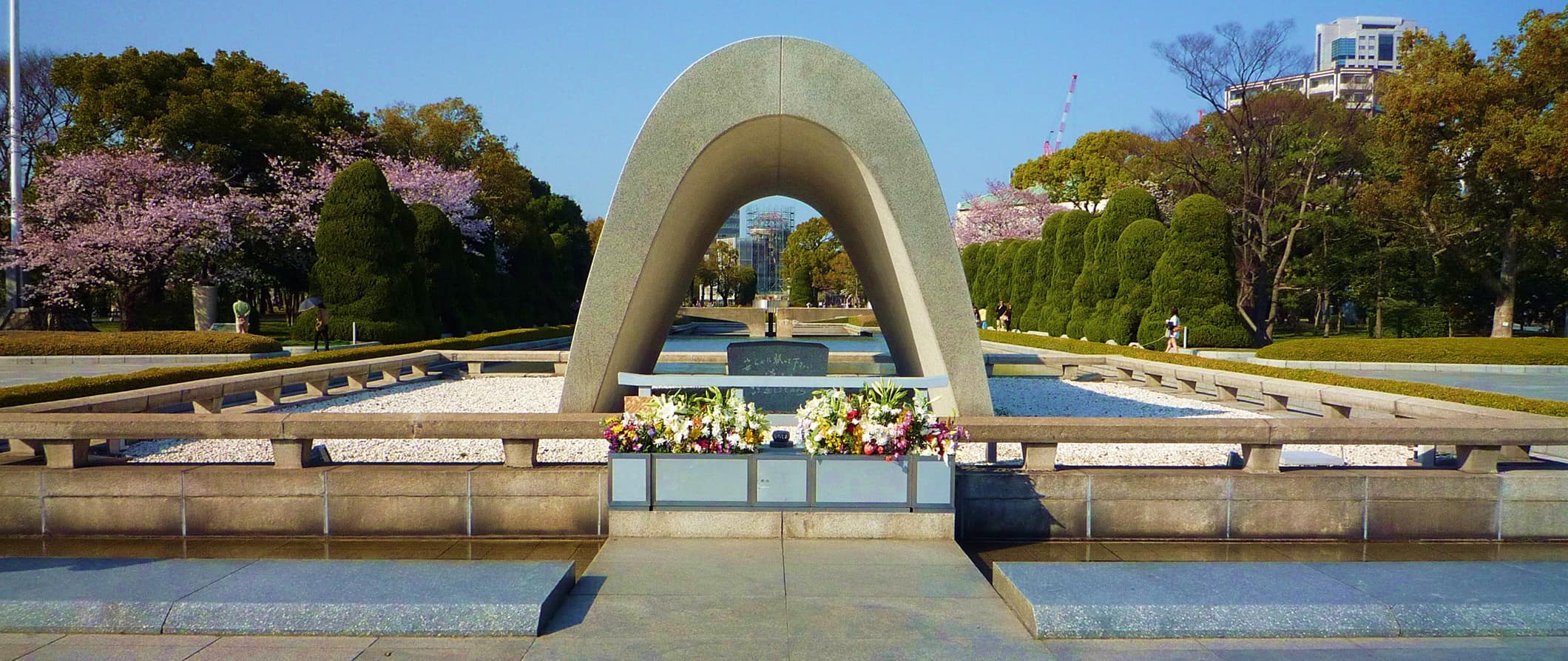 Most people visit Hiroshima to learn about the atomic bomb that was dropped here. The memorial to the victims is very touching.
This is a city rich with plenty to do. I really enjoyed my time visiting the city and exploring it. There was a lot to do here. You can visit one of the many museums, attend one of their festivals (don't miss the oyster festival in February!), and dine out in one of their 4,000 bars and restaurants. It's a beautiful city that has recovered greatly since its bomb-scarred past.
This travel guide to Hiroshima will give you everything you need to know to plan a trip here on a budget.
Top 5 Things to See and Do in Hiroshima
1. Atomic Bomb Memorial Museum and Peace Park
Established in 1955, the museum depicts the history of the city before and after the atomic bomb was dropped in 1945. The museum has photos, artifacts, videos, and information about the effect the radiation has had on people. It's a very somber and sobering experience but one that should not be missed. Admission is 200 JPY ($1.85 USD).
2. Visit Miyajima Island
Miyajima is an island just outside of Hiroshima. If you plan to hike the mountain, it will take at least one hour depending on your level of fitness. There is also a cable car to the peak you can take for 1,800 JPY ($16.50 USD) round trip. A one-way ferry ride to the island takes 10 minutes and costs 180 JPY/$1.65 USD (it's free to JR Pass holders).
3. Visit Hiroshima Castle
Although the original was destroyed by the atomic bomb, the reconstructed castle serves as a great opportunity to get to know Hiroshima's history. The gardens around this castle are the best when the cherry blossoms bloom in April. Admission to the castle is free, while access to the main keep is 370 JPY ($3.40 USD).
4. Wander the Shukkeien Garden
This compact and beautifully landscaped Japanese garden is an ideal place to decompress from the atomic bomb sites. Established in 1620, the garden was once a private refuge for the Emperor. It was opened to the public in 1940 and, after the war, was used to house refugees. Admission is 260 JPY ($2.38 USD).
5. Visit Onomichi
Onomichi makes for a relaxing day trip from Hiroshima. Located around 90km from the city, here you'll find beaches, hot springs, temples, castles, and lots of green space. There is also a small mountain nearby (Mount Senkoji) that offers a sweeping view over the city.
Other Things to See and Do in Hiroshima
1. Enjoy the Hiroshima Museum of Art
Founded in 1978, this museum is home to eight different galleries. Half of the collection is by famous Western artists like Monet, Degas, and Renoir while the other half is by Japanese artists. There is a small garden and a cafe here as well (the cafe as free Wi-Fi too). Admission is 600 JPY ($5.50 USD).
2. Visit the Bitchu Matsuyama Castle
Not only is this Japan's highest castle but it's also one of Japan's only remaining original castles. The castle was originally built on a nearby mountain in 1240 A.D. by Akiba Shigenobu. In 1929, restoration work began on the castle and it is now a popular tourist site. Fun fact: the official "lord" of the castle is a local stray cat who was found to be living there. Admission is 300 JPY ($2.75 USD) for the castle and 900 JPY ($8.25 USD) for the castle, museum, and nearby samurai houses.
3. Attend the Oyster Festival
If you're passing through Hiroshima in the winter months, make sure to check out this fun event. During the festival, you can enjoy oysters at a huge discount. There are tons of different kinds to try, all of which are freshly caught. It's basically a festival celebrating how awesome an oyster is so if you like oysters you need attend! The festival is free to attend. Expect to pay between 100-200 JPY ($0.92-1.83 USD) per dish.
4. See the Mazda Museum
Mazda's corporate headquarters are a short distance outside of Hiroshima. If you like to geek out over cars, this tour is a cool thing to do. The English tour isn't very detailed but it's nevertheless a fun experience. If you have a lot of serious technical questions, try taking the Japanese tour and bring along your own interpreter. You'll get a look at some of their concept vehicles as well. The tour is free but must be reserved in advance.
5. Get active in Chuo Park
Found in the middle of the city, this green expanse is home to Hiroshima Castle, Gokoku Shrine, a few museums, and great walking and running paths. Often there are football, soccer, and even frisbee games going on and it's a great place for a picnic if the weather is nice. In the spring, it's also where you'll find some of the city's famous cherry blossoms. Bring a book, pack a lunch, and spend some time here relaxing, people watching, and taking in the city.
6. Attend the Flower Festival
Another major annual event in Hiroshima, this festival occurs during the first weekend of May. There is an array of performances, ranging from Japanese pop bands and jazz combos to comedians and traditional musicians from Okinawan. There's a huge carnival, food vendors, and novelty crafts stalls as well as a large display and vigil in Peace Park. The festival has a very lively, Carnivalesque atmosphere. Admission is free.
7. Hiroshima City Manga Library
If you're into manga, then this is the place to be. While the vast majority of the manga is in Japanese, they do have a selection in English, as well. Home to over 130,000 manga, you'll also find all sorts of rare and vintage manga here too. Opened in 1998, the library also holds regular events such as presentations, talks, and temporary displays. Admission is free.
8. Visit Fudoin
The origins of a temple in this location date back to the 8th century, though the current temple is from the 14th-century. The temple is actually one of the few buildings in the area to have survived the atomic blast. The temple has the standard red lacquered pagoda, but there are some interesting statues and shrines at the back, including the red tori gate and the fox shrine. The serene temple grounds are also nice to stroll through, but be respectful and give worshippers their space.
9. Attend the Sake Festival
The suburb of Saijo is famous for its sake breweries (it's one of the most famous brewery districts in the country) and in October they have an annual boozy blowout. For the price of entry, attendees can drink their fill of sake from the local breweries. Outside the festival area, tours of sake breweries are also available, with wood sake cups as souvenirs for your visit. There are also traditional performances, live music, presentations and talks, and lots of partying. Tickets are 2,100 JPY ($19.25 USD).
10. Climb Mount Haigamine
This mountain overlooks Hiroshima and is a popular place to come at night to take in the view. You'll get a sweeping panorama view of the city and surrounding landscape, making it a great spot for taking photos and relaxing after a day of exploring. It will take about 90 minutes to climb, so be sure to climb while the sun is still up. There is also a small parking lot should you wish to drive.
Hiroshima Travel Costs
Hostel prices – Most hostels in Hiroshima charge between 2,300-3,500 JPY ($21-32 USD) per night for an 8-10 bed dorm room. Free Wi-Fi is standard, as are lockers and self-catering facilities if you want to cook your own meals. For a private room with a twin or double bed, expect to pay between 7,500-9,000 JPY ($69-82.50 USD) per night.
Budget hotel prices – Capsule hotels start at 2,500 JPY ($23 USD) for a tiny pod that is essentially just a bed. It's not fancy, but it's a unique (and very Japanese) experience.
If you're looking for a regular budget hotel, expect to pay around 8,500 JPY ($78 USD) for a double room at a two-star hotel. For a mid-range three-star hotel, prices start at 9,700 JPY ($89 USD) per night.
Airbnb is tightly regulated in Japan, so it's often difficult to find accommodations, and they're rarely in the center of town. A private apartment/home on Airbnb usually rents for around for 8,800 JPY ($81 USD) per night though you can find them for half that price if you book in advance. For a single room, expect to pay at least 2,100 JPY ($19 USD).
Food – There are many cheap places to eat out in Japan. If you head to the Okonomi Village, you'll three floors of street food, including traditional Japanese pancakes, soba noodles, ramen, pizza, and oyster dishes for between 700-1,200 JPY ($6.40-11 USD).
You can also find plenty of cheap meals and pre-packaged items at 7-Eleven (that the locals actually eat!). Noodles, rice balls, tofu, and pre-packed sushi are all available for only a few hundred yen ($1-2 USD). If you are on a tight budget, 7-Eleven will be your go-to "restaurant."
Fast food in Hiroshima (think McDonald's or KFC) is around 700 JPY ($6.40 USD) for a basic meal.
Mid-range restaurants (think three-course meals) cost around 2,000 JPY ($18 USD) per person. Sushi trains cost between 125-620 JPY ($1.25-5.70 USD) per piece. Oysters are famous here, and some restaurants serve a set meal of grilled oysters, breaded and fried oysters, and pickled oysters for about 2,180 JPY ($20 USD) a meal.
High-end restaurants serve okonomiyaki (a meat dish with soba or udon noodles) for about 1,280 JPY ($12 USD) per one course. Many of the menus are set, so you can get a tenkou course with salad, sushi, tempura, a main course, dessert, and a drink from 6,100 JPY ($56 USD). A bottle of beer will cost about 600 JPY ($5.50 USD), while sake is from 850 JPY ($7.80 USD).
Buying groceries costs 3,700-5,000 JPY ($34-46 USD) per week for basic staples like rice, vegetables, and fish. Just be sure to wash all your produce well. Japan uses a lot of chemicals on their produce as there is not much arable land in the country and agricultural practices rely on peak productivity (hence pesticides).
Backpacking Hiroshima Suggested Budgets
If you're backpacking Japan, plan to budget between 7,000-7,600 JPY ($65-70 USD) per day. This is a suggested budget assuming you're staying in a hostel dorm, cooking some of your meals, eating at the cheap 100 yen shops or going to donburi shops, visiting free museums and temples, and using local transportation. If you Couchsurf, you can likely lower this down to around 6,000 JPY ($55 USD) per day.
On a more mid-range budget of 9,200-14,100 JPY ($85-130 USD) per day, you can stay in budget hotels or private rooms, eat out at budget restaurants, indulge in more drinks, visit more attractions, rent a bike, and just have some more breathing room in your travels.
On 22,000 JPY ($200 USD) per day, you can stay in traditional Japanese accommodations or hotels, eat at nice restaurants each day, splurge on some high-end accommodation, enjoy drinks as often as you want, take paid tours, and overall just have a more comfortable trip. If you're staying in international hotels in the city, I'd add another 5,450-10,908 JPY ($50-100 USD) a day to your budget.
This chart can give you an average breakdown of your expenses. Remember these are only guidelines. How you budget your money in Japan based on your own desires and logistics will determine how your budget will really come together!
Accommodation
Food
Transportation
Attractions
Average Daily Cost
Backpacker
$25
$10-15
$15
$15
$65-70
Mid-Range
$25-50
$20-40
$15
$25
$85-130
Luxury
$80-100+
$50-75
$30
$40
$200+
Hiroshima Travel Guide: Money-Saving Tips
While the above prices might seem like a lot, there are a lot of ways to lower your costs and save money in Hiroshima. You can save big on really any category. If you can't find cheap accommodation, eat the delicious cheap food the workers of Japan eat. If you used the Japan Rail Pass to get to Hiroshima, make up for it by staying in cheaper accommodation or eating cheap meals while you're here. Additionally, here are some quick tips to help you save money while you visit Hiroshima:
Get the Hiroshima Tourist Pass – If you plan on using a lot of public transportation during your trip, get this pass. There are three versions: one for the city, one for the nearby areas around the city, and one for the entire prefecture. Prices range from 1,500-3,500 JPY ($13.75-32 USD) per person, covering buses, trams, and the metro. It also comes with a small guidebook to ensure you see all the best sights the city has to offer.
Shop at the 100 Yen stores – There are many 100 Yen shops in Hiroshima with set meals, groceries, drinks, toiletries, and household items. Store names vary by region, so ask your hotel/hostel reception where the nearest "Hyaku En" shop is.
Eat at 7-Eleven – A 7-Eleven, Family Mart, and other convenience stores in Hiroshima have a lot of pre-set meals (including sandwiches, soups, fruit, and more traditional Japanese options) for 125-400 JPY ($1.15-3.70 USD) that make for a cheap lunch option. Additionally, supermarkets also have many set meals at similar prices.
Cook your food – Almost every hostel here has a kitchen where you can cook your own food and cut your food expenses to less than 1,000 JPY ($9.20 USD) per day. Combining this with shopping at the 100 Yen stores will drastically cut your food costs.
Eat curry, ramen, and donburi – I essentially lived off these three foods during my time in Japan — and you can do the same in Hiroshima. Curry bowls were as cheap as 400 JPY ($3.70 USD) per plate. Donburi, bowls of meat and rice, are around 500-620 JPY ($4.60-5.70 USD). Ramen is never more than 900 JPY ($8.25 USD). These are the best ways to eat cheap, filling meals while in Japan.
Work for your room – Hostels in Japan often let you work for your room. You'll spend time in the morning cleaning and you'll get free accommodation for as long as they'll let you stay. This is a great way to save money if you want to stay in the same area for a while.
Couchsurf – Using hospitality sites like Couchsurfing that allow you to stay with locals not only gets you a free place to stay but lets you interact and learn about local life. Make sure you ask early – the response rate is not very good! Try asking expats as well as they tend to be more active.
Buy food at night – After 8pm, supermarkets discount their fresh food as they have to get rid of it. If you buy your food after 8pm, you can save 10-20% on almost everything fresh, and this number can increase up to 70% just before closing time.
Get a JR Pass – Chances are you'll be arriving in Hiroshima by train. If that's the case, consider buying a JR Pass. These passes allow you unlimited train travel and will save you a ton of money if you're going to be visiting other cities in addition to Hiroshima. It comes in 7, 14, and 21-day tickets. You can buy the pass at a limited number of places within Japan, but it's cheaper to purchase online ahead of time!
Where To Stay in Hiroshima
Hiroshima has a few hostels and they're all pretty comfortable and sociable. These are my suggested and recommended places to stay in Hiroshima:
How to Get Around Hiroshima
Bus – Buses and trams are the most common forms of public transportation in the city. There are two major bus companies and 6 trams lines that cover the entire city, making easy to get around. Prices vary depending on how far you're going, but expect to pay at least 160 JPY ($1.45 USD) per ride.
The city also has a tourist pass for 1,500 JPY ($13.75 USD) if you plan on using a lot of public transportation. See the money-saving tips section for more details.
Subway – Hiroshima has a single-line metro system called the Astram Line. It has 22 stations and operates from 5:30am-12am daily. Prices vary depending on your journey but tickets start at 190 JPY ($1.75 USD) per person. It's clean, safe, and reliable (like all public transportation in Japan).
Taxi – Taxis aren't cheap here so I would avoid them as much as possible. Rates start at 650 JPY ($5.96 USD) and go up by 280 JPY ($2.57 USD) per kilometer. Stick to public transportation if you can.
Didi is the main ridesharing app here, but prices are similar to taxis so you won't really save any money.
Car rental – If you have an International Driving Permit (IDP) you can rent a car in Hiroshima. Expect to pay around 5,500 ($50 USD) per day. Just keep in mind you'll be driving on the left here. Unless you have a specific need for a car, I would stick to public transportation and trains (the trains here are usually much faster than cars). You'll need to get your IDP before you arrive in Japan.
Bicycle – The city is quite easy to get around by bicycle and you can rent a bike for the day for around 1,100 JPY ($10 USD). You can also rent bikes by the hour for around 150-200 JPY ($1.40-1.85 USD) per hour. Just remember that traffic here drives on the left.
When to Go to Hiroshima
The most popular time to visit Hiroshima is in the summer, however, it can get quite warm during this time. Temperatures in June-August are over 30 C (86 F) and will be rather humid. Even September is quite warm as well. You'll also have larger crowds, which will be especially noticeable at some of the larger attractions (like the Hiroshima Peace Memorial Museum). Rain is common from mid-June to mid-July, though not every day or in any capacity that will impact your travels.
The shoulder seasons are probably the best time to visit Hiroshima. April-May and October-November see cooler temperatures and only a little bit of rain. Late March to early April is cherry blossom season so expect massive crowds during that time. If you plan to visit then, be sure to book ahead!
While the winter in Hiroshima is cold, it is hardly unbearable. Temperatures usually sit around 10 C (50 F) during the day and drop down to around 1 C (34 F) during the night. The city is much quieter during this time as well. Snow is common, but it usually melts not long after it falls.
Additionally, keep in mind that typhoon season occurs from May to October. Japan is well-equipped to handle all types of typhoons, but be sure to purchase travel insurance in advance!
How to Stay Safe in Hiroshima
Japan is a notoriously safe country. Even in a large city like Hiroshima, there's virtually zero chance you're going to get robbed, scammed, or hurt. You're going to be super-duper safe here.
As a solo female traveler, you may have to watch out for lude behavior here and there. Some female travelers have reported inappropriate behavior, such as men asking personal questions or catcalling, and groping on trains. It's rare, but it does occur from time to time so stay vigilant.
If you're traveling outside the city, most train companies now have "women only" cars during rush hour — you'll see pink signs directing where women should board. Japan's emergency number is 110, or you can call the Japan Helpline at 0570-000-911 should you need assistance.
Always trust your gut instinct though. If you don't do it at home, don't do it here!
The most important piece of advice I can offer is to purchase good travel insurance. Travel insurance protects you against illness, injury, theft, and cancellations. It's comprehensive protection in case anything goes wrong. I never go on a trip without it as I've had to use it many times in the past. You can use the widget below to find the policy right for you: