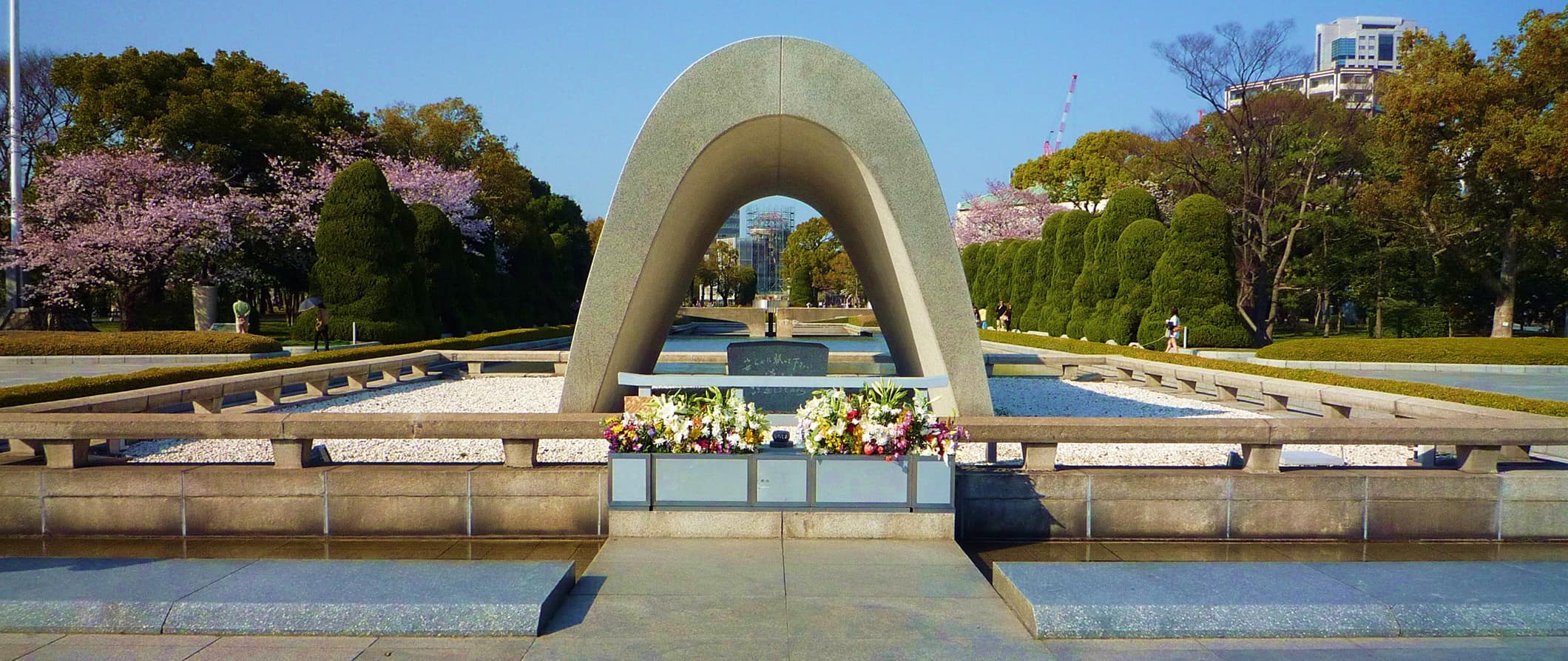 Hiroshima is largely known because of the atomic bomb that was dropped here but this is a city rich in cultural history with plenty to do. Visit one of the many museums, attend one of their festivals (don't miss the oyster festival in February!), and dine out in one of their 4,000 bars and restaurants. It's a beautiful city that has recovered greatly since its bomb-scarred past. The city stands a solemn reminder of a horrific past, but also a bright and hopeful future. It's a must-visit city in the country.
Top 5 Things to See and Do in Hiroshima
1. Atomic Bomb Memorial Museum and Peace Park
This museum depicts the history of Hiroshima before and after the atomic bomb. It's a very educational experience with a lot of photos, and videos, and information about the effect the radiation has had on people. Don't skip the Children's Monument. Bring lots of tissues. Like me, you'll probably cry your eyes out. Admission is 200 JPY.
2. Visit Miyajima Island
Miyajima is an island just outside of Hiroshima and is famous for its torii gate, which rises out of the water. There are also walking trails in the area, including a path up Mount Misen. A roundtrip ferry ride is 360 JPY (It is free to JR Pass holders though).
3. Visit Hiroshima Castle
Although the original was destroyed by the atomic bomb, the reconstructed castle serves as a great opportunity to get to know Hiroshima's history. The gardens around this castle are the best when the cherry blossoms bloom in April. Admission to the castle grounds is free, while access to the main keep is 370 JPY.
4. Wander the Shukkeien Garden
This compact and beautifully landscaped Japanese garden is well worth a visit and is an ideal place to decompress from the atomic bomb sites. Shukkeien can feel like an entirely different world, with little paths crossing ponds on bridges and winding their way around graceful teahouses and waterfalls.
5. Visit Onomichi
A hillside town full of temples, Onomichi is also known for the many famous artists who have been born or resided there. It also connects the main island (Honshu) with the neighboring island of Shikoku. It's about 75min away from the city, making it a nice side trip.
Other Things to See and Do
(Click the title to expand the text)
1. Enjoy the Hiroshima Museum of Art
Half of the art pieces are by some of the greats such as Monet, Degas, and Renoir but the other half are by Japanese artists. It's a good mix of global and local art. It costs 1,000 JPY to enter.
2. Visit the Bitchu Matsuyama Castle
Not only is this Japan's highest castle but it's also Japan's only remaining original castle. The castle was originally built on a nearby mountain in 1240 A.D. by Akiba Shigenobu. After the Edo period ended, the castle was partly destroyed and the rest of it was abandoned and slowly fell into disrepair. In 1929, restoration work began on the castle. Three sections were saved and still stand today. Admission is 300 JPY.
3. Attend the Oyster Festival
If you're passing through Hiroshima in the winter months, make sure to check out this fun and festive event. In this part of Japan the locals eat a lot of oysters, and during the festival, you can enjoy oysters at a discounted price. It's basically a festival celebrating how awesome an oyster is.
4. Attend the Sake Festival
The suburb of Saijo is famous for its sake breweries and in October they have an annual boozy blowout. For the price of entry, attendees can drink their fill of sake from local breweries. Outside the festival area, tours of sake breweries are also available, with wood sake cups as souvenirs for your visit. Tickets 1,600 JPY in advance and 2,100 at the festival.
5. See the Mazda Museum
Mazda's corporate headquarters are a short distance outside of Hiroshima. The tour is a must for any automobile fan, but if you have any serious technical questions, then you should go on the Japanese tour, and bring along your own interpreter, as there's less detail on the English tour. You are taken to their Ujina plant and the actual assembly line, and get a look at some of their concept vehicles. The tour is free but must be reserved in advance.
6. Get active in Chuo Park
Found in the middle of the city, this green expanse is home to Hiroshima Castle, Gokoku Shrine, a few museums, and great walking and running paths. Often there are football, soccer, and even frisbee games going on and it's a great place for a picnic if the weather is nice.
7. Attend the Flower Festival
A major event in Hiroshima, this festival occurs annually during the first weekend of May. There is an array of performances, ranging from Japanese pop bands and jazz combos to comedians and Okinawan bands. There are always a ton of food vendors and novelty crafts stalls. Admission is free.
8. Hiroshima City Manga Library
If you're into manga, then this place is a must. While the vast majority of the manga are in Japanese, they do have a selection in English, as well. Admission is free.
9. Catch a show at Shimizu Theater
While the shows here are only in Japanese, attending one offers an interesting look into Japanese culture. Shows are usually based on classical dramas, with cast members sporting crazy costumes and elaborate make-up. Tickets run around 2,000 JPY.
10. Enjoy a wild night out
There are a number of bars, beer gardens, and pubs throughout Hiroshima with the highest concentration found in Nagarekawa. You can easily find low-key wine bars and sake breweries, or dance clubs and lounges. There are a lot of college students in this city, so there's plenty of cheap nightlife!
11. Visit Fudoin
This 14th-century temple is one of the few buildings in the area to have survived the atomic blast. It's a nice bike ride outside the city, though you can also just take the bus.
Typical Costs
Hostel prices
– There are only a few options in the city, but they are a good value. Expect to pay about 2,500-3,000 JPY per night for a dorm. Privates start at about 6,000 JPY. All the hostels have free WiFi, and the overwhelming majority are clean and well-kept. Most have kitchen facilities, as well. A similar option to your standard hostel is an internet cafe. Many internet/manga cafes can be booked by the hour, though not all of them offer beds. You can find them for as low as 1,500 JPY and that usually includes free drinks and snacks. You can book your hostel with
Hostelworld
.
Budget hotel prices – A night in a centrally-located hotel is about 6,000 JPY for single bedroom. Some hotels will offer a slight discount if you book far in advance or stay multiple nights so book early if you can. Use Booking.com as they consistently return the cheapest rates.
Average cost of food – While eating out, a cheap way to go is trying the Okonomiyaki (a traditional local specialty) which is a savory pancake comprised of egg, meat, and seafood. You have it cooked as you like it for 850 JPY. Buying groceries will cost you 3,700-4,900 JPY per week. Most restaurant meals cost around 1,850 JPY. Mid-range restaurants can cost around 3,720 JPY. Sushi trains cost around 125-620 JPY per piece. Fast food is around 750 JPY, and cheap meals from convenience stores or 100-yen shops are even less, costing under 400 JPY for a basic pre-packaged meal.
Transportation – Bus and tram tickets within the city are a flat fee of between 160-220 JPY, and one-day passes are available for 600 JPY. Astram, the city's metro system, runs every few minutes from 6am-midnight and trips range from 200-500 JPY depending on the distance. All major train lines in the area pass through Hiroshima, so you won't have a hard time connecting to nearby cities.
Suggested daily budget
5,500-7,000 JPY / 45-60 USD (Note: This is a suggested budget assuming you're staying in a hostel, eating out a little, cooking most of your meals, and using local transportation. Using the budget tips below, you can always lower this number. However, if you stay in fancier accommodation or eat out more often, expect this to be higher!)
Money Saving Tips
Walk around – Hiroshima is very walkable. If you are able, avoid spending money on transportation and walk. I never found the distances too far, and it's a good way to see the city.
Eat curry, ramen, and donburi – I essentially lived off these staple foods during my three weeks in Japan. Curry bowls were as cheap as 370 JPY per plate. Donburi, bowls of meat and rice, are around 370-620 JPY. Ramen is never more than 870 JPY. You can also find cheap meals at conveniences stores and 100-yen shops, as well. Even the locals eat these, so if you're on a budget you'll want to stick to these.
Couchsurf – Using sites like Couchsurfing that allow you to stay with locals not only gets you a free place to stay but lets you interact and learn about local life. Make sure you ask early – the response rate is not always good!
Sleep in an internet cafe – If you are arriving really late at night, or simply just want to save some money, try sleeping in an internet cafe. While sleeping in a chair may not be ideal (only some have beds) you will have access to free drinks and snacks. You can book your time by the hour, with rates as low as 1,500 JPY for a night.
My Must Have Guides For Traveling to Hiroshima