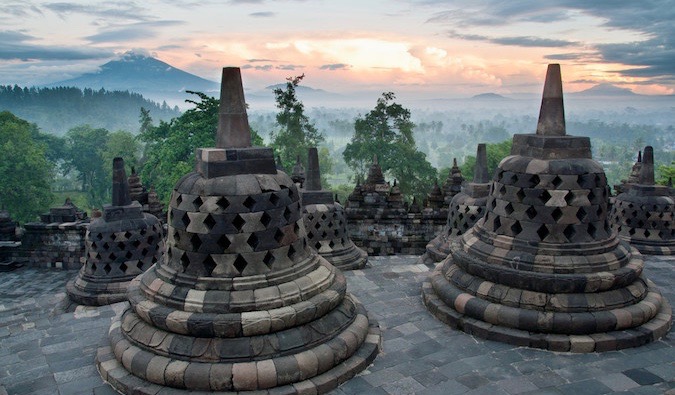 Borobudur is an 8th-century Buddhist monument in Indonesia. There's nothing "unusual" about this place (at least, not like the Island of Dolls) except that it is unique in the world for the type of temple it is. The monument comprises six square platforms topped by three circular platforms, and it is decorated with 2,672 relief panels and 504 Buddha statues.
I've always been fascinated by this place since the first time I heard about it on National Geographic television. I've read books about Borobudur and watched programs on it. When I was in university, I became a Buddhist. I liked the religion's outlook on life and the universe, and ever since then, I've always had an affinity with Buddhist temples. And when I found out about this place, I knew I had to see it before I died.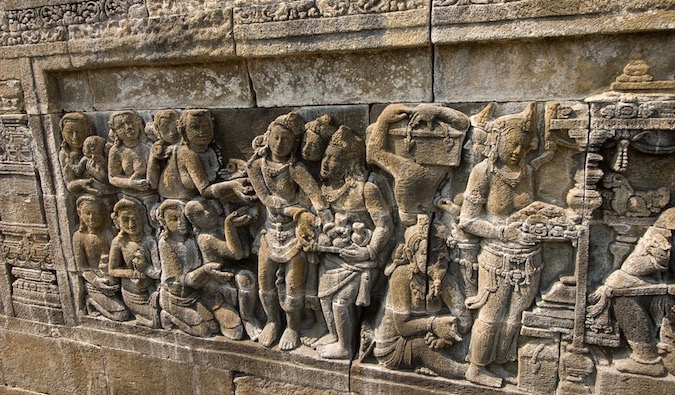 What makes this place special is that the temple itself is a giant allegory for enlightenment.
The journey begins at the base of the temple and follows a path through the three levels of Buddhist cosmology, namely Kamadhatu (the world of desire), Rupadhatu (the world of forms), and Arupadhatu (the world of formlessness). The Buddhist pilgrim starts at the bottom and moves up when they have deciphered each relief. Each relief tells a teaching from the Buddha, and when you figure it out, you move on to the next. They progressively get harder, and by the time you finish the last one, you are on the top and enlightened.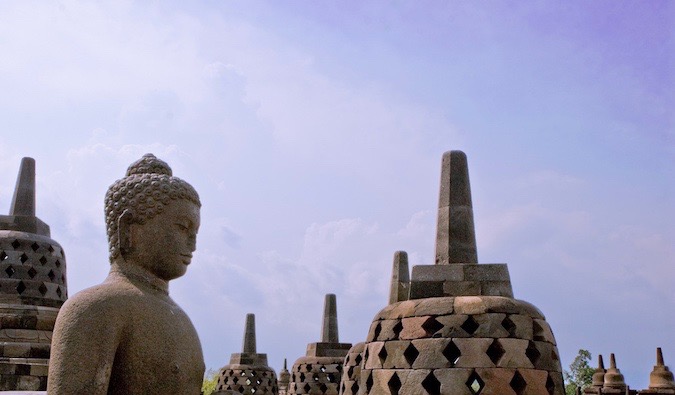 This site is the most popular tourist attraction in Indonesia, and there are many ways to get here. Public buses to Borobudur from Yogyakarta are aimed mostly at Indonesian visitors, and only a few tourists venture aboard. If you are adventurous though, the Trans-Jogya service runs from central Yogyakarta to the Jombor bus terminal in northern Yogyakarta (Rp 3,000), where you can change to another bus to get to Borobudur.
Travel agents in Yogyakarta also sell door-to-door minibus tour packages for around Rp 75,000, which is a good deal and the easiest way to get to and from the monument.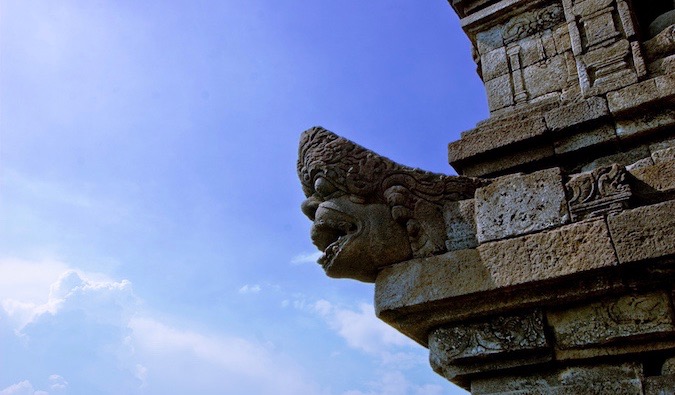 The site is open to the public from 6AM to 5PM daily. Entry into Borobudur costs $15 USD. There is a daily Borobudur Sunrise Tour for Rp 320,000 for foreigners, which gets you a flashlight and a lift up to the temple gate at 4:30AM, in time to see the sunrise and explore the site before the hordes arrive. You should also hire a guide who can explain the reliefs so you can understand the temple a bit better.
Borobudur is one of the most amazing historical sites in the world, and also one of the most unique. I'm fascinated by it. A lot of travelers visit Indonesia and simply stay on Bali, but if you make your way off Bali and into Java, be sure to visit this site. You won't be disappointed.