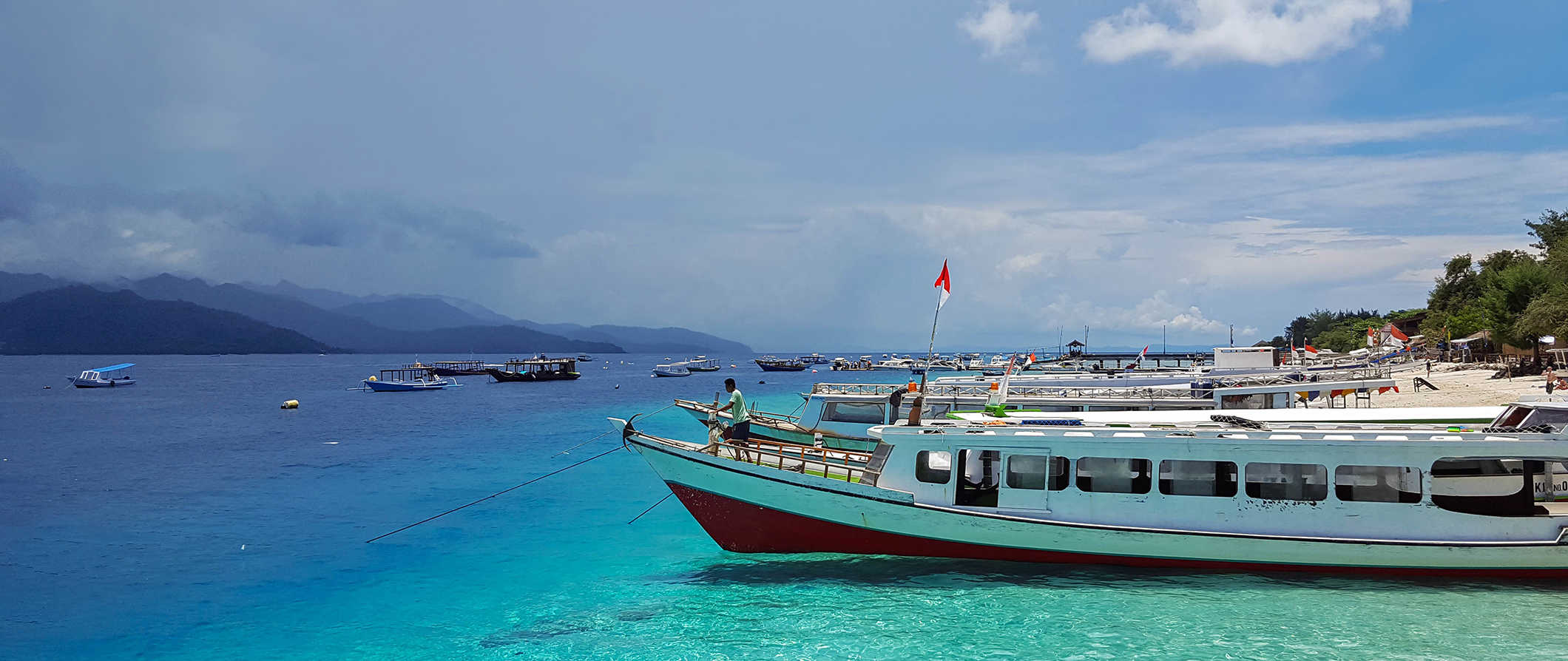 Situated just off the coast of Lombok in Indonesia, the Gilis are a hugely popular island destination for those visiting Indonesia. While there are several Gili Islands (including Gili Asahan and Gili Gede, south of Lombok) we usually refer to three main islands when talking about the Gilis: Gili Air, Gili Meno, and Gili Trawangan.)
Though they are not as tranquil and cheap as they used to be, if you're looking for a quiet alternative to Bali — with even better beaches and seafood — head to the Gilis. They offer incredible diving, stunning beaches, and plenty of opportunities for rest and relaxation.
This guide to the Gilis can help you plan your visit there.
Top 5 Things to See and Do in the Gili Islands
1. Lounge on the beaches
The Gili Islands have postcard-perfect beaches with white sand and clear, warm waters. It's really a beach paradise here. Grab a book, pour a drink, and sit back and enjoy the view.
2. Go scuba diving
Lionfish, scorpion fish, cuttlefish, octopus, and different types of rays fill the waters around the islands. All three islands have scuba diving training centers and, in my opinion, the diving here is better than Bali (it's cheaper to learn here too!). An Open Water certification will cost around 6,000,000 IDR ($405 USD).
3. Learn to surf
The southern tip of Trawangan has the best surfing, offering good waves all year round. If you want to stay at a surf camp, expect to pay around 6,000,000 IDR ($405 USD) for a week (includes lessons, accommodation, meals, yoga, and other activities).
4. Visit the sea turtles
Gili Trawangan and Gili Meno have hatcheries that lie right on the island's big beaches, but you can also go snorkeling to see the turtles in their natural habitat. Rent some snorkeling gear and ask your hotel/hostel staff for the best spots to see them.
5. Bike the islands
These islands are so small, that it won't take you long to tour each one by bike. Pack some snacks, some beach gear, and make an afternoon of it! Bike rentals start at just 40,000 IDR ($2.70 USD) per day.
Other Things to See and Do in the Gili Islands
1. Go snorkeling
There's tons of places to snorkel around the islands. You can take a private boat if you are with a large enough group, rent snorkeling gear, or do an organized boat trip. A 4-hour snorkeling tour costs around 100,000 IDR ($6.75 USD) per person, while taking a private boat for half a day will cost around 250,000 IDR ($17 USD) per person. Renting the gear is quite cheap, usually costing just 50,000 IDR ($3.40 USD).
2. Party on Trawangan
Out of all the islands, Gili Trawangan is the party island (Gili Meno is the quietest). Party nights are regular and are rotated between the bars, which usually stay open until 4am. The famous Full Moon parties are held on the beach on the southern part of Trawangan with a DJ playing until sunrise.
3. Try some water sports
There are tons of water sports to enjoy on the islands, such as parasailing, water-skiing, and wakeboarding (which all cost between 600,000-900,000 IDR ($40-60 USD). For something more relaxed, you can rent a paddleboard for 100,000 IDR ($ 6.75 USD).
4. Go kayaking
On the northern side of Trawangan, you can rent kayaks or take a guided tour of the island. On your trip, you'll likely encounter rays, turtles, and other wildlife. Karma Kayaks is a reputable place to rent them from. A guided day trip will cost around 300,000 IDR ($20 USD) per person.
6. Watch the sunset
Watching the sunset in Gili Trawangan is an unmissable experience. To enjoy the Gili T sunset, head to the southwest of Gili Trawangan, around the Sunset Paradise Bar or the Exile Gili Trawangan. Since it's a popular spot to watch the sunset, many people will be there so get there early to find a good spot!
7. Eat at the night market
The Gili T night market opens every day at 6pm and is in front of the main pier. You'll find stalls selling meat skewers, rice, vegetables, seafood, noodles, tofu, sate, grilled corn on the cob and much more. You can get a huge plate with meat skewers, rice, vegetables, and a dessert for as low as 30,000 IDR ($2 USD).
8. Enjoy live reggae music at Sama Sama
The Sama Sama Reggae Bar offers live reggae music every night from 7pm. The vibe is relaxed, and dozens of budget travelers head there to chill out, get something to eat, chat with other travelers, and have a beer. ("Sama Sama" means "you're welcome" in Indonesian.)
9. Attend an Indonesian cooking class
Attending an Indonesian cooking class is a fun way to learn something new during your time on the Gili Islands. The cooking classes will teach you how to make classic Indonesian meals like Nasi Goreng (a fried rice dish) and Mie Goreng (a spicy noodle dish). They cost around 300,000 IDR ($20 USD) per class.
11. Go fishing
Spending a full day fishing is a relaxed way to enjoy the scenery while also catching your dinner. The locals teach you how to use worms as bait for luring fishes and, if you're lucky, you'll catch your dinner. Your guide can show you how to prepare your catch at the end of the trip. Expect to pay 1,200,000 IDR ($80 USD) for two people.
12. Attend a yoga class
There are daily yoga classes on all three islands (especially Gili Meno). It's possible to attend a yoga class by yourself with a teacher or with a group class. A one-hour yoga class costs around 120,000 IDR ($8 USD). For an in-depth yoga experience, book a yoga retreat. Kenza is one of the most popular yoga retreats, with four-day passes starting from 5,799,000 IDR ($400 USD).
The Gili Islands Travel Costs
Hostel prices – A bed in a dorm room with 3-6 beds will cost at least 75,000 IDR ($5 USD) per night (though double that is more common). A private room will cost around 250,000 IDR ($17 USD). Most hostels have Wi-Fi, hot water for showers, and AC — but not all do so be sure to check before you book.
Hotel prices – For a double room with a private bathroom, air-conditioning, Wi-Fi, and free breakfast, expect to pay 300,000 IDR ($20 USD) per night.
Airbnb is available throughout the islands, with shared accommodation starting around 200,000 IDR ($13.50 USD) per night. For an entire home or apartment, expect to pay at least 450,000 IDR ($30 USD) per night, although prices can be as high as 2,000,000 IDR ($135 USD).
Food – Most meals cost between 30,000-75,000 IDR ($2-5 USD). This includes local favorites like Nasi Goreng (stir fried rice with chicken, egg, and vegetables) and Mie Goreng (spicy fried noodle dish with garlic, onion, meat, egg, and vegetables). For the cheapest food, shop at the local markets like the night market mentioned above.
Meals at mid-range restaurants cost around 75,000 IDR ($5 USD). A seafood dinner costs around 135,000 IDR ($9 USD, without drinks). A beer will cost around 30,000 IDR ($2 USD).
In mid-range restaurants, you can often find Western food (pastas, pizzas, salad, etc.) but it's usually not great. Avoid it and save your money.
If you eat at any more luxurious hotels or restaurants, keep your eyes open for hidden taxes. They are usually between 5-25% and are not explicitly mentioned.
A week's worth of groceries will cost between 275,000-400,000 IDR ($18.50-27 USD) for things like veggies, fruit, bread, and other staples.
The Gili Islands Suggested Budgets
If you're backpacking the Gili Islands, my suggested budget is 420,411 IDR ($30 USD) per day. This is assuming you're staying in a hostel dorm, eating cheap meals, doing one activity like snorkeling, and getting around by foot or bicycle.
On a mid-range budget of about 1,014,787 IDR ($70 USD) per day, you can stay in a budget hotel, eat out all your meals, drink a lot more, and do a few activities each day (like kayaking or diving).
On a luxury budget of about 4,131,633 IDR ($285 USD) per day, you can stay in a luxury hotel, get any food you want, and enjoy all the attractions the islands have to offer, including private tours and diving classes/excursions.
Accommodation
Food
Transportation
Attractions
Average Daily Cost
Backpacker
$5
$15
$6
$4
$30
Mid-Range
$20
$24
$6
$20
$70
Luxury
$150
$35
$30
$70
$285
The Gili Islands Travel Guide: Money Saving Tips
The Gili Islands are a lot cheaper than other parts of Indonesia. If you're looking to save money while traveling in the Gili Islands, here are some tips and tricks that will help you lower your costs:
Rent a bike – Rent a bike for as little as 40,000 IDR ($2.70 USD) per day. It's is a great way to get around.
Eat at street stalls – There's a wealth of stalls selling delicious food for around 13,000-21,000 IDR ($0.90-1.50 USD). Eat here instead of the more expensive western restaurants and really get a sense for the local culture.
Bargain hard – Nothing is ever at face value in Indonesia. Bargain with sellers as most of the time the price they've quoted will not be the price you'll pay if you haggle!
Where To Stay in the Gili Islands
Looking for places to stay? Here are some of my favorite hostels in the Gili Islands:
How to Get Around the Gili Islands
On foot – The Gili Islands are quite small and you can easily get around by foot. In fact, it only takes about two hours to walk around each island.
Bicycle – Like walking, cycling is an easy way to get around each island. Bike rentals start at 40,000 IDR ($2.70 USD) per day.
Horse carts – You'll notice there are numerous horse carts in the islands but I suggest you don't ride the horses as they're treated poorly.
Public boats – To get from one island to the next, you need to get on a public boat. The boat leaves Gili Trawangan twice per day, at 9:30am and 4pm. It first stops at Gili Meno, then Gili Air, before heading back to Gili Trawangan. The one-way ride is about 50,000 IDR ($3.40 USD). It's also possible to charter a private boat, which will cost 200,000 IDR ($13.50 USD) one-way.
For the ferry back to Bali or Lombok, you'll have to use your negotiation skills. Some people pay 250,000 IDR ($17 USD), others 350,000 IDR ($24 USD). When paying, the seller is going to ask where you want to go: either Lombok, Kuta, Ubud or the Bali airport. If you arrive to the Gili Islands from Bali, it's possible to pay a return trip. It's an open return ticket, meaning you can go back to Bali from the Gili Islands when you want to. Again, you'll have to use your negotiation skills. Some people pay 450,000 IDR ($30 USD), others pay 600,000 IDR ($41 USD).
When to Go to the Gili Islands
The peak seasons are between July-August and then December-January. This is when the Gili Islands experience a huge influx of visitors. Prices can increase significantly during this time and you won't get to enjoy crowd-free beaches or venues. If you're visiting during this time, book your accommodation in advance.
For fewer crowds, visit between September-November. It won't rain much since it's the shoulder season (dry season lasts from May-October, while monsoon season starts in November until April). During the dry season, temperatures range from 22- 34°C (71-93°F).
How to Stay Safe in the Gili Islands
The Gili Islands are a relatively safe place to visit. You won't face constant scams or pick-pocketing.
However, you'll find a lot of drugs on the islands, particularly on Gili Trawangan. Keep in mind Indonesia is a very strict country when it comes to selling, possessing, and consuming drugs. I don't recommend doing them because if you get caught you're going to end up in a jail.
Doing water sports is fun and relaxing, but at times there are strong currents between the islands — especially in the northeast. Don't underestimate their power. If you're not a great swimmer, avoid snorkeling alone, check all your gear to make sure it's in good condition, and ask about the currents before you get in the water.
Also, keep an eye open. The water is busy and there are always boats coming and going.
The most important piece of advice I can offer is to purchase good travel insurance. Travel insurance will protect you against illness, injury, theft, and cancellations. It's comprehensive protection in case anything goes wrong. I never go on a trip without it as I've had to use it many times in the past. You can use the widget below to find the policy right for you:
.
Get my best stuff sent straight to you!