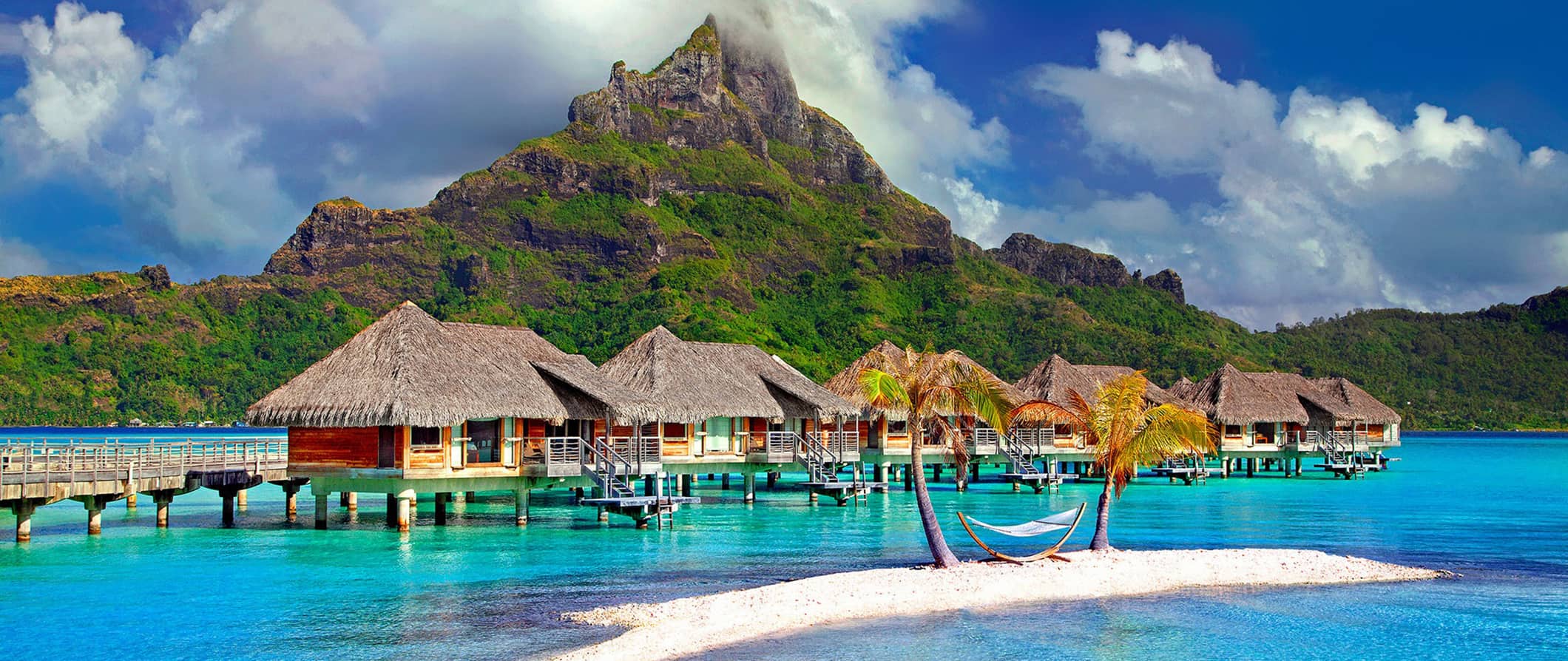 French Polynesia is one of the Pacific's most popular — and sought-after — tourist destinations in the world. It's made up of 118 islands over 6,400 square kilometers of ocean. It's a massive, remote region offering soaring volcanic peaks, rugged cliffs, and emerald lagoons that provide some of the South Pacific's most spectacular scenery.
These islands are where you find those picturesque bungalows on stilts over blue lagoons. It's nothing short of a tropical paradise.
Visiting French Polynesia is bucket list item for most people the world. Due to their remoteness and their appeal to celebrities and honeymooners, the islands are an expensive destination to visit. I won't lie: it's hard to travel here on a budget but there are still a few ways to do so!
In this travel guide, I'll show you how to save money and make the most of your time in French Polynesia!
Click Here for City Guides

French Polynesia
Top 5 Things to See and Do in French Polynesia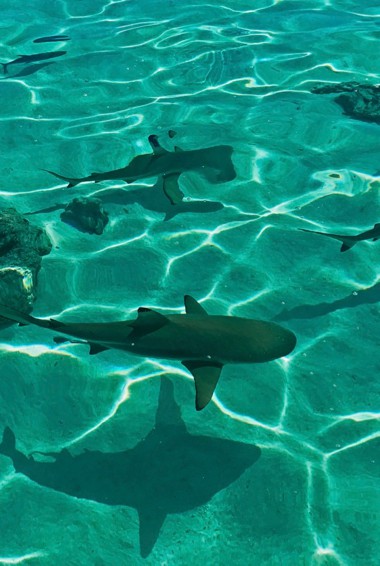 1. Go diving
Tons of marine life can be found in the waters here. If you're a diver, don't miss out on diving here. 11 of the region's islands have dive centers and single-tank dives cost around 10,100 XPF ($100 USD) while two-tank dives are 15,000 XPF ($150 USD).
2. Visit Tahiti
Tahiti is the largest of the French Polynesian islands. Try to visit the Museum of Tahiti and Her Islands to get an insight into Polynesia culture. Additionally, Le Merche is the place to try local cuisine and pick up souvenirs.
3. Explore Bora Bora
Bora Bora is the ultimate island paradise (and the ultimate place to blow your budget). This is where honeymooners and celebrities enjoy luxurious over-water bungalows. Its famous blue lagoon is the ideal place fort jet skiing, paragliding, or other water sports. The jungles offer great hiking too.
4. Go snorkeling
The snorkeling here is incredible. I suggest bringing your own if you're on a budget to save money. Rurutu and Huahine are considered two of the world's top spots for snorkeling but you can really do it anywhere!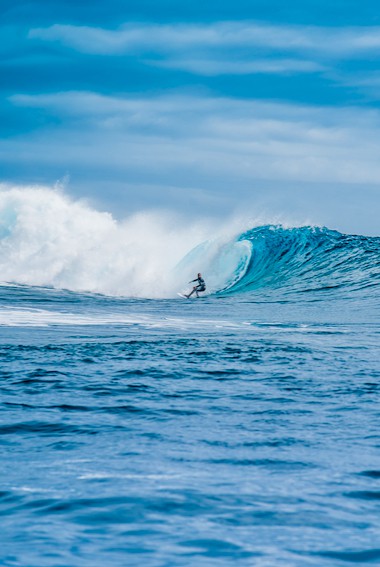 5. Go surfing
You can surf here all year round and there are swells for all experiences. Maraa, Teahupoo, Rangiroa Atoll, and Tikehau Left are some of the more popular spots to surf. You can rent boards for around 4,500 XPF ($45 USD) per day. Expect to pay around the same for a 2-3 hour surf lesson.
Other Things to See and Do in French Polynesia
1. Visit Fatu Hiva
Fatu Hiva is the southernmost of the Marquesas Islands and also the most isolated. Its Bay of Virgins is often described as the most stunning bay in French Polynesia. There are no beaches on the island. Instead, you are met with the rugged beauty of the cliff edges, ravines, and jungles. But people come here for the snorkeling and diving. Located in the Marquesas, you can get here via an expensive 3.5-hour flight from Tahiti to Atuona, followed by a 5-hour ferry which costs around 12,000 XPF ($120 USD). For a 12-14-day multi-island cruise around the region, prices start at 327,000 XPF ($3,200 USD). It's pricey to get here but it's an untouched paradise.
2. Hike Belvedere Lookout
Situated on Moorea, Belvedere Lookout offers sweeping panoramic views of the island. A number of marae (traditional religious places) are also scattered in the area just leading up to the lookout. It's around a 3-hours roundtrip from Paopao on an easy trail (you can also drive most of the way up too).
3. Visit a Marae
Marae are Polynesian temples where people came to offer up gifts to the Gods. The most impressive is Taputapuatea, a UNESCO World Heritage Site, on the island of Raiatea. Opunohu Valley, which stretches from the head of Cook's Bay up towards Belvédère on Moorea Island, also has marae dotted all over the walking trail. The marae are usually large cobblestone squares and have no walls or roofs.
4. Go whale watching
June and July is peak whale-watching season in the Austral Islands south of Tahiti. Pods of humpback whales swim to Rurutu and Tubuai from Antarctica to give birth. This makes for one of the most spectacular sights you are likely to see on your travels. The whales can grow up to 50-feet long and weigh over 66,000lbs. Expect to spend around 10,000 XPF ($100 USD) on a tour. You can also swim with humpback whales here, with swimming excursions costing about the same as a whale watching tour.
5. Explore the Harrison Smith Botanical Gardens
These tropical gardens in Papeari on the west coast of Tahiti span over 135 hectares and are home to hundreds of trees, shrubs, plants, flowers, and lily ponds. They're free to enter.
6. Head to Ua Pou
This is the 3rd largest of the Marquesa Islands. It's a dry desert island with oasis-like valleys. It is 55km (34 miles) south of Nuku Hiva and makes for a beautiful addition to any trip to the Marquesas. Don't miss the historic Catholic church in the center of the island and its amazing woodcarvings. There's a few limited and rustic accommodation options here. If you're looking for something away from the typical resort island, this is it!
7. Learn about Polynesian History
Accessible from Puamau on Hiva Oa, Lipona is one of the best archaeological sites in French Polynesia. It's known for its five impressive tiki (large stone figures), the tallest of which is about 10 feet high. The statues are several hundred years old and depict things like giving birth and working. The tallest tiki is of a famous chief. Entrance to the site is 400 XPF ($4 USD).
8. Relax on Mataiva
Although there is little in the way of tourist attractions on this island, there are easily accessible beaches, multiple snorkeling spots, and lots of beautiful fish. Located 311km north of Tahiti, it's a postcard-perfect atoll worth spending the time to explore.
9. Hike Moorea
Moorea is just 16km (10 miles) across and criss-crossed with hiking trails. You'll pass coconut groves and coffee plantations and even find hidden waterfalls. Some suggested trails are Three Coconut Trees Pass (moderate, 2 hours), Mouapata (hard, 2 hours), and Les Trois Sapins (easy, 1 hour).
10. See the tomb of King Pomare V
This tomb, built from coral stone, is the resting place of Tahiti's last king (who reigned from 1839–1891). He surrendered the islands to French rule and sadly died of alcoholism a decade later. A nearby cemetery contains the graves of his predecessors (Pomare I, II, III, and IV) as well as his mother, whom his tomb was originally built for.
French Polynesia Travel Costs
Accommodation – A bed in a 4-5 bed dorm starts at 3,200 XPF ($32 USD) per night. Some dorms can be found for the same price but have upwards of 15 beds so just be sure to double-check if you don't want to be stuck in a huge dorm. Free Wi-Fi and self-catering facilities are standard. Many guesthouses with dorms also have outside barbeque areas as well.
Budget hotels start at 6,900 XPF ($68 USD) for a double. Expect basic amenities like free Wi-Fi, TV, and coffee/tea maker. Budget villas start at 11,500 XPF ($115 USD).
Airbnb is available around the region with private rooms starting at 5,100 XPF ($50 USD) per night. Entire homes/apartments cost around 12,600 XPF ($125 USD).
Wild camping isn't prohibited here, however, there are a few campgrounds around the region costing 2,000 XPF ($19 USD) per night.
Keep in mind that only certain islands have budget-friendly accommodation. Bora Bora has fewer budget options than Moorea or Tahiti, so you'll need to book in advance to secure the most budget-friendly accommodations there. Once you get into the remote Aural Islands or Marquesas, budget accommodation is virtually nonexistent.
Food – French Polynesian cuisine relies heavily on staples like fish, bananas, breadfruit (similar to jackfruit), and pork. You'll find a heavy French influence, including delicious fresh baguettes. Food trucks (known as roulottes) are a cheap way to fill up on tasty snacks and meals. Poisson cru (marinated fish), poe (fruit pudding), and suckling pig are all common offerings.
Expect to pay around 1,800 XPF ($17 USD) for a meal at a restaurant serving traditional cuisine. For ethnic food like Chinese, you'll pay about the same while a pizza costs around 1,400 XPF ($14 USD).
For a three-course meal of traditional food and a drink, prices start at 2,500 XPF ($25 USD). Beer and lattes/cappuccinos cost around 300 XPF ($3 USD) while a bottle of water costs 100 XPF ($1 USD).
For a week's worth of groceries including staples like rice, fish, and seasonal produce, expect to pay 5,100-6,100 XPF ($50-60 USD).
Backpacking French Polynesia Suggested Budgets
On a backpacker budget, prepare to spend 7,100-9,100 XPF ($70-90 USD) per day. On this budget, you can stay in a dorm room, cook most of your meals, eat the occasional meal from the food trucks, do cheap activities like hiking and snorkeling, limit your drinking, and stick to just one island/archipelago. If you camp you can lower your accommodation costs by 30%.
On a mid-range budget of 28,000 XPF ($275 USD) per day, you can stay in a budget hotel or Airbnb, eat out for all your meals, drink a little, go diving, and rent a car or scooter to get around.
A luxury budget of around 101,000 XPF ($1,000 USD) per day you can stay at four-star hotels, eat at any restaurant you want, fly or cruise to other islands, take guided excursions, rent a car, and indulge in spa visits. The sky is the limit!
This chart can give you a rough idea of day-to-day costs. Prices are in USD.
Accommodation
Food
Transportation
Attractions
Average Daily Cost
Backpacker
$35
$15-20
$10-15
$10-20
$70-90
Mid-Range
$80
$60
$35
$100
$275
Luxury
$250
$100
$500
$150
$1,000+
French Polynesia Travel Guide: Money-Saving Tips
French Polynesia is an expensive place to try and visit on a budget. You really have to pick and choose your battles or you'll blow through your budget within the first couple of days. Here are a few ways you can save money in French Polynesia:
Look for package deals – You can often find package deals on sale that include hotels, food, and activities. Don't hesitate to book a package deal if it's cheaper.
Limit your inter-island travel – Traveling between islands is expensive. Stick to just one or two if you're on a budget.
Skip the over-water bungalow – Unless it's a bucket list dream and you want to splurge, skip booking those fancy over-water bungalows. Sure, they're cool, but they are super expensive!
Make sure breakfast is included – Book a hotel or guesthouse that includes breakfast. You'll save a few bucks each day, which adds up!
Bring a reusable water bottle – The tap water here is safe to drink so bring a reusable water bottle. LifeStraw makes reusable bottles that have built-in filters that ensure you water is clean and safe.
Where To Stay in French Polynesia
Budget travelers have limited options here. Some guesthouses that have dorm rooms though and most include breakfast or have self-catering facilities too. Here are a few suggestions to help you save money in French Polynesia:
How to Get Around French Polynesia
Ferries – Ferries are available between Tahiti and Moorea (45 minutes, 3,000 XPF/$30 USD) as well as Bora Bora and Maupiti (2 hours, 4,500 XPF/$50 USD). For islands further afield, such as the Marquesas or the Austral Islands, you'll need to book a multi-day cruise or sailing charter to access them via boat (and you'll pay hundreds or thousands of dollars to do so).
Buses – Buses are available on Tahiti. Fares are 200-600 XPF ($2-6 USD) depending on the distance. There are three main routes that more or less connect the whole island. Buses have set schedules, though they often detour from them to pick up random passengers so plan accordingly.
There are no buses on Bora Bora, however, private shuttles can take you around for 300-400 XPF ($3-4 USD).
Flying – Flying around French Polynesia is the most convenient way to get around. It's also prohibitively expensive. The 1-hour flight from Tahiti to Bora Bora costs 45,000 XPF ($450 USD). The 3.5-hour flight from Tahiti to the Marquesas costs 69,000 XPF ($680 USD). Avoid flying if you're on a budget.
Car rental– Car rentals can be found for as little as 3,550 XPF ($35 USD) per day. You do not need an International Driving Permit (IDP) to rent a car but there's no reason to rent a car here.
Hitchhiking – Hitchhiking around the islands is pretty easy and safe. Make sure you have plenty of time to get where you need to go. Signs aren't really necessary, however, speaking a little French will go a long way. Hitchwiki is the best resource for hitchhiking, however, they currently don't have much information on the islands.
When to Go to French Polynesia
The most popular time to visit French Polynesia is between June and August. The climate is at its driest and the weather sits comfortably around 25-35°C (77-95°F). This is also the busiest time of year so you may need to book in advance.
To beat the crowds, consider visiting in May or September. The weather is still perfect but you'll have slightly fewer crowds.
It's a little rainy between November and April, however, there will still be plenty of sunshine and humidity. Make sure to stay somewhere with AC to keep the humidity at bay.
How to Stay Safe in French Polynesia
Crime, including petty theft, is incredibly rare in French Polynesia. Keep your valuables secure, don't flash expensive jewelry or cash, and lock your guest house when you leave. Do that and you'll be fine.
Visitors are required to carry ID on them at all times so make sure to always have ID on you when you're about. Dengue Fever can be an issue so be sure to get the vaccine before you go.
Tropical storms, including cyclones, can occur between November and April. Check the weather regularly before heading out on your own (especially if you're going into the water).
There is a lot of coral here so bring water shoes to avoid getting cut when swimming.
While the main islands have decent medical facilities, keep in mind that evacuation or repatriation from here will likely cost over $10,000 USD. Medjet is great for that.
Make sure you have travel insurance. It will protect you against illness, injury, theft, and cancellations. It's comprehensive protection in case anything goes wrong. I never go on a trip without it as I've had to use it many times in the past. You can use the widget below to find the policy right for you:
French Polynesia Travel Guide: The Best Booking Resources
Below are my favorite companies to use when I travel to French Polynesia. They are included here because they consistently turn up the best deals, offer world-class customer service and great value, and overall, are better than their competitors. They are always my starting point when I need to book a flight, hotel, tour, train, or meeting people!
Momondo – This is my favorite flight search engine because they search such a wide variety of sites and airlines. I never book a flight without checking here first.
Skyscanner – Skyscanner is another great flight search engine which searches a lot of different airlines, including many of the budget carriers that larger sites miss. While I always start with Momondo, I use this site too as a way to compare prices.
Airbnb – Airbnb is a great accommodation alternative for connecting with homeowners who rent out their homes or apartments. The big cities have tons of listings!
Hostelworld – This is the best hostel accommodation site out there, with the largest inventory, best search interface, and widest availability.
Intrepid Travel – If you want to do a group tour around French Polynesia, go with Intrepid Travel. They offer good small group sailing tours that use local operators and leave a small environmental footprint. If you go on a tour with anyone, go with them. And, as a reader of this site, you'll get a discount when you click the link!
Rome 2 Rio – This website allows you to see how to get from point A to point B the best and cheapest way possible. Just enter your departure and arrival destinations and it will give you all the bus, train, plane, or boat routes that can get you there as well as how much they cost. One of the best transportation website out there!
Couchsurfing – This website allows you to stay on people's couches or spare rooms for free. It's a great way to save money while meeting locals who can tell you the ins and outs of their city. The site also lists events you can attend to meet people (even if you're not staying with someone).
World Nomads – I buy all my travel insurance from World Nomads. They have great customer service, competitive prices, and in-depth coverage. I've been using them since I started traveling in 2003. Don't leave home without it!
Booking.com – The best all-around booking site that constantly provides the cheapest and lowest rates. They have a no money down policy, great interface, and the widest selection of budget accommodation. In all my tests, they've always had the cheapest rates out of all the booking websites.
French Polynesia Gear and Packing Guide
If you're heading on the road and need some gear suggestions, here are my tips for the best travel backpack and for what to pack!
The Best Backpack for Travelers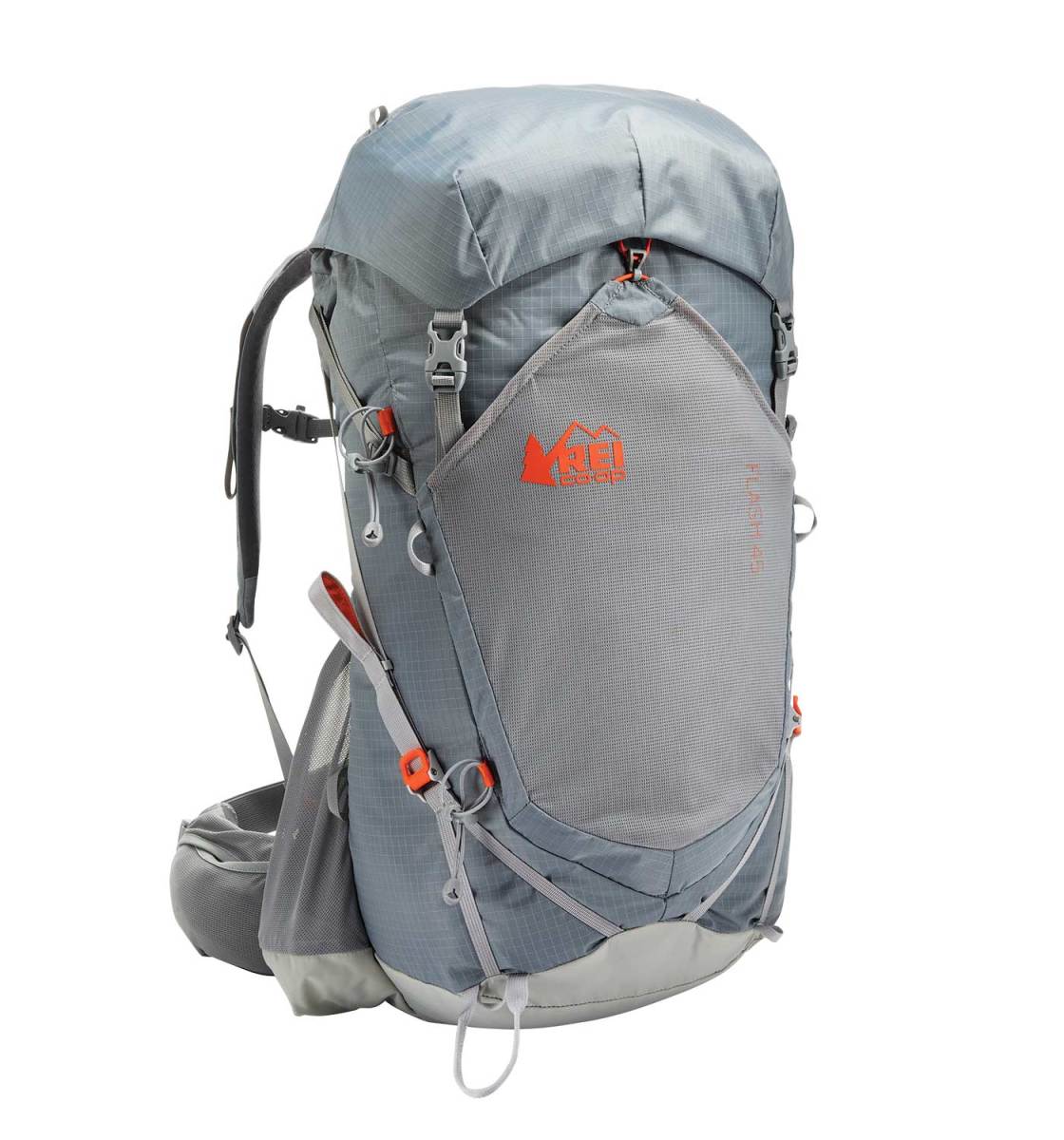 What's the best backpack for traveling long-term? I recommend the
REI Flash 45 Pack
. It's light and comfy, front loading, and fits perfectly in an airplane's overhead bin.
Size:
45-47L
Straps:
Thick and cushy with compression technology that pulls the pack's load up and inwards so it doesn't feel as heavy.
Features:
Removable top lid, large pocket at the front, hydration compatible, contoured hip belt
If you want something different, refer to my article on how to choose the best travel backpack for tips on picking a pack and other backpack suggestions.
What to Pack for Your Trip
Clothes
1 pair of jeans (heavy and not easily dried, but I like them; a good alternative is khaki pants)
1 pair of shorts
1 bathing suit
5 T-shirts (Unbound Merino is my preferred company. If you're a member of NM+, you can get 15% off your purchase)
1 long-sleeved T-shirt
1 pair of flip-flops
1 pair of sneakers
6 pairs of socks (I always end up losing half)
5 pairs of boxer shorts (I'm not a briefs guy!)
1 toothbrush
1 tube of toothpaste
1 razor
1 package of dental floss
1 small bottle of shampoo
1 small bottle of shower gel
1 towel
Deodorant
Small Medical Kit (safety is important!!!)
Miscellaneous
Female Travel Packing List
I'm not a woman, so I don't know what a woman wears, but Kristin Addis, our solo female travel guru, wrote this list as an addition to the basics above:
Clothing
1 swimsuit
1 sarong
1 pair of stretchy jeans (they wash and dry easily)
1 pair of leggings (if it's cold, they can go under your jeans, otherwise with a dress or shirt)
2-3 long-sleeve tops
2-3 T-shirts
3-4 spaghetti tops
1 light cardigan
Toiletries
1 dry shampoo spray & talc powder (keeps long hair grease-free in between washes)
1 hairbrush
Makeup you use
Hair bands & hair clips
Feminine hygiene products (you can opt to buy there too, but I prefer not to count on it, and most people have their preferred products)
For more on packing, check out these posts:
French Polynesia Travel Guide: Related Articles
Want more info? Check out all the articles I've written on French Polynesia travel and continue planning your trip:
Photo credit: 6 – lander2006