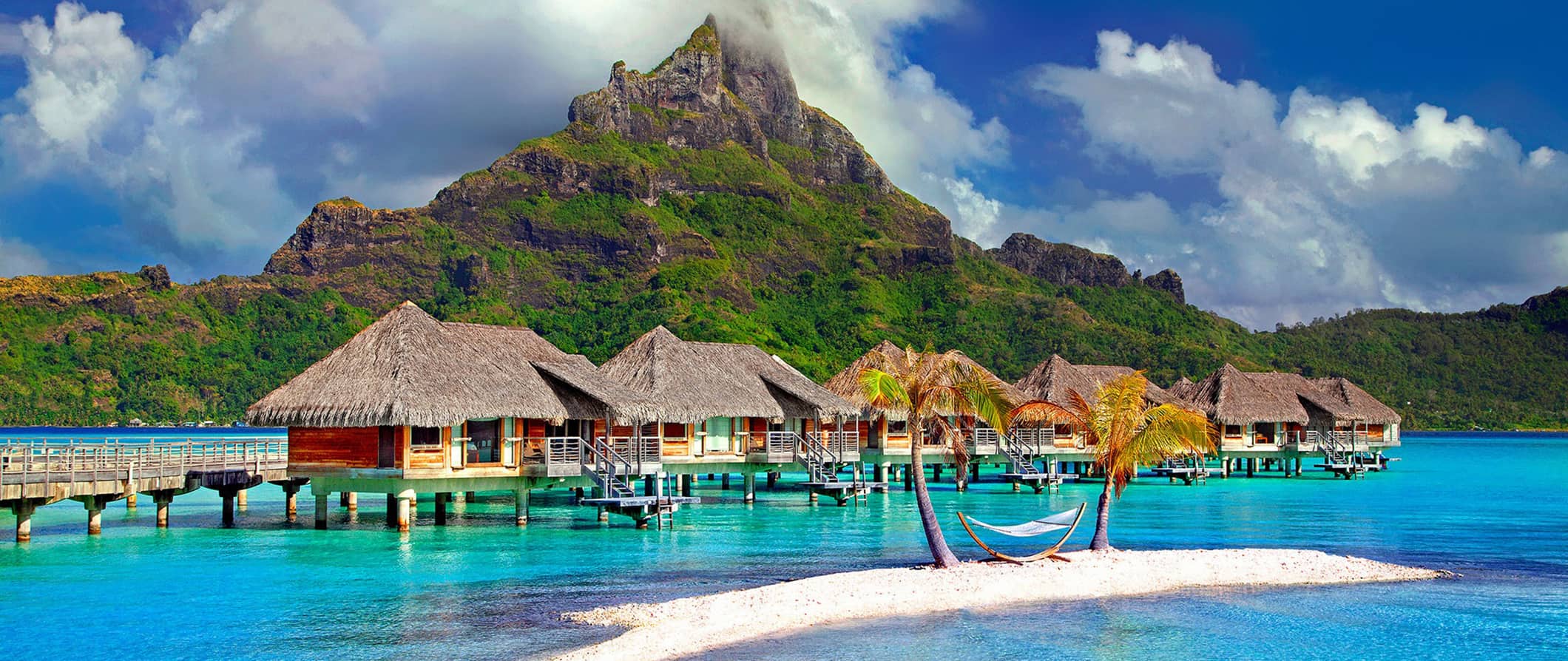 French Polynesia is one of the Pacific's most popular tourist destinations. It's made up of 118 islands covering over 6,400 square kilometers. Soaring volcanic peaks, rugged cliffs, and emerald lagoons provide some of the South Pacific's most spectacular scenery. These islands are where you find those picturesque bungalows on stilts over blue lagoons. It's a tropical paradise. Due to their remoteness and their appeal to celebrities and honeymooners, the islands are an expensive destination to visit. It's hard to travel here on a budget, but if you have the money, you won't regret making the trip!
Top 5 Things to See and Do in French Polynesia
1. Go diving
Hordes of marine life including barracuda, tuna, turtles, and dolphins can be found in the waters here as well as hammerhead sharks and manta rays. If you dive, you shouldn't miss doing so here. Expect to pay 19,000 XPF for a two-tank dive.
2. Head to Tahiti
Tahiti is the largest of the French Polynesian islands and is as popular as Bora Bora. In fact, most people combine a trip to both islands when they visit the country. Try to visit the Museum of Tahiti and Her Islands to get an insight into Polynesia culture. Additionally, Le Merche is the place to try local cuisine and pick up souvenirs.
3. Explore Bora Bora
Bora Bora is famous for being the ultimate island paradise (and the ultimate place to hurt your wallet). This is where honeymooners and celebrities enjoy luxurious bungalows. Its famous blue lagoon is the ideal place fort jet skiing, paragliding, or other water sports. The jungles offer some great hiking too. This place is paradise — but a really expensive one!
4. Go snorkeling
If you're not interested in diving, you can still experience the underwater world in French Polynesia by snorkeling. Some hotels and resorts offer free equipment, while others rent it, but you can always bring your own. Rurutu and Huahine are considered two of the world's top spots for snorkeling.
5. Relax on Mataiva
Although there is little in the way of tourist 'attractions' on this island, there are easily accessible beaches, multiple snorkeling spots, and lots of beautiful fish. In the Tuamotus, you will also find a few noteworthy archaeological sites.
Other Things to See and Do
(Click the title to expand the text)
1. See the diverse wildlife
Most of the wildlife here is found in the lagoons and surrounding waters as there are very few indigenous animals on land. Diving offers a great chance to check out the country's underwater wildlife. On land, bird watchers will not be disappointed with sightings of kingfishers and rate Nuku Hiva pigeons among others.
2. Cycle the islands
Bike rentals are available almost everywhere and they are a great way to explore the islands. Expect to pay between 1,500-2,000 XPF per person (though many hostels and hotels have free bikes you can use).
3. Make a trip to Fatu Hiva
Fatu Hiva is the southernmost of the Marquesas Islands and is certainly the most isolated. The Bay of Virgins is often described as the most stunning bay in Polynesia. Sadly, there are no beaches on the island. Instead, you are met with the rugged beauty of the cliff edges, ravines, and jungles. The snorkeling and diving here is some of the best in the island chain.
4. Belvedere Lookout, Moorea
Situated on Moorea, Belvedere Lookout offers the sweeping views of the island and certainly warrants the hike up. A number of marae (traditional temples) are scattered in the area just off the main road leading up to the lookout.
5. Visit a Marae
Marae are Polynesian temples where people came to offer up gifts to the Gods. The most impressive is Taputapuatea on the island of Raiatea but fans of Polynesian archaeology will also enjoy a trip to the Opunohu Valley, which stretches from the head of Cook's Bay up towards Belvédère on Moorea Island and has marae dotted all over the walking trail.
6. Go whale watching
June and July are peak whale watching months in the Austral Islands south of Tahiti. Pods of humpback whales swim to Rurutu and Tubuai from Antarctica to bear their young and this makes for one of the most spectacular sights you are likely to see on your travels. Expect to spend around 11,500 XPF per person. Tours generally last a few hours.
7. Visit Gauguin Museum
This museum is host to many reproductions of Paul Gauguin's paintings. His colorful style brought fame to the islands and he lived out his last years here painting traditional life. Though not all the works are originals, if you haven't seen a wide collection of his work this is a good place to start. Admission is 600 XPF for adults and 300 XPF for children.
8. Harrison Smith Botanical Gardens
These tropical gardens span over 135 hectares. There are hundreds of trees, shrubs, plants, flowers, and even lily ponds.It is located right next to the Gauguin Museum.
9. Head to Ua Pou
This dry desert island has oasis-like valleys filled with tropical fruit. There is enough to feed more than ten times the amount of the population. It is just south of Nuku Hiva and is noted as an island rich in culture and arts.
10. Learn about Polynesian History
Accessible from Puamau, Iipona is one of the best archaeological sites in French Polynesia. It's known for its five impressive tiki figures, the tallest of which is about 10 feet high. Entrance to the site is around 400 XPF.
Typical Costs
Accommodation – A night in a hostel dorm will cost around 3,000 XPF while a private room will cost closer to 9,000 XPF per night. There are not a lot of hostels in French Polynesia, so be sure to book in advance. While WiFi may not be common, free breakfast usually is. You can book your hostel with Hostelworld. Cheap hotels and bungalows can be found for as little as 6,000 XPF per night, however, 10,000 XPF is more common (most hotels will actually cost over 20,000 XPF per night). Free breakfast is usually included, and free WiFi is more common here than at hostels. Use Booking.com as they consistently return the cheapest rates. Airbnb is an option in French Polynesia, though there are not a lot of properties available. For shared accommodation, prices begin around 4,000 XPF per night. For an entire home or apartment, expect to pay 6,500 XPF per night. Camping is available on many of the islands, but don't expect full-blown campgrounds. For those with a tent, some hostels and guesthouses will simply allow you pitch your tent for around 1,800 XPF per night.
Food – By eating from the local snack bars on the road, you can expect to pay around 1,100 XPF per day for food. A meal in a casual restaurant will cost around 2,300 XPF. If you eat at the resorts and hotels, you'll pay at least 2,700 XPF or more for a meal. For a meal at an upscale restaurant, expect to pay around 4,500 XPF. Fast food will cost around 1,000 XPF while a beer will cost around 600 XPF. If you plan on buying your own groceries, expect to spend at least 8,000-10,000 XPF per week (probably more) on food.
Transportation – A bus ticket around the island costs around 215 XPF. An island-hopping air pass is a good option if you're planning to explore a few of the islands. These vary in price according to which islands you want to visit but start at around 36,000 XPF from Air Tahiti. Getting to/from the area isn't cheap, with flights from Chile costing almost 55,000 XPF, round trip. Expect to pay at least 75,000 XPF for a round-trip ticket to/from New Zealand.
Activities – Diving and other day water activities start at around 11,000 XPF, with a two-tank dive starting around 15,000 XPF.
Suggested daily budget
10,000-40,000 XPF / $90-350 USD (Note: This is a suggested budget assuming you're staying in a hostel, eating out a little, cooking most of your meals, and using local transportation. Using the budget tips below, you can always lower this number. However, if you stay in fancier accommodation or eat out more often, expect this to be higher! This country is pretty expensive and there's a huge possible range in prices so that's why the suggested budget varies so much!)
Money Saving Tips
Cycle around – Most of the islands are perfect for exploring on a bike rather than by car.
Use the free gear – Hostels and hotels often offer their guests free use of kayaks and bikes. Bring your own snorkeling gear to avoid having to rent it.
Taking advantage of Les Roulottes – These are portable food wagons which offer great value meals for less than 2,500 XPF. If you eat at the resorts, you'll spend double that so be sure to eat the local food to save money.
Travel off-season – For discounts on accommodation and attractions, consider scheduling your visit during the off-season (November-May, excluding Christmas).
Book a package trip – French Polynesia is one of those places where a package might be your best option. Look into getting a combined air and hotel package as you can sometimes save 30%. Meals are occasionally included, as well.
My Must Have Guides For Traveling to French Polynesia