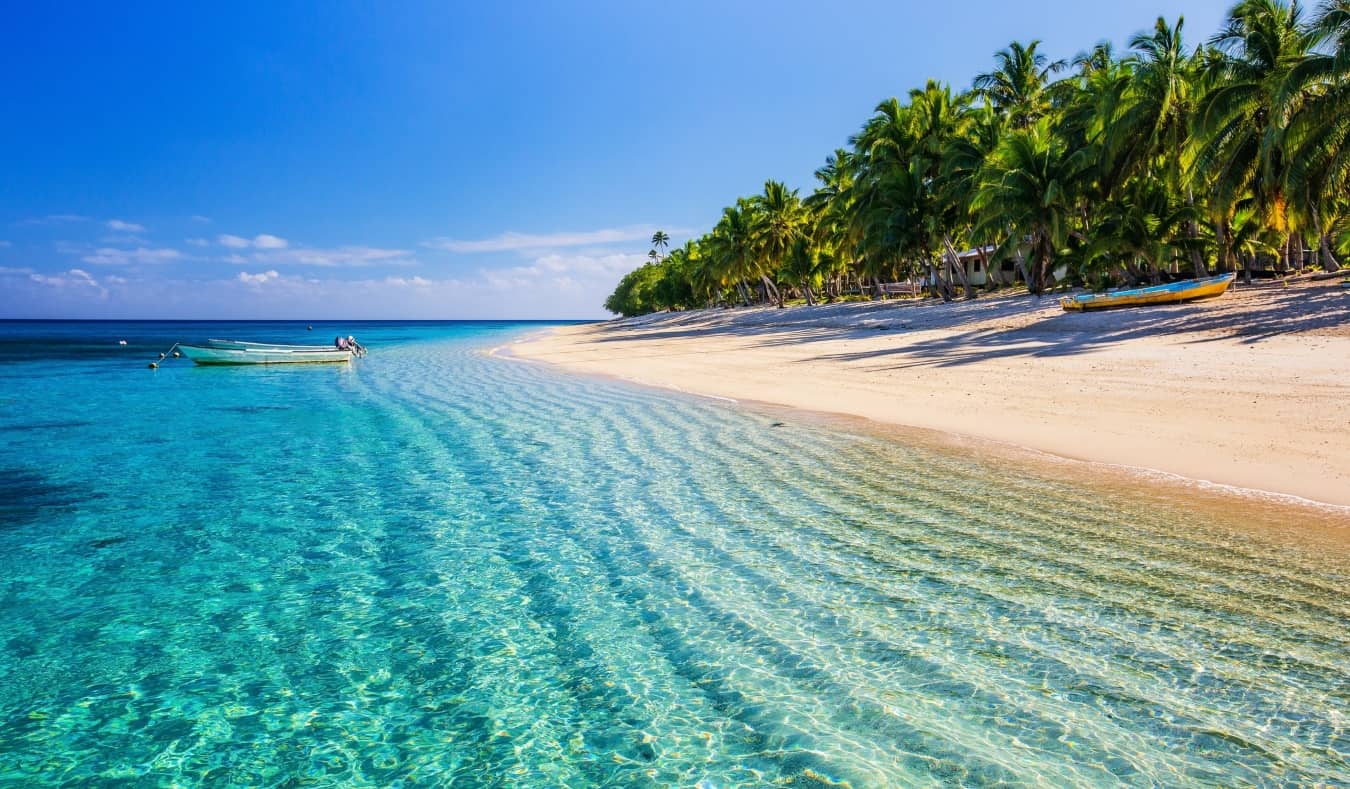 Updated: 1/26/19 | Originally Posted: 01/18/10 (Updated prices)
Whenever I hear the word "Fiji," I think of those postcards you see in airports: white sand beaches, palm trees, a little boat in the ocean, and the bluest, clearest water in the world.
Essentially, it's my idea of heaven.
With my friend Gary from Everything-Everywhere heading to Fiji, I thought there was no better time to cross off one of my travel goals: visiting the islands of Fiji and learning to scuba dive. Even though I was exploring the south island of New Zealand, I decided to change course. Finishing New Zealand could wait — I was on my way to traveling Fiji and enjoying the beach.
Travel, is after all, learning to go with the flow.
What could be more going with the flow than this!
The Yasawa Islands are composed of 20 volcanic islands in the western region of Fiji. The first Europeans to stumble upon the islands were the British, in 1789, though the islands weren't properly charted until 50 years later.
Up until 1987, land-based tourism was actually prohibited in the Yasawas. No tourists were allowed to set foot in this tropical paradise, as the local leader of the islands did not want any foreigners to visit without permission. When the government finally opened up the area in 1987, tourism started to grow and has become an ever more important part of the local economy.
Looking out over the boat to the Yasawa Islands, I was struck by the sheer beauty of Fiji. The deep blue water, the white sand beaches in the distance, and the lush jungles poking out on the horizon. Paradise doesn't accurately describe this place. The Yasawas are beautiful. Mind numbingly, stupidly beautiful. (Pictures are worth a thousand words, so I'll let the pictures here fill in the adjectives for you.)
In addition to being heavenly, the islands are easy to get around, the Fiji dollar is cheap, and there are all your typical island activities to do. Basically, you have everything you need to make this not only paradise but a backpacker's paradise too. Throw in the sound of crashing waves, the relaxed attitude (you quickly discover "Fiji time"), and the starlit nights, and you'll never want to leave. You're a million miles from anywhere, and after a day here, that's exactly where you want to be.
Island-hopping the Yasawa Island chain, I've determined that backpacking in Fiji is like nowhere else in the world. Close to the mainland, these islands are popular with backpackers because they're cheap, easy to get to, and known for their lively atmosphere. There's only one boat through these islands, and all the islands have two or three resorts you can get dropped off at. The resorts provide all your meals, and you book all your activities through them. It's packaged backpacking. You move from resort to resort like a tour. Except these resorts focus on budget travel — planned activities, dorms, and cheap beer. No five-star luxury here. It's not my normal mode of travel, but it hasn't taken away from the experience at all.
While I'm a lover of all things tropical, one thing that's really struck me here has been the locals. Everyone has been friendly and extremely welcoming. They're always saying hello, asking where you're from, how you like it here, and having a 20-questions style conversation with you. At night, they come over and spend time with the guests.
On a clear and balmy night, Gary and I were invited to hang out with the staff of Waya Lai Lai resort (I highly recommend staying there) and drink kava. Kava is the traditional drink of Fiji. Made from the kava root and mixed with water, it has an earthy taste, and as a mild relaxant, it makes your mouth and tongue numb and tingling.
There's a special ceremony to drinking it. You must clap once before you drink, yell bula, drink in one gulp, and clap three times when you finish. The clapping is out of respect for the drink. They drink this every night and spend the night relaxing. Bowls and bowls of kava get passed around, and the night that started out loud gets more relaxed and quiet. Handing out drinks to us, they always asked if Gary and I wanted high tide or low tide (essentially a lot or a little). Until your last drink. Then they finish you off with a "tsunami."
Needless to say, I slept well that night.
How to Get to and Around Fiji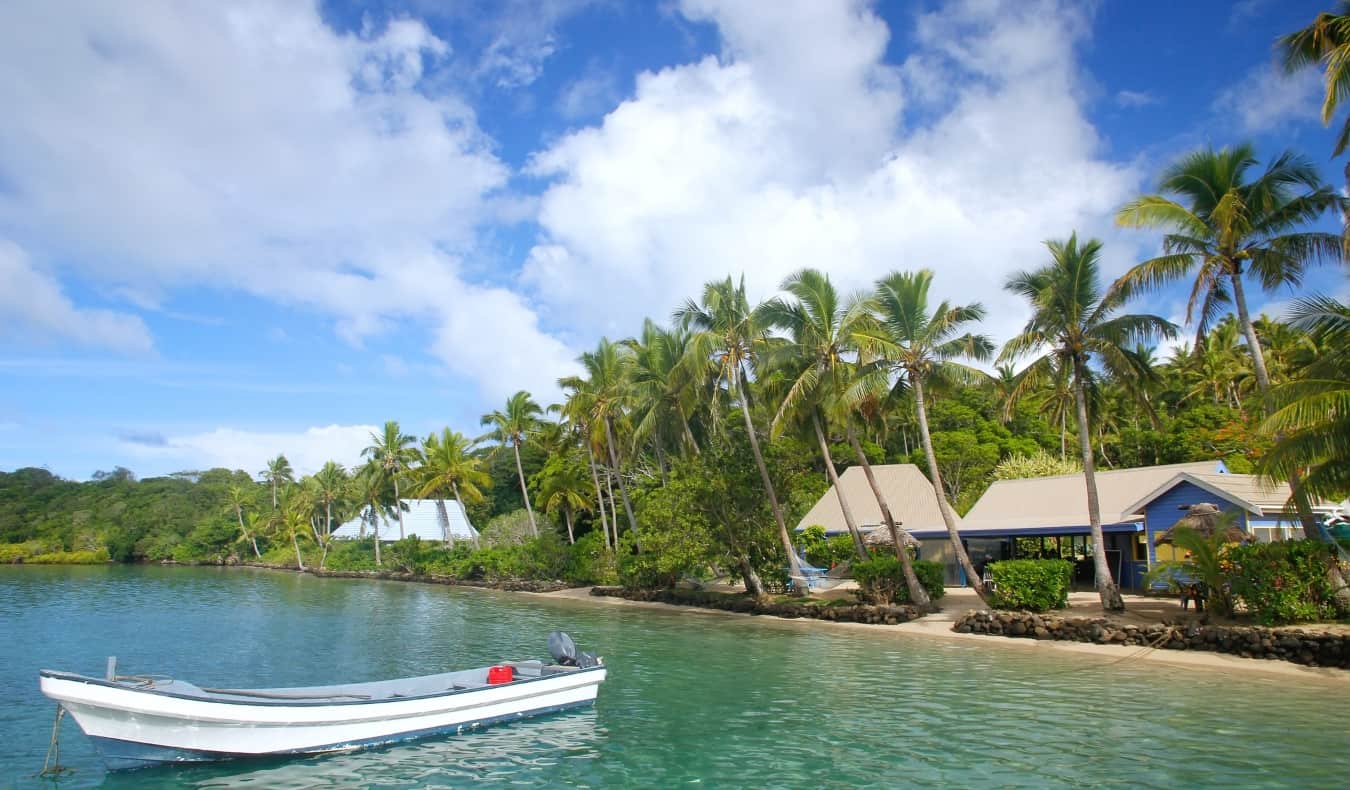 Despite being in the middle of the Pacific Ocean, Fiji is quite accessible. It's a standard stop on round-the-world tickets. If you're coming from Australia or New Zealand, you can get an easy stopover flight.
Expect to pay at least 430 FJD ($200 USD) for a one-way flight from Australia and about the same if you're coming from New Zealand. If you're on a RTW trip, check out AirTreks to see if you can get a free stopover.
Getting around Fiji is easy. There's a good network of buses, trucks, and ferries for travel within Fiji's main islands. To explore the Yasawa Islands, you can buy a boat "Bula Pass". It's basically a hop on, hop of boat pass for the islands. You first choose the length of your pass (5, 7, 9, 11, or 13) and then use the pass to explore the islands. You can buy the pass when you get to the islands so there's no need to do it before hands. It's is valid for travel onboard Awesome Adventures and South Sea Cruises vessels. Prices start at 455 FJD ($212 USD) for the 5-day pass and go up to 845 FJD ($395 USD) for the 13-day pass.
Just keep in mind that many of the ferries don't arrive or depart on time so never try to get somewhere in a hurry. Embrace the island life and relax!
Another option for getting around the islands is the Tavewa Seabus. This new catamaran is much faster and is a good option for single journeys if you don't want the multi-day pass. Prices start at 100 FJD ($46 USD) per person and go up to 160 FJD ($75 USD), depending on where you are heading. Check their website to see what locations/resorts they can drop you off at.
Book Your Trip to Fiji: Logistical Tips and Tricks
Book Your Flight
Use Skyscanner or Momondo to find a cheap flight. They are my two favorite search engines because they search websites and airlines around the globe so you always know no stone is left unturned. Start with Skyscanner first though because they have the biggest reach!
Book Your Accommodation
You can book your hostel with Hostelworld as they have the biggest inventory and best deals. If you want to stay somewhere other than a hostel, use Booking.com as they consistently return the cheapest rates for guesthouses and cheap hotels. My favorite places to stay are:
Don't Forget Travel Insurance
Travel insurance will protect you against illness, injury, theft, and cancellations. It's comprehensive protection in case anything goes wrong. I never go on a trip without it as I've had to use it many times in the past. My favorite companies that offer the best service and value are:
Looking for the Best Companies to Save Money With?
Check out my resource page for the best companies to use when you travel. I list all the ones I use to save money when I'm on the road. They will save you money when you travel too.
Want More Information on Fiji?
Be sure to visit our robust destination guide on Fiji for even more planning tips!