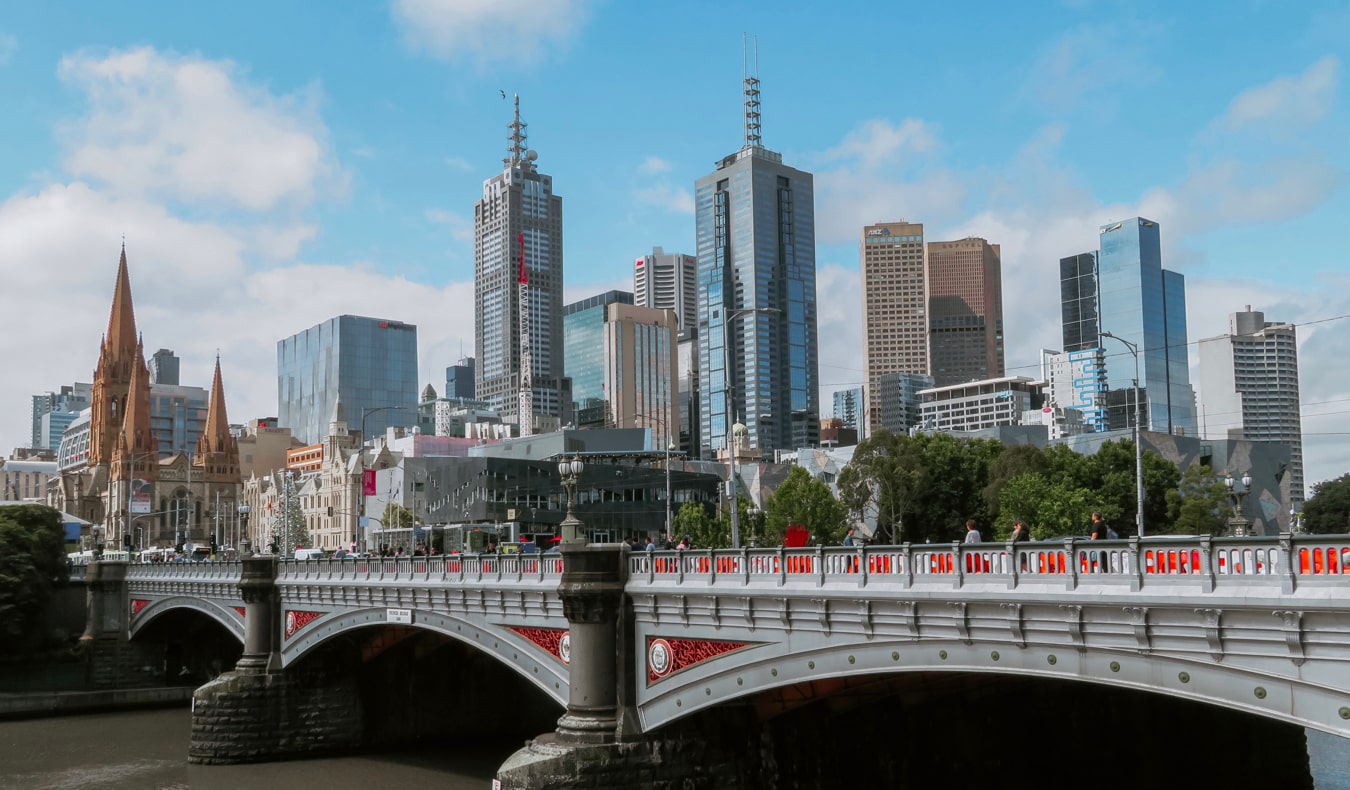 Last Updated: 3/8/23 | March 8th, 2023
Melbourne is one of the funkiest cities in Australia. From its cool architecture to its robust art scene with hip cafés and music, Melbourne is often considered the cultural capital of Australia. Its narrow lanes, covered in world-class street art, hide beautiful cafés and beer gardens.
The city and I mix well together and it's my favorite spot in the country. With plenty of culture, activities, art exhibitions, and live music, you could easily spend over a week here and not get bored.
Melbourne has a European feel to it and is popular with backpackers and young travelers looking to enjoy its laid-back vibe.
With so much to see and do, I wanted to share my list of the best things to do in Melbourne to help you plan your trip, save money, and make the most of your time in this fun city!

1. Take a Street Art Tour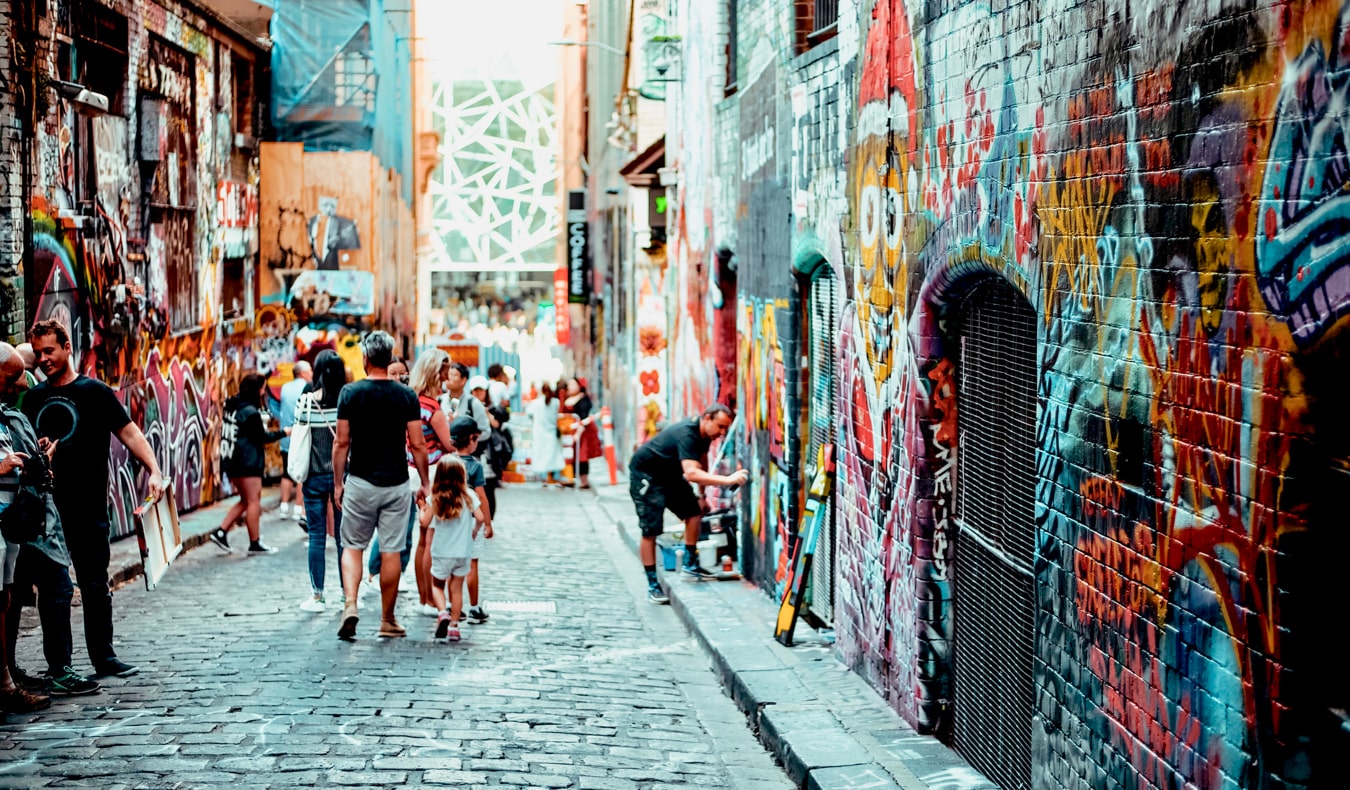 Start your trip off with a street art tour. Personally, I loved the tour by Melbourne Street Art Tours. It's pricey at 75 AUD but the cost of the tour helps support local artists. I learned so much about the art scene in the city and developed a much deeper appreciation for why Melbourne attracts so many artists from around the world. I can't recommend this tour enough.
If you're on a tighter budget, take a free walking tour around the city instead. I'm Free Walking Tours offers a couple of different free walking tours that will give you a fun and educational introduction to the city and its history. You'll learn a lot about the city and get access to an expert local guide who can answer any questions you have. Just be sure to tip your guide at the end!

2. Catch a Moonlight Movie in the Park
During the summer, there are nightly movies (most of them major Hollywood features) in the Royal Botanic Gardens. You can bring your own food and drinks (including alcohol) and have a cozy picnic while watching some great movies. Think of it like going to the drive-in but without the car. Just make sure to check the weather in advance and to bring a blanket to sit on as well as a sweater (it can get a little chilly sometimes). They will cancel if it rains a lot but not if it's light rain so be sure to bring a rain jacket (or reschedule) if the weather doesn't cooperate.
Central Lawn Royal Botanic Gardens. For dates and times, visit moonlight.com.au. Tickets start at 25 AUD.

3. Wander Queen Victoria Market
This outdoor market is the largest open-air market in the southern hemisphere. Made up of both indoor and outdoor areas and occupying two entire city blocks, its a mix of food sellers and knick-knack vendors — think flea market meets food market. During the week, the food hall is the main draw, but the weekend offerings are bigger as sellers fill up the outdoor vending space.
When you're in the food hall, be sure to get some free wine samples from Swords Wines; the staff is friendly and the wine is cheap (I bought two bottles for some afternoon drinking in the park!). And don't miss the jam donuts either. They've been a staple there for over 50 years!
And during warmer months, don't miss the Summer Night Market. This popular night market runs every Wednesday from 5pm-10pm (November 23-March 15). Free to enter, there is live music as well and tons of different food stalls, from dumplings to gyros, burritos, ice cream, BBQ, and more.
Queen St, +61-3-9320-5822, qvm.com.au. Check the website for seasonal hours and events.

4. Visit the State Library of Victoria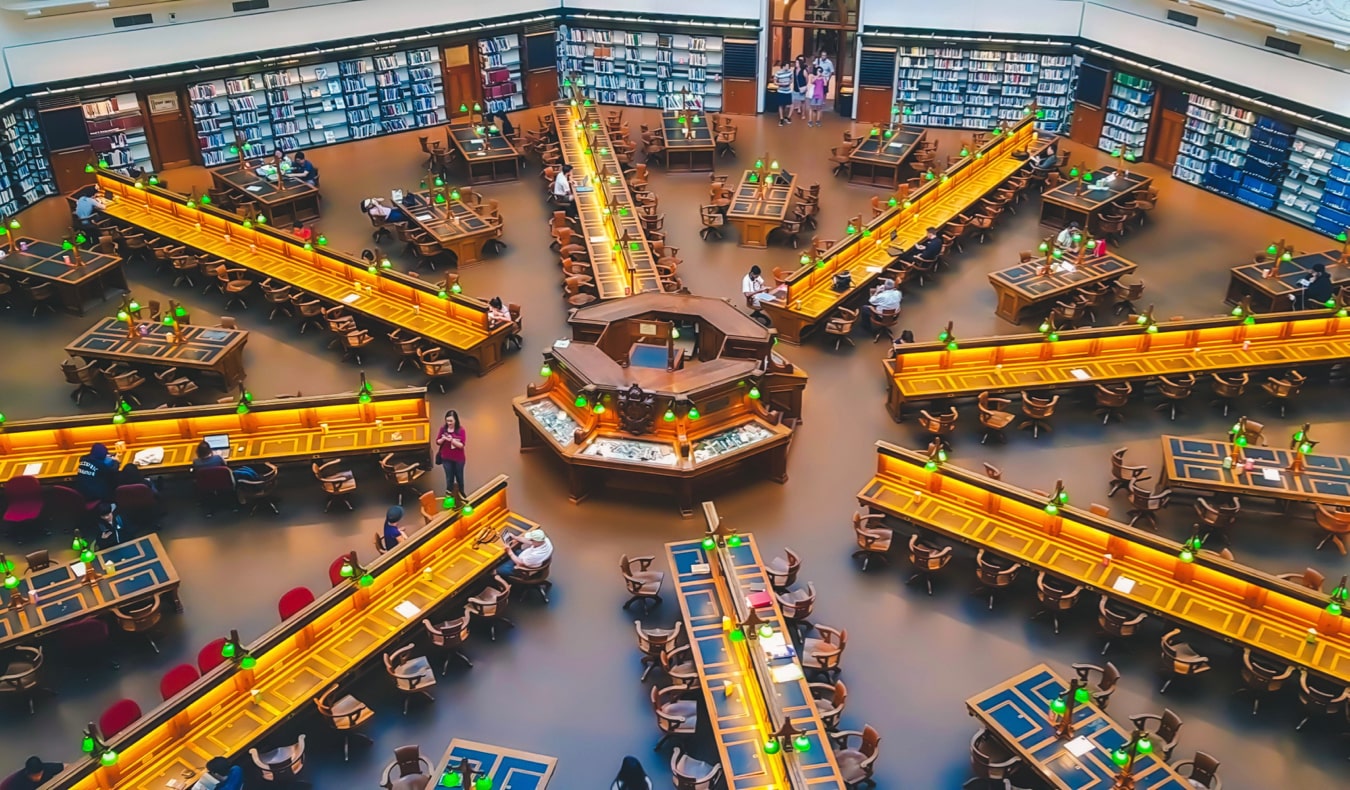 The State Library of Victoria is a historic institution that welcomes over 8 million visitors a year. Originally built in 1856, the library has grown into an event space that's a source of pride for city residents. Come here before it opens and you'll see a queue of people ready to pounce on the open desks. The famous central rotunda with its octagonal shape, original dark wood furniture, and book-lined walls is definitely something not to miss.
328 Swanston St, +61 3-8664-7000, slv.vic.gov.au. Open Monday-Thursday from 10am-9pm and Friday-Sunday from 10am-6pm.

5. Take the City Circle Tram
The City Circle Tram is a free hop-on/hop-off service between Melbourne's sightseeing attractions. The route includes Federation Square, the Old Treasury Building, Parliament House, and the Princess Theater. There's a running recorded commentary as you pass or stop at a place of historical, cultural, or architectural significance. It's a free, fun way to see the main sights and get a feel for the city without having to spend any money!
The tram operates from daily from 10am-6pm (9pm Thursday-Saturday).

6. Relax in Federation Square
Right along the route of the free City Circle train and across the street from Flinders Street Station lies Federation Square. Opened in 1968, this open square spans around 8 acres and serves up stellar people-watching. I like to take lunch here and just watch the city go by. Below the square on the river are also a number of restaurants and outdoor bars. In the summer, there are often all kinds of different events here as well.

7. Visit the National Gallery of Victoria
Located in Federation Square, the National Gallery of Australia is the largest, oldest, and most-visited art museum in the country (over 3 million people visit each year). It's home to over 75,000 works including modern and contemporary art, sculptures, paintings, and works from aboriginal and indigenous artists. You can see pretty much everything in a couple hours. It's one of the best free activities in the city.
180 St Kilda Rd, +61 3-8620-2222, ngv.vic.gov.au. Open daily from 9am-5pm. Admission is free (temporary exhibits may have an additional charge).
8. Wander the Royal Botanic Gardens
The Royal Botanic Gardens covers 86 acres and is home to over 8,500 different plant species including flowers, shrubs, and trees from across the country and around the world. Hanging out here and wandering around is one of my favorite activities in Melbourne. It's walking distance from the city center and is a nice place to spend some time strolling around, relaxing, and reading. Free guided walks or self-guided audio tours are also available from the main visitors center.
Birdwood Ave, +61 3-9252-2300, rbg.vic.gov.au. Open daily from 7:30am-5pm. Admission is free.

9. Admire Flinders Street Station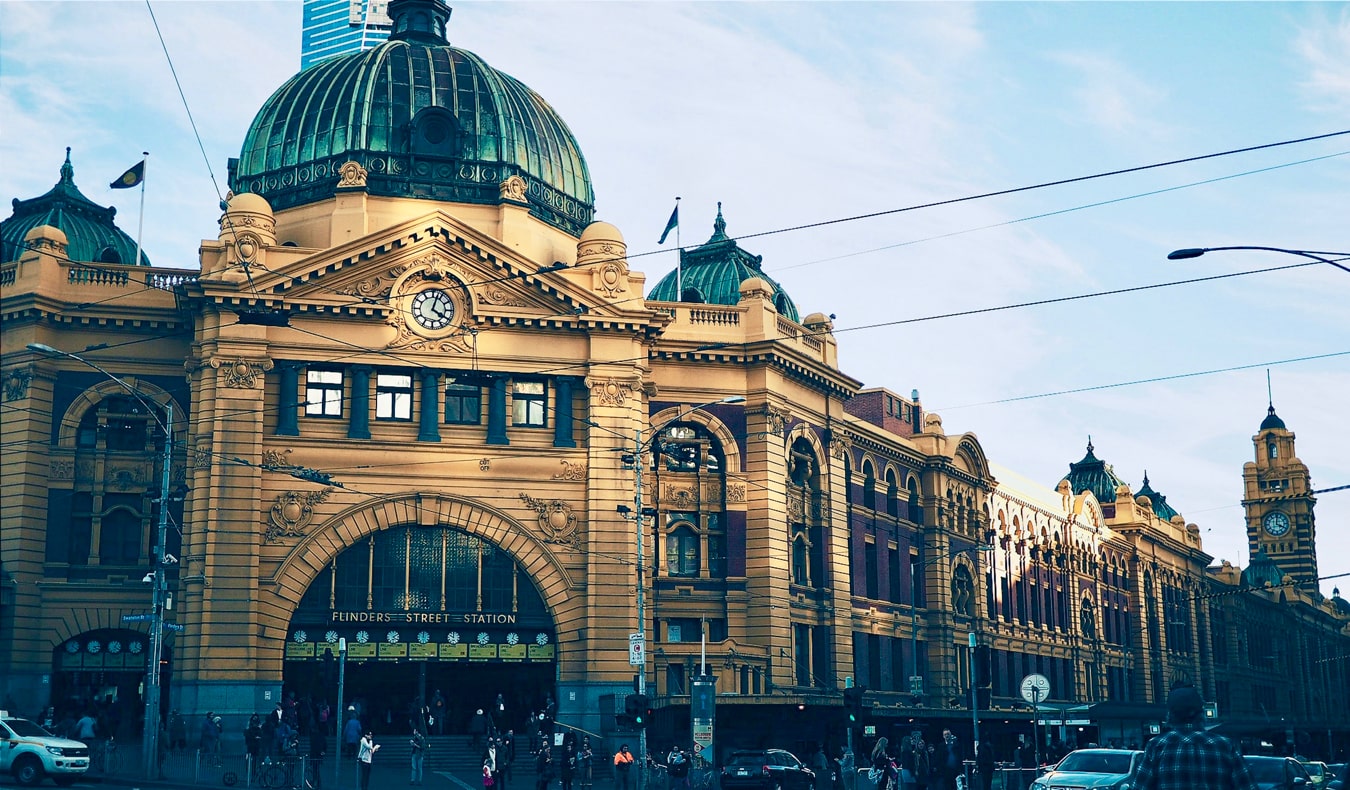 Opened in 1854, Flinders Street Station is a major landmark and popular meeting place in central Melbourne. The station features Victorian architecture and large clock faces. It was the busiest railway station in the world in the 1920s and is said to currently be the busiest suburban railway station in the Southern Hemisphere.

10. Enjoy the Café Scene
While I'm not a coffee drinker (tea all the way!), even I could see that the café and coffee culture in this city is part of its soul. Everyone here loves to have coffee and a snack while doing work or chatting in some arty café. Try a Melbourne 'Magic' which is their version of a flat white; it has espresso coffee, but less added milk than a cafe latte and way less foam than a cappuccino. The Flat White was supposedly (this is disputed by Kiwis) invented in Sydney and this is Melbourne's version.
You can also take a café tour with Café Culture Walk to learn more about why Melbournians love their cafés so much and then spend an afternoon with a good book at your new favorite spot.

11. See the Como House and Gardens
Over 160 years old, this regal estate blends a mix of classic Italianate architecture and Australian regency. It's considered the best of the historic houses in the city and offers a rare glimpse at the luxurious and opulent life of high society in 19th-century Australia. Guided tours are available for 15 AUD if you want to learn more about this beautiful mansion and its history.
Williams Rd &, Lechlade Ave, +61 3-9656-9889, nationaltrust.org.au/places/como-house-and-garden. Gardens are open Monday-Saturday from 9am-4pm and Sundays from 10am-4pm. Admission to the gardens is free.

12. Visit the Immigration Museum
Founded in 1998, The Immigration Museum is located in the Old Customs House and features exhibitions about Australia's immigration history. Europeans started flocking to the country in 1788, bringing with them their own cultures that eventually swept the island and displaced the aboriginal peoples who called the island home for over 50,000 years. I really enjoyed learning about the people who left their homes to move across the known world, undertaking the risky voyage and uprooting their entire lives.
400 Flinders St, +61 3-8341-7777, museumsvictoria.com.au/immigrationmuseum. Open daily from 10am-5pm. Admission is 15 AUD.

13. Hit the Beach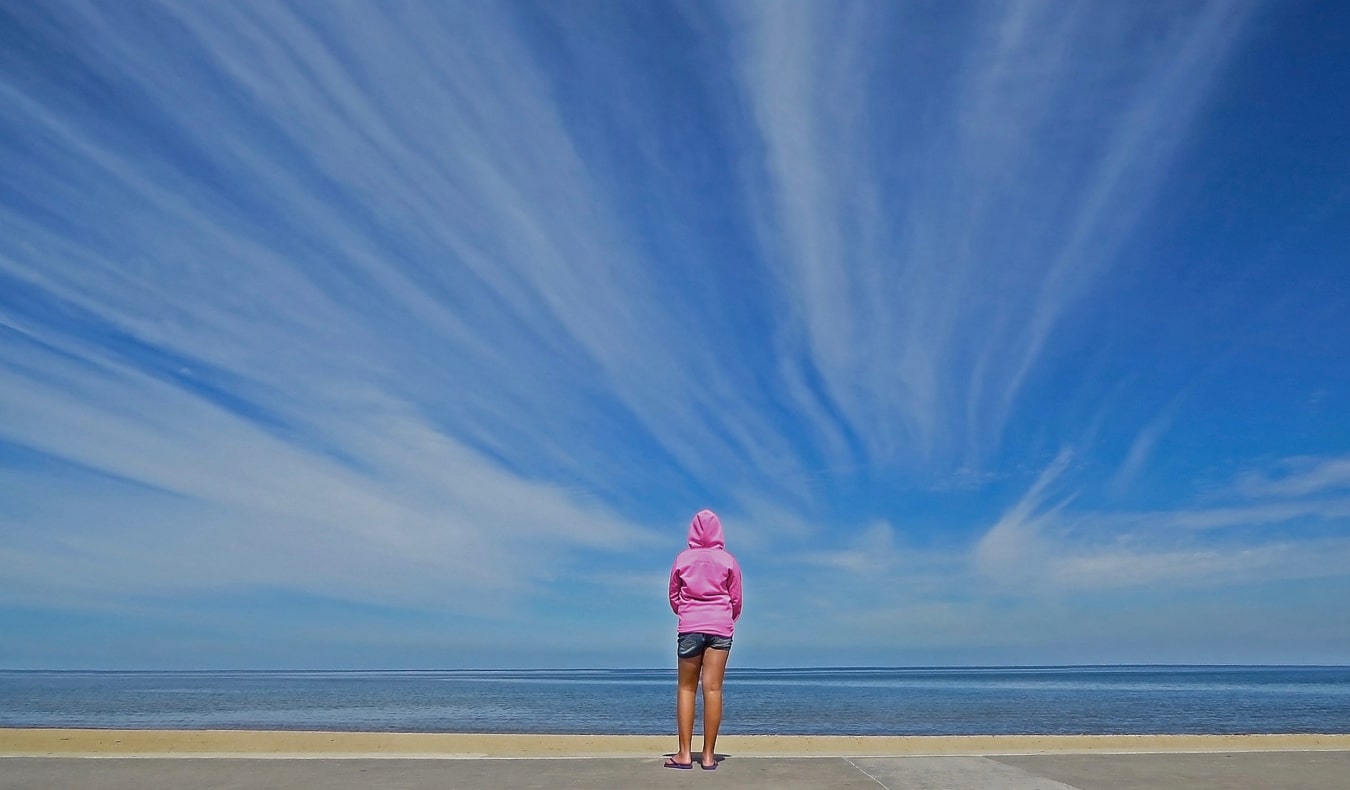 Down in St. Kilda, you can head to the beach to swim, lounge, tan, and watch the stunning sunset. It's a beautiful, wide beach and while the water is a little cold for me, it faces due west so you get some stellar sunsets. There are also dive sites nearby (including some caves) in case you have your certification.

14. Party in St. Kilda
If you're looking to enjoy Melbourne's famous nightlife, head to St. Kilda. The area is home to tons of inexpensive restaurants, bars, and clubs. If you want to find Melbourne's wild side, this is where it will be. (Nomads Melbourne is one of my favorite places to go party if you want to hang out with other travelers — and a few locals! Their downstairs bar is popular and has cheap drinks.)

15. Enjoy the Fitzroy Gardens
Created in 1848, Fitzroy Gardens is a massive Victorian-era garden that covers over 65 acres. It's one of Melbourne's most historic and beautiful gardens and is meant to resemble the English gardens the early settlers left behind.
The area was originally a swamp but was painstakingly cultivated into the beautiful and sprawling garden that exists today. There are walking paths, greenhouses, cottages, and lots of flower gardens and greenspace. It definitely feels like an English garden!
Wellington Parade, +61 3-9658-9658, fitzroygardens.com. Open 24/7. Admission is free.

16. Get Cultural at the Melbourne Museum
The Melbourne Museum showcases Australian social history, indigenous cultures, science, and the environment. The highlight of the museum, for me, was the extensive Bunjilaka Aboriginal Culture Center, which highlights aboriginal culture, art, and history. They also have a children's section that's great for anyone traveling with kids. There are also regular visiting and temporary exhibitions as well, so be sure to check their website to see what's going on during your visit.
11 Nicholson St, +61 3-8341-7777, museumsvictoria.com.au/melbournemuseum. Open daily from 10am-5pm. Admission is 15 AUD.

17. Go On a Wine Tour
Wine tours are super popular in this region. The Mornington Peninsula in the outer suburbs of Melbourne is a world-famous wine-producing region. Located 45 minutes from the city, it's home to over 40 wineries. There are a lot of day trips available to the Yarra Valley too (which is where most tours take you). If you don't have your own car or don't feel like spending the night in the area, day trips from Melbourne cost 150-225 AUD per person for a full-day tour (8-10 hours).

18. Take a Day Trip to Phillip Island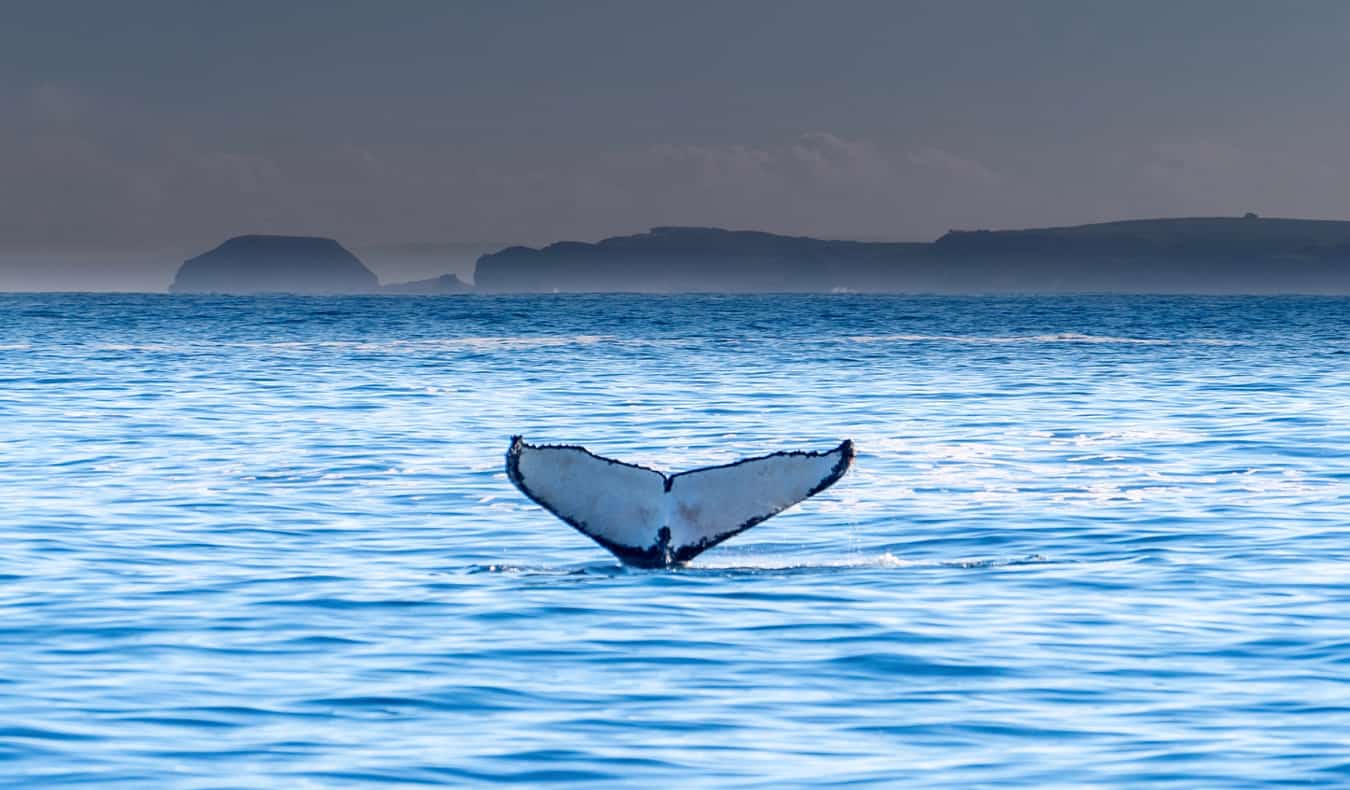 Located two hour hours from the city (and connected to the mainland by bridges), Phillip Island is a weekend hot spot for locals looking to enjoy some beach time. The island is renowned for the nightly penguin parade (when thousands of penguins return from the sea to nest), its koala sanctuary, and the huge seal colony that lives offshore. The island, which is home to just 7,000 people, can be visited as a day trip, but due to infrequent buses, I would recommend spending at least a night here as there is a lot of neat things to see and do.
Full-day trips to Philip Island start around 115 AUD and include kangaroo, koala, and penguin parades on the beach.

19. Day Trip Along the Great Ocean Road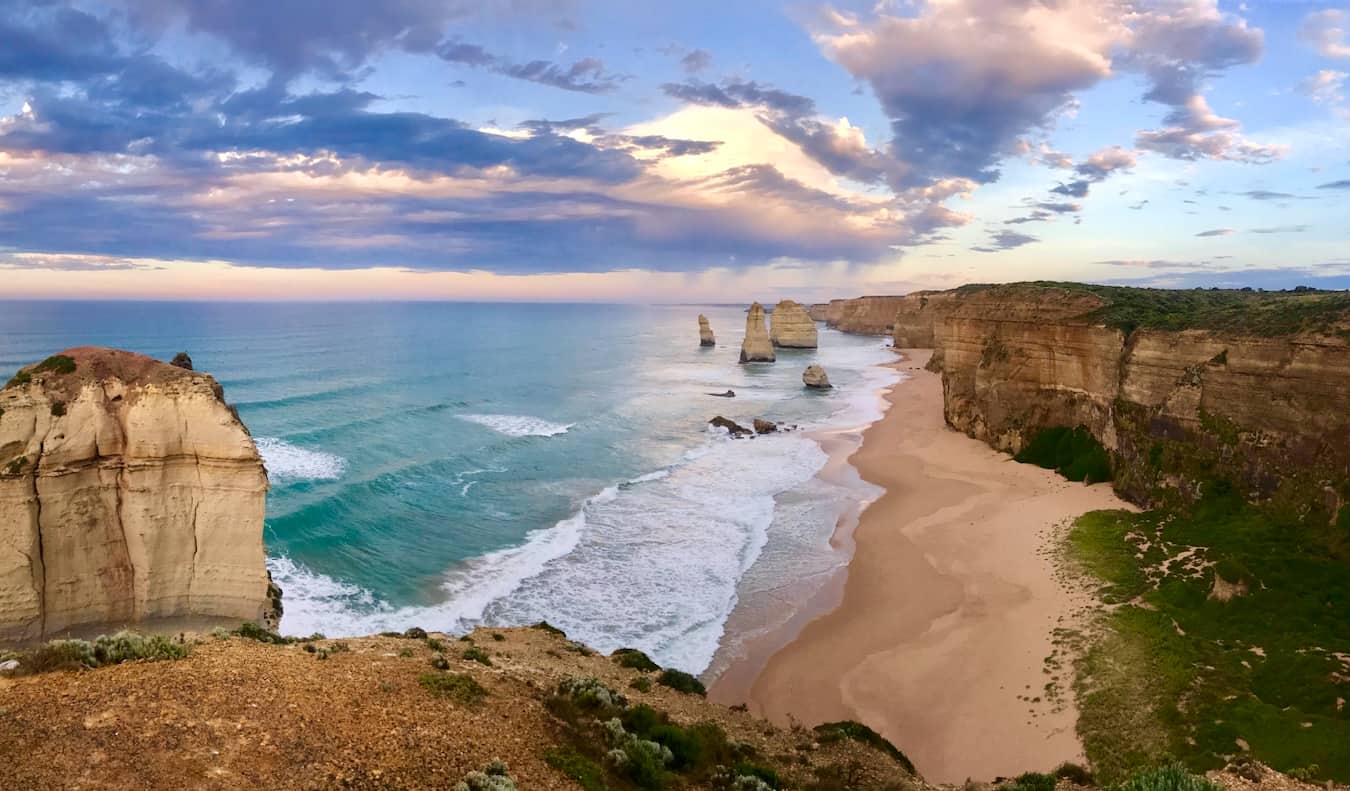 There are various day trips available from the city that explore the beautiful scenery of the seaside cliffs and frothy shores of the Great Ocean Road. The route spans 240 kilometers (150 miles) along Australia's southern coast. Tours usually stop at the 12 Apostles, a famous collection of picture-worthy limestone structures climbing out of the sea. Climb down the spectacular Gibson Steps leading down to the beach that were cut by the native Kirrae Whurrong tribe several hundred years ago and admire the rugged landscape. Some tours also include a visit to the Kennett Rover koalas, a walk in the forest, and lunch.
Guided day trips start around 125 AUD.

20. Take a Spooky Tour Through Pentridge Prison
For those that enjoy ghost stories, visit Pentridge Prison. It was home to some of Australia's most notorious criminals, including Ronald Ryan (the last person to be legally executed in Australia), Chopper Reed (an infamous gang member), and Ned Kelly (an escaped convict famous for wearing armor in a shootout with police). Tours are super interesting, lasting 1.5 hours and costing 48 AUD.

21. Take a Day trip to the Peninsula Hot Springs
About 1.5 hours outside of Melbourne, the famous Peninsula Hot Springs in Victoria is a great way to spend a relaxing spa day soaking in award-winning natural geothermal waters overlooking natural landscapes. There are 50 thermal pools that are said to have healing qualities. If you're feeling brave, try their 'fire and ice experience' where you sauna first then go 'chill' out in Australia's first ice cave. Entrance fees are reasonable starting at only 35 AUD for an hour or all-access for 70 AUD. Robes, towels, flip-flops, etc. are extra to rent if you don't have any.
Half-day tours from Melbourne including round-trip transportation and admission is $150 AUD.
***
With tons of museums, amazing parks and beaches, and lots of day trip opportunities, Melbourne is a city that just keeps on giving. You won't be short on things to do here — just the opposite! It's my favorite spot in Australia (and for good reason). Spend some time here and I promise you'll fall in love with the food, cafes, beaches, and parks. It's a city that doesn't disappoint!
Book Your Trip to Melbourne: Logistical Tips and Tricks
Book Your Flight
Use Skyscanner to find a cheap flight. They are my favorite search engine because they search websites and airlines around the globe so you always know no stone is left unturned.
Book Your Accommodation
You can book your hostel with Hostelworld as they have the biggest inventory and best deals. If you want to stay somewhere other than a hostel, use Booking.com as they consistently return the cheapest rates for guesthouses and cheap hotels. My favorite places to stay are:
For more hostel suggestions, here's a complete list of the best hostels in Melbourne.
Don't Forget Travel Insurance
Travel insurance will protect you against illness, injury, theft, and cancellations. It's comprehensive protection in case anything goes wrong. I never go on a trip without it as I've had to use it many times in the past. My favorite companies that offer the best service and value are:
Looking for the Best Companies to Save Money With?
Check out my resource page for the best companies to use when you travel. I list all the ones I use to save money when I'm on the road. They will save you money when you travel too.
Want More Information on Melbourne?
Be sure to visit our robust destination guide to Melbourne for even more planning tips!