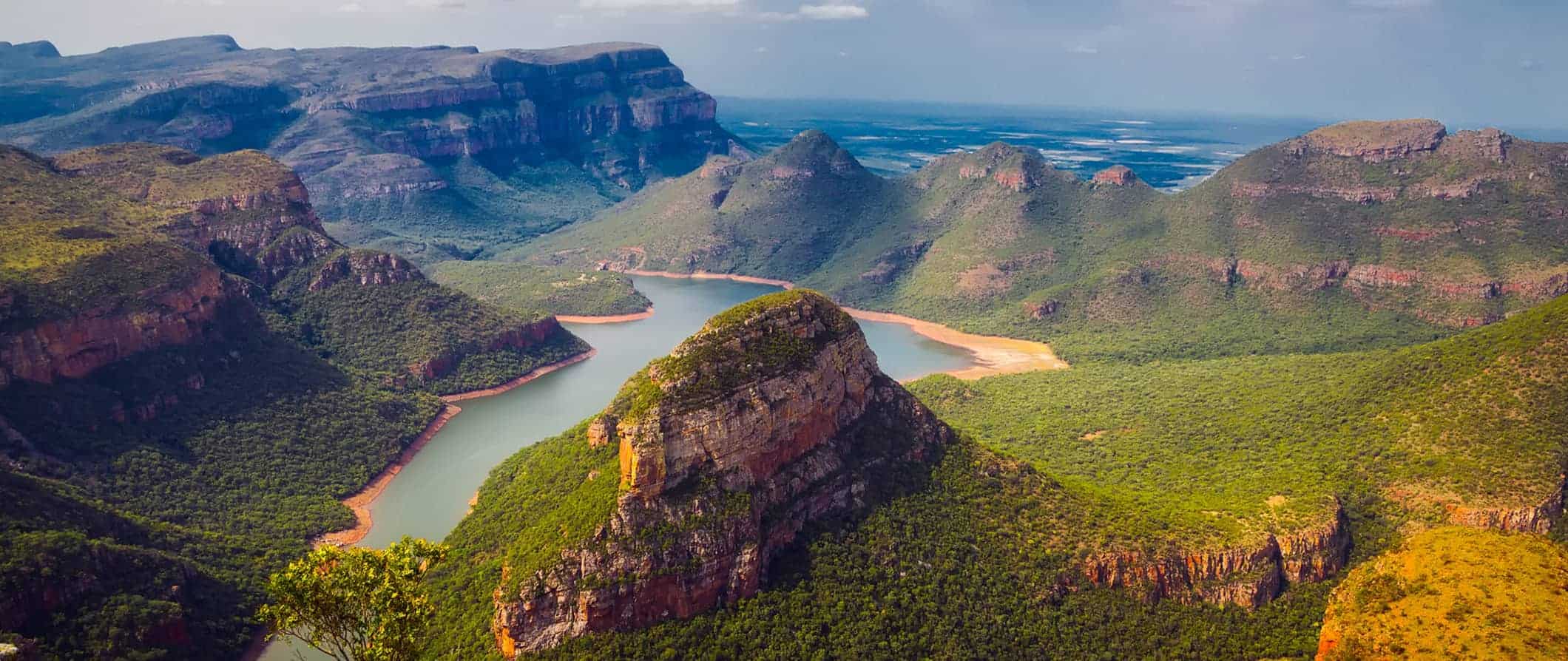 With safaris, mountains, wineries, an endless coastline, and cities like Cape Town, South Africa is a magical place where no traveler can go wrong! As a backpacker, this country is a great place to travel as it's inexpensive (thanks to a very weak currency), there are a lot of work opportunities, and plenty of adventure activities to keep you busy. True, the country isn't perfect with high levels of corruption and petty crime (be sure to watch your stuff!), but the country's rich history, natural beauty, and international culture make it a hotspot with travelers from around the world. It's a country I always wish I got to spend more time in. This guide to traveling South Africa can help you plan the perfect trip.
Top 5 Things to See and Do in South Africa
1. Enjoy Cape Town
Hike up Table Mountain, explore Kirstenbosch Botanical Gardens, watch the street performers at the V&A Waterfront, visit Robben Island, tan on pristine beaches, enjoy a variety of museums, go on a wine tour, partake in some extreme sports, or shop at a funky street market.
Cape Town
has it all.
2. Learn about Apartheid's tragic past
You can't begin to understand a place without first knowing about its past. Visit this museum in Johannesburg to see learn the horrific story of apartheid through multimedia exhibitions, or sail from Cape Town over to Robben Island, where Nelson Mandela spent 18 years in prison, or explore Soweto, a township created by the Apartheid government.
3. Visit Kruger National Park
Kruger National Park is the biggest, most popular, and busiest game reserve in the country. It's a huge park with over 2 million hectares of space brimming with life. If you want to do an exciting (and less popular) safari, check out Pilanesberg National Park, Addo National Park, Umfolozi National Park, and the St. Lucia Wetlands.
4. Drive the Garden Route
This is one of South Africa's main tourist draws. The route stretches along the Indian Ocean from Mossel Bay to St Francis. There's beautiful landscapes and wineries all along the route. The journey is only a few hundred kilometers, but it's best to spend a few days exploring along the way.
5. Day trip to Swaziland
Swaziland has a reputation for being one of the friendliest countries in Africa. There are several large game parks and reserves here, making it a great destination for more wildlife spotting. The borders can be a bit slow, so check the wait times before you go.
Other Things to See and Do
(Click the title to expand the text)
1. Partake in extreme sports
South Africa offers over 100 extreme exploits including bungee jumping, sandboarding, skydiving, parasailing, jungle zip-lining, scuba diving, and other adventure sports! Prices will vary, but expect sky-diving to cost around 2,300 ZAR and bungee jumping to cost around 900 ZAR.
2. Explore KwaZulu-Natal
People flock to the KwaZula-Natal coast to relax, tan, ride the waves, eat amazing food, drink, and spot animals. KwaZulu-Natal's game-rich Zululand and Elephant Coast in the north provide great wildlife spotting.
3. Surf the waves
Dungeons, near Cape Town, is a great place to be if you've got experience riding gigantic waves. Beginners should visit Jeffrey's Bay (J-Bay), about 70km west of Port Elizabeth, which is famous for its awesome right-hand breaking waves! Surfing lessons will cost around 250 ZAR (wetsuits supplied).
4. Explore the Cango Caves
Visit the Cango Caves in the Swartberg Mountains to explore the these 20 million year old caves. You can see the exquisite stalagmite formations during the subterranean tours and learn about its history from the Interpretive Center. The standard tour costs 100 ZAR, while a more adventurous (and longer) tour is 150 ZAR.
5. Hike Table Mountain
One of the best things in Cape Town is the hike up Table Mountain. It's a steep, tiring climb that takes around two hours but the views are definitely worth it. There is also a cable car, so you can take it down once you successfully reach the summit. A one-way ticket is 135 ZAR for adults, with discounts available for students, seniors, and kids. Be sure to dress appropriately and bring water as the weather can change quite quickly.
6. Stand in awe under the Big Tree
For nature lovers, a visit to the Big Tree in Tsitsikamma is something not to be missed. Estimated to be 600-800 years old, this majestic tree stands 36.6m high and has a trunk circumference of 9m.
7. Sleep in Gandhi's house
Mahatma Gandhi's friend Hermann Kallenbach designed and built this house that served as Gandhi's South African base from 1908-09. The house, situated in Orchards, Johannesburg, has been restored and provides free day visits or overnight stays in one of its seven rooms (prices from 2,500 ZAR). Satyagraha House is the spot where Gandhi developed his plan for passive resistance against the British Empire.
8. Drive the Namaqualand Flower Route
This region bursts into a sea of color every spring (mainly August and September) when the flowers bloom. Spend your days driving, hiking, or cycling through the 4,000 species of flowers in bloom. The Goegap Nature Reserve provides picnic areas and overnight facilities as well. Expect to pay between 200-1,200 ZAR per night.
9. Visit the wineries
South Africa is one of the biggest wine exporters in the world. Visit the vineyards to taste some incredibly fresh wine against a serene, mountainous backdrop. Cape Town is most popular for these tours, but there are great wine regions all over the country.
10. Reach the Roof of Africa
The the Roof of Africa via the Sani Pass in Lesotho is the only route over the Drakensberg escarpment into the Kingdom of Lesotho. Since 1955, the Sani Pass has offered an exhilarating journey as it twists and turns upwards through rocky cliffs that peak at 2,873m above sea level (aka the "Roof of Africa"). Afterward, bask in your victory as you enjoy a drink at Sani Mountain Lodge, known for being the highest pub in Africa!
11. Visit Durban Beachfront
For decades the Golden Mile beachfront in Durban has been popular with cyclists, joggers, and leisurely strollers. Here you can also explore the Indian District, where dealers in traditional kurtas and saris hawk incense, ornately embroidered fabrics, and aromatic spices; visit the KwaMuhle Museum, the Durban Botanical Gardens, the Tala Game Reserve, the Inanda Heritage Trail, or see a Sharks rugby game.
12. Riemvasmaak Community Conservancy
In 1973, under apartheid policies, 1,500 people were forcibly removed from this land. After the elections in 1994, they were able to return and now welcome visitors to their community. The park is located in the Kalahari, making for some stark — but beautiful — landscapes. You'll find 4×4 and cycling trails here as well as plenty of hot springs.
13. See the penguins
The African penguin is the only penguin to breed on the continent. You can see them at Boulders Beach or Betty's Bay, both locations a short drive from Cape Town. Prices range from 10-65 ZAR.
14. Surf the waves at Muizenberg Beach
Known for its famous multi-colored huts on the boardwalk, this is a laid-back neighborhood with a multi-cultural vibe. If you want to hit the waves, you can rent a board and wetsuit for as little as 100 ZAR for the day.
15. Safari in other national parks
If you want to do an exciting (and less popular) safari, check out Pilanesberg National Park, Addo National Park, Umfolozi National Park and the St. Lucia Wetlands. You'll have ample opportunity to get up close to elephants, lions, leopards, rhinos, and more.