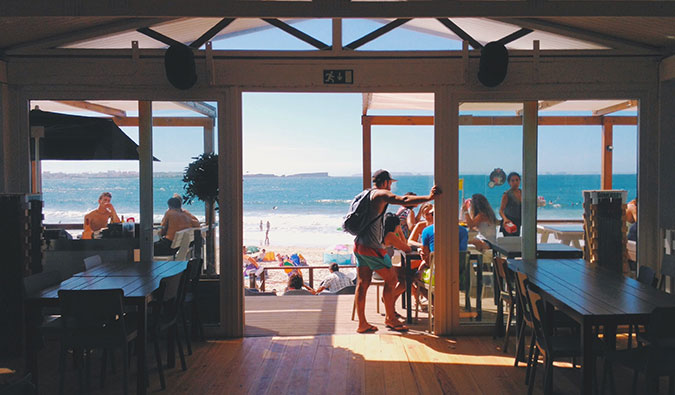 Last Updated: 12/13/2017 | December 13th, 2017
Recently, I went out to a bar with one of my online friends, Nicole. When I finally found myself in her town, we decided it was time to meet up in real life. Since we still didn't know much about each other, we spent our time chatting and sharing stories about our likes, dislikes, and history. As we did so, we touched upon the subject of being able to "read" people, that is, to pick up how they are feeling based on facial expressions alone.
I was telling her, in response to a question about what skills I learned in my travels, that travel had greatly improved my ability to better read people and situations.
When you're traveling and don't speak the language, you have to rely on instinct, gut, and the ability to read people's body language and facial expressions to get yourself through situations. After all, most communication is nonverbal anyways.
"Oh yeah? OK. Read my friends over there," she challenged me as she pointed to her pals.
I proceeded to rattle off my opinions about those of her friends I had just met and the other people in the bar. I also shared my thoughts about her, based on nothing but facial expressions and posture and our brief conversation so far.
"How did I do?" I asked when I was done.
"Wow," she replied. "That's pretty accurate."
While I can only guess if I was right about the people in the bar, she was amazed that I had pretty accurately "read" her and her friends, especially that one of her friends had in fact started dating another guy but they were trying to keep it "hush-hush." I didn't know any of them that well, but just through their actions and speech, I was able to figure out a lot about them.
There were no parlor tricks involved or mind games. I simply read their body language, their dress, and how they conversed with me.
Why did I get them right?
While I am no body language expert (that would be my friend Vanessa), after spending so many years on the road trying to communicate with non-English speakers, miming my needs, scrutinizing people's facial expressions for emotions when words failed, seeing so many different people and personality types and watching how they interact, I learned how to pick up on hints about how people express themselves.
And that is a skill — no matter how judgmental it may come off to some people — that will help you through life.
I think it's the greatest thing travel has taught me in regard to interacting with people.
And it's a skill any traveler can — and will — learn.
Travel teaches us and changes us in ways we never really realize.
It wasn't until after a conversation with my friend Happy Hotelier that I realized that this is the one thing I can say I only learned from traveling. Yes, I have learned other life skills, but this one thing — the ability to read people and situations — came solely from my travels.
On the road, you can't always understand what people are saying, so nonverbal communication becomes really important. How people act, move, express emotion on their face, and carry themselves, plus their tone of voice — all of that can help you figure out what the heck that Italian with three words of English is really trying to say to you. Or figure out how a person really feels about something.
The longer you travel and the more you interact with various people, the better you get at this. It's a skill.
A lot of times, saying you can "read" people is viewed as something bad. It makes you seem like you are casting a snap judgment. I don't think that is true.
Knowing how to read people can help you determine if that cab driver is really "taking a shortcut" or if that shop owner is giving you the best price or if the people you just met at the hostel are being serious or funny with that joke they just said.
We project ourselves and how we feel during our interactions with others. I wouldn't call someone a nervous person because they were anxious walking up to a girl or meeting the new boss. But, in an everyday setting, if someone seemed anxious and nervous and jittery, wouldn't you think they were a bit like that? Could I be wrong? Maybe. Maybe not. Usually not.
Traveling around the world has taught me a lot about how to read people and situations, because you see so many different people in so many different interactions on a daily basis.
And if you travel, it's a skill you'll develop too. It's one that I've found useful at home and abroad, that has helped me navigate questionable situations and break the ice when meeting new people. It's been invaluable.
And it's all because of travel.


Book Your Trip: Logistical Tips and Tricks
Book Your Flight
Find a cheap flight by using Skyscanner. It's my favorite search engine because it searches websites and airlines around the globe so you always know no stone is being left unturned.
Book Your Accommodation
You can book your hostel with Hostelworld. If you want to stay somewhere other than a hostel, use Booking.com as it consistently returns the cheapest rates for guesthouses and hotels.
Don't Forget Travel Insurance
Travel insurance will protect you against illness, injury, theft, and cancellations. It's comprehensive protection in case anything goes wrong. I never go on a trip without it as I've had to use it many times in the past. My favorite companies that offer the best service and value are:
Want to Travel for Free?
Travel credit cards allow you to earn points that can be redeemed for free flights and accommodation — all without any extra spending. Check out my guide to picking the right card and my current favorites to get started and see the latest best deals.
Ready to Book Your Trip?
Check out my resource page for the best companies to use when you travel. I list all the ones I use when I travel. They are the best in class and you can't go wrong using them on your trip.