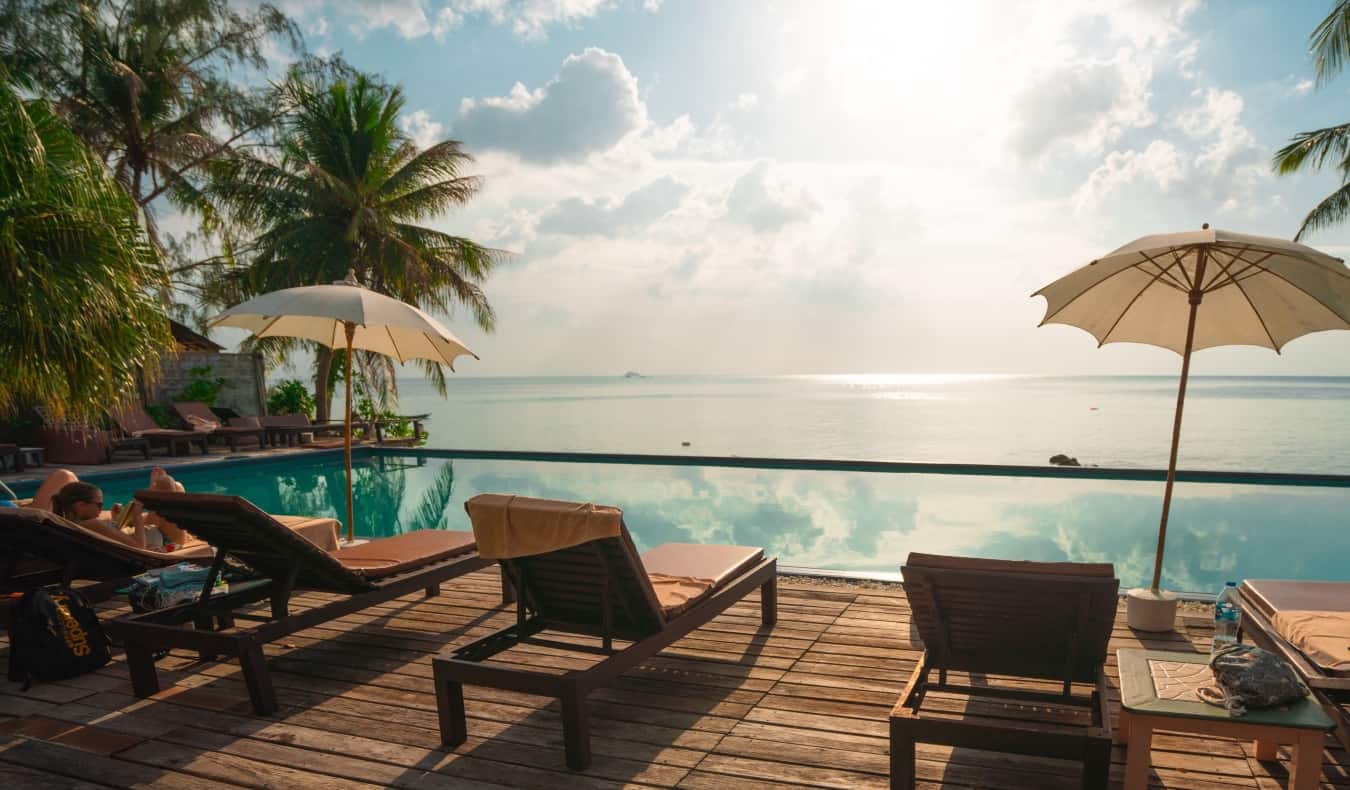 Last Updated: 11/25/22 | November 25th, 2022
Whenever I use points and miles as an example of how to travel further — and longer — for less, I get backlash.
People comment on social media posts or email me that points/miles are money, have a cost, aren't easy to get, only work in the United States, and that, basically, points and miles are BS.
For example:
"Matt…not everyone has miles or bonus points. You know I'm a travel writer…and yet I have never joined a frequent flyer program. I don't have miles or points to redeem, and likewise, there are also people who might not have saved up enough points to fly entirely free.

"It feels a bit like saying: I could be telling you to go camping, but hey, that would be too easy, so let's talk cruising — now, redeem 100,000 Airmiles for this two-week cruise and you've got $1,000 to play with on board!

"It doesn't seem entirely fair."
But I don't think using points or miles is in any way cheating or unfair.
To me, points and miles are free money. They have no cost to me. I don't give up anything to get them. I think of them as the perk for being smart about my spending.
I know some of you see points and miles as having a time-related opportunity cost to them. But I don't think of them that way. They are just a thing I get when I spend money that I would have spent anyway.
Let me explain.

The Myth of the Scam
A scam implies that there is something dishonest going on, that there's some sort of catch. Many people view travel hacking this way. When they hear "free flights and hotel rooms" they assume that it's too good to be true. That someone is going to jump out from behind the curtain and yell, "gotcha!" while laughing maniacally and running away with all their money.
At a minimum, a lot of people think that using points and miles doesn't actually work, that they're hard to get, that you have to do crazy stuff to get them, or you have to spend lots of money to get there:
"Collecting miles requires spending money. Let's assume you need 80,000 miles for an award [flight] and can find a sign-up offer for 40,000. That means you probably have to spend $40,000 to collect the other 40,000 miles. Then to use hotel points for free rooms, assume you want a seven-day vacation and rooms are just 15,000 a night. That's another 105,000 hotel points, and another $105,000 spend. Even if your hotel card gets two-for-one points, that's still $52,500 in spend. So for me to go on a vacation for $1,000 I need to charge $92,500."
But this is simply not true. The most important thing to understand about true travel hacking is that it's never about getting only one mile/point per dollar spent. It's easy to get 2-5x and sometimes even up to 10x points for every dollar you spend.
I have a chart for which cards I use for which expenses so I always get the most miles per dollar spent. Here it is: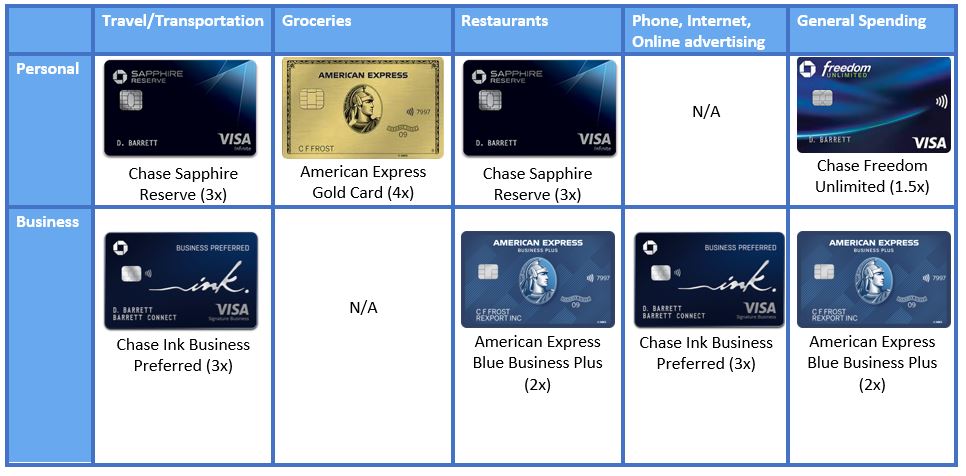 (For the categories without a card that offers more than 1 point per dollar spent, you can just use any card you prefer).
As you can see, it's not as much to keep track of as you might think. I have my main go-to cards, and once I internalize which cards to use for what, it becomes second nature.
(Note: I also have all the co-branded airline cards but I rarely ever use those.)
Through all this, I earn a million or more miles per year. If it was really only 1 point/mile per dollar spent, then I would have to spend one million a year but that's not the case.
When I need to buy something, I do it online for bonus points through airline shopping portals (I recently got 6x American Airlines miles for my Macy's shopping on top of my credit card points). Buying a new computer? I'm off to get a new card to hit the minimum spending for the bonus. Got a few minutes? I answer some surveys for points.
I'm always earning multiple points per dollar spent.
I don't view collecting points/miles as having a "cost" because I don't spend extra money to earn them. To me, something has a cost when I give up money to get it. But you earn points and miles for everyday purchases that you would have bought anyways.
If you want to travel more, points and miles have to be something you do (providing you live in a place where they are an option). Even if it takes you a year to accumulate enough points to make a difference, they help you unlock your dreams by drastically reducing the cost of everything.

But what about all the fees?
Sure, when booking flights with points and miles there are taxes and fees that you must pay, but those still cost less than the price of a full ticket. And hotels don't charge these fees, so the cost of them using points is literally zero. (Also, some credit cards allow you to wipe charges off of them, making those expenses literally zero too.)
Next, people will point to high credit card fees, which can sometimes be hundreds of dollars per year. Surely that's a scam, because the credit card companies are just taking your money, right?
Not exactly.
While you'll have to decide whether cards with higher fees are worth it for you, keep in mind that premium credit cards come with perks and points-earning rates that outweigh the fees (if you use them).
For example, with my $550 USD per year Chase Sapphire Reserve card, I get:
$300 USD in travel statement credit
3x points on travel and restaurants (so I can earn points faster)
10x points on Lyft
Global Entry, TSA Precheck, or NEXUS ($100 USD every five years)
Purchase protection so I can get refunded if things I buy are lost, damaged, or stolen
A priority pass membership for lounge access (about $100 USD a year)
Trip insurance
Monthly statement credits for DoorDash, Instacart, GoPuff
While the $550 annual fee seems incredibly steep, when you factor in the travel credits (effectively erasing $300 worth of expenses coded as travel on my statements), the fee becomes a more manageable $250. I earn way more than $250 worth of points on this card annually, and the other perks and benefits make up for it as well. When viewed this way, you're the one making out like a bandit, not the credit card companies!
And keep in mind that the Chase Sapphire Reserve is one of the most premium cards available. There are a plethora of other travel credit cards with much lower annual fees to get started with, including cards with no fees at all. Travel hacking is all about finding the best card(s) that work for your travel style and goals, using the banks to help you get there — not the other way around.
Take the Chase Sapphire Preferred, which is a 'starter' version of the more premium Reserve card. It comes with 2x points on travel, 3x points on dining, online grocery services, and select streaming services, among other perks, and only has a $95 annual fee.
Or the Bilt Rewards card, which has no annual fee and offers you the ability to earn points on rent (the only card that does this) and 2x points on travel.
My hotel credit cards all give me free nights per year and my airline credit cards come with free checked bags, saving me hundreds of dollars a year!
Additionally, my credit score has only gone up because I now have more credit and less debt as well as a good payment history. (And, as my friend Gary says, "What good is a credit score if you don't use it?")

So if travel hacking is so great why don't more people do it?
When I ask most people why they don't travel hack, they just shrug their shoulders and go, "I don't know. Seems hard, I guess."
I think people believe because travel hacking seems complicated, therefore it must be so.
In addition, travel hacking seems to run counter to everything we have learned about finance. We're taught to think of money and credit in one way:
"Credit cards are bad. The companies are bad. Never pay a fee. Your score is sacred and doing things like this hurt it, and you'll never get a loan."
But that's just bullshit. It's a myth perpetuated by….well, I don't know who exactly, but people keep believing it.
If you pay your bills off each month and are reasonable with your money, not collecting points and miles is saying no to free money. It's saying, "I don't want to be rewarded for my good spending habits."
Free is the best word in travel.
***
When you don't travel hack, the only person you are hurting is yourself. You aren't hurting the banks or the airlines. They are in on the game.
In my view, travel hacking is something to be embraced. It reduces the cost of travel. You can do this in a lot of countries around the world! Even if takes you a year to earn a free flight, why not take the flight? One free flight is better than no free flights.
Anything that saves money and reduces the cost of travel is something every traveler should do.
Saying no to travel hacking is saying yes to spending more money on travel — and why would you ever want to do that?
Book Your Trip: Logistical Tips and Tricks
Book Your Flight
Find a cheap flight by using Skyscanner. It's my favorite search engine because it searches websites and airlines around the globe so you always know no stone is being left unturned.
Book Your Accommodation
You can book your hostel with Hostelworld. If you want to stay somewhere other than a hostel, use Booking.com as it consistently returns the cheapest rates for guesthouses and hotels.
Don't Forget Travel Insurance
Travel insurance will protect you against illness, injury, theft, and cancellations. It's comprehensive protection in case anything goes wrong. I never go on a trip without it as I've had to use it many times in the past. My favorite companies that offer the best service and value are:
Want to Travel for Free?
Travel credit cards allow you to earn points that can be redeemed for free flights and accommodation — all without any extra spending. Check out my guide to picking the right card and my current favorites to get started and see the latest best deals.
Need Help Finding Activities for Your Trip?
Get Your Guide is a huge online marketplace where you can find cool walking tours, fun excursions, skip-the-line tickets, private guides, and more.
Ready to Book Your Trip?
Check out my resource page for the best companies to use when you travel. I list all the ones I use when I travel. They are the best in class and you can't go wrong using them on your trip.