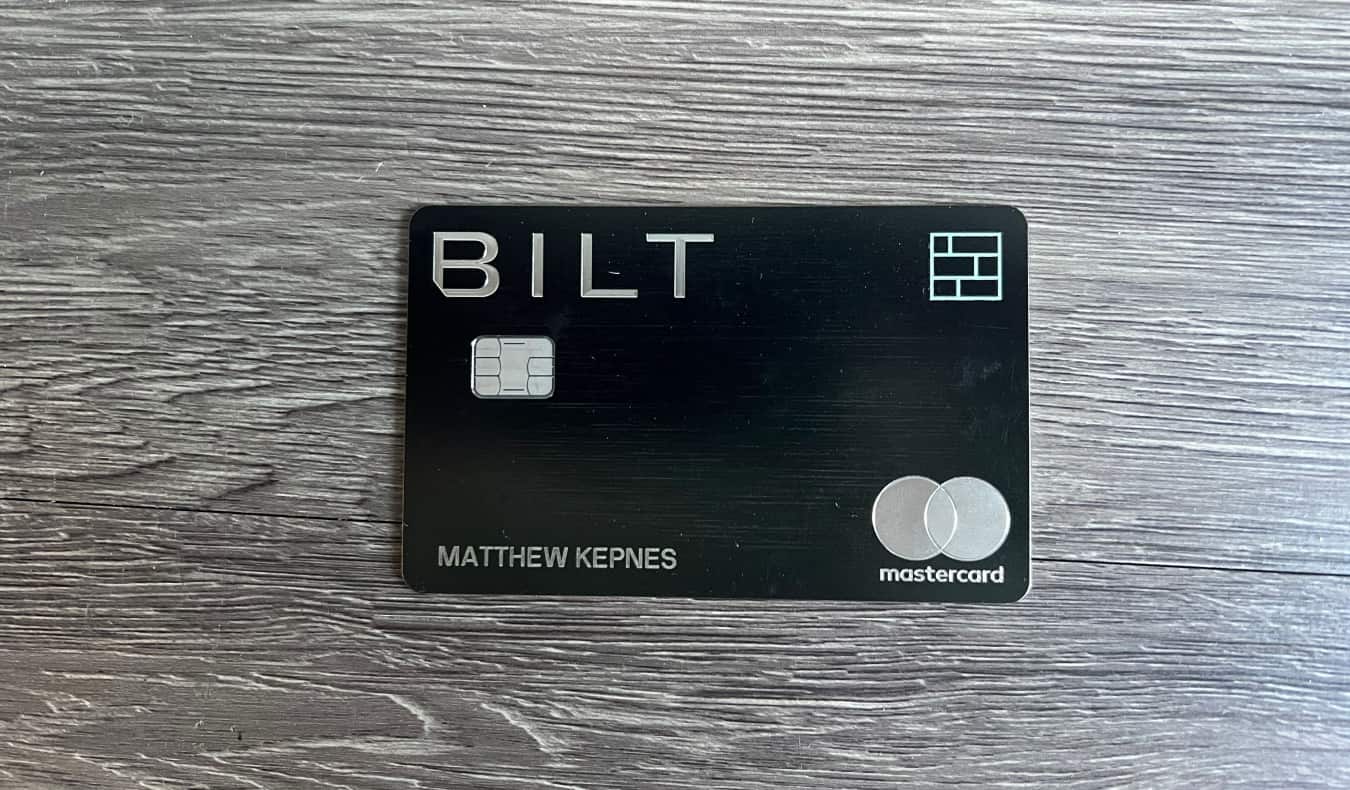 Posted: 10/16/23 | October 16th, 2023
The Bilt Mastercard® is my favorite travel credit card. It's been making waves in the travel world as the only credit card that allows you to earn points simply by paying your rent (up to 100,000 points on rent per year), making it a must-have for any renter.
And while you can't earn Bilt Points if you pay a mortgage, in all honesty, it's a great card to have in your wallet even if you own your house, as it comes with several other standout features.
One of those features, which is unique to Bilt, is Rent Day.
Rent Day is Bilt's alternative to a welcome offer. A welcome off is normally a one-time offer of a large number of points given to you in exchange for spending a certain amount of money on your card within a set time frame (usually the first 3-6 months).
Welcome offers usually equate to a free flight or free hotel stay(s) so they are used to encourage people to get a card and spend money on it. As such, they are a huge part of earning points and miles for free travel — one of the most important parts.
But Bilt doesn't have a welcome offer. It has Rent Day instead, which, in my opinion, is just as good (if not better).
I usually advise against getting a new card unless it has a stellar welcome offer. But Rent Day happens 12 times a year, meaning that you have that many more chances to maximize your points earnings. It's truly one of the best features of the card.
To help you maximize your points, here's everything you need to know about Bilt's Rent Day.
What is Bilt's Rent Day?
For most renters, rent is due on the first of every month, making it something of a dreaded day. But Bilt aims to turn this day into one you can look forward to, with ways to earn more points (up to 10,000 bonus points) each time.
I'll go over each of these in more detail in the sections below, but the main features of Rent Day are these:
Double earning capabilities on all categories (except rent payments)
Point Quest
Free rent giveaways
Unique perks that change each month (i.e. different ways to earn or spend more points)
SoulCycle Rent Day rides (complimentary SoulCycle rides)
There are only two things you have to do to make sure that you're making the most out of Rent Day.
The first is one of the most important things to know about the Bilt card, which is that you must use the card at least five times each statement period to earn any points, including any earned on Rent Day. Once you've used your card five times in a statement period, you're good to go and will earn all your points.
The second thing to remember is to download the Bilt app, as some Rent Day benefits are only available on the app (like Point Quest; more on that below).
While it really is that simple, here's how you can start taking advantage of all that Rent Day has to offer.

How to Earn More Points on Rent Day
Since Bilt first launched Rent Day in October 2022, double points on all categories have been a main feature, and it's an easy one to get. All you have to do is use your Bilt Rewards Mastercard to make purchases on the first of the month, and you'll instantly get double the points on that purchase.
That means you'll earn:
4x points on travel (flights, hotels, and car rentals)
6x points on dining
11x points on Bilt Dining (dining at select restaurants)
2x points on all other purchases (excluding rent)
It's a no-brainer to make a habit of using your Bilt card for anything you buy on the first of the month. That way, you'll get more points and be that much closer to hitting your required five transactions for the month.
Pro tip: For any reoccurring payments (like subscriptions) that hit your account on the first of the month, change the payment card on file to Bilt (assuming you can't earn more points on these purchases with a different card). That way you'll automatically get at least 2x points for these (more if they're in travel or dining categories), while ticking off some of those five required transactions.
If you have subscriptions processing on other days of the month, call the company and see if you can move your billing to the 1st so you can get those extra points.

Point Quest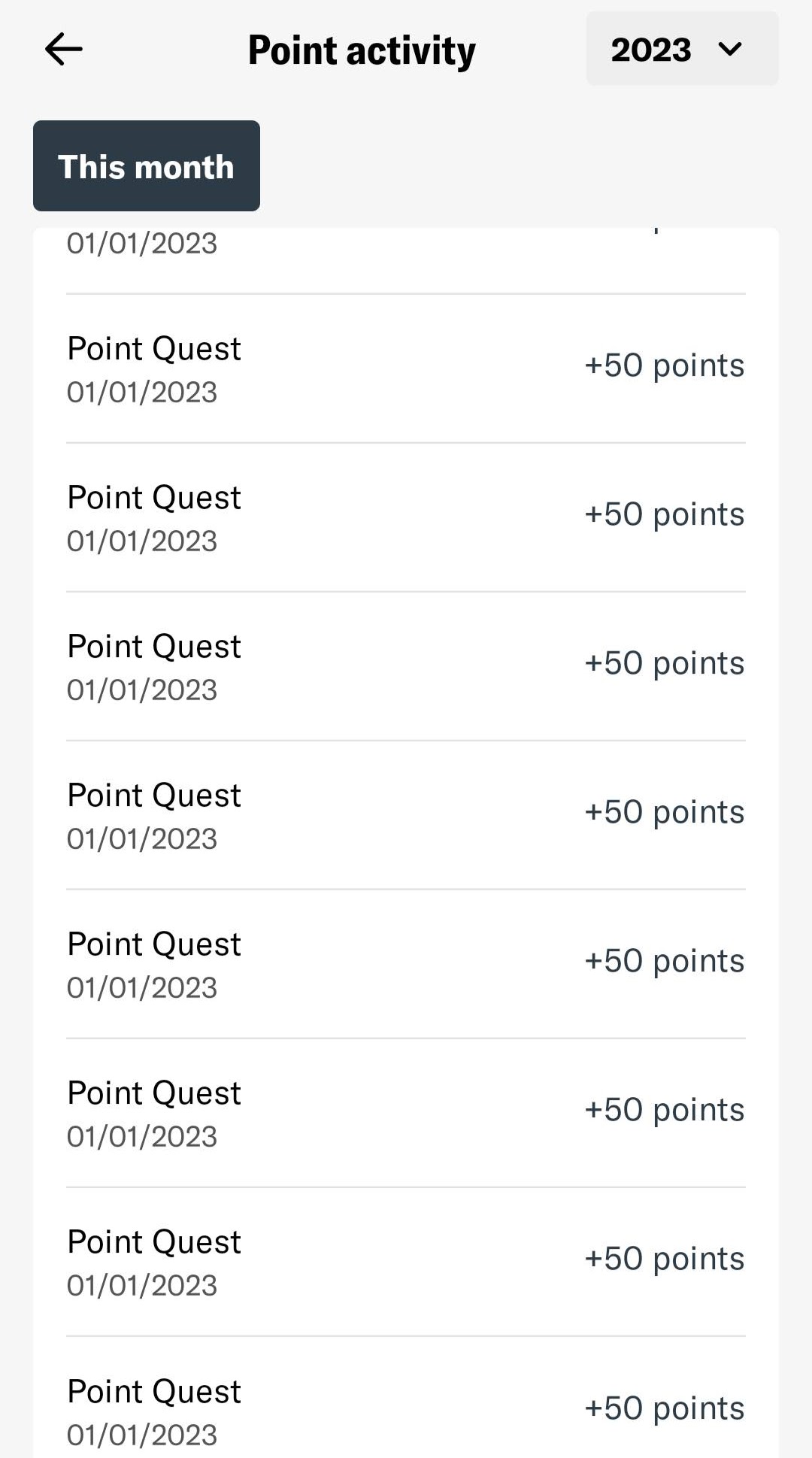 While it's easy to earn double points on your purchases on the first of the month, this Rent Day benefit makes you work for your points.
Point Quest is a game played on the Bilt app in which you can earn points for correct answers to trivia questions. There are always five questions to answer, and you'll get 150 points if you get them all right, plus a sixth question, worth 100 points all on its own. That means you could earn up to 250 Bilt points playing Point Quest each month.
The questions are usually centered on that month's theme. For example, when Bilt offered 5x points on sports tickets and NFL boxes as a Rent Day feature, the Point Quest questions were sports related. But don't worry — the questions aren't that hard. Even if you don't know much about the theme that month, chances are you'll still be able to answer at least a few questions.
Remember to download the app so that you can play. It takes just a couple of minutes and is an easy way to get some extra points on Rent Day.

Rent Giveaways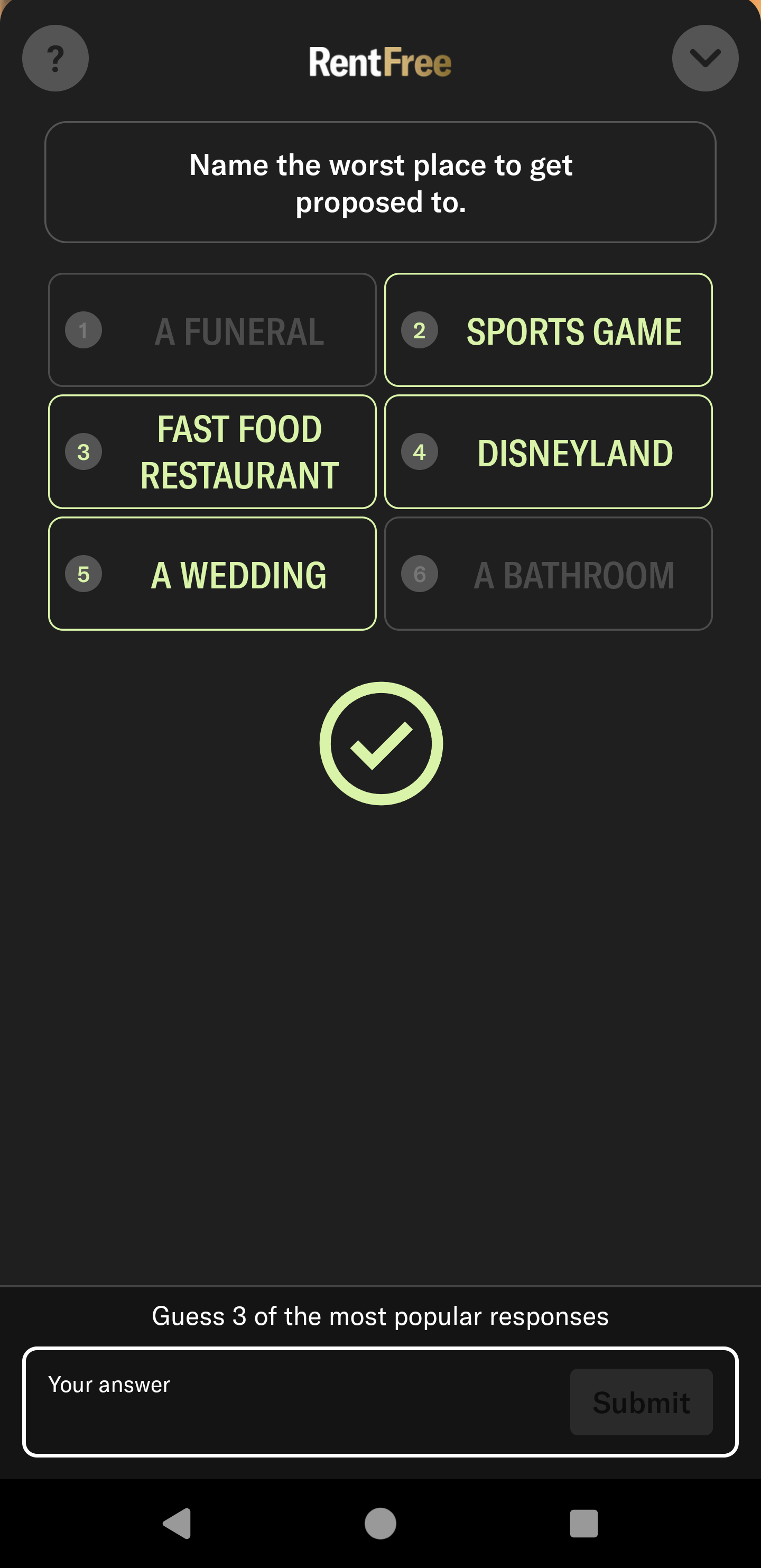 Another popular feature of Rent Day is the monthly free rent giveaways. This has taken different forms over the months, but the central tenet is the same: you could earn a month's free rent just by playing.
In the past, Bilt created Rent Challenges in which you had to solve a puzzle of some kind in order to secure your entry to the giveaway. Challenges included finding Bilt's logo hidden within a scene or fill-in-the-blank sentences to complete an idiom or popular saying. Some months, completing these challenges entered you to win not only a free month's rent but free flights to destinations that Bilt was highlighting that month (e.g., in February 2023, Bilt partnered with Hawaiian Airlines and offered free flights to Hawaii).
Over the past couple months, these challenges have been replaced with the Rent Free Game Show, in which comedians, creators, and other personalities answer questions to help Bilt members earn a chance to get their rent paid (up to $2,500 USD).
It works like this: Each month, Bilt randomly asks a thousand Bilt Members hypothetical questions. (These questions set the baseline for answers. Even if you aren't randomly selected to participate, you can still win free rent.) These questions are all over the place, and in the past, have included things like: "Where is the worst place to get proposed to?" and "What foods do picky eaters hate?" and even "What's the biggest red flag you see on dating apps?"
The Rent Free guest (the comedian or other personality) then tries to guess the consensus of Bilt members who answered. The more they get right, the more people's rent Bilt will pay (up to 10 winners each month).
Then, on Rent Day, Bilt members have the chance to answer those same questions in the Rent Day tab of the app. If you guess correctly, you'll be entered to win free rent for that month. So far, it doesn't seem like there's any limit on how many times you can try, so don't worry if you guess wrong initially. Just keep trying until you get at least three correct answers, and you'll be entered to win!
You can watch the game show on the Bilt app too, though it's not required for entry.

Previous Rent Day Prizes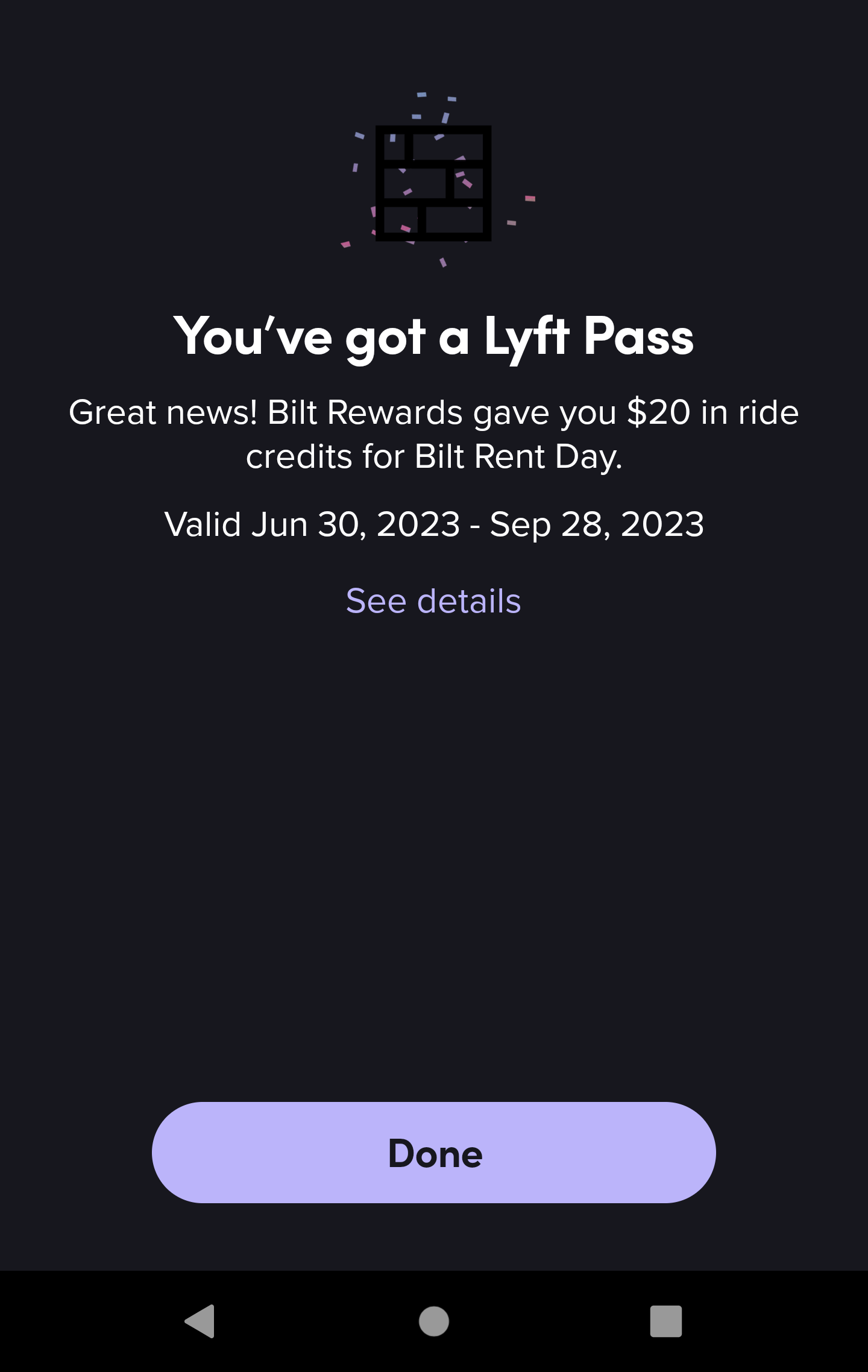 While Bilt doesn't announce its Rent Day prizes too far in advance, to give you a sense of what they are like, you can look at perks from the past. While it's nice that there are some Rent Day bonus mainstays, part of the fun of Rent Day is that you never know what they might offer up next month!
To give you an idea of what to expect, past rent day benefits have included:
United Airlines Elite Status Match
7 days of double points: Black Friday through December Rent Day
100% transfer bonuses (more on these below)
50% Bilt Point redemption bonus for Amazon
Up to $25 Lyft credit
5x points on sports tickets and a chance to use points to book NFL Box Seats
As you can see, most of these perks are one-offs, but one has happened a few times (albeit with different partners): transfer bonuses.

Perk Highlight: Transfer Bonuses
I want to talk a little more about Rent Day transfer bonuses, because while this isn't a perk every month, it's happened enough times that it's safe to say we can probably expect them in some form on future Rent Days.
Bilt points are known as transferable points because you can move them to a variety of different programs. Bilt has a variety of great transfer partners, and, most crucially, it's the only card with American Airlines as one.
Here's Bilt's list of current travel partners:
American Airlines
AerClub (Aer Lingus)
Aeroplan (Air Canada)
British Airways
Cathay Pacific
Emirates
Flying Blue (Air France/KLM)
Hawaiian Airlines
Iberia
IHG (Intercontinental Hotels Group)
Turkish Airlines
United
Virgin Atlantic
World of Hyatt
Normally, Bilt points transfer 1:1, meaning that if you transfer 25,000 Bilt points to, say, United, you'll then have 25,000 United points.
But transfer bonuses are when you get more for your points when transferring them to another program. For example, if United is running a 100% transfer bonus in partnership with Bilt, you'd get double when moving your Bilt points to your UnitedPlus Mileage account. That means that those 25,000 points would become 50,000!
As you can see, this is an incredibly valuable Rent Day benefit. While credit card companies like American Express and Chase regularly offer transfer bonuses that run for periods longer than just one day, these are normally in the range of 10-40%, not the 100% that Bilt has offered on Rent Day several times now.
Past Rent Day transfer bonuses have included:
100% with IHG One Rewards
100% with Flying Blue (KLM/Air France)
100% with Hawaiian Airlines
Transfer bonuses are one of my favorite Rent Day surprise benefits, as they are an excellent way to instantly turn your existing points into even more.
I will say that, ideally, you don't want to utilize these transfer bonuses unless you have a flight that you plan on booking immediately. As a general travel hacking rule, you want to keep your transferable points as such instead of preemptively transferring them to a specific airline or hotel, because transferable points are more flexible.
For example: say you took advantage of that hypothetical United bonus mentioned above and transferred all your Bilt points to United in order to double your points. But what if you later go to book a flight and the best deal at the time is with Virgin Atlantic? You won't be able to take advantage of that flight since all your points are now with United.
I recommend using these transfer bonuses if they're with brands that you use regularly (as then you know you'll eventually use those points), but not transferring all your Bilt points. And when in doubt, keep your Bilt points (or any other transferable points) as they are until you're ready to use them.

Is Rent Day Worth Participating In?
Yes! Considering it's absolutely free to take part in the Rent Day festivities, there's no reason not to take advantage of the various perks and benefits that Bilt offers on this day. While you might be more excited about the unique offerings some months than others, there are always double points, Point Quest, and giveaways for free rent to look forward to.
To sum up, here's how to make the most of Rent Day:
Use your Bilt card for any purchase you make on the first of the month
Download the Bilt App and keep notifications on (they'll let you know a few days beforehand what that month's benefits will be)
Play Point Quest
Play Rent Free
Make at least five transactions that statement period to make sure you get the points you earn on Rent Day!
Do that, and you'll be able to maximize your Bilt points and get one step closer to free travel!

Bilt Rent Day Frequently Asked Questions
How many Bilt points do you get on Rent Day?
You can earn up to 10,000 Bilt Points on Rent Day. There is no category cap, meaning that you could earn all these points in one category (such as travel), or spread out across many different ones.
What is the maximum Bilt points you can earn per year?
You can earn up to 100,000 Bilt Points annually on rent, but there's no cap on how many Bilt Points you can earn per year on other purchases.
Is it hard to qualify for Bilt?
The recommended credit score to apply for Bilt is in the good-to-excellent range (670–850), though this isn't a hard-and-fast rule. Other factors in your credit history may come into play when your application is evaluated.
Can I use Bilt to pay my mortgage?
No. You currently cannot use Bilt to pay your mortgage. However, even homeowners might want to consider getting Bilt for its other benefits, including Rent Day (which, again, anyone can participate in). It's without a doubt the best no-fee travel credit card out there, with a wide range of travel partners, free point.me (search engine for finding award flights) and Awayz access (search engine for finding award hotel stays), and solid travel insurance.
Do Bilt Rent Day points expire?
Nope! Bilt Points of any kind — including those earned on Rent Day — do not expire as long as your account remains open and active. (Bilt defines "active" as any account on which there has been activity in the last 18 months. That includes using the Bilt Mastercard for regular purchases, paying your rent through Bilt, redeeming Bilt Points, or participating in any Bilt sweepstakes.)
***
Rent Day offers a host of ever-changing benefits and perks and is one of the reasons that Bilt is my favorite card in my wallet right now. While you can only earn a welcome offer once, Rent Day comes 12 times a year, every year, meaning that as a Bilt cardholder, you'll have that many more opportunities to earn more points — and maybe even a month's free rent if you're lucky!
If you pay rent and live in the USA, this card is a must. I really can't recommend it enough!

Book Your Trip: Logistical Tips and Tricks
Book Your Flight
Find a cheap flight by using Skyscanner. It's my favorite search engine because it searches websites and airlines around the globe so you always know no stone is being left unturned.
Book Your Accommodation
You can book your hostel with Hostelworld. If you want to stay somewhere other than a hostel, use Booking.com as it consistently returns the cheapest rates for guesthouses and hotels.
Don't Forget Travel Insurance
Travel insurance will protect you against illness, injury, theft, and cancellations. It's comprehensive protection in case anything goes wrong. I never go on a trip without it as I've had to use it many times in the past. My favorite companies that offer the best service and value are:
Want to Travel for Free?
Travel credit cards allow you to earn points that can be redeemed for free flights and accommodation — all without any extra spending. Check out my guide to picking the right card and my current favorites to get started and see the latest best deals.
Need Help Finding Activities for Your Trip?
Get Your Guide is a huge online marketplace where you can find cool walking tours, fun excursions, skip-the-line tickets, private guides, and more.
Ready to Book Your Trip?
Check out my resource page for the best companies to use when you travel. I list all the ones I use when I travel. They are the best in class and you can't go wrong using them on your trip.