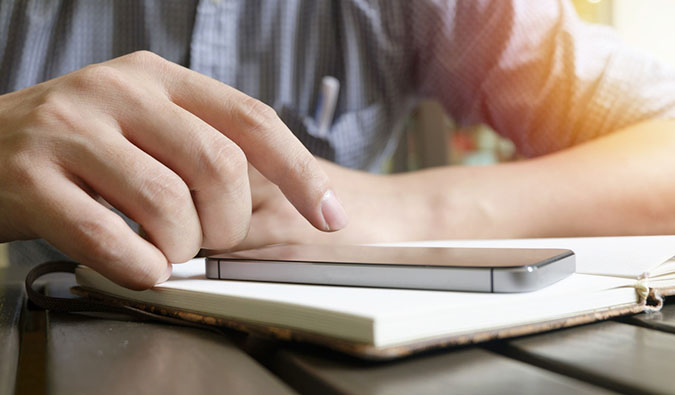 On the first Tuesday of each month, Dave Dean from Too Many Adapters gives us great tips and advice on travel tech and gear. This month's column is on the best apps to help manage and save on your trip. With so many travel apps out there, it's hard to know which ones are actually worth the effort. Dave has plenty of excellent suggestions.
There's no shortage of travel apps cluttering up the Android and Apple marketplaces these days — and that's a problem, as most of them are terrible. Sorting out useless ones from those worth installing is not the most fun you'll ever have with your smartphone, and no one wants to pay for a worthless app.
If you've got a trip coming up, rather than wasting a week of your life downloading useless junk, start with these 10 great travel apps instead. They were all released this year so there's no outdated information or old versions that haven't been updated in forever. They all bring something that's a bit different, interesting, or at least useful to the mix.
LoungeBuddy

I've spent enough of my life waiting around in airports to know that it basically sucks. I usually fly on budget airlines with long layovers and terrible connections, so dirty seats, expensive Wi-Fi, and bad food are a depressingly regular part of my life. The only places that offer any respite are the lounges — but without a membership or business-class tickets, I'm not inclined to wander around and ask random lounge staff if they'd like to let me in.
I was impressed by LoungeBuddy, which takes much of the pain out of the process. After entering your credit card, airline status, and lounge memberships, the app tells you which lounges you can access at any given airport. Even for people like me who don't have any of those things, the app still lets you know about any free lounges or where you can purchase a day pass for. It's slick, easy to use, and free — just how I like it.
The company released its Android app earlier this year, after last year's iOS version.
Options Away

Deciding exactly when to book a flight always feels a bit like a night at the casino, just without the free drinks. It's a gamble, and I've been caught out so many times by flight prices that drop just after I book them, or go up just after deciding to wait for a bit. This happened to me last month, and my flight to London for Christmas will now cost me $200 more thanks to a price increase!
Options Away (iOS only) essentially lets you buy cheap insurance on your ticket price. For $4–$50, you can lock in the cost of any given ticket for up to three weeks. If the price goes up, you'll only pay the original fare, and if it goes down, you just buy that ticket instead.
Only US domestic flights are covered at the moment, but international routes are coming "soon."
TPG To Go

The Points Guy site has long been a great resource for those looking to get as many award points as they can for as little money as possible. The companion app released in October adds a bunch of extra features, including using your location while shopping to advise which credit card to use at the register, a spending calendar to make sure you'll hit those sign-up bonuses, and tracking the best credit card deals available right now.
The app is free, although you'll need to pay $3.99 for the premium version if you want it to track your card spend. Even for new users, there's enough in the app to make it worth checking out.
(Matt says: This is one of my favorite new apps! Get it!)
FrameBridge

Aimed at those who've returned from a trip and want to keep the memories alive a little longer, Framebridge (iOS only) offers a photo printing and framing service with a few neat extras.
The company provides a free app that lets you choose a photo from your Camera Roll or Instagram feed; pick a frame, size, and other options; and upload the order directly from your phone. It will even superimpose your framed image over a picture of your wall, so you can get an idea of what it'll look like before hitting the order button. It's a gimmick, but a pretty cool one.
FrameBridge boasts of being 50-70% cheaper than the competition and offers free shipping in most of the United States.
AirHelp

If you've ever endured the pain of a delayed or cancelled flight, or been denied boarding because of overbooking, the free AirHelp app will be right up your alley. Both US and EU laws provide for compensation in such cases, although the details differ. It's a complicated process, though, and apparently less than 1% of passengers entitled to compensation ever get it.
This app makes the process simple, and something you can do in a few minutes while still waiting around at the airport. Just enter your flight information and a few details about the problem, and the company takes care of the rest. If the claim is successful, they take 25% of the payout and you get the remainder. You also get a referral bonus for anyone else on your flight that you send the company's way.
Stayful

There are dozens of hotel booking apps out there, and most of them offer pretty much the same features and pricing. If you're traveling in the US and prefer hotels to hostels, the Stayful app (iOS only) is worth a look.
Rather than just listing thousands of properties, or whatever's on special today, Stayful takes a different approach. You choose your destination, dates (within the next month), and price range, and are shown available properties, their best online rate, and a recommended bid amount. From there you pick a hotel, send your bid, and get notified if it's accepted.
This kind of direct interaction with a hotel is unusual and makes the app worth trying before booking through any of the standard hotel booking sites. The only downside at the moment is that hotels are limited to certain US cities, so let's hope the company succeeds and is able to expand quickly.
HotelUpgrade

Speaking of hotels, everyone likes free stuff — and hotel upgrades are no exception. The app of the same name lets you search for your favorite hotels and view the upgrades on offer. If you decide you like the look of them, just book your stay directly on the hotel website, send the reservation details via email or the app, and you'll get those perks added to your booking.
Upgrades include better rooms, valet parking, free drinks, and more, and you'll still get the award points and any other benefits you'd usually be eligible for. The more nights you book, the better the perks.
iOS only (free)
Destination-Specific Guides

2014 seems to have been the year that tourism boards and guidebook companies finally got serious about mobile users. It seemed like there was a new destination-specific app released every week, which is good news for travelers!
The city of Bilbao in northern Spain brought out a photo-heavy travel guide, while Negril in Jamaica made a point of mentioning everything from mom-and-pop fruit vendors to more traditional bars, restaurants, and grocery stores. India's Ministry of Tourism got in on the act, as did the US state of Tennessee and many, many others.
Now, finally, it's actually worth searching the Google or Apple app stores for destination-specific apps for wherever you're planning to go. In my experience they're usually more detailed than a general guide book, often free and — so far at least — regularly updated.
PPLConnect

It's a well-known fact that many international travelers (especially those from the United States) have phones which are locked to their cell provider and can't be used overseas without racking up huge roaming bills.
PPLConnect provides an interesting solution to the problem. The idea is that you install and set up the app on your smartphone, then leave it charging at home while you head off overseas with a tablet, laptop, or whatever else you've got. Using a web portal in the Chrome browser, you can then read and reply to your SMS messages, see missed calls and make new ones, and view your contacts and app notifications, all as if you were in front of your phone.
If you don't really need your phone while you travel, this is a good way of still being able to get some use out of it without paying way too much for roaming. The biggest problem right now is it only works with Android devices.
Hostelworld

The Hostelworld app has been around on iPhone and Android for a while, but the iPad version only came out a few months ago. It does all the usual things you'd expect an accommodation booking app to do — searches, descriptions, filters — and looks particularly good while doing so. The full-screen interactive map makes it easy to work out whether the hostel you like is anywhere near where you want to be, while those all-important reviews are only a tap away.
Property photos are nice and large, and once you've saved your credit card details, booking a new property is quick and easy. It's simple, too, to view your previous and upcoming bookings at a glance.
The app world is a constantly changing place, and there are many travel apps out there already that take the pain out of travel, from companies like Airbnb, TripIt, Kayak, ITA Matrix, and HotelsTonight. They help you travel better, cheaper, and longer. The above 10 are some of the new and upcoming apps that show a lot of promise and are worth downloading to your phone before your next trip.
Dave runs Too Many Adapters, a site devoted to technology for travelers. A geek as long as he can remember, he worked in IT for 15 years. Now based out of a backpack long term, Dave writes about travel and tech from anywhere with half-decent Internet and a great view.  You can also find him talking about the life of a long-term traveller at What's Dave Doing?