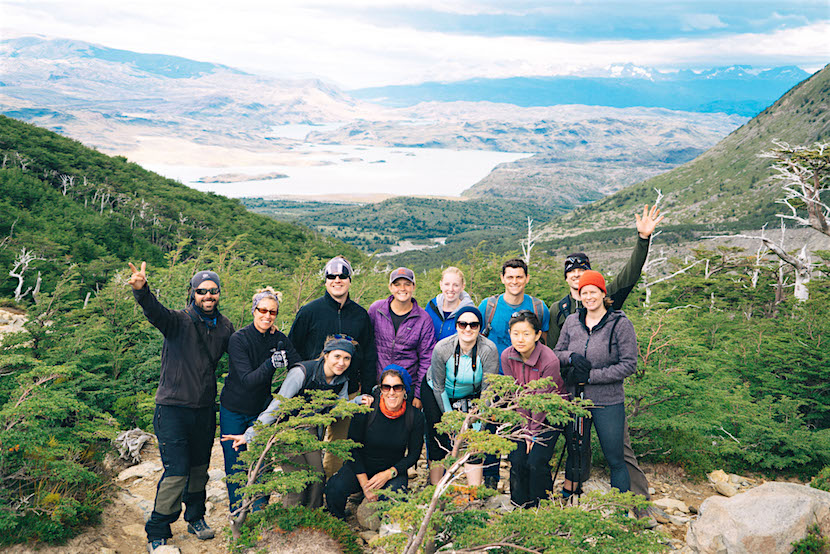 (Me in Patagonia on my Intrepid tour)
Tours are usually synonymous with big buses and camera-clicking holiday makers racing through a country in an overpriced vacation.  However, organized tours can actually be quite good. My first trip overseas was on an organized tour. I didn't know the first thing about travel and that tour gave me the confidence to travel on my own. Tours give people the time to adjust to the travel lifestyle. And anything that gets people up and on the road is something that I support. Moreover, some people simply don't want to travel alone and tours give people a ready made group of friends.
The idea of tours being bad is an old and outdated perception. Today's tours are eco-friendly, cater to all travel styles, over cheap, and make a point to use local transportation and guides. They might not be for everyone but they certainly aren't what they used to be like!  And many destinations (like Halong Bay, the Galápagos Islands, the Serengeti, and Machu Picchu) are inaccessible without them!
Today I want to give advice on what to look for in a tour company so you get one that is inexpensive, eco-friendly, provides local guides, and gives back to the local community:
1. The cost
2. Find the target audience
3. Get local guides
4. Safety record
5. A balanced schedule
6. Environmental impact
7. Group size
8. Their reputation
(My tour group and I in Costa Rica on my first trip overseas!)
1. The cost – With tour companies, it's not always true that you get what you pay for. Many tour companies overcharge or nickel-and-dime you, while some are just really good at maximizing value for your every penny. Ask where the money goes and how it is spent to find out if you are really getting the best value for your money. How much of your fee is their overhead? Are you paying for top-notch hotels but staying in two-star guesthouses? You want a company that is transparent. Moreover, make sure you ask if there are added fees to pay when arrive. Many companies require you to pay additional money when the tour starts or don't include park or attraction entrance fees. That cheap tour won't be so cheap if you have to pay for everything while you're there!
Also, avoid the single supplement. Many tour companies (though thankfully fewer these days) charge you a single supplement, i.e., more money to have your own room. They do these because they don't want to mix and pair people together. It's outrageous, and it penalizes solo travelers. Never, ever pay it. The good tour companies will pair solo travelers (of the same sex) together in the same room. If there isn't anyone else, you'll get your own room by default.
2. Find the target audience – Research the company's target market. Is the tour geared toward older couples? Young people? Families? You don't want to end up on a loud Contiki tour when all you wanted was a quiet holiday. There's a tour company for everyone — just make sure you don't end up on one that isn't yours. Most tour companies list their target demographics on their "About" page, and you can usually see from the photos of their tours who goes on it. You can also tell the audience based on accommodation: if it's hostels or guesthouses, it's usually for backpackers and budget travelers; if it's fancy digs, it's for older travelers and families.
I also ask on Twitter, message boards, forums, and Facebook about the companies get an idea as to who goes on their tours.
3. Get local guides – Guides can make or break your trip. They are going to explain everything to you and keep the flow of the tour going. I don't want them hiring some young kid, nonexpert, or someone who doesn't know the place well. I've been on tours where the guide was a walking encyclopedia, and on some where the guide was a glorified timekeeper.
Make sure the company uses knowledgeable, local guides. The guide should be a local or at least a long-term resident, know the local language, have travel experience, and know life-saving techniques.
4. Safety record – Make sure the company follows all the proper safety requirements and is accredited by the local government, the government where they are registered, and any other appropriate trade organizations.
5. A balanced schedule – You're paying for them to fill your day. How do they do that? Are they doing that? Do they have a lot of activities organized, or do they leave you to your own devices? Make sure you get a schedule of all the activities and pick a tour that is balanced. Running around all day will leave you wishing you had a holiday from your holiday, but you don't want to be sitting around all day, either.
6. Environmental impact – There's a growing trend among travelers called ecotourism. It's about more responsible travel, not only toward the environment, but also toward the locals in an area. This means using local guides, hotels, and services, and making sure to reduce waste and your footprint on the local habitat. Moreover, these companies tend to offer better and more interactive tours that also give you a good degree of autonomy.
I think it's important to pick a company that provides great value and gives back to the place you are visiting. After all, did you go there to ruin it for others? Doubtful.
Check with various ecotour alliances and groups for a list of companies that have been certified "eco-friendly." With so much money pouring into the industry now, you have a lot of companies fraudulently saying they practice ecotourism. Make sure you find a legitimate one.
(My tour group and I in the Galapagos Islands!)
7. Group size – Larger groups tend to have a much higher environmental impact and require larger buses, bigger ships, and more resources. Tour companies that have smaller groups tend to be much more mindful of the environment and the impact they are leaving. Plus, it's a lot easier to meet people in a group of 12 than it is in a group of 60. I don't like to go on tours with more than 15 people on them. However, that's just me. I've had friends go on Contiki tours with 40-50 people. Know what you are getting yourself into, so you don't find yourself with a group too small or too large for your tastes.
8. Check their reputation – How have other travelers enjoyed their time? Look on travel message boards and at online reviews to see what a company's reputation is. It might not always be what they claim, and it's important to find out the truth before you book. The biggest, most expensive companies might not always have the best reputations. Sometimes the little ones are just as good.
Remember that MOST people only write a review if something goes wrong, so I always read the worst first then read the middle ones. Someone might give a tour company one star because their eggs were runny. Find the average.
But remember to take these reviews with a grain of salt. This is why this tip is last. If you read reviews first, you will color your judgment by having the reviews already shape your opinion of a company you have just started to look at.
****
Tour companies are not inherently bad
. We think of tours as the antithesis to solo, adventure travel, but more often than not we are on tours when even we don't realize it. That walk around Rome? A tour. Hike through the mountains? A tour. Sailing trip? That's a tour too!
I love tours. They are a great way to meet people, get a local to add value and knowledge, and see places you can't get to alone! I don't take them often but I do take them. And, since I follow the above rules, I always have a good time.
Recommended Companies
Here are some of my favorite small, day-tour, or backpacker bus-tour operators:
When it comes to multi-day, multi-week tours (think trips through Morocco, sailing in the Galápagos, etc.), I highly recommend Intrepid Travel. They offer incredible small group tours that use expert guides and leave a small environmental footprint. They are my favorite multi-day tour operator and the only one I use now (the picture at the top of this page is me on their Patagonia trip). I absolutely love them and have been using them for years. I never have a bad time on them and have met some AMAZING people on them. Intrepid is environmentally friendly, uses local guides and transportation, doesn't rush their tours, and are quite inexpensive. I travel with them about 1-2 times per year.
And, I worked out a deal with them where you get 10% off all tours over $500 USD to readers of this website. Just click here to view the exclusive promo code. Just use it at checkout and save some money on your next organized group tour! It's unique discount to this website!
(Photo from my tour to Morocco! Yay for camel riding in the Sahara!)