Hong Kong is one of the most densely-populated places on earth. Composed of three different islands (Hong Kong Island, Kowloon and the New Territories), there are more than enough sights and sensations to soak up any type of trip you have planned. From traditional street markets and beautiful temples to the fast-moving, skyscraper-dotted streets, to endless food and drink options, there is so much to do here. It's hard to dislike Hong Kong. I can't get enough of the city, and if you are a foodie like me, it is heaven. It's hard not to walk away a few pounds heavier. Hong Kong is one of the most exciting places on earth and, even after countless places, the city remains in my top five.
Typical Costs
Hostel prices – Dorm room prices vary widely, starting around 90 HKD per night but, on average for a decent and clean room, expect to pay closer to 150 HKD. (Smaller rooms are obviously more expensive.) Private rooms in hostels start at around 250 HKD and go as high as 500 HKD for a double room. Yes Inn and Rainbow Lodge are two of my favorite hostels in the city.
Budget hotel prices – Prices start from 350 HKD per night for a basic double room in a hotel. Larger, more international changes start at around 600 HKD per night. There are a lot of apartment rentals via sites like Airbnb that are a much more affordable option if you don't want to stay in a hostel but can't afford a hotel. They are usually where I stay.
Average cost of food – While Hong Kong is generally expensive, there are plenty of options for cheap food. Market food, noodles, and dumplings will cost around 40 HKD per meal. Sit down restaurants with table service will cost around 100 HKD for a meal with a drink. If you decide to splurge, you can expect to pay around 310 HKD or more for something fancy or Western like Italian, Steak, or American fare. But you'll find there is enough cheap markets and noodle shops to keep you busy during your visits. Drinks are roughly 23-31 HKD, though wine and fancy cocktails can be between 75-155 HKD. See my guide at the end for a list of my favorite restaurants.
Transportation costs – A tourist travel pass costs 55 HKD per day and covers unlimited travel on the metro, tram, and light rail service.  Individual tickets are based on distance and range from 7-23 HKD. The Star ferry between Hong Kong and Kowloon island is 2 HKD. The subway goes everywhere but late at night, taxi cabs are a good option to get around and are inexpensive.
Money Saving Tips
Beyond the general tips of eating local, avoiding drinking, taking public transportation, here are some specific tips for saving money in Hong Kong:
Eat at the buffets – Many restaurants offer an all you can eat menu for less than 110 HKD. They are filling and cheap and provide the best value.
Avoid staying on Hong Kong Island – If possible, avoid staying on the island of Hong Kong. The other islands have much cheaper accommodations but if you do end up on Hong Kong island, Causeway Bay has most of the cheapest accommodation.
Visit the markets – Most locals shop at the markets as they offer the cheapest and freshest foods, at times up to 50% cheaper than grocery stores. Do all your grocery shopping here.
Stay in Chungking Mansion – While a far cry from even a 1 star hotel, Chungking Mansion offers the cheapest accommodation in the city. It's not the nicest place but it's certainly an experience. If you are on a tight budget, stay here.
Get a transit day pass – Trains in Hong Kong can add up quickly as fares are based on distance. Getting a day pass will be much more economical if you are traveling all over the city and into the New Territories.
Top Things to See and Do in Hong Kong
Visit the temples – There are a large number of traditional temples and heritage sites throughout the city. You can visit the Miu Fat Buddhist Monastery, Lo Pan Temple, Sha Tin Che Kung Temple, or the Yuen Yuen Institute. Check out the Cultural Kaleidoscope program for an even more in-depth experiences of local culture. (Miu Fat and Lo Pan are my two favorite.
The Peak Tram – This tram takes you to the top of the Peak, Hong Kong Island's largest mountain, which reaches 1700 feet above the water (you can always walk up the hill if you don't want to pay for the tram!). This is a spectacular way to view the skyscrapers of Victoria Harbor and Kowloon while you marvel at the encompassing beauty of the surrounding hills. I love the scenery and just sitting on top of the hill getting a real sense at just how big and dense the city is.
Visit the street markets – These are possibly the best place to soak up the atmosphere, busy vibe, sights and sounds of Hong Kong. The best markets to go to are the Ladies Market, Temple Street Night Market, and the Stanley Market. You'll find everything you need here (as well as lots of food).
Sheung Wan District – Famous for its bird's nest and shark fin soup (which you should not eat), this area reflects the old Hong Kong. High end apartment and office blocks tower over small stores and traditional markets and it's less developed with modern buildings than other parts of the city.
Jungle trekking – Outside the congested area of the city, you'll find lots of places to explore nature. You can explore or trek along one or more of the eight different "geo-areas" distributed across the Sai Kung Volcanic Rock Region and Northeast New Territories Sedimentary Rock Region. Both areas provide a great place to experience a side of the city few people ever see because they can't escape the hustle and bustle of the area!
Disneyland and Ocean Park – If you're on a family trip, or even if you're a backpacker in touch with your inner child, head to Disneyland or Ocean Park for a fun-filled day. Hang out with Mickey Mouse and shake hands with sea creatures. Moreover, you can see Giant Pandas at Ocean Park, which in itself justifies the whole visit. Tickets are not cheap and a day in either park will put a dent in your wallet. But somethings are worth it!
Tsim Sha Tsui Waterfront – Stroll along the Tsim Sha Tsui Waterfront, and take in the breathtaking skyline view of Hong Kong island. While you're here, make sure to visit the Avenue of Stars, Hong Kong's answer to the Hollywood "Walk of Fame".
Mai Po Natural Area – This endless stretch of mangrove forest and muddy swampland is a paradise for birds and invertebrates. Overs 430 kinds of birds have been documented here. From October to April, you can even watch the annual migrations. It's another option to see more than just the buildings of HK.
Visit the Po Lin Monastery – Built in 1924, this temple is situated on Lantau Island. It is commonly known as the 'Buddhist Kingdom in the South", and ranks as the most magnificent structure among the four Buddhist temples in Hong Kong.
Ride 360 Ngong Ping – This cable car runs a little over 3.5 miles long, spanning from Tung Chung, across the bay, to Airport Island. The view gives you a panoramic view of the whole area and goes through the mountains. The ride lasts about 25 minutes and offers AMAZING views of the city and ends up at Po Lin Monastery. Definitely a must do while in the city.
Explore Tung Shoi Street – Also known as Ladies Street, this open-air bazaar is situated in the central area of Mong Kok. It is one of the busiest places in Hong Kong and is filled with shops and cheap goods. Remember to bargain.
Experience the nightlife at Lan Kwai Fong – LKF is the main nightlife and party area in Hong Kong and is filled with tons of bars, clubs, sheesha, and cheap drinks. Nights out here are wild and crazy and the place is packed any night of the week. If you're looking to get wild, you can't go wrong here.
Get the In-Depth Budget Guide to Hong Kong!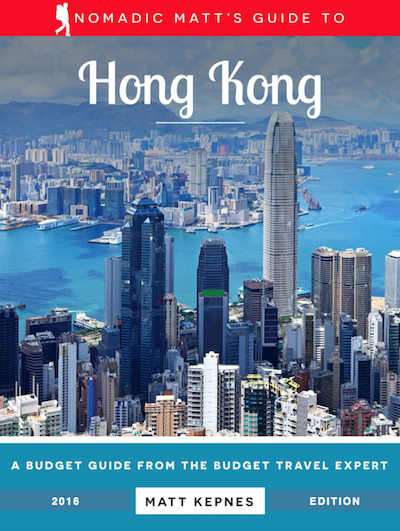 For more in-depth information and tips, check out my guidebook to Hong Kong. It cuts out the fluff found in other guides and gets straight to the practical information you need to travel and save money in this fast paced and expense city. You'll find suggested itineraries, budgets, ways to save money, on and off the beaten path things to see and do, non-touristy restaurants, markets, and bars, and much more!!
Click here to learn more and get started.