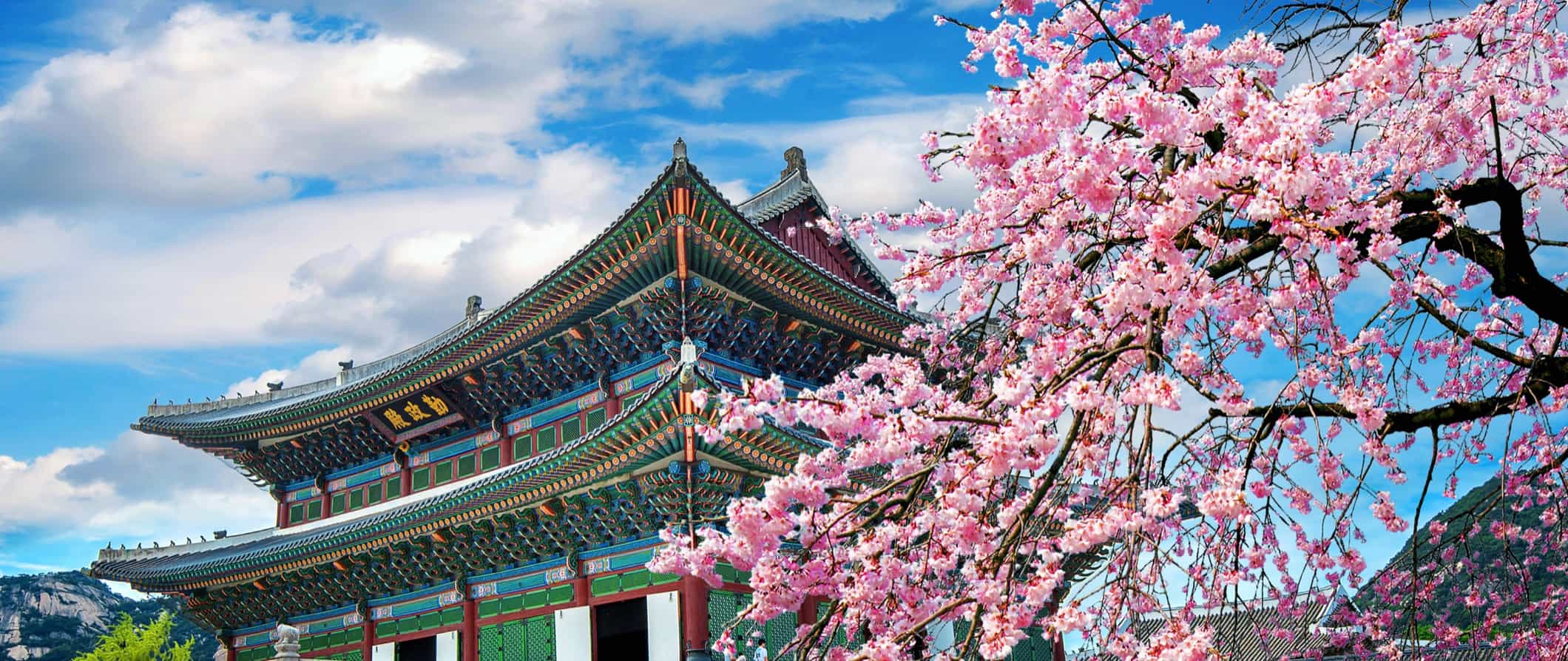 Though South Korea is small (about the size of the US state of Indiana), it punches well above its weight in terms of things to see and do. Boasting a vibrant culture, incredible history, natural beauty, delicious food, and a wild nightlife, it's home to both major cities and untouched nature, offering something for every traveler.
Seoul, the capital city and fourth-largest metropolitan area in the world (over half the country's population of 50 million is concentrated here), is a lively hub for food lovers and partying. But while it gets all the attention, there is much more to explore, including 22 national parks, lush Jeju Island, and the infamous Demilitarized Zone (DMZ) bordering North Korea.
Best of all, since South Korea is a manageable size, you can see a good portion of it in a limited amount of time. The transportation here is modern, clean, and efficient, so it's easy to get around quickly.
The country is also a foodie's paradise, with cheap street food and delicious dishes like bibimbap, kimchi, and the famed Korean barbecue.
It's one of my favorite countries in the world and one that I think is super under the radar and often overlooked by travelers. You never see the tourist crowds found in other Asian countries.
This travel guide to South Korea can help you plan your trip, save money, and make the most of your visit.
Top 5 Things to See and Do in South Korea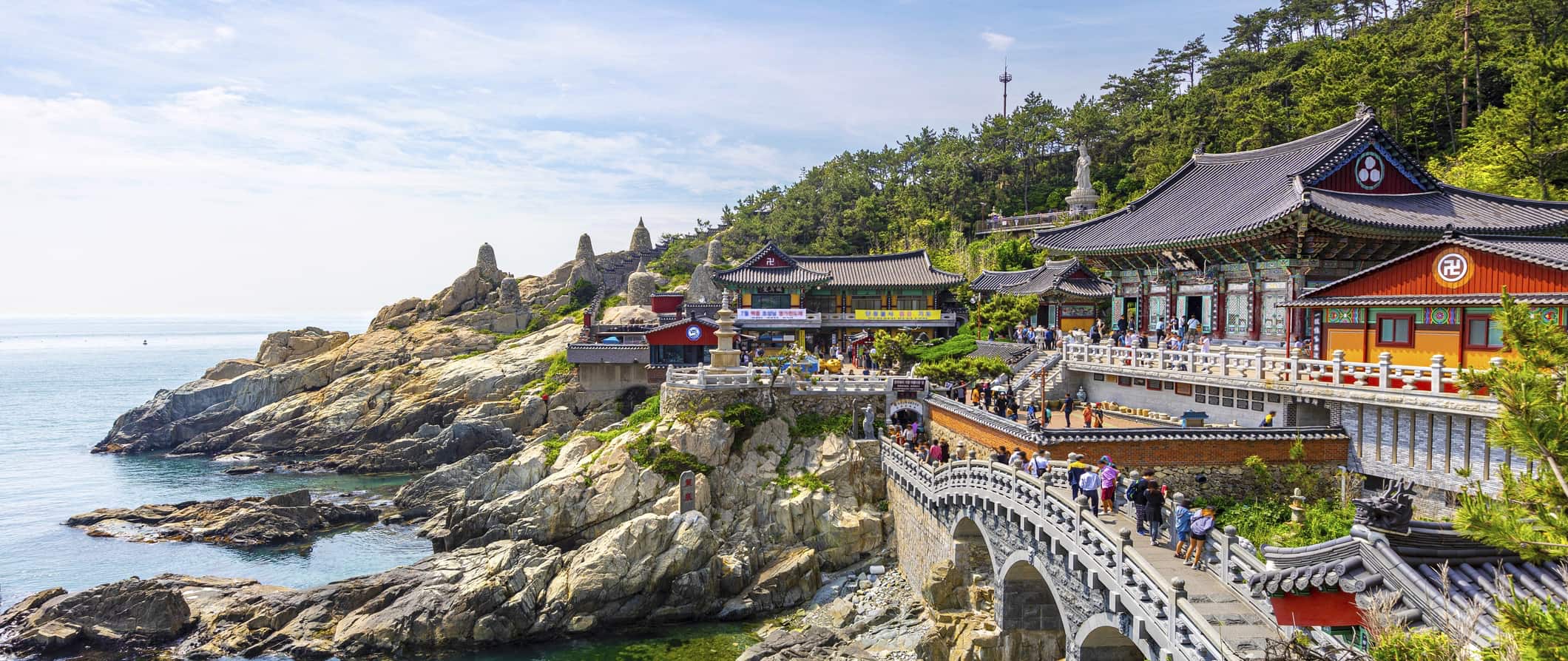 1. Explore Seoul
Korea's capital has a little bit of everything. It's a bustling metropolis and global technology hub, with sleek and modern neighborhoods like Gangnam and iconic sights like the Lotte World Tower, the sixth-tallest building in the world. Yet there is a lot of history here too, including many museums, palaces, and temples, among them five UNESCO World Heritage Sites. When you're done exploring for the day, Seoul has a robust street food scene, countless trendy restaurants, and fast-paced, soju-driven nightlife. You could easily spend weeks here and never get bored.
2. Tour the DMZ
The Demilitarized Zone (DMZ) separates North and South Korea and, despite the name, is the most militarized border in the world. You can only visit the Joint Security Area (JSA), which has military personnel from both sides, on a guided tour, but it's a unique experience and an important way to learn about this ongoing conflict (the war started in 1950 and has not officially ended). On the tour, you'll be able to actually stand in North Korea, visit the Third Tunnel of Aggression (which North Korea dug to sneak soldiers across the border), see the Freedom Bridge, and catch glimpses of North Korea from the Unification Observatory. Guided tours of the DMZ start from 80,000 KRW.
3. Visit Jeju Island
This volcanic, semitropical island is a popular domestic vacation spot. It's accessible via cheap daily flights from Seoul that take just one hour. Known as "the Hawaii of Korea," it's a natural paradise, home to the tallest mountain in Korea (Mount Hallasan), lava tubes, beautiful beaches, and countless hiking and walking trails. Other attractions include visiting mythic Jeju Stone Park, wandering the Yeomiji Botanical Gardens, and watching the haenyeo divers — women who dive without any protective equipment to gather underwater treasures like shellfish and seaweed, which they then sell on the beaches. You can visit the Jeju Haenyeo Museum as well to learn more about this cultural practice that dates back centuries.
4. Sing karaoke
Known as noraebang, this is a cultural phenomenon and something worth experiencing at least once while visiting Korea. While the karaoke machine was originally invented in Japan, Koreans have adopted the pastime and made it their own. Here, you rent out a private room with a group of friends (instead of singing in a public bar, as is often the case in Western countries). Pricing is determined by the hour, with rates varying wildly depending on the number of people, time of day, day of the week, and whether snacks and drinks are included. Average group karaoke rates range from 5,000 to 15,000 KRW.
5. Step back in time at a hanok village
These historic Korean villages are composed of hanoks, or traditional Korean houses, some of which date back to the 14th century. There are many such villages all over the country, but the most popular is Jeonju, with its 800+ hanoks, the UNESCO-designated Gyeongju Yangdong, and Bukchon, which lies within the Seoul metropolitan area. While the homes in these villages may be historic and many are still private residences, many others have been transformed into cafés, restaurants, teahouses, galleries, museums, and even accommodations.
Other Things to See and Do in South Korea
1. Visit Changdeokgung Palace
One of the Joseon dynasty's Five Grand Palaces, this 15th-century complex in Seoul was built in harmony with the natural environment at the foot of Bugaksan Mountain. Changdeokgung, or "Palace of Prospering Virtue," was the main royal residence for 13 kings over the course of three centuries. The complex sprawls over 110 acres, 60% of which is taken up by the beautiful Huwon Secret Garden, home to over a hundred species of trees, flowers, and other plants (some of the trees here are over 300 years old!). The main draw is wandering around the exterior, with its restored buildings and gates, though you can also go inside Injeongjeon Hall, the palace's throne room. Admission to the complex is 3,000 KRW; the Secret Garden is an additional 5,000 KRW. There are guided tours in English as well.
2. Explore Busan
Korea's second-largest city is located just two hours from Seoul on the KTX high-speed bullet train. A coastal city, Busan boasts great beaches, such as Haeundae Beach, with its miles of sand, and Gwangalli Beach, known for its sunsets. Gamcheon Culture Village, the "mural village of Korea," is a hillside neighborhood rich in street art and covered in murals, and nearly all the houses are painted bright colors. It's a great place to wander around for a few hours, popping into the unique shops, cafés, and restaurants.
3. See the National Museum of Korea
If you visit only one museum in Korea, make it this one. Located in Seoul, it covers all aspects of Korean culture, art, and history, from prehistory to the early modern era. It also contains many national treasures and artifacts that have been designated as having special importance and value in Korean culture and history. Some of the most important ones include the sixth-century inscribed Bukhansan Monument, detailing military expansions; sixth-century gilt-bronze Buddhist statues; and the 10-story Gyeongcheonsa Pagoda, which dates to the 14th century. Don't miss the exterior gardens, which feature indigenous plants, reflecting pools, and traditional Korean sculptures and lanterns. Admission to the main exhibitions and children's museum is free.
4. Take a food tour
As a foodie, learning about a culture through its food is one of my favorite things to do while traveling. Korea has an incredible variety of amazing dishes to try, as well as a bustling (and delicious) street food scene. Taking a food tour with an experienced guide is one of the best ways to gain a deeper understanding of Korean cuisine. O'ngo Food offers a variety of tours in Seoul, Busan, Jeonju, and Jeju, with prices starting from 70,000 KRW per person.
5. Visit Gyeongbokgung Palace
Originally built in the 14th century by the kings of the Joseon dynasty, this palace in Seoul served as the seat of the government for two hundred years until it was destroyed by a fire and abandoned for centuries. Since the 19th century (and still today), it has been undergoing renovations to restore the complex to its former glory. It is considered the most stunning of all five royal palaces in Seoul, featuring grand gates, open courtyards, and terracotta-topped buildings set against the backdrop of Mount Bugak. In addition to wandering through the complex, you can also go into the many administrative halls and residential chambers set up to resemble the palace's heyday. You can watch the changing-of-the-guard ceremony as well, every day except Monday. The National Palace Museum and the National Folk Museum are also located in the complex. Admission is 3,000 KRW.
6. See the cherry blossoms
While cherry blossoms are often associated with Japan, festivities surrounding the blooms are incredibly popular in Korea as well. Here, the season runs from late March to late April, with many festivals throughout the country. Just be prepared for crowds at the more popular ones, like the Yeouido Cherry Blossom Festival in Seoul.
7. Try taekwondo
Korean's native martial art, taekwondo, is characterized by high kicks and punches and, like all such disciplines, emphasizes mental training. An Olympic event since 2000, taekwondo has only grown in popularity in recent years and is a point of pride in Korean culture. Kang's Global Taekwondo in Seoul offers classes to adults and foreigners that cost around 43,000 KRW for one hour.
8. Learn to cook classic Korean foods
If you'd like to take your knowledge of Korean food one step further, take a cooking class, where you'll learn to prepare classics like bibimbap, kimchi, bulgogi, and Korean pancakes. Hello K Cooking in Seoul offers a class where you'll learn how to cook three main dishes and one stew — recipes and skills that you can bring home with you. Classes are 107,000 KRW.
9. Go hiking
Korea is an incredibly mountainous country, so hiking is a favorite pastime for locals. Be sure to immerse yourself in nature while visiting this lush land. There are even hiking spots near the bigger cities if you don't have enough time or don't want to venture too far afield. Bukhansan National Park, just outside Seoul, is a popular place to go hiking, offering panoramic views over the capital (expect crowds due to its proximity to the city, though). Yet with 22 national parks spread across the country, there are plenty of opportunities to escape the crowds (including lots of guided hikes if you don't want to organize one yourself). For a multiday hike, the Jirisan Ridge Trek in Jirisan National Park is one of the most famous — a four-day walk from mountain shelter to mountain shelter.
10. Wander around Seoul Olympic Park
In 1988, Seoul hosted the Summer Olympics, which was only the second time the summer games had been held in Asia (the first was in Tokyo in 1964). Today, you can visit the massive park where the games were staged, and while Olympic Park does have many sports facilities, there's much more to explore here as well. The park is divided into four sections, focusing on the arts, history, nature, and sports. In the arts section, you'll find the SOMA Museum of Art and a park with over 200 sculptures, while in the history section, you can see the third-century defensive Mongchontoseong Earthen Fortifications, excavated dugout huts and storage pits left in the state in which they were uncovered. You can easily spend an entire afternoon here. Admission to the park is free.
11. Discover Jirisan National Park
Located in the southern part of the country (Namwon is the nearest city), this park is named after Jirisan (Mt. Jiri for short), the tallest mountain on mainland Korea. As it's South Korea's first national park (as well as its largest), hiking trails and cultural sites abound. You can visit seven major Buddhist temples and see several of Korea's national treasures of ancient carved stonework from the seventh to the tenth centuries. One of the most important sites here is Samseonggung, or Three Sages Palace, a mountainside shrine dedicated to the legendary founders of Korea. Admission to the park is 1,600 KRW.
South Korea Travel Costs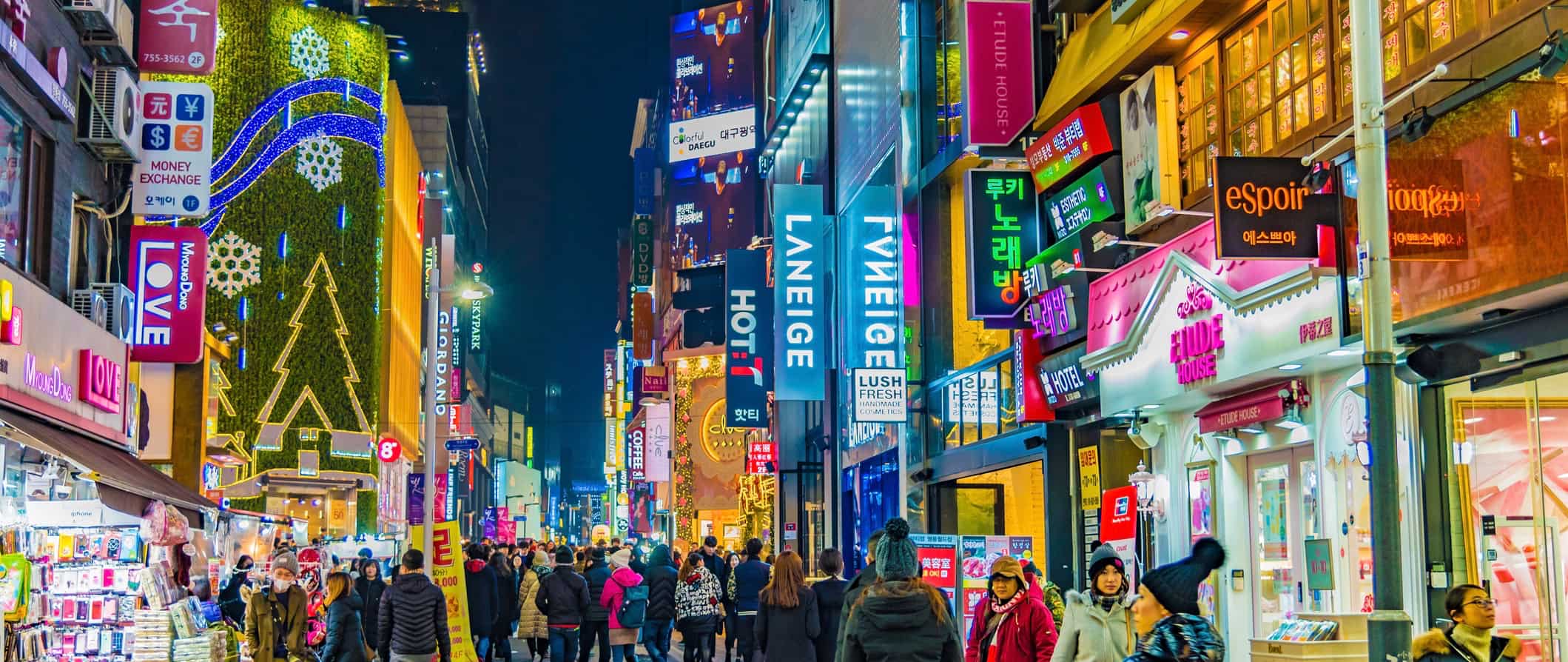 Accommodation – A bed in a hostel dorm with 4-6 beds costs 20,000-25,000 KRW per night, while a bed in a dorm with 8 or more beds costs around 14,000-20,000 KRW. A single private room is around 40,000 KRW, while a double private room is 70,000 KRW. Free Wi-Fi is standard, and communal kitchens as well as free breakfast are common in hostels across the country.
Cheap hotel rooms start at 28,000 KRW for a room that sleeps one, while a double room generally costs at least 40,000 KRW. Expect basic amenities like Wi-Fi, a TV, air conditioning, and an electric teapot. Breakfast is usually not included at budget hotels.
Airbnb is available around the country, with private rooms starting at 25,000-30,000 KRW. For an entire home or apartment, expect to pay at least 50,000-70,000 KRW per night.
While wild camping is illegal in Korea, there are plenty of campgrounds should you want to pitch a tent. Expect to pay 7,000-20,000 KRW for a plot with access to bathroom and shower facilities, and usually even Wi-Fi.
Food – Korean cuisine has developed its own traditions and flavors over the centuries, with a unique emphasis on using uncooked, fermented, and pickled vegetables. Traditional Korean meals are often composed of a variety of side dishes, eaten with short-grain rice. A meal isn't considered complete unless there's kimchi on the table.
Common dishes include bulgogi (marinated, grilled beef), samgye-tang (chicken and ginseng soup), bibimbap (a mixed rice bowl), chap chae (a glass noodle dish), and many other noodle and rice dishes. Popular street foods include hotteok (a sweet, filled pancake), tteokbokki (spicy cylindrical rice cakes), and bungeo-ppang (a fish-shaped pastry filled with red bean paste).
Dining out in South Korea is relatively inexpensive. A meal at a casual restaurant serving traditional Korean food is around 9,000-15,000 KRW, while a three-course meal at a mid-range restaurant is around 25,000-30,000 KRW. Expect higher prices in larger cities.
Western food is more expensive. Expect to pay at least 20,000 KRW for a pasta dish at an Italian restaurant.
In terms of fast food, a combo meal (think McDonald's) is around 7,000 KRW, while a burger is around 4,500 KRW. A typical Korean street food dish is 1,500-3,000 KRW.
A pint of beer is 4,000-5,000 KRW, a glass of wine is 6,000 KRW and up, and a cocktail is 7,000 KRW and up. A latte or cappuccino is 5,000 KRW.
If you cook your own food, expect to pay 50,000-70,000 KRW per week for basic staples like rice, pasta, vegetables, and some meat. Shopping at local markets is the best way to get great fresh produce for cheap.
Backpacking South Korea: Suggested Budgets
On a backpacking budget of 75,000 KRW per day, you can stay in a hostel dorm, cook all your meals, use public transportation and intercity buses to get around, skip the alcohol, and do mostly free activities like walking tours and hiking.
On a mid-range budget of 135,000 KRW per day, you can stay in a private Airbnb or cheap hotel, eat out for most meals at casual restaurants, enjoy a few drinks, take the occasional taxi as well as trains between cities, and do more paid activities like museum visits and food tours.
On a "luxury" budget of 255,000 KRW or more per day, you can stay in a nicer hotel or entire Airbnb apartment, eat out pretty much anywhere you want, drink at the bar, get a high-speed rail pass, and do as many guided tours and activities as you want. This is just the ground floor for luxury, though. The sky is the limit!
Accommodation
Food
Transportation
Attractions
Average Daily Cost
Backpacker
25,000
25,000
15,000
10,000
75,000
Mid-Range
40,000
40,000
20,000
35,000
135,000
Luxury
70,000
55,000
60,000
70,000
255,000
South Korea Travel Guide: Money-Saving Tips
I find South Korea to be one of the best value countries out there. It's a really affordable place to visit. Accommodation can add up but food and drinks are generally cheap. Here are some ways to save money when you travel around South Korea:
Visit the free attractions – With countless museums, shrines, temples, historic neighborhoods, and parks, Korea is filled with opportunities to become immersed in its culture. Many of the nation's museums and cultural attractions are free, so don't pass them up!
Purchase a KORAIL Pass – If you want to travel by train, getting a rail pass is the most economical way to do so. You'll get unlimited train travel for the time period you choose (2-5-day increments). Prices start at 121,000 KRW.
Get a transit pass – Most major cities in Korea offer a day pass for public transit, which means great savings if you plan to hop around using buses and subways. Seoul's day pass costs 15,000 KRW, though the longer you stay, the more you'll save (a seven-day pass is 64,500 KRW).
Buy a city pass – If you plan on visiting a lot of attractions, buy a city pass. Seoul and Busan both offer ones that include admission to popular sights, a transit pass, and discounts to restaurants and other attractions. A one-day pass starts at 33,000 KRW.
Eat from the convenience stores – Convenience stores in Korea offer not only snacks and drinks but prepared boxed meals and cheap alcohol. If you're on a tight budget, shop in those.
Take the bus – While the trains are fun, the cheapest way to get around Korea is by bus. They take longer but are much cheaper, so if you have the time, opt for long-distance buses. Just show up at the bus station to reserve your tickets in advance, as most websites and apps are in Korean.
Stay with a local – Couchsurfing lets you stay with a local for free, cutting your accommodation costs drastically. You'll get to spend time with someone who can share their tips and advice in exchange for your own travel stories and culture. You can also use the app to meet people for activities (coffee, museum visits, etc.) if you don't feel comfortable staying with a stranger.
Drink like the locals – Soju, the national alcohol of Korea, is incredibly cheap, as is domestic beer. Just be careful to not let it sneak up on you — both monetarily and physically. Korea's drinking culture is infamous!
Stay in capsule hotels – If you don't want to Couchsurf or stay in hostels but still want to save money, capsule or pod hotels are great options. These offer just what you need to sleep (a small, basic pod) yet can be surprisingly comfy and much more affordable than a traditional hotel. Prices start as low as 45,000 KRW per night.
Bring a water bottle – The tap water here is safe to drink, so bring a reusable water bottle to save money and reduce your plastic use. LifeStraw is my go-to brand, as its bottles have built-in filters to ensure that your water is always clean and safe.
Where to Stay in South Korea
South Korea has plenty of budget-friendly hostels and guesthouses. Here are some of my recommended places to stay when you visit:
How to Get Around South Korea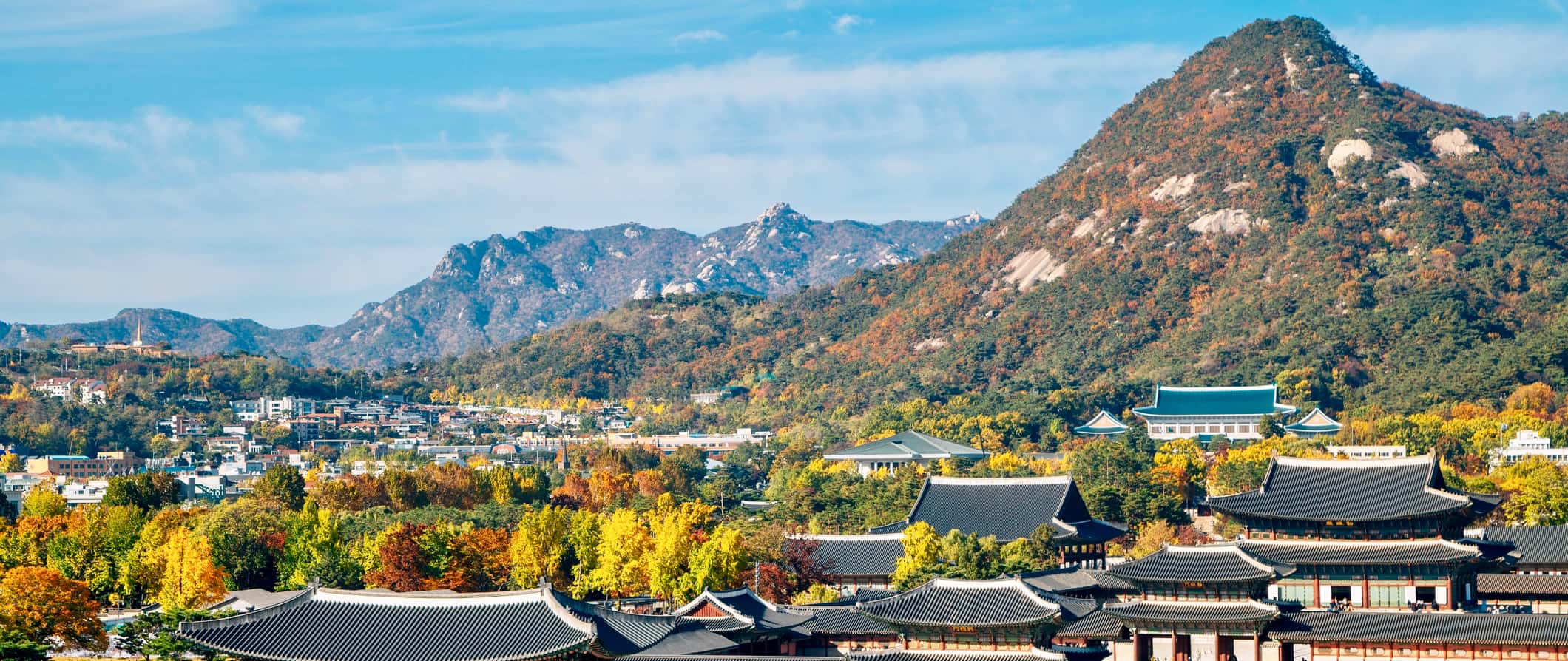 Public transportation – All the major cities in South Korea have subway systems, with one-way fares usually costing 1,250-1,350 KRW. A day pass is generally around 5,000 KRW. Otherwise, city buses can get you everywhere else. There are generally two types of buses: seated (more expensive) and regular, both running the same routes.
Bus – Taking a long-distance bus is the cheapest and most popular way to get around the country. There are two types: express (which makes few to no stops) and intercity (which travels between smaller destinations and makes more stops).
Your best bet for reserving tickets in advance is to go directly to the bus terminal, as most bus websites and booking apps are in Korean and only accept Korean credit or debit cards.
Pricing depends on what class ticket you choose: standard, luxury, or premium. The four-hour bus ride from Seoul to Busan costs around 36,000 KRW for a standard ticket, Incheon to Busan takes just over four hours and costs 38,000 KRW, and Seoul to Daegu is 29,000 KRW and takes just under four hours.
Train – South Korea has a robust train system that can take you all over the country. Korean Train Express (KTX) is the country's bullet train, regularly running at speeds up to 305 kilometers (190 miles) per hour. However, these only go between major cities, have limited schedules, and are more expensive, so KTX may not always be the most convenient choice.
KORAIL (the national railway service) operates slower-speed, intercity trains that offer a wider range of schedules and destination choices. You can also get the unlimited KORAIL Pass, which is offered exclusively to international tourists. A two-day adult pass is 121,000 KRW; a five-day adult pass is 210,000 KRW.
As a comparison of the two train types: the journey from Seoul to Busan on a KRX train costs around 90,000 KRW and takes 2.5 hours, while on a regular intercity train, it takes 5.5 hours and costs 47,500 KRW.
The further out you book, the cheaper KTX train prices get, while intercity prices stay about the same. You can book up to a year in advance.
Flying – South Korea is so small that flying around the country doesn't really make sense. Trains can get you anywhere pretty quickly. However, if you're very pressed for time and have cash to burn, there are a few budget airlines offering domestic flights between major cities. Most are around one hour long.
The flight from Seoul to Busan is around 30,500 KRW, Seoul to Jeju is 55,000 KRW, and Busan to Jeju is 22,000 KRW. However, you can find flights even cheaper when you book further in advance.
Low-cost airlines in South Korea include the following:
Car rental – Renting a car isn't incredibly cheap in South Korea. However, it is one of the best ways to explore all the natural wonders that the country has to offer, many of which are inaccessible by public transportation. Expect to pay around 50,000-55,000 KRW per day on a multiday rental. Drivers need to be at least 21 years old.
Hitchhiking – Hitchhiking in South Korea is safe and relatively common for foreigners (who usually get picked up quite quickly). Dress respectably, smile while making eye contact with drivers, and use a cardboard sign to tell people where you're headed. Pack plenty of water and a light meal or two, like sandwiches and fruit. Hitchwiki is a great resource for additional hitchhiking tips.
When to Go to South Korea
Generally, the best times to visit South Korea are March-May and September-November. During these periods, the weather is mild, with temperatures of 10-24°C (50-75°F); prices for accommodation and transportation are lower; and there are fewer crowds.
In the spring, the cherry blossoms are in bloom all over the country, while the fall brings the beautiful colors of the changing leaves. Also, if you plan on doing a lot of hiking, the fall is the best time to visit.
The summer starts with monsoon season, from June through mid-July, and the rest of the summer is hot and humid in the cities (though it cools down in the mountains and along the coasts). Prices for accommodation are also very high during this time.
Winters in South Korea get very cold, with temperatures dipping as low as -6°C (21°F), so unless you plan on skiing, visiting from December through February might not be the best option (though the temples and landscapes look beautiful covered in snow).
How to Stay Safe in South Korea
South Korea is an incredibly safe place to backpack and travel around. Petty crime is rare here, though it never hurts to be cautious on public transportation and around popular tourist landmarks. Always keep your wallet and valuables secure and out of reach, just in case. Violent crime is even more rare.
Solo female travelers should feel safe here. However, the standard safety precautions apply as always. For specific tips, consult one of the many solo female travel blogs on the web.
While scams are super rare in South Korea, to avoid getting ripped off, you can check out this list of common travel scams to avoid.
When hiking, always bring water and sunscreen. Be sure to check the weather before you depart and dress accordingly.
Earthquakes occur regularly in the region, so it's best to be prepared and download the Emergency Ready app, which the Korean government developed to provide information in English to foreign residents and tourists. It has all kinds of advice and tips for natural disasters, shows you where nearby emergency shelters are, and sends out warnings and notifications should a disaster occur.
If you do experience an emergency, dial 112 for assistance.
Always trust your gut instinct. Make copies of your personal documents, including your passport and ID, and forward your itinerary along to loved ones so they'll know where you are.
The most important piece of advice I can offer is to purchase good travel insurance. It will protect you against illness, injury, theft, and cancelations. It's comprehensive protection in case anything unexpected goes wrong. I never go on a trip without it, as I've had to use it many times in the past. You can use the widget below to find the policy right for you:

South Korea Travel Guide: The Best Booking Resources
These are my favorite companies to use when I travel. They consistently have the best deals, offer world-class customer service and great value, and overall, are better than their competitors. They are the companies I use the most and are always the starting point in my search for travel deals.
Skyscanner – Skyscanner is my favorite flight search engine. They search small websites and budget airlines that larger search sites tend to miss. They are hands down the number one place to start.
Hostelworld – This is the best hostel accommodation site out there with the largest inventory, best search interface, and widest availability.
Booking.com – The best all around booking site that constantly provides the cheapest and lowest rates. They have the widest selection of budget accommodation. In all my tests, they've always had the cheapest rates out of all the booking websites.
Get Your Guide – Get Your Guide is a huge online marketplace for tours and excursions. They have tons of tour options available in cities all around the world, including everything from cooking classes, walking tours, street art lessons, and more!
SafetyWing – Safety Wing offers convenient and affordable plans tailored to digital nomads and long-term travelers. They have cheap monthly plans, great customer service, and an easy-to-use claims process that makes it perfect for those on the road.
LifeStraw – My go-to company for reusable water bottles with built-in filters so you can ensure your drinking water is always clean and safe.
Unbound Merino – They make lightweight, durable, easy-to-clean travel clothing.
Top Travel Credit Cards – Points are the best way to cut down travel expenses. Here's my favorite point earning credit cards so you can get free travel!
South Korea Travel Guide: Related Articles
Want more info? Check out all the articles I've written on Asia travel and continue planning your trip: