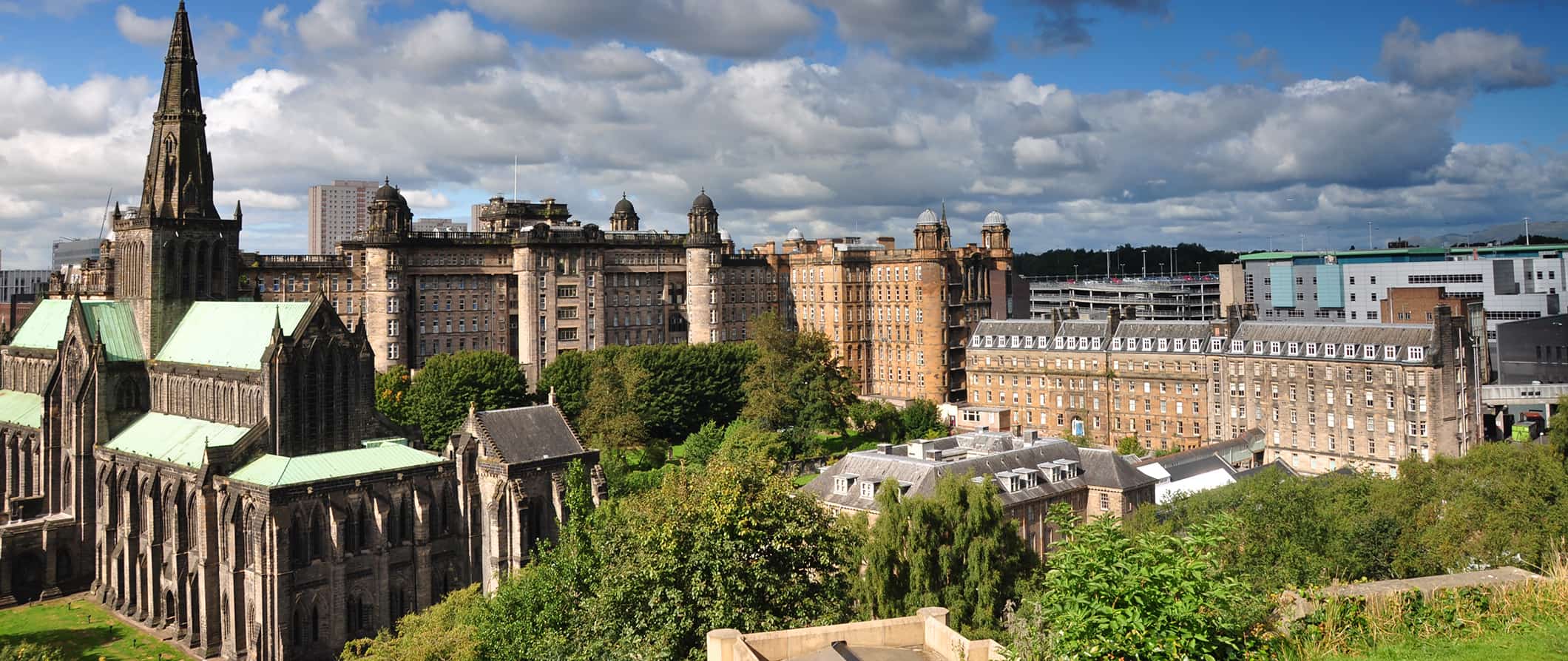 Glasgow is a former industrial city reviving itself as an art and tech hub. As the first UNESCO City of Music, Glasgow is a hot spot for live music, from larger, famous venues like The Barrowlands, to free gigs from up-and-coming musicians at the local pub.
A bustling and expanding city with a university, I really loved my time here. It was a lot different than I expected and I had a lot of fun. With plenty of parks, walking trails, historical monuments, outdoor tours, and free museums, there is plenty to do on a budget. I loved the vibe here; the city was lively and fun.
While Edinburgh may be the capital, Glasgow exemplifies the urban soul of Scotland, and shouldn't be missed.
This travel guide to Glasgow can help you save money and make the most of your visit!
Top 5 Things to See and Do in Glasgow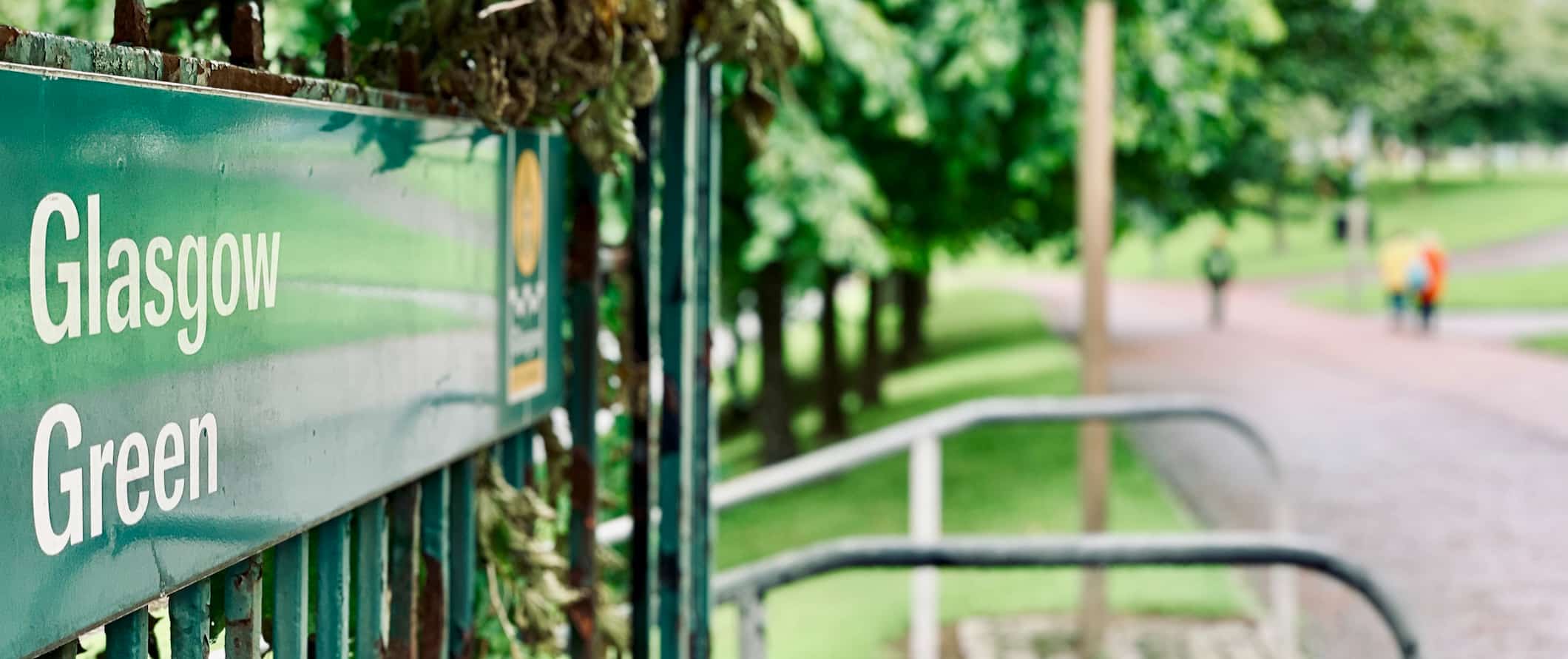 1. People watch at George Square
Located in the heart of the city, this park is the perfect place to eat, people watch, and admire the architecture of the nearby Victorian buildings. The square, which opened in the 1780s, is a hub for all sorts of local activities such as holiday parades, Christmas festivals, and concerts.
2. Relax in Glasgow Green
Founded in the 15th century, the park was initially used for livestock grazing. Spanning over 130 acres, today the park has a lot of riverfront walking paths, the People's Palace (a small museum on the city's history), a football green, and tons of little places to picnic or nap.
3. Visit the Kelvingrove Art Gallery and Museum
Opened in 1901, this museum hosts an extensive collection of art. There are 22 galleries within the museum with exhibits ranging from ancient Egypt to Renaissance art to French Impressionists. There are some popular temporary exhibitions as well.
4. Spend the day at the Loch
Located an hour from the city is Loch Lomond and the Trossachs National Park. The park covers almost 2,000 square kilometers and is home to mountains and lots of wildlife. It's a nice place to hike for the day or visit for a longer period with a campervan or tent.
5. See Glasgow Cathedral
Built in 1136, the Glasgow Cathedral is the oldest building in the city and a beautiful example of Gothic architecture. Compared to other cathedrals (which are usually more ornate) the interior rather austere. Nevertheless, I think it's a must-see. It's free to visit.
Other Things to See and Do in Glasgow
1. Take a free walking tour
Whenever I arrive in a new city, I like to take a free walking tour. They're an insightful way to get the lay of the land and learn about a city's culture and history. Glasgow Gander runs tours a few times a week that cover all the major highlights. The tours last 2-3 hours and are free (just be sure to tip your guide at the end).
2. Shop at The Barras Market
The Barras is a weekend market in Glasgow that dates to the 1920s. Its name stems from the Glaswegian word from "barrow" (as in wheelbarrow) as the original market vendors sold their goods from handcarts. The weekend market is held both indoors and outdoors, offering food, clothing, furniture, antiques, and other goods. It can get a little crowded so it's best to visit in the morning when the crowds are thinner. The market is open Saturday and Sunday from 9:30am-4:30pm while the nearby shops (the actual stores in and around the market) are open daily.
3. Visit the University of Glasgow
The university was founded in 1451 and is the fourth-oldest university in the English-speaking world. It played an important role in the Scottish Enlightenment in the 18th century, boasting famous alumni like economist Adam Smith and James Wilson (one of the Founding Fathers of the US). While you can wander the grounds for free, campus volunteers offer hour-long tours from Tuesday-Saturday that explain the history and architecture of the university. Tours are 10 GBP and need to be booked in advance.
4. Wander through the Gallery of Modern Art
Opened in 1996, this is Scotland's most-visited art gallery. Personally, modern art is not my cup of tea, but this museum does a solid job of making the works accessible and enjoyable. There are paintings, photos, and sculptures from both local and international artists, including works by Andy Warhol. In addition to the permanent exhibition, there are also rotating temporary exhibits so be sure to check the website to see what's available. Admission is free (the temporary exhibits cost extra).
5. See a football match
Glasgow is famous for its love of football (soccer). The city has four professional clubs: Celtic, Rangers, Partick Thistle, and Queen's Park (which is the newest club, founded in 2019). There is a persistent rivalry between Celtic and the Rangers, one that locals take seriously so avoid getting involved in any debates if you can (I mean it. Fights break out over this). That being said, the Rangers are actually one of the best football clubs in the world, having won almost 120 trophies. Celtic Park (the stadium where Celtic plays) is the biggest in all of Scotland and a great place to catch a game, though Ibrox Stadium (home of the Rangers) is just as good. Expect to spend around 30 GBP for a ticket.
6. See the Scottish Football Museum
If you're a football/soccer fan, don't miss this national museum. The museum is home to over 2,000 antiques and memorabilia, including the world's oldest cap as well as a ticket from the first official international soccer match in 1872. Additionally, the museum houses the world's oldest national trophy (the Scottish Cup), which dates to 1873. The museum is in Hampden Park, one of the city's football stadiums. Admission to the museum is 13 GBP and also includes a stadium tour.
7. Enjoy the nightlife
Glasgow is by far the best place to party in Scotland. With cheap bars and massive clubs, it's easy to dance the night away here. Make sure to go to a bar before you head to a club (or just buy your own alcohol at a shop beforehand) as the drinks in the clubs are overpriced. Nice 'N' Sleezy and The Garage (Scotland's largest nightclub) are two Glaswegian nightlife institutions, and you'll have a great time at either. Another fun (and affordable) club is Sub Club. Keep in mind that most clubs don't open until 11pm and close at 3am.
8. Have fun at the Glasgow Science Center
Opened in 2001, this is one of the most popular attractions in the city. Their BodyWorks exhibit lets you perform a virtual autopsy and has a giant hamster wheel that teaches you about energy and how it's burned. There is also a space exhibit, a planetarium, an adult lecture series, and an IMAX theater. Tickets are 10.90 GBP (IMAX and planetarium not included).
9. Spend the day at Linn Park
Spanning over 200 acres, Linn Park is a beautiful and scenic park that offers visitors a chance to relax and stroll along the Cart River. It's a perfect place in the summer to picnic, jog, and relax with a book. There are a few play areas in the park for children as well. Additionally, the ruins of Cathcart Castle (which dates to the 15th century), a golf course, and an orienteering course can all be found here.
10. Stroll through the Glasgow Necropolis
The Glasgow Necropolis is located on a hill next to Glasgow Cathedral, offering beautiful views of both the cathedral and the city below. Established in 1832, this Victorian cemetery has over 3,500 monuments and is reminiscent of the famous Père Lachaise Cemetery in Paris. It spans over 37 acres and makes for a relaxing place to take a stroll. Entrance is free.
11. Go street art hunting
Glasgow has made a name for itself in the street art scene, with a plethora of unique murals adorning walls in the heart of the city. Glasgow-based artist Smug has been especially prolific in the city. Don't miss his St Mungo mural featuring the patron saint of Glasgow, or Four Seasons, a wildlife mural depicting the four seasons of the city. Enjoy the street art by exploring on your own, or take a guided street art tour from Walking Tours in Glasgow.

For more information on other cities in Scotland, check out these guides:
Glasgow Travel Costs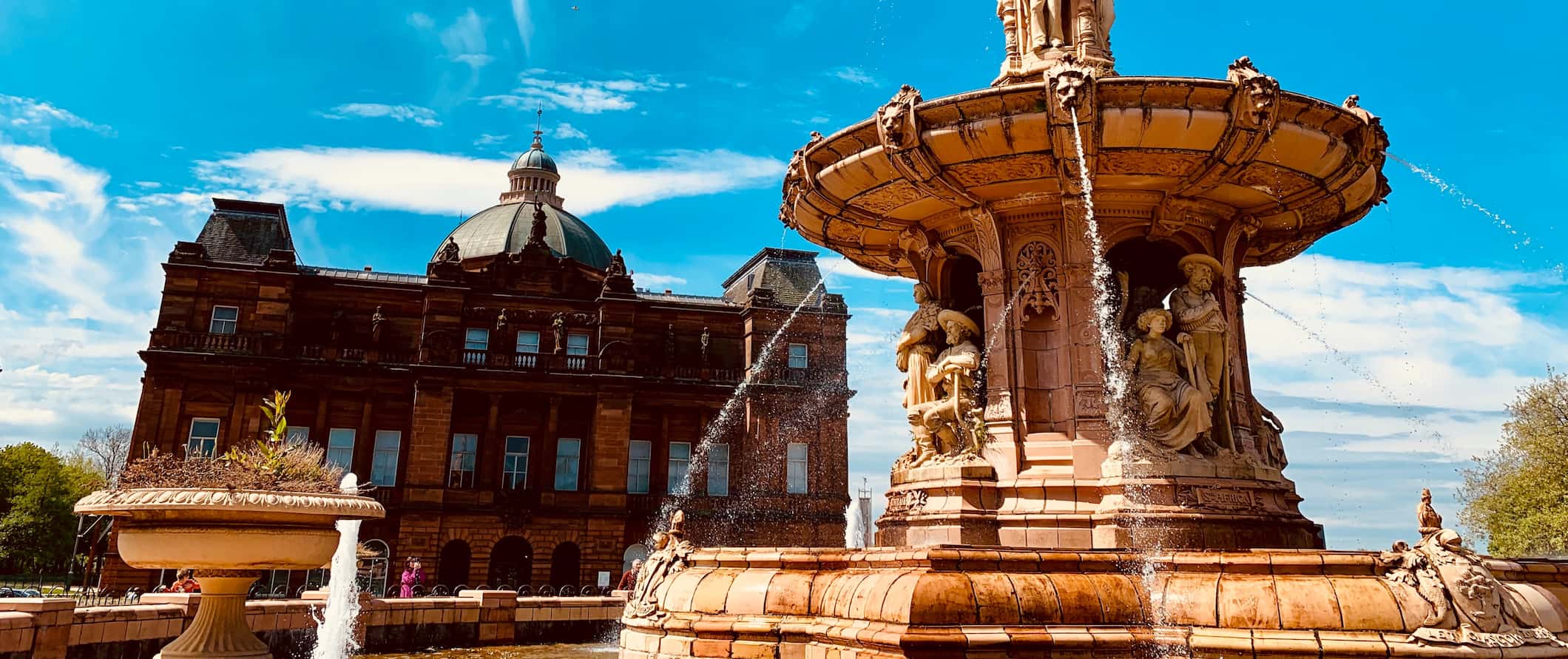 Hostel prices – A bed in a 6-8-bed dorm costs 18-20 GBP, though prices rise a few pounds in the summer and drop a few in the winter (you can find dorms for as little as 15 GBP in the winter). A bed in a room with 10-14 beds costs 10-15 GBP. Free Wi-Fi and lockers are standard, and most hostels also have self-catering facilities. Private rooms in a hostel cost around 35-40 GBP per night.
Camping is available outside the city, specifically out in the nearby national park. Expect to pay around 17 GBP per night for a basic plot (a flat space for a tent, usually without electricity). Just keep in mind most campgrounds close for the winter so availability is limited come late October/early November. If you're in a car or campervan, you can use the app 'park4night' to find paid overnight parking, free overnight parking, and available campgrounds.
Budget hotel prices – A budget hotel room costs around 55-80 GBP per night. These usually include free Wi-Fi and breakfast.
Airbnb is a budget-friendly option in Glasgow. A private room costs 35-40 GBP while entire homes/apartments start at 55 GBP per night. Most offerings tend to be a bit out of the downtown area so expect to pay more if you want something in the heart of the city.
Food – Scottish food is hearty, heavy, and filling. Seafood is abundant, and popular traditional dishes include blood pudding, minced beef, fish and chips, smoked herring, neeps and tatties (turnips and potatoes), and of course haggis (a dish composed of minced sheep's organs and spices inside a sheep's stomach casing). Porridge is a common breakfast choice, though a larger breakfast of sausage, eggs, beans, and bread is not uncommon either. Sticky toffee pudding is a favorite dessert, and of course, you can't visit Scotland without sampling some scotch.
Expect to pay around 9-12 GBP for a basic meal (like a Scottish breakfast or a hearty meal of haggis). For a full three-course meal at a mid-range restaurant, prices begin at around 25-30 GBP.
For pub food like fish and chips or a burger, prices are usually between 15-22 GBP.
A classic fish and chips from a no-frills takeaway spot is around 6 GBP, while Chinese takeaway is around 8-10 GBP. A basic fast food combo meal (think McDonald's) costs around 6 GBP. Street food (like from a food truck) costs around 6-8 GBP.
A pint of beer costs 4 GBP while a glass of wine starts at 6 GBP. A latte or cappuccino generally costs 2.70 GBP.
A week's worth of groceries costs around 40-60 GBP depending on your diet. This covers basic staples like pasta, vegetables, and some meat. The cheapest supermarkets to look out for are Aldi, Lidl, Asda, and Tesco. If your accommodation includes free breakfast, you can cut this down a bit.
Backpacking Glasgow Suggested Budgets
On a backpacker budget, you can visit Glasgow for around 55 GBP per day. This budget means staying in a dorm room or camping, cooking all of your meals, limiting your drinking, using public transportation to get around, and sticking to mostly free activities like hiking, free walking tours, and free museums.
On a mid-range budget of about 105 GBP per day, you can stay in a private hostel or Airbnb room, eat out at cheap local restaurants, do more paid activities (such as visiting the Science Center or watching a football match), enjoy a few drinks, and take the occasional taxi to get around. You're not going to live large, but you can get by without worrying too much about your daily spending.
On a "luxury" budget of 220 GBP or more per day, you can stay in a hotel, eat out for every meal, drink what you want, take taxis or Uber, and visit as many paid museums and attractions as you'd like. You can also afford to rent a car or van to take a day trip out to the nearby national park. This is just the ground floor for luxury though. You can easily spend more if you really want to splash out!
Accommodation
Food
Transportation
Attractions
Average Daily Cost
Mid-Range
35
40
10
20
105
Glasgow Travel Guide: Money-Saving Tips
Glasgow is an expensive city. It's less expensive than Edinburgh but visiting here still costs a pretty pound! Here are tips to help you stay on budget during your trip:
Visit the free museums – Most museums in Glasgow offer free entry. Free attractions in the city include the Gallery of Modern Art, the Botanic Gardens, Glasgow Cathedral, and Kelvingrove Art Gallery and Museum.
Visit the West End – This bustling area of Glasgow is filled with bohemian shops and restaurants, offering great chances to people watch. The places here tend to be cheaper than in other parts of the city.
Eat in the pub – The best food in the city is often in the pubs, and for a fraction of the price that you would pay in a proper restaurant too. Also, pubs generally give you a true taste of Scottish culture.
Picnic in the park – There are many parks in Glasgow, and almost all are free to enter. Bring your lunch and admire the lakes, rivers, and nearby castles.
Use apps to get food deals – The app Too Good to Go, (on which participating eateries sell severely discounted meals/groceries/baked goods at the end of the day) has good coverage all across Scotland, including Glasgow. For discounts on takeout, try the app Secret Takeaways which supports local restaurants by cutting out the delivery app middleman (and their high fees).
Eat during lunch – Many cafes, bakeries, and chains offer lunch deals for as little as 3-5 GBP.
Stay with a local – The best way to save money on accommodation in Glasgow is to stay with a local for free. Not only do you save money, but you also get local insight into the city. This is the best way to get off the tourist trail and learn more about Glasgow and its hidden gems.
Save money on rideshares – Uber is sometimes cheaper than taxis and is the best way to get around a city if you don't want to wait for a bus or pay for a taxi.
Cook your own meals – Eating out in Glasgow is expensive — even if you're just eating at the pubs. To save money, cook your own meals. It's not fancy, but it's cheap!
Rent a campervan – If you're planning to get out of the city, rent a camper van. You can get them for as little as 25-30 GBP per day and they come with basic self-catering facilities so you can cook your food and have somewhere cheap to stay. There are lots of free places to park around the country. Just use the app park4night to find them.
Use discount websites – Groupon, Wowcher and Living Social have good deals on accommodation, attractions, and dining out.
Bring a water bottle – The tap water here is safe to drink so bring a reusable water bottle to save money and reduce your plastic use. LifeStraw is my go-to brand as their bottles have built-in filters to ensure your water is always clean and safe.
Where to Stay in Glasgow
Glasgow has a few hostels and they're all comfortable and sociable. These are my favorite places to stay in Glasgow:
How to Get Around Glasgow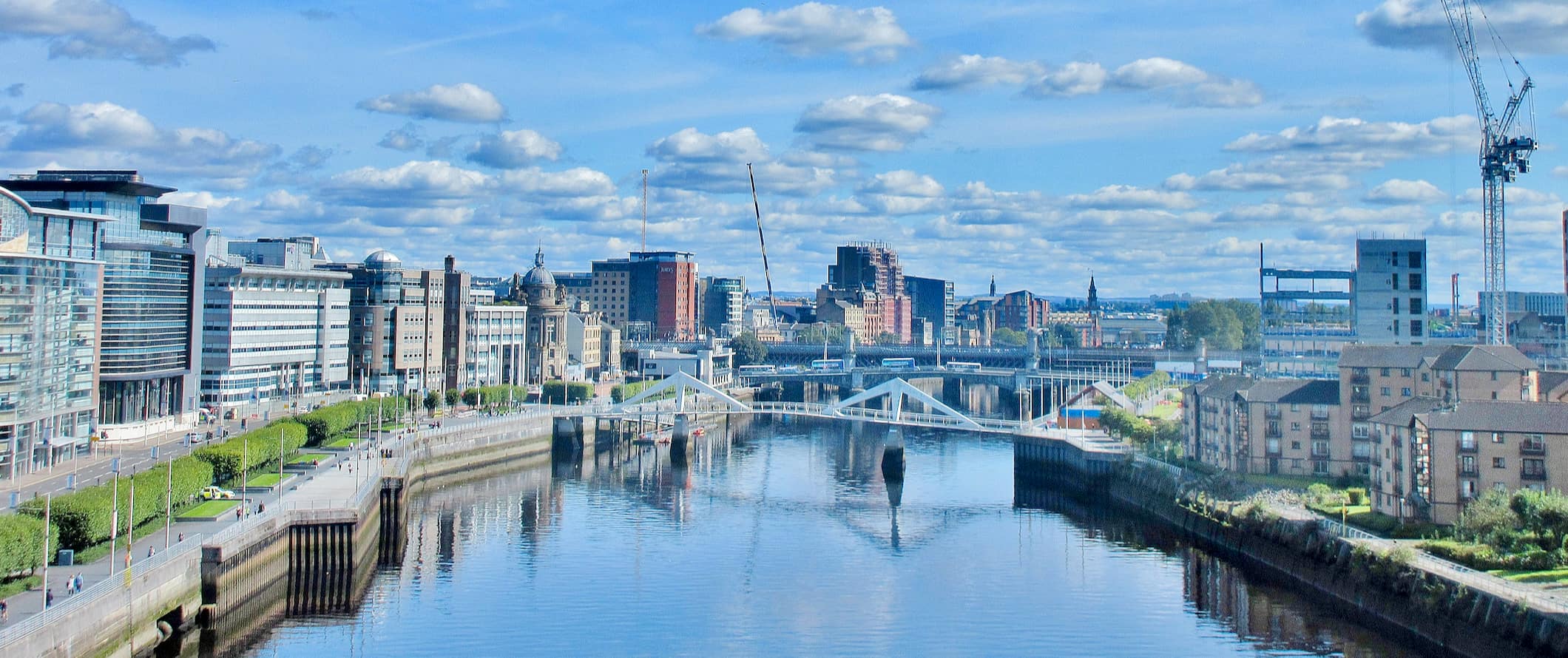 Public transportation – Single-journey bus tickets in Glasgow start at 1.60 GBP and go up depending on the distance. You need exact change so download the First Glasgow bus app to buy tickets online and save the hassle of fumbling with exact change. Day passes cost 4.60 GBP and are non-transferable to the metro system. A week pass is 17 GBP.
Glasgow is the only city in the country with a metro system, which is comprised of 15 stations. To save on fares and top up as you go, get a SmartCard for free by registering online. You can also purchase a card for 3 GBP at any station. SmartCard tickets start at 1.55 GBP and go up depending on how far you travel. Day tickets cost 3 GBP while a 7-day pass costs 14 GBP. The subway operates from 6:30am-11pm Monday-Saturday and 10am-6pm on Sundays.
To get to/from the airport you can take the bus or the train. The ride is 15-20 minutes and costs 3-5 GBP.
Taxi – Taxis aren't cheap here so I would avoid them as much as possible. Rates start at 3 GBP and go up by 2 GBP per kilometer. Stick to public transportation if you're on a budget unless you don't have another choice or are splitting the ride with someone.
Gett is the most common platform used for taxis. It's linked to the Google Maps app, so you can use that to get price estimates if you're comparing modes of transportation. That being said, Glasgow has safe and reliable public transportation, so I'd avoid taxis unless you have no other option as the costs add up fast.
Ridesharing – Uber is available in Glasgow, but it's not always cheaper than taxis and there are usually more taxis available than Ubers. If you're set on using Uber, leave yourself ample time to find a ride.
Bicycle – Nextbike Glasgow is the city's bike-share system, with 700 bikes for rent across 70 locations around the city. You can rent a bike via Nextbike's app or by the on-bike computer. Bike rentals start at 1 GBP for 30 minutes. E-bikes are 2 GBP for 20 minutes. The city is easy to navigate on bike — just remember the traffic flows on the left.
Car Rental – Rentals start from around 33 GBP per day. Remember that traffic flows on the left. That said, unless you're planning on exploring the surrounding area, you don't need to rent a car for getting around the city.
When to Go to Glasgow
Summer is the most popular time to visit Glasgow. In July and August, there's warm weather and minimal rain, with temperatures reaching highs of 20°C (68°F). This is also the busiest time of the year, so expect crowds in the cities and lots of people out enjoying the nearby national park, Loch Lomond, and the Trossachs National Park.
September is a rather wet month, though in October there's incredible fall foliage. October is a great time to visit — especially if you plan on renting a car or camper and heading to Loch Lomond or the Cairngorms (Scotland's biggest national park, which is only a couple of hours from the city). Seasonal businesses and accommodations in the national parks start to close in mid-October so be sure to keep that in mind when planning. Expect October temperatures to sit around 12°C (55°F) during the day.
The spring is a great time to visit, with April and May offering minimal rain and no crowds. There's still be snow and cool temperatures in the highlands, but the city is lively without being crowded.
Winters in Scotland are cold and dark. December is relatively dry but the temperatures dip to 5°C (41°F) — sometimes colder. It's nevertheless a popular time to visit, with many locals and tourists heading to Edinburgh for the huge Hogmanay New Year's Eve celebration, one of the biggest new year's festivals in the world. Therefore, Glasgow city doesn't get too busy.
By February, snow is common so keep that in mind if you plan on renting a vehicle. Unless you're coming to engage in winter sports, I'd avoid a winter visit unless you don't mind the grim and grey atmosphere.
How to Stay Safe in Glasgow
Scotland is a safe country, and you won't need to worry about crime while you're here. As in any destination, keep your valuables secure and out of sight just in case. Petty theft can occur in crowded areas and on public transportation so always keep your things out of reach.
Glasgow is safe for solo female travelers though women should take the standard precautions when traveling alone at night (don't travel alone intoxicated, keep an eye on your drink, etc.).
If you are hiking (for example, in the nearby Loch Lomond park), make sure you have the appropriate equipment and that you notify your accommodation of your plans just in case.
The nightlife here can be a little boisterous so keep your wits about you if you find yourself out late. Also, football (soccer) rivalries are taken quite seriously, so don't get into any discussions/arguments with other sports fans if you can help it. They are known to start fights over this topic.
While scams here are rare, you can read about common travel scams to avoid here if you're concerned.
If you experience an emergency, dial 999 for assistance.
Always trust your gut instinct. Make copies of your personal documents, including your passport and ID.
If you wouldn't do it at home, don't do it in Glasgow.
The most important piece of advice I can offer is to purchase good travel insurance. Travel insurance protects you against illness, injury, theft, and cancellations. It's comprehensive protection in case anything goes wrong. I never go on a trip without it as I've had to use it many times in the past. You can use the widget below to find the policy right for you:
Glasgow Travel Guide: The Best Booking Resources
These are my favorite companies to use when I travel. They consistently have the best deals, offer world-class customer service and great value, and overall, are better than their competitors. They are the companies I use the most and are always the starting point in my search for travel deals.
Skyscanner – Skyscanner is my favorite flight search engine. They search small websites and budget airlines that larger search sites tend to miss. They are hands down the number one place to start.
Hostelworld – This is the best hostel accommodation site out there with the largest inventory, best search interface, and widest availability.
Booking.com – The best all around booking site that constantly provides the cheapest and lowest rates. They have the widest selection of budget accommodation. In all my tests, they've always had the cheapest rates out of all the booking websites.
Get Your Guide – Get Your Guide is a huge online marketplace for tours and excursions. They have tons of tour options available in cities all around the world, including everything from cooking classes, walking tours, street art lessons, and more!
SafetyWing – Safety Wing offers convenient and affordable plans tailored to digital nomads and long-term travelers. They have cheap monthly plans, great customer service, and an easy-to-use claims process that makes it perfect for those on the road.
LifeStraw – My go-to company for reusable water bottles with built-in filters so you can ensure your drinking water is always clean and safe.
Unbound Merino – They make lightweight, durable, easy-to-clean travel clothing.
Top Travel Credit Cards – Points are the best way to cut down travel expenses. Here's my favorite point earning credit cards so you can get free travel!
BlaBlaCar – BlaBlaCar is a ridesharing website that lets you share rides with vetted local drivers by pitching in for gas. You simply request a seat, they approve, and off you go! It's a cheaper and more interesting way to travel than by bus or train!
Edinburgh Travel Guide: Related Articles
Want more info? Check out all the articles I've written on backpacking/traveling Scotland and continue planning your trip: