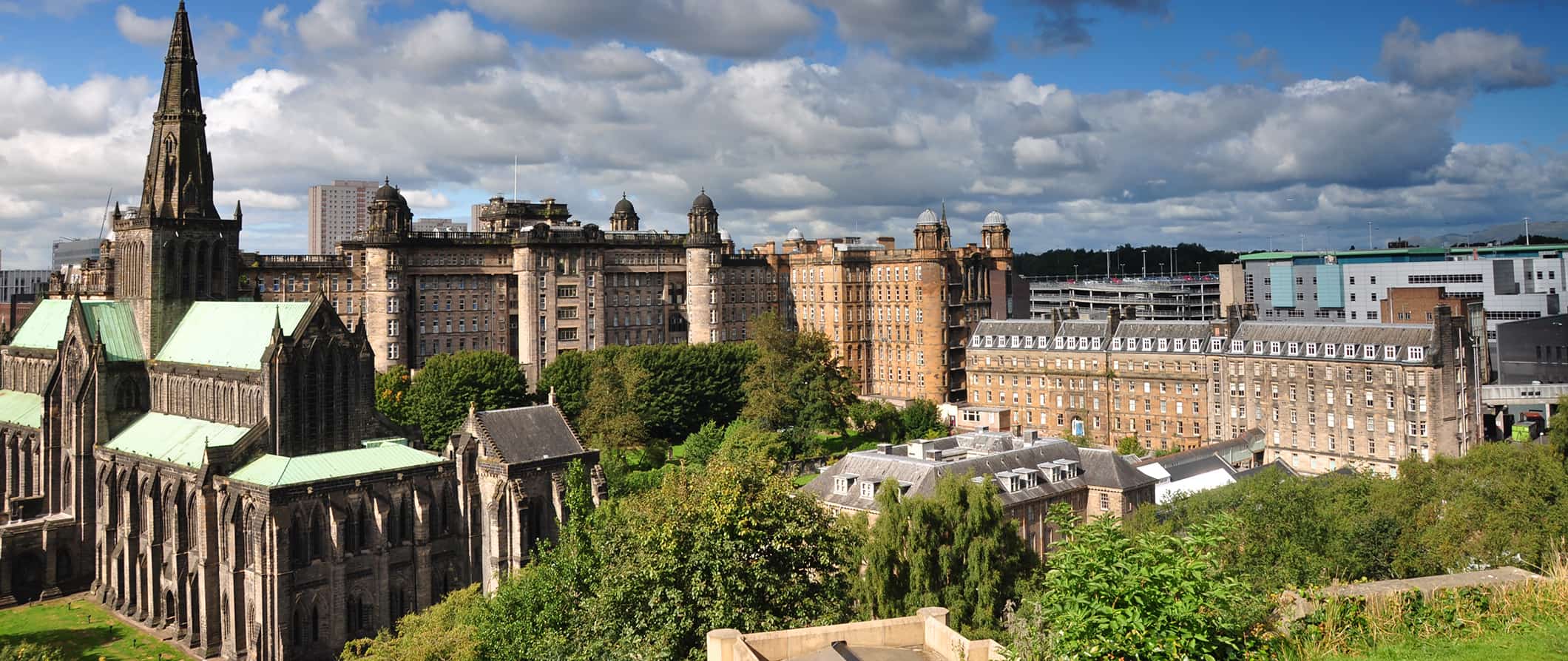 Glasgow is a busy and growing area, with a university and the River Clyde finding spots at the heart of the city. With plenty of parks, walking trails, historical monuments, outdoor tours, and museums, there is plenty to do here for practically nothing. I love the vibe here. It's an ex-industrial city reviving itself as an art and tech hub that gives it a "city on the move" feeling to it. While Edinburgh may be the capital, Glasgow exemplifies the urban soul of Scotland, and shouldn't be missed!
Top 5 Things to See and Do in Glasgow
1. People watch at George Square
Right in the heart of Glasgow, this park is a great place to eat and people watch, try a local beer, or admire the architecture of the nearby council buildings. During the summer, it can get crowded.
2. Relax in Glasgow Green
One of Glasgow's most historical parks, it was used for cattle and sheep-grazing in the 19th century. Now, it's a great place to spend the day having lunch and people watching. You'll find a lot of riverfront walking paths, the People's Palace, a football green, and tons of little parks and places for a picnic, sleep, or spot to read a book.
3. Visit the Kelvingrove Art Gallery and Museum
The museum is free and it hosts an extensive art gallery, including Salvador Dalí's Christ of Saint John of the Cross. They have some great temporary exhibitions as well. When I went there, it was all about Dr. Who!
4. Spend the day at the Loch
Just a 20-minute drive from the city is Loch Lomond, a beautiful lake with opportunities for walking, canoeing, or even mountain biking. This is a good place to visit if you want a break from the urban atmosphere.
5. Visit Glasgow Cathedral
The cathedral is a fine example of Gothic architecture, dating from medieval times and built on a site first consecrated in 397 AD. It's one of the oldest cathedrals in Scotland. There is no fee to visit, although donations are very much appreciated.
Other Things to See and Do
(Click the title to expand the text)
1. Spend the day at Linn Park
Linn Park is a fabulous park that has beautiful scenery and many different walking paths along Cart River. It's great in the summer time.
2. Shop at Barras Weekend Market
It can be a little crowded, but it's fun to pass through the endless stalls of clothing, furniture, and local treats. It's best in the early morning when the crowds are thinner.
3. Visit the University of Glasgow
Aside from it being a beautiful university, the campus lies in an area that's surrounded by shops, restaurants, and parks. Campus staff offer tours that explain the history and architecture of the university.
4. Wander through the Gallery of Modern Art
A great day activity which allows you to see spectacular sculpture and paintings, and learn about Scotland's most influential artists. There is no entrance fee.
5. See a soccer match
Glasgow is famous for its love of soccer. The city has three soccer clubs, the most famous of which are the Celtics and Rangers. There is an intense rivalry between the two teams and seeing a match between the two is one of the wildest things you can do here. There are three stadiums in the city, each for a specific club, so it's difficult for there not to be a match, especially if you're here during the summer!
6. Take in some live music
Glasgow has a pretty decent music scene, with venues catering to different styles and experiences. For something small and intimate (but far from chic), check out a gig at King Tut's bar, or for a bigger (or artistic) event, visit the SWG3 warehouse.
7. Enjoy the nightlife
Glasgow is by far the best place to party in Scotland. With cheap bars and massive clubs, it's easy to dance the night away here. Make sure to go to a bar before you head to a club, as the drinks once you get on the dance floor are often more expensive. Nice 'N' Sleezy and the Garage are Glaswegian institutions and generally you'll have a good time at either.