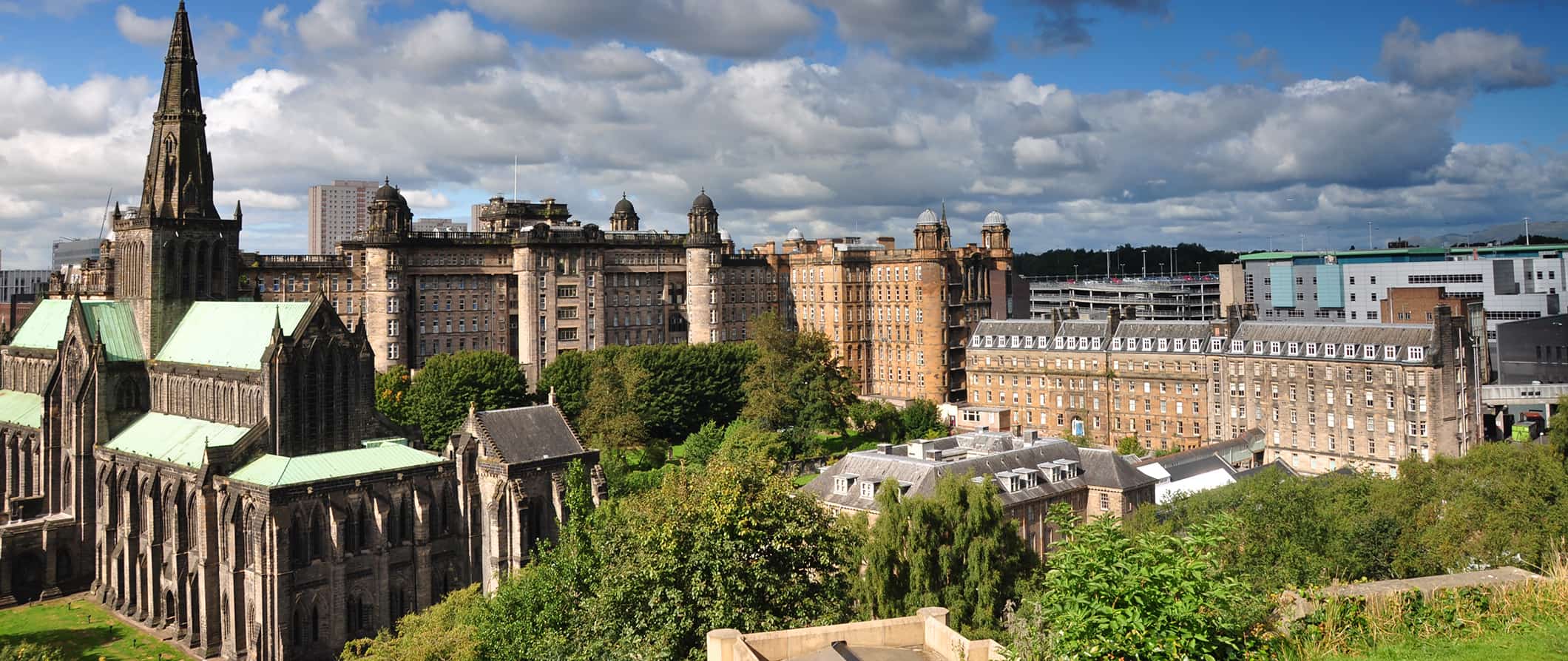 Glasgow is a busy and growing area, with a university and the River Clyde finding spots at the heart of the city. With plenty of parks, walking trails, historical monuments, outdoor tours, and museums, there is plenty to do here for practically nothing. I love the vibe here. It's an ex-industrial city reviving itself as an art and tech hub that gives it a "city on the move" feeling to it. While Edinburgh may be the capital, Glasgow exemplifies the urban soul of Scotland, and shouldn't be missed!
Top 5 Things to See and Do in Glasgow
1. People watch at George Square
Right in the heart of Glasgow, this park is a great place to eat and people watch, try a local beer, or admire the architecture of the nearby council buildings. During the summer, it can get crowded.
2. Relax in Glasgow Green
One of Glasgow's most historical parks, it was used for cattle and sheep-grazing in the 19th century. Now, it's a great place to spend the day having lunch and people watching. You'll find a lot of riverfront walking paths, the People's Palace, a football green, and tons of little parks and places for a picnic, sleep, or spot to read a book.
3. Visit the Kelvingrove Art Gallery and Museum
The museum is free and it hosts an extensive art gallery, including Salvador Dalí's Christ of Saint John of the Cross. They have some great temporary exhibitions as well. When I went there, it was all about Dr. Who!
4. Spend the day at the Loch
Just a 20-minute drive from the city is Loch Lomond, a beautiful lake with opportunities for walking, canoeing, or even mountain biking. This is a good place to visit if you want a break from the urban atmosphere.
5. Visit Glasgow Cathedral
The cathedral is a fine example of Gothic architecture, dating from medieval times and built on a site first consecrated in 397 AD. It's one of the oldest cathedrals in Scotland. There is no fee to visit, although donations are very much appreciated.
Other Things to See and Do
(Click the title to expand the text)
1. Spend the day at Linn Park
Linn Park is a fabulous park that has beautiful scenery and many different walking paths along Cart River. It's great in the summer time.
2. Shop at Barras Weekend Market
It can be a little crowded, but it's fun to pass through the endless stalls of clothing, furniture, and local treats. It's best in the early morning when the crowds are thinner.
3. Visit the University of Glasgow
Aside from it being a beautiful university, the campus lies in an area that's surrounded by shops, restaurants, and parks. Campus staff offer tours that explain the history and architecture of the university.
4. Wander through the Gallery of Modern Art
A great day activity which allows you to see spectacular sculpture and paintings, and learn about Scotland's most influential artists. There is no entrance fee.
5. See a soccer match
Glasgow is famous for its love of soccer. The city has three soccer clubs, the most famous of which are the Celtics and Rangers. There is an intense rivalry between the two teams and seeing a match between the two is one of the wildest things you can do here. There are three stadiums in the city, each for a specific club, so it's difficult for there not to be a match, especially if you're here during the summer!
6. Take in some live music
Glasgow has a pretty decent music scene, with venues catering to different styles and experiences. For something small and intimate (but far from chic), check out a gig at King Tut's bar, or for a bigger (or artistic) event, visit the SWG3 warehouse.
7. Enjoy the nightlife
Glasgow is by far the best place to party in Scotland. With cheap bars and massive clubs, it's easy to dance the night away here. Make sure to go to a bar before you head to a club, as the drinks once you get on the dance floor are often more expensive. Nice 'N' Sleezy and the Garage are Glaswegian institutions and generally you'll have a good time at either.
Typical Costs
Hostel prices
– For larger dorms, you'll pay around 10 GBP per bed, while smaller ones will cost somewhere between 15-20 GBP. Private rooms with a twin or double bed will cost, on average, 35 GBP. All the hostels here have free WiFi and a few have bars attached to them. (Strangely enough, quite a few of the hostels here have steam rooms as well!) You can book your hostel with
Hostelworld
.
Budget hotel prices – Hotels around the city center start at 70 GBP but go up in price quite quickly, while hotels that are further away from the city center can cost between 30-50 GBP. All hotels have WiFi, almost all have parking spots, and a large number have bars and restaurants. Use Booking.com as they consistently return the cheapest rates. Airbnb is fairly popular here, although there are very few shared rooms available. To rent a private room in Airbnb will cost 35 GBP on average, while entire houses start at 70 GBP.
Average cost of food – Glasgow offers diverse restaurants and for every price range. If you stick to a casual dining or pub, you can get a great meal (pubs offer wonderful food and their local cuisine dishes are usually excellent!) for 10 GBP. Fish and chips from a local takeaway will run around 5-7 GBP. A week's worth of groceries will cost about 55 GBP at an average store, but if you go to budget grocery stores like Lidl or Iceland you'll likely pay less.
Transportation – The city of Glasgow is pretty compact, so as long as you're in the West End or the City Center, you can get anywhere you need to go by foot. However, if you don't want to walk, there are quite a few options for traveling around Glasgow. There's a subway that runs a circular route around the central area of the city, which costs either 1.60 GBP for a single ticket, 3.00 GBP for a return ticket, or 4.00 GBP for an all day ticket. If you want to travel to areas further away from the city center, you can buy a roundabout ticket for unlimited travel in and around Glasgow for 6.60 GBP per day. Airport shuttle tickets cost 7.50 GBP. Bike rentals are also available in the city for around 20 GBP per day.
Suggested daily budget
40-50 GBP / 49-61 USD (Note: This is a suggested budget assuming you're staying in a hostel, eating out a little, cooking most of your meals, and using local transportation. Using the budget tips below, you can always lower this number. However, if you stay in fancier accommodation or eat out more often, expect this to be higher!)
Money Saving Tips
Visit the free museums – Glasgow offers free entrance for most of its museums. You can easily spend half a day wandering through and admiring the great Scottish artists and never pay a thing.
Visit the West End – This bustling area of Glasgow is filled with bohemian shops and restaurants and great chances to people watch. The places here tend to be cheaper than in other parts of the city.
Eat in the pub – The best food is often in the pubs and you'll pay a fraction of the price than you would in a proper restaurant. Also, pubs generally give you a true taste of Scottish culture. Scotland is pub-land.
Visit the free museums – TThe public museums in Scotland are free – take advantage of this awesome opportunity!
Picnic in the park – There are many parks in Glasgow, and almost all are free to enter. Take advantage of this free outing – bring your lunch and admire the lakes, rivers, and nearby castles.
Couchsurf – The best way to save money on accommodation in Glasgow is to stay with a local. Not only will you save a few bucks but you'll get some local insight into the city. This is the best way to get off the tourist trail and find out about some of the city's hidden gems.
Save money on rideshares – Uber is way cheaper than taxis and are the best way to get around a city if you don't want to wait for a bus or pay for a taxi. The Uber Pool option is where can you share a ride to get even better savings (though you can get your own car too). You can save $15 off your first Uber ride with this code: jlx6v.
My Must Have Guides For Traveling to Glasgow