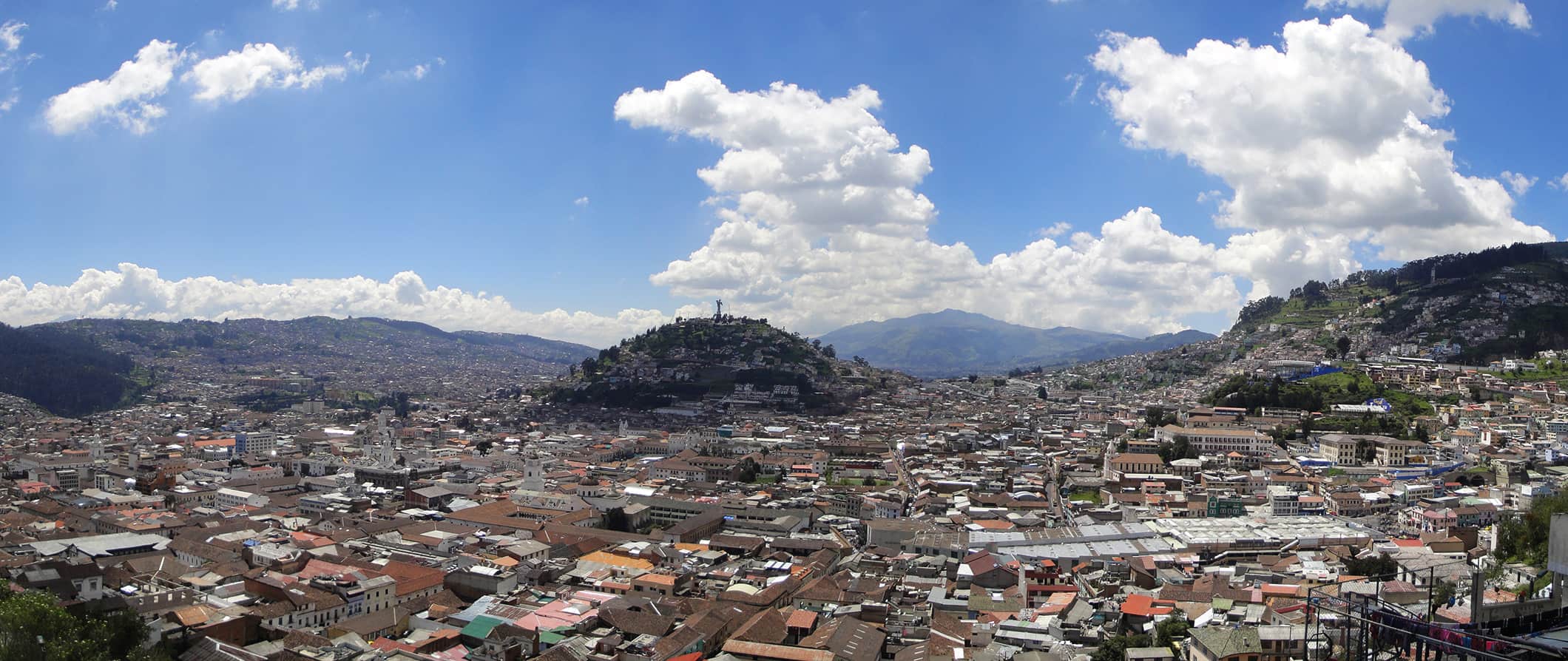 Quito serves as the cultural heartland and political capital of Ecuador. Surrounded by mountains, Quito is comprised of five different zones. Generally, tourism tends to be centralized in the north, around Parque El Ejido and areas such as La Mariscal. However, the historical center is based in the south in the Old Town with the three large squares of Plaza de la Independencia, Plaza San Francisco, and Plaza Santo Domingo. I liked Quito. It had a good mix of old colonial Spanish building and sprawling modernity. On Sundays, the main park was bustling with life and there was always good food to be found in the city. It's a city I would spend extra time in, and this guide will help you make the most of your trip.
Top 5 Things to See and Do in Quito
1. Visit the old monasteries
Viewing the old monasteries is a must — and is quite unavoidable as they are so many! Some of these have museums such as Santo Domingo, La Merced and monasteries of San Augustin and San Diego. La Compañia is well worth a visit. It is decorated with gold inside and out.
2. The Equator
Located near Quito, you can visit the real and fake monuments. The fake monument was built in the 70s to mark the equator but, when we got GPS, it turned out the original calculations were off! You can visit a mini-museum that pays to indigenous culture and see some fun science experiments too. Entry to the museum is 3 USD.
3. El Panecillo
"The bread roll" or el Panecillo is a hill overlooking the city. It's famous for its views and used to contain an Inca temple before the Spanish arrived. On the hill is the statue of the Virgin Mary that was constructed in 1976 and is 140 feet tall.
4. Explore the markets
Any South American city or town worth its salt will have a good market. Quito has tons. Trips to the market towns of Otavalo and Cotacachi will not disappoint and have everything from local handicrafts, goods, leather goods to household items.
5. The Old Town
Most visitors concentrate their time in Old Town, which is a UNESCO site. Here you'll find the city laid out according to Spanish planning requirements, with the central plaza at the heart. The plaza features the Palacio del Gobierno, the Cathedral, and the Palacio Presidencial.
Other Things to See and Do
(Click the title to expand the text)
1. Explore the Spanish architecture
Quito is home to a number of colonial, well-preserved houses from the Spanish era. The two best can be found on an alley called La Ronda. The first is Casa de Benalcázar, one of the early founders of the city, and Casa de Sucre where Field Marshall José de Antonio de Sucre, a leader in Latin American independence, lived.
2. Plaza de San Francisco
Though you'll see many churches in the city, San Francisco is one of the oldest and prettiest. The city's oldest building, its construction began in 1534 and is made in baroque style. There is a huge plaza outside the church that is good for people watching.
3. Parque Metropolitano
Parque Metropolitano is a very good park on top of a hill and provides amazing views of the city. You can get a lot of good photos and the surrounding neighborhood is quite nice. I recommend asking where the entrance is before you walk there or you'll find yourself (maybe like me) using the tourist map only to find out the side "entrances" are all locked — only the main entrance is open.
4. Museo del Banco Central
The Central Bank Museum has a good collection of artifacts from all of Ecuador's regions and cultures. There are many pre-Incan artifacts too. I wouldn't have thought a bank museum would have such things but this one does, and it's not that expensive to get into. Admission is 2 USD per person.
5. La Mariscal
This is where all the expats and tourists seemed to be. I couldn't walk 5 feet without a Texas BBQ or Irish Pub popping up. This neighborhood was trendy, filled with bars and posh restaurants. It seemed like the place to be during the night time with all the bars and clubs but during the day it was simply filled with tourists eating overpriced food. The houses in the area are nice and colorful, though.
6. Teleferico
Located on the eastern side of Pichincha Volcano is the world's second-highest cable car. At 12,000 feet, you can see over six volcanoes on a clear day. Rides are 8.50 USD per person, round-trip.
7. Jardin Botanico
On the southwest side of Parque La Carolina, there is a beautiful garden escape from the city. You can experience all of Ecuador's ecosystems here, by guided tour or alone. The two glass orchidariums are the main highlight. Adult tickets are 3.50 USD, and discounts are available for students and children.
8. Itchimbia cultural complex and park
Established in 2005, this center holds temporary exhibitions, weekend workshops, restaurants, and impressive views of central and northern Quito.
9. Take a GPS scooter tour
For those that would rather not just wander around at random, these tours are set up to guide you to the best sights in Quito. There is even a voice instructions option. This can be a fun way to check out the city. Expect to pay around 35 USD per scooter (which can sit 2 people).
10. Montaña
If you are into climbing, this is the place to go. This is the central meeting place for climbers in Quito. There is a lot of information here and no one is trying to sell anything, which is nice. There's often group climbs arranged.