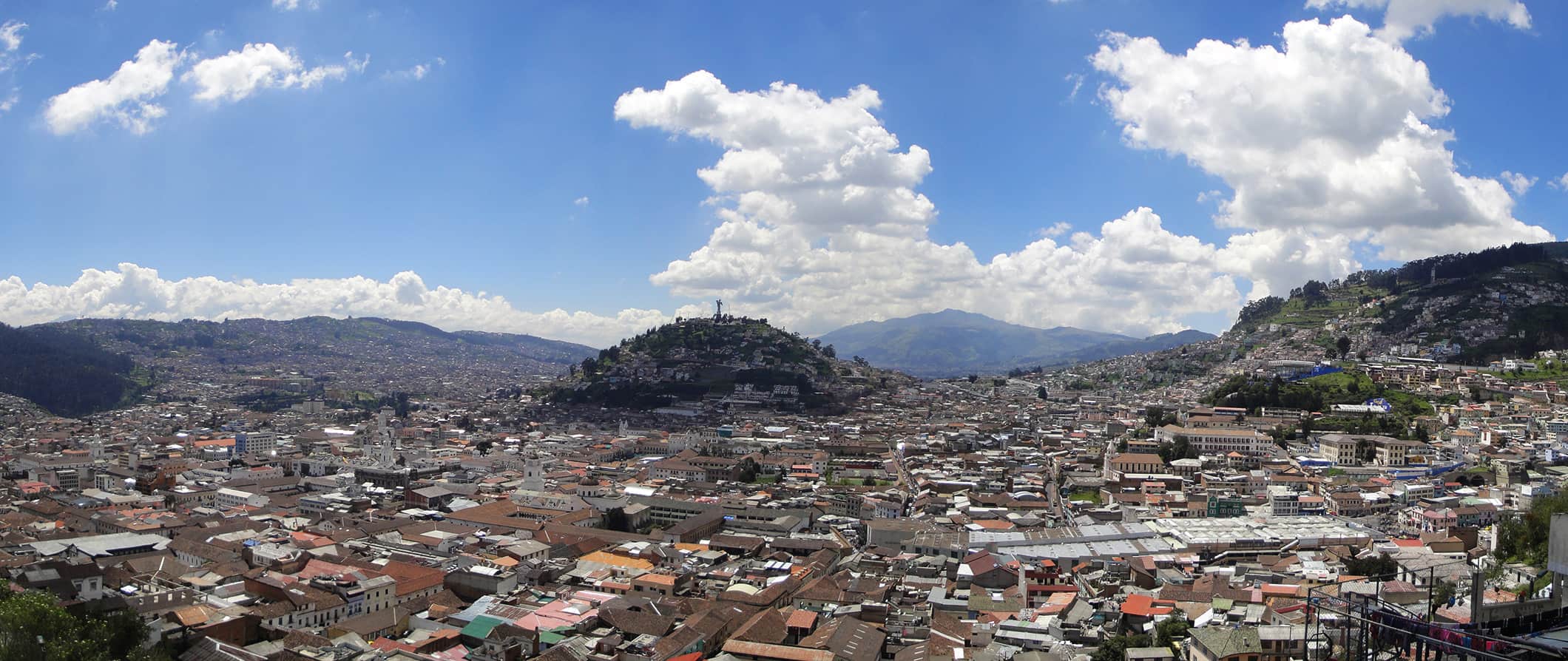 Quito is the cultural heart and political capital of Ecuador. Surrounded by mountains, Quito offers a mix of colonial Spanish architecture and sprawling modernity that makes the city both interesting and beautiful.
I really liked my visit to Quito. I didn't really know what to expect but I found the city lively, gritty, and full of welcoming people.
Quito might not be where you'll stay the longest when you visit the country but it offers enough to fill a few days. Its UNESCO Old Town and proximity to the equator ensure there is enough to keep you busy for a couple of days before you move on.
This travel guide to Quito can help you plan your visit there, stay safe, and save money as you explore Ecuador's capital.
Top 5 Things to See and Do in Quito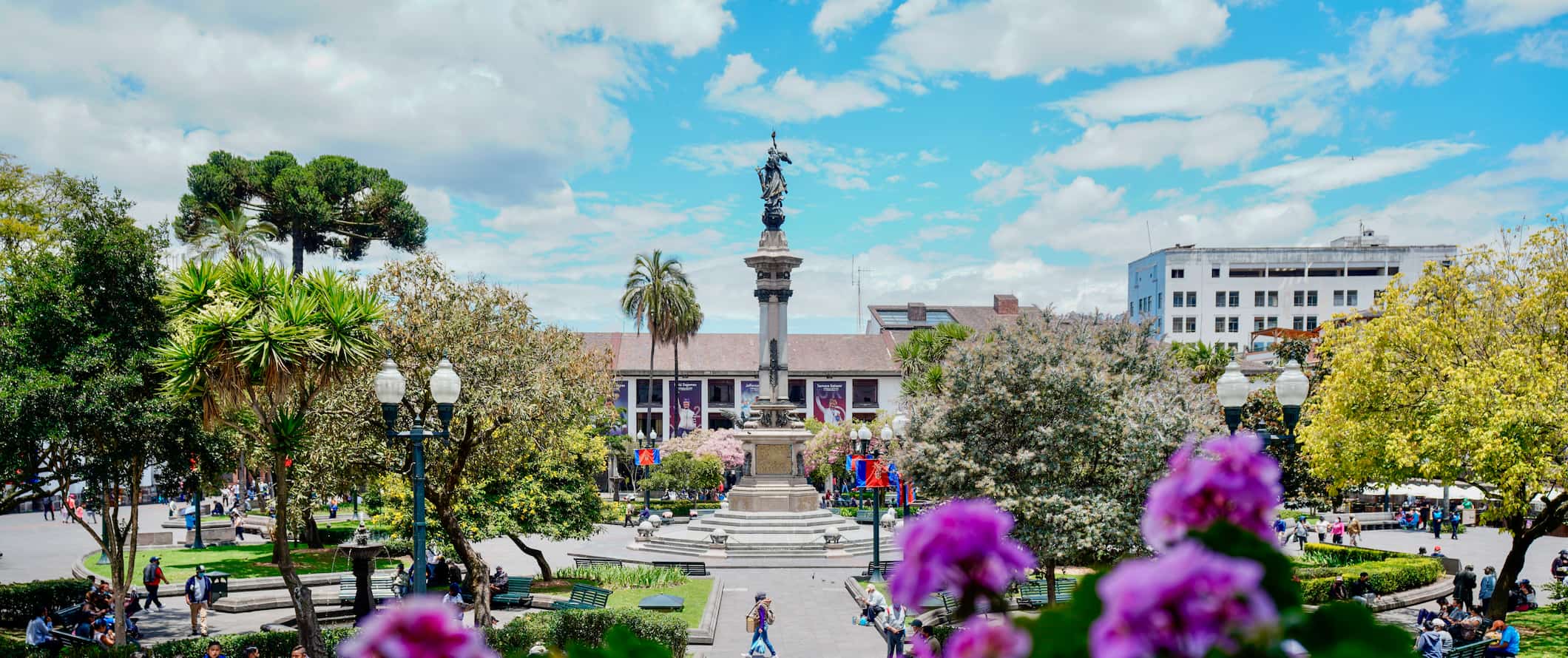 1. Visit the old monasteries
Quito has several ancient monasteries to visit, including Santo Domingo, San Augustin, and San Diego. The San Diego convent, built by the Franciscans, is one of the city's largest. It's the oldest church in Ecuador, dating to 1534, and construction took 150 years to complete. Although it has been rebuilt several times after earthquake damage, you'll still find original tilework in the chapel and a set of stairs that were originally designed for the Vatican. Santo Domingo was constructed in the 16th century in Baroque and Moorish styles. It's very ornate and there's a small museum on-site featuring paintings and other works of art as well.
2. Cross the Equator
Located near Quito, you can visit both real and fake equatorial monuments. Quito is the world's closest major city to the equator. The "fake" monument was built in the 1970s to mark the equator. However, when GPS was invented, it revealed that the original calculations were off. On the weekends you can enjoy the lively plaza with music and dance performances. There's also a museum nearby with a planetarium, ethnographic information, local art, and fun chocolate and beer exhibits. Museum entry is $5 USD.
3. Go to El Panecillo
E Panecillo ("the bread roll") is a hill overlooking the city. It's famous for its views and used to contain an Inca temple honoring the sun. The Incas called it Shungoloma, which means Hill of the Heart. Later, the Spanish built a fortress on the hill to serve as a lookout. On the hill is a 140-ft-tall aluminum mosaic statue of the Virgin Mary constructed in 1976. The best time to enjoy the view of the city and snap some pictures from here is early to mid-morning to avoid the crowds and the afternoon cloud cover.
4. Explore the markets
Quito has tons of great markets and they offer amazing opportunities to experience Ecuador's cultural diversity. Mercado Artesanal La Mariscal has tons of artisanal goods, including everything from alpaca blankets to Ecuadorian chocolates. Mercado Municipal Santa Clara is another popular market for purchasing local art and experiencing Ecuadorian craftsmanship. Otavalo Market is where you go for gifts made by the indigenous people in the area, while Inaquito Market is the best place for regional foods.
5. Spend time in the Old Town
Here you'll find the old Spanish city, with the central plaza at the heart. A UNESCO World Heritage Site, the plaza features the Palacio del Gobierno, the Cathedral, and the Palacio Presidencial. Wander through the quaint streets as you take in colonial architecture and explore Quito's rich history. You can enjoy some of the best vistas in the city from Basilica del Voto Nacional, a stunning church that offers a 360-degree view of Quito. It's usually busy here so take some time to people-watch and enjoy the bustling ambiance.
Other Things to See and Do in Quito
1. Hang out in Parque Metropolitano
Parque Metropolitano is a sprawling 1,433-acre park on top of a hill with views overlooking the whole city and the Cumbayá Valley. This place is enormous, with camping sites, cafes, barbecue pits, scenic viewpoints, mountain biking, and hiking trails. While you're on the trails, keep an eye out for the bright Crimson-Mantled Woodpecker and other exotic birds.
2. Visit the Museo del Banco Central
The Central Bank Museum has an extensive collection of artifacts from all of Ecuador's regions and cultures, including pre-Incan artifacts and a seemingly endless collection of pre-Columbian ceramics and gold artifacts. Some of the coolest things to see here are the Chorrera ceramics from 900-300 BCE, including bottles shaped like little creatures that mimic animal noises when you pour water into them. Admission is $2 USD.
3. Hang out in La Mariscal
This is where all the expats and tourists hang out. I couldn't walk five feet without bumping into a Texas BBQ or an Irish Pub. It's full of bars and posh restaurants. I wouldn't spend a lot of time here (it's pretty pricey) but it's an exciting place if you want a night out. The main plaza often has live music and entertainment, and the Mercado Artesanal La Mariscal is worth a stop for if you want to go souvenir shopping.
4. Ride the Teleferico
Located on the eastern side of Pichincha Volcano is the world's second-highest cable car. At 12,000 feet, you can see over six volcanoes on a clear day. You can just do a round-trip, or get off at the top to continue a trek along Pichincha's ridge. The trail begins at Cruz Loma and is about 10 kilometers (6 miles) long, and it's a challenging one due to the altitude and steep incline in some places. The views are completely worth it though. Avoid this hike if the forecast calls for poor weather, as the route can get treacherous. Gondola rides are $8.50 USD round-trip.
5. Visit the Jardin Botanico
On the southwest side of Parque La Carolina you'll find this tranquil garden escape. You can experience some of Ecuador's ecosystems here on a guided tour or on your own, including native habitats like high-altitude grasslands, wetlands, and cloud forests. This is also a prime spot for bird watchers, with over 141 different species to keep an eye out for. The two glass orchidariums (enclosures specifically for orchids) are the main highlights of their incredibly colorful collection. Be sure to check out the 100 bonsai trees in the Japanese garden. Tickets are $4 USD.
6. Visit the Itchimbía Park and Cultural Center
Established in 2005, this park and cultural center sits on top of Itchimbia Hill with panoramic views over the city and beyond, all the way to the snow-capped mountains and Pichincha Volcano. There's also a glass house here that serves as an exhibition center and museum which regularly hosts workshops, art shows, and other events. There are about 40 different species of birds and 400 types of tropical flowers to admire here too.
7. Admire La Compañia church
La Compañia is considered the most ornate church in Ecuador. It took 160 years to build (1605-1765). Although its dominant architectural style is Baroque, it also includes Moorish elements (like the geometric shapes on the church's pillars), stucco decoration in the Churrigueresque style, and Neoclassical touches in the chapel. The central nave is completely covered in gold and is incredibly ornate and lavish. It's $5 USD to visit.
8. Hang out in La Floresta
If you want to go where the locals hang out, spend some time in La Floresta visiting its many coffee shops, galleries, and street art locales. Pop into the Ocho y Medio indie movie theater, or visit one of the craft breweries. In the evenings, some bars host live music.
9. Take a free walking tour
There are a few free walking tours available in Quito. This is the best (and cheapest) way to explore the city while getting a detailed overview of its culture and history. I recommend Free Walking Tour Quito because they also offer more in-depth tours to lesser-known neighborhoods. Just don't forget to tip your guide at the end!
Quito Travel Costs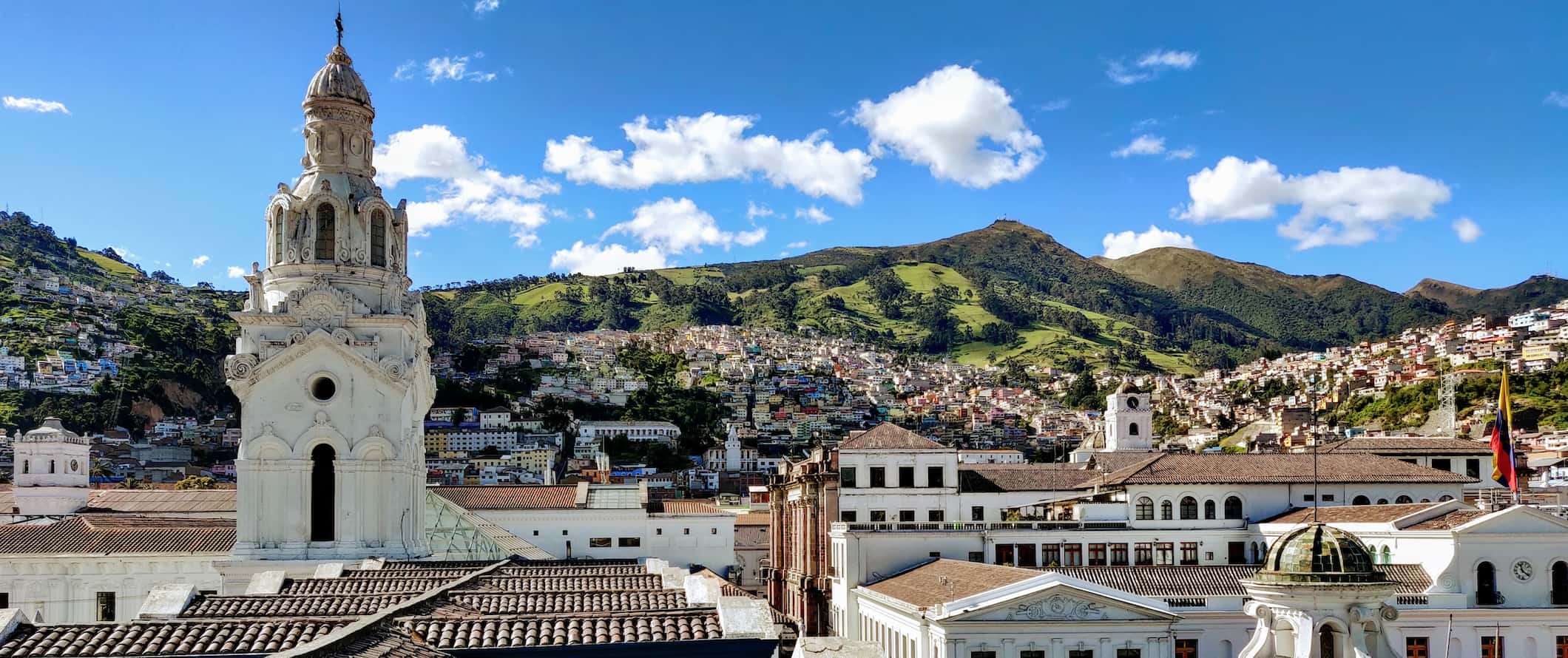 Hostel prices – Hostels are incredibly cheap in Quito. A bed in a 6-8-bed dorm costs $6-15 USD. Free Wi-Fi is standard and most hostels also include free breakfast. A basic private room for two with an ensuite bathroom costs from $15-50 USD per night. Prices don't really change between peak season and off-season for hostels.
Budget hotel prices – Budget hotels during peak season range from $40-100 USD per night for a double room in a three-star hotel. Free Wi-Fi is standard. In the off-season, rooms cost $25-60 USD. Many budget hotels have shared bathrooms so just make sure you check before you book in case you want your own bathroom.
Airbnb is available in Quito, with a private room starting at $20-30 USD per night. For an entire home or apartment, expect to pay closer to $45 USD per night.
Food – The local fare of Ecuador features ilapinchagos (fried potato cakes stuffed with cheese), ceviche (a raw fish dish usually with lemon), empanadas, arroz con pollo (chicken with rice), and cuy (roasted guinea pig).
In Quito, you can find street food stalls selling things like ceviche, empanadas, or even fresh-squeezed fruit juices like maracuya (passion fruit juice) for $1-2 USD. For comparison, a McDonald's combo meal is about $7 USD.
Local lunch spots sell meals for $3-5 USD, including empanadas, soups, rice, and grilled meat. If you want western food, such as pizza or burgers, you'll pay about $13-16 USD.
If you want to splurge on a high-end restaurant, you'll spend about $25 USD for a three-course fixed menu. A dish of a traditional guinea pig (cuy) is $10 USD, while pasta and vegetarian dishes are $9 USD.
Beer is $3.50 USD while a latte/cappuccino is $2.50 USD. Bottled water is $0.65 USD.
If you're planning on shopping in the markets and grocery stores, you can expect to spend around $20-30 USD per week on basic staples like bread, milk, eggs, cheese, chicken, fruit, and veggies.
Backpacking Quito Suggested Budgets
On a backpacking budget of $30 USD per day, you can stay in a hostel dorm, eat some street food and cook some meals, take a free walking tour, and use public transportation to get around. If you plan on drinking, add $5-10 USD per day to your budget.
On a mid-range budget of $105 USD per day, you can stay in a decent hotel or Airbnb, eat out for all your meals, take the occasional taxi to get around, enjoy all the drinks, take a paid tour or two, and visit most museums.
On a "luxury" budget of $245 USD per day, the sky is the limit. You won't have to worry about any restrictions on your spending. You can do anything!
Accommodation
Food
Transportation
Attractions
Average Daily Cost
Backpacker
$10
$10
$5
$5
$30
Mid-Range
$50
$25
$10
$20
$105
Luxury
$100
$90
$25
$30
$245
Quito Travel Guide: Money-Saving Tips
Quito is an affordable destination to visit, but it never hurts to save money! Here are a few tips to help you cut down your costs during your visit:
Make sure your taxi is metered – Don't get into a taxi unless the driver is using his meter. There are many stories of drivers unscrupulously overcharging tourists.
Eat at the markets – This is the place to do your food shopping. You can find meals for just a few dollars, making this the best way to eat cheaply in the country.
Stick to almuerzos – Many restaurants have "almuerzos" i.e., cheap lunches from a set menu. These are usually just a couple of dollars and usually include a drink.
Carry small change – Forget about carrying any bills over $20 USD as you'll have trouble changing them — even $20s can be difficult to break in small towns.
Drink local beer – Ecuador produces many of its own beer brands which are cheaper than imports. Drink like the locals and save your money!
Couchsurf – Use Couchsurfing to connect with locals who can provide free accommodation and share their insider tips and advice.
Take a free walking tour – Quito Free Walking Tours offers free tours around the city. If you want to see the main sights and learn some history, this is a great place to start. Just make sure to tip your guide at the end.
Pack a water bottle – A water bottle with a purifier comes in handy in Quito since you shouldn't drink the tap water. Save money and reduce your reliance on single-use plastic and get a bottle that can purify the tap water for you. My preferred bottle is LifeStraw.
Where to Stay in Quito
Quito has lots of social and affordable hostels. Here are my suggested places to stay:
How to Get Around Quito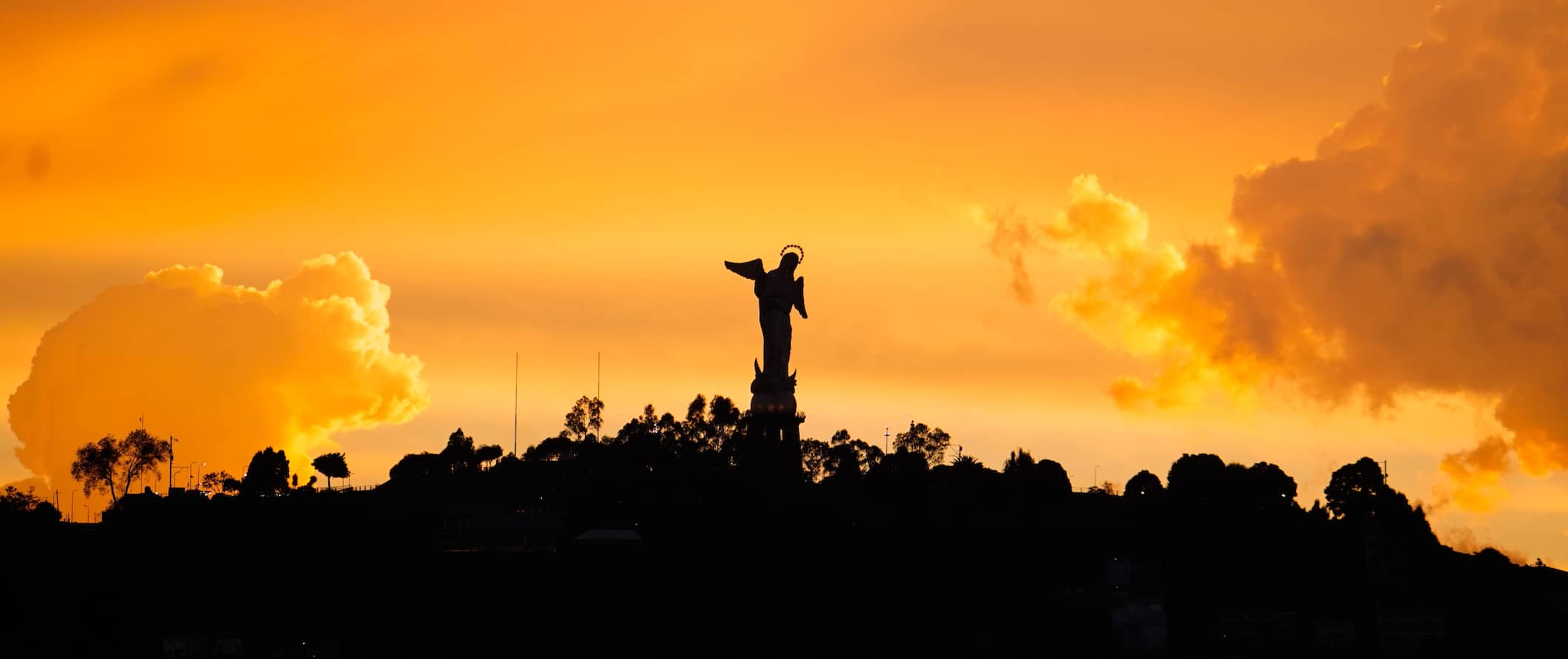 Public transportation – The bus is the most common and efficient way to get around Quito. A local bus ticket costs $0.25 USD and can get you anywhere you need to go. Although there are designated bus stops, the driver will usually let you get off at any street corner. You should note that the buses stop running at 9PM.
Currently, Quito is building a new subway system that should be in operation by early 2023.
Taxis – Taxis are very affordable in Quito, and they're metered (unlike elsewhere in the country). A short taxi ride shouldn't cost much more than $5 USD. At night, the minimum rate is $2 USD; it's $1.50 USD in the daytime. Always make sure your taxi is metered before you get in. If the driver won't turn on the meter, get out and find one that will.
Ridesharing – Uber is available in Quito and it's usually cheaper than taxis.
Bicycle – BiciQuito is Quito's free bike-sharing program with stations all over the city. Best of all, it's free! You'll need to register online and download an application from the website — and then deliver the application to one of the stations or at the AMT offices for approval. It's not as easy as simply using a digital app, but at least the rides are free.
Car rental – Car rentals can be found for as little as $35 USD per day for a multi-day rental. However, you don't need a car to get around the city. Renters need to be at least 21 years old. For the best car rental prices, use Discover Cars.
When to Go to Quito
It can be pretty chilly in Quito year-round due to its high-altitude location in the Andean mountains. The peak season to visit is from mid-June to September and then December-January. The average daily high is 15°C (60°F) while the average daily low is 8°C (48°F). Temperatures are slightly higher in July and August, averaging about 18°C (66°F) per day. In short, no matter when you visit you'll want to bring a sweater or jacket.
Quito is very rarely overcrowded, but if you want to avoid inflated prices, come during the shoulder seasons or off-seasons. June to November is the low season in the Galapagos, and Quito is also quieter during this time as people aren't hopping off to the islands. This is a good time to visit if you want to purely appreciate all that Quito has to offer without moving on to the Galapagos.
How to Stay Safe in Quito
The risk of violent crime is low in Quito, however, petty crime like pick-pocketing happens a lot. This can occur around high-traffic areas, especially in busy plazas and on public transportation.
Public transportation tends to get very crowded because the fares are so low, so be alert. Leave your valuables at home and don't flash around your iPhone, camera, or expensive jewelry. Keep your valuables secure and out of reach at all times just to be safe.
Use caution at night. Avoid the Old Town and Carolina Park after dark, as well as Ave. de Los Shyris.
La Ronda, República de El Salvador, and Plaza Foch are safer places at night.
Don't climb El Panecillo on foot, night or day. It's best to use public transportation to avoid muggings or assaults, which are unfortunately very common in this area.
Solo female travelers should take the standard precautions (never leave your drink unattended at the bar, never walk home alone intoxicated, etc.). For more specific information, read one of the many solo female travel blogs out there that can have more specific tips.
Scams are rare, however, if you're worried about getting ripped off you can read about common travel scams to avoid here.
When in doubt, always trust your instincts. If a taxi driver seems shady, tell them to stop and get out. If your hotel or accommodation is seedier than you thought, go somewhere else. Make copies of your personal documents, including your passport and ID, in case of an emergency.
The most important piece of advice I can offer is to purchase good travel insurance. Travel insurance will protect you against illness, injury, theft, and cancellations. It's comprehensive protection in case anything goes wrong. I never go on a trip without it as I've had to use it many times in the past. You can use the widget below to find the policy right for you:
Quito Travel Guide: The Best Booking Resources
These are my favorite companies to use when I travel. They consistently have the best deals, offer world-class customer service and great value, and overall, are better than their competitors. They are the companies I use the most and are always the starting point in my search for travel deals.
Skyscanner – Skyscanner is my favorite flight search engine. They search small websites and budget airlines that larger search sites tend to miss. They are hands down the number one place to start.
Hostelworld – This is the best hostel accommodation site out there with the largest inventory, best search interface, and widest availability.
Booking.com – The best all around booking site that constantly provides the cheapest and lowest rates. They have the widest selection of budget accommodation. In all my tests, they've always had the cheapest rates out of all the booking websites.
Get Your Guide – Get Your Guide is a huge online marketplace for tours and excursions. They have tons of tour options available in cities all around the world, including everything from cooking classes, walking tours, street art lessons, and more!
SafetyWing – Safety Wing offers convenient and affordable plans tailored to digital nomads and long-term travelers. They have cheap monthly plans, great customer service, and an easy-to-use claims process that makes it perfect for those on the road.
LifeStraw – My go-to company for reusable water bottles with built-in filters so you can ensure your drinking water is always clean and safe.
Unbound Merino – They make lightweight, durable, easy-to-clean travel clothing.
Top Travel Credit Cards – Points are the best way to cut down travel expenses. Here's my favorite point earning credit cards so you can get free travel!
Quito Travel Guide: Related Articles
Want more info? Check out all the articles I've written on Quito travel and continue planning your trip: