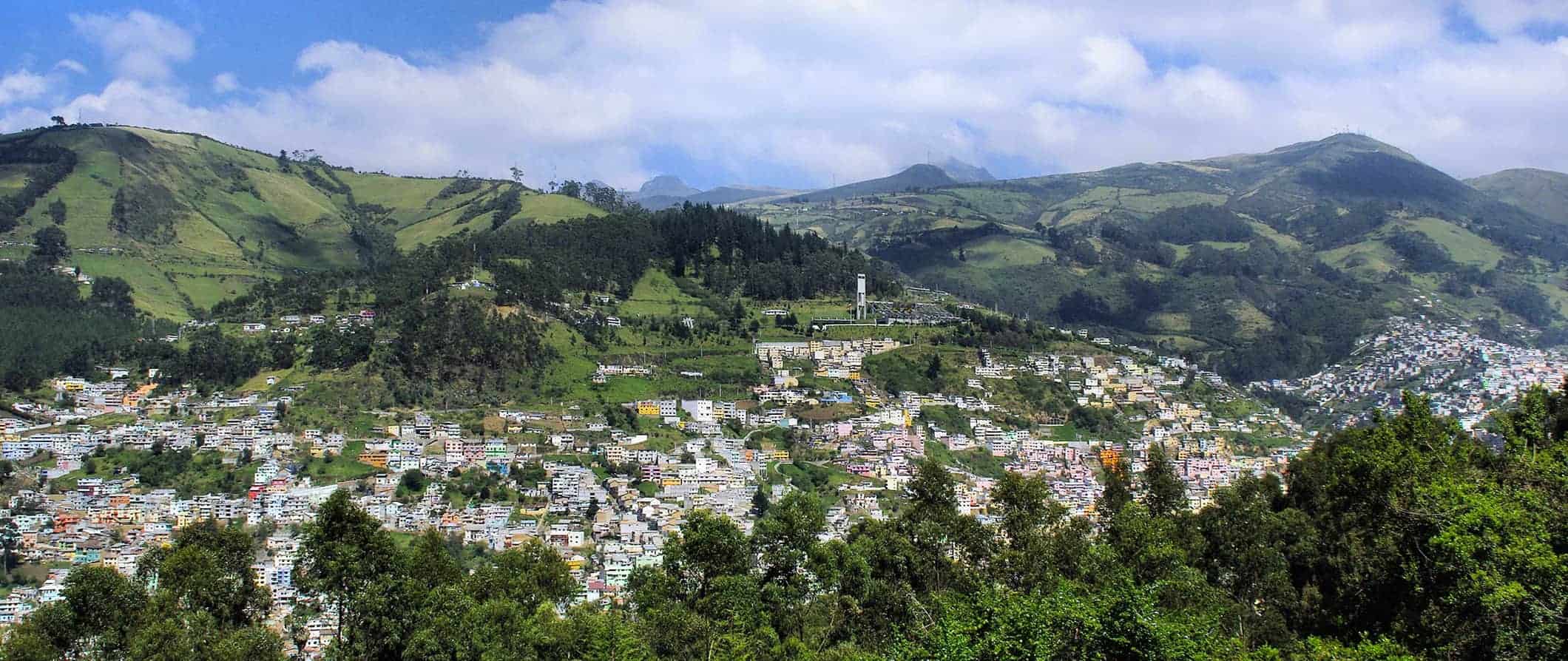 Ecuador is nestled between Colombia and Peru on the Pacific side of South America. Backpacking or traveling around Ecuador is a beautiful experience. The food is incredible, there are lots of mountains, and I found the people very hospitable.
The Galapagos Islands are the main attraction in the country with most people just jumping from Quito to the islands to revel in the amazing wildlife-spotting opportunities.
But there is much more to Ecuador than the Galapagos.
Adventure lovers will be keen to explore the Ecuadorian Amazon or to climb one of the country's many volcanoes, including the world-famous Cotopaxi Mountain.
This tiny country packs a lot of punch and this travel guide can help you make the most of your trip!
Top 5 Things to See and Do in Ecuador
1. Quito
Ecuador's capital
is beautiful, historic, and energetic. Head to the city's Old Town to see its historic colonial past. The churches and old buildings are beautiful, and the Plaza Grande is sure to instill a feeling of patriotism in all visitors. The city's largest and oldest church, Monasterio de San Francisco, is also pretty great.
2. Cotopaxi Mountain
Cotopaxi is Ecuador's second highest mountain and was the world's highest volcano for years until the Chilean volcano Tupungato erupted in 1986. This 12,500-foot tall snow-capped monster lies just 55km from Quito and is popular with hikers and mountain bikers.
3. Galapagos Islands
There are few places in the world which offer wildlife spotting opportunities as good as the Galapagos Islands. The islands lie 1,000km from the coast of Ecuador and are the most popular attraction in the country. My trip here was everything people say and more. Simply breathtaking.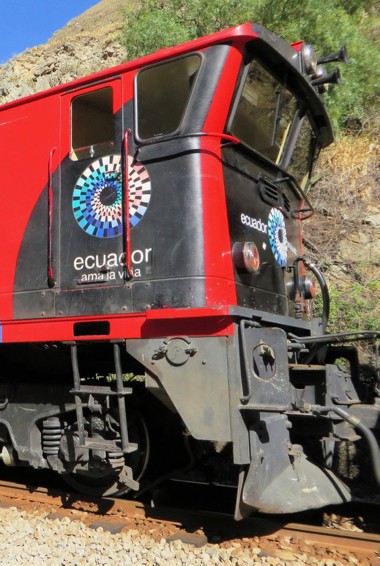 4. Ride The Devil's Nose train
Dubbed "the most difficult train ride in the world," the journey begins in the town of Riobamba and makes its way through cliffs to the city of Alausí. You kind of feel like you're going to fall off any second. It's not for those who dislike heights. Tickets are $25 USD.
5. See the Amazon rainforest
Approximately half of Ecuador is covered in Amazonian rainforest. Over 1,000 species of animals can be found in the forests and lagoons of the Ecuadorian Amazon, for example, tapirs, monkeys, jaguars, and ocelots. Tour prices start at a few hundred dollars.
Other Things to See and Do in Ecuador
1. Baños
This small town lies high in the Andes and on the hillside of Ecuador's most active volcano, Tungurahua. Besides the fantastic volcano treks, visitors also flock to Baños to experience the healing powers of its hot springs and to give thanks for miracles performed at the Church of the Virgin of the Holy Water. It's also the country's adventure capital, with lots of biking, bungee jumping, ATV rentals, and a circuit of beautiful waterfalls to visit. Prices will vary, but they are not expensive. Bungee jumping, for example, is only $20 USD.
2. Otavalo Market
Otavalo is Ecuador's most famous indigenous market. Handicrafts, jewelry, necklaces, musical instruments, and clothing are just a few of the things you can buy at this expansive market.
3. Cuenca
Cuenca is Ecuador's third-largest city. Designated as a UNESCO World Heritage Site, Cuenca has colonial buildings, churches, and cathedrals that are beautiful — and extremely photogenic. The city is also thought to be Ecuador's intellectual capital and has been dubbed the "Athens of the Andes."
4. Ingapirca
Ingapirca is Ecuador's premier Inca site and is located in the Canar Province, near the country's Pacific coast. The crowning glory of the site is the Temple of the Sun, which is a circular building made of intricately carved stones so as to fit together without mortar. There is also a burial site and a series of low walls which are ruins from various other buildings on the site. A guided tour will cost around $40 USD.
5. Montañita
This surfer's paradise is a relatively new addition to Ecuador's list of attractions, although its reputation for pristine beaches and perfect waves has been growing steadily over the years. This is a proper backpacker's paradise with laid back beach parties, live bands, and inexpensive accommodation. A week-long surf camp (including lessons, accommodation, and food) will cost around $600 USD.
6. Go whale watching in Puerto Lopez
One of the many tourist towns that lay along the coast is Puerto Lopez. Not so much of a surfing spot, it's known instead for its great whale watching season. Come and witness the humpback whales in action, and then check out the blue footed boobies (a very rare bird species) at La Plata island. Combined tours (whale watching and island visit) cost $35 USD, plus the $15 USD national park fee. This ends up being a full day activity.
7. Visit or volunteer at an animal refuge
Puyo, the gateway to the Ecuadorian Amazon, has a number of animal rescue and rehabilitation centers. These make for an interesting and educational visit. Some offer volunteer opportunities if you're interested in getting involved on a different level.
8. Ibarra
About 90 minutes outside of Quito, is Ibarra. There is a lot of community tourism here as well as adventure travel and indigenous visits. Consider rafting, swing jumping, trekking, climbing, kayaking, and more.
9. Learn Spanish
As the national language here, Spanish is everywhere you go. There are hundreds of places to take a language course in this country. If you are going to visit for a prolonged period of time, it might be a good idea to take a couple lessons.
10. Explore the lava tubes
North of Puerto Ayora, there are tons of underground tunnels that have been formed from molten-lava. For $1 USD, you can take a self-guided tour or pay more to go with a guide. It's pretty freaky being in these huge lava tops but pretty amazing too.
Be sure to visit our Quito travel guide for more detailed information about what to see and do!
Ecuador Travel Costs
NOTE: Ecuador uses the US dollar.
Accommodation – Accommodation is inexpensive here. Dorms start around $8 USD per night, while a private room will likely cost around $12 USD. Free WiFi is standard, and many hostels also include free breakfast. Budget hotels are only slightly more expensive than hostels, with prices starting around $18 USD per night for a double. Free WiFi and free breakfast are common. For a hotel with a pool, prices start at $25 USD per night. Airbnb is also available, with shared accommodation starting at $15 USD per night. For an entire home or apartment, expect prices to begin around $25 USD (though prices average closer to $90 USD per night).
Food – Meals typically cost between $3-5 USD for local food. You can find food stalls on the street for around $1-2 USD. Western style meals will cost around $10-12 USD. For a meal at a mid-range restaurant, expect to spend around $25 USD per person. If you're planning on shopping in the markets and grocery stores, you can expect to spend around $15-20 USD per week on basic groceries like bread, milk, eggs, cheese, chicken, fruit, and veggies. Ecuadorian beers can cost as little as $1 USD each. Expect to pay a premium in bars and restaurants for alcohol, especially in the cities.
Activities – Aside from a trip to the Galapagos Islands, activities are pretty cheap in Ecuador. A ride on the Devil's Nose train will cost $25 USD roundtrip, while entrance to Ingapirca and most museums costs around $6 USD. Day trips to volcanoes and mountain hikes are typically around $30 USD. A trip to the Galapagos Islands is pricey — about $1,500-2,500 USD for 10 days, plus the $100 USD park fee — but if you have room in your budget, it's incredible!
Backpacking Ecuador Suggested Budgets
How much does it cost to visit Ecuador? Galapagos aside, Ecuador is very cheap. You can travel comfortably on a budget of $30-35 USD per day if you're staying in hostel dorms, eating at food stalls, cooking some of your meals, and using local transportation.
On a mid-range budget of about $100 USD per day, you can stay in private hostel rooms or budget hotels, eat out all you want, take taxis, tours, and really do anything else.
On a luxury budget of $400+ USD per day, you can afford to do whatever you want, including doing a tour of the Galapagos Islands. You don't really need to spend this much money per day but if you want high end hotels, fancy meals, and a trip to the Galapagos, this is what it will average out too!
Accommodation
Food
Transportation
Attractions
Average Daily Cost
Backpacker
$8
$7-10
$5
$10
$30-35
Mid-Range
$25
$30
$10
$40
$100
Luxury
$80-100
$50
$150
$100
$400+
Ecuador Travel Guide: Money Saving Tips
How do you save money in Ecuador? Here are a few hacks to cut down your costs while you travel around the country:
Hospedajes – These family-run guesthouses are all over the country and have rooms for just a few dollars per night. They are very affordable accommodation options.
Eat at the markets – This is the place to do your food shopping. Buying 20 bananas and a kilo of apples works out to under $3 USD! You can find meals for just a few dollars, making this the best way to eat cheaply in the country!
Almuerzos – Many restaurants have almuerzos, cheap lunches from a set menu. These are usually just a couple of dollars and even include a drink!
Carry small change – Forget about carrying any bills over $20 USD as you'll have trouble changing them — even $20s can be difficult to break in small towns.
Book last minute tours – Galapagos Island cruises are can expensive. By booking your tour in Quito last minute, you can save up to 40% off the cost of the trip. You can also just fly there and see what is around too! If you're flexible in when you go and can wait around for a spot to open, this is the cheapest option.
Couchsurf – If you want to make your trip even cheaper and find a local friend, couchsurf! There are a number of hosts in the country that will let you stay with them! It's free accommodation and a chance to make a local friend!
Stay at a Hola Hostel – Hola Hostels is a network of hostels predominantly in South and Central America, as well as Europe. They offer 10% off to their members, as well as other discounts for food and activities. Joining is free, and their hostels are also committed to environmentally sustainable practices.
Pack a water bottle – A water bottle with a purifier will come particularly in handy in Ecuador since you can't always drink the tap water. Save money and thousands of plastic bottles and get a bottle that can purify the tap water for you. My preferred bottle is LifeStraw ($49.99).
Where To Stay in Ecuador
Here are some of my favorite places to stay in Ecuador:
How to Get Around Ecuador
Public Transportation – Bus is the most common, efficient way to get around Ecuadorian cities. A local bus ticket costs usually about $0.25 USD. Bus stops are really only existent in Quito – outside of the city, you'll generally just have to flag one down and request your stop whenever it comes along.
Taxis are very affordable, but they're only metered in Quito. A short taxi ride shouldn't cost much more than $5 USD. Otherwise, you'll have to negotiate the fee with the driver upfront. Don't be afraid to haggle! In rural areas, a taxi might actually just be a pick-up truck.
Uber is also available in Quito!
Bus – The bus network in Ecuador is incredibly extensive, and it's the easy way to get around the country. There are hundreds of bus companies! Many of them will take you along the common backpacking routes, but also into more remote areas. Long-distance buses typically cost from $1-2 USD per hour. For longer trips, like the 10-hour ride from Quito to Guayaquil, expect to pay around $10 USD for a one-way ticket. A bus from Quito to Bogota, Colombia will cost around $40 USD. From Quito to Lima, Peru will cost around $30 USD.
Typically you can just show up at the bus station to get your ticket, but you can also use latinbus.com to look up routes and prices.
Another option is to book a hop on hop off pass, like with with Wanderbus Ecuador. These passes give you flexibility in your travel, but along specific routes. You can hop off and hop on at anytime. Their passes start around $35 USD for 3 stops, while longer routes can cost up to $200 USD for 11 stops.
Fly – Flying within Ecuador is affordable, with most destinations being serviced from Quito or Guayaqui. Ecuador's airlines are:
Avianca
Emetebe (Galápagos-based airline)
LATAM
TAME
Flights from Quito to Guayaquil cost as little as $45 USD! TAME will also get you to some smaller Ecuadorian destinations, like Quito to Loja for $85 USD. Flying to the Galapagos Islands is obviously the most practical way to get there, but it's certainly not cheap. One way from Quito to Baltra (the busiest airport) start from about $215 USD. Guayaquil to Baltra is about the same.
Train – Ecuador's rail system isn't the best way to get around the country, although there are day trips along routes that are specifically designed for tourists. The route from Alausi along La Nariz del Diabo (The Devil's Nose) is one of the most popular, thanks to its terrifyingly steep descent. There is also a weekend train trip between Quito and Area Nacional de Area Nacional de Recreación El Boliche next to Cotopaxi.
You can use http://www.ecuadorrail.net/ to look up routes and ticket prices. The Devil's Nose trip is ($33 USD), but you still have to make your way to Alausi.
When to Go to Ecuador
Ecuador technically only has two seasons: wet season and dry season. But Ecuador has such varying altitudes, it really depends on where/when you visit.
January to May is the coolest, wettest time of year for most of the country. Navigating the Amazon can be difficult during this time due to road closures and flooding. Temperatures along the coast are milder, and it's actually quite pleasant in the Galapagos as the ocean waters are calm and warm.
June to the end of September is very dry, and you'll also experience some of the warmest temperatures in Ecuador. This is peak season, so you can expect higher prices for flights and accommodations. Still, the weather is always nice and the entire country has a more fun, upbeat atmosphere. Temperatures near the coast are as high as 77°F (25°C), while in Quito the daily average is around 70°F (21°C).
October to the end of December is another busy time in Ecuador, and especially in the Galapagos Islands.
How to Stay Safe in Ecuador
Ecuador is generally a safe place to backpack and travel – even if you're traveling solo, and even as a solo female traveler. Petty theft (including bag snatching) is the most common type of crime in Ecuador. Valuables like laptops, jewelry, and cell phones should be hidden from sight. Transport terminals are especially a hot spot for petty crimes.
In Quito, avoid the old town at night. Taxi crimes are a danger in places like Quito, Guayaquil, Manta, and Playas – the US consulate in Guayaquil even forbids its staff from hailing cabs in the street because of the risk of crime. In this popular scam, someone will hop into your taxi with you once the journey has started and take you on a little tour of the city's ATMs.
Use caution at night.
Ecuador has a special tourist police division to help travelers. All you have to do is install the the travel safety app on your phone, and when you call for help, the police can find you using your GPS (if necessary).
Always trust your gut instinct. If a taxi driver seems shady, stop the cab and get out. If your hotel is seedier than you thought, get out of there. Make copies of your personal documents, including your passport and ID.
If you don't do it at home, don't do it when you're in Ecuador. Follow that rule and you'll be fine.
Worried about travel scams? Read about these 14 Major Travel Scams to Avoid and be in the know! There aren't many in the region but the few there are can be quite expensive!
The most important piece of advice I can offer is to purchase good travel insurance. Travel insurance will protect you against illness, injury, theft, and cancellations. It's comprehensive protection in case anything goes wrong. I never go on a trip without it as I've had to use it many times in the past. You can use the widget below to find the policy right for you:
Ecuador Travel Guide: The Best Booking Resources
Below are my favorite companies to use when I travel to Ecuador. They are included here because they consistently turn up the best deals, offer world-class customer service and great value, and overall, are better than their competitors. They are always my starting point when I need to book a flight, hotel, tour, train, or meeting people!
Momondo – This is my favorite booking site. I never book a flight without checking here first.
Skyscanner – Skyscanner is another great flight search engline which searches a lot of different airlines, including many of the budget carriers that larger sites miss. While I always start with Momondo, I use this site too as a way to compare prices.
Airbnb – Airbnb is a great accommodation alternative for connecting with homeowners who rent out their homes or apartments.
Hostelworld – This is the best hostel accommodation site out there, with the largest inventory, best search interface, and widest availability.
Couchsurfing – This website allows you to stay on people's couches or spare rooms for free. It's a great way to save money while meeting locals who can tell you the ins and outs of their city. The site also lists events you can attend to meet people (even if you're not staying with someone).
Booking.com – The best all around booking site that constantly provides the cheapest and lowest rates. They have a no money down policy, great interface, and the widest selection of budget accommodation. In all my tests, they've always had the cheapest rates out of all the booking websites.
Intrepid Travel – If you want to do a group tour around Ecuador, go with Intrepid Travel. They offer good small group tours that use local operators and leave a small environmental footprint. If you go on a tour with anyone, go with them. And, as a reader of this site, you'll get a discount when you click the link!
Grassroots Volunteering – For volunteering, Grassroots Volunteering compiles a list of good local volunteer organizations that keep the money within the community.
Rome 2 Rio – This website allows you to see how to get from point A to point B the best and cheapest way possible. It will give you all the bus, train, plane, or boat routes that can get you there as well as how much they cost.
Free Walking Tour Quito – Get oriented with a Quito free walking tour! These tours are informative, fun, and super interesting. You're just expected to tip at the end.
World Nomads – I buy all my travel insurance from World Nomads. They have great customer service, competitive prices, and in-depth coverage. I've been using them since I started traveling in 2003. Don't leave home without it!
Ecuador Gear and Packing Guide
If you're heading on the road and need some gear suggestions, here are my tips for the best travel backpack and for what to pack!
The Best Backpack for Travelers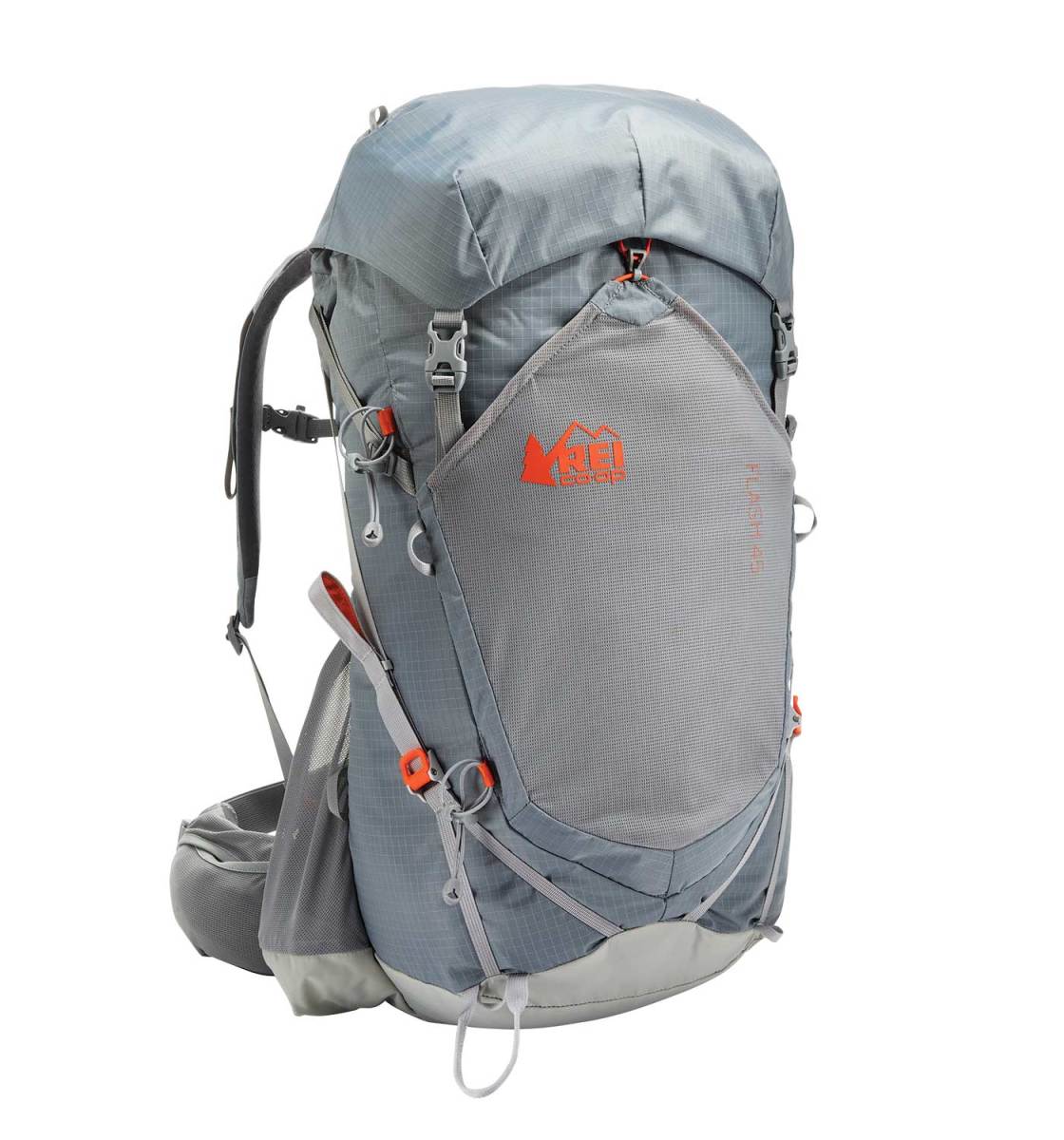 What's the best backpack for traveling long-term? I recommend the
REI Flash 45 Pack
. It's light and comfy, front loading, and fits perfectly in an airplane's overhead bin.
Size:
45-47L
Straps:
Thick and cushy with compression technology that pulls the pack's load up and inwards so it doesn't feel as heavy.
Features:
Removable top lid, large pocket at the front, hydration compatible, contoured hip belt
If you want something different, refer to my article on how to choose the best travel backpack for tips on picking a pack and other backpack suggestions.
What to Pack for Your Trip
Clothes
1 pair of jeans (heavy and not easily dried, but I like them; a good alternative is khaki pants)
1 pair of shorts
1 bathing suit
5 T-shirts
1 long-sleeved T-shirt
1 pair of flip-flops
1 pair of sneakers
6 pairs of socks (I always end up losing half)
5 pairs of boxer shorts (I'm not a briefs guy!)
1 toothbrush
1 tube of toothpaste
1 razor
1 package of dental floss
1 small bottle of shampoo
1 small bottle of shower gel
1 towel
Deodorant
Small Medical Kit (safety is important!!!)
Miscellaneous
Female Travel Packing List
I'm not a woman, so I don't know what a woman wears, but Kristin Addis, our solo female travel guru, wrote this list as an addition to the basics above:
Clothing
1 swimsuit
1 sarong
1 pair of stretchy jeans (they wash and dry easily)
1 pair of leggings (if it's cold, they can go under your jeans, otherwise with a dress or shirt)
2-3 long-sleeve tops
2-3 T-shirts
3-4 spaghetti tops
1 light cardigan
Toiletries
1 dry shampoo spray & talc powder (keeps long hair grease-free in between washes)
1 hairbrush
Makeup you use
Hair bands & hair clips
Feminine hygiene products (you can opt to buy there too, but I prefer not to count on it, and most people have their preferred products)
For more on packing, check out these posts:
Ecuador Gear Travel Guide: Suggested Reading
Wildlife of the Galapagos, by Julian Fitter, Daniel Fitter, and David Hosking
Here's your must-have guide for visiting the Galapagos! It's a definitive field guide to the natural world of this incredible archipelago, including info about 400 different species of birds, mammals, reptiles, plants, and invertebrates. There are also over 600 photographs, maps, and drawings, as well as a section that gives you the low down about the islands' history, climate, geology, etc. It's a completely comprehensive look at the Galapagos, and you'll be well prepared to visit after reading this.




Floreana: A Woman's Pilgrimage to the Galapagos, by Margret Wittmer
This is the first-hand account of Margret Wittmer's attempt to make a new home on the small island of Floreana, in the Galapagos. In 1932, Wittmer leaves Germany with her husband and step-son to settle into the nearly unpopulated island – where they clear land, live in an old pirates' cave, and then build a home just in time for Wittmer to have a baby. Over the years the family acquires a number of amazing neighbors – like convicts and military personnel – and they welcome a series of exciting guests like Franklin D. Roosevelt. Some of these stories seem too good to be true, but they're real, and they're an amazing look at life in Ecuador before the tourism boom.

Huasipungo (The Villagers), by Jorge Icaza

The Villagers is a brutally raw and honest account of the exploitation and extermination of an Indian village in Ecuador by its landlord. When it was first published in 1934, this book shocked its readers, and brought around a lot of attention (not all favorable) to the author, Jorge Icaza. It's a heavy read – there's no covering up the human suffering – but it's considered one of the best works of contemporary writing in Latin American literature. It's a useful read if you're looking to understand Ecuador a little better.


The Old Man Who Read Love Stories, by Luis Sepúlveda

In a tiny village on the Nangaritza River lives an old man in a hut. The village is so tiny that the dentist only visits twice a year – and he brings books all filled with rich love stories to the old man. This book is about the wild world of Amazonia, and how the Shuar Indians have learned to live in harmony with it – despite the onslaught of machines, settlers, and gold prospectors.


Ecuador Travel Guide: Related Articles
Want more info? Check out all the articles I've written on Ecuador travel and continue planning your trip: