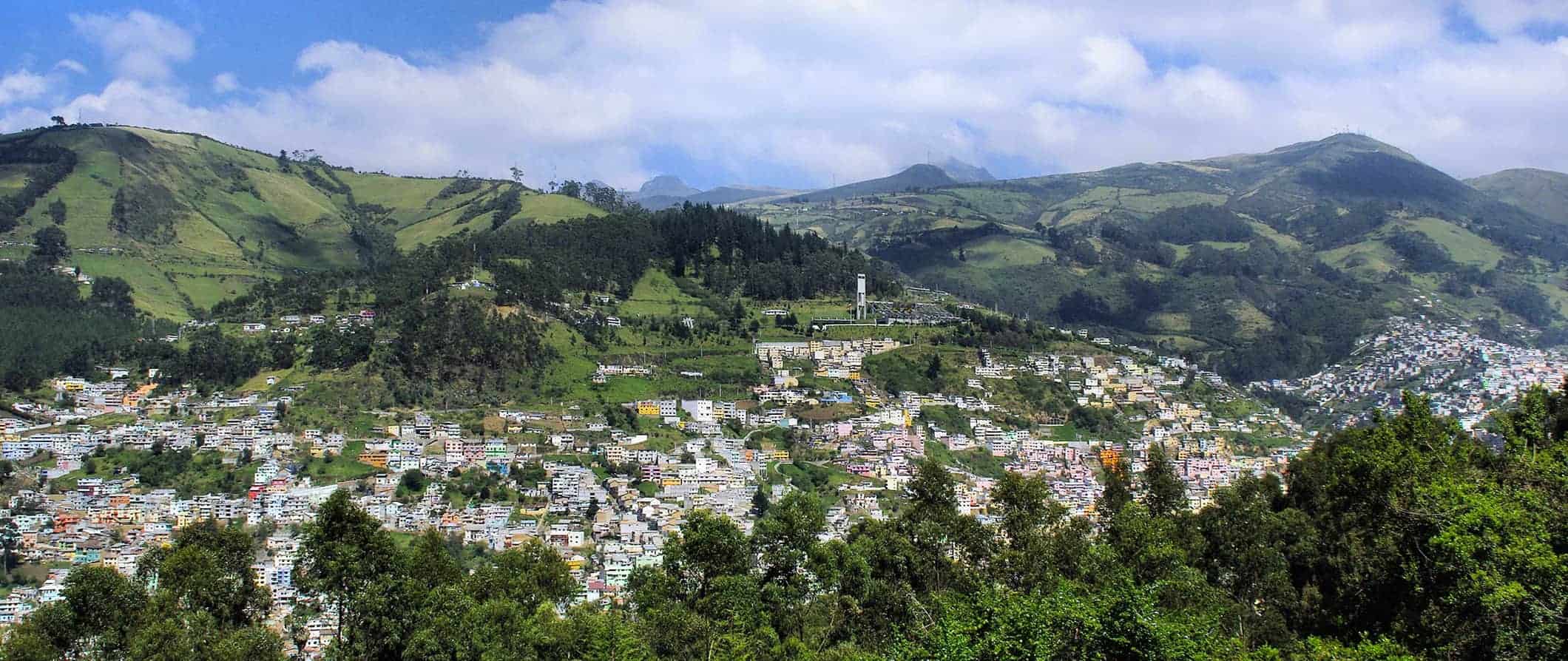 Ecuador is nestled between Colombia and Peru on the Pacific side of South America. The country's capital, Quito, is a UNESCO World Heritage Site and a fun and worthwhile city. The Galapagos Islands are the main attraction in the country with most people just jumping from Quito to the islands to revel in the amazing wildlife-spotting opportunities. But there is much more to Ecuador than the Galapagos. Adventure lovers will be keen to explore the Ecuadorian Amazon or to climb one of the country's many volcanoes, including the world famous Cotopaxi Mountain. This tiny country packs a lot of punch and this travel guide can help you make the most of your trip.
Top 5 Things to See and Do in Ecuador
1. Quito
Ecuador's capital
is beautiful, historic, and energetic. Head to the city's Old Town to see its historic colonial past. The churches and old buildings are beautiful, and the Plaza Grande is sure to instill a feeling of patriotism in all visitors. The city's largest and oldest church, Monasterio de San Francisco, is also pretty great.
2. Cotopaxi Mountain
Cotopaxi is Ecuador's second highest mountain and was the world's highest volcano for years until the Chilean volcano Tupungato erupted in 1986. This 12,500-foot tall snow-capped monster lies just 55km from Quito and is popular with hikers and mountain bikers.
3. Galapagos Islands
There are few places in the world which offer wildlife spotting opportunities as good as the
Galapagos Islands
. The islands lie 1,000km from the coast of Ecuador and are the most popular attraction in the country. My trip here was everything people say and more. Simply breathtaking.
Here are my pictures of the Galapagos Islands.
4. Ride The Devil's Nose train
Dubbed "the most difficult train ride in the world," the journey begins in the town of Riobamba and makes its way through cliffs to the city of Alausí. You kind of feel like you're going to fall off any second. It's not for those who dislike heights. Tickets are 25 USD.
5. See the Amazon rainforest
Approximately half of Ecuador is covered in Amazonian rainforest. Over 1,000 species of animals can be found in the forests and lagoons of the Ecuadorian Amazon, for example, tapirs, monkeys, jaguars, and ocelots. Tour prices start at a few hundred dollars.
Other Things to See and Do
(Click the title to expand the text)
1. Baños
This small town lies high in the Andes and on the hillside of Ecuador's most active volcano, Tungurahua. Besides the fantastic volcano treks, visitors also flock to Baños to experience the healing powers of its hot springs and to give thanks for miracles performed at the Church of the Virgin of the Holy Water. It's also the country's adventure capital, with lots of biking, bungee jumping, ATV rentals, and a circuit of beautiful waterfalls to visit. Prices will vary, but they are not expensive. Bungee jumping, for example, is only 20 USD!
2. Otavalo Market
Otavalo is Ecuador's most famous indigenous market. Handicrafts, jewelry, necklaces, musical instruments, and clothing are just a few of the things you can buy at this expansive market.
3. Cuenca
Cuenca is Ecuador's third-largest city. Designated as a UNESCO World Heritage Site, Cuenca has colonial buildings, churches, and cathedrals that are beautiful — and extremely photogenic. The city is also thought to be Ecuador's intellectual capital and has been dubbed the "Athens of the Andes."
4. Ingapirca
Ingapirca is Ecuador's premier Inca site and is located in the Canar Province, near the country's Pacific coast. The crowning glory of the site is the Temple of the Sun, which is a circular building made of intricately carved stones so as to fit together without mortar. There is also a burial site and a series of low walls which are ruins from various other buildings on the site. A guided tour will cost around 40 USD.
5. Montañita
This surfer's paradise is a relatively new addition to Ecuador's list of attractions, although its reputation for pristine beaches and perfect waves has been growing steadily over the years. This is a proper backpacker's paradise with laid back beach parties, live bands, and inexpensive accommodation. A week-long surf camp (including lessons, accommodation, and food) will cost around 600 USD.
6. Go whale watching in Puerto Lopez
One of the many tourist towns that lay along the coast is Puerto Lopez. Not so much of a surfing spot, it's known instead for its great whale watching season. Come and witness the humpback whales in action, and then check out the blue footed boobies (a very rare bird species) at La Plata island. Combined tours (whale watching and island visit) cost 35 USD, plus the 15 USD national park fee. This ends up being a full day activity.
7. Visit or volunteer at an animal refuge
Puyo, the gateway to the Ecuadorian Amazon, has a number of animal rescue and rehabilitation centers. These make for an interesting and educational visit. Some offer volunteer opportunities if you're interested in getting involved on a different level.
8. Ibarra
About 90 minutes outside of Quito, is Ibarra. There is a lot of community tourism here as well as adventure travel and indigenous visits. Consider rafting, swing jumping, trekking, climbing, kayaking, and more.
9. Learn Spanish
As the national language here, Spanish is everywhere you go. There are hundreds of places to take a language course in this country. If you are going to visit for a prolonged period of time, it might be a good idea to take a couple lessons.
10. Explore the lava tubes
North of Puerto Ayora, there are tons of underground tunnels that have been formed from molten-lava. For 1 USD, you can take a self-guided tour or pay more to go with a guide. It's pretty freaky being in these huge lava tops but pretty amazing too.