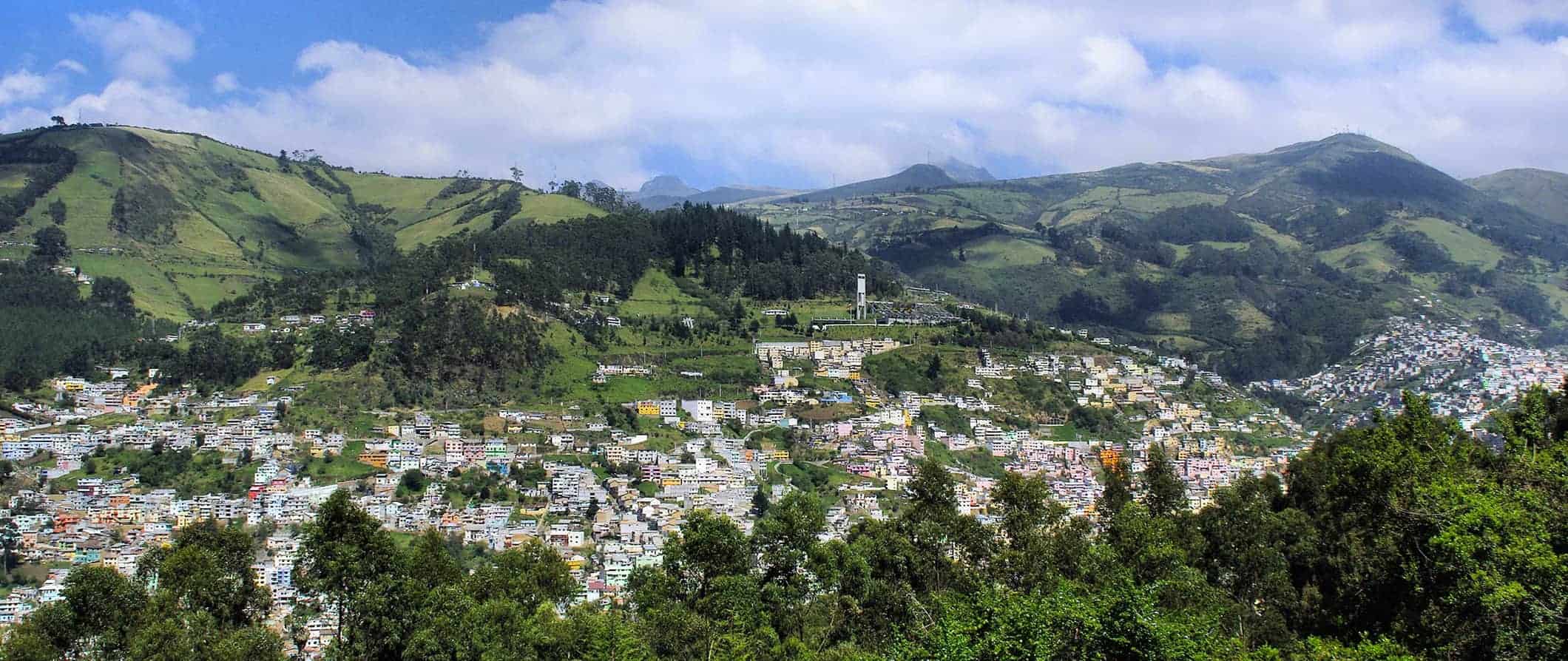 Ecuador, nestled between Colombia and Peru on the Pacific side of South America, is a gorgeous country.
Offering stunning landscapes, the country also boasts delicious food, plentiful mountains, and hospitable people.
It's also home to the bucket-list-worthy Galapagos Islands, one of the country's main draws and home to rare and iconic wildlife.
But there is much more to Ecuador than the Galapagos.
Adventure lovers will be keen to explore the Ecuadorian Amazon or climb one of the country's many volcanoes, including the world-famous Cotopaxi Mountain.
This tiny country packs a lot of punch and this Ecuador travel guide can help you make the most of your trip.
Click Here for City Guides
Top 5 Things to See and Do in Ecuador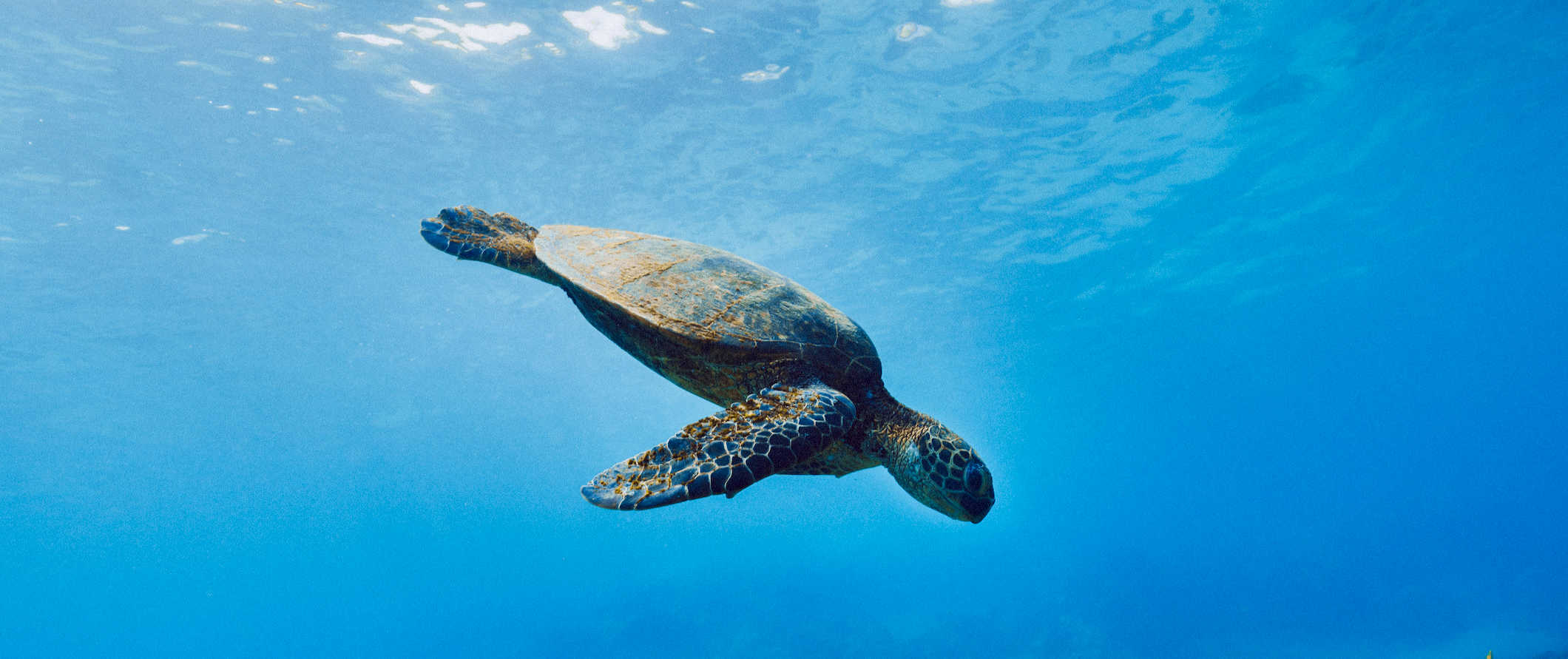 1. Enjoy Quito
Ecuador's capital is beautiful and energetic. Head to the city's Old Town to see its historic colonial past. Quito also has plenty of colorful markets to explore with vendors selling incredible indigenous crafts, art, textiles, and delicious local food. The city's largest and oldest church, Monasterio de San Francisco, features some of the original tilework from its construction in the 16th century and a staircase that was originally designed for the Vatican. Quito is the closest major city to the equator as well, so you can straddle the line and be in both hemispheres at once!
2. Hike Cotopaxi Mountain
Cotopaxi is Ecuador's second-highest mountain and was the world's highest volcano until the Chilean volcano Tupungato erupted in 1986. This 12,500-foot-tall snow-capped monster is popular with hikers and mountain bikers. Climbing the entire mountain usually takes about two days and is considered moderately difficult due to the steep climbs and high altitude. It's best for experienced hikers and climbers who have some training. There are plenty of shorter hikes available, however, including the short (but steep) walk to the first refuge at the base of the volcano. Guided day trips range from $50-90 USD per person.
3. Explore the Galapagos Islands
There are few places in the world that offer wildlife spotting opportunities as good as the Galapagos Islands. The Galapagos Islands were formed from active volcanoes and they're most famous for being the birthplace of Darwin's theory of evolution during his visit in 1835. From marine iguanas and Galapagos penguins and sea lions to orcas, manta rays, and the Giant Galapagos tortoise (some tortoises are more than five feet long), these islands are teeming with a wide variety of life. Book a multi-day visit to make the most of your time. While not cheap, it's worth every penny!
4. Adventure in Ibarra
Located 90 minutes outside of Quito, Ibarra is perfect for adventure travel and indigenous visits. It's a beautiful city with quaint cobblestone streets and colonial-style whitewashed buildings surrounded by the Andes Mountains. Consider rafting, swing jumping, trekking, climbing, kayaking, and more. Don't leave without trying their handmade ice cream — it's a local delicacy made in bronze bowls with fruit, sugar, and ice.
5. See the Amazon rainforest
Approximately half of Ecuador is covered in the Amazon rainforest. There are five National Parks located within Ecuador's Amazon jungle. Yasuni National Park is believed to be the most biodiverse place on the planet and has been named a UNESCO World Biosphere Reserve. Over 1,000 species of animals can be found in the forests and lagoons of the Ecuadorian Amazon, including tapirs, monkeys, jaguars, and ocelots. Temperatures in the Amazon remain hot year-round, and it might rain at any time, but if you're prepared it's possible to visit year-round. Ecuador offers one of the quickest routes to the Amazon in South America. A day trip costs $150 USD while multi-day tours start at $350 USD.
Other Things to See and Do in Ecuador
1. See Baños
This small town lies high in the Andes and on the hillside of Ecuador's most active volcano, Tungurahua. Besides the fantastic volcano treks, visitors also flock to Baños to experience the healing powers of its hot springs and to give thanks for miracles performed at the Church of the Virgin of the Holy Water. It's also the country's adventure capital, with lots of biking, white water rafting, bungee jumping, ATV rentals, and a circuit of beautiful waterfalls to visit. Prices vary, but activities are not expensive. Bungee jumping, for example, is only $20 USD, while white water rafting is just $30 USD for a half-day trip.
2. Wander the Otavalo Market
Otavalo, located less than 100 kilometers (60 miles) from Quito, is Ecuador's most famous indigenous market. Handicrafts, jewelry, necklaces, musical instruments, and clothing are just a few of the things you can buy at this expansive market, one of the largest in all of Latin America. It's open daily from 7am-6pm, but it's best to arrive early in the day.
3. Visit Cuenca
Cuenca is Ecuador's third-largest city. Designated as a UNESCO World Heritage Site, Cuenca has colonial buildings, churches, and cathedrals that are extremely photogenic. The city is also thought to be Ecuador's intellectual capital and has been dubbed the "Athens of the Andes." Activities range from climbing the towers of Cathedral de la Inmaculada, for a stunning view of the city for only $2.50 USD to pampering yourself at Piedra de Agua with a relaxing soak in the heated mineral baths ($15 USD for 3 hours). Be sure to stroll through Mercado de las Flores (Flower Market) to take in the local pace of life.
4. Explore Ingapirca
Ingapirca is Ecuador's premier Inca site and is located in the Canar Province, near Guayaquil and the country's Pacific coast. Dating to the 15th century (not long before the Spanish arrived), the crowning glory of the site is the Temple of the Sun, which is a circular building made of intricately carved stones so as to fit together without mortar. There is also a burial site and a series of low walls which are ruins from various other historic buildings. A guided tour costs $45-50 USD.
5. Relax in Montañita
This surfer's paradise is a relatively new addition to Ecuador's list of attractions, although its reputation for pristine beaches and perfect waves has been growing steadily over the years. This is a proper backpacker's paradise with laid-back beach parties, live bands, and inexpensive accommodations. A week-long surf camp (including lessons, accommodation, and food) costs as little as $500 USD.
6. Go whale watching in Puerto Lopez
One of the many tourist towns that lay along the coast is Puerto Lopez. Not so much of a surfing spot, it's known instead for its incredible whale watching season. Witness the humpback whales in action, and then check out the blue footed boobies (a very rare bird species) at La Plata island (also referred to as "the poor man's Galapagos" as the same animals found in the Galapagos are also on La Plata). Full-day tours that combine whale watching and an island visit cost $35–45 USD (plus a $15 USD national park fee).
7. Learn Spanish
There are hundreds of places to take a language course in this country if you're looking to improve your language skills. If you are going to visit for a prolonged period of time, it might be a good idea to take a couple of lessons. Two top-rated schools are Yanapuma Spanish School and Simon Bolivar Spanish School, which have locations in Quito as well as other cities around the country. Each class is about four hours long, with prices ranging from $6-12 USD per hour. Courses run anywhere from 1-4 weeks long so you can pick an option that suits your budget and language needs.
8. Explore the lava tubes
North of Puerto Ayora, there are tons of underground tunnels that have been formed from molten lava. For $3.50 USD, you can take a self-guided tour or pay more to go with a guide. It's pretty freaky being in these huge lava tubes but pretty amazing too and something you won't really find in other destinations.
Ecuador Travel Costs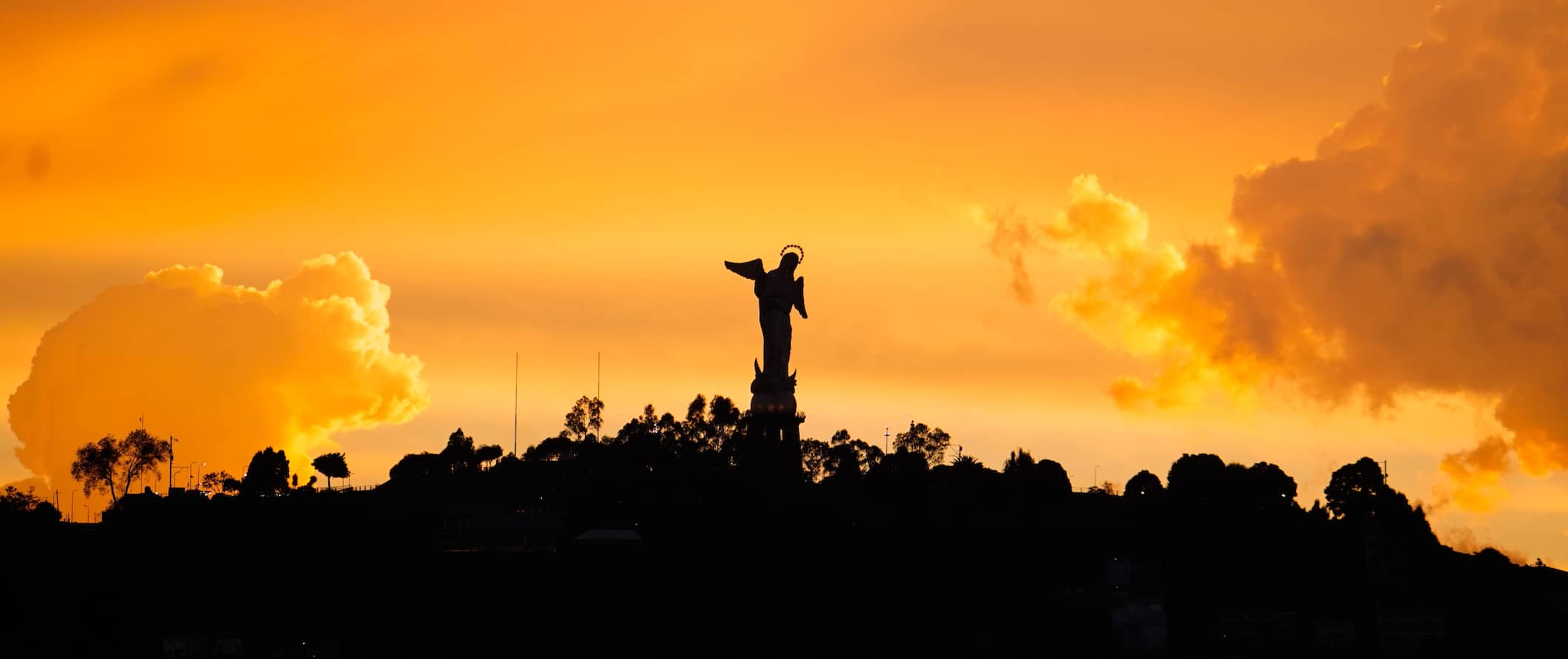 Accommodation – Accommodation is inexpensive in Ecuador. Dorms start around $6 USD per night, while a private room ranges from $10-50 USD. Free Wi-Fi is standard, and many hostels also include free breakfast.
For those traveling with a tent, camping is available all around the country. Campground prices vary but can be found for as little as $5 USD. Most national parks have spots in or around them.
Budget hotels are only slightly more expensive than hostels, with prices starting around $25 USD per night. Free Wi-Fi and free breakfast are common. For a hotel with a pool, prices start at $30-40 USD per night.
Airbnb is also available, with shared accommodation starting at $15-20 USD per night. For an entire home or apartment, expect prices to begin around $25 USD (though prices average closer to $50 USD).
Food – The local fare of Ecuador features ilapinchagos (fried potato cakes stuffed with cheese), ceviche, empanadas, arroz con pollo (chicken with rice), and cuy (roasted guinea pig). Seafood is common, owing to its location on the ocean. Potatoes with roasted pig is a popular dish in the mountainous regions, while cassava (also known as yuca) is a common staple near the jungle.
Traditional meals typically cost between $3-5 USD. You can find food stalls on the street for around $1-2 USD. Western-style meals cost around $10-12 USD.
For a meal at a mid-range restaurant, expect to spend around $20 USD per person.
Beer is just $2.50 USD while a latte/cappuccino is $2.34 USD. Bottled water is $0.60 USD.
If you're planning on shopping in the markets and grocery stores, you can expect to spend around $20-30 USD per week on basic groceries like bread, milk, eggs, cheese, chicken, fruit, and veggies.
Backpacking Ecuador Suggested Budgets
On a backpacking budget of $30 USD per day, you can stay in a hostel dorm, eat some street food and cook some meals, take a free walking tour, and use public transportation to get around. If you plan on drinking, add $5-10 USD per day to your budget.
On a mid-range budget of $105 USD per day, you can stay in a decent hotel, eat out for all your meals, take the occasional taxi to get around, enjoy a few drinks, paid tours, and visit most museums.
On a "luxury" budget of $245 USD per day, you can stay in a top hotel, rent a car or take more taxis, eat out anywhere you want, and take as many tours as you want. This is just the ground floor for luxury though. The sky is the limit!
Accommodation
Food
Transportation
Attractions
Average Daily Cost
Backpacker
$10
$10
$5
$5
$30
Mid-Range
$50
$25
$10
$20
$105
Luxury
$100
$90
$25
$30
$245
Ecuador Travel Guide: Money-Saving Tips
Ecuador is an affordable destination, however, it never hurts to save money! Here are a few tips to cut down your costs during your visit:
Stay at hospedajes – These family-run guesthouses are all over the country and have rooms for just a few dollars per night. They're one of the cheapest options available for accommodation.
Eat at the markets – This is the place to do your food shopping. You can find meals (or buy groceries) for just a few dollars, making this the best way to eat cheaply in the country!
Embrace almuerzos – Many restaurants have almuerzos, cheap lunches from a set menu. These are usually just a couple of dollars and usually include a drink. If you want to eat out for cheap, this is a great choice.
Carry small change – Forget about carrying any bills over $20 USD as you'll have trouble changing them — even $20s can be difficult to break in small towns. Keep change on hand for smaller purchases.
Book last minute tours – Galapagos cruises are expensive. By booking your tour in Quito last minute, you can save up to 40% off the cost of the trip. You can also just fly there and see what is around too. If you're flexible in when you go and can wait around for a spot to open, this is the cheapest option.
Couchsurf – Use Couchsurfing to find a local who can host you for free. You'll only get a free place to stay but you get to connect with a local who can share their insider tips and advice.
Stay at a Hola Hostel – Hola Hostels is a network of hostels predominantly in South and Central America. They offer 10% off to their members, as well as other discounts for food and activities. Joining is free, and their hostels are also committed to environmentally sustainable practices.
Pack a water bottle – A water bottle with a purifier will come particularly in handy in Ecuador since you can't always drink the tap water. Save money and thousands of plastic bottles and get a reusable bottle that can purify the tap water for you. My preferred bottle is LifeStraw.
Where to Stay in Ecuador
Ecuador has plenty of fun and affordable hostels. Here are my top suggested places to stay while there:
How to Get Around Ecuador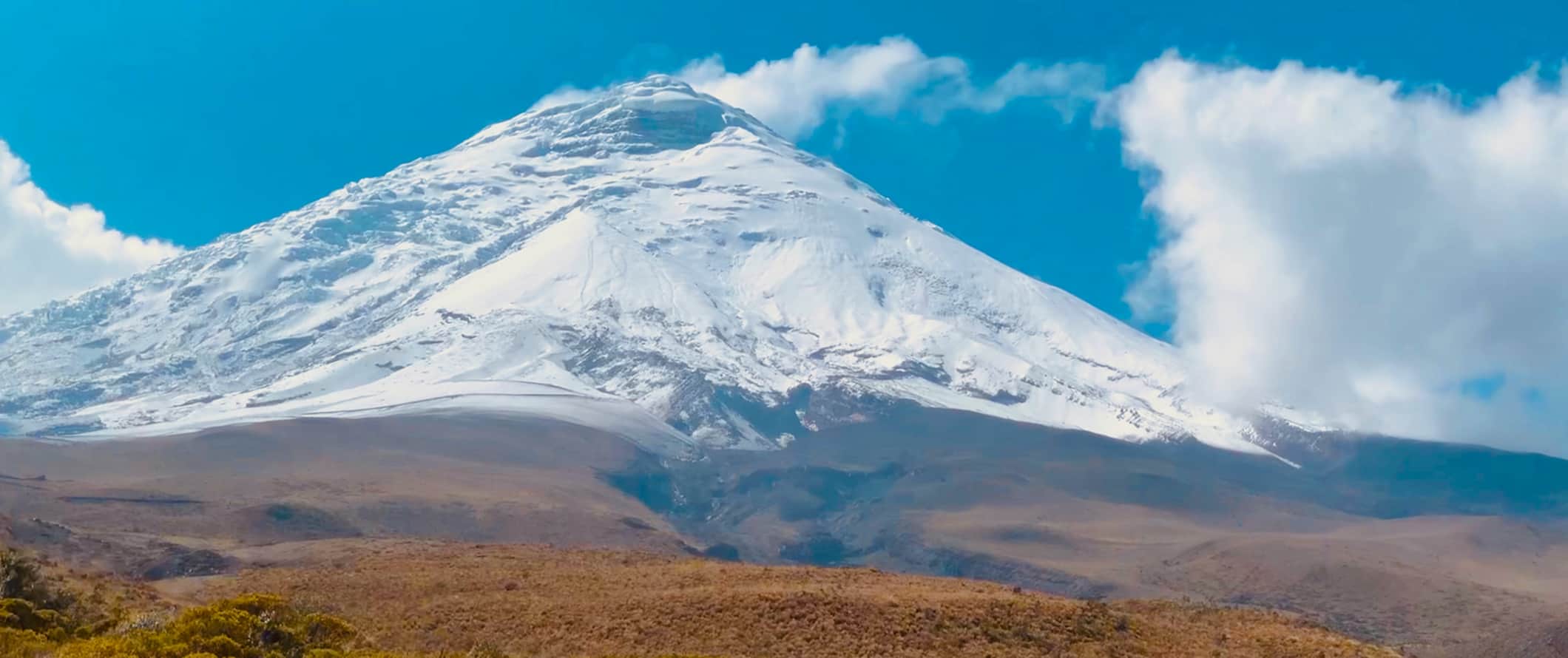 Public transportation – The bus is the most common, efficient way to get around Ecuadorian cities. A local bus ticket costs around $0.25 USD. Bus stops are really only existent in Quito — outside of the city, you'll generally just have to flag one down and request your stop whenever it comes along.
Bus – The bus network in Ecuador is incredibly extensive, and it's an easy way to get around the country. Most buses travel along the common backpacking routes. For the 7-hour ride from Quito to Guayaquil, expect to pay between $11-28 USD for a one-way ticket. A 20-hour ride from Quito to Bogota, Colombia costs between $80-100 USD. From Quito to Lima, Peru tickets start at $95 USD for the 29-hour ride.
Typically you can just show up at the bus station to get your ticket, but you can also use latinbus.com to look up routes and prices.
Another option is to book a hop-on/hop-off pass. These passes give you flexibility in your travel but are only available along specific routes. You can hop off and hop on at any time. Wanderbus Ecuador passes start around $249 USD for 11 stops, while longer routes can cost up to $699 USD for 20 stops.
Train – Ecuador's national railway company shut down during the pandemic and due to lack of funding, has yet to resume operations. There are currently no trains running in Ecuador.
Flying – Flying within Ecuador is affordable, with most destinations being serviced from Quito or Guayaquil. Ecuador's airlines are:
Avianca
Emetebe (Galápagos-based airline)
LATAM
TAME
Flights from Quito to Guayaquil start at $58 USD each way. TAME will also get you to some smaller Ecuadorian destinations, like Quito to Loja for $43 USD (one-way). Flying to the Galapagos Islands is obviously the most practical way to get there, but it's certainly not cheap. One way from Quito to Baltra (the busiest airport) starts from about $133 USD. Guayaquil to Baltra is about $155 USD. Expect prices to double if you don't book in advance.
Car rental – Car rentals cost around $35 USD per day, however, the driving conditions are far from ideal (poor road conditions, no driving signs, etc.). Unless you have experience driving in Central or South America, I'd skip the rental as buses are much cheaper and safer.
Renters need to be at least 21 years old. For the best car rental prices, use Discover Cars.
Hitchhiking – Hitchhiking is possible here if you have experience and don't mind long waits. Use Hitchwiki for the most up-to-date tips and information.
When to Go to Ecuador
Ecuador technically only has two seasons: the wet season and the dry season. But since Ecuador has such varying altitudes, it really depends on where/when you visit.
January to May is the coolest, wettest time of year for most of the country. Navigating the Amazon can be difficult during this time due to road closures and flooding. Temperatures along the coast are milder, and it's actually quite pleasant in the Galapagos as the ocean waters are calm and warm.
June to the end of September is very dry, and you'll also experience some of the warmest temperatures in Ecuador. This is peak season, so you can expect higher prices for flights and accommodations. Still, the weather is always nice and the entire country has a fun, upbeat atmosphere. Temperatures near the coast hover around 25°C (77°F), while in Quito the daily average is around 21°C (70°F).
How to Stay Safe in Ecuador
Ecuador is generally a safe place to travel around, even if you're traveling alone or as a solo female traveler. Petty theft is the most common type of crime in Ecuador. Valuables like laptops, jewelry, and cell phones should be hidden from sight. Transport terminals are especially a hot spot for petty theft so stay vigilant.
In Quito, avoid the Old Town at night. Taxi crimes are a danger in places like Quito, Guayaquil, Manta, and Playas. The US consulate in Guayaquil even forbids its staff from hailing cabs in the street because of the risk of crime.
In a popular scam, someone will hop into your taxi with you once the journey has started and take you on a little tour of the city's ATMs as they rob you blind. So use caution and have your accommodation call a taxi for you whenever possible.
If you're worried about scams, read about common travel scams to avoid here.
Solo female travelers should generally feel safe in the country, however, the standard precautions apply (never leave your drink unattended at the bar, never walk home alone intoxicated, etc.). For more information, check out one of the many solo female travel blogs on the country.
If you go out hiking, always check the weather beforehand and bring appropriate clothing, as well as water and a hat.
Always trust your gut instinct. If a taxi driver seems shady, stop the cab and get out. If your hotel is seedier than you thought, move. Make copies of your personal documents, including your passport and ID, in case of emergencies.
The most important piece of advice I can offer is to purchase good travel insurance. Travel insurance will protect you against illness, injury, theft, and cancellations. It's comprehensive protection in case anything goes wrong. I never go on a trip without it as I've had to use it many times in the past. You can use the widget below to find the policy right for you:
Ecuador Travel Guide: The Best Booking Resources
These are my favorite companies to use when I travel. They consistently have the best deals, offer world-class customer service and great value, and overall, are better than their competitors. They are the companies I use the most and are always the starting point in my search for travel deals.
Skyscanner – Skyscanner is my favorite flight search engine. They search small websites and budget airlines that larger search sites tend to miss. They are hands down the number one place to start.
Hostelworld – This is the best hostel accommodation site out there with the largest inventory, best search interface, and widest availability.
Booking.com – The best all around booking site that constantly provides the cheapest and lowest rates. They have the widest selection of budget accommodation. In all my tests, they've always had the cheapest rates out of all the booking websites.
Get Your Guide – Get Your Guide is a huge online marketplace for tours and excursions. They have tons of tour options available in cities all around the world, including everything from cooking classes, walking tours, street art lessons, and more!
SafetyWing – Safety Wing offers convenient and affordable plans tailored to digital nomads and long-term travelers. They have cheap monthly plans, great customer service, and an easy-to-use claims process that makes it perfect for those on the road.
LifeStraw – My go-to company for reusable water bottles with built-in filters so you can ensure your drinking water is always clean and safe.
Unbound Merino – They make lightweight, durable, easy-to-clean travel clothing.
Top Travel Credit Cards – Points are the best way to cut down travel expenses. Here's my favorite point earning credit cards so you can get free travel!
Ecuador Travel Guide: Related Articles
Want more info? Check out all the articles I've written on Ecuador travel and continue planning your trip: